Leopard on Older Macs, 13-port USB 2.0 Hub, Mac Plus Emulator, WD's 'Green' Hard Drives, and More
Compiled by Charles Moore and edited by Dan Knight - 2007.11.30
This Week's Apple and Desktop Mac News
PowerBook, iBook, MacBook, and other portable computing is covered in The 'Book Review. iPod, iPhone, and Apple TV news is covered in The iNews Review.
All prices are in US dollars unless otherwise noted.
News & Opinion
Apple Updates
Products
Software
News & Opinion
Using Leopard on Older Macs
AppleMatters' Tanner Godarzi reports:
"Apple has raised the bar for using Leopard on a PowerPC based Mac: 867 MHz or faster. This makes older Macs obsolete to make way for Intel based machines to become the company's main focus. However, you can get an older Mac running Leopard, it just won't be so easy.
"If you own a PowerMac, you'll have the easiest upgrade path: a processor upgrade. The PowerMac uses a ZIF (Zero Insertion Force) based daughter card to interface with a PowerPC based CPU....
"If your Mac falls short of the G4 867 MHz cut, don't fret, you still have one option available besides buying a new Mac. While you might regret doing this due to speed constraints, you can hack up a new Install DVD so you can have Leopard on any Mac.
"The only thing you'll need is a DVD burner (obviously) to burn your new Disk Image when done. Mac Rumors has the complete guide for doing so and it's quite easy.
"Also, you may need to upgrade your Video Card for use with Leopard...."
Editor's note: Also see our article on Unsupported Leopard Installation. dk
Link: Using Leopard on Older Macs
Getting the Leopard Installer on a Single-layer DVD
lionelxp.gigacities.net blog says:
"Ok, Here's a short and quick foolproof guide to making a SL-DVD
"Leopard install disc for 9a581...
"What you need
Original Leopard image (.dmg)(6.55Gb)
One blank DVD (+1 backup blank just in case you screw up)
Mac OS X 10.4.X Tiger (This is important, cos leopard screws up disc burning)
6.55Gb+6.55Gb+4.7Gb=17.8Gb of harddisc space"
Link: Converting Mac OS Leopard to 4.7 GB from 6.55 GB
The Top 5 Macs
Register Hardware's James Sherwood says:
"If you're considering buying an Apple machine this Christmas but you're not sure which, Register Hardware's got you covered. We've spoken to Apple expert Warren D'Souza, retail manager with independent Mac specialist the Square Group, to help unwrap what's hot and what's not in Apple's current line-up....
"Despite there only being five types of Mac in the range, each is offered in a number of variations, and Warren's lined them up so you can decide which model meets your needs.
2.0 GHz MacBook
2.4 GHz 24in iMac
2.2 GHz 15in MacBook Pro
1.83 GHz Mac Mini
2.66 GHz dual-processor Mac Pro"
Link: Top 5 Apple Macs
10 New Things in WebKit/Safari 3
Webkit.org blogger Maciej Stachowiak says:
"Lately we've been talking about a lot of great new features in the latest development trunk of WebKit - features like web fonts, client-side database storage, CSS transforms and CSS animation. These features will likely make it to an official release someday. But I'd like to take a step back and talk about some older features, namely all the great stuff in our recent stable release.
"Apple recently released Mac OS X 10.5 'Leopard', including Safari 3. The latest Safari is also included in Mac OS X 10.4.11, the latest update to Tiger. A corresponding version is available as the latest Safari for Windows Beta, including the new features and lots of stability and usability improvements.
"Apple's site can tell you a lot about the new end-user features of Safari 3. But a lot of the goodness is on the inside, in the WebKit engine that powers Safari. Here's a list of ten of the most exciting engine enhancements since the Safari 2 version of WebKit, with lots of details and demos. These features are all included in the WebKit that comes with Safari 3 - you don't have to download nightlies or anything else to get them."
Editor's note: Not much visual change in Safari 3, but this article outlines that a lot of tweaking and refining is there under the hood. One of the biggies in my estimation is:
"The latest stable WebKit has enabled significantly reduced memory use, compared to the Safari 2 version. We have made many kinds of improvements. Pages containing large amounts of text are stored more efficiently. JavaScript code generates smaller data structures. And most significant of all, we've revamped the way we handle the memory cache. The cache is now much better at holding the data that's truly critical for faster page loading, but less of the data that can easily be recomputed, like decoded image data."
I've finally got Safari 3.0.4 up and running with the OS 10.4.11 update and OS 10.5.1, and so far no problems, and it does seem faster than 2.0.4) cm
Link: Ten New Things in WebKit [Safari] 3
Apple's New Wireless Keyboard Reviewed
Blogger Stephen Fettig says:
"I think the keyboard one uses (i.e. the one built into the laptop you work on or the one you attach to your machine at home or office) has a big effect on how you use your machine. I find that if I don't have access to my [personal] environment, I'm less likely to do the things I normally take time to go through. I buy a new keyboard every six months because I never feel comfortable with the one I'm using for longer than that. I'm always in search of that end-all-be-all device that brings me back to those memorable ThinkPad 770ED days. That was the first laptop I had that I loved to type on. (It was far from the first laptop I've ever had, but was the first for me where the pointing and typing devices were exactly what my hands called for. The tactile feedback, key size and location were all just right.) I wrote volumes with that machine and even though laptop keyboards have a tendency to be cramped, I really enjoyed using the 770. (In fact, there lies a completely dead shell of a 770ED on a shelf in my office - for posterity's sake.)
"I happened to be at the Mayfair Mall Apple Store in Wauwatosa, WI... and saw that they had the new Apple wireless keyboards (small, laptop-like, Bluetooth devices)....
"After opening up the packaging and registering the keyboard with my laptop, I started typing. Oh wow. Yeah . . . really . . . wow. It was like being transported back to the days of typing research papers on the 770....
"I think most heavy computer users would find it troublesome to explain what they like and don't like about their favorite keyboard, except when it comes to tactile feedback. The responsiveness of a key depression is the single most irritating factor in explaining why a keyboard sucks. I think I'm in the slight majority when I say: squishy keyboards suck....
"Of all wireless keyboards I've used over the past four or five years, this one has been the most responsive and easy to manage...."
Editor's note: I agree with Stephen that keyboard feel is fundamental to a satisfying relationship with a computer. For him the benchmark of keyboard excellence is the IBM 770 ThinkPad. For me, it's the WallStreet PowerBook keyboard.
However, unlike Stephen, when I find a keyboard I like, I tend to stick with it, and my favorite for the past couple of years or so is the Kensington SlimType, which is just superb. Not coincidentally, the SlimType's key action and travel are very similar to that of a good notebook keyboard.
I've only had brief exposure to Apple's newest keyboard engineering on a MacBook (similar to that used in the freestanding wireless Apple Keyboard Stephen reviewed). I think I like it, but would have to put in several hours or days production work on it to make a substantive evaluation. I doubt that it will displace that wonderful WallStreet 'board as my ne plus ultra of computer keyboards. cm
Link: Keyboards, Lifeline to Liking a Computer; Apple's New (2007) Wireless Keyboard and My Little Review
Apple Updates
Apple Releases iMac Graphics Firmware Update 1.0
This update is for 20-inch and 24-inch aluminum iMac computers with the ATI Radeon HD 2600 PRO graphics processor, running Mac OS X 10.4.10 with iMac Software Update 1.2.1 for Tiger, or Mac OS X 10.5 with iMac Software Update 1.3 for Leopard.
It updates the graphics firmware on the ATI Radeon HD 2600 PRO card to address issues that may have caused the computer to freeze.
Not every 20-inch and 24-inch aluminum iMac computer requires this update. If you are not automatically presented with this update, your computer does not need it.
If you manually download this update and attempt to install it on an ineligible computer, you will receive an error message.
If you manually download the update and receive the following error message when selecting a volume, "You cannot install iMac Graphics Firmware Update on this volume. Your computer does not need this update," one of two conditions exist:
You have not installed the iMac Software Update 1.2.1 for Tiger or iMac Software Update 1.3 for Leopard. From the Apple menu, select Software Update and install the appropriate software update, and then reinstall iMac Graphics Firmware Update 1.0.
You have already installed this update.
System requirements:
This update is for 20-inch and 24-inch aluminum iMac computers with the ATI Radeon HD 2600 Pro graphics running Mac OS X 10.4.10 with iMac Software Update 1.2.1 or Leopard with iMac Software Update 1.3.
It updates the graphics firmware on the ATI Radeon HD 2600 Pro to improve system stability.
Link: About iMac Graphics Firmware Update 1.0
Products
Syncrotech 13 Port USB 2.0 Hub
PR: Tired of wrangling multiple USB 2.0 hubs? Synchrotech's 13 Port USB 2.0 Hub provides host computers with 13 additional USB ports and allows flexible tiered USB configurations with a single hub. This robust and inexpensive hub runs in self powered mode and provides over current protection at each of its downstream ports. Fully USB 2.0 compliant and USB 1.1 backward compatible, it supports low, full, and high speed USB devices and works with any system that supports the USB specification. Providing thirteen downstream ports, this hub features plug and play installation and transparent operation. This hub is fully backward compatible with USB 1.1 and will work with systems and devices using the slower standard. It comes with a free power supply with a generous 4 ampere capacity, and USB 2.0 cable to connect to a host computer.
Features and Specifications
Features
Simple to install and use
USB (Universal Serial Bus) Revision 2.0 compliant
Supports High Speed 480 Mbps, full speed 12 Mbps and low speed 1.5 Mbps (Megabits) operation
Reliable transmission for 4.5 meter USB cable segments
Self powered mode delivers full 500mA to each port
Auto detect of speeds and connections of devices
Fully compatible with all USB compliant devices
Thirteen (13) Hi-Speed USB 2.0 downstream ports
One (1) Hi-Speed USB 2.0 upstream port
Protection from current overload
1 Year limited warranty
System Requirements
Host computer with a free USB 2.0 compliant port (up to 480 Mbps)
Host computer with a free USB 1.1 compliant port (limited to up to 12 Mbps)
Windows: 98SE/Me/2000/XP/Server 2003/Vista
Mac OS: Mac OS X - any version (supports USB 1.1 for Mac OS 8.6 and later
Any operating system that fully supports USB including Open/Net/FreeBSD and Linux.
Ports
One upstream (USB Type B receptacle)
Thirteen downstream (USB Type A receptacles)
Data Transfer Rates
High Speed 480 Mbps (Megabits)
Full Speed 12 Mbps (Megabits)
Low Speed 1.5 Mbps (Megabits)
Standards
USB Specification version 2.0
USB Specification version 1.1
OHCI and UHIC
Wiring Topology and Connectivity Rules
Tiered Star (Six cascaded tiers maximum)
Reliable transmission to 5m maximum between cable segments
Up to 127 devices (including host)
Package Includes
USB 2.0 Hub
USB 2.0 Cable
Power Supply (UL)
Environmental Characteristics
Temperature Operating: 5 to 45 ° C
Temperature Non-operating: -40 to 65 ° C
Relative Humidity: 8 - 80% (non-condensing)
Electrical Characteristics
Power Supply: 5V @ 4A
Power Characteristics (Self-Power): 500mA/5V
Price: $45
Editor's note: Look for a review on Low End Mac in early December. dk
Link: Syncrotech USB 2.0 Hub 13 Port Powered with Power Supply
WiebeTech Intros Inexpensive USB DriveDock v4
PR: This is the lowest cost DriveDock WiebeTech has ever offered - less than 50 bucks.
USB DriveDock v4 connects to the most common drive types:
3.5" SATA
3.5" IDE/PATA
2.5" (notebook) SATA
2.5" (notebook) IDE/PATA
USB DriveDock connects via USB 2.0 to your computer, allowing you to access the drive and contents.
The USB DriveDock has two options for power input: the included AC adapter or a 4-wire connector from the computer's power supply, if it's more handy.
Status LEDs - A power status LED verifies that the unit is switched on or off. Another LED confirms that the Dock is accessing the drive, and another confirms that a valid USB connection is established.
Using it is easy - Just connect the drive to the Dock, plug in power and attach a USB cable to a host computer. That's all it takes. For more protection to the drive, a mounting plate (included) can be screwed onto the bottom of the drive to protect the drive's circuitry.
Link: USB DriveDock v4
InferPoint Innovative Ergonomic Computer Mice
PR: The way we write is narrated by the use of our index finger. So ask yourself, "Why shouldn't the use of a mouse be the same?" By clicking left and right to operate the traditional "left and right" mouse buttons, it becomes an unnatural and awkward process. Inferpoint's designers replaced the traditional left and right buttons with a unique front and back button.
InferPoint, Inc. is a San Francisco, California based company designing computer peripherals, focusing on the creation of ergonomic products.
The first proposed solution was to create a mouse that is shaped into the size of our hands. But this solution creates three areas of concern:
People's hand shapes vary.
The design of a mouse is becoming enormous.
While reducing the risk of carpal tunnel it can lead to a sore arm and shoulder.
More importantly, it is far from portable. With that in mind, the design team welcomed the challenge and found its solution in the SliMouse innovative design to fit into any user's hand.
The way we write is narrated by the use of our index finger. So ask yourself, "Why shouldn't the use of a mouse be the same?" By clicking left and right to operate the traditional "left and right" mouse buttons, it becomes an unnatural and awkward process. Inferpoint's designers replaced the traditional left and right buttons with a unique front and back button. This allows the mouse to be smaller and it allows the button to be bigger for a more comfortable and natural feeling operation. Moreover, moving your finger front and back is the natural movement you use to relieve an itch (and nothing could be more natural than that).
SliMouse SlimPad (Release Date TBD)
The slim-pad takes the scroll wheel to an all new level. By using a sensor touch-scroll, it allows greater precision and ease of control.

Key Features:
Model I
Wire stored inside when not in use.
Sensor touch-scroll allowing better precision and control.
Ultra-slim design.
Model II
Wireless - 2.4 GHz.
Sensor touch-scroll allowing better precision and control.
Ultra-slim design.
SliMouse Classic
The Classic is a stylishly designed ergonomic optical mouse. It replaces the traditional left / right button with a unique front / back button for a more comfortable use.
Key Features
Patented front / back button.
3 buttons and scroll wheel.
Ergonomic design for a reduced risk of Carpal Tunnel Syndrome.
Perfect for desktops & notebooks.
SliMouse Freedom
The Freedom is the wireless version of the popular Classic, which provides another level of convenience, thus creating the ultimate portable device.
Key Features
2.4 GHz wireless.
Patented front / rear button.
3 buttons and scroll wheel.
Ergonomic design, reduced risk of Carpal Tunnel Syndrome.
Perfect for desktops & notebooks.
SliMouse Duel (Release Date TBD)
The Duel combines the functions of a computer mouse, pen styler, and wireless technology. Offering both script-style cursor writing and traditional operations.
Key Features
2.4 GHz wireless.
Baseless pen styler (a designer's dream) and optical mouse-in-one.
Patented front / back button.
InferPoint Innovative Ergonomic Computer Mice
WD Caviar GP 'Green' SATA Hard Drives
PR: WD Caviar GP drives support quieter, cooler-running desktop PCs and external storage devices that conserve critical power resources
As hard drive capacities increase, the power required to run those drives increases as well. WD Caviar GP makes it possible for energy-conscious customers to build systems with higher capacities and the right balance of system performance, ensured reliability, and energy conservation.
Key Features:
Reduced power consumption
Environmentally responsible
Lower cost of ownership
Reduced power consumption - By adjusting the rotational speed, using bigger data buffers, parking the drive's head, and optimizing how the drive seeks and caches data we have reduced the power consumption by up to 38 percent.
Helps enable eco-friendly PCs - WD Caviar GP drives yield average drive power savings of 4-5 watts over competitors' drives making it possible for our energy-conscious customers to build systems with higher capacities and the right balance of system performance, ensured reliability, and energy conservation. This power savings equates to reducing CO2 emission by up to 13.8 kilograms per drive per year - the equivalent of taking a car off the road for 3 days each year*. By using environmentally conscious PCs with our WD Caviar GP drives on board, large organizations with many desktop computers can minimize their carbon footprint and save real money on electricity costs.
*Assumes that a car produces 1.60 CO2 pounds per Kwatt/hours/year. Calculation of automobile emissions depends on the car's g/km emission levels and km/year of driving.
Perfect for "green" external drives - External USB, FireWire and Ethernet drives with WD Caviar GP drives on board can save up to $14.00 per year in electricity costs depending on the power-on-hours and power supply efficiency. See our power savings chart for details.
As an added benefit, external drive manufacturers can eliminate the need for a fan in a high-capacity product with this drive, the coolest and quietest in it's class.
IntelliPower - A fine-tuned balance of spin speed, transfer rate, and caching algorithms designed to deliver both significant power savings and solid performance. For each GreenPower drive model, WD may use a different, invariable RPM.
IntelliSeek - Calculates optimum seek speeds to lower power consumption, noise and vibration.
IntelliPark - Delivers lower power consumption by automatically unloading the heads during idle to reduce aerodynamic drag.
Perpendicular Magnetic Recording (PMR) - Employ PMR technology to achieve even greater areal density.
StableTrac - The motor shaft is secured at both ends to reduce system-induced vibration and stabilize platters for accurate tracking, during read and write operations. (750 GB and 1 TB only)
Ideal for environmentally conscious PCs requiring lower power consumption and cool, quiet operation.
750 GB and 1 TB models also available.
$149.99
Link: WD Caviar GP 'Green' SATA Hard Drives
Dualy Brings 802.11b/g/n Wireless to any Mac
PR: QuickerTek has just pushed the technology envelope with the Dualy. Now any Mac with a USB port can take advantage of wireless networking, whether the Mac has an AirPort wireless network card or not. Dualy also seeks out more distant wireless signals and locks them in with two 500 milliwatt transceivers coursing wireless across two antennas.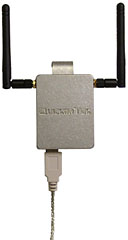 Dualy is an excellent solution for users who often find themselves accessing networks at work, school, hotels, coffee shops and other environments where signal strength and speed vary and who want maximum wireless performance.
Two 500 milliwatt transceivers inside each Dualy seize wireless signals from access points manufactured by a wide variety of common wireless hardware vendors. Most Mac laptops offer from 25 - 30 milliwatts of RF power, so it's very easy to see how Dualy can easily best any wireless connection from a stock laptop. And the dual 3 dBi antennas (one for each transceiver) provide the speed necessary for 802.11n wireless that runs in the 2.4 GHz range. Users may choose to upgrade these antennas for even greater distance and wireless speeds.
Dualy easily clips to the Mac laptop case and is powered from the USB port. It is also fully compatible with all Apple AirPort Base Stations. The Mac should run Mac OS X 10.3.9 or later, including Leopard (10.5x). An Apple AirPort card is not required to gain this powerful wireless performance, which makes it perfect for those users who have always wanted wireless, but either did not get an AirPort card or want to upgrade to the fastest wireless possible.
Dualy Compatibility
802.11b/g/n wireless hardware
Apple (highest speeds possible):
MacBook;
MacBook Pro;
iBook;
PowerBook
also works for any Mac with USB:
Mac Pro;
iMac;
Power Mac;
G4 Cube
Mac OS X version 10.3.9 or higher including 10.5.1; works with these Access points:
Apple 802.11 N Base Station Extreme (Square)
Apple 802.11 G Base Station Extreme (Saucer)
Apple AirPort Express
WAPs from dLink, Belkin, LinkSys, etc.
FCC, CE rated
SRP: $324.95
Like most QuickerTek products, the Dualy is backed with a one-year warranty on parts and labor.
Link: Dualy
Software
Mini vMac Macintosh Plus Emulator
PR: Mini vMac 3.0.4 is now officially released (with no change from the final beta, as usual). New since the previous official release, 2.8.2, is support for importing and exporting the clipboard and files, a new build system, localized versions for Dutch and Spanish, and more. Also there are some bug fixes, such as that the PowerPC version now works in Mac OS X 10.5. The Changes file in the documentation gives a more complete list.
New in version 3.0.4: see release notes.
Free
Link: Mini vMac
Intel Upgrades Software Tools to Support Mac OS X Leopard
PR: Intel Corporation has announced an upgrade of its popular software tools suite for Mac OS X Leopard, the sixth major version of Apple's advanced operating system. The latest 10.1 version of the Intel C++ Compiler and Intel FORTRAN Compiler, as well as the Intel Threading Building Blocks, Intel Math Kernel Libraries and Intel Performance Primitives, have been optimized for Apple's Leopard and Xcode 3.0 development environment launched last month.
The combination of Intel's compilers, Leopard and Xcode 3.0 provides unprecedented support for Mac developers to take full advantage of Intel multicore processors. Intel's compilers contain auto-parallelizing capabilities, libraries and Threading Building Blocks for Mac OS X, and Leopard is fully optimized for multicore environments with new developer APIs and tools for developing multithreaded applications.
Several Mac developers, including Apple's own Leopard development team, Adobe and Autodesk, have used Intel's compilers since the Mac OS X tools suite was introduced in January 2006.
"Leopard, Xcode and Intel's compilers give developers powerful new tools to squeeze even more performance out of the latest Intel processors," said Bertrand Serlet, Apple's senior vice president of software engineering. "Intel's software works well in our Xcode environment, and the Intel engineering team does a great job supporting our Apple engineers and Mac OS X developers."
"The Intel C++ Compiler has been a critical tool in the delivery of the industry's most complete cross-platform suite of professional video tools - Adobe Production Premium," said Bill Hensler, vice president of Dynamic Media for Adobe. "Intel has done a great job delivering a set of software tools that allows Adobe engineers to create outstanding products that revolutionize how the world engages with ideas and information."
"One of the unique advantages of Autodesk Maya is that it runs on multiple platforms. Creative professionals have long had an affinity for Apple products, and the Maya software's availability on Apple's Mac OS X allows them to use their platform of choice," said Kevin Tureski, director of product development, Autodesk Media & Entertainment. "With Apple's switch to Intel processors and with multicore Mac Pro machines becoming commonplace, we need compilers that allow us to multithread Maya. We rely on the Intel C++ compiler for our threading work because of its support for OpenMP and performance-critical sections of code."
Since the introduction of the Intel processor-based Macs in 2006, Intel has offered the Intel C++ Compiler, Intel FORTRAN Compiler, Intel Math Kernel Library and Intel Integrated Performance Primitives for Mac OS X. In 2007 the company added the Intel Threading Building Blocks for Mac OS X.
Link: Intel Software Development Products
Desktop Mac Deals
Low End Mac updates the following price trackers monthly:
For deals on current and discontinued 'Books, see our 13" MacBook and MacBook Pro, MacBook Air, 13" MacBook Pro, 15" MacBook Pro, 17" MacBook Pro, 12" PowerBook G4, 15" PowerBook G4, 17" PowerBook G4, titanium PowerBook G4, iBook G4, PowerBook G3, and iBook G3 deals.
We also track iPad, iPhone, iPod touch, iPod classic, iPod nano, and iPod shuffle deals.
Join us on Facebook, follow us on Twitter or Google+, or subscribe to our RSS news feed
Links for the Day
Mac of the Day: 15" iMac G4 (Early 2002), introduced 2002.01.07. The iMac is redesigned with a flat panel display and G4 CPU.
Recent Content
Follow Low End Mac on Twitter
Join Low End Mac on Facebook
Favorite Sites
MacSurfer
Cult of Mac
Shrine of Apple
MacInTouch
MyAppleMenu
InfoMac
The Mac Observer
Accelerate Your Mac
RetroMacCast
The Vintage Mac Museum
Deal Brothers
DealMac
Mac2Sell
Mac Driver Museum
JAG's House
System 6 Heaven
System 7 Today
the pickle's Low-End Mac FAQ
Affiliates
Amazon.com
The iTunes Store
PC Connection Express
Macgo Blu-ray Player
Parallels Desktop for Mac
eBay

Advertise