PC War Losers, Mac 'Just Works', $68 802.11n for Older Macs, a Free Font Manager, and More
This Week's Apple and Desktop Mac News
Compiled by Charles Moore and edited by Dan Knight - 2007.08.31
This Week's Apple and Desktop Mac News
PowerBook, iBook, MacBook, and other portable computing is covered in The 'Book Review.
All prices are in US dollars unless otherwise noted.
News & Opinion
Reviews
Products
iPod News
Software
News & Opinion
Who Lost the PC War? Gateway, IBM, Compaq, eMachines, Packard Bell...
BusinessWeek's Peter Burrows says:
"Throughout my first few years of covering Apple in the late 1990s, the focus of the business press coverage (including ours) was about Apple's disastrous fall in market share - all tied to Steve Jobs' original sin of not licensing the Mac OS. That decision, as my peers and I argued ad nauseum, left the door wide open for Microsoft to set the standard with Windows. That put Apple at the mercy of an indomitable crew of PC makers who outsourced most of the innovation, and seemed destined to snuff Apple and its higher-cost approach to building PCs out of existence.
"Well, today another one of those once-indomitable foes has bitten the dust. Gateway has been sold to Acer for a paltry $710 million (that's how low Gateway had sunk; that price was actually seen as a huge premium by shareholders, who raised the stock 50% today. Apple, by the way, has a market cap of $115 billion). Despite throwing every strategy he could think of to fix Gateway's problems - including selling the company to eMachines - PC industry pioneer Ted Waitt couldn't figure out the conundrum of selling a highly-complex product that carries the margins of a banana.
"To me, it's a powerful reminder of the wisdom of Jobs' approach to business - which values profits over growth, and which values market share mostly as a trailing indicator of success rather than a primary peg of a strategy. I remember Jobs pointing this out to me in the late 1990s. He'd only recently returned as CEO of the company, and had cut costs to bring Apple back into the black, but Wall Street was still carping about growth. He said he wasn't concerned, and imparted some advice Ross Perot had given him during Jobs' dark days at NeXT Computer: maintain your profitability, and you'll be able to live another day...."
Link: So Who Won the PC Wars, Exactly?
Why Lock DVD Players to a Single Region?
PowerPage says:
"My MacTracker shows that I have owned 11 different models starting with the 128K original in 1984. Four are in the house with me right now (PB G3, PB G4, iMac G5 and MBP Core 2 Duo). I have dealt with the upgrades to System 7, 8, 9 and OS X as well as the jumps to PPC and Intel.
"Through all of this I have been generally happy to be a Mac owner and user. For the past several years I have worked in IT Support in a Windows-only environment, which has given me a bit of healthy perspective about the pros and cons of each system, but my own investments have been in Mac hardware and software.
"With that in mind I am truly amazed at how short-sighted it is of Apple to knowingly specify built-in DVD hardware that penalizes law-abiding citizens for the illegal activities of others. I'm referring to the built-in encrypted firmware that locks in the choice of DVD regions to a single region after a few switches. In my older machines I have circumvented this by using third-party software to reset the counter, but this option is not available on the latest hardware from Apple, and should not be necessary at all."
Link: Why Lock DVD Players to a Single Region?
Further Reading
Does the Glossy Screen of the New iMac Suck?
ZD Net's David Morgenstern says:
"There's a lot of buzz online about the glossy LCD screen on the new generation of iMacs, called the Aluminum iMac. Some people love it and some hate it.
"However, its new glossy screen may have a deeper meaning in Apple's positioning for consumer, business and professional systems.
"Apple used to offer customers a choice between glossy and matte screens on previous white iMacs. When I bought one of the first-generation Intel iMacs, I chose the matte screen. Why? Because a matte surface is better for evaluating color in images.
"I pointed this out to the product marketing team at the iMac launch event in Cupertino. They must have thought I was crazy....
"A lot of people seem to be missing the point on the current debate over glossy screens. There is a reason why black and white photos for reproduction are always gloss not matte...."
Link: Does the Glossy Screen of the New iMac Suck?
Zen of Mac: You Don't Think, It Just Works
O'Reilly ONLamp Blog's Noah Gift says:
"After reading one of my favorite blogs this morning, it got me thinking about the Zen of Mac. In the article that I linked to, Shannon mentioned that one of his hang-ups is not using OS X because it isn't Open Source. The topic of smart people with hang-ups is very interesting actually and I would love to talk even further about it, but I am going to talk specifically about the Zen of Mac in this post....
"That is the Zen of Mac. You don't think, it just works. As software engineers, systems administrators, or people that are very technical, it can be difficult to just not think about your desktop computer. The reality is that you are more productive on solving your other problems when you don't think about your computer, it just works."
Link: Zen of Mac
New iMac a Nightmare for Repair Centers
Hardmac's Lionel says:
"If you had the chance to touch and play with the new iMac, you must agree they are gorgeous, and the glass and metal mix is simply astonishing. The display looks great, and one would like to know how Apple could install a glass plate in front of the LCD panel, and keeping them together (no glue, no screws!).
"Apple engineers designed a series of 14 magnets to hold the glass plate, allowing it to stand in front of the LCD while allowing the panel to be repair when faulty. However, they had to design a new tool to remove the glass plate, costing USD100 and necessary for all Apple certified repair centers. It includes 2 suction pads required to be able to counter-balance the tightening strength generated by the magnets.
"But that's only the beginning of the misery for repair tech support...."
Link: New iMac: a Dream for Users, a Nightmare for Repair Centers
Reviews
Mac mini 'More Than Adequate for Most Home Users'
Personal Computer World's Cliff Joseph reports:
"So it's a big thumbs-up for the new iMac, but Apple clearly has a bit of a problem with the Mac mini.
"In fact, it was widely rumoured the mini was going to be discontinued when Apple released the new iMac. In the end, though, the mini got a reprieve - and a modest upgrade, too.
"...the problem from Apple's point of view is that the low-cost mini could also end up cannibalising sales of the flagship iMac.
"So the company has always tended to limit the mini's potential by intentionally giving it a relatively modest specification. That obviously doesn't do much for sales and explains all the rumours about its imminent demise.
"This latest upgrade is a case in point...."
Link: Review: Apple Mac mini Desktop Computer
Mac mini Powerful Enough for Non-gamers
vnunet's Cliff Joseph reports:
"We'll admit up front that we have liked the Mac mini for some time. It's not the most powerful computer in the world, or even the cheapest, but it's neatly designed and it works extremely well.
"This latest version of the mini looks identical to all its predecessors. It measures about 15cm square and just 5cm high, so it really doesn't take up much space.
"The only real change for this model is that Apple has replaced the former's Intel Core Duo processor with the newer Core 2 Duo. The £499 version of the mini reviewed here runs at 2.0 GHz, and has 1 GB of RAM, a 120 GB hard disk and a DVD burner. It also offers wireless networking, and a FireWire interface that will allow connection of a camcorder for video-editing."
Link: Review: Apple Mac mini Desktop Computer
New 24" iMac 'Best Mac I've Ever Used at Any Price'
Barkings! The Small Dog Apple Blog's Ed Shepard reports:
"I've coveted the 24" iMac since it was released in early 2006. I admire its space and energy saving design, as well as the speed offered by its powerful Core 2 Duo processors. Also, the beautiful 24" monitor is perfect for multi-tasking - I can open two full word-processing documents at once. When Apple released the faster, redesigned iMacs a couple weeks ago, I decided the time was right for me to take a leap and make the purchase. I brought home a 24" iMac, with the 2.4 GHz Core 2 Duo processor and 320 SATA hard drive, and simply added another 1 GB RAM chip.
"My review in a sentence: The new iMac is simply the best Mac I've ever used at any price; with its bundled software and premium components, it's also an incredible value. I am very, very happy with mine...."
Link: Review of the New 24" iMac
Aluminum-and-glass iMac Brings Sexy Back
Macsimum News' Dennis Sellers reports:
"Apple's revamp of the iMac offers what you'd expect it to offer: a speed bump, more storage and a better display (well, better to me, though some would disagree). It makes the company's best desktop ever incrementally better, which is quite a compliment.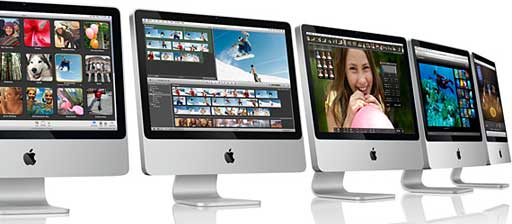 "The revamped all-in-one iMac line features 20- and 24-inch widescreen displays encased in aluminum and glass enclosures. I liked the look of the previous white polycarbonate model, but the new version is even more svelte and, yes, sexier with an iPhone-ish look that's more futuristic and professional in its appearance....
"This is certainly the slimmest all-in-one ever built. The iSight webcam and microphone are integrated into the screen's case and are practically 'invisible.' In fact, you won't even notice the iSight until you fire up iChat. The clean design extends to the back of the case, which is composed of matte-black hard plastic with a subtle Apple logo up top. The only screw on the entire unit is below the screen at the back, which you remove to access the memory slots for RAM upgrades...."
Link: Review: New, Aluminum-and-glass iMac Brings Sexy Back
One Week with the Aluminum Keyboard
Mac 360's Ron McElfresh reports:
"When Apple introduced the new aluminum iMac, it sported a new aluminum keyboard, reminiscent of the integrated short-stroke keyboard in the new MacBooks.
"Is this new keyboard good, bad, or just pretty? Is Apple going for style over substance or does the keyboard offer something revolutionary?"
"I'm not a keyboard expert, but I bounce from machine to machine, Mac, to PCs, to Linux PC, desktops to laptops, all day long, and I've been keyboarding at around 70 wpm since the earliest Mac in 1984, so my opinion should be qualified....
"If you like your Macs keyboard and are not compelled to change, don't. If you're after keyboard optimization (meaning; faster, easier, more productive keyboarding), then try the new aluminum keyboard....
"What happens? The aluminum keyboard does the same thing as OS X does, as the Mac in general does, as most well-constructed Mac tools and utilities do - get out of the way.
"After three days of use I found myself typing a bit faster, a little more accurately, and with less strain on my fingers than the older Mac plastic keyboard."
Link: 1 Week with the Mac's Aluminum Keyboard
Products
Add Mac 802.11n Wireless to Older Macs for $68
PR: OWC's Lawrence O'Connor says, "We have now picked up the full line of 802.11n cards that now have the Mac Drive support available and offer them for $69.99."
PCMCIA CardBus model for PowerMac G3 Pismo, PowerMac G4 Titanium, and PowerMac G4 Aluminum models.
PCI Card model for any Power Mac model all the way back to the Power Mac G3 B&W
USB 2.0 'Stick' model for any Mac that has an available USB 2.0 port either factory built-in or via add on expansion card.
"All three options are the same $67.99, a huge savings over the $149.99 QT I saw, with freight from $4.50 or less too."
Link: Mac 802.11n Wireless
Chromac Housing for 17", 20", and 24" iMac G5 and White Intel iMacs
PR: Chromac is an after-market custom plated housing for the iMac Intel Core 2 Duo.
An elegant, sculpted aluminum enclosure with advanced state of the art coatings. Your iMac will be in an elite class of its own.
Chromac's iMac cases are designed and manufactured by the world's most elite metalworkers and custom craftsmen. Acclaimed for their professional achievements, quality, and attention to detail, Chromac's founders are artisans with 75 years of experience, specializing in providing the finest precious metal finishes to elite businesses as well as celebrities.
Chromac uses the same high quality materials and finishes found in Gulfstream jets and luxury automobiles, like Bentley and Lamborghini. This same dedication now extends itself to the computer world, with beautifully designed products that are solidly constructed with undeniable quality.
Buy an iMac and Chromac Case or the Chromac Case Only
Models to fit iMac 17 inch 1.83 GHz, 17 inch 2.0 GHz, 20 inch 2.16 GHz, and 24 inch 2.16 GHz.
Prices start at $399.
Colors: Stealth Black Chrome, Chrome, Liquid Charcoal, Black Coal, 24K, Antique 24K Gold, Gun Metal Gray, Cool Blue, Lime Green, Flamingo Pink
Note that the Website is in test mode.
You can also order from by calling 562-447-1812.
Link: Chromac Custom Housing for iMac Intel Core 2 Duo
OWC Lowers Price on Award-winning Blu-ray Drives
PR: Other World Computing (OWC) announced that it has lowered the price of its new award-winning OWC Mercury Blu-ray Internal and External Drive Solutions, priced now starting at $499.99 for internal and $599.99 for external drives. Winner of the American Photo 2007 Editor's Choice Award for Best Storage Products, the OWC Mercury Blu-ray Drive is a FireWire/USB 2.0 Plug & Play Blu-ray Burner + DVD-RW/CD-RW that is 100% compatible with any Windows or Mac system with an available IDE/ATAPI bay port (for internal drives), or any FireWire or USB 2.0 system port (for external drives).
Blu-ray High-Capacity 50 GB Storage per Disc The OWC Blu-ray drives are the ideal solution for consumers with large amounts of data to archive or retrieve using optical media - perfect for high-definition or other video, large photo, music, and data files. The Blu-ray drives read and write Blu-ray, DVD, DVD-RAM, CD and virtually every optical media. The drives provide the advantages of Blu-ray, including high-capacity storage (up to 50 GB per disc) for write-once or rewritable media at a burn speed of 24X, full high-quality HD Picture, and Surround Sound capabilities.
Create Your Own High-Capacity DVDs Using Family and Friends as the Stars Blu-ray, the next generation of storage technology developed by Sony, gives you the freedom to create home movie and photo memories on long lasting discs with the highest video resolution now available on the market. Blu-ray has a broad base of industry support, with seven of the eight major movie studios and leading consumer electronics and IT hardware manufacturers providing a broad selection of Blu-ray disc™ products.
The OWC Blu-ray Drive Solutions feature:
Burn up to 50 GB of data or high-definition video per Blu-ray disc or up to 8.5 GB using standard DVDs. True Plug & Play, it's never been easier to get started creating your own DVDs. Supports FireWire and USB 2.0 (USB 1.1 backwards compatible) ports! Includes two 25 GB Blu-ray media discs.
Available bundled with full retail version of Toast 8 DVD/CD Authoring software.
Priced at $499.99 for OWC Mercury Blu-ray Internal Drives (with standard IDE/ATAPI interface) and $599.99 for External Drives, these solutions are available with the full retail version of Toast 8 DVD/CD Authoring software (with Blu-ray Support), two 25 GB Blu-ray media discs, and are covered under a 1 year warranty. All External drive solutions also include all required connecting cables. The OWC Blu-ray drive solutions are available immediately from OWC.
Link: OWC Blu-ray Drives
SanDisk's New 8 GB Cruzer Micro
PR: SanDisk Corporation has announced an 8 GB1 model of its popular Cruzer Micro USB flash drive, double the largest capacity previously available in the Cruzer Micro line.
Only two inches long, a half-inch thick and weighing less than half an ounce, the 8 GB Cruzer Micro nonetheless can hold a massive personal library - 1,600 ultra-high-resolution digital pictures, 2,000 digital songs or five hours of high-quality home video.2
"Just a few years ago, USB flash drives had such limited capacities that they were only useful for moving a few files from one computer to another," said Ittai Golde, senior director of product marketing for the USB Division of SanDisk. "Now, you don't have to decide what files to put on a Cruzer Micro. You can load the drive with virtually everything you might need when you're away from your primary computer."
Cruzer Micro packs an impressive list of features into a small package:
A sliding USB connector means there's no cap to lose, and the connector is protected from damage when the drive is not in use.
The slider switch is illuminated by an amber LED light when the drive is active, making it easy to see - when the light goes out - that it's safe to unplug the drive.
U3 Smart Technology for running applications directly from the drive, without those applications having to be installed on the computer. U3-compatible software provided free with Cruzer Micro includes the PC phone service Skype, SanDisk's own CruzerSync for synchronizing files between a PC and the drive, the password manager program SignupShield Passwords from Protecteer, and a trial version of McAfee antivirus software.
Cruzer Micro 8 GB is expected to be available in Canada in late-October with a manufacturer's suggested retail price of $155.99. Cruzer Micro also continues to be available in four smaller capacities, with MSRPs generally as follows: 512 MB for $17.99, 1 GB for $29.99, 2 GB for $47.99 and 4 GB for $83.99.
SanDisk is the original inventor of flash storage cards and is the world's largest supplier of flash data storage card products, using its patented, high-density flash memory and controller technology. SanDisk is headquartered in Milpitas, California, and has operations worldwide, with more than half its sales outside the US.
Link: SanDisk
KBCover - Aluminum Keyboard Cover and LCD Swiper
PR: ShaggyMac KBCover is a stealth minimalist cover for the New Aluminum Apple Keyboard that doubles as a LCD Swiper for iMac Screens, Cinema Displays, and any other optical surface you may encounter. The dense microfibers capture dirt & grime, while leaving sensitive surfaces clean & safe. Designed to cover, clean and polish. The KBCover may be used as a standalone dry dusting wipe, or with any premium quality spray cleaner such as the ShaggyMac OptiMist Prime.
Fits the new Aluminum Apple Keyboard best, but will also work with Apple Pro Keyboard.
Specifications
Material: TrueMicro (>1 million fibers/sq inch)
Thickness: 0.8mm
Color: Stealth Gray
Made in the USA
$11.95
Link: ShaggyMac KBCover
Belkin's Wireless USB Hub Attains USB-IF Certification
PR: Belkin announces that its Wireless USB Hub now meets the USB-IF's Wireless USB Specification requirements, ensuring compatibility with other Wireless USB devices. The 4-port Wireless USB Hub gives you wireless access to your USB devices without the clutter of cables.
Simply plug in your USB devices, such as your printer and hard drive, into the Wireless USB Hub. Then, attach the included USB Adapter to your computer. You are now free to roam the room with your laptop while still maintaining 30 feet of wireless access to your USB devices.
Belkin's Wireless USB Hub lets you move your printer, scanner, and storage drive off your desk to make it less cluttered.
US Availability September 2007 with launches in Asia, and Europe to follow.
Wireless USB Hub (F5U302) - $199.99
Connects USB printers, cameras, scanners, hard drives, and other devices to your computer
Transfers at speeds of up to 480 Mbps
Offers interoperability with other Certified Wireless USB devices, such as printers, digital cameras, and hard drives
Package includes Wireless USB Hub, Wireless USB Adapter, Power Adapter, and Wireless USB Adapter Dock
Certified Wireless USB is the first high-speed, wireless personal interconnect technology that combines the speed and security of wired Hi-Speed USB with the ease-of-use of wireless technology. It is backward-compatible with wired USB, allows users to connect up to 127 devices, and delivers a bandwidth of up to 480 Mbps at three meters (10') and 110 Mbps at 10 meters (33'). Certified Wireless USB is based on the WiMedia Alliance Ultra-wideband Common Radio Platform. For further information, visit: http://www.usb.org/wusb/
Link: Belkin
Software
FontExplorer X Powerful Free Font Manager
PR: FontExplorer X sets a new standard for font management software. Linotype is pleased to announce the missing link to your font collection. With the new FontExplorer X, font management, font sorting, font shopping and font discovery are simple and fun! FontExplorer X gives computer users all the functionality they ever dreamed - easy to use with an elegant style.
Supported languages are currently English and German.
FontExplorer X is simple:
Simple to install fonts
Simple to manage fonts
Simple to buy fonts
Simple to maintain fonts
FontExplorer X is smart:
Smart setup
Smart OS integration
Smart font handling
Smart sets
FontExplorer X is free
Free download
Free from nag screens
Free your fonts
Free yourself
Link: FontExplorer X
Smart Scroll X 2.7 Released
PR: Smart Scroll X offers smooth and easy iPhone-like scrolling:
Super Wheel makes your scroll wheel smoother, faster and more comfortable. And it lets you reverse scrolling on the Mac to match your iPhone. Try it!
Grab Scroll gives you a Hand tool to easily move (and "throw"!) any window's contents. Other features include Universal Scroll Keys that let you scroll from the keyboard, FileMaker Pro and AppleWorks enhancements, and more.
Super Wheel: Amazingly smoother scrolling, with less work!
Free-flowing wheel action with better feedback - makes it much easier to follow the page as it scrolls.
Coasting - uses the momentum of the moving page to let you zip through large documents faster and with less effort, as on the iPhone. You can reverse scrolling on the Mac (scroll wheel, trackpad) to match your iPhone. Says John Brooks, who suggested this: "It seems weird for about 5 seconds, then it seems like it should have been that way"! Super Wheel works with any regular scroll wheel mouse - any mouse that the Keyboard & Mouse preference pane can see. This is how a scroll wheel should work, try it and you won't want to go back! Grab Scroll let you move any window's contents around with a simple mouse drag. It is similar to the hand tool feature common in graphics programs, except:
Grab Scroll works everywhere, in almost every window.
With iPhone-like coasting, scrolling through multiple pages becomes as easy as grabbing the document and gently "throwing" it in the direction you want. Grab Scroll works with any kind of mouse, pen & tablet, trackpad, trackball... It can share a button with a 2nd action: drag to Grab Scroll, click to open links in a new tab, or for any action that does not involve dragging - not Dashboard or Exposé.
Scroll Wheel Accelerator: extra-fast scrolling for less finger work.
Scroll Keys let you use the same set of keys for scrolling in all applications. This gives you consistent, dependable scrolling everywhere, without having to remember which app uses which keys and without always having to reach for the mouse. Scroll Keys are a welcome alternative, and if you type a lot, a real time saver!
Smart Scroll X also brings scroll wheel support and live scrolling to FileMaker Pro 6 and 7, and AppleWorks 6.
New in this version:
Super Wheel and Grab Scroll support for Eudora, Netscape 9, Papyrus, RagTime, and many other Carbon applications. Thanks to Eelco Houwink, Myles Harris, and David Ianni!
Various fixes and improvements (Camino, FileMaker Pro 8.5 & 9, Google Earth, Pages)
Smart Scroll X is shareware ($19 single user license) and runs on Mac OS X 10.3.9 or newer (universal).
Link: Smart Scroll X
Desktop Mac Deals
Low End Mac updates the following price trackers monthly:
For deals on current and discontinued 'Books, see our 13" MacBook and MacBook Pro, MacBook Air, 13" MacBook Pro, 15" MacBook Pro, 17" MacBook Pro, 12" PowerBook G4, 15" PowerBook G4, 17" PowerBook G4, titanium PowerBook G4, iBook G4, PowerBook G3, and iBook G3 deals.
We also track iPad, iPhone, iPod touch, iPod classic, iPod nano, and iPod shuffle deals.
Join us on Facebook, follow us on Twitter or Google+, or subscribe to our RSS news feed
Links for the Day
Mac of the Day: Macintosh Portable, (1989.09.20. The nearly 16 lb. behemoth was innovative but not a smashing success.)
Recent Content
Follow Low End Mac on Twitter
Join Low End Mac on Facebook
Favorite Sites
MacSurfer
Cult of Mac
Shrine of Apple
MacInTouch
MyAppleMenu
InfoMac
The Mac Observer
Accelerate Your Mac
RetroMacCast
The Vintage Mac Museum
Deal Brothers
DealMac
Mac2Sell
Mac Driver Museum
JAG's House
System 6 Heaven
System 7 Today
the pickle's Low-End Mac FAQ
Affiliates
Amazon.com
The iTunes Store
PC Connection Express
Macgo Blu-ray Player
Parallels Desktop for Mac
eBay

Advertise