Evidence of Next iMac and Mac mini with Nvidia Graphics, Consumer Macs Ready for Business, and More
This Week's Apple and Desktop Mac News
Compiled by Charles Moore and edited by Dan Knight - 2008.12.24
Low End Mac will be closed for the holidays from Christmas through New Year's Day. Site updates will resume on Friday, January 2, 2009.
PowerBook, iBook, MacBook, and other portable computing is covered in The 'Book Review. iPod, iPhone, and Apple TV news is covered in The iNews Review.
All prices are in US dollars unless otherwise noted.
News & Opinion
Reviews
Apple Updates
Software
News & Opinion
Beginning of the End for the iMac?
The Industry Standard's Ian Lamont says:
"Ten years ago, Apple released a product that marked the start of its remarkable turnaround under Steve Jobs. The product was the iMac. The candy-colored, self-contained desktop computers was an eye-opener for people who were accustomed to beige PC towers that had all of the sex appeal of a Soviet apartment block. The iMac was an instant hit....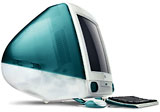 "However, while Apple has been able to keep the iMac on the leading edge of design and consumer demand, its future doesn't look so bright. This may seem like an unusual statement considering the iMac has been in the leading product in its desktop lineup. Nevertheless, the iMac can't outrun trends taking place in the marketplace.
"Even before the economic crisis hit, there had been an ongoing shift to notebook computers. Apple's 2008 10-K reflects this - overall Apple notebook sales more than doubled from 2006 to 2008, compared to a 70 percent rise in Apple's desktop sales.
"Apple has been trying to hold the line on iMac pricing, but it won't be able to sustain $1,000+ levels in a recession."
"The obvious choice is to wind down its consumer desktop business."
Link: The Beginning of the End for the iMac?
Why 'Consumer' Macs Are Enterprise-Worthy
Computerworld's Seth Weintraub says:
"Not too long ago, ad agencies, design firms and other creative companies were about the only businesses that widely deployed Macintosh computers to their employees. But for a number of reasons, word of the benefits of Apple Inc. hardware - and software - on enterprise desktops is now spreading...
"Macintosh computers appear to be making market-share gains in the home, opening the door to similar success in the enterprise. But which Apple machines are appropriate for corporate use? Should IT managers focus only on the 'professional' end of Apple's offerings - the Mac Pro desktop machine or MacBook Pro laptop line? Or would an iMac, a Mac mini or a MacBook make as much sense for business?"
"There is no comparison between Apple's 'consumer' machines and the consumer lines of its competitors. All of Apple's machines are ready to move into the enterprise, depending on the job at hand...."
Link: Why Apple's 'Consumer' Macs Are Enterprise-Worthy
Proof There Will Be a New Mac mini and iMac
Hardmac's Lionel reports:
"While digging in the Mac OS X configuration files, some people found proof that Apple prepares to launch a new mini Mac and a new iMac.
"As if there could be any doubt, the two machines will use GeForce 9400M on their mother boards; this news brings more question than answers.
"For mini Mac, this is excellent news . . . However we can ask the question about Firewire on this machine. If Apple remains coherent, the Mac mini, just like MacBook, should lose these ports.
"For the iMac . . . There too, one can question the presence of Firewire. For the higher models, Apple will certainly follow MacBook Pro route and will integrate a faster second chip....
"According to some sources, Apple might emphasis [sic] the capabilities of the new iMac and Mac mini for games. Some information let us think that the reason for the Mac mini to sport a discrete GPU would be to offer much better abilities for games...."
Link: There Will Be a New Mac mini and iMac - Report Says There's Proof
New iMacs and Mac minis Confirmed to Use NVIDIA Chipsets
AppleInsider's Slash Lane reports:
"Apple's next-generation iMacs and Mac minis will adopt the same NVIDIA chipset platform found at the heart of the company's most recent notebook overhaul, new findings confirm once over.
"A member of the InsanelyMac forums was recently rifling through the extension files that ship with the latest MacBooks and MacBooks Pros and discovered references to a 'Macmini3,1' and 'iMac9,1.'
"Running System Profiler on Apple's most current iMacs and Mac minis reveal the model number of those systems to be 'Macmini2,1' and 'iMac8,1,' meaning the configuration files included with the company's latest notebooks are for still unannounced models."
Link: New iMacs and Mac minis Confirmed to Use NVIDIA Chipsets - Report
The Ultimate Guide to Mac OS X
MacTrainingGuide says:
"In this Tutorial-Review of Mac OS X we will navigate through every one of its features with a concise definition, videos and pdf documents to support any technical information of the System, this is a looong journey, but once taken you won't need to look back for more information about OS X. In this first chapter we will check: The Desktop, Mac OS X Finder, Quick Look, Spaces and Time Machine."
Link: The Ultimate Guide to Mac OS X
Reviews
Mac OS X 10.5.6 Faster, Especially Graphics
Macs Only's Bill Fox reports:
"Apple released Mac OS X 10.5.6 on Monday, 12/15, with new graphics drivers, among other things, so my hope of improved graphics performance was again renewed. I installed Mac OS X 10.5.6 using Software Update on a number of Macs: Mac Pro, MacBook Air, iMac Core 2 Duo, PowerMac G4 Cube and PowerBook G4. Only the iMac had the installer problem noted in this Apple KB article and I fixed it by downloading and using the stand-alone combo installer. I have been using 10.5.6 since, experiencing no problems on any of the computers....
"Mac OS X 10.5.6 recovers the graphics speed drops that occurred in 10.5.5 . . . Best of all, my vastly faster Mac Pro is finally faster at the OpenGL game Halo than my former MacBook Pro - 10.5.6 is 70% faster than previous releases of Leopard on my Mac Pro!"
Link: Mac OS X 10.5.6, How Fast Is It! Really Good News
Mac OS X 10.5.5 vs. 10.5.6: Improved Graphics Performance
Bare Feats' rob-ART morgan reports:
"According to the Apple Support documentation, Mac OS X Update 10.5.6 'includes general improvements to gaming performance.' We ran a series of tests to see what improved...."
Link: Mac OS X 10.5.5 versus 10.5.6: Improved Graphics Performance?
Apple Updates
Mac OS X 10.5: Software Update Stops Responding During 'Configuring installation'
A new Apple Knowledge Base article says:
When attempting to update software using Software Update in Mac OS X 10.5, the update process may stop responding while "Configuring installation" is visible in the update window.
This can occur if Software Update attempts to install an update that was only partially downloaded.
Products Affected: Mac OS X 10.5, Mac OS X 10.5.3, Mac OS X 10.5.4, Mac OS X 10.5.1, Mac OS X 10.5.2, Mac OS X 10.5.5
Resolution: Quit (or if necessary, Force Quit) Software Update.

Note: If the issue occurs while installing an update after log out (such as an update that requires a restart), shut down your Mac by holding down the power button, then power it back on.


Click the Finder icon in the Dock.
From the Go menu choose "Go to Folder".
Type: /Library/Updates
Click Go. The /Library/Updates folder opens.
Select all contents of this folder and move them to the Trash.
Once the above steps are complete, use Software Update again to re-download and install the update.
To avoid this issue, download and install the Mac OS X 10.5.6 Update or later. Note that this update must first be installed to avoid the issue; the issue may occur while downloading the Mac OS X 10.5.6 Update or later.
Link: Mac OS X 10.5: Software Update Stops Responding During 'Configuring installation'
Software
Primate Labs Announces Geekbench 2.1
PR: Primate Labs has announced the immediate availability of Geekbench 2.1, an update to their cross-platform processor and memory benchmark for Linux, Mac OS X, Solaris, and Windows. Geekbench provides a comprehensive set of benchmarks engineered to quickly and accurately measure processor and memory performance. Designed to make benchmarks easy to run and easy to understand, Geekbench takes the guesswork out of producing robust and reliable benchmark results.
Geekbench 2.1 focused on making the application more approachable to new users by overhauling the benchmark result view in a way that make benchmark scores more prominent and easier to understand. These same improvements were also ported to the newly redesigned Geekbench Result Browser making scores even easier to compare than before.
Version 2.1 also includes a number of new features and bug fixes for power users, including offline result submission, increased benchmark accuracy in virtual machines, and improved timing code that better handles software-overclocked systems.
Minimum System Requirements: Mac OS X 10.4 or later, Windows XP or later, or Fedora Core 8 or later are required to use Geekbench 2.1.
Pricing and Availability: Geekbench costs $19.95 for new users, Geekbench 2.0 users will receive the update for free. Please visit the product website for further details.
Link: Geekbench
Desktop Mac Deals
Low End Mac updates the following price trackers monthly:
For deals on current and discontinued 'Books, see our 13" MacBook and MacBook Pro, MacBook Air, 13" MacBook Pro, 15" MacBook Pro, 17" MacBook Pro, 12" PowerBook G4, 15" PowerBook G4, 17" PowerBook G4, titanium PowerBook G4, iBook G4, PowerBook G3, and iBook G3 deals.
We also track iPad, iPhone, iPod touch, iPod classic, iPod nano, and iPod shuffle deals.
Join us on Facebook, follow us on Twitter or Google+, or subscribe to our RSS news feed
Links for the Day
Mac of the Day: Macintosh IIx, (1988.09.19. The first Mac to use a 68030 CPU, high density floppy drive.)
Recent Content
Go to the Mac News Review index.
Follow Low End Mac on Twitter
Join Low End Mac on Facebook
Favorite Sites
MacSurfer
Cult of Mac
Shrine of Apple
MacInTouch
MyAppleMenu
InfoMac
The Mac Observer
Accelerate Your Mac
RetroMacCast
The Vintage Mac Museum
Deal Brothers
DealMac
Mac2Sell
Mac Driver Museum
JAG's House
System 6 Heaven
System 7 Today
the pickle's Low-End Mac FAQ
Affiliates
Amazon.com
The iTunes Store
PC Connection Express
Macgo Blu-ray Player
Parallels Desktop for Mac
eBay

Advertise