Macs #1 in Reliability and Support, Why Apple Can't Stop the Clones, Apple Mudflaps, and More
This Week's Apple and Desktop Mac News
Compiled by Charles Moore and edited by Dan Knight - 2008.12.19
PowerBook, iBook, MacBook, and other portable computing is covered in The 'Book Review. iPod, iPhone, and Apple TV news is covered in The iNews Review.
All prices are in US dollars unless otherwise noted.
News & Opinion
Products
Software
News & Opinion
Macs Beat All Comers for Reliability and Support
Computerworld's Gregg Keizer reports:
"For the second year running, Apple's computers are the most reliable and its support the most dependable of all computer makers selling in the US, a national chain of computer service shops said Wednesday.
"Apple's Macs beat machines sold and supported by Panasonic, Lenovo, Toshiba, and Hewlett-Packard, according to Rescuecom's third annual reliability report. Apple, which took the top spot last year, more than doubled its score from 2007 and again trounced the competition, this year posting a score 43 percent higher than next-best Panasonic."
Link: Macs Beat All Comers on Reliability, Support
New Mac mini Expected at Macworld 2009
Wired's Brian X. Chen reports:
"Apple will launch an upgrade to its low-end desktop, the Mac mini, at January's Macworld Expo in San Francisco, according to an Apple corporate employee who contacted Wired.com.
"The source, who wished to remain anonymous (to keep his job), could not disclose details about the Mac mini other than its upcoming announcement at Macworld Expo, which begins Jan. 5. That's where CEO Steve Jobs traditionally launches major products during his famous keynotes (assuming he does indeed show up)."
Editor's note: The Mac mini hasn't been updated since August 2007, and it was behind the technology curve then. We also expect to see the Mac Pro (last updated Jan. 2008) and iMac (April 2008) updated. Expect DisplayLink or Mini DisplayLink for video output, Intel's Nehalem CPUs, and Nvidia graphics on the Mac mini and iMac. dk
Link: Rumor: New Mac mini Coming to Macworld 2009
Why Apple Can't Stop the Clones
Wired's Brian X. Chen reports:
"Just hours after announcing plans to sell a high-end Mac clone, niche electronics reseller EFIX USA changed course in order to avoid a nasty legal confrontation with Apple.
"'We certainly don't want to get into a legal battle that's over a couple thousand dollars,' an EFIX USA spokesman said. 'Potentially Apple could have a legal issue there. They may not have a legal issue, but with all the money they have they might try to make one.'
"Despite the sudden turnabout, it's getting harder and harder for Apple to guard the most precious jewel at the core of its success: The Mac operating system....
"Although running OS X on a non-Apple machine may violate Apple's software license agreements and copyrights, and may be a violation of the DMCA, the new crop of clone makers have plenty of tricky moves to evade legal trouble."
Link: Hack of the Clones: Why Apple Can't Stop the Copies
NPD Says Mac Sales Slow, Windows Sales Grow
Computerworld's Gregg Keizer reports:
"Mac retail sales in the US last month fell 1% from a year ago, even as sales of Windows PCs climbed 7%, market research company NPD Group Inc. reported today.
"The downturn is a turnabout for Apple, which through October had managed to maintain growth significantly above the PC industry average, and - if followed by soft sales this month - could push the company to cut prices, said NPD analyst Stephen Baker."
Link: Mac Sales Slow, Windows PC Sales Grow, Says NPD
Thunderbird 3 Almost a Viable Alternative to Mac Mail
Mac Observer's John Martellaro reports:
"On Tuesday, Mozilla released Thunderbird 3, Beta 1 for testing. It includes the long-waited integration with the Mac OS X Address Book. This Quick Look review briefly introduces the Thunderbird e-mail application and compares it to Apple's Mail App....
"In particular, the integration with the Mac OS X Address Book may be the tipping point for many. Without that integration, many Mac users just ignored version 2 - not wanting to maintain two addressbooks.
"One of the key goals of Thunderbird 3 is to allow easier set up of an initial e-mail account. For example, the POP, SMTP and port server settings are preloaded for Google Mail. All the user has to do at launch is enter the username and password. Unlike Apple Mail, account settings are found in the menu item Tools -> Account Settings. That's where the user can add additional e-mail accounts.
"Right here one sees the different design philosophy between Apple Mail and Thunderbird....
"With Mac OS X Address Book Support, Thunderbird 3 becomes a realistic candidate for those users who don't care so much for Apple Mail, especially those Eudora die-hards who switched to Apple Mail in desperation for something more modern and currently maintained...."
Link: Thunderbird 3 Becomes Viable Alternative to Apple Mail - Almost
10 Ways Windows Is Better Than OS X
Reality Distortion says:
"Having used both Windows and Mac OS X over the years, there's little doubt in my mind that my Mac is, overall, nicer to use than any Windows PC. And of course, this is a Mac blog, so many of my posts invariably end up singing the praises of Macs and all things Apple.
"However, as it's the season of goodwill and all, I thought it fitting to redress the balance and list 10 things that Windows does better than Mac OS . . . Macs may be lovely, but there are some things that Microsoft simply does better! Not that I'll be trading in my iMac for a Dell just yet."
Link: 10 Ways That Windows Is Better Than Mac OS
Mighty Mouse Scrolling Stops Working
MacFixIt reports:
"Apple's Mighty Mouse, despite its unique features, still uses a mechanical ball that is used for the navigation. Just like previous ball mice, this mechanism is prone to skip after a while of usage....
"The roller ball in the mouse is largely inaccessible, unlike old ball-mice where the ball could be removed by opening a hatch. Users could then apply alcohol cleaners to the roller mechanisms. For the Mighty Mouse, the ball will need to be cleaned in-place. Apple recommends taking a lint-free cloth and lightly moistening it to clean the surface of the mouse as well as the mouse enclosure. If the mouse has a noticeable piece of dirt that can be felt in the mechanism, users are recommended to turn the mouse upside down and roll the ball against the cloth rapidly until the dirt dislodges."
Editor's comment: What were they thinking designing a trackball with no access for cleaning?! I've never liked the Mighty Mouse much, and this makes me like it even less. Give me my Logitech V-550 or even my old MacMice DangerMouse any day. cm
Link: Mighty Mouse Scrolling Stops Working
How to Clean the Ball in Your Mighty Mouse
Hardmac's Lionel reports:
"If you start using the Mighty Mouse, you will have to deal with its unfortunate ability to trap dust, leading the rotating ball to lose its function. In a TechNote featuring a video, Apple explains how to clean the stacked ball of your Mighty Mouse:
http://www.info.apple.com/images/kbase/302417/302417_1.mov
"From our experience, you will have to crack-open the base of your Mighty Mouse, in order to get access to the rotating ball mechanism to fully clean it. To date, this is the only procedure to maintain the mechanism fully operational, however, you will have to glue the case or tape it as once cracked opened, the mighty mouse is rather hard to re-assemble."
Editor's note: Sweet, but better to just buy a decent mouse. cm
Link: How to Clean the Rotating Ball of your Mighty Mouse
Apple Truck Mudflaps
These are cool. I'm wondering where I could find a set for my truck.
Check 'em out at:
Link: Apple Truck Mudflaps
Products
$25 NewerTech MAXPower 802.11g/b Wireless USB 2.0 Stick Adapter
PR: Newer Technology, Inc. (NewerTech) has announced the NewerTech MAXPower 802.11g/b Wireless USB 2.0 Stick Adapter, a Plug and Play 802.11g/b wireless adapter that enables owners of USB 2.0/1.1 equipped Macs and PCs to affordably upgrade their wireless home and office networking performance with up to 5 times faster data transmission rates over 802.11b standards.
Ideal Solution for Mac Desktop and Notebooks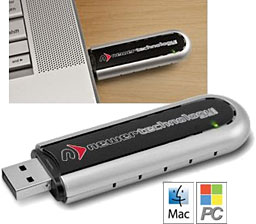 With full OS X support for Plug and Play operation straight from the box, the MAXPower 802.11g/b Wireless USB 2.0 Stick Adapter offers fast and stable wireless networking at home, at the office, and at mobile hotspots. It enables owners of USB 2.0/1.1 equipped Macintosh desktop and notebook computers, such as PowerMac G4, iMac G4, PowerBook G3/G4 and iBook G3 models that didn't include built in wireless or have a non-working AirPort card, to easily add wireless networking capabilities or upgrade their existing performance.
Faster Performance, Lower Cost than Factory Card
The MAXPower 802.11g/b Wireless USB 2.0 Stick Adapter delivers five times faster performance over the factory AirPort 802.11b card, as well as offers Mac and PC users backwards compatibility with 802.11b wireless standards so users can download email, MP3s, and videos wherever they roam.
Plug and Play with Macs and PCs
Installing and using the MAXPower 802.11g/b Wireless USB 2.0 Stick Adapter to start sharing Internet access, media files, and network resources is a simple matter of plugging the adapter into an open USB 2.0/1.1 port on a Mac running OS X 10.3.9 and later or PC running Windows 2000, XP, or Vista operating systems and loading the included CD-ROM.
Complete NewerTech MAXPower 802.11g/b Wireless USB 2.0 Features
Fully Mac OS X 10.3.9 and later supported with onscreen menu setup, CD-ROM with drivers and user guide.
Easy to connect via USB 2.0 and USB 1.1.
Up To 5x faster than 802.11b.
Backward compatible with 802.11b networks.
Ideal for high data rate needs like video streaming.
Advanced security features: 64/128/152 bit WEP, WPA/WPA2.
2 year warranty.
Expands Existing Wireless Line with Low Cost Option
The NewerTech MAXPower 802.11g/b Wireless USB 2.0 Stick Adapter is priced at $24.99 MSRP and is available immediately from NewerTech's exclusive distributor, Other World Computing (OWC), as well as through the retail channel. The adapter comes complete with Mac and Windows drivers and a user manual.
The new adapter joins the existing MIMO based MAXPower 802.11n/g/b wireless line from NewerTech which features the MAXPower 802.11n/g/b Wireless Router priced at $67.99; the MAXPower 802.11n/g/b Wireless PCMCIA Laptop CardBus Adapter priced at $49.99; the MAXPower 802.11n/g/b Wireless USB 2.0 Stick Adapter and Extension Cradle priced at $49.99; and the MAXPower 802.11n/g/b Wireless PCI Adapter with moveable antenna base for desktop computers priced at $49.99.
Link: NewerTech MAXPower 802.11g/b Wireless USB 2.0 Stick Adapter
Software
Free Ecofont Helps Save Printer Ink/Toner
PR: The Ecofont is created to save ink by omitting parts of the letter. Naturally, results vary depending on your software and the quality of your screen. The Ecofonts works best for OpenOffice, AppleWorks and MS Office 2007. Printing with a laser printer will give the best printing results.
The Ecofont is based on the Vera Sans, an Open Source letter, and is available for both PC and Mac.
The Ecofont is developed by SPRANQ, based on a hunch of Colin Willems. Lots of possible ink-saving-options were tried from extra thin letters to letters with outlines only.
With the Ecofont SPRANQ hopes to increase environmental awareness too. Increasing customer awareness about printing behavior: is printing really necessary or (partly) a waste of ink and paper? They also hope to inspire software giants and printer manufacturers to innovate in an environmentally conscious manner.
Freeware, although donations will be appreciated.
Link: Ecofont
Yellow Dog Linux 6.1 Linux Operating System for PowerPC
PR: Yellow Dog Linux is an open source, Linux operating system for home, office, server, and cluster users. Built upon the RHEL/CentOS core, Fixstars has since the spring of 1999 developed and maintained YDL for the Power architecture family of CPUs. This focus and dedication has lead to the world's leading Linux for the Power architecture.
Yellow Dog Linux combines a no nonsense graphical installer with support for a wide range of Power hardware, leading (but not bleeding) edge kernels and stable, functional compilers for code development. And of course, the foundation applications and servers expected for web, database, email, and network services. Greater than 2000 packages are included on the Install DVD.
Proven worldwide as the preferred Linux OS for the Power architecture, YDL v6.0 brings Fixstars into its 9th year of Power Linux operating system development and support. What's more, YDL v6.0 introduces a new level of multimedia support and functions with the latest Enlightenment window manager for a rich, dynamic, and powerful end user experience.
New in version 6.1:
Yellow Dog Linux v6.1 offers these updates over v6.0:
Kernel 2.6.27
GCC 4.1.2
Cell SDK 3.1
Firefox 3.0
OpenOffice 2.3 (v3.0 coming to YDL.net Enhanced soon!)
X.org 1.4.999 with xrandr 1.2.2
Dramatically improved, automated wireless config.
GUI configuration tool for YDL.net.
Bluetooth support for the PS3 Sixaxis controller.
Barcelona Supercomputing Center CellSs.
ps3vram for fast, temp file storage or swap using PS3 video RAM.
Users often state that YDL is the simplest to install of any distribution. Post-installation, the default applications are a makes-sense offering of the industry standards: Firefox web browser, Thunderbird email, Pidgin IM/IRC client, Ekiga voice over IP, OpenOffice, gThumb and GIMP, the Fluendo multimedia player installer, and a suite of personal accessories.
Yellow Dog Linux v6.1 supports:
Apple PowerPC G4, G5.
Sony PS3 (PlayStation 3).
YDL PowerStation.
IBM System p (JS2x, 510, 520, 540).
Free
Link: Yellow Dog Linux
Desktop Mac Deals
Low End Mac updates the following price trackers monthly:
For deals on current and discontinued 'Books, see our 13" MacBook and MacBook Pro, MacBook Air, 13" MacBook Pro, 15" MacBook Pro, 17" MacBook Pro, 12" PowerBook G4, 15" PowerBook G4, 17" PowerBook G4, titanium PowerBook G4, iBook G4, PowerBook G3, and iBook G3 deals.
We also track iPad, iPhone, iPod touch, iPod classic, iPod nano, and iPod shuffle deals.
Join us on Facebook, follow us on Twitter or Google+, or subscribe to our RSS news feed
Links for the Day
Mac of the Day: 14" iBook G4 (Late 2003), introduced 2003.10.22. The iBook moves to G4, reaches 1 GHz, adopts AirPort Extreme.
Recent Content
Go to the Mac News Review index.
Follow Low End Mac on Twitter
Join Low End Mac on Facebook
Favorite Sites
MacSurfer
Cult of Mac
Shrine of Apple
MacInTouch
MyAppleMenu
InfoMac
The Mac Observer
Accelerate Your Mac
RetroMacCast
The Vintage Mac Museum
Deal Brothers
DealMac
Mac2Sell
Mac Driver Museum
JAG's House
System 6 Heaven
System 7 Today
the pickle's Low-End Mac FAQ
Affiliates
Amazon.com
The iTunes Store
PC Connection Express
Macgo Blu-ray Player
Parallels Desktop for Mac
eBay

Advertise