Ultimate Leopard Tweaking Guide, Used Mac Beats New PC, the Megapixel Myth, and More
This Week's Apple and Desktop Mac News
Compiled by Charles Moore and edited by Dan Knight - 2008.01.04
PowerBook, iBook, MacBook, and other portable computing is covered in The 'Book Review. iPod, iPhone, and Apple TV news is covered in The iNews Review.
All prices are in US dollars unless otherwise noted.
News & Opinion
Apple Updates
Software
News & Opinion
2007 Sees 'Spectacular' Rise in Mac Usage
ZD Net UK's Richard Thurston reports:
"The use of Apple Macs leapt over half a percentage point as 2007 drew to a close, according to statistics released this week.
"Web analysis company Net Applications monitored the operating systems being used to access its customers' sites, which receive around 160 million visitors per month.
"Net Applications found that Mac operating systems represented 7.31 percent of web traffic during December, but that figure shot up after Christmas to 8.01 percent on the last two days of the year. The increase was 'nothing short of spectacular', Net Applications said on its website."
Link: 2007 Sees 'Spectacular' Rise in Apple Mac Usage
Apple Primed to Hit 10% in 2008
The Inquirer's Wily Ferret reports:
"New research suggests that one in ten PCs on the web will be of a fruity flavour by the end of 2008.
"Research firm Net Applications reckons that, as of December, 7.3 per cent of all visits to its suite of statistic-gathering websites are from Macs, and that the figure is growing at around half a percentage point a month . . . according to Net Applications, the number of clients surfing the web via iPhone will exceed those on Linux by the end of 2008...."
Link: Apple Primed to Hit 10 Per Cent in 2008
Ultimate Leopard Tweaking Guide
Appletell's Michael Mistretta says:
"No matter how good Apple Mac OS X Leopard is, there will always be features that people dislike, and want to change. And while Apple may think they have the perfect recipe for a perfect OS, many power-users will want to tweak OS X to their liking. They want to change more than their desktop image, or the icons in their dock. Sometimes Apple doesn't always make it easy to tweak your Mac, so Appletell has compiled a list of several ways to tweak your Leopard."
Link: Ultimate Leopard Tweaking Guide
Mammoth Update Ahead for Leopard
ITWire's Stephen Withers reports:
"Developers have received their first pre-release build of the Mac OS X 10.5.2 updater, and it's a biggie.
"Changes have reportedly been made to the Finder, iCal, iChat, Mail, Safari and Time Machine, along with fixes for Rosetta....
"The 10.5.2 update could appear as early as next month, possibly to coincide with Macworld Expo."
Link: Mammoth Update Ahead for Leopard
One Reason Why Leopard Trumps Windows
OSWeekly's Brandon Watts says:
"...as a former 24/7 Windows user, I just don't understand how someone could compare Windows and OS X and pick Windows anymore. For me, the game is over, and Apple has won.
"Oddly enough, one of the endearing things about Leopard is made clear as soon as the installation process is underway and then completed. Yes, before you even use Leopard for the first time, you'll love something about it, and for all of you Windows users out there, you may need to sit down for what I'm about to say: the install is simple and there's no activation....
"...Leopard simply installed itself on my Mac and then helped me get started immediately without any activation or the need for complex registration and licensing headaches....
"...As a software developer, I understand the importance of software licenses, and if I'm presented with two similar software titles that have somewhat similar licenses, I'll choose the option that makes it easier for me to use the software without regularly being confronted with the technicalities of the license...."
Editor's note: Me too. I won't use an OS with DRM as long as there's an alternative (e.g.: Linux). And Apple (evidently) is fixing to screw this all up? What are they thinking? cwm
Link: One Reason Why Leopard Trumps Windows
Used Mac Better than New PC
Top Tutorials says:
"As someone who has always has a nice PC at home, I always envied the Mac users. Macs are just sleeker, better, more convenient and overall last longer. The only disadvantage of Mac is the price, which I believe hold some people back from getting Mac, however, if Macs are expensive in your local malls, does not mean you cannot afford a used Mac. You will not get the experience of unpacking a bland new one, but you also would not need to pay a fortune for it, right?"
Link: Used Mac Is Still Better than New PC
Dell XPS vs. Apple iMac: Both Suck?
PC Mechanic's Rich Menga reports:
"There's been a lot of talk going 'round the internet lately about the new Dell XPS One. It is built as an all-in-one monitor+computer similar to the iMac.
"After some intense research, I offer the following well-thought-out and poignant anecdote: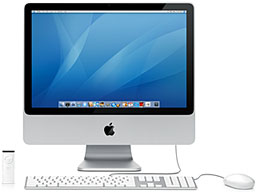 "They both suck.
"Now I'll explain why:....
"The reason why these slabs can fit so much into such a compact space is because the parts are smaller, i.e. laptop parts.
"Let me give you the 101 on laptops.
"Any laptop is designed to last 2 years. That's it. If you can get more than 2 years out of any laptop, consider yourself fortunate. It doesn't matter who makes it because the parts are essentially all the same across the board."
Editor's note: I won't dispute that desktop computers with their generally larger internal components inside a more commodious and better-ventilated case are generally more robust than laptop computers, but . . . the PowerBook G3 2000 "Pismo" laptop I'm typing these words on was built in October 2000 and has been in regular use ever since. Still going strong, with no problems whatsoever other than that the display backlight (a $15 part) is a bit dim for a short while after startup and really should be replaced if I can get around to it.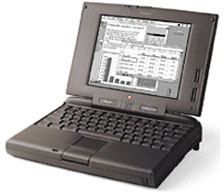 I also have a 1996 PowerBook 5300 that served as my main production workhorse for three years, then served as my daughter's computer through high school and her first year of university. My old 1999 PowerBook G3 WallStreet did suffer a processor failure at 3-1/2 years (the only hardware failure I've experienced in nearly a dozen years of using Apple laptops), but has been serving my wife as her Internet and word processing computer for the past several years until she moved up to our five-year-old iBook G3 (completely trouble-free) this week because she finally needed an application that wasn't available for OS 9. Then there's the other Pismo, a PowerBook 1400, and my 17" PowerBook - all of which are more than two years old, and still in good working condition - even the old 5300. cwm
Editor's note: Maybe two years is the norm in the Windows world of commodity laptops, but five years isn't at all unusual for Apple notebooks. My titanium PowerBook G4 lasted 5-1/2 years before being dropped and damaged beyond repair. dk
Link: Dell XPS vs. Apple iMac - Which Is Better?
Dump the DVD Player for a Mac mini
Dallas News' Jim Rossman says:
"I've ditched my DVD player in favor of an Apple Macintosh mini in my home entertainment system.
"I was hesitant to do it because of the WAF (wife acceptance factor), but I think I won her over.
"My theory is that the mini has a DVD player built in, and the fact that it has an operating system and a hard drive means I can copy movies from the DVDs onto the hard drive and access them instantly.
"The only thing I needed besides the mini was a DVI-to-HDMI cable."
Link: Dump the DVD Player for Apple Hard Drive
Apple Files Patent for WGA-Style Anti-piracy Tech
Computerworld's Gregg Keizer reports:
"Apple Inc. has filed an updated application with the U.S. Patent & Trademark Office for a product activation and anti-piracy technology that would give the company the same kind of control over its software as the oft-criticized Windows Genuine Advantage platform provides its rival, Microsoft Corp.
"Patent application 20070288886, titled 'Run-Time Code Injection To Perform Checks' and dated Dec. 13, spells out a 'digital rights management system' that would 'restrict execution of that application to specific hardware platforms.'"
Editor's note: I really don't like the sound of this, and if there's anything that would drive me into the embrace of desktop Linux, OS DRM on the Mac OS is it. In the article, Gregg Keizer notes that this filing is an update and enhancement of a patent application Apple filed in 2005, so it would appear they are proceeding cautiously, and well they might. I would counsel them to apply some sober second and third thought before imposing WGA-style DRM on Mac-users. cwm
Link: Apple Files Patent for WGA-Style Anti-piracy Tech
Apple's Antipiracy Patent Similar to Microsoft's WGA
InformationWeek's Elena Malykhina reports:
"Apple recently filed an updated patent application with the U.S. Patent and Trademark Office for a digital rights management system similar to Microsoft's Windows Genuine Advantage.
"The patent application No. 20070288886, titled 'Run-Time Code Injection To Perform Checks,' describes a DRM system that permits an application developer to inject code into the application's runtime instruction stream, which would restrict execution of the application to specific hardware platforms....
"...If the check fails, a part of the application's execution string is stopped and the application becomes unusable.
"The periodic check would be transparent to the user, the patent application states. It's designed to be implemented on Apple's latest operating system, the Mac OS X, which is currently not copy-protected...."
Editor's note: For just one of the manifold reasons why this is a catastrophically disastrous scheme, read the next item. cwm
Link: Apple's Antipiracy Patent Similar to Microsoft's WGA
The Megapixel Myth
Ken Rockwell says:
"Forget the silly debate over pixel counts among digital cameras. There is little visible difference between cameras with seemingly different ratings. For instance, a 3 MP camera pretty much looks the same as a 6 MP camera, even when blown up to 12 x 18!" I know because I've done this. Have you? NY Times tech writer David Pogue did this . . . and saw the same thing - nothing!"
"Resolution has little to do with image quality. Color and tone are far more important technically. Even Consumer Reports in their November 2002 issue noted some lower resolution digital cameras made better images than some higher resolution ones.
"Digital does not replace film . . . If you do fret the pixel counts, I find that it takes about 25 megapixels to simulate 35mm film, which is still far more than any practical digital camera. At the 6 megapixel level digital gives about the same sharpness as a duplicate slide, which is plenty for most things...."
Link: The Megapixel Myth
Apple Updates
Apple Security Update 2007-009 for OS X 10.4.11
Security Update 2007-009 (10.5.1) is recommended for all users and improves the security of the following components:
Core Foundation
CUPS
Flash Player Plugin
Launch Services
Areal
python
Quick Look
ruby
Safari
Samba
Shockwave Plugin
Spin Tracer
For detailed information on Security Updates, visit this website: http://www.info.apple.com/kbnum/n61798
System requirements: Mac OS X 10.4.11 client and server.
Software
Warp: Switch between Spaces with Your Mouse
PR: Warp is a preference pane that allows you to use the mouse to switch between Spaces rather than using the keyboard.
Warp is available free of charge, but donations are appreciated and assist in support and development.
System requirements: Warp requires Mac OS X 10.5 Leopard.
System Support: PPC/Intel
Free
Link: Warp
Bochs x86/Pentium Emulator
PR: Bochs is a highly portable open source IA-32 (x86) PC emulator written in C++, that runs on most popular platforms (including Macs). It includes emulation of the Intel x86 CPU, common I/O devices, and a custom BIOS. Currently, Bochs can be compiled to emulate a 386, 486, Pentium/Pentium II/Pentium III/Pentium 4 or x86-64 CPU, including optional MMX, SSEx and 3DNow! instructions.
Bochs can be compiled and used in a variety of modes, some which are still in development. The 'typical' use of Bochs is to provide complete x86 PC emulation, including the x86 processor, hardware devices, and memory. This allows you to run OS's and software within the emulator on your workstation, much like you have a machine inside of a machine. Bochs will allow you to run Windows applications on a Solaris machine with X11, for example.
System requirements: Bochs is capable of running most Operating Systems inside the emulation, for example Linux, DOS, Windows 95/98/NT/2000/XP or Windows Vista.
Bochs was written by Kevin Lawton and is currently maintained by the Bochs project. Bochs is distributed under the GNU LGPL.
Link: Bochs
Desktop Mac Deals
Low End Mac updates the following price trackers monthly:
For deals on current and discontinued 'Books, see our 13" MacBook and MacBook Pro, MacBook Air, 13" MacBook Pro, 15" MacBook Pro, 17" MacBook Pro, 12" PowerBook G4, 15" PowerBook G4, 17" PowerBook G4, titanium PowerBook G4, iBook G4, PowerBook G3, and iBook G3 deals.
We also track iPad, iPhone, iPod touch, iPod classic, iPod nano, and iPod shuffle deals.
Join us on Facebook, follow us on Twitter or Google+, or subscribe to our RSS news feed
Links for the Day
Mac of the Day: iMac Core Duo, introduced 2006.01.10. The first Intel-based iMacs ran at 1.83 and 2.0 GHz, came in 17" and 20" sizes.
Recent Content
Go to the Mac News Review index.
Follow Low End Mac on Twitter
Join Low End Mac on Facebook
Favorite Sites
MacSurfer
Cult of Mac
Shrine of Apple
MacInTouch
MyAppleMenu
InfoMac
The Mac Observer
Accelerate Your Mac
RetroMacCast
The Vintage Mac Museum
Deal Brothers
DealMac
Mac2Sell
Mac Driver Museum
JAG's House
System 6 Heaven
System 7 Today
the pickle's Low-End Mac FAQ
Affiliates
Amazon.com
The iTunes Store
PC Connection Express
Macgo Blu-ray Player
Parallels Desktop for Mac
eBay

Advertise