Teardown and Upgrades for 21.5" iMac, a Month with Samsung's Chromebook, and More Mac News
This Week's Apple and Desktop Mac News
Compiled by Charles Moore and edited by Dan Knight - 2012.12.08
News & Opinion
Rumor Roundup
Reviews
Apple Updates
Tech Trends
Mac notebook and other portable computing is covered in The 'Book Review. iPad, iPod, iPhone, and Apple TV news is covered in iOS News Review. Older Macs are covered in Vintage Mac News. All prices are in US dollars unless otherwise noted.
Purchases made through links to Amazon.com and Apple's iTunes/iBook/App/Mac App Store support Low End Mac.
News & Opinion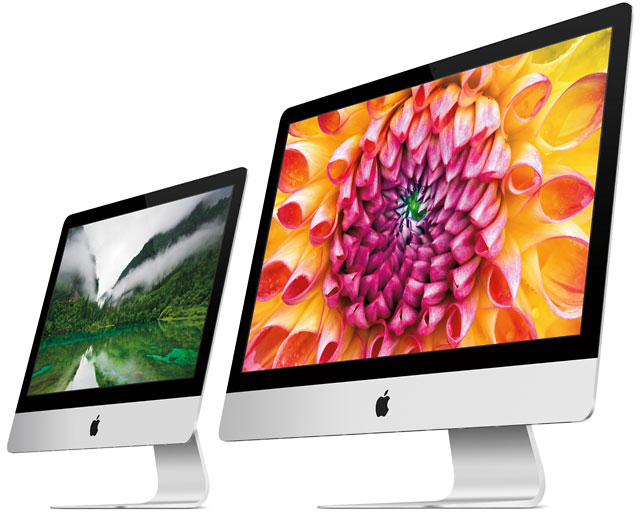 No Memory Upgrades for New 21.5" iMac: Is Apple Crazy?
Computerworld's Jonny Evans suggests that Apple is crazy to have made it near impossible to upgrade the RAM inside its new 21.5" iMacs, and allows that in all his years reporting on new Macs, this is perhaps Apple's most ludicrous decision yet. He says it doesn't matter how good it is in every other regard - that one decision makes this a computer to avoid, and opting for a 27" model, which you can upgrade, or another system altogether a no-brainer.
Pubisher's note: In its teardown of the 21.5" iMac, iFixit (below) found that although it is possible upgrade RAM , it is very difficult to do so. dk
Link: No RAM Upgrades for New iMacs? Is Apple Crazy?
But Upgrading RAM on the New 27" iMac Is Easy
Cult of Mac's Buster Heine says the new iMacs are lovely, but the smaller model is hard as hell to get into if you want to make some upgrades of your own, noting that the recent iFixit teardown of the 21.5" iMac (below) revealed that you'll have to unglue your display if you want to swap out your hard drive or add more RAM.
However, he reports that Apple added a new feature for the larger 27" iMacs that makes swapping out RAM ultra-easy through a memory access port in the back, and he explains how to do it.
Link: Upgrading RAM on the New 27-inch iMac Is Easy, Here's How
Bare Feats Buying Advice Regarding the Late 2012 iMac
Bare Feats rob-ART Morgan notes that Apple will start taking orders today, November 30th, for the latest iMac revision, so he decided to offer some insights to help you decide if the iMac is the way to go, using three questions received from readers as his outline.
Should I replace my old Mac Pro with the 2012 iMac or wait for the rumored 2013 Mac Pro?
If I already own a compatible display, why shouldn't I get the 2012 Mac mini Quad-Core i7 instead of the 2012 iMac Quad-Core i5 or i7?
Will the 2012 iMac be twice as fast as my 2010 iMac?
Link: Buying Advice: The 'Late 2012' iMac
Is iWork for Mac on Life Support?
ZDNet's Jason D. O'Grady takes that the limited nature of Apple's iWork 9.3 for OS X update (below) as indication that the company has all but abandoned development of the original Mac variant of its office productivity software suite (composed of the Pages word processor, Numbers spreadsheet, and Keynote presentation app, each selling for $19.99), which he says appears to have become a life support system for the iOS iWork apps.
O'Grady notes that aside from a few changes that add support for iCloud, Apple's desktop iWork suite has received little attention since 2009. By contrast, Pages, Numbers, and Keynote for iOS, which sell for $9.99 each on the App Store, all got significant version 1.7 updates this week, while iWork Update 9.3 for Mac merely adds support for the iWork 1.7 iOS apps - and little else.
Link: Is iWork for Mac on Life Support?
All Flights Landing at San Diego Airport in One Day Compressed into 30 Seconds
This Vimeo video has nothing to do with IT, but it's muy cool.
Link: Landings at San Diego Int Airport Nov 23, 2012
Rumor Roundup
ARM-Based Macs? Seeking Alpha Says 'You Bet'
A Seeking Alpha blog comments on recent rumors that Apple is planning to switch it's Macs CPUs (yet again*) from the Intel processors it's used since 2006 to the family of CPUs by ARM Holdings that it uses in its mobile devices. The author asks rhetorically whether this rumor is simply an Apple tactic to exert leverage in pricing negotiations with Intel or a real possibility; he concludes that it's both.
The article notes that there would be substantial efficiencies and synergies realized by using just one family of processors across Apple's entire hardware lineup, including a rationalization of software development productivity around a single platform (hello, iOS/OS X convergence). However, the author deduces that what Apple really wants is lower processor prices, and a switch to ARM would open the door to multiple CPU suppliers, and he argues that for technical reasons switching from Intel to ARM should be much simpler than the transition from PowerPC to Intel.
Of course that would have to be weighed against kissing good-bye the Mac's current status as the only PC that can natively run OS X, Windows, and Linux.
The author summarizes with a guess that Apple will offer a MacBook with an ARM processor by the end of 2014 or early 2015, but he thinks that Apple's best strategy is to continue playing Intel against ARM and keeping them both guessing, and that can't be done on rumor alone.
* Publisher's note: The original Apple, Apple II, and Apple III models were all built around the 6502 CPU, and the original plan was for the Macintosh to be based on the more powerful 6809 processor, but when it became evident that the planned computer needed more power, engineers chose to built the original Mac - as well as the 1983 Apple Lisa - around a 68000 CPU (a chip IBM had once considered for its entry into the personal computing market before choosing the Intel 8088). Where the 6502, 6809, and 8086/88 handled memory in 64 KB chunks, the 68000 had a linear address space and could address 16 MB of memory, making it a far more flexible architecture that the Mac would use for a decade.
The Mac's first architectural switch was from the Motorola 680x0 processor family to PowerPC, an architecture Apple helped develop in conjunction with IBM and Motorola. The first Power Macintosh computers were introduced in 1994, and the last PowerPC models were introduced in late 2005, just months before Apple introduced its first Intel-based Macs, in large part due to unfulfilled promises by IBM to deliver a 3.0 GHz G5 CPU within one year of the introduction of the first Power Mac G5, which topped out at 2.0 GHz. Another issue was heat, which is why there was never a G5 PowerBook.
Apple switched to Intel x86 architecture in 2006, gaining a more energy efficient processor and the ability to run Microsoft Windows - a huge plus for potential switchers. A future switch to ARM architecture is not an impossibility, although it's not going to be very soon. At present, the most powerful ARM processors are about equal in power to Intel's low-end, low-cost ATOM chips, most commonly found in cheap netbooks. Dual- and quad-core ARM chips are already in use at speeds up to approximately 1.5 GHz, and the first 64-bit ARM chips shipped this year (most Macs introduced since Sept. 2006 support 64-bit operation, and OS X 10.7 Lion is a fully 64-bit operating system, so 32-bit ARM-based Macs would be a step backward).
I'm sure Apple is experimenting with ARM-based Macs, but it's unlikely we'll see production models before late 2013, with 2014 more likely. Even then, they will be low-end models with maybe half the power of Intel Core i5-based Macs. That said, Apple has a long history with ARM (in addition to the 2007 iPhone, Apple's Newton was also ARM-based), and iOS in many respects is Mac OS X stripped of features not necessary in a mobile device and ported to ARM, so if/when ARM Macs arrive, expect everything to be extremely polished. ARM models would lose the ability to run Windows natively but could run iOS apps in addition to Mac software. A plus for Apple is that it could close the new platform to developers who do not use the Mac App Store, further enhancing its bottom line.
Most likely first generation candidates for ARM OS X are the MacBook Air, Mac mini, and Apple TV - and perhaps an entry-level iMac as well. Time will tell, and we're talking one or two years before this is likely to become a reality. dk
Link: An ARM-Based Mac? You Bet
Reviews
iFixit: 21.5" Late 2012 iMac 'an Exercise in Disappointment'
iFixit's Chief Information Architect Miroslav Djuric notes that Apple's Late 2012 iMac has been slimmed down to a wafer-thin 5mm at its edges, making by far the slimmest of its kin, adding, "We are very curious what sort of diet could cause such a drastic change, so we opened it up to find out."
Unfortunately, the iFixit team were not happy with what they found.
PR: The late 2012 iMac 21.5" - code-named EMC 2544 - is an exercise in disappointment for us. We were quite worried when we saw that super-thin bezel during Apple's keynote, and unfortunately we were correct: the glass and LCD are now glued to the iMac's frame with incredibly strong adhesive. Gone are the lovely magnets that held the glass in place in iMacs of yesteryear.
We don't want to be sad Eeyores through this entire teardown report, but unfortunately the bad news doesn't stop there. Once inside, folks can still replace the RAM, hard drive, and CPU, but they'll have to remove the entire logic board before doing so - everything is located on the back of the board, hooked right into the iMac's slim frame. Consequently, this year's unit received a super-sad 3 out of 10 repairability score, down from a healthy 7 on last year's unit.
Hackers, tinkerers, and repairers be forewarned: get last year's model if you'd like to alter your machine in any way.
Highlights (if you can call them that):
To our dismay, we must break out our trusty heat gun and guitar picks to get past the adhesive holding down the glass and LCD.
We were fairly surprised to see that the new iMac's LCD sports the same model number as last year - LM215WF3 from LG - even though the LCD is 5 mm thinner.
By switching from a traditional 3.5" desktop hard drive to a 2.5" laptop drive, AppleDesigners were able to free up lot of real estate inside the iMac. Apple turned to HGST - formerly Hitachi, now a Western Digital company - to manage the iMac's spinning storage.
A rubbery housing is lightly adhered to the edges of the hard drive beneath the upper and lower hard plastic bezels. This design is far different from what we've seen before. Since the internal components are more tightly packed than before, small vibrations may carry through more components. The rubber housing dampens the vibrations from the spinning hard drive so they are not perpetuated throughout the device.
A new fan layout! Apple is changing things up quite a bit and has moved from multiple small fans to a single centralized fan. "1" may be the loneliest number, but removing 2/3 of the fans goes a long way towards saving space. Judging by the orientation of the fan, we gather that it draws cool air from the bottom vents, then blows hot air out of the grating in the back of the iMac.
The webcams in iMacs of yesteryear have always been connected to the logic board with long snaking cables that were relatively fragile; that is no longer the case. A ribbon cable we can only describe as "beefy" keeps the FaceTime HD camera in touch with the logic board.
The newest iMac features not one, but two microphones. Dual microphone technology has been utilized in mobile devices for years to cut out background noise during phone calls. Now, the same idea is being applied here to improve sound quality during intimate FaceTime chats with your mother.
The speakers may look simple, but removing them is nerve-wracking. For seemingly no reason other than to push our buttons, Apple has added a notch to the bottom of the speaker assemblies that makes them harder-than-necessary to remove.
Good news: You can upgrade the iMac's RAM. Bad news: You have to unglue your screen and remove the logic board in order to do so. This is just barely less-terrible than having soldered RAM that's completely non-removable.
After a short hiatus, Broadcom is back to bring WLAN capabilities to the iMac. A Broadcom BCM4331 single-chip WLAN solution dominates the tiny AirPort card.
Off comes the honkin' heat sink! And along with it - the CPU??? The new iMac uses a spring-loaded, FCLGA1155 socket to make all those little electrical signals go into, and out of, the CPU: http://bit.ly/QUCPG6
Chips on the logic board include:
Intel Core i5-3330S, clocked at 2.7 GHz
Nvidia GeForce GT 640M GPU
Intel E213B384 platform controller hub
Texas Instruments Stellaris LM4FS1AH5bb microcontroller
2x Hynix H5GQ2H24AFR GDDR5 SGRAM
Broadcom BCM57765A1KMLG
Intel DSL3510L Thunderbolt controller
Analog Devices SSM3302 audio amplifier
Vimicro VC0359 webcam processor
Intersil ISL6364 multiphase pulse width modulation (PWM) controller
Cirrus Logic 4206BCNZ audio controller
National Semiconductor VM22AC
Logic board traces (red) and hole (orange) make us think Apple's proprietary SSD should reside in this spot: http://bit.ly/VeAeEs
Placing the SSD from the 13" MacBook Pro Retina Display confirms this notion: http://bit.ly/YhEmJu
We purchased the "bargain-basement" version of the iMac. We're assuming that the more-expensive version - one that has the built-to-order Fusion drive option - has this connector soldered onto the board, and a 128 GB SSD is placed into said connector.
Link: iMac Intel 21.5" EMC 2544 Teardown
Primate Labs Posts 21.5" Late 2012 iMac Benchmarks
Primate Labs' John Poole says:
"While Apple introduced the new iMac last month, Apple only started shipping the new 21.5" iMac today (and won't start shipping the new 27" iMac until next month). The new iMacs, along with a redesigned body, feature Intel's new Ivy Bridge processors. How do these new processors perform compared to the Sandy Bridge processors found in the previous-generation iMac? How does the new iMac perform compared to Apple's other desktop computers?
"To answer these questions I've charted Geekbench results gathered from the Geekbench Browser for the following Macs: iMac (Late 2012), iMac (Mid 2011), Mac mini (Late 2012), Mac Pro (Mid 2012), and Mac Pro (Mid 2010)."
Link: iMac (21.5-inch Late 2012) Benchmarks
Apple Updates
Apple Releases iWork 9.3 Update for OS X
iWork Update 9.3 adds support for iWork for iOS 1.7 apps, with Pages 4.3, Numbers 2.3, and Keynote 5.3 are updated to support the iOS 1.7 updates.
This update is recommended for users of iWork 9.0 and later.
For detailed information on this update and individual application changes, visit https://support.apple.com/kb/HT5534
System Requirements
OS X Lion 10.7.4
OS X Mountain Lion 10.8
Link: iWork 9.3
Tech Trends
A Mac User's Month with the Samsung Chromebook
9 to 5 Google's Seth Weintraub says the latest Samsung Chromebook is the first that fulfills the ChromeOS mission: good quality, excellent (MacBook Air-like) design, low cost and functional, and easy to use. Weintraub observes that it won't replace a mid-to-high end machine, but for people with basic needs or who want an inexpensive second computer, it's a no brainer at $249.
Weintraub got a Samsung Chromebook a month ago and has used it and shared it ever since. He notes that it has an uncanny resemblance to a MacBook Air, but the silver case is plastic, which isn't necessarily a bad thing (until you drop it), because it allows the machine to stay at about the same weight as the MacBook Air with cheaper parts. He affirms that it has a very solid, firm feel, and a really strong and firm screen hinge.
With its 1.7 GHz Exynos 5 dual-core ARM processor, the ChromeBook has longer battery life than the Air, and surprisingly, considering the bad reputation of many PC laptop input, Weintraub reports that the keyboard and trackpad (and the software to go along with then) are topnotch - indeed as good as a MacBook in his estimation, adding that you'll hardly notice the difference within a few hours of practice.
The Chromebook also beats the MacBook Air on ports and port location, with an HDMI Video out port, USB 2.0 port, USB 3 port, and power port on the back, with the headphone mic port on the side. The webcam is mediocre, and the Chromebook has built-in 3G available as an option.
Link: Review: A Month with the Samsung Chromebook
Windows 8: The Last Gasp of the Horse & Buggy Era of Personal Computing?
The Mac Observer's John Martellaro notes that the saga of Windows 8 continued last week with a gloomy outlook for traditional PCs, with more cuts in analyst forecasts for Microsoft's growth in 2013. Martellaro maintains that PCs are in trouble, with customers bolting to svelte, light, pure tablets, while Microsoft has just announced how power hungry and expensive its forthcoming Surface Pro tablet will be.
Martellaro recaps how Microsoft ignored what happened to Apple when it tried to push some iOSification agenda down the throats of its users, observing that Windows 8 is fully ossified with the result that Windows 8 is euphemistically "off to an awkward start".
After shipping its Surface RT Windows 8 tablet with a detachable keyboard that doesn't run x86 Windows software, Microsoft has announced that the Surface Pro, which does run legacy Windows software, will be more expensive than many full-featured PC laptops - and even the cheapest MacBooks, while offering half the battery life of the "consumer" Surface RT. With 128 GB of storage and a keyboard, prospective Surface Pro buyers are looking at over US$1,100, and even more more if you want MS Office.
Link: Microsoft Introduces . . . The Horse & Buggy Era
Thurrott: Microsoft's Mobile Strategy Is Correct
WinSuperSite's Paul Thurrott disagrees that Microsoft is behind the times and on the wrong track. He acknowledges that Windows 8 is off to an allegedly awkward start, but he still thinks Microsoft's overall strategy is sound, and notwithstanding John Martellaro's horse and buggy analogy (see above item), that Windows 8's double duty tasking as a desktop and mobile OS in order to preserve both the Windows legacy and MS Office makes sense with a legacy combined user base of well over a billion people. He maintains that being able to bring those people forward and create a new mobile platform in the same OS is arguably one of Microsoft's technical greatest achievements, and he says that when Microsoft moves from Metro + desktop to just Metro in the future, it should be remembered that the reason that could even happen is that Microsoft marketing focused on USB ports and x86 desktop applications first, stuff customers actually care about.
Thurrott admits there is a lot of hand-wringing going on these days in the Microsoft camp but contends that most of it is unnecessary and that none of the problems are unfixable.
Link: Microsoft's Mobile Strategy Is Correct
NPD Group: Windows 8 Off to a Slow Start
PR: The consumer Windows PC and tablet market1 didn't get the boost it needed from the launch of Microsoft's Windows 8 in the US. Since the Windows 8 launch on October 26, Windows device sales have fallen 21% versus the same period last year2, according to market research firm The NPD Group's Weekly Tracking Service3. Notebooks, which have been weak throughout most of 2012, saw that trend continue as they fell 24%. Desktop sales have fared better this year, dropping just 9%.
"After just four weeks on the market, it's still early to place blame on Windows 8 for the ongoing weakness in the PC market," says Stephen Baker, vice president of industry analysis at NPD. "We still have the whole holiday selling season ahead of us, but clearly Windows 8 did not prove to be the impetus for a sales turnaround some had hoped for."
Since its launch, Windows 8 has captured just over half (58%) of Windows computing device unit sales, compared to the 83% Windows 7 accounted for four weeks after that launch. Windows 8 tablet sales have been almost nonexistent, with unit sales representing less than 1% of all Windows 8 device sales to date.
"The bad Back-to-School period left a lot of inventory in the channel, which had a real impact on the initial sell-through rates for Windows 8," said Baker. "The strong performance of Windows 8 notebooks with touchscreens, where Windows 8 truly shines, offers some reason for optimism. These products accounted for 6% of Windows 8 notebook sales at an average price of $867 helping to reestablish a premium segment to the Windows consumer notebook market."
Average selling prices of Windows computing devices have jumped significantly this year. Last year, overall ASP was $433 while this year's ASP over the past four weeks has risen to $477. Windows 8 notebooks have seen a nearly $80 rise in selling prices versus the prior year, propelled by the aforementioned strong performance of touchscreen devices and a solid uptick in the pricing on mainstream notebooks. Windows 8 desktop ASPs were also strong with selling prices up nearly 10%, driven by the same factors as notebook sales.
Excludes sales of Microsoft Surface
Windows 8 initial four week launch sales include the time period of October 21 - November 17, 2012.
NPD's weekly POS information is derived from a subset panel of retailers that also contribute to NPD's projected monthly POS panel.
Link: Windows 8 Gets Off to a Slow Start, According to The NPD Group
Black Friday Windows Notebook Sales Down 10%, MacBooks Stay Flat
AppleInsider's Neil Hughes reports that while retail sales of Apple notebooks on Black Friday were flat year over year in an environment where overall consumer electronics sales declined nearly 6%, sales of Windows-based notebooks plummeted 10% despite the launch of Windows 8.
Link: Black Friday Sales of Windows Notebooks Down 10%, Apple's MacBooks Stay Flat
Desktop Mac Deals
Low End Mac updates the following price trackers monthly:
For deals on current and discontinued 'Books, see our 13" MacBook and MacBook Pro, MacBook Air, 13" MacBook Pro, 15" MacBook Pro, 17" MacBook Pro, 12" PowerBook G4, 15" PowerBook G4, 17" PowerBook G4, titanium PowerBook G4, iBook G4, PowerBook G3, and iBook G3 deals.
We also track iPad, iPhone, iPod touch, iPod classic, iPod nano, and iPod shuffle deals.
Join us on Facebook, follow us on Twitter or Google+, or subscribe to our RSS news feed
Links for the Day
Mac of the Day: Pismo PowerBook, introduced 2000.02.18. The first PowerBook to reach 500 MHz also has AGP graphics, FireWire, and AirPort support.
Recent Content
Follow Low End Mac on Twitter
Join Low End Mac on Facebook
Favorite Sites
MacSurfer
Cult of Mac
Shrine of Apple
MacInTouch
MyAppleMenu
InfoMac
The Mac Observer
Accelerate Your Mac
RetroMacCast
The Vintage Mac Museum
Deal Brothers
DealMac
Mac2Sell
Mac Driver Museum
JAG's House
System 6 Heaven
System 7 Today
the pickle's Low-End Mac FAQ
Affiliates
Amazon.com
The iTunes Store
PC Connection Express
Macgo Blu-ray Player
Parallels Desktop for Mac
eBay

Advertise