New iMacs Available Today, Windows Veteran Falls for Macs, and More Mac News
This Week's Apple and Desktop Mac News
Compiled by Charles Moore and edited by Dan Knight - 2012.11.30
News & Opinion
Reviews
Tech Trends
Products & Services
Mac notebook and other portable computing is covered in The 'Book Review. iPad, iPod, iPhone, and Apple TV news is covered in iOS News Review. Older Macs are covered in Vintage Mac News. All prices are in US dollars unless otherwise noted.
Purchases made through links to Amazon.com and Apple's iTunes/iBook/App/Mac App Store support Low End Mac.
News & Opinion
New iMacs to Be Released November 30
PR: Apple announced Tuesday that the new iMacs revealed by Phil Schiller at the Apple Special Event on October 23 will be available to consumers on Friday, November 30.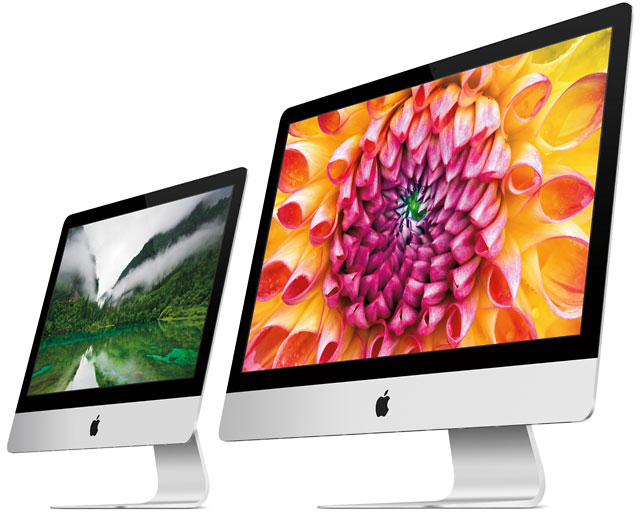 Featuring a thinner profile design, a display with reduced reflection, faster processors, and a new hybrid HDD/SSD storage option called Fusion Drive, Apple is touting the new iMac as the most advanced desktop the company has ever made. The 21.5" iMac will be available through the Apple Online Store, Apple's retail stores, and select Apple Authorized Resellers. The 27" iMac will be available for order through the Apple Online Store and will begin shipping in December.
Completely redesigned while retaining thematic continuity with the preceding model, the new iMac's aluminum and glass enclosure measures just 5 mm at its edge and features a reengineered display that Apple says reduces reflection by 75 percent. The new iMac comes standard with 8 GB of 1600 MHz memory, a 1 TB hard drive, third generation Ivy Bridge quad-core Intel Core i5 processors that can be upgraded to Core i7, and the latest Nvidia GeForce graphics processors claimed to deliver up to 60 percent faster performance. The Fusion Drive combines the performance of flash and the capacity of a hard drive by combining 128 GB of flash with a standard hard drive to create a single hybrid storage volume that intelligently manages files to optimize read and write performance.
The 21.5" iMac is available with a 2.7 GHz quad-core Intel Core i5 with Turbo Boost speeds up to 3.2 GHz and an Nvidia GeForce GT 640M GPU for a suggested retail price of $1,299; and with a 2.9 GHz quad-core Intel Core i5 with Turbo Boost speeds up to 3.6 GHz and Nvidia GeForce GT 650M GPU for a suggested retail price of $1,499. The 27" iMac is available with a 2.9 GHz quad-core Intel Core i5 with Turbo Boost speeds up to 3.6 GHz and Nvidia GeForce GTX 660M GPU for a suggested retail price of $1,799; and with a 3.2 GHz quad-core Intel Core i5 with Turbo Boost speeds up to 3.6 GHz and Nvidia GeForce GTX 675MX GPU for a suggested retail price of $1,999.
What a Windows Veteran User Finds Lacking in Macs
InfoWorld's Eric Knorr says that after eight months on the Mac, he's officially a Mac person, but it hasn't all been positive.
A happy Windows 7 user until last March, after 22 years of using a Windows PC as his primary work machine Knorr found himself unenchanted by the user interface redesign (formerly known as Metro) in Windows 8, so he publicly declared he would switch to the Mac. He says he found lots of things to like, such as the Dock, iCloud, Spotlight search, Time Machine, and the lovely Cover Flow view in the Finder. But on the downside, Knorr finds some Mac stuff "truly annoying."
His gripe list includes:
Microsoft Office for the Mac
Switching windows within apps
Obscure multitouch trackpad gestures
No Apple docking stations
The cost of Apple peripherals
Complicated keyboard shortcuts ("Maybe the real message here? 'Use the mouse, dummy.'")
Who made the eject button a keyboard button?
iTunes
Knorr says that while there were days after he switched to the Mac that he longed to go back to Windows 7, that's true no more - he's happy with his MacBook, noting that the feel of the keyboard and the aluminum case and the hinge and all the other physical fit-and-finish stuff is seductive - and he'll never be forced to use the user interface formerly known as Metro on the desktop.
Link: 8 Cranky Complaints About the Mac from an Old Windows User
Apple Talks Better Sustainability Than It Delivers
Brandlogic's second annual Sustainability Leadership Report for 2012 ranks the sustainability performance of 100 prominent global companies, assigning them to one of four Brandlogic Sustainability IQ Matrix categories, each with its own distinct implications for the business: Leaders, Challengers, Promoters, and Laggards - with Apple in the the promoter vanguard.
Brandlogic's Matrix Quadrants are defined as:
Leaders: Companies with above average real and perceived performance need to keep raising their game to stay ahead of peers and reap the available financial and reputational gains from their performance.
Challengers: Companies whose real ESG performance is above average and substantially ahead of their perceived performance may have opportunities to secure unrealized ROI from investments in communications and brand positioning.
Promoters: Companies with high perceived performance relative to their actual ESG performance may be putting significant value at risk if investments to improve real performance are not made.
Laggards: Companies below the mean on both dimensions are vulnerable to erosion of market position as competitors raise the bar for acceptable performance.
The report notes that in the Computers/IT services sector, IBM remains a Leader and received the highest Sustainability Perception Score (SPS) this year at 73.8 points on a scale of 0 to 100. the 14 companies included in both years, only three increased their SPS, while all increased their real performance.
HP increased its real performance but fell below the mean on perception, pulling it from Leader to Challenger. Dell enters the study as a Leader with real performance second only to IBM. Apple received the highest perception score of all companies (55.6 points), but Brandlogic says its real performance continues to lag the SRS mean.
In software: Microsoft and SAP (joining the study this year) are both Leaders, while in telecom equipment Nokia remains in the Leaders quadrant despite lower perceived performance putting its SPS rating just above the mean, and Brandlogic notes that is a cross category comparison, it is impossible not to mention Apple in a telecom context, with Nokia's SRS rating at 66.4 points being well above Apple's at 45.9 points, yet Apple's SPS rating outstrips Nokia's at 55.6 points versus 44.7 points.
Brandlogics' quantitative study is the only one of its kind is based on ongoing global research that includes actual ESG performance data, as well as survey responses from investment professionals, purchasing managers and graduating university students measuring perceived performance.
In general, the report observes that real sustainability performance rose significantly, year-over-year, with almost every company measured in both years improving on this dimension. What it says was most interesting, however, was that even as actual ESG performance improved, perceptions fell.
Link: 2012 Sustainability Leadership Report (PDF)
Reviews
Mountain Lion Dictation vs. Dragon Dictate
With OS X 10.8 Mountain Lion's new built-in Dictation feature, is there still reason to buy Nuance's $200 Dragon Dictate for Mac voice application? Macworld's Kirk McElhearn checks out these two powerful dictation solutions, noting that price isn't the only distinction between them.
One of the most significant is that OS X Dictation relies on a remote speech engine in a Cloud server do do the transcription heavy-lifiting, so it's dependent on Internet access, while Dragon Dictate processes you speech locally with your Mac's CPU doing the calculating, so you're free from the Internet umbilical.
[Incidentally, Nuance offers a free voice-transcription service for iOS devices that uses the Cloud processing model, an I've found that it works quite well on my iPad 2, but not nearly as well as Dragon Dictate on my Mac. Ed.]
Other limitations of OS X Dictation are that it hasn't the capacity to "learn" your voice, so various users' accuracy experience will vary depending on accent and inflection. On the other hand, you won't need to "train" Dictation to recognize your voice. You can also only speak in up to 30 second bursts between processing interruptions with OS X Dictation, while Dragon Dictate imposes no such interruptions to your train of thought.
Both Dictation and Dragon Dictate benefit from your using a high-quality noise-cancelling microphone rather than relying on the Mac's built-in mic. Dictate can be purchased bundled with a very good Plantronics headset.
If you plan to use dictation a lot (and you probably will use it more than you imagine once you get onto it), Dragon Dictate is a much more satisfactory solution, but OS X Dictation is great for casual use and short-form entries, and lets you experiment with voice technology at no extra cost (but buy a good mic anyway) if you already have Mountain Lion.
Link: Mountain Lion Dictation versus Dragon Dictate
LibreOffice 'Still the Best No-Cost Alternative to Microsoft Office'
LibreOffice is your editor's favorite of several free, open-source application suites available for OS X, Windows, and Linux. Highly compatible with Microsoft Office formats, LibreOffice also imports legacy and other formats otherwise unusable under OS X.
PCWorld's Edward Mendelson agrees that LibreOffice is the best no-cost alternative to Microsoft Office for Windows, Linux, and OS X, and has posted a concise review of the application suite that's well worth a read, focusing on LibreOffice for OS X and the Mac-specific reasons why you might or might not want it. He thinks Windows users or Mac users who frequently share files with the PC world are better off paying for Microsoft Office, while noting that under Linux, LibreOffice is your only choice if you want a full-featured office suite.
While derived from the Open Source suite formerly known as OpenOffice (now renamed Apache OpenOffice), LibreOffice is deemed by Mendelson to be fuller-featured and more up-to-date than any other OpenOffice variant, but it still suffers from a clunky interface with a 1990s look and feel.
LibreOffice's marquee features are that it costs nothing, exports to the latest Microsoft Office formats in addition to its native ODT format, and is, in Mendelson's estimation, the obvious first choice for any organization that requires the use of open formats and open-source software, or importing legacy documents created by old Windows and MS-DOS apps and even documents created by ancient Mac apps that almost no other current Mac app can open, such as documents created by any version of WordPerfect and old Microsoft Works documents that even full-zoot Microsoft Office for Windows can't open, while its graphics module opens vector graphics in CorelDraw, Visio, and (come version 3.7) Microsoft Publisher documents.
Publisher's note: Another alternative for Mac users is NeoOffice, a Mac-specific port of OpenOffice that now supports OS X 10.8 Mountain Lion and Apple's Retina Display. However, while LibreOffice is at version 3.6.3, NeoOffice lags at version 3.3. dk
Link: LibreOffice (for Mac)
Tech Trends
mintBox: Mint Linux's Answer to the Mac mini
PR: In association with CompuLab, Linux Mint offers the very first branded Mint device, mintBox, a somewhat Mac mini-esque ultra-compact PC with a smaller footprint than a DVD case. The mintBox is Mint in a box - tiny, silent, extremely versatile and packed with connectivity.
CompuLab has been making embedded computer-on-modules for over 15 years. Each unit comes with a 2 years standard warranty.
The mintBox is a CompuLab fit-PC3 unit, with a green retro-lit Linux Mint logo, and 10% of each sale goes towards Linux Mint.
The mintBox is claimed to be amongst the toughest computers on the market, featuring a die-cast solid-metal case which acts as a giant passive heatsink. Although the metal makes the mintBox heavier than other devices its size, it also makes it feel really unique, robust and well engineered. More importantly, it cools down its internal components without needing any internal cooling fans.
Other than the noise coming from its internal 250 GB hard-drive, the mintBox is completely silent.
Even more impressive, is the connectivity. The mintBox features 8 USB ports (4 at the front and 4 at the back), 2 of which are USB 3.0. It also comes with ethernet, WiFi, and Bluetooth and features an HDMI port and a DVI adapter so you can connect it to the wire or join a wireless network, enjoy it on your computer screen or your HDTV, and connect USB keyboards and mice or control it remotely over Bluetooth.
Exhaustive list of mintBox's extremely rich I/O:
Dual-head display HDMI + DisplayPort
Digital 7.1 S/PDIF and analog 2.0 audio, both input and output
Gigabit ethernet
WiFi 802.11 b/g/n + BT combo with dual antennas
2 USB 3 ports + 6 USB 2 ports
2 eSATA ports
Bay for 2.5" SATA HDD
2 mini-PCIe sockets / 1 mSATA
Serial RS232 port
The mintBox can connect to a vast variety of devices and peripherals. A DVI adapter is also included with the unit.
The mintBox is available in two versions.
mintBox Basic ($476 + shipping, duty & VAT):
250 GB HDD
APU G-T40N (1.0 GHz dual core + Radeon HD 6290 9W)
4 GB RAM
Flat metal case
mintBox Pro ($549 + shipping, duty & VAT):
250 GB HDD
APU G-T56N (1.65 GHz dual core + Radeon HD 6320 18W)
8 GB RAM
Ribbed metal case
Another highlight of the mintBox is how easy it is to open it. Both the RAM and the HDD are accessible from underneath the box. A standard screwdriver will open the bay, and you can upgrade your RAM or switch the HDD for a SSD drive without any hassle.
The case itself is held by four additional screws. Unless you're interested in changing the front face of the mintBox (CompuLab provides modular face modules) you probably wont need to ever open it, but its nice to know that its quite easy to do so may the need arise.
The case also features a Kensington lock and there are 4 small dents underneath it for the mintBox to be mounted on a VESA mount bracket (which will be sold separately by CompuLab). These two features and the low-power consumption of the unit (respectively idle and full load: 8-17W for the basic model, 9-24W for the pro model) make the mintBox an attractive device for companies, hotels, and cybercafés where it can be placed or mounted on walls securely and significantly reduce noise levels and electricity bills.
CompuLab supplies our project with hardware equipment, and Linux Mint 13 was tested on the mintBox itself prior to being released. CompuLab and Linux Mint also worked together on a custom version of Linux Mint 12 with MATE 1.2 and XBMC for the fit-PC3. Going forward, the mintBox is likely to come preinstalled with Linux Mint 13.
Linux Mint 13 Cinnamon is fully functional, with 3D effects, and without the need for ATI drivers on both the mintBox basic and pro models.
On the mintBox Pro, glxgears runs at 60 FPS using the default Gallium renderer and 1000 FPS using the ATI drivers. HD video playback is more fluid and sound output via HDMI is enabled once the ATI drivers are installed.
On the mintBox Basic, glxgears runs at 60 FPS using the default Gallium renderer and 800 FPS using the ATI drivers.
Link: mintBox
Products & Services
Master Your Mac by MacInstruct Founder Matt Cone
PR: Macs are great for beginners, because the basics are easy. The challenge comes when you want OS X to do things your way. For Mac users who want to travel beyond the basics, Master Your Mac is here to help.
With tips on everything from organizing your workspace to strengthening your computer's security, this 400-page book will show you how to tweak, customize, and control your Mac. And since many of the best tools for unlocking your Mac's potential don't come with OS X, you'll discover the best apps to fix those everyday Apple annoyances and make your computer do things your way.
Master Your Mac is now available in paperback for $35, and for a limited time you can order a personally-signed copy.
In Master Your Mac, you'll find out how to change hidden defaults and enable undocumented features; repair disk permissions to improve performance and keep things humming along; monitor your system; and create a bootable USB drive for emergencies. You'll also learn how to:
Automate day-to-day tasks with AppleScript, triggers, and Automator macros
Handle massive amounts of email and media with synced accounts and spam filters
Turn your Mac into a file or web server
Improve your web experience by creating Safari extensions and using site-specific browsers
Secure your Mac with firmware passwords, firewalls, and FileVault full-disk encryption
Master Your Mac is packed with tips and addons to make everything you do with your Mac faster, easier, and better.
Author Matt Cone, a technical writer specializing in Apple hardware and software, has been a Mac user for more than 20 years. A former ghostwriter for some of Apple's most notable instructors, Cone founded MacInstruct in 1999, one of the most popular online destinations for OS X tutorials.
For a limited time you can purchase a personally-signed copy of the book from Matt directly, which will allow him to continue publishing free tutorials for the Mac community. The book costs $30, and he charges a flat $5 fee for shipping and handling.
Other places to purchase Master Your Mac include:
No Starch Press is offering a special 30% discount for MacInstruct readers. Enter the MACINSTRUCT coupon code at checkout to get both the paperback and ebook edition of the book for about $21.
Amazon offers low prices and free shipping if you combine the book with an order over $25
Barnes and Noble carries the book online and in many of their stores.
Powell's is one of the largest independent bookstores in the world. Be sure to visit if you're ever in Portland, Oregon
Link: Master Your Mac
Lazerwood Real Wood Keycap Sets for Mac and MacBook Pro Keyboards
PR: Lazerwood offers real wood keycap sets for Apple freestanding and MacBook Pro keyboards.
Lazerwood Keys for Apple Extended Keyboard
Bring the tactile beauty of wood to your keyboard with Lazerwood Keys - available in walnut or cherry wood.
This mod takes some nimble fingers and patience but the results are stunning. The thin adhesive-backed wood pieces adhere to the keys firmly and the characters and symbols are laser cut with beautiful precision.
Please Note: Care should be taken to get the keys properly positioned before pressing the wood pieces in place, bur Lazerwood says if you're careful, removal is possible without damage to the keyboard.
Difficulty Level: Advanced
Assembly Time: 30-40 min
Currently only compatible with US keyboard layout.
$45
Link: Lazerwood Keys for Apple Extended Keyboard
Lazerwood Keys for Apple Wireless Keyboard
$40
Lazerwood Keys for MacBook Pro in Walnut or Cherry
Created to perfectly compliment the sleek style of Apple's MacBook Pro keyboards. Compatible with all MacBook Pro unibody (post-2008) models.
Note: Backlit keys will not be visible through the wood. This product will not work with MacBook Air.
Difficulty Level: Advanced
Assembly Time 30-40 min
$40
Link: Lazerwood Keyboards
Desktop Mac Deals
Low End Mac updates the following price trackers monthly:
For deals on current and discontinued 'Books, see our 13" MacBook and MacBook Pro, MacBook Air, 13" MacBook Pro, 15" MacBook Pro, 17" MacBook Pro, 12" PowerBook G4, 15" PowerBook G4, 17" PowerBook G4, titanium PowerBook G4, iBook G4, PowerBook G3, and iBook G3 deals.
We also track iPad, iPhone, iPod touch, iPod classic, iPod nano, and iPod shuffle deals.
Join us on Facebook, follow us on Twitter or Google+, or subscribe to our RSS news feed
Links for the Day
Mac of the Day: DayStar Genesis, introduced 1995.10.30. The first 'Mac' with multiple processors, technology Daystar licensed to Apple.
Recent Content
Follow Low End Mac on Twitter
Join Low End Mac on Facebook
Favorite Sites
MacSurfer
Cult of Mac
Shrine of Apple
MacInTouch
MyAppleMenu
InfoMac
The Mac Observer
Accelerate Your Mac
RetroMacCast
The Vintage Mac Museum
Deal Brothers
DealMac
Mac2Sell
Mac Driver Museum
JAG's House
System 6 Heaven
System 7 Today
the pickle's Low-End Mac FAQ
Affiliates
Amazon.com
The iTunes Store
PC Connection Express
Macgo Blu-ray Player
Parallels Desktop for Mac
eBay

Advertise