Apple Extends 1 TB iMac Hard Drive Replacement Program to Late 2009 and 2010 Models and More
This Week's Apple and Desktop Mac News
Compiled by Charles Moore and edited by Dan Knight - 2012.10.19
Mac notebook and other portable computing is covered in The 'Book Review. iPad, iPod, iPhone, and Apple TV news is covered in iOS News Review. Older Macs are covered in Vintage Mac News. All prices are in US dollars unless otherwise noted.
Purchases made through links to Amazon.com and Apple's iTunes/iBook/App/Mac App Store support Low End Mac.
News & Opinion
Rumor Roundup
Products & Services
News & Opinion
Apple Extends iMac 1 TB Seagate Hard Drive Replacement Program
Apple says it has has determined that certain 1 TB Seagate hard drives used in 21.5" and 27" iMac systems may fail. Potentially affected are iMac systems sold between October 2009 and July 2011.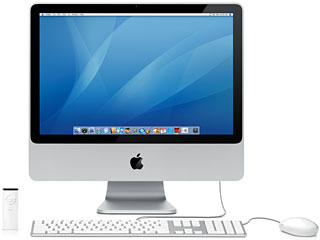 Apple or an Apple Authorized Service Provider (AASP) will replace affected hard drives free of charge.
Apple is contacting affected iMac owners who provided a valid email address during the product registration process to let them know about this program. If you have not been contacted, but think you have a 1 TB Seagate hard drive, you can enter your serial number on the program Web page (link below) to see if it's part of this program.
If your iMac has an affected hard drive, you can choose one of the options below to get it replaced:
Apple Retail Store - Set up an appointment with a Genius.
Apple Authorized Service Provider
Apple Technical Support - Contact for local service options.
Apple recommends replacing affected hard drives as soon as possible. Before you go in for service, make sure to back up your data.
You will need to have the original OS installation discs that were shipped with your product in order to reinstall your operating system, other applications and any backed up data after your hard drive is replaced (or clone your current hard drive contents to backup media)
If you believe you have paid for a repair or replacement due to this issue, you can contact Apple regarding a refund.
This worldwide Apple program does not extend the standard warranty coverage of the iMac.
The program covers affected iMacs for three years after the first retail sale of the unit or until April 12, 2013, whichever provides longer coverage for you. Apple will continue to evaluate service data and will provide further updates to this program as needed.
The following iMac models are affected:
Link: iMac 1 TB Seagate Hard Drive Replacement Program
Radical Russian Orthodox Believers Switching Apple Logos for Crosses
The Russian news portal Interfax reports that some Orthodox Christian believers in Russia, including Orthodox priests, are removing the bitten apple logo from their Apple devices for religious reasons, and replacing it with a cross.
Link: Православные в России начинают менять "антихристианское" надкушенное яблоко на своих устройствах "Apple" на кресты (Russian-to-English translation via Google Translate)
Russian Orthodox Christians Call Apple Logo 'Anti-Christian'
xBitLabs' Anton Shilov reports that radical orthodox Christians from Russia are removing Apple's logo from the company's products and substituting crosses instead, condemning the half-bitten apple logotype as anti-Christian and insulting their belief, something Shilov suggests may potentially cause serious problems for Apple's products in the country.
Shilov notes that according to the ultra-radical orthodox activists, the bitten apple symbolizes the original sin of Adam and Eve and is generally anti-Christian. It is unknown whether the radical orthodox consider the logotype as insulting, but it looks like they do.
Shilov also notes that the Russian parliament is currently considering laws designed to "to defend citizens' religious feelings and national and spiritual values from blasphemy and insult," which if passed (considered highly likely), a worst-case scenario could see sales of Apple products halted in Russia.

Striped Apple logo, 1976-98.
He also observes that until 2012, no influential Christian organization has accused Apple of anti-Christian propaganda with the bitten apple silhouette.
Editor's note: It's unlikely that the "forbidden fruit" in the Genesis account was an apple. Rob Janoff, the Apple logo's original designer, intended no such association, and apples get mostly positive associations in the Bible, so the Russian protesters are barking up the wrong (apple) tree. cm
Link: Russian Orthodox Christians Swap Apple Logo with Crosses
Rumor Roundup
Supply Chain Ramping Up Component Production for 13" Retina MacBook Pro, iPad mini, and New iMac
DigiTimes' Aaron Lee and Joseph Tsai report that shipment delays for Apple's rumored 13" Retina Display MacBook Pro, 7.85" iPad mini, and new iMac have shifted product announcements from originally-projected September into October and now, with the year-end holiday sales season ramping up, Apple's upstream supply chain is "aggressively preparing" for expectedly strong orders in October and November, according to sources.
A major logjam had been weak Retina Display yields, according to Lee and Tsai's sources, along with low yields for components such as the iPad mini's display (expected to be non-Retina) and chassis. The article notes that the iPad mini is reported to have a different design and tactile feel compared with the 9.7" iPad.
Link: Asian Supply Chain Scrambling to Ramp Up Component Production for 13-inch Retina MacBook Pro, iPad mini, and New iMac (subscription required)
Products & Services
StarTech.com Releases Line of Thunderbolt Cables Including Longest One Available in the IT Channel
PR: StarTech.com, a manufacturer of hard-to-find connectivity parts, has announced the launch of a new Thunderbolt cables product line, with an array of lengths including .5m (1.6'), 1m (3.3'), 2m (6.6'), claimed to be the first 3m (9.9') Thunderbolt cable available in the channel.
The cables are constructed using the active components required to support the full, high-bandwidth capability of the Thunderbolt interface: 10 Gbps (bi-directional), for interconnecting devices such as Thunderbolt-equipped external RAID enclosures and other applications such as daisy chaining Thunderbolt devices.
"We are excited to include Thunderbolt cables in our comprehensive lineup of connectivity parts. Thunderbolt technology is supported by all current Apple computers, as well as some models from Acer, Asus and Lenovo, and were expecting the interface to be available on an increasing number of computers in the weeks and months to come," says Keith Rodrigues, Senior Product Manager for StarTech.com's Cables product line.
"Thunderbolt peripherals don't typically ship with cables included, so the range in lengths we've made available offer the customer the flexibility to choose the length that best suits them - shorter cables, such as the .5m and 1m lengths for daisy chaining, and longer cables such as the 2m and 3m lengths, which are suited for more convenient placement of peripherals," says Rodrigues.
Some of the features of the new Thunderbolt cables include:
Support for dual-channel, simultaneous bi-directional data and video transfers up to 10 Gbps per channel
Supports Power-over-cable, for bus-powered devices
Dual Protocol support (PCI Express and DisplayPort)
Durable cable construction, with high quality Thunderbolt connectors
StarTech.com Thunderbolt cables will be available for purchase from technology resellers including CDW, Amazon.com, Newegg.com, Tiger Direct, and PC Connection. The cables will also be distributed by Ingram Micro and SYNNEX Corporation. MSRP for these products are as follows:
TBOLTMM50CM: .5m Thunderbolt Cable, M/M, $48.99 in the US and Canada
TBOLTMM1M: 1m Thunderbolt Cable, M/M, $48.99 in the US and Canada
TBOLTMM2M: 2m Thunderbolt Cable, M/M, $48.99 in the US and Canada
TBOLTMM3M: 3m Thunderbolt Cable, M/M, $89.99 in the US and Canada
Link: StarTech Thunderbolt Cables
Desktop Mac Deals
Low End Mac updates the following price trackers monthly:
For deals on current and discontinued 'Books, see our 13" MacBook and MacBook Pro, MacBook Air, 13" MacBook Pro, 15" MacBook Pro, 17" MacBook Pro, 12" PowerBook G4, 15" PowerBook G4, 17" PowerBook G4, titanium PowerBook G4, iBook G4, PowerBook G3, and iBook G3 deals.
We also track iPad, iPhone, iPod touch, iPod classic, iPod nano, and iPod shuffle deals.
Join us on Facebook, follow us on Twitter or Google+, or subscribe to our RSS news feed
Links for the Day
Mac of the Day: Original iMac, introduced 1998.05.06. The Bondi blue wonder that bounced Apple back to profitability and into the public eye.
Recent Content
Follow Low End Mac on Twitter
Join Low End Mac on Facebook
Favorite Sites
MacSurfer
Cult of Mac
Shrine of Apple
MacInTouch
MyAppleMenu
InfoMac
The Mac Observer
Accelerate Your Mac
RetroMacCast
The Vintage Mac Museum
Deal Brothers
DealMac
Mac2Sell
Mac Driver Museum
JAG's House
System 6 Heaven
System 7 Today
the pickle's Low-End Mac FAQ
Affiliates
Amazon.com
The iTunes Store
PC Connection Express
Macgo Blu-ray Player
Parallels Desktop for Mac
eBay

Advertise