Apple World's #1 PC Vendor, 40+ Secret Lion Features, Matias Mac/iPhone Keyboards, and More
This Week's Apple and Desktop Mac News
Compiled by Charles Moore and edited by Dan Knight - 2012.01.20
Mac notebook and other portable computing is covered in The 'Book Review. iPad, iPod, iPhone, and Apple TV news is covered in iOS News Review. All prices are in US dollars unless otherwise noted.
News & Opinion
Tech Trends
Products & Services
News & Opinion
Apple Is the World's Top PC Vendor (If You Include the iPad)
Asymco's Horace Dediu says that if you include tablets, Apple is now likely the world's number one personal computer vendor.
Dediu notes that, according to Gartner, HP shipped 14.7 million PCs in the last quarter, and while he doesn't have the total global figure for Apple, his estimates are 5.2 million Macs and 14.7 million iPads, for a total of 19.9 million computers in the same period, and the provisional estimate of Apple in front by over five million units is unlikely to disappear as the statistical metrics form up.
He further observes that iPad excluded, Apple went from a 3.42% global market share at the end of 2008 to a 5.6% share today, but with the iPad it now enjoys a 17.6% share. Meanwhile, HP went from 19.3% in 2008 to 16% today - or just 13% if iPad is included.
Link: Apple as Top Personal Computer Vendor
40+ Super Secret OS X Lion Features and Shortcuts
AppStorm's Joshua Johnson has posted a really useful feature highlighting interesting functionality in OS X 10.7 Lion that is either completely hidden or just enough below the surface that many users don't even know it exists.
Johnson says he's spent hours combing through Lion for secrets and put out a call on Twitter for others' favorites, bringing the findings together in a post profiling over forty such hidden Lion tricks and tips.
You don't want to miss this one.
Link: 40+ Super Secret OS X Lion Features and Shortcuts
How to Burn a Bootable Mac OS 9 CD
The PPC Luddite blog discovered through trial and error that the only way to burn a bootable OS 9 disc is with Toast, can confirm that it works, and says the procedure is simple.
Link: Copy a Bootable Mac OS 9 Install Disc
Ultimate Beginners Guide to AppleScript Revisited
AppStorm's Joshua Johnson has posted as the first in a new series that revisits some of the sites' readers' favorite posts from the past that still contain awesome and relevant information that you might find useful. The first installment is an AppleScript tutorial that was originally published in 2009.
Johnson notes that AppleScript is Apple's powerful scripting language that comes built into OS X, primarily intended for automation of repetitious and time consuming tasks, and the best part about AppleScript is that you don't have to be a genius programmer - or, for that matter, have have any programming experience whatsoever - in order to use it. His article will show you how to write an AppleScript for nearly any application using the simple instructions that come hidden within each app's framework.
Link: The Ultimate Beginners Guide to AppleScript
Spoon.net Browser Sandbox Lets Windows Users Run Popular Browsers with No Installs
PR: Spoon.net, a Seattle-based developer of application virtualization technology, announced a major update to its popular Browser Sandbox. The Spoon.net Browser Sandbox allows multiple versions of browsers to run simultaneously with no installs. The latest version of the Browser Sandbox adds support for the latest versions of all major web browsers, including Chrome, Firefox, Internet Explorer, Safari, and Opera. In addition, Spoon.net now supports testing of mobile browsers such as Firefox Mobile and Opera Mobile as well as prerelease browsers such as Firefox 10 Beta, Firefox Aurora, and Chrome 17.
"The Browser Sandbox is a great resource for web developers and enterprises that need to test or deploy multiple versions of current, beta, or legacy web browsers without the problems associated with installing browsers on their desktops or maintaining cumbersome virtual machines," says Kenji Obata, founder and chief executive officer of Spoon.net. "The Browser Sandbox is a powerful demonstration of Spoon.net's unique application virtualization technologies.
Available as both a web-based service and on-site server, Spoon.net allows software publishers, enterprises, and schools to deploy and manage desktop applications instantly to any user with an Internet connection. Spoon.net runs applications in isolated sandboxes, allowing applications to run side-by-side without conflicts, dependencies, or modifications to the host desktop. Spoon.net's unique hybrid client/server virtualization technology combines the convenience of web-based delivery with the performance and robustness of local execution.
Spoon.net is used by industry-leading educational, entertainment, financial, government, health care, and information technology organizations including Autodesk, Bank of America, Boeing, KPMG, Novell, and the US Army.
Spoon.net only supports running applications on Windows right now and is working on Mac and Linux versions.
Link: Spoon.net Browser Sandbox
Quad-Core Ivy Bridge CPUs Expected in April
Fudzilla's Fuad Abazovic says that Intel's Core i 3000, the world's first 22nm processor, will start shipping in April for both desktop and notebook segments, noting that first to launch will be a quad-core that will find its way into many desktop and notebook computers, with the dual-core launch to follow roughly a month later.
Link: Ivy Bridge Quad in April 2012
Tech Trends
Is Lenovo's All-In-One PC What Apple's iMac Should Have Been?
M.I.C. Gadget's Herman Lai says Lenovo's newly unveiled 27" All-In-One desktop machine that supports 10-finger capacitive multitouch is good news for anyone who wants a desktop PC, but bad news for Apple. What's more, says Lai, the Lenovo's screen can be adjusted to a flat orientation to work like a giant tablet, and he has posted a video so you can see how this amazingly cool hybrid works.
The new Lenovo AIO packs a Core i7 Sandy Bridge CPU, 8 GB of RAM, up to 1.8 TB of storage space (with SSD options), a 2 GB discrete graphics card, and a slot-loading Blu-ray drive. The screen has a 1920 x 1200 maximum resolution (vs. 2560 x 1440 for the 27" iMac) and can slide down at an angle to make onscreen typing more convenient, or like a touch-table for playing touch-enabled games. Lai says the A720's build quality is impressive, if seeming a bit on the heavy side, but the aluminum chassis is gorgeous, giving a solid and premium feel.
He adds that Lenovo expects to start shipping the A720 in the first half of 2012 at an estimated $1,300, and has also unveiled it new IdeaPad Yoga convertible ultrabook that converts from notebook to tablet. (For more on the Lenovo Yoga, see last week's 'Book Review.)
Link: Lenovo All-In-One PC What Apple's iMac Should Have Been (Video)
Worldwide Personal Computer Shipments to Reach 417.2 Million Units by 2015
PR: GIA announces the release of a comprehensive global outlook on the Personal Computers (PCs) Industry. With the market for PCs maturing in most developed countries, developing countries are forecast to emerge as viable hubs for ferreting future growth opportunities. Growth in the developed markets will stem primarily from replacements and upgrades.
The computer has come a long way since the mid 70s, from being a scientist's toy to now becoming a critical productivity tool for businesses, and a full fledged infotainment device for public in general. Personal computers have enveloped every sphere of modern day activity with their sheer magnitude of multiple applications. However, the transitional phase in the computing industry was wrought with numerous technological innovations. PCs have transformed into a mainstream force, which has changed the way people conduct business. PCs - inclusive of notebook PCs, personal digital assistants, desktop PCs, and tablet PCs - are now common tools of business and personal life.
Laptop and notebook computers are the primary source of revenues for the world PC industry. Globally, notebook personal computers are increasingly outpacing desktop PCs in terms of features, computing power and price. Laptops consume up to 90% less energy in comparison to desktops PCs. With rising energy cost and the shrinking price difference between a desktop and laptop over the entire product lifecycle makes laptop a cost-effective solution than a desktop from a TCO (total cost of ownership) perspective. The growth of worldwide notebook computer shipments is being further fueled by the increasing popularity of consumer models that are designed to cater to the need to be mobile and for personal customization.
Netbooks or mini notebooks are changing the way people think about the mobile broadband and Internet by enabling consumers to access photos, video, music, and much more, on-the-go. By combining the affordability of netbooks with cost-effective mobile broadband solutions, developers are bringing connectivity to the masses. As a result, netbook PCs will outpace sales of traditional notebook computers in volume terms. Gradually narrowing distinction between netbook PCs and notebook PCs, and cheaper price mean netbooks offer much greater variety and appeal to multiple demographics. Also, subsidies offered by telecommunication firms for signing mobile broadband contracts play a vital role in its uptake.
As consumers continue to embrace digital lifestyle, companies will create products that reflect the sophistication and mobility that is now a priority for enterprise and non-enterprise users alike. Portable computer systems will continue to shine in coming years as consumers continue to seek consumer electronic products they can use anywhere, anytime. An extreme example of this trend is introduction of Ultra-Mobile PCs (UMPC) that delivers comprehensive PC capability in ultra-light and small-form factors for on-the-move business users. Also, Mobile Internet Devices (MIDs) are expected to surface as a result of increased usage of Fixed Mobile Convergence (FMC). MIDs enable users to have data and high-quality voice capabilities for both professional and personal use resulting in rich Internet experience.
The personal computers industry is highly volatile and is characterized by strong competition, pricing pressures, changing customer preferences, rapid technological developments, competition from well-established high-tech and electronics companies and continuous disputes over intellectual property and antitrust. With a large number of competitors, the market is characterized by price pressures from competitors and price sensitiveness on part of the customers. Frequent product launches, changing industry standards, and high level of price competition in the PC market has resulted in short product life cycles and frequent reduction in selling prices. Manufacturers constantly face the risk of excessive inventories, due to the unpredictability of market conditions.
Asia-Pacific dominates the global market for personal computers and is forecast to grow at a healthy CAGR of 11.3% over the years 2010 through 2015. Driven by a strong performance in regional markets such as China, India and South Korea, Asia-Pacific is projected to be the fastest growing regional market for personal computers over the next few years. In the upcoming years, it is estimated that price reductions; growing usage of Internet across both nonprofessional as well as business communities worldwide; increased urbanization levels; literacy rate of adults; and population growth; will drive growth for PCs.
The research report titled Personal Computers (PCs): A Global Outlook announced by Global Industry Analysts, Inc., provides a collection of statistical anecdotes, market briefs, and concise summaries of research findings. The report offers a rudimentary overview of the industry, highlights latest trends and demand drivers, in addition to providing statistical insights. Regional markets briefly abstracted and covered include United States, Canada Japan, Europe (France, Germany, Russia, Spain, United Kingdom and Rest of Europe), Asia-Pacific (China, India, Indonesia, South Korea, and Taiwan) Africa and Middle East (Kuwait, Saudi Arabia). The report offers a compilation of recent mergers, acquisitions, and strategic corporate developments. Also included is an indexed, easy-to-refer, fact-finder directory listing the addresses, and contact details of companies worldwide.
Link: Personal Computers (PCs): A Global Outlook
Products & Services
Matias One Keyboard Lets You Type on Your Mac and Your iPhone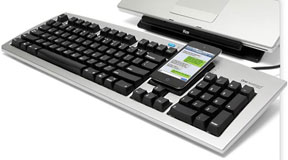 PR: With the comfort and speed of a full keyboard, you'll have much faster and more detailed text conversations on your iPhone (or iPod touch) with the new Matias One keyboard.
Plus, the function keys let you control your iPhone's screen brightness, navigation, volume, and audio track selection.
Also Type on Your Computer
With one click, you can instantly switch back and forth between typing on your iPhone and your PC or Mac. It's like having two keyboards in one.
USB 2.0 hub inside
For connecting your mouse or a USB flash drive, nothing beats the convenience of an in-keyboard hub. The Matias One offers 2 extra ports supporting USB 2.0 speeds.
Mac version too
For Mac users, and other hard to find symbols are printed right on the keys. Simply hold down Option for the bottom-right characters, or Shift-Option for top-right characters they even work on the iPhone.
The function keys provide all the standard Mac media controls, including volume, screen brightness, iTunes track selection, and more.

Built for comfort
High-quality dome switches give the keyboard a responsive, tactile feel, with enough resistance to hold the weight of your hands. This reduces long term fatigue and makes it a lot more comfortable to use.
The keytops are also curved to fit the shape of your fingertips. This prevents you from sliding out of home row and losing your bearings.
No batteries required
The keyboard cable to your computer also powers the wireless connection to your iPhone, so you'll never have to worry about batteries.
System Requirements
PC or Mac with USB port.
iPhone 3GS or newer, iPod touch 3rd generation (2009) or newer.
Specifications
Dimensions: 18.7 x 6.8 x 1.4 (47.5 x 17.3 x 3.5 cm)
Cable Length: 5 feet (1.5 m)
Weight: 1.65 lb. (750 g)
Warranty: 1 year limited warranty (more info)
Keyboard Layouts Available:

PC: US Layout (FK301PI)
Mac: US Layout (FK301MI)
Pricing
Matias One Keyboard for iPhone & Mac: $99.95
Matias One Keyboard for iPhone & PC: $99.95
There is a BlackBerry version for PCs as well.
Link: Matias One Keyboard
Matias Tactile One Keyboard Lets You Type on Your Mac and Your iPhone
PR: The Tactile One Keyboard is Matias' Tactile Pro keyboard adapted to work with your iPhone as well as your Computer. With one click, you can instantly switch back and forth between typing on your iPhone and your PC or Mac.
Legendary Feel & Speed of Alps Mechanical Keyswitches
Users familiar with Apple's legendary Extended and Extended II keyboards will love the Tactile One Keyboard. Unlike most keyboards made today, each key is built on an individual Alps Mechanical Switch.
Sculpted Keytops
The latest trend in keyboards is to have very flat & wide keys, with little or no space between them. You see this a lot on laptops and netbooks. While they look great, they can also be a little tricky to type on. The flatness makes it very easy to slide out of home row and lose your bearings.
The Tactile One bucks this trend. It has traditional sculpted keytops, curved to fit your fingertips, and keep you from sliding out of home row.
3-Port Hi-Speed USB 2.0 Hub
For quickly attaching USB peripherals, nothing beats the convenience of an in-keyboard hub. Works great with USB flash drives, digital cameras, mice, and more. It won't charge your iPhone/iPod, but for syncing it's perfect.
No Ghost in This Machine
Most keyboards allow only a certain number of keys to be pressed at once, and often cannot keep up with very fast typists. The result is called ghosting letters missing from what you actually typed, or additional letters that you didn't type. The Tactile One has special Anti-Ghosting Circuitry (also called n-key rollover) to eliminate these problems. You can type as fast as you're able; the Tactile One will keep up.
Mac Keymapping Support
Mac keymapping symbols are printed right on the keys. Simply hold down Option for the bottom-right characters, or Shift-Option for top-right characters. They even work on the iPhone. The function keys provide all the standard Mac media controls, including volume, screen brightness, iTunes track selection, and more.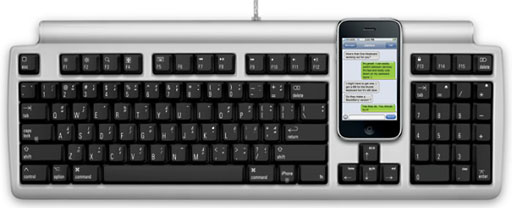 No Batteries Required
The keyboard cable to your computer also powers the wireless connection to your iPhone, so you'll never have to worry about batteries.
System Requirements
PC or Mac with USB port.
iPhone 3GS or newer, iPod touch 3rd generation (2009) or newer.
Specifications
Dimensions: 18.13 x 6.5 x 1.38 - (46.0 x 16.5 x 3.5 cm)
Cable Length: 6 feet (1.83 m)
Weight: 2.75 lb. (1 249 g)
Warranty: 1 year limited warranty (more info)
Keyboard Layouts Available:

PC: US Layout (FK302PI)
Mac: US Layout (FK302MI)
Pricing
Matias Tactile One Keyboard for iPhone & Mac: $199.95
Matias Tactile One Keyboard for iPhone & PC: $199.95
Link: Matias Tactile One Keyboard
Das Keyboard Model S Mechanical Keyboard Brings Its Click Clack to the Mac
PR: Das Keyboard, famous for its clicky mechanical keyboard that has a cult-like following, has introduced a new version of its award-winning Model S keyboard designed to appeal to a fan base also known for its extreme loyalty - the Mac community.
The company's new Das Keyboard Model S Professional for Mac is now available online for pre-ordering and will be shipping by April 15. Available in the US and Canada, the Model S Professional for Mac retails for $133. A 15% discount is currently available on all preorders for this newest member of the Das Keyboard family.
"Mac fans will appreciate the high-quality and sharp design of our Model S keyboard, especially now that it provides the features and functions that Mac loyalists are used to and expect from their peripheral devices," says Daniel Guermeur, creator of the Das Keyboard and CEO of Metadot Corporation. "Essentially, we've introduced the most advanced mechanical keyboard on the market designed specifically for Mac users."
Typing Euphoria?
Das Keyboard's Model S provides users with a satisfying - perhaps even euphoric if you're a mechanical key switch aficionado - typing experience. The keyboard's gold-plated mechanical key switches produce a distinct click with each keystroke, providing unique tactile and audible feedback that some users find makes the typing experience more comfortable, precise and fast.
Das Keyboard Model S Professional for Mac features include:
Gold-plated mechanical key switches designed to withstand 50 million strokes.
Enhanced 104-key layout with special keys for quick access to common media player and computer functions.
Command and Option keys, helping Mac users to feel right at home.
Instant sleep function, enabling users to easily put their Mac to sleep and save energy during even the shortest of breaks.
6-key rollover, enabling users to enter - and the keyboard to recognize - 6 keys pressed simultaneously.
Two-port, high-speed USB 2.0 hub for syncing and charging iPhone, iPod, iPad and other USB devices.
USB hub connected devices charge up to 5 times faster than with other keyboards.
Extra-long USB cable (2m, 6.6 ft) that goes through desk grommets to keep workspaces neat and tidy.
KVM switch compatible, so users can control more than one computer (Mac or PC) from their Das Keyboard.
Das Keyboard has always had a devout fan base, and were eager to introduce ourselves to another loyal audience of tech enthusiasts, added Guermeur. The Das Keyboard Model S provides a superior and joyful typing experience Mac fans have been longing for.
Das Keyboard Model S Professional for Mac sports gold-plated, German-engineered Cherry MX mechanical key switches which the manufacture claims compare to the legendary IBM Model M, plus a two-port USB hub, an extra-long 2-meter (6.6') USB cable, and Mac-specific special keys that support 6-key rollover, i.e. 6 keys pressed simultaneously. Das Keyboard for Mac's dedicated USB 2.0 hub connector and built-in hub are faster and more powerful, capable of charging and syncing your iPhone, iPad, iPod or other USB devices much faster than with most keyboards. It can also help reduce the environmental impact of your computer and save energy by putting your computer to sleep simply by using its handy sleep function even for your shortest breaks.
Glossy black upper enclosure with matching black USB cable - Darth Vader approved
Dimensions: 18" x 6.5" x 1" (thickest portion, feet not extended, 1.5" w/ extended feet)
Weight: 1.36 kg (3 lb.)
One USB port required. A second one is recommend to use the built-in USB hub
No driver required
Pricing
Regular price: $133
Preorder at: $113
Link: Das Keyboard Model S Professional for Mac
Desktop Mac Deals
Low End Mac updates the following price trackers monthly:
For deals on current and discontinued 'Books, see our 13" MacBook and MacBook Pro, MacBook Air, 13" MacBook Pro, 15" MacBook Pro, 17" MacBook Pro, 12" PowerBook G4, 15" PowerBook G4, 17" PowerBook G4, titanium PowerBook G4, iBook G4, PowerBook G3, and iBook G3 deals.
We also track iPad, iPhone, iPod touch, iPod classic, iPod nano, and iPod shuffle deals.
Join us on Facebook, follow us on Twitter or Google+, or subscribe to our RSS news feed
Links for the Day
Mac of the Day: Power Mac 8200, introduced 1996.04.22. The minitower version of 7200 was never sold in America.
Recent Content
Follow Low End Mac on Twitter
Join Low End Mac on Facebook
Favorite Sites
MacSurfer
Cult of Mac
Shrine of Apple
MacInTouch
MyAppleMenu
InfoMac
The Mac Observer
Accelerate Your Mac
RetroMacCast
The Vintage Mac Museum
Deal Brothers
DealMac
Mac2Sell
Mac Driver Museum
JAG's House
System 6 Heaven
System 7 Today
the pickle's Low-End Mac FAQ
Affiliates
Amazon.com
The iTunes Store
PC Connection Express
Macgo Blu-ray Player
Parallels Desktop for Mac
eBay

Advertise