Macs Growing in Business, Safari 5.1.2 and Camino 2.1 Browsers Released, and More
This Week's Apple and Desktop Mac News
Compiled by Charles Moore and edited by Dan Knight - 2011.12.05
Mac notebook and other portable computing is covered in The 'Book Review. iPad, iPod, iPhone, and Apple TV news is covered in iOS News Review. All prices are in US dollars unless otherwise noted.
News & Opinion
Apple Updates
Products & Services
Software
News & Opinion
Free Management Guide to Supporting Macs in Business
InfoWorld's staff says that as the Macintosh becomes a common tool in the enterprise, IT has much to learn about effectively working with the Apple platform, noting that Macs may be a minority of PCs in any business, but these days they are used by most businesses. And as more companies roll out "choose your own PC" and "bring your own PC" policies, IT will only need to be more familiar with managing Mac OS X systems.
To help IT support Macs, InfoWorld has compiled an 18-page "Business Mac" Deep Dive PDF special report that's chock-full of hands-on tips, techniques, and tools for managing everything from user access to security from InfoWorld's roster of Mac experts. The Deep Dive report gives special attention to the newest Mac operating system, Mac OS X 10.7 Lion, and its Server counterpart.
Link: Macs in Your Business: InfoWorld's Expert Management Guide
Video Tutorials for Mac, iPad, and iPhone
Small Business Computing's Andrew Lock says:
"Is the iPad 2 Right for Your Small Business? Want to move some applications to the cloud? Learn the five best migration strategies and find out which may be best for your business by reading 5 Ways to Migrate Applications to the Cloud now with this new under-the-radar Web tool for you. It's for Mac users, but not just for the Macintosh computer, but also the iPhone and the iPad.
"The Web tool is called ScreenCastsOnline, and on the site you'll find a variety of videos about how to get more out of your Mac, your iPad your and iPhone."
Link: Get Schooled with Video Tutorials for Mac, iPad, iPhone
Electronic Screen Overdose?
Poll Position's Larry Register cites results of a new survey documenting that a growing number of electronic devices are competing for your eyeballs, time, and attention. In a Poll Position national scientific telephone survey, they asked, how many hours a day do you spend looking at either a TV, computer screen, e-reader, PDAs, or cellphones?
When combining totals, more than 60% spend 1-6 hours a day watching electronic devices. Also combining results, 34% tell us they are spending 7-10 hours or more.
Poll Position's scientific telephone survey of 1,220 registered voters nationwide was conducted November 19, 2011 and has a margin of error of 3%. Poll results are weighted to be a representative sampling of all American adults.
Link: Electronic Screen Overdose?
Apple Updates
Safari 5.1.2 for Lion, Snow Leopard, and Windows
Apple has released a bugfix upgrade to Safari 5.1 for OS X 10.7 Lion.
Safari 5.1.1 includes support for iCloud, Apple's new set of free Cloud services. iCloud stores your Safari bookmarks and Safari Reading List and automatically pushes them to all your (supported) devices.
New in version 5.1.2 for OS X 10.7 Lion:
Safari 5.1.1 contains various bug fixes and improvements to stability, compatibility, and security, including fixes that:
Address issues that could cause hangs and excessive memory usage
Improve stability when using Find, dragging tabs, and managing extensions
Improve stability for netflix.com and other websites that use the Silverlight plugin
Improve stability when zooming on Google maps
Address an issue that could prevent East Asian character input into web pages with Flash content
Address an issue that could cause History items to appear incorrectly
Address an issue that could cause cleared Reading List items to appear Improve printing from Safari
Address an issue that could prevent the Google Safe Browsing Service from updating
System Requirements
OS X Lion 10.7.2
Mac OS X Snow Leopard 10.6.8 with Security Update 2011-006
Windows XP, Vista, and Windows 7
*Testing conducted by Apple in August 2011 on a 2.7 GHz Quad-Core Intel Core i5-based iMac 21.5" system using Mac OS X v10.6.8 Snow Leopard and configured with 4 GB of RAM and an AMD Radeon HD 6770M with 512 MB of VRAM. JavaScript benchmark based on SunSpider 0.9.1. Performance will vary based on system configuration, network connection, and other factors.
Link: Safari 5.1.2
Products & Services
$70 Wireless Ultra-Mini Touchpad Keyboard
PR: SMK-Link Electronics Corporation has announced availability of the Wireless Ultra-Mini Touchpad Keyboard. Featuring an integrated touchpad and raised button QWERTY keyboard, this new game-controller styled input device puts home theater, music, presentations, and Internet applications in the palm of your hand - from up to 30 feet away. Both Windows PC and Mac versions are available. Manufacturer's suggested list price is $69.99.

Ultra-Mini Touchpad Keyboard for Mac.
"Our new Wireless Ultra-Mini Touchpad Keyboard is designed to be the perfect companion for computer control from across the room," says John Blair, General Manager of Branded Products for SMK-Link. "Its game controller-like shape is instantly familiar in the hand. Text entry using the raised-button QWERTY keyboard is fast and error-free, and cursor control using the integrated touchpad is intuitive and effortless."
"Whether you're sitting back on the couch text messaging, watching Netflix, listening to iTunes, or simply Web browsing, this new Wireless Ultra-Mini Touchpad Keyboard will be your ultimate home wireless companion," Mr. Blair continues. "In the classroom or the boardroom, its also the perfect controller for PowerPoint or Keynote, presentations. Just plug in the RF receiver and go. There are no drivers needed, no line of sight restrictions and no battery issues. An onboard power management system ensures that the new Wireless Ultra-Mini Touchpad Keyboards will always be ready when you are."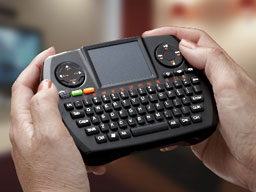 Ultra-Mini Touchpad Keyboard for PC.
Wireless Ultra-Mini Touchpad Keyboard Features:
Game-controller styling is instantly familiar in the hand
Shoulder-style primary and secondary mouse click buttons
Capacitive touchpad for intuitive fingertip cursor control
Virtual multi touch feature enables touchpad scrolling
Raised key, US-English QWERTY keyboard provides fast, error-free text entry
20 function keys, 7 hot keys and a Windows MCE launch button (PC version)
Dedicated multimedia, audio and document navigation controls
Applications
Home Theater via Hulu, Netflix, YouTube and other Web portals
Listening to music on iTunes, Pandora, Rhapsody or other Web channels
Classroom lectures and boardroom presentation using PowerPoint or Keynote
Web browsing and text messaging from the couch
Any application requiring a small, wireless computer input device.
Specifications"
2.4 GHz RF wireless range (30 feet [10 meters] with no line-of-site restrictions) with USB receiver
Integrated capacitive touchpad
Smartphone-style, raised key QWERTY keypad
7 hot keys, 20 function keys and Windows Media Center Start key
Versions:
(VP6364) Windows PC for Windows XP with MCE, Vista with MCE, Windows 7, Mac OS X (not all buttons supported), Linux OS
(VP6366) Apple Mac OS X
No software drivers required
2 x AA alkaline batteries (included) with power management sleep mode
Suggested retail price: $69.99
Manufacturers Warranty: 1 Year
Link: Wireless Ultra-Mini Touchpad Keyboard (Mac version currently $69.39 and PC version $63.59 at Amazon.com with free super saver shipping)
Software
Find Any File: Fast, Index-less Find File Utility
PR: Find Any File is a program for Mac OS X that lets you search for files on your disks.
Unlike Spotlight, it does not use a database but instead uses the file system driver's fast search operations, where available. This lets you search for file properties such as name, dates, size, etc., but not for file content (use Spotlight or EasyFind for that).
Find Any File can find files that Spotlight doesn't, e.g. those inside bundles and packages and in inside folders that are usually excluded from Spotlight search.
Finally, it is quite fast. A search only takes a few seconds.
Find Any File doesn't replace Spotlight, but it complements it greatly:
If you search for content, such as in emails, PDFs, Word docs etc., use Spotlight.
If you search for files by name, size or date, use FAF, as only then you can be sure that everything is found.
Features
Find Any File has a few gems that other search tools don't offer.
It sports a new hierarchical view for the found items. You can switch to it using Cmd-2 or click on the right little icon at the top of the results window. With this hierarchical view you can directly look for the results in the folders that interest you.
Additionally, there's a yellow so-called Tooltip box which can show you more details of the item the mouse is over. You can turn this box on/off via the menu bar.
If you still prefer the flat list view, you can filter the shown items by their name, kind, enclosing folder, etc., to further limit the results of your search.
You can save your entered searches to files (they'll have the extension ".faf"). You can then double click them in the Finder to have them start the search immediately, or use the saved search as a preset.
If you hold the Option (Alt) key down in the Find window, the Find button turns into Find All. If you click on it then, you are asked for an administrator password - and then Find Any File will restart with root permissions, being able to find really any file on your Mac's volumes (something that Spotlight won't ever do). Note that this will only work on local disks, not on network mounts, though. And it's only available in the app version from the developer's website, although note well: not in the version from the Mac App Store due to restrictions Apple enforces there.
Have you just installed or launched a program for the first time and like to see what it modified or added to your disks? There's a way to do that.
Searching for files only inside your Music folder that are neither in AAC nor in MP3 format and which are at least a megabyte in size? So you could enter two Name criteria as follows, along with a minimum size. Also note that the search is limited explicitly to the Music folder.
Or you might want to find all Numbers documents created in 2009 only.
More Features
Besides the obvious things you can see by looking at the menus, there are a few things that are not so obvious:
Searching multiple disks or folders
To search a custom set of disks or folders, simply drop them together onto the popup menu which lets you select where to search. If you can't drag all the icons at once, you may also add them to an existing set by holding down the Shift key when dropping them onto the popup menu.
Filtering the results
Use the filter in the flat (nonhierarchical) list to reduce the shown items to the text you enter. Use the menu under the magnifier glass to choose what column to filter on.
Choosing which columns to show in the list
Right-click on the column titles to get a menu that lets you choose which columns appear in the list.
Presetting the preferred disk to search
When Find Any File is launched, it always defaults to searching the boot volume. If you prefer to search a different volume by default, do this: Launch Find Any File, choose your preferred volume, then use the Save command to save the search criteria to a file. Next time, instead of launching Find Any File directly, open that saved file instead - Find Any File will launch with the presets you chose before. Alternatively (since version 1.5), you can set up your preferred search and choose Save As Defaults from the File menu in order to have these settings reappear next time you launch Find Any File. (Note: If you have saved a Search with the option to start the search automatically when opening the file, you can still prevent the search from starting by holding down the Option (alt) key while Find Any File opens the document.)
Copying the path name of a found item
To copy a path name of a found item to the clipboard, right-click on the path field at the very bottom, where you can then choose from 3 different formats:
Shell style is good for pasting into a Terminal window,
POSIX style is the original Unix-style path and
Mac style gives the classic Mac path using ":" as delimiters
Key Features
Quite fast
Convenient folder view for results
Can search as root user
Savable queries
Can be launched in place of Spotlight with F
Changes since version 1.6.1:
New Features
Specify multiple disks or folders for a single search.
Filter results (only in flat view, not in tree view).
More columns in results list (creation date, folder name, path, label).
Shows Finder labels by color, similar to the Finder.
Can search the current Finder selection.
Improvements
Showing a large amount (several 1000s) of found items is much faster now.
Find window is more responsive during search of entire disks and on network volumes.
Bug fixes
No more crash when copying paths with more than one selected item.
Searching only on local or remote volumes works again as expected.
Searching for Aliases fixed.
Hotkey fixes: Loads saved defaults even if option key was part the hotkey presses; Works again on OS X Tiger
Requirements
Mac OS X 10.4.1 or later (Tiger, Leopard, Snow Leopard)
Find Any File is $6 nagware
Link: Find Any File
Camino 2.1 Web Browser Released
PR: After over a year of hard work by devoted volunteers, the Camino Project has unveiled Camino 2.1. This latest version includes many bug fixes and new features, providing all users with an improved browsing experience.
This release displays web pages with Gecko 1.9.2, the same rendering engine used by the Firefox 3.6 web browser, improving web compatibility, and sharing many of the security fixes and Gecko improvements that are in that version of Firefox.
Features in Camino 2.1
The following are the major changes and improvements made since the Camino 2.0 release. A full list of features and fixes is also available.
Web content support
Camino now uses version 1.9.2 of Mozilla's Gecko rendering engine, which contains thousands of bug fixes, enhanced support for web standards, and improved JavaScript performance.
Enhanced location bar autocomplete
A completely rewritten autocomplete now searches both bookmarks and history and matches against page titles as well as page URLs.
Changes to plugin support
Camino now disables certain insecure or incompatible versions of common plugins.
A new Internet Plug-Ins folder in the profile allows for Camino-only plugins.
A new hidden preference allows disabling specific plugins.
Camino no longer includes a Java plugin; users who need to run Java applets should install Java Plug-In 2 or the Java Embedding Plugin, as appropriate for the version of Mac OS X in use.
Offline mode
New Work Offline and Go Online items in the Camino menu allow Camino to enter offline mode and provide a more useful experience when no network connection is available.
Status Bar
The status bar can now be hidden by choosing Hide Status Bar in View menu.
Known Issues
For information about other issues or problems, please visit our Help page.
If Ask me before accepting each cookie is checked, Camino will display a cookie dialog for each cookie request from a web page.
Incompatible third-party plugins: PDF Browser Plugin version 2.4 and newer are incompatible with Camino; to display PDF files in Camino on Mac OS X 10.6 or newer, use version 2.3 of the plugin.
Incompatible third-party software: 1Password is known to crash Camino in some cases, particularly when customizing the toolbar. If you experience crashes, try removing 1Password's Camino integration.
Camino 2.1 is available for Mac OS X 10.4 and later and still runs on PowerPC Macs.
Publisher's note: We all have our own broswer preferences at Low End Mac, and for years mine has been Camino. It loads quickly, loads pages quickly, and just works most of the time. You may occassionally run into a page where you need to use Safari or Firefox (or TenFourFox, my second choice browser on PowerPC Macs), but they're few and far between. It's free. Give it a try!
Also, the future of Camino after version 2.1 (which is equivalent to Firefox 3.6) is in question. Mozilla has killed off embedding support for its Gecko layout engine starting with the one used in Firefox 4, something that Camino has always used. WebKit, which Apple uses in Safari, appears to be the most likely layout engine for replacing Gecko in Camino (GNOME has already made the switch from Gecko to WebKit). dk
Link: Camino
Quick Word: Quick and Easy Word Processing
PR: Quicker, simpler and easier, Weiwei Zhang's Quick Word word processor meets every essential need of your daily word processing task with its practical functions, is concise but not complicated, excellent but not expensive.
Features
Quick Word offers you all the basic file processing functions:
Create New, Special New (Plain Text, Rich/Plain Text from Pasteboard, With Current Selection) document as you need.
Insert the pictures from your computer, the current date and signature line into your file easily and conveniently.
Quick Word supports reading and editing various mainstream formats as following, your Quick Word files can also be saved as:
Word 2007 (.docx),
Word 97 (.doc),
Word 2003 xml (.xml),
OpenDocument (.odt),
Rich Text with Graphics Document (.rtfd),
Web Archive (.webarchive),
Rich Text Format (.rtf),
Text Document (.txt),
Text (you provide extension),
Open Document (.odt).
Enable to export the files to HTML with/without styles, PDF, RTF/DOC with pictures.
Easy to send the file to email as attachment or upload it to cloud storage service for backup.
Allow you to make your own template for your document.
Customize your own toolbar of Quick Word, Edit will become much easier!
Drag your favorite items into the Toolbar and the functions will be realized just by clicking on the specific button such as copy, cut, paste, adjust the fonts and styles, undo, redo and so on.
Get info button helps you to get the statistic information of your document. File info tab helps you to backup the documents in every a few minutes.
Properties button allows you to input the detailed copyright information of your file.
Locate anything precisely in your file with Find tab. Replace, Replace/Find, Find the next/pervious, Replace/Select All can be finished in one dialogue box.
Quick Word allows you to write more effectively. The words can be automatically completely by Complete function. You can just select the words listed below the original one.
View your files in the most comfortable layout by setting up in the View tab.
Speech function can make your file speak, simply select the contents, right click and choose the start speaking under the speech tab.
The markers such as highlight, underline, strikethrough and so on are available in Font tab, youre your own style of annotation.
System requirements:
Intel
Mac OS X 10.6.6 or later
$19.99
Link: Quick Word
Free WLAN Site Survey Software for Mac
PR: Netspot is a new wireless survey software for Mac OS X. Find out what your WiFi network is capable of right now, and it's free!
All you need to run your wireless site survey is your MacBook with native WiFi / AirPort adapter. No special knowledge required. Exceptional simplicity, only two steps to get your first reports: survey WiFi network and apply sleek visualizations.
Requires Mac OS X 10.6+
Link: Netspot
BibleReader 5.0: Free Bible Study App for OS X
PR: Looking for a way to enhance your Bible study? With Olive Tree's BibleReader you can compare multiple translations, read Scripture and commentary side-by-side, or open the Bible in fullscreen to immerse yourself in the Word without any distractions.
Easily take notes, highlight verses and bookmark your favorite passages across multiple Bible translations. Effortlessly manage all of your content on your Mac. (A version is also available for iPad, iPhone or iPod Touch) using Olive Tree's free cloud service. Open the Resource Guide to dive deeper into your study with the many commentaries, dictionaries and other resources that Olive Tree has to offer. Simply install BibleReader and you will have access to over 100 free books and thousands of other popular publications to get the most out of your Bible study. BibleReader is a great organizational tool for study, personal devotions, small groups, or sermon preparation.
BibleReader is a free mobile application that brings hundreds of free and premium biblical resources to your fingertips.
Verse Chooser - navigate quickly to any verse in the Bible
Offline Access - Bibles are stored on your phone, not dependent on a network connection
Advanced Search - look up every occurrence of a word in every book of the Bible
Versified Commentaries - switch to the commentary of your choice linked directly to any verse you are studying
Split-Screen Reading - view Bible and reference works simultaneously as you study
Hyperlinked Notes - cross-references or Strong's numbers available with one touch
Personal Notes(*) - can be accessed by verse in any Bible version across your library
(*) Not all features are supported on all platforms.
Study Your Way
Say you want to open your Bible to a specific place - not just the third chapter of the book of John, but John 3:16 exactly. BibleReader's Verse Chooser lets you navigate quickly to any verse in the Bible.
Suppose you wonder how the word "spirit" is used throughout the Bible. BibleReader's search function lets you look up every occurrence of the word "spirit" in both the Old and New Testaments. And when you scroll through the search results, it takes just one click to open the Bible of your choice to that verse.
What if you're reading Nehemiah, and you need more historical background on the Temple and its importance in Jewish culture to really understand what's going on in the story? BibleReader's versified commentaries let you switch to the commentary of your choice that opens right to Nehemiah, or wherever you were reading in your Bible.
BibleReader's split-screen reading makes commentary or other Bible reference works instantly available as you read - the two screens are linked so your commentary is always open to the right verse. Or you can use split screens to read two different Bible translations side-by-side.
Many Bibles have additional information like textual notes, cross-references, or Strong's numbers. BibleReader includes hyperlinked notes that are available with one touch.
If you make a personal note on a specific verse in the Bible, you can access these notes in any Bible version, tied to the same verse.
BibleReader lets you compare multiple translations, read Scripture and commentary side-by-side, or open the Bible in fullscreen to immerse yourself in the Word without any distractions.
Easily take notes, highlight verses and bookmark your favorite passages across multiple Bible translations. Effortlessly manage all of your content on your Mac, iPad, iPhone or iPod Touch using Olive Trees FREE cloud service. Open the Resource Guide to dive deeper into your study with the many commentaries, dictionaries and other resources that Olive Tree has to offer. Simply install BibleReader and you will have access to over 100 free books and thousands of other popular publications to get the most out of your Bible study. BibleReader is a great organizational tool for study, personal devotions, small groups, or sermon preparation.
Included with BibleReader installation:
KJV Bible
ASV Bible
Matthew Henry's Concise Commentary
Jamieson, Fausset, and Brown Commentary
Eastons Bible Dictionary
Naves Topical Bible embedded in the resource guide and lookup
Features
Cloud Sync
Stores your notes, highlights, bookmarks and reading ribbons, making them available to view and edit in BibleReader on all of your devices.
Resource Guide
Quickly find commentary, maps, cross reference, sermons, and related content on the Bible passage you are reading.
Discover insights on the people, places, and topics in your Bible passage.
See and edit your notes for the current Scripture.
Display
Select text to copy it for pasting into notes or other apps.
Open many books and arrange them how you want using tear out windows.
Easily navigate to an exact Bible verse using the 3-click Verse Chooser.
Personalization
Bookmark and highlight your favorite verses.
Take notes and organize them into the categories you want.
Highlight single words, phrases or whole passages.
Customize highlighters, icons, fonts and colors.
Sort, search, and organize everything!
Powerful Search and Look Up
Find words and phrases and even search in Greek and Hebrew
Effortlessly search your entire library or search simply within a single Book of the Bible.
Right click on any word in your book or Bible to perform a Look Up and find dictionary entries, maps, images, charts, and related Bible verses.
Library
In addition to over 100 free books for in-app download, BibleReader also offers the ease of in-app purchasing of many more study tools like popular Bible Translations, Bibles with Strong's numbers, Study Bibles, commentaries, dictionaries and books.
Resources available for purchase include
Bibles
NIV
NKJV
ESV
NASB
NRSV
HCSB
NET
Amplified
The Message
Bibles with Strong's Numbers
ESV with Strong's
NKJV with Strong's
NASB with Strong's
Study Bibles
NKJV Study Bible
ESV Study Bible
HCSB Study Bible
NIV Study Bible
Quest Study Bible
Reformation Study Bible
Study Tools
Treasure of Scripture Knowledge
Bible Knowledge Commentary
Holman Concise Bible Commentary
NIV Compact Bible Commentary
IVP Bible Background Commentary
Calvin's Commentary
Gray's Commentary
CA Coast Commentary
Maps
Zondervan Atlas of the Bible
Bible Maps then and Now
Manna Maps
Dictionaries
Vines
Holman Concise Bible Dictionary
Holman Illustrated Bible Dictionary
New International Encyclopedia of the Bible
NIV Compact Dictionary of the Bible
Books
MacArthur's Quick Reference Guide
Grudem's Systematic Theology
System requirements:
Intel
Mac OS X 10.7 or later
BibleReader is also available for iOS, BlackBerry, Android, Palm OS, Symbian, and Windows Mobile.
Link: BibleReader for Mac
Link: BibleReader for iOS
Desktop Mac Deals
Low End Mac updates the following price trackers monthly:
For deals on current and discontinued 'Books, see our 13" MacBook and MacBook Pro, MacBook Air, 13" MacBook Pro, 15" MacBook Pro, 17" MacBook Pro, 12" PowerBook G4, 15" PowerBook G4, 17" PowerBook G4, titanium PowerBook G4, iBook G4, PowerBook G3, and iBook G3 deals.
We also track iPad, iPhone, iPod touch, iPod classic, iPod nano, and iPod shuffle deals.
Join us on Facebook, follow us on Twitter or Google+, or subscribe to our RSS news feed
Links for the Day
Mac of the Day: Original iMac, introduced 1998.05.06. The Bondi blue wonder that bounced Apple back to profitability and into the public eye.
Recent Content
Follow Low End Mac on Twitter
Join Low End Mac on Facebook
Favorite Sites
MacSurfer
Cult of Mac
Shrine of Apple
MacInTouch
MyAppleMenu
InfoMac
The Mac Observer
Accelerate Your Mac
RetroMacCast
The Vintage Mac Museum
Deal Brothers
DealMac
Mac2Sell
Mac Driver Museum
JAG's House
System 6 Heaven
System 7 Today
the pickle's Low-End Mac FAQ
Affiliates
Amazon.com
The iTunes Store
PC Connection Express
Macgo Blu-ray Player
Parallels Desktop for Mac
eBay

Advertise