2011 iMac Drive Replacement Solutions, 'Evangelical Frenzy' Over Apple, Linux MintPPC, and More
This Week's Apple and Desktop Mac News
Compiled by Charles Moore and edited by Dan Knight - 2011.05.20
Mac notebook and other portable computing is covered in The 'Book Review. iPad, iPod, iPhone, and Apple TV news is covered in iOS News Review. All prices are in US dollars unless otherwise noted.
News & Opinion
Products & Services
Software
News & Opinion
A Defense of Apple's 'Impossible to Replace' 2011 iMac Hard Drive
Hardmac's Lionel weighs in on the iMac hard drive issue (see last week's Mac News Review for more details), noting that it has several consequences, but most importantly that it's now impossible to replace the hard drive of the 2011 iMac without going through an Apple Retailer to get an identical disk, which (of course) will be sold at a price three times higher than anywhere else.
However, in Apple's defense, Lionel observes that the main goal of this change is to monitor disk temperature as precisely as possible, which is absolutely necessary in a confined architecture such as the iMac's slim case, and the only way to keep the fans running at the right speed to cool down the disk while keeping the computer as quiet as possible, without the fan blowing at full speed all the time.
Lionel believes that Apple went with its "Out of Bandwidth" temperature monitoring system to avoid using SMART, which prevents data access momentarily when it is used. The iMac checks drive temperature "very often", so this avoids a potential performance issue.
In his original report about the roadblock to replacing hard drives in the new 2011 iMacs due to a proprietary temperature sensor (above), Hardmac's Lionel expressed confidence that there must be a way to deactivate or to trick the problematic sensor. He follows up saying that it didn't take long to find a solution, which is that provided by Apple on models available with an SSD: short-circuit pins 2 and 7 on the power supply cable.
Lionel goes on to note that the first iteration of the temperature sensor issue was introduced in the 2009 iMac, with Apple initially using connectors added to most hard drives for the purpose of programming and testing the disk. The drawback was that each hard drive manufacturer had its own connector, so the 2011 model uses a new system with all information now going through pin 11 of the power supply connector, normally used to light-up a LED during disk activity. In order to change the use of that pin, specific firmware was needed, which explains the reason that only disks sold by Apple in the iMac don't have problems.
Lionel observes that this was quite a radical choice, far from established standards, but in the end it should not cause any big problem in replacing hard drives in these computers.
Publisher's note: Without temperature monitoring, hard drive heat could become an issue in the iMac's confined spaces, so replacing the hard drive is done at your own risk. If you do elect to do so, look for a drive that runs cool. dk
Link: It Is Currently Impossible to Replace the Hard Drive of the 2011 iMac
OWC Elaborates on iMac 2011 Hard Drive Replacement Restrictions
OWC blogger Larry expands on some questions, context, and additional technical details concerning the now infamous 2011 iMac hard drive replacement issue, affirming up front that he thinks these are absolutely the best iMacs ever and noting that the following model drives were found in systems OWC has received:
Seagate ST3500418AS 500 GB 7200 RPM Barracuda 7200.12 7200 RPM 16 MB SATA 3 Gbp/s
Seagate ST31000428AS 1 TB 7200 RPM Barracuda 7200.12 7200 RPM 32 MB SATA 3 Gbp/s
Western Digital WD1001FALS 1 TB Caviar Black 7200 RPM 32 MB Cache SATA 3 Gbp/s
Larry notes that you don't get to pick what brand hard drive, cache, model, etc. are installed at the factory, but Apple iMac Specs confirm all factory hard drives are 7200 RPM and cautions that the base $1,199 iMac model doesn't have any drive configuration options and is only offered with the 500 GB capacity drive.
OWC has tested the new iMacs with a variety of drives and reports that regardless of which drive was factory installed, any of the different drives received in any of the iMacs worked fine in any other. Larry further notes that each hard drive manufacturer currently has different pins for the available thermal sensor line found on today's hard drives, which means owners of 2010 iMacs can more easily replace their factory hard drive with a retail drive, as long as they stick with the same make (although he cautions that it's still a major job just to open up these machines, independent of other challenges), but if they want to use a different make drive, you'll need to make some modifications.
However, while OWC has done other testing with external options, it is so far inconclusive, so they can't say anything is 100% definite yet other than either Apple has custom firmware in its drives that enables something, or Apple has firmware on the drives that it looks for to use what is there anyway, with the bottom line being that workaround options are in play, and with further testing, OWC should be able to be confident in one solution or another, noting that only a very small percentage of iMac users are ever going to want or need to replace drives in their computers, observing that Apple has made that hard enough as it is, but for the few, it didn't need to be this hard.
Link: Further Explained: Apple's iMac 2011 Model Hard Drive 'Restrictions'
An Elegant Solution for the 2011 iMac Hard Drive Replacement Problem
Hardmac's Lionel notes that difficulties associated with replacing the hard drive in 2011 iMacs led to an initial workaround of short-circuiting some pins in the power supply of the hard drive, but that was a bit kludgy, and that some of his readers from Gravis, a German reseller, developed a more interesting and elegant solution - a little component to replace the sensor inside the hard drive that can measure the temperature and send it to the motherboard to regulate fan speed. It's called cBreeze (English translation by Google Translate) and will work with any 2009 or later model of iMac, and is projected to be widely available in June.
Link: An Easy Solution to Replace the Hard Drive in a 2011 iMac
BBC Looks into 'Evangelical Frenzy' Over Apple
Christian Apple aficionados are inclined to joke about "the church of the Macintosh"* but the BBC's Alex Riley reports that a team of neuroscientists scanned the brain of an Apple fan and it showed that the brand was stimulating the same parts of the brain as religious imagery does in people of faith.
Secrets of the Superbrands explores why companies like Apple and Google have grown explosively over the past few years and elicit passionate loyalty from their customers, and is to be broadcast on BBC Three at 2100 BST on Tuesday, 17 May. Or watch online via iPlayer (UK only).
* Publisher's note: For instance, see The 10 Commandments of the Church of Macintosh: Speak No Ill of the Mac and The 10 Commandments of the Church of Macintosh: Mac OS is the Jesus, Allah, Nirvana, and Buddha of Operating Systems by Rodney O. Lain, which we published over a decade ago. dk
Link: BBC Three Looks into 'Evangelical Frenzy' over Apple
Firefox 3.5 End of Life Announced
PR: mozilla.dev.planning blogger Christian Legnitto provides this summary of Mozilla's Firefox update roadmap:
Current working Firefox 3.5 EOL plan can be found @ https://wiki.mozilla.org/Releases/3.5_EOL
We have no intention to release another 3.5 update (but if we need a chemspill before the plan is implemented we will discuss it)
We have a plan with investigation work and a backup plan if the investigation says our desired plan is unworkable
For both plans the end result is sending 3.6 as a minor update for 3.5 users . . . the difference is merely the implementation method and timetable
No real actions need to take place until June, so there aren't pressing requirements that could impact the new release process
Firefox 3.6 has different considerations and a draft plan will be sent around in due time
He adds:
There has been a of discussion about 3.5 EOL and we have a plan (already being implemented) documented @ https://wiki.mozilla.org/Releases/3.5_EOL . The plan was created with input from the security team, QA, product, and RelEng.
The main takeaways are:
We want to do this quickly
We want users to self-select into running Firefox 4 if at all possible (dangle the carrot)
We don't think self-selection will ultimately get us to the place we need to be
We will force 3.6 on 3.5 stragglers not choosing to update to Firefox 4 or 3.6 (give them the stick)
We feel comfortable making the major update choice for users because a) the versions are very similar and b) we'd rather lose a small amount of miffed users than leave a large amount of users vulnerable
...we intend to ship Firefox 3.6.18 (the update shipping at the same time as Firefox 5) to 3.5 users when it is released. This is highly dependent on the outcome of https://bugzilla.mozilla.org/show_bug.cgi?id=650030
If the bug is not resolved in a timely manner we will instead do an advertised prompt to Firefox 5, let it sink in, and then update users to 3.6.18 via automatic update.
Publisher's note: System requirements for Firefox 3.6 appear to be identical to those for Firefox 3.5, so 3.5 going end-of-life shouldn't be an issue for anyone. Firefox 4 no longer supports OS X 10.4 or PowerPC Macs, making upgrading problematic to users of either, although there is an option: TenFourFox is a custom port of Firefox 4 to PowerPC hardware and works with OS X 10.4 and 10.5. Mozilla recently released the first beta of Firefox 5, which is scheduled for public release on June 21. dk
Link: Firefox 3.5 EOL Plan
Products & Services
OWC SuperSlim Turns Any 9.5mm SATA Slot Loading Internal Optical Drive into an External Drive
PR: Other World Computing (OWC) has announced the OWC SuperSlim, a USB 2.0 bus powered optical drive enclosure for turning any 9.5mm SATA slot loading internal optical drive, even those with mounting tabs, into an external Plug and Play CD, DVD, and/or Blu-ray disc burning /playing solution for Macs and PCs.
The $49.99 MSRP OWC SuperSlim, available for immediate ordering, is ultra-thin, weighs only 4.2 ounces, and is bus powered (no AC adapter is needed), for easy transport in any gear bag.
Ideal Solution for Macs That Have an OWC Data Doubler Installed
The OWC SuperSlim is the ideal solution for MacBook and MacBook Pro owners that installed the OWC Data Doubler to replace their infrequently used optical drive. Now, while enjoying up to 750 GB additional internal storage capacity in the optical drive bay, users can install the replaced Apple SuperDrive into the OWC SuperSlim to create an external Plug and Play CD and DVD burning/playing solution.
Data Doubler Offers Custom Drive Configuration
The custom engineered, blue anodized aluminum OWC Data Doubler gives 2008-2010 MacBook and 2009-2011 MacBook Pro users the flexibility to uniquely configure their computer's internal drive array. Any SATA 2.5" hard drive or SSD of up to 9.5mm height can be mounted onto the bracket with the entire assembly then user installable in a MacBook or MacBook Pro optical drive bay. 9.5mm SATA 2.5" hard drives, currently available in capacities of up to 750 GB, are fully "Plug and Play" recognized via the Apple Disk Utility program with standard configuration options just like any typical drive including, but not limited to:
Creating an individual volume with its own desktop icon.
Combining a new drive with the existing internal drive for one larger volume (SPAN).
"The OWC SuperSlim completes an upgrade path for MacBook and MacBook Pro owners that begins with the OWC Data Doubler," says Larry O'Connor, Founder and CEO, Other World Computing. "In addition, any slot loading type 9.5mm height optical drive whether from a Mac, PC, or sourced new can be installed in the SuperSlim to create an ultra portable, Plug and Play USB 2.0 solution."
Instant Rebate Offer with Data Doubler Purchase
Consumers purchasing the new OWC SuperSlim enclosure can receive an instant $10.99 OWC rebate when ordering the $74.99 MSRP OWC Data Doubler or one of 11 value priced 'DIY Kit' Bundles starting from $117.99 which include the Data Doubler, a hard drive up to 1.0 TB or an OWC Mercury Extreme Pro SSD up to 480 GB, and five piece installation toolkit.
Link: OWC SuperSlim USB 2.0 External Enclosure for Slot-Loading 9.5mm SATA Optical
Software
Memory Cleaner Cleans Up Memory Heap without Rebooting
PR: Memory Cleaner lets you work more productively by freeing wasted memory. Just lick a single button, and your computer will speed up.
Every time you open a file on your hard drive, your computer uses up some memory. This is usually a good thing, but the memory heap can become full of stuff you don't even need anymore sometimes by more than half. Memory Cleaner gets rid of all this junk.
If you're using an application and your computer freezes for several seconds, it could be because its busy freeing memory.
Memory Cleaner is a faster and simpler solution to avoid having to restart your computer or buy more memory.
$5.99
Publisher's note: At present Memory Cleaner has been rated by 10 users on the Mac App Store and has a 4.5 star rating. dk
Link: Memory Cleaner (Mac App Store link)
MailForge 2.1 Now Intel-Only, on Sale at Half Price
PR: Infinity Data Systems have announced the release of MailForge 2.1, the latest version of their classic Eudora-style POP3 and IMAP email client that offers both a traditional Eudora multiwindow interface or a unified multi-pane interface with tabs.
MailForge features powerful, fast searching; junk mail filtering; full UTF-8 support; plain or HTML email views; text or formatted email sending; advanced attachment saving; the ability to edit all parts of an incoming email; easy message redirect; signatures; stationery; manual filtering; scheduled email sending; color labels; and the ability to sort by email address.
MailForge Features summary:
POP3
IMAP
Multiwindow or tabbed interface
Powerful, fast searching
Junk mail filtering
Full UTF-8 support
View plain or HTML emails
Send text or formatted emails
Advanced attachment saving
Edit all parts of an incoming email
Easily redirect emails
Signatures
Stationery
Manual filtering
Scheduled email sending
Ability to sort by email address
Import from Eudora classic
New in version 2.1:
Composition

Fixed freeze when opening a Composition Window
BCC now shows in sent mail

IMAP: Full CRAM-MD5 support
Sending: Fixed crash when sending queued mail
Labels: Fixed an issue causing selected label to revert to None in Filters
Mailbox Interaction

Fixed sorting by Who column
Fixed sorting of the Out box

Interface: Minor interface refinements and fixes
Architecture: MailForge is now Intel-only
Bug Fixes: Several minor bugs fixes
MailForge now automatically imports all attachments, similar to the method used pre-version 2.0.6. There is no longer any need to manually migrate the Eudora Attachment folder.
Platform Support: PPC/Intel
MailForge sells for $19.95, but with the imminent approach of Mac OS 10.7 (and the subsequent demise of Classic Eudora on the Mac), in an effort to help ease people's transitions, IDS are offering MailForge at a discounted rate. Since May 4, 2011 and continuing thru June, MailForge will be available for $9.95.
Link: MailForge
Linux MintPPC Supports Older G3, G4, and G5 Macs
PR: MintPPC is a Linux distribution for 32 and 64 bit PowerPC computers based on Linux Mint LXDE, ported to Debian/PPC. The idea behind MintPPC is to provide a fast, good looking, lightweight desktop manager that runs well on older G3 and G4 machines, and also supports 64-bit G5 powered Macs.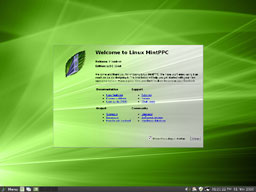 MintPPC is also directed to desktop users who want a very fast system without the need to install software themselves, and designed to be both an easy to use and complete solution.
The developers say that one advantage of this distribution for PowerPC users is that a few bugs, which are always present in Debian/Ubuntu, have been overcome. For example, after installing MintPPC things like battery status meter, laptop sleep mode and sound will work out of the box.
MintPPC is not affiliated with Linux Mint but it uses the same underlying source code. MintPPC was first released as Linux Mint LXDE Debian Lenny in May 2010. In October 2010 MintPPC 9 was released which was based on Linux Mint LXDE 9 (Isadora) and Debian Squeeze. Because of a conflict with the Linux Mint team, the name of the distribution was changed into MintPPC. MintPPC is developed by Jeroen Diederen (Linuxopjemac), a Dutch Linux enthusiast who also owns a general website about running Linux on Macs and by Tony Cygne (Ant2ne), an American Linux enthusiast.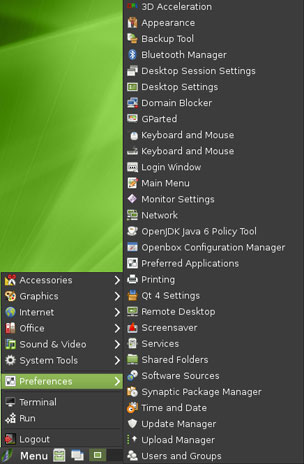 Demonstrating how compatible MintPPC is, check out this list of Macs onto which MintPPC has been successfully installed:
Based on Lubuntu 10.04, Linux 2.6.32, Openbox 3.4.10, LXSession 0.4.3, and Xorg 1.7.5, Linux Mint 9 LXDE features a complete desktop computing experience while being easy on system resource usage thus making it suitable for older hardware and situations where speed is a crucial factor.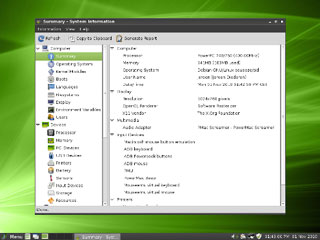 Featured improvements in this release:
LXDM, improved PCManFM2 file manager, VLC installed by default, 30,000 applications catalogued and reviewable both online and in the new software manager, brand new incremental backup tool for both data and software selection, 3 years support.
Linux Mint 9 LXDE is the first Mint release to use LXDM as a display manager. It's smaller and faster than many comparable display managers and offers excellent localization support. It can also be themed and is easily configured for automatic login.
The LXDE file manager has been completely rewritten to offer better support for mounting and unmounting filesystems, native Trash support, and autorun when certain types of media are inserted.
The Software Manager was rewritten from scratch. It features the best ideas from the original Software Manager, Gnome App-Install and the new Ubuntu Software Center. It's also much more efficient than the previous version, handling 30,000+ packages and asynchronous installation/removal of applications in less than 1,000 lines of code.
Number of packages: The Software Manager now features all the packages available on your system. That's about 30,000 packages to choose from, compared to around 300 in the previous version.
Apt daemon: When you install software, you don't have to wait for the installation to finish. You can browse through the Software Manager for other applications, or you can simply close the manager. The installation continues in the background. If you decide to open the Software Manager again, it will track any ongoing installation happening in the background and inform you about its progress. At any time you can cancel an installation and monitor the progress of ongoing operations.
Visual improvements: The new graphical interface is inspired from the Ubuntu Software Center and it uses the Webkit engine to render some of the screens in HTML/CSS. It uses a single-click navigation system and lets you browse categories, applications, screenshots and even websites from the comfort of a single window.
New Backup Tool - The Backup Tool was also rewritten from scratch. Linux Mint needed a solid backup tool that would allow you to easily perform fresh installations without losing what's important to you: Not only your data, but the selection of software you installed. With this new tool you can upgrade to new versions of Linux Mint by performing fresh installations from the CD, you end up with a clean system containing your data, your preferences and even the software you previously installed.
Software selection: The Backup Tool can identify the software you installed in Linux Mint and save this selection as a list. It can also restore that selection of software on a different computer or after the installation of a new version of Linux Mint.
The Backup Tool identifies the software you added to Linux Mint
Incremental backups and compression: The new Backup Tool can check differences between files in a variety of ways and perform incremental backups and restorations. It can also archive and compress on the fly.
Integrity check: Thanks to an integrity check, the Backup Tool verifies each file after it's been backed up (this check can be disabled to make the backup faster).
Documentation: A full tutorial on how to use this Backup Tool guides you through the process of upgrading Linux Mint to a newer release.
Better look and feel
Backgrounds: The production of artwork for Linux Mint 9 was outsourced to provide this release with a choice of quality backgrounds. The default background is unbranded to give the desktop a more elegant look and you'll find quality alternative backgrounds installed by default. Additional backgrounds made especially for Linux Mint 9 were packaged in "mint-wallpapers-extra" and previous backgrounds were packaged in "mint-wallpapers-previous-releases". These packages are available in the repositories.
Welcome screen: The welcome screen is now rendered in HTML. It links to the same important resources as before (how to know more about Linux Mint, where to get help and how to contribute) and it adds links to the most important parts of the new Linux Mint Community Website, its collection of tutorials, its idea pool, its software portal and its hardware database. The new welcome screen is rendered in HTML to give the desktop a more welcoming look.
Update Manager: The Update Manager uses a new icon set that integrates better with the desktop. It also distinguishes between more error scenarios than before and doesn't consider it an error when it cannot assess the state of available updates anymore. In previous versions of Linux Mint, users would see a broken lock when Synaptic was open, or when the connection to the Internet was down. In Linux Mint 9 the Update Manager only show errors when something is actually wrong and requires action.
System improvements
Default software selection: VLC is now installed by default for media and DVD playback.
Local repository and Gnome-ppp: Linux Mint now includes a local repository activated by default. This repository is located in /usr/share/local-repository and it contains firmware for Broadcom wireless adapters and Gnome-PPP. You can also add packages to it and update the repository by running the ./update-repository script in /usr/share/local-repository.
Apt hold/held/unhold commands: New functions were added to the Linux Mint "apt" command. "apt hold", "apt unhold" and "apt held" are shortcuts to "dpkg - get-selection" and "dpkg - set-selections" which let you easily hold updates for selected packages.
Link: Linux MintPPC
Desktop Mac Deals
Low End Mac updates the following price trackers monthly:
For deals on current and discontinued 'Books, see our 13" MacBook and MacBook Pro, MacBook Air, 13" MacBook Pro, 15" MacBook Pro, 17" MacBook Pro, 12" PowerBook G4, 15" PowerBook G4, 17" PowerBook G4, titanium PowerBook G4, iBook G4, PowerBook G3, and iBook G3 deals.
We also track iPad, iPhone, iPod touch, iPod classic, iPod nano, and iPod shuffle deals.
Join us on Facebook, follow us on Twitter or Google+, or subscribe to our RSS news feed
Links for the Day
Mac of the Day: Power Mac 7500, introduced 1995.08.08. This workhorse introduced a new desktop case and CPU daughter cards for easy upgrade.
Recent Content
Follow Low End Mac on Twitter
Join Low End Mac on Facebook
Favorite Sites
MacSurfer
Cult of Mac
Shrine of Apple
MacInTouch
MyAppleMenu
InfoMac
The Mac Observer
Accelerate Your Mac
RetroMacCast
The Vintage Mac Museum
Deal Brothers
DealMac
Mac2Sell
Mac Driver Museum
JAG's House
System 6 Heaven
System 7 Today
the pickle's Low-End Mac FAQ
Affiliates
Amazon.com
The iTunes Store
PC Connection Express
Macgo Blu-ray Player
Parallels Desktop for Mac
eBay

Advertise