Mid 2011 iMac Features and Performance, Updates for New iMacs, Networked USB Sharing, and More
This Week's Apple and Desktop Mac News
Compiled by Charles Moore and edited by Dan Knight - 2011.05.09
Ever since the G3 era, Apple has had a hard time with names. Four different designs were called PowerBook G3, every iMac has simply been called an iMac, and the Mac community has done its best to come up with helpful names. Most recently, Apple has been designating models by their release date - Early 2010, Mid 2010, and Late 2010 - but with no consistency. Since releasing the new iMac on May 3, we've seen Apple refer to it as both Early 2011 and Mid 2011!
We've made an arbitrary, sensible decision at Low End Mac. Models released from January through April are Early, May through August are Mid, and September through December are Late. This may not match Apple or other sites, but we think there's something wrong when calling an October 2010 model a Mid 2010 MacBook Air, which is just one example we've seen.
General Apple and Mac desktop news is covered in The Mac News Review. iPad, iPod, iPhone, and Apple TV news is covered in The iNews Review. All prices are in US dollars unless otherwise noted.
News & Opinion
Reviews
Apple Updates
Products & Services
Software
News & Opinion
New iMacs Have Next Generation Quad-Core Processors, Graphics, and Thunderbolt
PR: Apple updated its signature all-in-one iMac on May 3 with next generation quad-core processors, powerful new graphics, groundbreaking high-speed Thunderbolt I/O technology, and a new FaceTime HD camera. Starting at $1,199, the new iMac is up to 70% faster, and new graphics deliver up to three times the performance of the previous generation.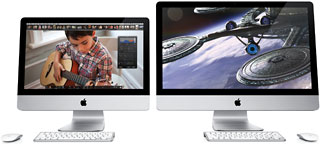 "Our customers love the iMac's aluminum enclosure, gorgeous display and all-in-one design," said Philip Schiller, Apple's senior vice president of Worldwide Product Marketing. "With next generation quad-core processors, powerful new graphics, Thunderbolt technology and a FaceTime HD camera, we've made the world's best desktop even better."
The new iMac features quad-core Intel Core i5 processors with an option for customers to choose Core i7 processors up to 3.4 GHz. These next generation processors feature an integrated memory controller for an amazingly responsive experience and a powerful new media engine for high-performance video encoding and decoding. With new AMD Radeon HD graphics processors, the new iMac has the most powerful graphics ever in an all-in-one desktop.
iMac is the first desktop computer on the market to include groundbreaking Thunderbolt I/O technology. The 21.5" iMac has a single Thunderbolt port, while the 27" model features two ports for even greater expansion. Developed by Intel with collaboration from Apple, Thunderbolt enables expandability never before possible on an all-in-one computer. Featuring two bi-directional channels with transfer speeds up to an amazing 10 Gbps each, Thunderbolt delivers PCI Express directly to external high performance peripherals such as RAID arrays, and can support FireWire and USB consumer devices, and Gigabit Ethernet networks via adapters. Thunderbolt also supports DisplayPort for high resolution displays and works with existing adapters for HDMI, DVI and VGA displays. Freely available for implementation on systems, cables and devices, Thunderbolt technology is expected to be widely adopted as a new standard for high performance I/O.
iMac includes a built-in FaceTime HD camera and Apple's innovative FaceTime software for crisp, widescreen video calling the whole family can enjoy. The new camera supports high definition video calls between all FaceTime HD-enabled Macs and standard resolution calls with iPad 2, iPhone 4, the current generation iPod touch and other Intel-based Macs. The iMac continues to feature its signature aluminum and glass design, gorgeous IPS LED-backlit high resolution display, SD card slot and comes with Apple's innovative Magic Mouse or Magic Trackpad.
Continuing Apple's commitment to the environment, Apple's desktop line is a leader in green design. The iMac meets stringent Energy Star 5.2 requirements and achieves EPEAT Gold rating.* iMac features LED-backlit displays that are mercury-free and made with arsenic-free glass. iMac uses PVC-free components and cables, contains no brominated flame retardants, uses highly recyclable materials and features material-efficient system and packaging designs.
Every Mac comes with Mac OS X Snow Leopard, the world's most advanced operating system, and iLife, Apple's innovative suite of applications for creating and sharing great photos, movies and music. Snow Leopard builds on more than a decade of innovation and includes the Mac App Store? for finding great new apps for your Mac. iLife '11 features iPhoto with stunning full screen views for browsing, editing and sharing photos; iMovie with powerful easy-to-use tools to transform home videos into fun theatrical trailers; and GarageBand with new ways to improve your playing and create great sounding songs.
The new iMac is available through the Apple Store, Apple's retail stores, and Apple Authorized Resellers. The 21.5" iMac is available in two configurations: one with a 2.5 GHz quad-core Intel Core i5, AMD Radeon HD 6750M and 500 GB hard drive for a suggested retail price of $1,199; and one with a 2.7 GHz quad-core Intel Core i5, AMD Radeon HD 6770M and 1 TB hard drive for a suggested retail price of $1,499. The new 27" iMac is available in two models: one with a 2.7 GHz quad-core Intel Core i5, AMD Radeon HD 6770M and 1 TB hard drive for a suggested retail price of $1,699; and one with a 3.1 GHz quad-core Intel Core i5, AMD Radeon HD 6970M and 1 TB hard drive for a suggested retail price of $1,999.
Configure-to-order options include faster Intel Core i7 processors up to 3.4 GHz, additional hard drive capacity up to 2 TB, a 256 GB solid state drive, additional DDR3 memory and AppleCare Protection Plan.
Claim based on energy efficiency categories and products listed within the EPA ENERGY STAR 5.2 energy database as of April 2011. EPEAT is an independent organization that helps customers compare the environmental performance of notebooks and desktops. Products meeting all of the 23 required criteria and at least 75% of the optional criteria are recognized as EPEAT Gold products. The EPEAT program was conceived by the US EPA and is based on IEEE 1680 standard for Environmental Assessment of Personal Computer Products. For more information visit http://www.epeat.net
Preliminary Performance Analysis of Mid 2011 iMac
Bare Feats' rob-ART Morgan has posted key performance features for the new 2011 iMac, which he notes uses the same Sandy Bridge chipset used in the 2011 MacBook Pro, and a top model quad-core Core i7 now available at clocked at 3.4 GHz and able to run as fast as 3.8 GHz for brief sprints when Turbo Boost kicks in as well as create up to 8 virtual cores when HyperThreading is required, with Thunderbolt I/O the icing on the cake.
Link: Preliminary Performance Analysis of 'Mid 2011' iMac
Worldwide Operating System Software Market Grew to $30.4 Billion in 2010, Mac OS Fastest-Growing
PR: As the global economy recovered, worldwide operating system (OS) revenue totaled $30.4 billion in 2010, a 7.8% increase from 2009, according to Gartner, Inc., with Mac OS and Linux (server) fastest-growing subsegments in the client and server OS segments respectively, while Microsoft maintained its leading position in the overall OS market, with 78.6% market share.
Among client OSes, Mac OS was the fastest-growing subsegment in 2010 as the unit shipments of Mac desktop/laptop devices saw strong sales, although from a much-smaller base. Windows client was still the largest client OS segment, with high-single-digit growth, particularly driven by adoption of Windows 7 and the imminent end of life (EOL) of Windows XP.
Mac OS grew 15.8% to a size of $520 million in 2010, fueled by the strong sales of Mac desktops and laptops. Apple's making of Mac OS as a "cool" client computing OS has attracted a group of loyal customers on Mac devices and platforms. Apple's continuous innovations in mobile devices, such as smartphones and tablets, have prompted sales of other Apple devices and will continue to drive Mac sales.
"Generally, client OSes outperformed server OSes and grew 9.3% in 2010, while the server OS segment grew 5.7%," says Matthew Cheung, principal research analyst at Gartner. "The long-pending demand for PC refreshment was unleashed as the economy stepped out from the economic turndown, which drove growth of client OSes."
"In the server OS market, Linux (server) was the fastest-growing subsegment in 2010 as end users adopted more open-standard systems. Within the Unix OS market, IBM AIX had high single-digit growth, but Unix generally experienced modest or negative growth," said Alan Dayley, managing vice president at Gartner. "The EOL threat for Unix OSes such as Tru64 and NetWare pushed the 'other proprietary Unix' subsegment down 39.6% in 2010 as some vendors retired their proprietary Unix and moved users to more open systems."
Microsoft held the largest market share of the worldwide OS software segment, with 78.6% share in 2010 (see Table 1). The distant second- and third-place vendors were IBM and HP, with 7.5% and 3.7% share, respectively. Oracle climbed up the ranking from No. 8 in 2009 to No. 4 in 2010 by acquiring Sun Microsystems' Solaris business in April 2009.
Microsoft's Windows (client) business had higher growth at 9.2%, compared with its Windows (server) business at 7.5% growth. A new wave of PC refreshment after the economic recession was the major reason for the better-performing Windows (client) business. Windows 7 also gained market acceptance as the successor to Windows Vista and XP. The projected EOL of XP in early 2014 drove enterprises to accelerate migration to Windows 7 in the second half of 2010.
Among the three OSes owned by IBM, AIX experienced the highest growth at 9.2% due to the popularity of Power Systems. The consolidation of the System p and System i platforms and the strategy to push more AIX contributed to the slow growth of System i at 2.7% in 2010.
HP-UX was able to maintain modest growth at 3.7% in 2010. However, HP's revenue from proprietary Unix and other proprietary OSes continued to decline because of the discontinuation of Tru64 and a decline in shipments of business-critical systems, such as NonStop and OpenVMS.
Oracle's software revenue from Solaris declined 3.2% in 2010 as end users were skeptical about Oracle's commitment to the Solaris platform although the company made several announcements to clear this anxiety. Oracle's Linux versions (also known as Unbreakable Linux) grew a small base almost 200% in 2010 which also showed Oracle's strategy to lessen its dependence on other vendors' Unix or Linux OSes.
Red Hat has been dominating the commercial Linux (server) market. Revenue of Red Hat Enterprise Linux (RHEL) server license went up 18.6% to $592 million in 2010, taking a 58.2% share of the Linux (server) market. Gartner analysts said the phenomenon demonstrates that the market has accepted Linux as a viable alternative to Unix and other proprietary OSes in mission-critical environments.
Additional information is available in the Gartner report "Market Share Analysis: Operating System Software, Worldwide, 2010."
Link: Market Share Analysis: Operating System Software, Worldwide, 2010
Sandy Bridge Hackintosh
The Register's Chris Bidmead received challenge from Reg Hardware: build a PC, install Mac OS X on it, and explain how others can do it too.
Bidmead notes that pioneer Hackintoshers had to hack the official Mac operating system, but these days it's easier. Just buy the standard Snow Leopard installation disk from the Apple Store and rely on EFI to set up the hardware environment and install the necessary kexts or "kernel extensions", the Mac world's equivalent of Windows' drivers.
Bidmead concludes that today it's a breeze to build your own Hackintosh or adapt existing hardware to run the latest version of Mac OS X, Snow Leopard.
Link: The Sandy Bridge Hackintosh
Apple to Release Mac OS X Lion Through Mac App Store
AppleInsider's Neil Hughes reports:
"With the release of Mac OS X 10.7 Lion this summer, Apple will make the switch to a new kind of digital distribution for its operating system upgrades by releasing the software first through its new Mac App Store...."
Link: Apple to Release Mac OS X Lion Through Mac App Store - AppleInsider
Keep Your Gear Safe During Electrical Storms
Life Hacker's Alan Henry notes that recent storms that have torn across the Midwest and South have been terrifying and devastating, with the cleanup in those areas likely to continue for years, and asks when an electrical storm comes calling in your neck of the woods, how do you make sure your gear is okay so you can worry about your own safety?
Link: Tips to Keep Your Gear Safe During Electrical Storms
Seagate Breaks Areal Density Barrier, Unveils World's First Hard Drive Featuring 1 TB per Platter
PR: Specialist in hard drives and storage solutions Seagate has unveiled the world's first 3.5" hard drive featuring 1 TB of storage capacity per disk platter, breaking the 1 TB areal density barrier to help meet explosive worldwide demand for digital content storage in both the home and the office.

Seagate Barracuda XT
Seagate's GoFlex Desk products are the first to feature the new hard drive, delivering storage capacities of up to 3 TB and an areal density of 625 Gigabits per square inch, the industry's highest. Seagate is on track to ship its flagship 3.5" Barracuda desktop hard drive with 3 TB of storage on 3 disk platters enough capacity to store up to 120 high-definition movies, 1,500 video games, thousands of photos or virtually countless hours of digital music to the distribution channel in mid-2011. The drive will also be available in capacities of 2 TB, 1.5 TB and 1 TB.
"Organizations of all sizes and consumers worldwide are amassing digital content at light speed, generating immense demand for storage of digital content of every imaginable kind," says Seagate's Executive Vice President of Worldwide Sales and Marketing Rocky Pimentel. "We remain keenly focused on delivering the storage capacity, speed and manageability our customers need to thrive in an increasingly digital world."
GoFlex Desk external drives are compatible with both the Windows operating system and Mac computers. Each drive includes an NTFS driver for Mac, which allows the drive to store and access files from both Windows and Mac OS X computers without reformatting. The GoFlex Desk external drives sleek black 3.5" design sits either vertically or horizontally to accommodate any desktop environment.
Link: Seagate Barracuda XT
Vatican Bloggers Conference Says Yes to Lifting Content
The Pontifical Council for Culture hosted its first-ever bloggers' conference.
The Register's Joe Fay reports that speakers gave themselves "an indulgence," saying it is okay to lift content from "old media" and that copyright is old hat. Catholic media appears to have universally hailed the event as a great success.
Fay notes that one speaker told the meeting copyrights are "an old model for new media," and cites Father Roderick Vonhogen, a Dutch priest who also blogs, saying journalists should accept that bloggers will take their material and reuse it, adding that this amounts to free publicity and that good journalists will survive anyway, observing, "If they steal some of your content, as long as you put out quality, you will make it."
Link: Church Needs Blogs, Bloggers Need Church, Say Meeting Participants, Cindy Wooden, Catholic News Service
Link: Vatican Bloggers Conference Gives Copyright Thumbs-down; Says Yes to Lifting Content, Joe Fay, The Register
Reviews
Mid 2011 iMacs vs. Mid 2010 iMac and Mac Pro
Bare Feats' Rob-Art Morgan says,
"With the help of the Other World Computing Test Lab, I'm able to give you some initial performance data for four 'early 2011' iMacs versus the fastest 2010 iMac and popular 2010 6-core Westmere Mac Pro."
Link: Four 'Mid 2011' iMacs Versus One 'Mid 2010' iMac
Apple Updates
iMac EFI Update 1.6 for 2011 iMac
This update includes fixes that improve performance and stability for Thunderbolt.
The iMac EFI Update will update the EFI firmware on your iMac computer. When your iMac restarts, a gray screen will appear with a status bar to indicate the progress of the update. It will take several minutes for the update to complete. Do not disturb or shut off the power on your iMac during this update.
Requires the Mac OS X 10.6.7 Update for iMac (early 2011) be installed.
Publisher's note: Several sources indicate that this update also enables SATA 6 Gbps on the new iMacs, which ship with SATA 3 Gbps enabled. dk
Link: iMac EFI Update 1.6
Mid 2011 iMac Memory Specifications
A new Apple Knowledge Base article explains which kinds of memory to use with your new iMac (21.5", Mid 2011) and iMac (27", Mid 2011).
The iMac (Mid 2011) computers have four SDRAM slots in the bottom of the computer and come with at least 4 GB DDR3 SDRAM installed as two 2 GB DIMMs into two slots.
The maximum amount of RAM you can install in your iMac is 16 GB (a 4 GB SODIMM in each slot).
You can use any Small-Outline dual inline memory modules (SODIMMs) that meet all of these criteria:
PC3-10600
Unbuffered
Nonparity
204-pin
1333 MHz
DDR3 SDRAM
You can use RAM module sizes of 2 GB or 4 GB in each slot.
DIMMs with any of the following features do not work in the iMac (Mid 2011):
Registers or buffers
PLLs
ECC
Parity
EDO RAM
Link: iMac (Mid 2011): Memory Specifications
Boot Camp 3.2 Update for Mid 2011 iMac
The Boot Camp 3.2 Update for iMac (Early 2011) update addresses issues with Japanese and Korean keyboards on early 2011 iMacs.
System Requirements: Windows 7
Link: Boot Camp 3.2 Update for iMac (Early 2011) Released
Products & Services
OWC 'MaxRAM' Lab Certified Memory Upgrades Up to 32 GB for Mid 2011 iMacs
PR: Other World Computing (OWC) has announced the immediate availability of high performance OWC PC3-10600 DDR3 1333 MHz Memory Upgrade Kits for the new Mid 2011 iMac models introduced by Apple on Tuesday. OWC's first-to-market kits that offer up to 16 GB with savings up to 65% compared to factory options; as well as memory configurations not offered as factory build options, are 'MaxRAM' lab performance certified and quality assurance backed by a Lifetime Advance Replacement Warranty and Money Back Guarantee.
"It just makes good financial and performance sense to upgrade these new iMacs with OWC Memory Kits versus the factory options," says Larry O'Connor, Founder and CEO, Other World Computing. "With savings up to over $400 on same size upgrades and offering options not available from the factory, we like to think OWC should be the 'first stop shop' for new iMac owners."
OWC Memory Upgrades Offer More RAM Configuration Options
OWC 8 GB DDR3 1333 MHz Memory Kit (2 x 4 GB) for all Mid 2011 iMac models - $104.99
47% savings vs. $200.00 factory 8 GB option or as low as $78.99 after OWC offered factory memory trade-in rebate. Replaces both existing 2 GB modules for 8 GB of total memory.
OWC 12 GB RAM Configuration for all Mid 2011 iMac models
Not offered as a factory option. Add the OWC 8 GB Memory Kit (2 x 4 GB memory modules) to factory installed base 4 GB RAM for a total of 12 GB RAM. Compared to $200 factory 8 GB (2 x 4 GB) option, OWC 8 GB upgrade kit delivers 50% more RAM for 47% lower cost.
OWC 16 GB DDR3 1333 MHz Memory Kit (4 x 4 GB) for all Mid 2011 iMac models - $207.99
65% savings vs. $600.00 factory 27" option or as low as $181.99 after OWC offered factory memory trade-in rebate. Not offered as a factory option for 21.5" iMac.
OWC 16 GB DDR3 1333 MHz Memory Kit (4 x 8 GB), 27" Mid 2011 iMac only, $2,997.99
Not offered as a factory option.
Additional Savings Through OWC Rebate Program
In addition to the savings offered by OWC Upgrades, Mid 2011 iMac users also retain their original factory memory modules that can either be set aside for future use or sent to OWC for a cash back trade-in of up to $26 per Apple factory 2 x 2 GB memory module pair. For more information on OWC's rebate program, visit https://eshop.macsales.com/shop/trade-in-rebate
Link: iMac Memory Upgrades
Silex SX-3000EDM Connects and Shares Practically Any USB Device on a Network
PR: Silex Technology America, Inc. has announced the release and availability of the Silex SX-3000EDM, a compact embedded Gigabit Ethernet to USB Device Server Module that makes it very simple for device manufacturers to add networking capabilities to virtually any USB device.
This capability is made possible by Silex's SX-Virtual Link USB over IP software. The software emulates a direct USB port connection on Windows or Macintosh systems and transfers the packets out over the network using TCP/IP to the USB device connected to the SX-3000EDM. This method ensures full compatibility with the USB device driver and software applications, which means no new software development is necessary to enable the device to be networked.
SX-3000EDM Features
Easily embed Silex "SX-Virtual Link" (USB over IP) technology inside a USB device
Connect any USB device to a Gigabit Ethernet network
Allows all functions of USB device (i.e.: printer, scanner, fax, storage or any other function that normally works over a direct USB connection) to be connected and shared on the network
"We have been evolving our USB device networking technology for more than 7 years now, and our Silex SX-Virtual Link software has proven itself by enabling millions of devices in the field," says David Smith, President of Silex Technology America. "We wanted to provide a way for hardware manufacturers to easily take advantage of this effective, stable technology by embedding SX-3000EDM right into their product."
Silex also offers a SDK which allows custom Windows and Macintosh applications to be created for discovering and connecting to USB devices across the network.
For proof of concept and to test the software functionality immediately Silex offers the SX-3000GB USB-to-Gigabit Device Server, which has similar functionality in an external box form factor.
Silex is exhibiting at the Embedded Systems Conference (ESC) Silicon Valley May 2-5, 2011 with its partner Embedded Works Corporation at booth #1045.
Link: Silex SX-3000EDM
NewerTech NuPad Base Non-Slip Rubber Foot for 2010 Mac mini
PR: Newer Technology, Inc. (NewerTech) announces that it has expanded its line of accessories for the Apple Mac mini with the introduction of the new $4.99 MSRP NewerTech NuPad Base for the 2010 Mac mini. The NuPad Base provides a flat, formfitting, nonskid rubber foot that eliminates the sliding and skidding that can occur from day to day use and access of a 2010 Mac mini.
Provides Stable Mac mini Access on Any Surface
Precision cut to match the shape of the Mac mini's underside access door, the NewerTech NuPad Base is easily applied via adhesive backing and solves the problem of the 2010 Mac mini sliding out of position on smooth surfaces such as desktops and entertainment center shelving. With the NuPad Base installed, everyday actions such as inserting a DVD no longer result in having to readjust the mini's orientation, while access to the mini's access door remains unhindered.
Ideal for Stacked minis
The NewerTech NuPad Base also provides added anti-skid stability when two 2010 Mac minis are used in a stacked position on a desktop or when suspended under a desk, shelf, or cabinet via the acrylic NewerTech NuShelf Dual Mount.
NuPad Base Features:
Nonskid rubber surface provides stable operation.
Unhindered access to the mini's bottom cover.
Stack multiple Mac minis without fear of scratches.
Easy to apply with adhesive backing.
One Year Warranty.
"We feel a Mac mini should remain positioned where you want it," says Grant Dahlke, Brand Manager, Newer Technology, Inc. The NuPad Base for the 2010 Mac mini eliminates that hassle of constantly having to readjust a mini's position after any casual contact or from accessing its optical drive."
The NewerTech NuPad Base for the 2010 Mac mini is available immediately from NewerTech's exclusive distributor, Other World Computing (OWC), as well as through the retail channel.
Link: NewerTech NuPad Base
Software
Accordance Bible Software Releases 2011 NIV
PR: Accordance Bible Software has announced the release of the 2011 revision of the New International Version (NIV) of the Bible. Recently published by Zondervan, this latest update to the popular English translation will replace both the 1984 edition of the NIV, as well as the 2005 edition, which was published separately as the Today's New International Version (TNIV). The Accordance edition of the NIV11 can be viewed in parallel with those previous editions, and any differences among them can be highlighted with the click of a button.
The Accordance NIV11 also includes the NIV11 Notes containing the Translators Preface, footnotes, and the NIV Cross Reference System.
If you already own the NIV 1984, the NIV 2011 is a $25 add-on, otherwise it is $30. As a separate module, the NIV 2011 will not take the place of the NIV 1984 in Accordance, but rather will show up in your library as NIV11. That means that if you own both, you can view the two Bibles in parallel. If you purchased the NIV 1984 earlier this year (January 1, 2011 or later), you can add the NIV11 for $20 with coupon code NIV11up.
Link: Accordance Bible Software
Desktop Mac Deals
Desktop Mac Deals
Low End Mac updates the following price trackers monthly:
For deals on current and discontinued 'Books, see our 13" MacBook and MacBook Pro, MacBook Air, 13" MacBook Pro, 15" MacBook Pro, 17" MacBook Pro, 12" PowerBook G4, 15" PowerBook G4, 17" PowerBook G4, titanium PowerBook G4, iBook G4, PowerBook G3, and iBook G3 deals.
We also track iPad, iPhone, iPod touch, iPod classic, iPod nano, and iPod shuffle deals.
Join us on Facebook, follow us on Twitter or Google+, or subscribe to our RSS news feed
Links for the Day
Mac of the Day: Colour Classic II, introduced 1993.10.31. A big improvement over the original CC, this 33 MHz model was never sold in the States.
Recent Content
Follow Low End Mac on Twitter
Join Low End Mac on Facebook
Favorite Sites
MacSurfer
Cult of Mac
Shrine of Apple
MacInTouch
MyAppleMenu
InfoMac
The Mac Observer
Accelerate Your Mac
RetroMacCast
The Vintage Mac Museum
Deal Brothers
DealMac
Mac2Sell
Mac Driver Museum
JAG's House
System 6 Heaven
System 7 Today
the pickle's Low-End Mac FAQ
Affiliates
Amazon.com
The iTunes Store
PC Connection Express
Macgo Blu-ray Player
Parallels Desktop for Mac
eBay

Advertise