Which Browser Is Best?, Apple 'Most Hated Brand' on Net, Microsoft's Mac Attack, and More
This Week's Apple and Desktop Mac News
Compiled by Charles Moore and edited by Dan Knight - 2010.08.13
MacBook, PowerBook, iBook, and other portable computing is covered in The 'Book Review. iPad, iPod, iPhone, and Apple TV news is covered in The iNews Review.
All prices are in US dollars unless otherwise noted.
News & Opinion
Reviews
Software
News & Opinion
The Best Browser: Chrome, Firefox, Internet Explorer, Opera, or Safari?
Computerworld's Peter Wayner noted that the Web browser is becoming the home for almost everything we do and observes that choosing a best browser is an impossible job. [I don't even try; I usually have at least three different browsers up and running at any given time - cm]
Wayner notes that the similarities are for the most part greater than the differences among browsers, but while some of the distinctions are trivial, if you're going so spend all day with a piece of software, it makes sense to be picky, although he adds that it may be impossible to be rational about many of the cosmetic issues, like the placement of buttons or the location of the tabs.
Then there's the issue of Adobe Flash, which you may or may not like.
Choosing among Chrome, Firefox, Internet Explorer, Opera, and Safari is not simple, he observes, since all are perfectly good choices, but one may be slightly better for certain users than others. I did like his characterization of Internet Explorer as "Best for people who don't care or don't want to care."
For us Mac users, Internet Explorer mercifully isn't part of the equation, but there are other alternatives to the big five, including Camino (the favorite at Low End Mac headquarters), SeaMonkey, Stainless, Shiira, OmniWeb, iCab, Flock, Cruz, and Sunrise - and that's not an exhaustive listing.
However, Wayner limits his seven-page shootout to the five most prolific browsers, making "best for" and "worst for" evaluations rather than declaring any overall winner.
Publisher's note: Browser stats for the past month show 38.1% of LEM visitors using Safari, 30.5% Firefox, 16.2% Internet Explorer, and 1.34% Opera. These are indeed the top five, followed by Camino (0.84%), an assortment of Mozilla/Netscape browsers (0.82%), Opera Mini (0.20%), SeaMonkey (0.11%) , Konqueror (0.04%), and then things like PlayStation, BlackBerry, etc. dk
Link: The Best Web Browser: Chrome, Firefox, Internet Explorer, Opera, or Safari?
Apple: Most Hated Brand on the Internet
Computerworld's Preston Gralla asks, "Where are Apple fanboys now that Apple - according to Brandwatch - has become the most reviled brand on the Internet?"
Gralla reports that Brandwatch, a social media analyst firm, recently released research indicating that Apple is the brand most commonly associated with the term #fail, a Twitter-originated term denoting derision and criticism, but Apple negativity wasn't just on Twitter; but was throughout blogs in general.
However, Apple has company. Facebook, Nokia, and the BBC (?!) were second, third, and fourth most-reviled respectively.
Link: Apple Becomes Most Hated Brand on the Internet
Back to School PC Sales Slow - Except for Apple
Electronista reports:
"UBS analyst Maynard Um today reported in an investment note that back to school sales were still slow but appeared to favor Apple. Checks at stores and staff showed that most stores were only seeing a 'mild' bump in sales from students and that most of the heavy traffic was at Apple retail stores. The iPhone 4 and iPad were responsible for lineups, but the new iMac was also seeing strong demand.
"The report notes that notebook sales may also be favoring Apple according to Um, with more portable sales skewing to mid- or high-end notebooks, and just 26 percent of notebook systems sold costing less than than $450. Look's like the flower of the netbook's youth may be past."
Link: Back to School PC Sales Slow Except for Apple
Also see MacBooks Now Student Laptop of Choice and Macs Big on Campus, Displace Dell as Number One in this week's 'Book Review.
Microsoft's Heavily Nuanced Mac Attack
"Deciding between a PC and a Mac?" says a new Microsoft Windows promotional campaign site. "Here's what you need to know."
"PCs are designed for work and play, with features you need to get things done on the job or at school and have fun at home or on the go. From easily sharing Microsoft Office documents to watching HDTV and Blu-ray movies, PCs help you do it all . . . Macs might spoil your fun."
Now there's a novel spin. "Fun," and "Windows" are not an association that springs readily to mind in my recollection.
"There are some things you simply can't do out of the box with a Mac like watch, pause, rewind, and record TV like a DVR. You can't get a Mac that ships with a Blu-ray player, TV tuner, Memory Stick reader, or built-in 3G wireless. You can with PCs running Windows 7 . . . Most of the world's most popular computer games aren't available for Macs. And Macs can't connect to an Xbox 360. PCs are ready to play."
Okay, I can't gainsay that argument, and those are valid points. It depends, I guess, on what you want to use a computer for. There also are plenty of things Macs can do that Windows boxes can't, particularly important (they are to me, at any rate) productivity features like Spaces; QuickLook; built-in, no hassle PDF creation; Exposé; and Stacks.
"Macs can take time to learn."
This is a much weaker argument. Windows 7 takes time to learn as well, and the Mac is widely acclaimed as having a less-steep learning curve.
"Things just don't work the same way on Macs if you're used to a PC. For example, the mouse works differently. And many of the shortcuts you're familiar with don't work the same way on a Mac."
That door swings both ways as well.
"Windows 7 was designed to make it simpler to do the tasks you do every day, with features that the Mac doesn't have. For example, the new Snap feature makes it easy to view two documents side by side."
That sounds cool. I hope Apple copies it for O XS 10.7. However, you can add similar functionality to the Mac now with a third-party utility called Divvy ($14 shareware, more below).
Microsoft notes that the Mac OS doesn't support touch technology. I expect that's coming, but in the meantime, there are the iPad and the Axiotron Modbook, a MacBook converted into a touchscreen tablet computer.
"Macs might not like your PC stuff."
Uh, not as much as PCs don't like Mac stuff. Most PC file types can be opened on a Mac. Macs can read PC-formatted drives. You can even run Windows itself on a Mac - a door that doesn't swing both ways (Hackintosh doesn't count).
"Apple's productivity suite file formats won't open in Microsoft Office on PCs. This can be a real hassle for Mac users sharing work documents with PC users."
Not really. Apple's productivity apps can open and save documents in PC formats. Or just use Microsoft's own Office for Mac productivity software, which is seamlessly cross-platform compatible. To imply otherwise (Office for Mac is conveniently not mentioned) is disingenuous.
"PCs give you a lot more choice and capabilities for your money. You can get the PC you want, in the size and color you want, with the features you want. You just don't have as many options with a Mac."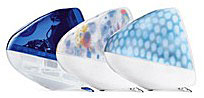 True, but what you do get with a Mac is the cream of the crop. Color? I wouldn't mind if Macs came in a selection of colors (been there, done that with iMacs from 1999 through 2001), but real anodized aluminum (especially unibody construction) has its charms.
There's more, but you get the drift. This advocacy tack is liberally laced with FUD nuancing. It does contain some valid talking points and may prove effective in dissuading the timid from trying the Mac, but I doubt that Cupertino is terribly worried.
Link: PC versus Mac
Also see Alan Zisman's column, Microsoft's New PC vs. Mac Pages Don't Tell Us Anything New.
5 Places to Find Free Mac Software
AppStorm's Joshua Johnson says:
"Today we're going to take a look at five sites that are completely dedicated to showcasing and reviewing free Mac software. They may not be the biggest and best app sites out there, but they definitely make it easy to find lots of quality software that you don't have to spend a cent to use.
"Just to be thorough, we've also thrown in a few sites that don't focus solely on free software but still have plenty of excellent free apps on display."
Link: Five Fantastic Places to Find Free Mac Software
New iMacs and Mac Pro Powered by ATI Radeon Graphics Solutions
PR: AMD notes that Apple has selected the world renowned ATI Radeon graphics solutions for the new line of iMacs and the new Mac Pro tower. Now featured in Apple Stores as well as online retail, ATI says its Radeon graphics offer outstanding power and performance as the standard configuration for the new iMac and Mac Pro tower, which will hit store shelves soon.
"Apple buyers demand the best, and AMD's award-winning ATI Radeon graphics enable exceptional visual experiences for iMac users," says Matt Skynner, corporate vice- president and general manager, GPU division, AMD. "AMD has conducted extensive testing and research to create superior graphics products for the iMac. This research is designed to dramatically enhance the Mac-user experience so that Apple users can enjoy responsive performance and play the newest games."
The ATI Radeon HD 5770 graphics card features 1 GB of GDDR5 memory from AMD and enables Apple's fast Mac Pro graphics technology. Ideal for motion graphics, 3D modeling, rendering, or animation, the card comes standard, while for more demanding tasks purchasers can upgrade to ATI Radeon HD 5870 graphics.
iMac Games on ATI Radeon HD Graphics
ATI Radeon graphics solutions offer feature rich graphics performance enabling an immersive, lifelike gaming experience while playing HD content with incredible visual fidelity
ATI Radeon HD 5750 graphics are available in the new 27" iMac.
ATI Radeon HD 5650 graphics are available in the new 22" and 27" iMac.
ATI Radeon HD 4670 graphics are available in the new 22" iMac
Link: ATI Radeon for Mac
Reviews
'Mid 2010' 27" iMacs Compared: Core i3 vs. Core i5 vs. Core i7
Bare Feats' rob-ART Morgan says:
"'Do I really need a Core I7?' I get that a lot. The top 'mid 2010' iMac is the 27" Core i7 2.93 GHz at $2199. The 27" Core i5 2.8 GHz is $1999 ($200 less). The 27" Core i3 3.2 GHz is $1699 ($500 less than the Core i7).
"The 'mid 2010' iMac Core i7 is as much as 45% faster the Core i5 for 10% more cost.
"The Core i7 is as much as 104% faster (twice as fast) as the Core i3 for 29% more cost.
"The Core i5 is as much as 41% faster than the Core i3 for 18% more cost....
"Going by those figures, I say the top iMac model is the best buy...."
Link: 'Mid 2010' 27" iMacs Compared: Core i3 vs. Core i5 vs. Core i7
Software
Divvy Window Management Utility for Mac OS X
PR: Divvy is an entirely new way of managing your workspace. It allows you to quickly and efficiently "divvy up" your screen into exact portions using a simple drag interface in a dialog which can be configured with user-specified shortcuts.
With Divvy, it is as simple as calling up the interface, clicking and dragging. When you let go, your window will be resized and moved to the relative position on the screen. If that seems like too much work, go ahead and create as many different shortcuts as you'd like that resize and move your windows in exactly the same way.
Divvy is designed to be quick, simple and elegant and to stay out of your way as much as possible while providing the most powerful window management available.
A video tutorial on the Divvy Website reveals the elegant simplicity of the concept. A downloadable demo is available. Divvy sells for $14.
Link: Divvy
Free Glims Adds Chrome-Like Features to Safari
PR: Glims adds a cocktail of features to Safari (Tabs, Thumbnails, Full Screen, Search Engines, Search Suggestions, Forms autocomplete on, Dated download folders, Type Ahead ...)
Glims lets you change the default search engine used by Safari's toolbar search field. It comes with predefined sets of engines and, as expected, you can define your own from the preferences.
Glims provides search and link suggestions while you type in the search field. This is very similar in concept to what Apple introduced with Safari 4. The cool thing about Glims is that you can define which sources you would like to use for the search suggestions. Among the obvious benefits, this will come in handy if you are not located in the US. We plan on doing a lot of improvements on this module for future versions.
Glims adds thumbnails to Yahoo and Google Search's. Again, all configurable from the preferences.
Tab Management
The two main improvements are the favicons in the tab bar and the restore of the tabs at launch. Since we are using Apple's session manager, the tabs are currently stored without history, but we are working on this. (Not sure exactly when it will be available.)
Other improvements include; force new window to open in tabs, select the placement of the new tabs when created (right,left,...), undo close tabs... (you get the idea).
Bookmark Bar Improvement
Bookmark separators, as well as 'Add folder here' and 'Add bookmark here'. This helps when you want to manage your bookmarks directly from the bar.
Other Improvements that are also configurable from the preferences:
Full Screen - Basic full screen functionality accessible from the menu or shortcut. Again, we want to improve this.
Max Window Size - Spread the window on the whole screen, accessible from the menu.
Form Autocomplete - Force the auto completion of forms in sites that prevent it.
Dated Download Folders - Organize your download folder.
Current features list:
Adds thumbnails to Google.com search results
Adds thumbnails to Yahoo.com search results
Adds search engines to the default Google search tab
Adds fullscreen browsing capability
Adds Favicons to tab labels
Adds keyword search from address bar
Undo "Close Tab" (cmd-z)
Reopens last session when Safari starts
Auto-Closes download window
Adds new tab position option (right/left/leftmost/rightmost)
Adds tab closing using middle mouse button
Focus last selected tab
Always open links in a new tab
Type-ahead support (auto cmd-f)
Sets the focus on the search field when opening a new window
Adds Amazon's information banner on Google.com search results
Adds Amazon's information banner on Yahoo.com search results
Adds a "Max Window Size" menu item to resize the Safari window
Forms autocomplete always on
Autocomplete search phrase
Adds bookmark separator
Adds bookmark actions
Dated download folders
Localized to Japanese, French, Polish, German, Spanish, Italian, and Korean
Requirements:
Safari 3.0.4 (4525.18) or later
Mac OS X 10.5 or later
Intel or PPC (universal)
Link: Glims
Desktop Mac Deals
For deals on current and discontinued 'Books, see our 13" MacBook and MacBook Pro, MacBook Air, 13" MacBook Pro, 15" MacBook Pro, 17" MacBook Pro, 12" PowerBook G4, 15" PowerBook G4, 17" PowerBook G4, titanium PowerBook G4, iBook G4, PowerBook G3, and iBook G3 deals.
We also track iPad, iPhone, iPod touch, iPod classic, iPod nano, and iPod shuffle deals.
Join us on Facebook, follow us on Twitter or Google+, or subscribe to our RSS news feed
Links for the Day
Mac of the Day: Power Mac 9500, introduced 1995.05.01. The first PCI Power Mac has 6 expansion slots, speeds of 120 and 132 MHz.
Recent Content
Follow Low End Mac on Twitter
Join Low End Mac on Facebook
Favorite Sites
MacSurfer
Cult of Mac
Shrine of Apple
MacInTouch
MyAppleMenu
InfoMac
The Mac Observer
Accelerate Your Mac
RetroMacCast
The Vintage Mac Museum
Deal Brothers
DealMac
Mac2Sell
Mac Driver Museum
JAG's House
System 6 Heaven
System 7 Today
the pickle's Low-End Mac FAQ
Affiliates
Amazon.com
The iTunes Store
PC Connection Express
Macgo Blu-ray Player
Parallels Desktop for Mac
eBay

Advertise