Cheap Computers Make Sense, RIP Computer Mouse, Alicia Keys' Software Piano, and More
This Week's Apple and Desktop Mac News
Compiled by Charles Moore and edited by Dan Knight - 2010.04.09
So we can post our three news roundups (Mac News Review, The 'Book Review, and iNews Review) earlier, we first do a quick proofread and link check, leaving out images. We add images later when time permits. dk
MacBook, PowerBook, iBook, and other portable computing is covered in The 'Book Review. iPad, iPod, iPhone, and Apple TV news is covered in The iOS News Review.
All prices are in US dollars unless otherwise noted.
News
News
Buying a Cheap Computer Makes a Lot of Sense
The Star-Ledger's Allan Hoffman advises:
"Don't splurge on your next computer. In fact, you should probably buy a really cheap one.
"That's not exactly the advice Apple, Dell, HP, Sony, Toshiba and other computer makers want you to hear. It also flies in the face of what's been the conventional wisdom for years....
"That made sense for a time, but that time is over.
"Today's least expensive models typically can handle everything you'll need from a computer, and then some. Unless you're a professional designer or a computer gaming addict, you should be able to buy a perfectly capable computer for less than $1,000, perhaps less than $350.
"I bought a new computer earlier this year, and I chose a MacBook - the least-expensive Macintosh notebook computer, which retails for $999.
"For $350 or so, you can buy a so-called netbook computer, and it will likely be able to do everything you need...."
Link: Why Buying a Cheap Computer Could Make a Lot of Sense
R.I.P. Computer Mouse
Cnet's Dan Ackerman contends that largely overlooked amid the overwhelming iPad hype is what he deems its its biggest potential achievement - that Apple's touchscreen quasi-PC might have finally struck a fatal blow to the long-standing standard of computer input devices, the computer mouse, declaring:
"Make no mistake about it, the era of the familiar PC mouse is coming to an end. It may not be a 2012-style apocalypse (and the mouse will surely hang on in some form for many years to come), but the door is slowly shutting on the universal acceptance of this single iconic piece of hardware that we have equated with personal computing for decades...."
Editor's note: Douglas Engelbart created the first mouse prototype in 1963 with the assistance of Bill English. It used two wheels to track movement. English invented the ball mouse in 1972. dk
Link: R.I.P. The Computer Mouse, 1972-2010?
Updated Upgrade Videos for Mirrored Drive Doors G4s
PR: OWC blogger Chris S. says:
"It's been a while, but the new OWC Video Team has released its revamped series of Installation Videos for the Power Macintosh G4 (Mirror Drive Door) & Power Macintosh (FireWire 800) models.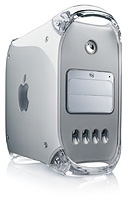 "Though about 7 years old, the high level of expandability on these G4 Macs still make them great workhorses. I had a FireWire 800 model under my desk for several years, performing a myriad of tasks, ranging from processing Folding@home work units to duplicating CDs and DVDs to burning labels on said discs with Lightscribe.
"Since they're PowerPC Macs, they can only run up to 10.5.8, but that's all you really need for most jobs. If you can find one inexpensively, it makes a great 'storage' or 'workhorse' computer.
"That's why we're glad to show you all the different options for getting these machines tricked out to their maximum potential. All you have to do is hit us up on our YouTube channel, visit our Tech Center, or even look us up on iTunes."
Editor's note: The Mirrored Drive Doors (MDD) G4s were the fastest G4 Power Macs and have two full-sized 5.25" optical drive bays, making it easy to install two SuperDrives. They support up to 2 GB of RAM, and most MDD models have a 167 MHz system bus - fast, but because it was unique, very few CPU upgrades were ever made for it. The second MDD model introduced FireWire 800 and cannot boot into the classic Mac OS. dk
Link: New Video Updates: Mirror Drive Door G4s
Link: OWC's YouTube channel
Alicia's Keys, a Software Piano for Musicians of All Genres
PR: Native Instruments just introduced Alicia's Keys, a new software instrument that recreates Alicia Keys' personal grand piano with outstanding authenticity and playability, allowing musicians of all experience levels to use her acclaimed signature sound in their own music production, live performance, and recreational playing. Developed in close collaboration with the Grammy-winning artist, the software is also used as the primary instrument on her new album and on her current world tour.
aliciaskeys.jpg
Designed as a comprehensive digital emulation of Alicia Key's exclusive custom Yamaha "C3 Neo" concert grand, and based on Native Instruments' industry-leading KONTAKT technology, Alicia's Keys provides a soulful and intimate piano tone that perfectly accommodates R&B, soul and pop styles. By utilizing high-resolution samples and sophisticated simulation of crucial sonic aspects like sustain pedal behavior and string resonance, Alicia's Keys sets a benchmark in the digital recreation of acoustic instruments. The convenient user interface of the software gives intuitive control over the sound to further adjust it to the specific musical context and personal playing style.
Alicia's Keys can be used on any modern Windows and Macintosh computer in combination with a conventional MIDI keyboard.
ak2.jpg
"I love this software so much that I used it on my entire new album. Not once did I record a live piano because there was just no need", says Alicia Keys. "I plan to tour with this sound and use it all around the world. I love how it gives those who may not be able to buy an acoustic piano a true piano experience."
A video with Alicia Keys explaining the creation process of the software is available on YouTube.
Alicia's Keys is available from authorized dealers and in the NI Online Shop for a suggested retail price of $119.
Link: Alicia's Keys
OCRKit 1.1: Drag and Drop for Searchable PDFs on the Mac
PR: ExactCODE GmbH releases OCRKit 1.1, an update to their powerful, streamlined, and fast, yet affordable OCR with support for more than 10 languages for the Mac. OCRKit transforms images and PDF files into searchable PDFs. With built-in OCR allows for editable PDF files with a simple drag and drop and to find them with the Mac's built-in Spotlight desktop search. AppleScript support allows professionals to create dedicated solutions for specific and even difficult workflows.
OCRKit 1.1 is a powerful, streamlined, and fast, yet affordable OCR with support for more than 10 languages for the Mac. The new Mac application OCRKit transforms images and PDF files into searchable PDFs. With built-in OCR allows for editable PDF files with a simple drag and drop and to find them with the Mac's built-in Spotlight desktop search.
OCRKit comes as a native, Intel Macintosh application focusing on usability and simple to use. By dragging a document onto the application icon a searchable and multi page PDF is quickly created. OCRKit helps to organize the office workflow: By making received information, in image or PDF form, from a copier, scanner, receipt or via e-mail editable and indexable to find them with Spotlight or manage them in a database application.
OCRKit comes with support for many OCR languages, including English, Dutch, French, German, Italian, Portuguese, Spanish and Swedish, and even more user-interface translations: English, Dutch, German, Italian, Japanese, Portuguese, Spanish, Simplified-Chinese, Traditional-Chinese, and works with Apple Mac OS X 10.4, 10.5 as well as with the 'Snow Leopard' version 10.6. on Intel Macs. The support of AppleScript allows professionals to create dedicated solutions for specific and even difficult workflows.
What is new in OCRKit 1.1?
Support for new OCR languages: Polish, Russian, Turkish
Control for color detection
Improved automatic color detection
Improved embedding of certain image files
OCRKit can be tested for 14 days and is available for ¤39 (approx. $50) online and several distributors and resellers world-wide.
Splash Screen: http://ocrkit.com/images/top.jpg
Link: OCRKit
Desktop Mac Deals
Low End Mac updates the following price trackers monthly:
For deals on current and discontinued 'Books, see our 13" MacBook and MacBook Pro, MacBook Air, 13" MacBook Pro, 15" MacBook Pro, 17" MacBook Pro, 12" PowerBook G4, 15" PowerBook G4, 17" PowerBook G4, titanium PowerBook G4, iBook G4, PowerBook G3, and iBook G3 deals.
We also track iPad, iPhone, iPod touch, iPod classic, iPod nano, and iPod shuffle deals.
Join us on Facebook, follow us on Twitter or Google+, or subscribe to our RSS news feed
Links for the Day
Mac of the Day: PowerBook 190cs, introduced 1995.08.28. The last 680x0-based PowerBook could take a PowerPC upgrade.
Recent Content
Follow Low End Mac on Twitter
Join Low End Mac on Facebook
Favorite Sites
MacSurfer
Cult of Mac
Shrine of Apple
MacInTouch
MyAppleMenu
InfoMac
The Mac Observer
Accelerate Your Mac
RetroMacCast
The Vintage Mac Museum
Deal Brothers
DealMac
Mac2Sell
Mac Driver Museum
JAG's House
System 6 Heaven
System 7 Today
the pickle's Low-End Mac FAQ
Affiliates
Amazon.com
The iTunes Store
PC Connection Express
Macgo Blu-ray Player
Parallels Desktop for Mac
eBay

Advertise