iPhone 5/iOS 6 Special Edition
This Week's iPad, iPhone, iPod, and Apple TV News
Compiled by and edited by Dan Knight - 2012.09.12 (updated)
Mac notebook and other portable computing is covered in The 'Book Review, and general Mac news is in Mac News Review. All prices are in US dollars unless otherwise noted.
Purchases made through links to Amazon.com and Apple's iTunes/iBook/App/Mac App Store support Low End Mac.
iPhone and iPod News
iPod Deals
These price trackers are updated every month.
iPhone and iPod News
The iPhone 5 has been anticipated for months, and it's great that it's finally arrived - complete with a new dock connector and a new CPU, the A6.
But first some introductory comments from Tim Cook:
Apple now has retail stores in 13 countries.
OS X 10.8 Mountain Lion is the fastest selling Mac OS ever.
Macs are experiencing 15% year-over-year growth vs. 2% for the PC industry - and have been outpacing PCs for six years running.
Macs pale in comparison to the iPad. 5 million Macs per quarter vs. 17 million iPads - and 84 million sold to date.
Apple sells more iPads per quarter than any PC maker sells PCs.
iPad accounts for 68% of the tablet market, up from 62% a year ago when it had less competition.
Apple has sold over 400 million iOS devices since launching the iPhone in mid-2007.
The iPhone 5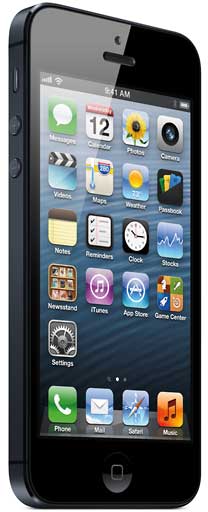 The iPhone 5 is the thinnest (7.68mm), lightest (112g) iPhone yet - and also the first with a 4" display. The new Retina Display has the same 640 pixel width as the iPhone 4S, but it's 1136 pixels high instead of 960, giving it the same 16:9 aspect ratio as HD TV, iMacs, and most current laptops.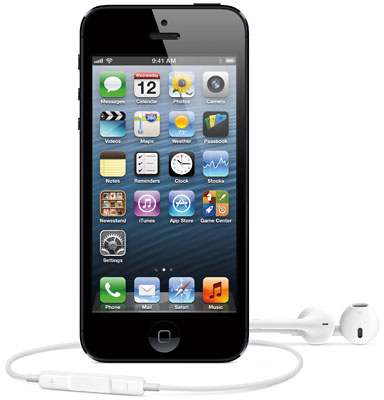 Apps designed specifically for the old iPhone display will be centered on the screen, while updated apps will be able to use the full screen. The HD display provides room for one more row of app icons, more content in the Web, and a better way to view movies and HD TV shows. The screen also has better color saturation, making it the best in the industry.
The iPhone 5 supports 4G with LTE, which is supported by AT&T, Verizon, and Sprint here in the US. Apple claims LTE can be faster than WiFi - time will tell. And for the first time, an iPhone supports 802.11n WiFi using the 5 GHz spectrum, which is less crowded and less susceptible to interference than the 2.4 GHz spectrum used by 802.11b, g, and also part of the n specification.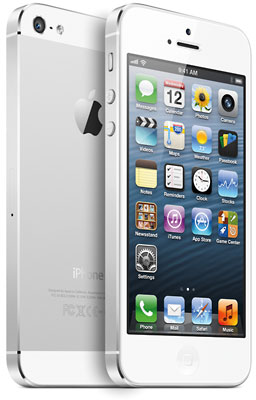 Phil Schiller says the A6 CPU is twice as fast as the A5 found in the iPhone 4S. The iPhone 5 has a 5 MB (megapixel) rear-facing camera with 3264 x 2448 resolution and incorporates a dynamic low light mode for better available light photography. The A6 also has an improved Image Signal Processor to improve photos and video.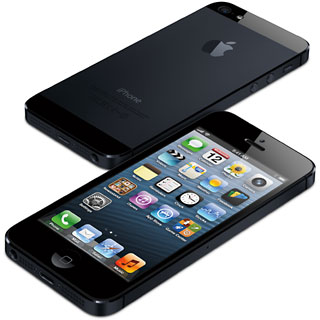 iOS 6 and iCloud support shared photo streams, so you can share your pictures easily with your friends. And there's a new panorama mode, which will replace any number of panorama apps for the iPhone.
The front-facing camera now supports 720p high-definition video, and there's now a third microphone - one on the top, one on the bottom, and one on the back for video.
Schiller also claims a noise-cancelling earpiece for the iPhone 5.
The iPhone 5 has an aluminum back, which is anodized black on the black version.
Unanswered question: Does the iPhone 5 support USB 3? (Apparently not.)
Update: Due to the variety of LTE frequency bands used by mobile carriers around the world, there are three different versions of the iPhone 5, and only one version offers CDMA support. If you are with a CDMA carrier or may end up using your iPhone with one, be sure that's the model you get.
Lightning
On Macs, we have Thunderbolt. On new iOS devices, Lightning. The new all-digital connection replaces the bulky old 30-pin dock connector. Adapters will be available to new iOS devices can be used with older docks. But without analog sound output, it's going to spell trouble for a lot of boom boxes, clock radios, etc.
A real plus: The Lightning connector is reversible, so you don't have to worry about plugging it in backwards - a real drawback for the old pock connector.
iOS 6
Scott Forstall introduced the new Maps app, which is no longer based on Google Maps. New features include turn-by-turn directions, flyovers, 100 million points of interest.
Safari gains fullscreen mode. Mail adds the ability to flag a message for follow-up, something email apps should have added years ago!
Passbook covers coupons and movie tickets, among other things. Siri now supports Open Table - find a restaurant, make a reservation.
And, of course, iOS 6 is fully integrated with Facebook.
FaceTime is supported over "cellular networks" - but no details yet. Will it work with 3G?
iOS 6 will be available for download on Wednesday, Sept. 19.
iPhone Pricing & Availability
As expected, the 16 GB iPhone 5 sells for $199 with a two-year contract, 32 GB is $299, and 64 GB is $399. The 16 GB iPhone 4S remains in the line as a $99 model, and the 8 GB iPhone 4 is now the "free with contract" device. The iPhone 3GS is history.
Apple will start taking iPhone 5 orders on Friday, Sept. 14, and shipping beings on Friday, Sept. 21.
iTunes
A new version of iOS always means an iTunes update for Macs (and Windows), and this is no exception. Version 11 will be available in October. The iTunes store integrates Facebook likes on every page.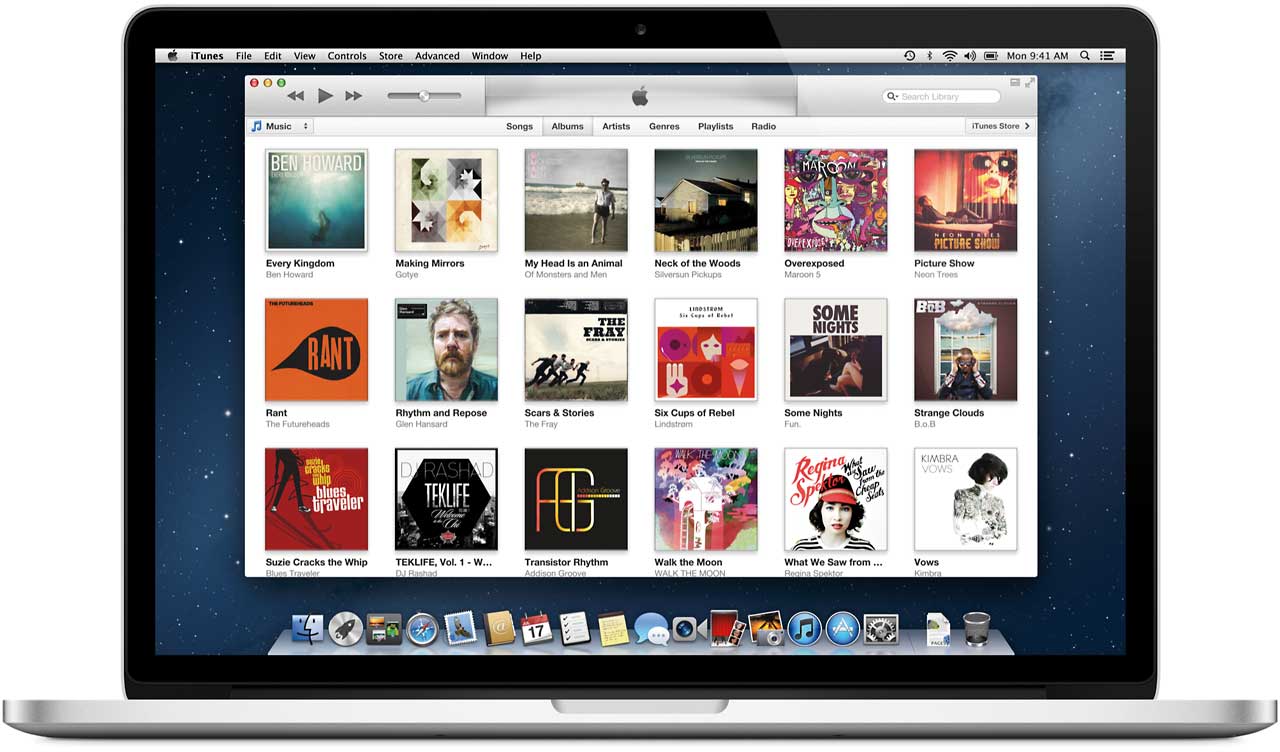 Nice touch: Tour info is posted on the artist page.
iPods
Apple has sold 350 million iPods to date.
iPod nano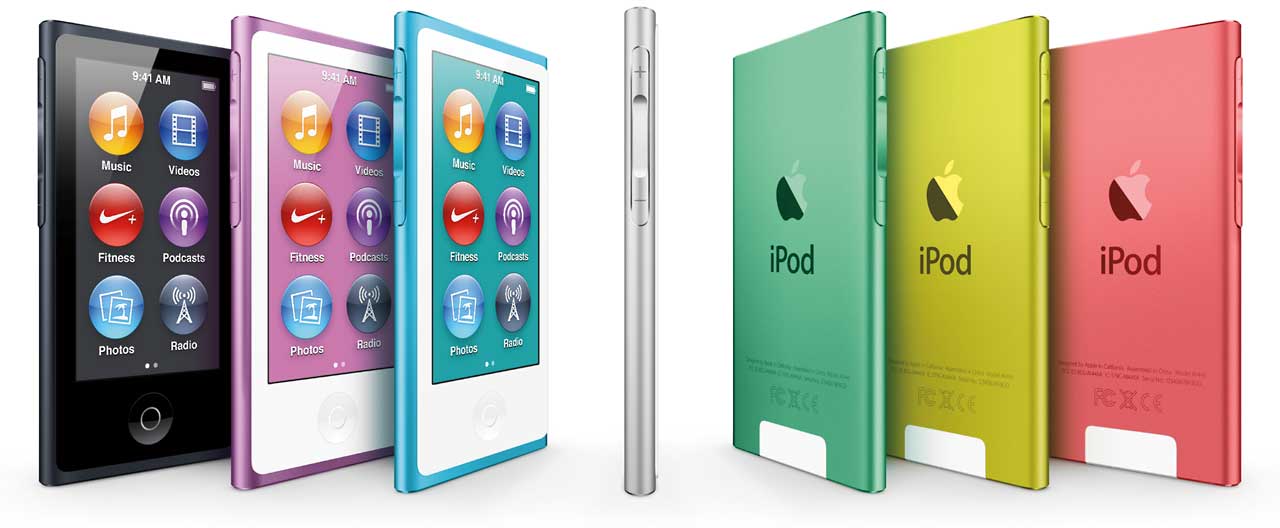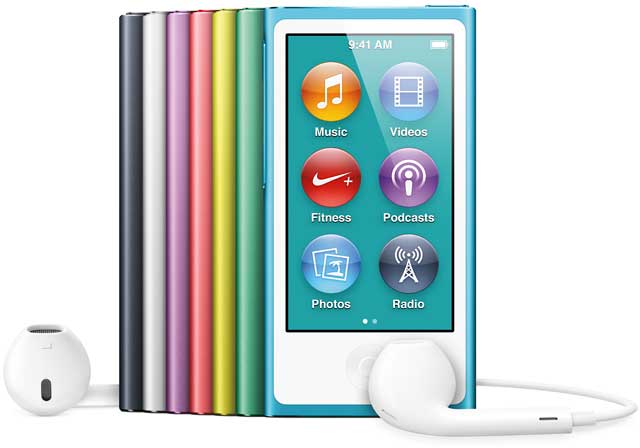 Apple has reinvented the iPod nano yet again. The 7G Nano has the biggest screen ever - thin and tall like the iPhone. Screen measures 2.5", so like a tiny iPhone 5, complete with a Home button. The photo viewer even allows pinch-to-zoom, just like a real iOS device. And there's video support, but do you really want to watch a video on such a small display? And there's Bluetooth, too.
Available in 7 colors, the 16 GB iPod nano retails for $149.
iPod touch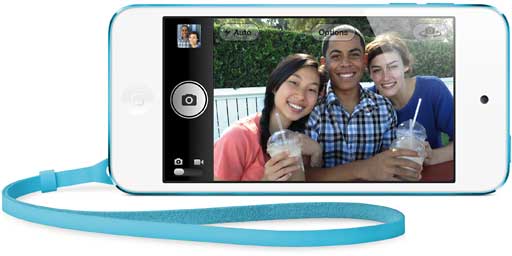 Neglected for too long, the iPod touch gets an update. Apple claims it is the world's most popular music player - and video game platform as well.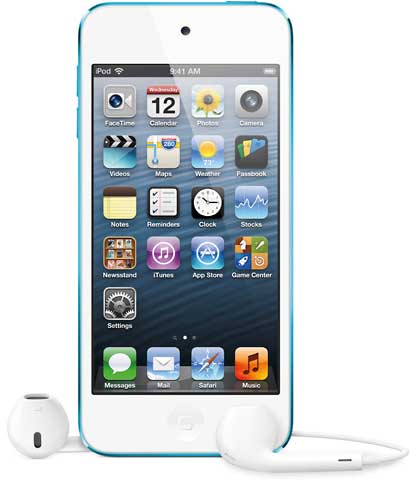 The 5G iPod touch is thinner and lighter, a big theme today. Like the iPhone 5, the Touch has a brushed aluminum back and 4" widescreen display, the same Retina Display as the iPhone 5.
The 5G iPod touch moves to an A5 processor with 7x faster graphics than the A4 CPU found in the previous model. The rear-facing camera is 5 MP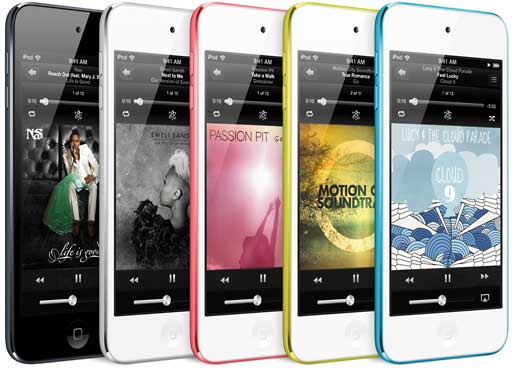 this time and support panorama mode. Video is 1080p with image stabilization, the FaceTime camera is 720p, and face detection is supported.
New is a button on the back of the iPod touch called "the loop" - it lets you attach a wrist strap so you're less likely to drop the device.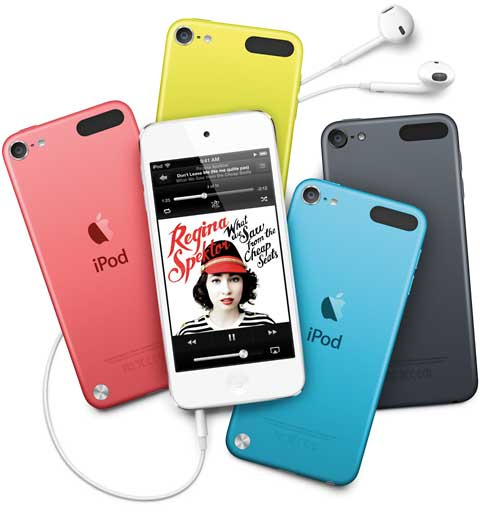 The iTouch remains WiFi only; there is no 3G or 4G version available. Like the iPhone 5, the 5G iPod touch has dual-band WiFi support.
For the first time, Apple's offering colors: white, black, red, blue, and green. $199 for the 16 GB 4G iPod touch, $249 for 32 GB. The 32 GB 5G iPod touch retails at $299, and it's $399 for 64 GB.
EarPods
One more thing: Apple has been working on new iPod headphones for three years, and the fruit of those labors is EarPods. Apple scanned hundreds of ear to find a better geometry, and the EarPods don't seal your ear the way most in-ear buds do.
Available separately starting today, EarPods will ship with the iPhone 5, 7G iPod nano, and 5G iPod touch.
iPad mini
We'll just have to wait for October to learn about the smaller iPad.
Join us on Facebook, follow us on Twitter or Google+, or subscribe to our RSS news feed
Links for the Day
Mac of the Day: DayStar Genesis, introduced 1995.10.30. The first 'Mac' with multiple processors, technology Daystar licensed to Apple.
Recent Content
Follow Low End Mac on Twitter
Join Low End Mac on Facebook
Favorite Sites
MacSurfer
Cult of Mac
Shrine of Apple
MacInTouch
MyAppleMenu
InfoMac
The Mac Observer
Accelerate Your Mac
RetroMacCast
The Vintage Mac Museum
Deal Brothers
DealMac
Mac2Sell
Mac Driver Museum
JAG's House
System 6 Heaven
System 7 Today
the pickle's Low-End Mac FAQ
Affiliates
Amazon.com
The iTunes Store
PC Connection Express
Macgo Blu-ray Player
Parallels Desktop for Mac
eBay

Advertise