Swoosh Sound May Not Mean Mail Was Sent, Holiday Shopping and Tablets, and More iOS News
This Week's iPad, iPhone, iPod, and Apple TV News
Compiled by Charles Moore and edited by Dan Knight - 2012.11.19
Mac notebook and other portable computing is covered in The 'Book Review, and general Mac news is in Mac News Review. Older Macs are covered in Vintage Mac News. All prices are in US dollars unless otherwise noted.
Purchases made through links to Amazon.com and Apple's iTunes/iBook/App/Mac App Store support Low End Mac.
News, Reviews, & Opinion
Holiday Shopping
Rumor Roundup
Accessories
iPod Deals
These price trackers are updated every month.
News, Reviews, & Opinion
Swoosh Sound When Sending Email in iOS 6 Signifies Nothing
This really sucks department.
The Mac Observer's John Martellaro reports that based on evidence he's accumulated so far, it appears that the "swoosh" sound heard in iOS 6 when sending an email doesn't really confirm that the message has been sent - only that you pressed the Send button, appearing to be a change from previous iOS versions.
Sigh. More degeneration of useful functionality and dumbing down, ostensibly to accommodate the mentally lazy and tech-illiterate hoi polloi.
Martellaro theorizes that Apple seems to have decided the erstwhile lag between Send button pressing in iOS Mail and the "swoosh" confirmation, which could in some instances (such as when mailing images) could be quite lengthy, might confuse and frustrate the great unwashed, so the feature has been degraded to the point of essential meaninglessness, and as John observes, can and indeed has resulted in loss of emails.
Link: iOS 6's Swoosh Sound Sending Email Apparently Signifies: Nothing
Macworld: iPad 4 'Faster, Stronger, Better'
Macworld's Dan Moren says that while the release of the fourth-generation iPad so soon after the third-generation iPad may have come as a surprise to even diehard Apple watchers, but the device itself won't, looking almost identical to a third-generation iPad, which in turn looked more or less like the second-generation iPad.
The iPad 4's real changes are almost entirely internal, making it unquestionably Apple's most powerful iPad to date, mainly attributable to the device's powerful new dual-core A6X processor chip with quad-core graphics, which clocked at 1.4 GHz amounts to a hefty 40% increase over the 3rd-gen iPad's A5X silicon at 1 GHz. Moren reports that benchmark testing pretty much confirms Apple's claim of twice as fast performance - and that it comes at a minimal reduction in battery charge life. There's also Apple's new Lightning dock connector and upgraded cameras.
Link: Review: Fourth-generation iPad Is Faster, Stronger, Better
iPad mini More Difficult to Repair Than Larger iPads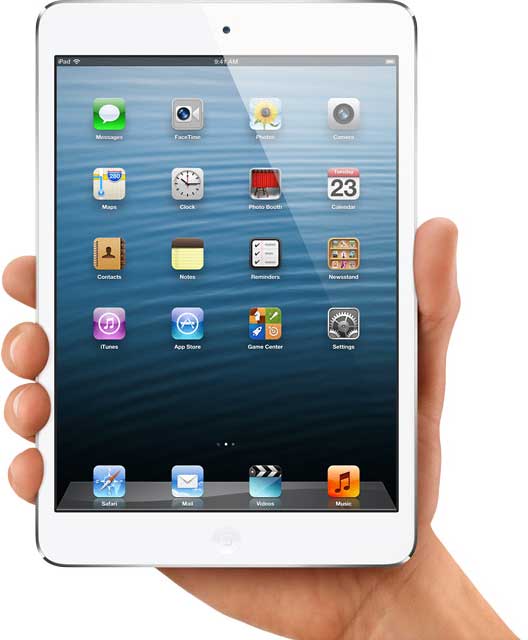 Tech Republic's Bill Detwiler shows how to disassemble the iPad mini and explains why it's actually more difficult to crack open and repair than the iPad, noting that while the new Mini may be a concentration of the full-size iPad's best features, it's also a concentration of the larger device's worst shortcomings. Detwiler demonstrates in this week's Cracking Open episode that the Mini's small size, extremely fragile LCD, and super-tiny screws make it even more frustrating to crack open and work on than the larger iPad.
Detwiler says the Mini is extremely difficult to open: Its front glass panel is held to the metal body with extremely strong adhesive. Removing the panel involves heating the panels edges (loosening the adhesive) and very gently prying it away from the body - a time consuming process that often takes 30 minutes or more, and not only are the front panel and battery held in place with adhesive, so are the motherboard and just about every other component.
Link: iPad mini More Difficult to Repair Than Larger iPad
How to Use Gadgets All Day Without Wrecking Your Body
Tech Crunch's Gregory Ferenstein says it's not just sitting at a computer all day long that's killing modern man: hunching over to use cell phones, leaning back to read tablets, and even the standing desk is wreaking havoc on our bodies, crippling our posture, dropping calorie burn dramatically, leading to painful joint problems, and shortening life expectancy.
Ferenstein consults Kelly Starrett, Crossfit's popular mobility expert and physical therapist to America's elite fighting forces, for pointers on how we can spend long hours with electronics without incurring associated problems.
Link: How to Use Electronics All Day Without Destroying Your Body
Holiday Shopping
PriceGrabber: Consumers Favor Tablets and Apple Products for 2012 Holiday Season
PR: Price comparison shopping site PriceGrabber just released results of its third winter holiday shopping survey, revealing consumers' expected shopping habits within the tech category this holiday season.
When consumers were asked whether they would rather receive a tablet computer or a laptop as a holiday gift this year, 59% indicated that they would rather receive a tablet. 71% of shoppers also indicated that they believe tablet computers will replace e-readers as gifts this year. Conducted from Oct. 24 to Nov. 1, 2012, the survey includes responses from 1,475 US online shopping consumers.
Apple iPad and iPad mini Top-ranked Overall Tablets
The power of the Apple brand is likely to remain in full force again this holiday season, especially with the launch of the iPad 4 and iPad mini. When consumers were asked which tablet they would prefer to receive as a gift this year (respondents could select as many choices as they liked), 63% said they preferred the iPad 3 or iPad 4 and 24% indicated the iPad mini. 22% indicated they would like to receive the Samsung Galaxy Note Tab, 20% cited the Amazon Kindle Fire HD, and 13% said the Microsoft Surface tablet.
This was followed by 12% that selected the Google Nexus 7, 8% who said the Amazon Kindle Fire; another 8% that noted the Sony Tablet S, and 7% that selected the Toshiba Excite. Other tablets, such as the Barnes & Noble Nook HD tablet, ASUS Transformer Pad, Lenovo ThinkPad Tablet 2, Experia Tablet S, Acer Iconia Tab A110, and Best Buy's new Insignia Flex, ranked lower.
iPad mini Wins Consumer Vote in Lower Priced Tablet Category
When PriceGrabber survey respondents were asked to select all of the lower priced tablets they would be most likely to purchase as a holiday gift this year, the iPad mini came out on top with 45% of the vote. 27% of respondents selected the Amazon Kindle Fire HD, and the Google Nexus 7 and the Amazon Kindle Fire tied for third place both receiving 19%. 6% of consumers selected both the Barnes & Noble Nook HD and the Barnes & Noble Nook HD+.
When the 45% of consumers who selected the iPad mini out of the lower priced tablet options were asked why they would purchase that particular tablet as a gift this holiday season, 47% said because of its smaller size and portability. 38% of consumers cited its lower price point compared to the regular iPad, 35% said they love Apple products and always purchase the latest and greatest as gifts, and 33% indicated that it would make a great gift. 27% of respondents noted its lighter weight and 22% said that the overall price point is more affordable.
"Tablets continue to grow in popularity as a top holiday gift, especially with the emergence of lower priced tablets in the $200 to $300
price range targeting budget-conscience consumers," says Rojeh Avanesian, vice president of marketing and analytics of PriceGrabber. "We expect to see a lot of shopping activity in the tablet category again this holiday season, with retailer's battling it out to win the consumer dollar."
Consumers Cite LeapPad2 Explorer as Top Holiday Tablet for Children
Tablets for children have become popular over the last couple of years. When consumers were asked which tablet they would be most likely to purchase as a holiday gift for a child this year (respondents could select as many choices as they liked), 23% selected the LeapPad2 Explorer. The iPad mini came in second place with 22% of the vote, and the Leapfrog tablet came in third place receiving 20%. 17% of shoppers selected the iPad 3 or iPad 4, and 12% indicated they would most likely purchase the Amazon Kindle Fire as a holiday gift for a child.
Shoppers Select Amazon Kindle Fire as Top e-Reader
While PriceGrabber respondents overwhelmingly favor tablets, consumers were asked to select all of the e-readers they would prefer to receive as a gift this holiday season. 39% of respondents selected the Amazon Kindle Fire; 38% indicated the iPad 3 or iPad 4; and the iPad mini and Amazon Kindle Touch both received 23% of the vote. 17% said the Samsung Galaxy Note Tab, and this was followed by 12% who indicated the Google Nexus 7. Another 10% of consumers noted the Barnes & Noble Nook, and 9% selected the Amazon Kindle Paperwhite. Other e-readers such as the Barnes & Noble Simple Touch, Sony e-reader, Kobe e-reader, and ASUS Transformer Pad, ranked lower.
PriceGrabber: 71% of Consumers Believe Retailers Will Offer the Best Holiday Deals During Thanksgiving Weekend
PR: As Thanksgiving weekend fast approaches, one of the largest shopping periods of the year including the notorious Black Friday and Cyber Monday,
consumers are largely focused on one major theme this holiday season deals, deals and more deals. PriceGrabber just released results from its third winter holiday shopping survey, revealing that 71% of consumers believe that retailers offer better deals during Thanksgiving weekend than they do during the rest of the winter holiday shopping season, up from 58% in 2011. Conducted from Oct. 1 to Oct. 24, 2012, the survey includes responses from 4,958 US online shopping consumers.
When consumers who indicated that the best deals can be found over the Thanksgiving weekend were asked which days retailers offer the best prices (respondents could select as many choices as they liked), 71% said Black Friday (Nov. 23), down from 80% in 2011 and 86% in 2010, and 41% said Cyber Monday (Nov. 26), up from 37% last year and 33% in 2010.
Black Friday Most Popular Day to Shop on Thanksgiving Weekend Overall
When asked which days they plan to shop over the Thanksgiving weekend (respondents could select as many choices as they liked), 42% of consumers said Black Friday (Nov. 23), followed by 38% who said Cyber Monday (Nov. 26); 21% indicated Saturday (Nov. 24), 13% selected Sunday (Nov. 25), and 10% said Thanksgiving Day (Nov. 22).
Consumers Cite Best Prices and Tradition as Top Reasons to Shop on Black Friday
Consumers enthusiasm for shopping on Black Friday, the most storied shopping day of the year, is not a myth. When consumers planning to shop on Black Friday were asked to select all of the reasons why they planned to do so, 70% said that they can find the best prices on that day. 33% noted that they plan to shop on Black Friday because it is a tradition with family and friends; 22% indicated they have the day off from work and enjoy shopping; and 7% said they like the thrill of fighting the crowds.
Shoppers are eager to find deals this holiday season as they continue to keep a tight grip on their purse strings. Our survey data reveals that consumers believe some of the best prices will be offered over the Thanksgiving weekend, especially on Black Friday and Cyber Monday, said Rojeh Avanesian, vice president of marketing and analytics of PriceGrabber. While Black Friday remains a popular day for in-store shopping, we have seen a steady growth in online shopping on Cyber Monday. We expect this trend to continue as shoppers harness the power of the Internet to find the best pricing and take advantage of free shipping and other retailer incentives.
Shoppers to Take Advantage of Black Friday Extended Store Hours
Black Friday shoppers are once again anxious to get to stores early this year to find the best deals and get their hands on the perfect holiday gift. According to the Price Grabbers survey, 64% of Black Friday Shoppers plan to take advantage of extended store hours to start shopping even earlier this year. 24% plan to start shopping in stores on Black Friday between midnight and 4:00 a.m.; 27% indicated they will start shopping between 4:00 a.m. and 8:00 a.m.; and 26% plan to shop between the hours of 8:00 a.m. and noon. 14% indicated they plan to shop between noon and 10:00 p.m. and 9% of consumers indicated that they will start shopping at 10:00 p.m. on Thanksgiving evening to prepare for Black Friday sales if stores are open.
Clothing, Computers, and Consumer Electronics Expected to Be Black Fridays Most Popular Gifts
According to Price Grabbers survey, consumers cite clothing, consumer electronics and computers as the top gift purchases on Black Friday. Of the consumers who indicated that they will shop on Black Friday (respondents could select as many choices as they liked), 56% said they will purchase clothing as gifts. This was followed by 48% who said they will purchase consumer electronics; another 48% who said they will buy computers, laptops, tablets or related equipment; 37% who said they will purchase books, CDs, DVDs or video games; 32% who said they will purchase toys; and another 32% who said they will purchase shoes.
Other items shoppers will purchase this holiday season include jewelry and watches, gift cards, sporting goods, appliances, beauty, cosmetics and spa packages, and food or candy.
Skava: Only 7% of Top 100 US Retailers Have Tablet Optimized Websites Ahead of Black Friday and Cyber Monday
PR: Skava, a provider of multitouch point retail technology, has announced the results of their "The Impact of Tablet for Retailers 2012" survey, which confirms that only 7% of the top 100 US retailers have optimized their websites for tablet devices. This comes ahead of the busiest week of the year for the retail sector, yet online retailers are not catering to the unique requirements of Tablet shoppers, who are more lucrative online shoppers than their smartphone counterparts. The report notes that 95% of retailers' ecommerce websites are optimized for smartphones,1 yet a tablet shopper is almost four times more likely to purchase goods online than those using a smartphone (2.3% for tablet as compared to 0.6% for smartphone visitors).2 The report outlines the necessity for optimizing tablet shoppers online experience, and how they should be catered to differently by online retailers.
"Online retailers have recently seen a large increase in tablet traffic and they are beginning to stand up and take notice," says Arish Ali, Cofounder and President, Skava Inc. "We are set to launch a number of tablet optimized sites for several leading retailers in the coming weeks and we anticipate that in 2013 many more will follow the trend. We work with many of the top tier retailers who are looking to create much more engaging, on brand and interactive experience on the tablet to cater to the lucrative tablet owner, and at Skava we are making their vision a reality."
Market research firm Forrester predicts that by 2016, one in three Americans will own a Tablet3 and Tablet ecommerce traffic is growing exponentially, already surpassing traditional smartphone traffic. This news that only 7% of retailers have tablet optimized sites comes despite the fact that a tablet shopper is more affluent and spends more time on their tablet compared to any other device. The average purchase for a tablet shopper is 153% higher than that of a smartphone shopper, with their average purchase equating to $123. This is even higher than the average desktop shopper who spends $102 on an average purchase online 2.
The report includes a guide to retailers on best practices on how to develop tablet websites. By developing a tablet optimized website, retailers can create a far more engaging experience for shoppers, leading to a higher conversion rate in terms of visits to purchases. Skava has developed a white paper outlining the profile of a tablet shopper and how retailers can take advantage of the opportunity.
Skava is a leading provider of mobile and omni-commerce solutions to many of top tier retailers in the US. The Skava platform converts their ecommerce platform across mobile web, tablet, Facebook and in-store technologies. Skava clients include: Macy's, Gap, Bloomingdale's, Sears, Kohl's, Staples, and Banana Republic.
Publisher's note: Since most websites are designed to work just fine on a 1024 x 768 pixel display, this isn't generally an issue for iPad users. However, quite a few Android tablets, especially 7" models, have lower resolutions such as 1024 x 600 and 800 x 480, which is still better than most smartphones. dk
Stats generated by a study made by Skava on the top 100 online retailers.
Adobe Digital Marketing Report, The Impact of Tablet Visitors on Retail Websites.
Sucharita Mulpuru & Sarah Rotman Epps with Patti Freeman Evans, Douglas Roberge, Why Tablet Commerce May Soon Trump Mobile Commerce, Forrester Report, July 25, 2011.
Link: The Impact of Tablet for Retailers 2012
Rumor Roundup
iPhone 5S Reportedly in Trial Production for Launch in Early 2013
The Chinese language Commercial Times 's Jia-Xi Liu reports that Apple has quietly begun a trial production run of the iPhone 5S, which is projected to ship in volume in the first quarter of 2013, with Apple apparently planning to throw its one-upgrade-per-year hardware policy out the proverbial window.
Link: 迎戰三星 iPhone5S出鞘 (Chinese-to-English translation via Google Translate)
Retina Panel for iPad mini in Development for Late 2013 Release
The Chinese language site DoNews' Fei Xue says that AU Optronics (AUO) is developing a (Retina) panel for use in the next generation of iPad mini, with resolution up to 2048 x 1536 pixels, consistent with the latest Apple iPad, but on a 7.9" screen, which calculated to a 497ppi dot pitch, far exceeding the new Retina iPad's 264 pixels per inch.
Xue says AUO anticipates volume shipments of the iPad mini Retina to begin in the second half of 2013, with a new Retina iPad mini to ship in the fourth quarter of next year.)
Link: 传Retina版iPad mini明年发布 显示效果翻4倍 (Chinese-to-English translation via Google Translate)
Accessories
Touchscreen Gloves Becoming an Essential Accessory
PR: Touchscreens have become an important part of many peoples lives, through the use of tablet devices, music players and mobile phones. Portable digital computers and handsets are now an integral part of our busy everyday lives.
In the fair weather months, communicating outside does not pose much of a problem, but during long winters, operating touchscreen devices becomes more of an issue. Frozen fingers cannot tweet, mail or select the right tune on icy mornings.
The idea of freeing our hands from gloves in order to communicate with each other is not one we particularly relish when it is freezing outside, yet we can't operate our iPhones, iPads and other high-tech gadgets whilst wearing ordinary gloves. The screens need tactile contact from our fingers to work, because they use the small amounts of electrical charge from our skin. Unfortunately, conductivity is destroyed by gloved fingers.
A modern, novel solution to this problem is to wear specially designed touchscreen friendly gloves. Touchscreen gloves are infused with threads of silver or other conductive material, which are then combined with regular fibers. These threads permeate through the gloves, allowing them to make the crucial electrical contact with touch screen devices, whilst keeping your hands warm.
The metal-infused threads run throughout the fingers of each glove, meaning that the user can operate their touchscreen portable device, using their thumb and one or more fingers. Tapping, scrolling and touching these screens is easily achieved by fingers that remain comfortably warm.
Most touchscreen gloves have the appearance of regular winter gloves, and the range on offer is improving all the time. There are many different styles and thicknesses of glove to choose from throughout the marketplace to suit everyone's taste, and some even offer unique features like being waterproof. TouchAbility has scoured the market and identified some of the best touchscreen gloves on offer today, and they are constantly on the lookout for more future trends as they emerge.
Link: Touchscreen Gloves
Belkin Expands Keyboard Case Lineup to iPad mini
PR: Belkin announced the launch of a new portable keyboard folio for the iPad mini. Designed to provide a better typing experience in a smaller package, the Belkin Portable Keyboard Case combines a removable keyboard and convenient folio in one slim, lightweight design.
"Because the iPad mini enjoys most of the same features as a full-sized iPad, it only makes sense to offer a scaled down version of our award-winning keyboard folio for the iPad mini," says Jamie Elgie, senior director of product management at Belkin. "No matter the size of the device, people want an alternative to touchscreen typing that is comfortable, intuitive and accurate, and our new portable keyboard gives them that option."
With a laptop-style keyboard and well-spaced keys for its size, the Belkin Portable Keyboard Case for iPad mini helps reduce typing mistakes common on tablets. It also connects simply via Bluetooth wireless technology and has iPad mini-specific shortcut keys to easily control audio and video. The integrated folio offers sleek, low-profile protection with a smooth inner lining to protect against everyday wear and tear. When not in use, the keyboard folds flat into the case making it easy to pack away and go.
Portable Keyboard Case for iPad mini (F5L145) sells for $79.99
Features
Well-spaced keys with tactile feedback for accurate typing
Shortcut keys for easy media control
Connects to iPad mini via Bluetooth
Durable exterior and soft inner lining
Removable keyboard for more comfortable, convenient typing angles
Keyboard folds flat when not in use, making it ideal for on the go
155 hours active battery life
Includes USB-to-mini-USB cable for easy recharging
Camera-lens cutout
The Portable Keyboard Case for iPad mini is available for preorder now on Amazon.com and will be available at Belkin.com and Walmart later in November. It also will be available in Canada at Best Buy and Future Shop.
Link: Portable Keyboard Case for iPad mini
Spraytect Pepper Spray iPhone Case
PR: Spraytect is a crossover smartphone case and personal protection device with a detachable pepper spray cartridge.
Pepper and test cartridges are included with every case, and refills are available for purchase. The test cartridge can be used to practice and get a feel for the spray.
Multiple safety mechanisms prevent accidental firing. With a 3-step firing process, Spraytect is simple to use even in the most stressful situations. The pepper spray cartridge slides horizontally across the back of the case, so the spray button is where your fingers naturally land on your phone.
Spraytect cases are currently available for iPhone 4 & 4S in black, white, turquoise & pink, and are coming soon for other smartphones.
Spraytect is designed and assembled in the United States, and is shipping now.
For a limited time, free standard shipping is offered on orders over $20.
Spraytect sells for an introductory price of $39.95
Link: Spraytect Pepper Spray iPhone Case
OtterBox Brings Big Protection in Small Package to iPad mini
PR: Big things can come in small packages. The new Apple iPad mini is pencil-thin and small enough to hold in one hand, yet delivers the comprehensive experience of larger iPad devices. OtterBox announces big protection for iPad mini with new Defender Series cases, available now from OtterBox.com and select retail locations.
"The 7.9" iPad mini provides extreme portability. To keep it safe, the rugged and trusted protection of an OtterBox Defender Series is an invaluable addition.
For a case so lightweight and streamlined, the Defender Series case for iPad mini packs a big punch," says OtterBox President and CEO Brian Thomas. "The 7.9" iPad mini provides extreme portability. To keep it safe, the rugged and trusted protection of an OtterBox Defender Series is an invaluable addition."
The Defender Series made OtterBox the best-selling smartphone case and is designed to withstand the rigors of today's mobile lifestyle.1 A built-in screen protector, sturdy polycarbonate shell and shock-absorbing silicone keep the iPad mini safe from bumps, drops and shock. Silicone plugs round out the outer layer, keeping dust and dirt at bay, yet allowing for easy access to the charging port, headphone jack and silence switch. A removable screen shield keeps the Multi-Touch display safe when the iPad mini is stuffed in a bag and doubles as a viewing stand for efficient typing and web browsing.2
Additional Information for Defender Series for iPad mini
Environmental Protection:
Drop and shock: protects device against drop, shock and bump
Dust intrusion: dust does not enter in a sufficient quantity to interfere with satisfactory operation of device
Water protection: not tested or recommended for water protection
Colors:
Black (black polycarbonate, black silicone)
Crevasse (white polycarbonate, gunmetal grey silicone)
Blushed (stone grey polycarbonate, peony pink silicone)
Weight: 10.7 oz/303.9 g
Dimensions (case only):
8.23 in x 5.65 in x 0.63 in
209.1 mm x 143.6 mm x 16.0 mm
Dimensions (case and shield stand):
8.61 in x 6.04 in x 1.05 in
218.6 mm x 153.5 mm x 26.6 mm
Notes:
Source: The NPD Group/Retail Tracking Service/November 2010 - June 2012
Defender Series not protected against water. Will provide added protection against bump, drop, and shock.
Link: Defender Series for iPad mini
Racer iPhone 5 Bamboo Case
PR: This iPhone 5 case is made of 100% solid bamboo, making it extremely sturdy to protect your iPhone from all sides.
It's a two-piece design with cutouts for all ports and buttons, the headphone jack and the docking port can be used without removing the device from the case.
The inside of the case is lined with soft black velvet to protect the iPhone 5 back from any scratches. A unique two-stripe design earns it the "Racer" name.
$59.99
Facebook and Twitter users can receive up to 15% off.
Link: iPhone 5 Bamboo Case
WaterField Unveils CitySlicker iPad mini and iPad 4 Cases
PR: San Francisco based manufacturer of custom-fitted laptop sleeves, bags and cases for digital gear WaterField Designs has announced its CitySlicker sleeve case for the Apple iPad mini and the 4th generation iPad.
The CitySlicker combines sturdy ballistic nylon with a distressed, leather flap that snaps securely shut, giving the ultramodern case an old-world twist. WaterField offers additional iPad mini case choices.
Light and compact, the CitySlicker includes three layers of protection - impact-resistant plastic, high-grade neoprene, and a padded liner - to keep the iPad and iPad mini safe. The flap covers accessory pockets, and a back, semi-opaque pocket with a self-locking zipper stows additional items.
Add optional D-rings and a strap to covert the case into a minimalist shoulder bag. The CitySlicker for iPad is available in a choice of six leather flap colors: black, chocolate, grizzly, nubock, and Peruvian.
"I designed the City Slicker to be compact like the iPad and capable of holding most of what I carry in my pants pocket (wallet, iPhone, etc.), plus the accessories I need to make my iPad work for me,"
explains company founder, Gary Waterfield. "It works great as a stand alone case or to protect my iPad while inside another bag."
WaterField Designs offers an additional array of iPad mini and iPad cases, including sleeves - the Ultimate SleeveCase, the EXO SleeveCase, the Slip Case, the Suede Jacket, and the Smart Case, and case-bag hybrids - the Wallet and the Travel Express.
Pricing
iPad mini CitySlicker: Price: $89.
iPad CitySlicker: Price: $99.
Options: D-rings only: $5. Handle: $10. D-rings + Simple Strap: $12. D-rings + Suspension Strap: $22.
Leather flap color choices: black, chocolate, grizzly, nubock, and Peruvian.
Available for preorder now. Ships Nov. 28.
Link: iPad CitySlicker
Elegant iPad mini Case Available for Immediate Shipping
PR: iPad case maker iGearUnlimited is offering a portfolio case for Apple's iPad mini at an introductory price of $39.99 with immediate availability.
The iPad mini Portfolio Case is a simple and elegant case designed for the Apple's new iPad mini. It's made of a synthetic PU leather material that has the look and feel of leather, but with much better durability for daily use. It comes with a magnetic cover to keep the case closed when not in use, giving it a clean and tidy look.
The inside of the case is lined with a soft fabric to protect the iPad from all angles. The Portfolio Case can be set up at different angles for typing or movie watching.
"The iPad mini Portfolio Case is among the best on the market," says Jimmy Sun, president of iGearUnlimited. "It's beautifully simple and elegant, and offers functional protection at an affordable price."
For customers looking for a durable case for the new iPad mini, the Portfolio Case features the following:
Durable PU leather padded portfolio case
Full-body protection all around the iPad mini
Magnetic cover holds the iPad mini securely
Soft fabric lining protects iPad mini's screen
Can be set up in multiple positions for typing and movie watching
The iPad mini Portfolio Case is available for immediate shipping at an introductory price of $39.99.
Link: iPad mini Portfolio Case
Join us on Facebook, follow us on Twitter or Google+, or subscribe to our RSS news feed
Links for the Day
Mac of the Day: PowerBook 190cs, introduced 1995.08.28. The last 680x0-based PowerBook could take a PowerPC upgrade.
Recent Content
Follow Low End Mac on Twitter
Join Low End Mac on Facebook
Favorite Sites
MacSurfer
Cult of Mac
Shrine of Apple
MacInTouch
MyAppleMenu
InfoMac
The Mac Observer
Accelerate Your Mac
RetroMacCast
The Vintage Mac Museum
Deal Brothers
DealMac
Mac2Sell
Mac Driver Museum
JAG's House
System 6 Heaven
System 7 Today
the pickle's Low-End Mac FAQ
Affiliates
Amazon.com
The iTunes Store
PC Connection Express
Macgo Blu-ray Player
Parallels Desktop for Mac
eBay

Advertise