A6X Estimated 4-6x as Fast as Tegra 3, iPad 4 Benchmarked, iPad mini Cases, and More iOS News
This Week's iPad, iPhone, iPod, and Apple TV News
Compiled by Charles Moore and edited by Dan Knight - 2012.11.03
Mac notebook and other portable computing is covered in The 'Book Review, and general Mac news is in Mac News Review. Older Macs are covered in Vintage Mac News. All prices are in US dollars unless otherwise noted.
Purchases made through links to Amazon.com and Apple's iTunes/iBook/App/Mac App Store support Low End Mac.
News, Reviews, & Opinion
Rumor Roundup
The Competition
Accessories
iPod Deals
These price trackers are updated every month.
News, Reviews, & Opinion
What's Inside Apple's A6X Processor?
Hardmac's Lionel says all we really know about the 4th generation iPad's System-on-Chip (SoC) is its name, A6X.
However, likelihood is that like the 3rd generation iPad's A5X SoC is an A5 with a quad-core graphics engine grafted on, the 4th generation iPad's is probably an improved version of the A6 SoC introduced in the iPhone 5, but with four graphics cores and two CPU cores. Thanks to the transition from 45nm to 32nm construction techniques, Apple was probably able to increase the clock frequency of the A6X's CPU cores to 1.5 GHz and 500 MHz for the GPU cores while lowering power consumption down, amounting to a substantial increase in performance between the A5X and the A6X.
Lionel says he's pleased that Apple still refuses to put quad-core CPU chips in the iPad. In his estimation, a quad-core CPU in a tablet is "pure nonsense" as their greater power consumption isn't justified by commensurately greater performance.
Link: What's Inside the A6X?
iPad 4's A6X Estimated at 4-6x as Fast as Microsoft Surface's Tegra 3
DigiTimes Research's Joanne Chien says DigiTimes Research estimates that the Apple in-house design A6X System-on-Chip's overall performance is four to six times as fast as the new Microsoft Surface's Tegra 3 and twice as fast as Samsung Electronics' Exynos 5250, which is used in Google's Nexus 10.
Publisher's note: The iPad 4 achieves a Geekbench score of 1755, making it even more powerful than the A6-powered iPhone 5, which scores 1567-1570. (The new iPad mini scores 743.) The Tegra 3-based Nexus 7 scores 1444, and the Nexus 10 has not yet been benchmarked. Geekbench is not yet available for Windows RT and the Microsoft Surface. dk
Link: Apple A6X iDevice System-on-Chip's Overall Performance Four to Six Times Faster Than New Microsoft Surface's Tegra (subscription required)
Primate Labs Posts Early iPad 4 Benchmarks
Primate Labs' John Poole says that while the new iPad wasn't released until Friday, a Geekbench result for what appears to be an iPad 4 appeared Sunday night on the Geekbench Results Browser.
Poole says that if this benchmark result is real (and there's nothing in the result that indicates it's a fake), it shows that the new iPad comes with a dual-core processor running at 1.4 GHz. This result also shows that the new iPad comes with 1 GB RAM, the same amount of RAM as the iPad 3 and the iPhone 5 - and twice the amount of RAM as the iPad 2.
How does the new iPad perform compared other iOS devices? Briefly, the new iPad tests 10% faster than the iPhone 5 - and over twice as fast as the iPad 2 and the iPad 3.
Link: Early iPad (4th generation) Benchmarks
White iPad mini Sells Out for Launch Day Delivery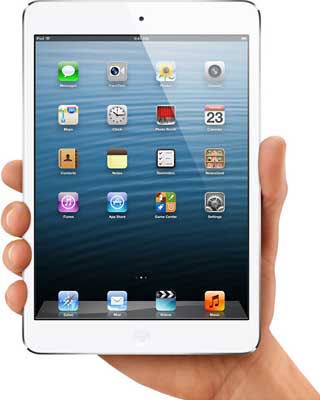 In the white vs. black dialectic, the White & Silver iPad mini is pulling ahead of the Black & Slate model in the early going.
AppleInsider Staff reports that just hours after the iPad mini became available to preorder at Apple's online store, the white and silver model is now sold out in all capacities, now advertised to ship in two weeks, while as of Friday morning the black and slate version was still advertised to deliver on the next Friday, Nov. 2.
Publisher's note: No word from Apple about the proportion of black and white Minis produced. As we reported last week, black outsells white by about 2:1 on iDevices, although there is some variance by device type.
Link: White & Silver iPad mini Sells Out of Launch Day Delivery
Why Surface Will Be Good for the iPad and the Rest of Us
Tech.Pinions' Steve Wildstrom notes that for the past 2-1/2 years, iPad as has ruled the world of tablets, with little competition worth mentioning. However, the entry of Microsoft into the fray, both with the Surface and an assortment of third-party Windows 8 and Windows RT tablets, the business is about to get a lot more interesting. Wildstrom contends that some real competition will be good for both platforms, as the rivalry between iPhone and Android has made both better, and he thinks the entry of Windows Phone 8 can only improve things, pushing both Apple and Android.
He also notes that Android tablets have suffered from the lack of decent software, and that the Android app situation remains calamitous, amounting to mostly blown-up phone apps that are terrible on a 7" tablet and unspeakable on a 10". However, Microsoft is not making this mistake, and while the selection of Windows RT apps is still quite limited, he says Microsoft understands the care and feeding of developers, and the RT apps that are available are designed for the Surface's 10.6" 1366 x 768 display. [Publisher's note: That's the same resolution as the 11.6" MacBook Air's display. dk]
Wildstrom further observes that Surface isn't designed as a head-on competitor for the iPad, and in many respects, such as its ability to work with USB peripherals and its all-but-mandatory keyboard, it's far more PC-like than Apple's tablet - and like the iPad itself represents a new device class in what is turning out to be a surprisingly big space between smartphones and traditional PCs.
Link: Why Surface Will Be Good for the iPad - and the Rest of Us
iPhone Owner Loyalty Declines
PR: Market research firm Strategy Analytics reports that for the first time since the iPhone was released in 2007, the number of iPhone owners who say they definitely will or probably will purchase their next phone from the same brand has declined.
The recent Strategy Analytics Wireless Device Lab Report, iPhone Owner Loyalty Declines: Is Apple Losing its Innovation Edge?, found that only 75% of iPhone owners in Western Europe say they are likely to buy their next phone from Apple, down from 88% in 2011. US repeat purchase intentions have also seen a slight decline, down from 93% in 2011 to 88% in 2012.
"There is no doubt that Apple is continuing its success in retaining existing user base while attracting new customers," says Paul Brown, Director at Strategy Analytics User Experience Practice. "However, negative press prompted by a perceived lack of recent innovation by Apple has meant we are starting to see some growth in the number of previously highly loyal consumers who are now reconsidering whether or not they will purchase a new iPhone for their next device."
Strategy Analytics Wireless Device Lab Analyst Taryn Tulay comments, "Respondents who say they probably will or definitely will not buy their next phone from Apple is low. However, it is the shift in the number of those who are unsure whether they will remain with the same brand for their next phone that Apple should be concerned about."
Link: iPhone Owner Loyalty Declines
Apple Announces Changes to Increase Collaboration Across Hardware, Software & Services
Jony Ive, Bob Mansfield, Eddy Cue and Craig Federighi Add Responsibilities to Their Roles
PR: October 29, 2012 - Apple today announced executive management changes that will encourage even more collaboration between the Company's world-class hardware, software, and services teams. As part of these changes, Jony Ive, Bob Mansfield, Eddy Cue, and Craig Federighi will add more responsibilities to their roles. Apple also announced that Scott Forstall will be leaving Apple next year and will serve as an advisor to CEO Tim Cook in the interim.
"We are in one of the most prolific periods of innovation and new products in Apple's history," said Tim Cook, Apple's CEO. "The amazing products that we've introduced in September and October - iPhone 5, iOS 6, iPad mini, iPad, iMac, MacBook Pro, iPod touch, iPod nano and many of our applications - could only have been created at Apple and are the direct result of our relentless focus on tightly integrating world-class hardware, software and services."
Jony Ive will provide leadership and direction for Human Interface (HI) across the company in addition to his role as the leader of Industrial Design. His incredible design aesthetic has been the driving force behind the look and feel of Apple's products for more than a decade.
Eddy Cue will take on the additional responsibility of Siri and Maps, placing all of our online services in one group. This organization has overseen major successes such as the iTunes Store, the App Store, the iBookstore and iCloud. This group has an excellent track record of building and strengthening Apple's online services to meet and exceed the high expectations of our customers.
Craig Federighi will lead both iOS and OS X. Apple has the most advanced mobile and desktop operating systems, and this move brings together the OS teams to make it even easier to deliver the best technology and user experience innovations to both platforms.
Bob Mansfield will lead a new group, Technologies, which combines all of Apple's wireless teams across the company in one organization, fostering innovation in this area at an even higher level. This organization will also include the semiconductor teams, who have ambitious plans for the future.
Additionally, John Browett is leaving Apple. A search for a new head of Retail is underway and in the interim, the Retail team will report directly to Tim Cook. Apple's Retail organization has an incredibly strong network of leaders at the store and regional level who will continue the excellent work that has been done over the past decade to revolutionize retailing with unique, innovative services for customers.
Apigee: Top Frustrations That Lead to Bad App Reviews
PR: Now, a new survey of mobile app users shows that Americans value the performance of their maps app (63%), second only to the safety and security of their banking app (74%).
Apigee today announced the findings of its 2012 Mobile App Review Survey of over 500 American mobile app users, aged 18 and older, conducted online by uSamp in October. The survey, which was aimed at revealing the expectations and ratings criteria for mobile apps on smartphones and tablets (e.g., iPhone, iPad, Samsung Galaxy S3), found that fully 96% of American mobile app users say there are frustrations that would lead them to give an app a bad review, including:
Freezes, 76%
Crashes, 71%
Slow responsiveness, 59%
Heavy battery usage, 55%
Too many ads, 53%
Nearly every respondent (98%) stressed that performance matters. When asked what types of apps performance matters most for, 74% said banking apps, followed by maps (63%), mobile payments (55%), mobile shopping (49%), games (44%), and social media (41%). When apps don't perform as expected or advertised, 99% of respondents said they would take action:
Delete the app immediately, 44%
Delete the app if it freezes for longer than 30 seconds, 38%
Tell my friends and colleagues how bad it is, 32%
Complain about the app on Facebook and Twitter, 21%
And an unforgiving 18% admitted they would even delete an app immediately from their device if it froze for just 5 seconds. While nearly everyone says they would take action, 27% reported that they would keep the app a little longer if they paid for it.
However, mobile app users do recognize that problems will arise and gave some insight into how companies can respond when that happens. Overwhelmingly (89%) mobile app users say the number one thing companies can do is fix the problem quickly, followed by easy refunds (65%), provide a customer service number (49%), give the user a personal response (46%), and make a public apology (21%).
Whatever the response, mobile app users say they will continue to search for and discover new apps. The survey respondents revealed that the top way they find new apps is simply searching app stores periodically (75%). This was followed closely by in person word-of-mouth (58%), Facebook postings (45%), reading news stories & blogs (26%), and Twitter (14%).
In the growing app economy, there's a natural Darwinian effect, and only the best apps will survive," says Chet Kapoor, Apigee CEO. "These survey findings underscore the importance for developers to closely monitor app performance, identify problems quickly and react immediately to resolve them. "
The survey was conducted by uSamp, the Answer Network, a premier provider of technology and survey respondents used to obtain consumer and business insights. The survey was conducted online from October 17-18, 2012 on behalf of Apigee and asked 502 U.S. respondents to provide insight, preferences and feedback on the subject of mobile apps.
Link: Apigee
Rumor Roundup
Apple Planning to Merge iOS and OS X
The Trollaxor blog reports that a day after Apple announced the merger of its iOS and OS X teams, talk of a merger of the two products is "running rampant", with some claiming that engineers have been well into the process for years.
Apple's current schedule for OS upgrade releases, initiated with OS X 10.7 Lion in 2011, rolls out iOS and OS X updates in a regular, annual schedule quite unlike Apple's former operating system frequency, which had gaps of between six and thirty months. The new upgrade agenda has an OS X release in Summer, a new iOS release in Fall, and a significant update to iOS in Spring.
Trollaxor says that what comes next after 2013, when iOS 7 and OS X 10.9 debut, is at the center of current speculation among Apple developers and power users, and cites insider experts asserting that it never made sense to keep the two operating systems separate, and suggesting that in future, Apple will emphasize mobile or desktop features, or traditional, touch, or speech interfaces, but not OS X and iOS distinctly, and that Steve Jobs envisioned a period of complexity and intense development overhead with two related but specialized operating systems, followed by a period of simplicity and reduced overheard with one unified platform.
The blog refers to anonymous sources at Cupertino claiming that a plan for merging the two products into a single, unified operating system code named AOS (Apple Operating System) has been on the books internally since 2009, with every operating system release since then having been part of it, with "Apple OS" likely nomenclature for the public release.
Link: Apple to Merge iOS, OS X
The Competition
Microsoft's Surface Now Rob Enderle's New Favorite Device
TGDaily's Rob Enderle reports that he's been playing around with Microsoft's Surface tablet for several days and has suddenly realized that he's using it very differently than any other tablet or laptop he's ever owned - and that Microsoft's new device has really improved the quality of his life. He contends that Surface represents more than just a new product and should be perceived as the beginning of a new way of blending work and play; with Surface you really can leave your laptop at home.
Link: Why Microsoft's Surface Tablet Is My New Favorite Device
Microsoft's Surface RT a Tablet PC Hybrid with Potential for Productivity Types
The Register's Tim Anderson cites Microsoft Windows honcho Steven Sinofsky saying, "It's the ultimate expression of a Windows PC" - contrasting this with Apple's Tim Cook's vicarious dismissal of the Surface as "a compromised, confusing product."
Anderson says that besides the fact that it runs Windows 8, two notable things about Surface RT are that it is designed and engineered with more attention to detail than is normal for a Windows PC, and that it runs Windows RT, the version compiled to run on ARM processors and locked down so that you can only install new desktop apps from the Windows Store, other than in an enterprise context where a special product key can be activated to enable "sideloading".
Anderson observes that one significant advantage Surface enjoys over, say, the iPad, is its real USB 2.0 port, and reports that a Microsoft wireless mouse with a USB adapter worked instantly, while attaching a camera made its images immediately available. [Editor's note: For some of us, who bitterly lament the lack of mouse support on the iPad, USB connectivity is huge. cm]
Another Surface advantage: The availability of real keyboards. The Touch keyboard which is thin and almost flat, and the Type keyboard is a little thicker and has keyswitches that actually depress for more comfortable typing. Anderson reports that another Surface feature, its built-in kickstand, is well-made and clicks easily in and out, with attention to detail like the front camera being designed to view straight ahead even when the screen is angled back by the kickstand.
The Surface's enclosure is made from VaporMg, molded magnesium made by a process developed by Microsoft for strength and lightness, and strong enough that Mr. Sinofksy has even attached wheels and used Surface as a skateboard (for more about that see: http://goo.gl/YxMzz). On the downside, Anderson notes that the battery is non-replaceable. although it is supposed to last five years, after which you are evidently supposed to buy a new Surface.
Link: Surface RT: Freedom Luvin' App-Huggers Beware
iFixit Tears Down Microsoft's Surface Tablet PC
PR: The Microsoft Surface is a quirky cat. Microsoft engineers clearly took a different internal design direction than what we've seen in the iPad and the Nexus/Kindles.
But sadly, its overall fixability is closer to the near-impossible-to-open iPad than it is to the spudger-friendly Android tablets.
The Surface's design allows you to open it without fear of shattering the display glass, but it's not a trivial procedure. And you'll have to dig through the whole tablet in order to get to the LCD/glass, which will be the most likely reason you're scratching the Surface to begin with. Overall it received a below-average 4 out 10 repairability score - just a notch above the iPad, but well below the Nexus/Kindles.
The highlights:
We encounter a tamper-evident label as soon as we start digging into the Surface: http://bit.ly/S6pxBp. Unfortunately, it breaks apart upon removal, so no sneakery allowed.
After removing a total of 17 T5 Torx screws - 10 under the kickstand and 7 under the camera cover - the rear case comes right off . . . almost. A lone ribbon cable still tethers the rear case and battery to a ZIF connector on the Surface's motherboard, so folks shouldn't just yank the two halves free. (http://bit.ly/S4DEZ2)
The big question of the day: is the battery easily removed? Answer: Yes. It's glued in, but it's way easier to remove than on the iPad. A couple of minutes of spudging around and it's out.
The 7.4 V, 31.5 Wh battery is manufactured by Samsung. It fits right in between the iPad 2's 25 Wh battery, and the iPad 3's 42.5 Wh unit.
Next to the display in the front case we find, well, some speaker-looking thing: http://bit.ly/VVP2ML. After ripping apart the housing of our mystery component, we're pretty sure it's either a microphone or secondary speaker. During our pre-teardown Surface shenanigans, we noticed the Touch Cover keyboard "clicked" when we were pressing the "keys." We guess those sounds are routed through this device, but we welcome any input on the functionality of this doohickey.
The 720p cameras we found inside - one for the front, one for the back - were almost identical in size and shape. The exclusion of a multi-megapixel rear-facing camera either means cost was a big concern, or that Microsoft's designers don't expect you to use the Surface as your main camera. Perhaps they too realized how goofy you might look when taking pictures with a tablet. (http://bit.ly/Rr2http://bit.ly/VVP2MLJxm)
Chips we found on the Surface:

NVIDIA 1.4 GHz Tegra 3 Processor
Samsung KLMBG4GE4A 32 GB NAND Flash
Micron 2RE22 D9QBJ 2 GB DDR3 SDRAM
Texas Instruments TPS659110 power management IC
Marvell 88W8797-BMP2 wireless MIMO SoC
Wolfson 8962E low power audio codec
Cypress Semiconductor CY8C20466A capacitive touchscreen controller

The Wi-Fi antennas are labeled:

Antenova A10416-WIFI-A2
Antenova A10416-WIFI-A1

There's a total of four touchscreen controllers inside the Surface - three Atmel MXT154E devices, and an Atmel MXT1386 for good measure. We suspect that's how the Surface is able to decode both the inputs coming from the user pressing on the glass, as well as the Touch Cover accessory.
The display's LTL106AL01-002 label indicates Samsung as the manufacturer. Its closely-related sister panel, the LTL106AL01-001, appears to be 1280 x 800 resolution (http://bit.ly/XHnqsO). We didn't test the Surface's display before taking it apart, and we trust Microsoft not to fudge the numbers - but maybe someone can do a quick double-check test on the display resolution, just for giggles?
Publisher's note: Microsoft specifies this as a 10.6" 1366 x 768 pixel display. dk
Link: Microsoft Surface Teardown
Accessories
iPhone: The Missing Manual, 6th Edition
PR: With the iOS 6 software and the new iPhone 5, Apple has two world-class hits on its hands. This sleek, highly refined pocket computer comes with everything - cellphone, iPod, Internet, camcorder - except a printed manual. Fortunately, David Pogue is back with this expanded edition of his witty, full-color guide: the world's most popular iPhone book.
The important stuff you need to know:
The iPhone 5. This book unearths all the secrets of the newest iPhone. Taller screen, faster chip, 4G LTE Internet, thinner than ever.
The iOS 6 software. Older iPhones gain Do Not Disturb, the new Maps app, shared Photo Streams, camera panoramas, smarter Siri, and about 197 more new features. It's all here.
The apps. That catalog of 750,000 add-on programs makes the iPhone's phone features almost secondary. Now you'll know how to find, manage, and exploit those apps.
The iPhone may be the world's coolest computer, but it's still a computer, with all of a computer's complexities.
iPhone: The Missing Manual, 6th Edition (O'Reilly Media, $24.99) is a funny, gorgeously illustrated guide to the tips, shortcuts, and workarounds that will turn you, too, into an iPhone addict.
Author David Pogue, Yale '85, is the weekly personal-technology columnist for the New York Times and an Emmy award-winning tech correspondent for CBS News. His funny tech videos appear weekly on CNBC. And with 3 million books in print, he is also one of the world's best-selling how- to authors. In 1999, he launched his own series of amusing, practical, and user-friendly computer books called Missing Manuals, which now includes 100 titles.
Link: iPhone: The Missing Manual, 6th Edition (preorder from Amazon.com for $15.19)
Waterfield's 8 Best iPad mini Cases Include New Outback iPad mini Sleeve
PR: WaterField Designs, a leading San Francisco manufacturer of custom-fitted laptop sleeves, bags and cases for digital gear, has announced the new Outback Sleeve for the Apple iPad mini, plus a bevy of other custom-sized, protective and stylish iPad mini cases. These eight new cases are also available in custom sizes for the new Apple iPad (4th generation).
In addition to the new Outback Sleeve, WaterField offers seven additional iPad mini case choices for screen and body protection: the Ultimate SleeveCase, the EXO SleeveCase, the Slip Case, the Suede Jacket, the Smart Case, the Wallet and the Travel Express. Each iPad mini case offers distinct styling and functionality and is also available for the new iPad (4th generation).
"The iPad mini is a take everywhere tablet so it's going to need protection wherever it goes," comments owner, Gary Waterfield. We offer a variety of choices - whether its a protective sleeve or an minimalist bag - so you're sure to find one or two that are the right match for you.
Custom-fitted iPad mini Sleeves and Cases
Outback Sleeve: A brown waxed-canvas and neoprene shell with grizzly or chocolate leather trim combine for a protective custom-fit. Snap closure and a distressed finish lend a vintage feel. Now available for the iPad (4th generation) and the iPad mini.
Ultimate SleeveCase: A water-resistant, black ballistic nylon shell envelops shock-absorbing neoprene and an Ultrasuede liner for ultimate protection. Trim choice of gray and black checkered nylon or brown leather.
EXO SleeveCase: Similar to the Ultimate, but sized to protect the iPad mini when its in a third-party case. Made with high-grade neoprene liner and ballistic nylon shell, plus a trim choice of gray and black checkered nylon or brown leather.
Slip Case: A water-resistant, fabric exterior surrounds a plush interior including an impact-resistant screen insert and a screen-cleaning Ultrasuede liner. Six vibrant color choices.
Smart Case: Multilayered padding includes an Ultrasuede liner, an impact-resistant insert, and a water-resistant nylon exterior. Six color choices with brown distressed leather sides.
Suede Jacket: Custom-fitted, scratch-free Ultrasuede sleeve for the iPad mini with optional back pocket to stow accessories. Small pull-tabs ease the iPad in and out. Case can double as a screen-cleaning cloth.
Travel Express: This ultimate grab-and-go case fits the new iPad mini, the wireless keyboard and necessities. Features: scratch-free interior pockets; foam lining; an impact-resistant plastic insert; optional D-rings and strap. Outer shell in black ballistic with a bold stripe in black, copper, flame, green, pearl or pine nylon, or brown leather.
iPad Wallet: A carryall case that fits the iPad - within or without a third-party case - the wireless keyboard and accessories. Includes: scratch-free interior pockets; foam lining; impact-resistant plastic inserts; stretchy outside back pocket; optional D-rings and strap. Six color options: black, copper, flame, green, pearl, pine. Distressed, brown leather sides.
Pricing is for iPad mini size unless otherwise noted.
Ultimate SleeveCase: $59 (+ optional add-ons). Black with gray and black checkered nylon or brown, leather trim. Preorder now. Ships Nov. 12.
EXO SleeveCase: $53 (+ optional add-ons). Black with gray and black checkered nylon or brown, leather trim. Preorder now. Ships Nov. 12.
Outback Sleeve: iPad mini $39. New iPad 3 size: $44. Brown waxed-canvas with trim choice of grizzly or chocolate leather. Preorder now. Ships Nov. 12.
Slip Case: $27. Colors: black, blue, brown, green, red, or silver. Preorder now. Ships Nov 12.
Smart Case: $57. Colors: black, copper, flame, green, pearl, or pine, each with brown, distressed leather sides. Preorder now. Ships Nov 30.
Suede Jacket: $15 (+$6 with optional pocket). Black Ultrasuede. Preorder now. Ships Nov. 12.
Travel Express: $59 (+ optional add-ons). Colors: black plus bold stripe in black, copper, flame, green, pearl, pine, or (+$10) brown leather Preorder now. Ships Nov. 16.
iPad Wallet: $69 (+ optional add-ons). Colors: black, copper, flame, green, pearl, pine. Preorder now. Ships Nov. 30.
Link: iPad Cases
Join us on Facebook, follow us on Twitter or Google+, or subscribe to our RSS news feed
Links for the Day
Mac of the Day: Centris 650, introduced 1993.02.10. The replacement for the Quadra 700 has room for an internal CD-ROM.
Recent Content
Follow Low End Mac on Twitter
Join Low End Mac on Facebook
Favorite Sites
MacSurfer
Cult of Mac
Shrine of Apple
MacInTouch
MyAppleMenu
InfoMac
The Mac Observer
Accelerate Your Mac
RetroMacCast
The Vintage Mac Museum
Deal Brothers
DealMac
Mac2Sell
Mac Driver Museum
JAG's House
System 6 Heaven
System 7 Today
the pickle's Low-End Mac FAQ
Affiliates
Amazon.com
The iTunes Store
PC Connection Express
Macgo Blu-ray Player
Parallels Desktop for Mac
eBay

Advertise