iPhone 5 Use Passes Galaxy S3, New Maps App Has No Impact on Sales, 7G iPod nano Teardown, and More
This Week's iPad, iPhone, iPod, and Apple TV News
Compiled by Charles Moore and edited by Dan Knight - 2012.10.22
Mac notebook and other portable computing is covered in The 'Book Review, and general Mac news is in Mac News Review. Older Macs are covered in Vintage Mac News. All prices are in US dollars unless otherwise noted.
Purchases made through links to Amazon.com and Apple's iTunes/iBook/App/Mac App Store support Low End Mac.
News, Reviews, & Opinion
The Competition
Accessories
iPod Deals
These price trackers are updated every month.
News, Reviews, & Opinion
iPhone 5 Usage Already Surpasses Samsung Galaxy S III
PR: Advertising market research firm Chitika Insights notes that following the release of Apple's iPhone 5 on September 21st, its researchers were interested in comparing the Web usage rates of the newest phones from both Apple and its Android competitors.
To quantify their latest study, Chitika conducted a user agent analysis on millions of mobile ad impressions, spanning a 7-day time frame from October 3rd through October 9th, 2012. Looking solely at impressions coming from the iPhone 5 and Galaxy S III, they were able to observe the difference in Web traffic volume between the two devices, depicted in the figure below:
Chitika notes that the Samsung Galaxy S III has been available in the US for nearly four months, and posted impressive sales figures even beating out domestic sales of the iPhone 4S in August 2012. However, only 18 days since the public release of the iPhone 5, the newest Apple device has overtaken the Galaxy S III in terms of Web traffic volume. Record-breaking sales numbers, along with new 4G browsing speeds which encourage data usage, are the most likely explanation for this tremendous growth. This latest shift in the mobile ecosystem is not welcome news for Samsung, which has positioned its device as a direct competitor to the iPhone 5.
While optimizing online content for both devices is still the smart move for businesses targeting mobile consumers, this comparison emphasizes iPhone users still being the most active and hence marketable users of the mobile Web.
Link: iPhone 5 Usage Surpasses Samsung Galaxy S III After Less than 3 Weeks on Market
iOS Gains 5% Market Share Over Android in September
PR: Marketing and advertising technology firm Velti has released its September 'State of Mobile Advertising' report, revealing that Apple's iOS gained a 5% market share lead over Android and now accounts for 62% of mobile ad impressions (compared to Android's 38%). Velti also reports that just under half of all iPhone 5 impressions came from the US, followed by Japan with 14%, and the UK with 8% of impressions.
Additionally, Velti data reveals that, although iOS 6 saw quick adoption among a large amount of users, 11% of users have opted not to upgrade to the operating system and remain using iOS 4.
"In July and August, Android held prevalent market share in a year that was previously dominated by iOS - but September marks an end to this trend," says Krishna Subramanian, CMO of Velti. "We are seeing a pattern that leads us to believe the shift back to iOS domination is a result of the iOS 6 release and iPhone 5 launch. In fact, this is similar to the change we saw directly after the iPhone 4S release, when iOS volume also spiked by 5%."
Velti's September report also reveals insight into engagement patterns of iPhone 5 early adopters. Consumers were eager to try out their favorite apps on their new devices. Velti's data shows consumers spent 27% of their time on social networking applications, followed by games (22%) and entertainment and utility apps (13% each).
Despite Apple's prevalence in the US and excitement around the iPhone 5 launch, other regions are not necessarily following suit. The new Velti data shows that Samsung is the clear leader in its home market of Korea, and it is the #1 smartphone, with a sizable margin, in impression share there. Apple's devices are relegated to the third and fifth places in the country (iPhone 3 and iPhone 4 respectively).
Other notable data from the report includes:
Samsung's Galaxy S III: Samsung's Galaxy S III entered the top five devices on the exchange this month, capturing 1% of all impressions. AT&T leads US carriers with over half of all iPhone impressions. Verizon comes in second with just under a third of impression volume.
Weather Surge: Weather is once again the leader on the eCPM Index, after being beaten by Education apps in August.
Data for this report is taken from the Mobclix Exchange, which sits at the intersection of 33,500+ apps and 45+ ad networks.
Link: State of Mobile Advertising Reports
iOS 6 Maps Has No Impact on iPhone 5 Demand
PR: A new survey from 451 Research/ChangeWave Research shows the iPhone 5 has sparked an unprecedented wave of buying with consumers gobbling up the latest Apple smart phone at record rates.
"Despite the media attention surrounding both the Apple Maps issue and the Apple Lightning port issue, neither has had an impact on the massive numbers of buyers queuing up to buy the iPhone 5," says Dr. Paul Carton, ChangeWave's VP of Research. "Rather, the survey results show both issues hardly rank as bumps in the road."
The September survey of 4,270 primarily North American consumers also shows the upcoming release of Windows Phone 8 has the potential to make serious inroads in the smart phone industry with Samsung the manufacturer best positioned to benefit by a wide margin.
iPhone 5: Consumer Demand Trends
To gauge overall demand for the latest Apple smart phone model ChangeWave asked consumers how likely they were to buy one in the future. The survey results show an unprecedented degree of consumer interest, with one-in-three consumers (32%) saying they're Likely to buy the iPhone 5 in the future (19% Very Likely; 13% Somewhat Likely).
For perspective, they compared the current Apple iPhone 5 findings with the results of a similar demand question asked at the time of the iPhone 4S launch (October 2011):
Note the percentage saying they are Very Likely to buy the iPhone 5 is nearly double what it was for the iPhone 4S which till now has widely been considered the most successful smart phone release in history.
Apple Lightning Port and Apple Maps
Media attention surrounding the iPhone 5 and iOS 6 launches has, among other things, focused on two issues that have been seen as disappointing some consumers:
The additional cost to consumers caused by Apple's move to a new Lightning port for iPhone 5 charging and data connections
Problems associated with the new Apple Maps application
The ChangeWave survey took a close-up look at consumer reaction to each issue:
Apple Lightning Port
Apple's decision to use the new Lightning port for iPhone 5 charging and data connection purposes rendered previous iPhone chargers incompatible with the new device resulting in additional costs to buyers. We asked consumers Likely to buy the new iPhone 5 how much of a problem the Apple Lightning port issue is for them.
The majority of likely buyers characterized it as Not Much of a Problem (31%) or No Problem At All (26%), although 6% did say its a Very Big Problem and 31% Somewhat of a Problem.
Perhaps most importantly, when ChangeWave asked consumers who said they are Unlikely to buy the iPhone 5 to tell why, 0% cited the Lightning adapter.
Apple Maps
Apple's new iOS 6 operating system, which comes preinstalled on the iPhone 5 and can be downloaded for earlier models, includes a new Apple Maps application that replaced the Google Maps app in previous iOS versions. However, soon after iOS 6 was released and the iPhone 5 went on sale, media reports began circulating about user dissatisfaction with Apple Maps. Reported problems include inaccurate location searches, distorted satellite imagery, and missing points of interest in major cities.
To gauge the impact of the Apple Maps issue, ChangeWave asked iPhone 5 and other iOS 6 users if they had experienced a problem with Apple Maps.
Nine-in-ten users (90%) reported it was No Problem at All or they Haven't Experienced Any Problem, while 3% characterized it as a Very Big Problem and 6% said it was Somewhat of a Problem.
To put this in context, back in the summer of 2010 ChangeWave surveyed new iPhone 4 owners on the Apple antenna/ reception issue which at the time had received an unprecedented level of media focus. In that 2010 ChangeWave survey, 7% of new iPhone 4 owners had reported the antenna/ reception issue was a Very Big Problem and 14% Somewhat of a Problem. Another two-thirds (64%) reported they Hadn't Experienced any Problem.
Here's a head-to-head match-up between the earlier iPhone 4 Antenna/Reception issue and the current iPhone 5/iOS 6 Apple Maps issue:
In comparison to the iPhone 4 Antenna/Reception issue, the current Apple Maps issue is of marginal concern to iPhone 5/iOS 6 users. Simply put, Apple Maps is not considered a problem by the overwhelming majority of users.
Nonetheless could the Apple Maps issue be turning off non-Apple users and causing them to avoid the product? The survey data suggests otherwise.
When ChangeWave asked consumers who said they were unlikely to buy the iPhone 5 to relate the reason why, 61% said they were unlikely to buy it because there was no need - their current cell phone is sufficient. In contrast, 0% said it was because of reported problems with Apple Maps.
Link: Apple Maps Issue Irrelevant as Massive iPhone 5 Buying Continues; Samsung By Far Best Positioned to Gain from Windows Phone 8
Paul Thurrott Posts Glowing iPad nano Review
Paul Thurrott says he got off to a bad start with the new iPod nano, which he dissed in an essay entitled "Is The iPod nano So Ugly Because Apple Agreed Not to Copy Windows Phone?"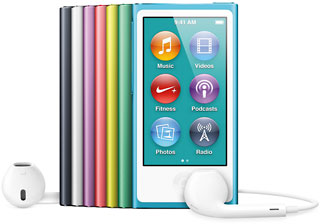 He says he still thinks the new round screen icons on this device are pretty terrible, but what he didn't understand at the time was how small the nano was, and now, on sober second thought, he considers the 7th generation nano a beautiful little device, albeit a bit of a throwback, and observing that the incredibly small and light iPod nano form factor has to to be seen and picked up to be appreciated, with a multitouch display that works wonderfully with a very nice touch-based user interface, also the first nano to include Bluetooth support, opening this device up to an array of Bluetooth-compatible speakers in homes and cars, as well as headphones, which he deems "brilliant."
He's not convinced by Apple's new Lightning connector, suggesting that adopting the micro-USB standard used by all other mobile devices would have been smarter, but aside from that there's almost nothing not to like - rating the iPod nano in a class by itself, a gorgeous little machine, amazingly portable, with killer battery life that connects to the richest media ecosystem on earth that falls just short of perfect. A pretty impressive evaluation from a Windows guy.
Link: Compete Report: iPod nano (Late 2012)
Study Explains Why Mobile Phone Ban Doesn't Reduce Traffic Accidents
techinasia.com's C. Custer says it's now conventional wisdom that mobile phone use in cars causes traffic accidents, but reports that according to a new study from the Chinese Academy of Sciences, banning mobile phones in vehicles in China reduced the number of driving accidents while calling or texting, but that reduction did not have any impact on the number of traffic accidents.
Custer notes that the study was conducted by State-supported labs in China in cooperation with American researchers, looking at habits of drivers with phones and classifying them as frequent users and occasional users.
Researchers found that frequent phone users indeed drove more dangerously than occasional phone users did, driving faster and more erratically, making more violent turns and overtaking more other drivers, but surprisingly this had nothing to do with mobile phone use, with frequent users driving more dangerously than occasional users even when they weren't using their phones. Consequently, researchers concluded that frequent mobile phone users were more dangerous drivers, period, that their risky on-road habits weren't related to their mobile phone use but that frequent mobile phone users are just worse all-around drivers.
Your editor infers that this probably indicates that the sort of personality type that becomes addicted to constant communication on portable devices is unlikely to possess, or have cultivated the considerable degree of concentration required to drive skillfully and attentively, and that at minimum, blabbering on a cellphone, or many magnitudes worse - texting - while driving is not going to improve on their paucity of driving ability.
Link: Chinese Study Explains Why Mobile Phone Ban Doesn't Reduce Traffic Accidents
iFixit iPhone 5 Longevity Suite: Repair Manuals, Parts, and Accessories
iFixit's Brett observes that some people say there two kinds of iPhones in the world: those that have broken, and those that will.
"Maybe that's a little too pessimistic," he says, "but it doesn't take a lot of Googling to find all kinds of stories about broken iPhones. We prefer to take a more optimistic approach to iPhone care. So, we propose a minor revision to the aforementioned iPhone philosophy: There are iPhones that have been repaired, and those that have not yet been repaired."
Consequently, says Brett, "We are happy to announce the release of our complete set of free repair guides for the iPhone 5. During our disassembly, we gave the new iPhone a respectable 7 out of 10 repairability score. The two most commonly replaced components are right at the front. The display assembly can be replaced in about 15 minutes, and the battery can be exchanged even faster. Some of the other parts take a little digging to get at, but no components are impossible to remove, a la the MacBook Pro with Retina display. If you do happen to break your iPhone 5, we've got the repair parts covered. There are displays, batteries, cameras, speakers, shields, and much more. If you need tools for the job, we've got that, too. In fact, everything you need for repairing your iPhone can be found in our Pro Tech Toolkit.
Link: iFixit iPhone 5 Longevity Suite: Repair Manuals, Parts, and Accessories
iFixit Tears Down 5G iPod touch
PR: Apple's secret release of the 5th Generation iPod touch yesterday was like a ninja attack: silent, swift, and unexpected. But we always have our spudgers at the ready and we quickly got the Touch to spill its glorious gadget guts.
The recently-released iPhone 5's modular design ranked high on our repairability scale, so we had lofty hopes for the Touch. Our hopes were swiftly dashed, though. With no external screws, the Touch is tough to pry open, and its logic board utilizes two hard-to-manage ribbon cables: the battery, logic board, front camera, speaker, headphone jack, Lightning connector, and home button switch are all soldered onto one cable, while the volume buttons, power button, LED flash, and rear microphone are all attached to another cable. Repair is not impossible, but it's certainly going to be difficult and expensive if one component breaks. These factors combined earned the iPod a 3 out of 10 on our repairability scale (10 is easiest to repair).
Highlights
The 5th Gen iPod touch has 512 MB of RAM.
In case you thought that a quick zap with the heat gun and a gentle pry is all it would take to get into the Touch, think again! There are several clips and adhesive holding this iPod together.
Along with a 4" (diagonal) screen, a 5 MP iSight camera, and 32 GB or 64 GB storage capacity, the new iPod touch also sports a retractable post for "the loop." With any luck, this loop will prevent the unintentional iPod "drop test" that often results in shattered hopes and screens.
How does the 5th Generation iPod touch stack up to the iPhone 5? Well, literally speaking, they're fairly well matched in terms of size. The new iPod touch shares the same height (within a .01 inch difference) as the iPhone 5.
The volume buttons/microphone/LED flash/power button ribbon cable assembly peels easily from the rear case. We've seen this type of design in previous Apple products. The shift to a single ribbon cable is more cost-effective for the manufacturer, but unfortunately it has a negative impact on repairability.
Cables connected to the logic board run over the top and connect on the bottom, making it difficult to remove the board or disconnect the cables.
In our recent iPhone 5 teardown, we praised Apple for redesigning a stronger home button. We were somewhat disappointed with the weaker, rubber-membrane design of the iPod touch's home button.
The battery inside the Touch is secured with just the right amount of adhesive, and is again soldered to the logic board. This Plain Jane battery provides 3.8 Whr at 3.7 V for a rating of 1030 mAh, a little more than the previous model's 930 mAh.
The iPod touch finally shows us what's up its sleeve:

A5 Processor
Hynix H9TKNNN4KDBRCR 512 MB RAM
Toshiba THGBX2G8D4JLA01 32 GB NAND flash
Apple 3381064 dialog power management IC
Murata 339S0171 WiFi module
Broadcom BCM 5976 touchscreen controller
Apple 33831116
STMicroelectronics AGD32229ESGEK low-power, three-axis gyroscope
Texas Instruments 27AZ5R1 touchscreen SoC
Link: iPod touch 5th Generation Teardown
iFixit 7G iPod nano Teardown
PR: Last week, Apple invited its fans via email to "meet the new iPod family": the iPod touch, Nano, and Shuffle. We already got up close and personal with the 5th Generation iPod touch, so we decided it was high time to formally introduce ourselves to the iPod nano 7th Generation: "Hello, Nano. Meet our friend, Teardown."
With a plastic opening tool in hand, we probed the depths of the Nano's compact design. Good news: the Nano's case can be opened with a standard Phillips #00 screwdriver and a little prying from a plastic opening tool. Unfortunately, the Nano's battery, Lightning connector, button cable, and headphone jack are all soldered to the logic board. To top that off, the battery is also adhered to the back of the assembly, which will make the battery difficult to replace when it fails (as batteries inevitably do). With a repairability score of 5 out of 10, the iPod nano outperformed its Touch brethren's dismal 3-point ranking.
Highlights
The 6th Generation Nano came in at 1.48 x 1.68 x 0.35 inches, and weighed 0.74 ounces. The new 7th Generation is just over twice as tall as the 6th Gen, while also a little thinner and more narrow at 3.01 x 1.56 x 0.21 inches. At 1.1 ounces, the newest Nano only gained an extra third of an ounce.
The battery is soldered directly to the logic board and adhered to the back of the display. Replacing it will be a doozy.
There's an adorable plastic pull tab underneath the battery. It's likely there for battery removal, but we aren't sure it's up to the task. It seems the adhesive holding down the battery is much too strong for the feeble pull tab to break through.
Forgoing the tab in favor of some spudgering, we're able to pry the 3.7 V, 0.8 Wh, 220 mAh battery off the back of the display assembly. 0.8 Wh is more than twice that of the iPod nano 6th Generation's 0.39 Wh rating.
The LCD and digitizer glass are not fused together, allowing replacement of either component separately.
As in the iPod touch 5th Generation, many of the important components - including the battery, Lightning connector, and volume controls are soldered to the logic board. So if you bend your Lighting connector or break your volume control, you're stuck with replacing the whole suite of components.
Pulling out the logic board really feels like pulling out the entire iPod - the battery, button cable, Lightning connector, and headphone jack all come with it.
Our usual rundown of the ICs on the logic board was hindered by the fact that many are anonymous, Apple-branded units:

Toshiba THGBX2G7D2JLA01 128 Gb (16 GB) NAND flash
Texas Instruments 343S0538 touchscreen controller
Broadcom BCM2078KUBG Bluetooth + FM radio
NXP Semiconductors 1609A1
75203 23017
75292 98820
339S0193
Apple 338S1099
Apple 338S1146
Link: iPod nano 7th Generation Teardown
iFixit iPhone 5 Chemical Analysis
PR: What hazardous chemicals, precisely, are found in mobile phones? Until recently, most answers to that question were speculative. Manufacturers are tight-lipped about their secret recipes, which they keep under strict lock and key. The only sure way to know what is in today's mobile phones is to take them apart and analyze their chemical contents. So, in partnership with HealthyStuff.org, that is precisely what we've done: an X-ray fluorescence spectrometric analysis of components in 36 mobile phones.
We've partnered with HealthyStuff.org to bring you an analysis of hazardous chemicals in the iPhone 5, as well as 34 other phones released in the last five years. The analysis represents ten mobile phone manufacturers including Apple, Hewlett-Packard, LG Electronics, Motorola, Nokia and Samsung.
A mobile phone can contain heavy metals, hazardous flame retardants, PVC, lead, cadmium, chromium, mercury, bromine, tin, and antimony. These chemicals have been linked to birth defects, impaired learning, liver toxicity, premature births and early puberty in laboratory animals, among other serious health problems.
According to the EPA, only 25% of electronics are recycled properly. When electronics instead get buried in landfills or burned in ad-hoc recycling scrapyards, those toxic chemicals can leach into groundwater or end up in the atmosphere. But how much of this stuff is in today's cell phones? iFixit and HealthyStuff will let you know very soon.
Findings:
Generally speaking, today's phones contain fewer toxic chemicals than they did in the past. HealthyStuff researchers scored every phone from 0 to 5, with 0 representing the fewest toxic chemicals. Every rated phone that scored above a 4.0 was released before 2010, and every phone that scored less than 3.0 was released in 2010 or later.
The iPhone has significantly improved since its early models: the iPhone 2G ranks worst of all phones on the list, whereas the iPhone 4S and 5 are both among the best. Apple's claims about eliminating toxic chemicals from their devices are not entirely unfounded. The two newest models of the iPhone score better than any other phone not specifically marketed as a "green phone" (e.g. the Samsung Reclaim).
Manufacturers are not consistent about their use of toxic chemicals across their product lines. Samsung is the best-ranked company overall, and it makes three of the best-ranked phones: the Captivate, Evergreen, and Reclaim. Yet it also makes the much more poorly rated SCH-U410, which received an overall score of 4.18.
Over 10,000 ppm of an element signifies 1% of the material is composed of the element. One screen component in the Samsung Propel had 780,474 parts per million of mercury.
Phones that scored well overall did not necessarily fare well in every category. The "low concern" Samsung Reclaim had a "high concern" proportion of arsenic. Twenty-four of the phones (nearly 70%) had a "high concern" proportion of copper.
Six devices are of "low concern" by overall ranking, meaning they have fewer toxic chemicals than the others analyzed: the Motorola Citrus, LG Remarq, Samsung Captivate, Samsung Evergreen, and iPhone 5.
Six devices are of "high concern" by overall ranking: the Palm Treo 750, BlackBerry Storm 9530, Nokia N95, Motorola MOTO W233 Renew, Palm m125, and iPhone 2G.
Link: Chemical Analysis Reveals That New Phones Have Fewer Toxics
20nm Quad-core Chips for Next Generation iPad, Even MacBooks?
TGDaily's Trent Nouveau reports that according to Citigroup analyst J.T. Hsu, TSMC will be Apple's sole supplier for 20nm processors that could be powering devices such as the iPad by 2014, saying that Apple began verifying TSMC's 20nm process in August and may begin risk production as soon as November, with volume production expected to commence in the fourth quarter of 2013, and the 20nm quad-core chips likely to make their way into iTVs and even MacBooks, although Mr. Hsu expects iPhones will stick with dual-core processors to keep power consumption levels within reason.
Nouveau cites Mr. Hsu telling China Economic News Service that TSMC's 20nm process technology can provide 30% higher speed, 1.9 times the density, or 25% less power than its 28nm technology.
The new dual-core A6 SoC used in the iPhone 5 is made for Apple by Samsung using a 32-nanometer process.
Link: Apple Eyes 20 nm Quad-Core Chips for Next-Gen iPad
TSMC Seen to be Sole 20nm Process Supplier to Apple Quad Processor
The China Economic News Service report that Citigroup Global Markets market research fellow, J.T. Hsu is suggesting that Apple could dump Samsung as its processor silicon supplier, leaving Taiwan Semiconductor Manufacturing Co. (TSMC) the only supplier of 20nm process quad-core processors to Apple over the next one to two years, citing the TSMC's reportedly unmatched technological advances on 20nm fabrication and Apple's decision to adopt 20nm quad-core processors in new products, which according to Mr. Hsu could include MacBooks as well as iOS devices (although the latter eventuality might conceivably result in at least some MacBooks becoming iOS devices)
Link: TSMC Seen to be Sole 20nm Process Supplier to Apple Quad Processor
The Competition
Microsoft Announces Surface Tablet Prices, Details
Ahead of its Oct. 26 Windows 8 launch, Microsoft has released more details about its Surface tablet PC, outlining pricing, market availability, and special limited quantity preorder. For more information, or to preorder, visit Surface.com.
Originally unveiled in June, Surface with Windows RT will initially be available in three SKUs: a 32 GB version priced at $499, a 32 GB version bundled with a black Touch Cover priced at $599, and a 64 GB version bundled with a black Touch Cover priced at $699.
A variety of accessories will also be available, including Touch Covers with a touch technology keyboard that will be available in five colors: black, white, magenta, cyan and red, and priced at $119.99. Customers will also have the option to purchase a Type Cover with a real, movable keys keyboard in black for $129.99.
Surface will be available for purchase beginning Oct. 26, 2012, at all Microsoft Store locations in the United States and Canada, including in all 34 new holiday stores. In addition, Surface will be available for sale online in eight markets across the world: Australia, Canada, China, France, Germany, Hong Kong, the United Kingdom and the United States. More details can be found at Surface.com.
Specifications
Software: Surface with Windows RT comes with Microsoft Office Home and Student 2013 RT Preview (which includes Microsoft Word, PowerPoint, Excel and OneNote)
Exterior: 10.81 x 6.77 x 0.37 inches, 1.5 pounds, VaporMg casing, dark titanium color, volume and power buttons
Storage: 32 GB (3); 64 GB
CPU: NVIDIA T30, 2 GB of RAM
Wireless: WiFi (802.11a/b/g/n), Bluetooth 4.0 technology
Cameras: Two 720p HD cameras, front- and rear-facing
Audio: Two microphones, stereo speakers
Ports: Full-size USB 2.0, microSDXC card slot, headset jack, HD video out port, cover port
Sensors: Ambient light sensor, accelerometer, gyroscope, compass
Power Supply: 24W power supply
Warranty: One-year limited hardware warranty
Apps (included): Microsoft Office Home and Student 2013 RT Preview (Word, PowerPoint, Excel and OneNote), Windows Mail and Windows Messaging, SkyDrive, Windows Internet Explorer 10, Bing, Xbox Music, Xbox Video, and Xbox Games
Those interested in learning more or pre-ordering can visit http://www.Surface.com.
Notes
Available Touch Cover colors may vary by market.
Final Office version will be installed via Windows Update when available (free download, ISP fees apply). Some features and programs unsupported. See http://office.com/officeRT
Microsoft's Entry Level Surface Memory Advantage Over iPad Somewhat Illusory
9 to 5 Mac's Élyse Betters reports that Microsoft offering a 32 GB Surface tablet computer for the same $499 base price as Apple's 16 GB New iPad may not amount to the value advantage superficially apparent.
Betters cites a note by Daring Fireball's John Gruber citing Microsoft Surface RT Test Manager Ricardo Lopez noting in a Reddit Ask Me Anything thread that once the Windows 8 OS, OfficeRT, and a bunch of apps are loaded, you'll be down to more like 20 GB on the 32 GB Surface, while the the iPad's iOS consumes a modest 1 GB or so of storage space.
Link: Microsoft's Surface OS Is Large, Just Like the Pixels on Display
Windows Phone 8: Intent to Purchase
PR: Microsoft is expected to debut their new Windows 8 operating system during October and several smart phone manufacturers including Samsung, Nokia and HTC are expected to release new Windows 8 smart phones shortly thereafter.
To get an early gauge on the upcoming demand for the new mobile OS ChangeWave asked consumers how likely they would be to buy a Windows 8 smartphone. Nearly one-in-ten (9%) said they are likely to buy it in the future (2% Very Likely; 7% Somewhat Likely). "Considering marketing has yet to begin, these findings show Windows Phone 8 will likely have a substantial impact on the smart phone industry," says Dr. Carton.
The ChangeWave survey found that Integration with Windows Apps/Devices (36%) ranks as the top reason why consumers plan on buying a Windows 8 smartphone.
While nearly half of all planned Windows 8 smart phone buyers (45%) do not yet know which manufacturer they're going to buy it from, that's not too surprising considering the devices have yet to be released.
But among the 55% who do know where they're likely to buy from, Samsung (51%) is by far the manufacturer best positioned to gain from the upcoming Windows Phone 8 release.
Accessories
Logitech's New Cross-Platform Keyboard with Easy-Switch Bluetooth Technology
PR: Logitech has expanded its keyboard lineup with the Logitech Bluetooth Illuminated Keyboard K810. Compatible with Windows, iOS and Android devices, and with a layout designed for Windows 8, this rechargeable keyboard uses Logitech's easy-switch Bluetooth technology to pair with up to three devices simultaneously, letting you easily switch between devices and even platforms. Your keyboard can be connected to your PC, tablet and smartphone and you can easily switch among them with the push of a button.
Other 'key' features include:
Stylish design: The keyboard is thin with a real brushed-aluminum finish and low profile keys that are made to complement your PC, tablet or smartphone.
Illumination: The keyboard's backlit keys feature sharp illumination that automatically adjusts to any light in the room.
Rechargeable: It recharges through USB and can charge even while you're using it. A single charge gives you 10 days of power and it has an On/Off switch to save power.
"It's increasingly common for people to use more than one device over the course of the day, and we saw an opportunity to help ease the transition among screens with the Logitech Bluetooth Illuminated Keyboard," says Mike Culver, vice president of brand development for consumer computing platforms at Logitech.
"Using Logitech's heritage of high quality and reliability, this keyboard combines the functionality and design people expect with simultaneous multi-device pairing, which they will appreciate."
This thin keyboard is designed to look at home next to all your devices with its real brushed aluminum and sleek lines, regardless if you're working on a Windows 8 PC, Apple iPad or Android smartphone.
To increase the keyboard's usability in low-light conditions or at night, auto-adjusting illumination ensures the laser-etched key characters are always bright and easy to read. The keyboard also uses proximity detection to turn on the lighting when your hands approach it, and automatically dims or brightens, depending on the amount of light in the room.
This keyboard is USB rechargeable with 10 days of battery life on a full charge (based on varying user and computing conditions). Thanks to the easy-to-use USB cable, you can even use your keyboard while it's recharging. The keyboard also features an On/Off switch, and its battery-indicator light helps you manage power so you know when it's time to recharge. The Logitech Bluetooth Illuminated Keyboard K810 has specific keys to help you easily navigate the new Windows 8 operating system, expected to be available later this month. For example, its Windows 8 Start key provides a quick and easy way to get back to your Start Screen, while the App Switching function key allows you to quickly switch among your open apps.
The Logitech Bluetooth Illuminated Keyboard K810 is expected to be available in the US and Europe in October and November 2012 respectively, for a suggested retail price of $99.99.
Link: Logitech Bluetooth Illuminated Keyboard K810 (preorder from Amazon.com for $99.99 with free Super Saver shipping)
MeeMojo Edge Series Aluminum Billet Cases for iPhone 5
PR: A leader in billet aluminum iPhone and iPad cases, MeeMojo.com is continuing to put out attractive and quality products. After the successful launch earlier this month of the Legend series for the iPhone 5.
MeeMojo is now adding a brand new, yet familiar design for the iPhone 5 case yet familiar design for the iPhone 5 case - the The Edge series - inspired by the already successful line of iPhone 4 and 4s Edge cases.
The Edge model has been available for close two years, and is now offered for the iPhone 5. MeeMojo continues to stay on track with Apple's newest product, its new Legend and Edge series providing customers with the same elite and cutting edge "protection with attitude" for the iPhone 5 that they already provide for the iPhone 4, iPhone 4s and iPad.
Like its predecessor, the iPhone 5 Edge series case is manufactured from two individual billet aluminum blocks, joined together with 36 brightly polished stainless steel fasteners.
"The iPhone 5 Edge series case is a brand new design based on our very popular Edge iPhone 4 case" says Tania Todorovic co-owner of MeeMojo. "The Edge case has been designed with the added convenience of simple installation of the iPhone 5 by removing only the eight bottom fasteners to allow for quick and easy installation and removal of the iPhone 5. Each case is CNC milled to precise tolerances to ensure a secure and snug fit to protect you're iPhone 5 from accidental damage caused by drops and bumps. The cases are available in four distinct finishes.
"Billet Alloy" is the brightest and most reflective surface available. Clients that prefer the look of uncoated aluminum will certainly appreciate Billet Alloy."
"Bright Natural" offers the addition of a natural anodized coating that softens the reflective nature of the aluminum.
"Black Onyx" has a rich black anodized coating that is both durable and glossy in appearance.
"Jet Black" is for the hot rodder at heart! Flat black is the hottest look everywhere.
A MeeMojo proprietary innovation is their polymer insulators. They are specifically designed to suspend the iPhone within the aluminum shell.
Each case comes with precisely machined polymer insulators ensuring complete contact all around the iPhone's aluminum edge. This achievement means no part of the iPhone comes in contact with the aluminum shell. Combining Aluminum and a Polymer edge, ensures that the MeeMojo case is the strongest and longest lasting protection available for the iPhone.
Other features of the Edge series are that the design provides unimpeded antennae reception as well as an ergonomic minded design. While providing unsurpassed impact resistance, the polymer insulators ensure the highest degree of unimpeded antennae reception available on any aluminum case. Also, the ergonomically sculpted top plate means that you don't have to look for the home button, your thumb will naturally settle onto the machined oval pocket. All buttons including the headphone jack remain clear and unobstructed. Designed to also be accepted in most high quality car holders and docks means your iPhone will always be secure.
For any additional information, visit:
Link: MeeMojo
Join us on Facebook, follow us on Twitter or Google+, or subscribe to our RSS news feed
Links for the Day
Mac of the Day: Power Mac 9500, introduced 1995.05.01. The first PCI Power Mac has 6 expansion slots, speeds of 120 and 132 MHz.
Recent Content
Follow Low End Mac on Twitter
Join Low End Mac on Facebook
Favorite Sites
MacSurfer
Cult of Mac
Shrine of Apple
MacInTouch
MyAppleMenu
InfoMac
The Mac Observer
Accelerate Your Mac
RetroMacCast
The Vintage Mac Museum
Deal Brothers
DealMac
Mac2Sell
Mac Driver Museum
JAG's House
System 6 Heaven
System 7 Today
the pickle's Low-End Mac FAQ
Affiliates
Amazon.com
The iTunes Store
PC Connection Express
Macgo Blu-ray Player
Parallels Desktop for Mac
eBay

Advertise