Galaxy S3 Faster than iPhone 5 on LTE, iPhone 5 a Miracle, How to Use Safari Offline Reading, and More
This Week's iPad, iPhone, iPod, and Apple TV News
Compiled by Charles Moore and edited by Dan Knight - 2012.10.15
Mac notebook and other portable computing is covered in The 'Book Review, and general Mac news is in Mac News Review. Older Macs are covered in Vintage Mac News. All prices are in US dollars unless otherwise noted.
Purchases made through links to Amazon.com and Apple's iTunes/iBook/App/Mac App Store support Low End Mac.
News, Reviews, & Opinion
Rumor Roundup
Apps & Services
Accessories
iPod Deals
These price trackers are updated every month.
News, Reviews, & Opinion
Samsung Galaxy S3 Loads Pages 9% Faster than iPhone 5 on LTE, 20% Slower on 3G
PR: The Samsung Galaxy S3 loads pages 9% faster than the new iPhone 5, the median web page takes more than 11 seconds to load for both Android and iPhone, and LTE (Long Term Evolution) is faster than 3G - but not by as much as industry experts have claimed. These were among the findings in a new report by Strangeloop Networks, 2012 State of Mobile Ecommerce Performance, the first study to measure the mobile user experience over 3G and LTE networks.
These results reveal that, although LTE networks have improved mobile performance, pages are still far too slow.
The report was based on tests conducted in July and September 2012 on six devices: the iPhone 4, iPhone 5, Samsung Galaxy S smartphone, Samsung Galaxy S3 smartphone, iPad 2, and Samsung Galaxy tablet. The tests measured the page load times of 200 leading ecommerce sites, as ranked by Alexa.com.
Highlights of the key findings include:
iPad beat the Galaxy tablet on 3G performance, while the Galaxy S3 phone surpassed the iPhone 5 on LTE. Over 3G, pages loaded 22% faster on the iPad than on the Galaxy tablet. Over LTE, pages loaded 9% faster on the Galaxy S3 than on the iPhone 5.
The median home page took 11+ seconds to load on both iPhone and Android over 3G. At 11.8 seconds for the Galaxy S and 11.5 for iPhone, the median 3G load times for the two most popular mobile operating systems were 40% slower than the median desktop load time (7.1 seconds).
LTE was 27% faster than 3G, but fell short of industry claims. Some industry experts have stated that LTE networks are, on average, 10 times faster than 3G. The average load time for pages on 3G was 11.7 seconds, compared to 8.5 seconds for LTE - a significant difference but not of the magnitude predicted by LTE proponents.
"These results tell us that, although LTE networks have improved mobile performance, pages are still far too slow," says Strangeloop CEO Jonathan Bixby. "The latest mobile user surveys tell us that two out of three mobile shoppers expect sites to load in 4 seconds or less. A page that takes 8.5 seconds to load over LTE is still falling short of user expectations."
Strangeloops study also found some serious usability issues with how site owners are serving pages to their mobile customers. For example, one-third of companies served a stripped-down m.site to the Galaxy tablet, despite the fact that tablet owners expect the same online experience on their tablets as they do on their desktops. And 32% of site owners do not give mobile shoppers the option to view the full site.
Mobile users who shop the full site spend up to 7.5 times more per visit than m.site visitors, says Bixby. Preventing mobile shoppers from browsing your entire site is like putting a giant roadblock in your checkout line.
In the United States, there are an estimated 115 million mobile users online in 2012, and that number is expected to grow to 176.3 million by 2015. By 2014, mobile Internet usage is expected to overtake desktop. By 2015, Cisco estimates that there will be 788 million people worldwide who go online exclusively through their mobile devices.
Link: Strangeloop: Mobile Speed Tests Find Samsung Galaxy S3 Offers 9% Faster Performance than iPhone 5
iPhone 5 'a Miracle'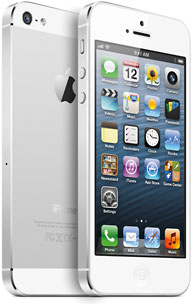 Slate's Farhad Manjoo says if you hold an iPhone 5 for just a few minutes, you'll marvel at the existence of such a remarkable object.
That's significant, because Manjoo concedes that he was one of the chorus of commentators who called the iPhone 5 "boring" when Apple announced it last month - and he now says that was a huge mistake. After using the iPhone 5 for over a week, he says he's still annoyed about the dock connector thing, but that in retrospect he was wrong to become overwhelmed by dock-based frustration, because in all other ways he now rates the iPhone 5 as the best phone ever to grace the earth, in his estimation beating every rival on just about every metric you can think of, including speed, battery life, and especially beauty and workmanship.
He enthuses that when he picks up the iPhone 5 and examines it closely, he finds it it difficult to believe this device actually exists.
"The iPhone 5 does not feel like a product that was mass produced," Manjoo, says. "In a strange way, it doesn't feel like it was built at all. This is a gadget that seems as if it fell into the box fully formed . . . it just feels like a single, solid, exquisitely crafted piece of machinery, and once you pick it up you never want to put it down."
Link: The iPhone 5 Is a Miracle
Convince Me Not to Buy an iPad
Writing for Tech.pinions', Creative Strategies' Ben Bajarin notes that in studying consumer markets, they've observed that while early adopters are predictable, the early and late majority are not, with needs, wants, and desires often more realistic, practical, and nuanced.
He relates that during a recent interview when he asked a woman about her tablet-buying intentions, she said she was willing to consider other tablets but would need to be convinced not to buy an iPad.
The takeaway, he says, is that since the iPad is the current market leader, consumers are walking into retail thinking "I'm very interested in an iPad" - their minds mostly made up. For a competitor to have any shot at swaying these consumers, they need to persuade them not to buy an iPad, and he's convinced it's still an uphill battle for iPad competitors. While that doesn't mean this will always be the case, it is right now - no other tablet competitor is even close. And he says that if Apple releases a smaller, less expensive version of the iPad, it will become even more difficult for competitors.
All true, but it will be interesting to see if Microsoft's new Surface tablet computer affects the equation. The iPad suffers from several limitations that prevent it from being what otherwise could be a device alternative for content creators and business users - lack of a physical keyboard, minimal and compromised connectivity with peripherals, inability to multitask of to display multiple application or document windows side-by-side, inability to run a full-features desktop OS to support standard productivity applications, and lack of mouse driver support. Microsoft's Surface will be afflicted by none of those shortcomings.
How big is the market that could be swayed by those advantages. That's difficult to predict. In the meantime, Tim Bajarin notes, the key to other-brand tablet success is to convince consumers not to buy iPads.
Link: Convince Me Not to Buy an iPad
Hidden Features in iOS 6 Revealed
Sci-Tech Today's Roger Yu notes that there are some obscure changes in Apple's iOS 6 that could be overlooked by users who don't take the time to explore the new software, including:
Larger Safari screen
Browsing history
Offline reading
Copying URL
Easy updates
Answer calls with text
Tweet from main screen
Important email
Easier photo insertion
Private photo sharing
iTunes samples
Link: Shh! Did You Know You Could Do This with Apple iOS 6?
How to Use Offline Reading List for Safari
AppAdvice's Dom Esposito notes that Offline Reading List for Safari is a great new feature in iOS 6 that will allow you to save full Web pages to your iOS device and read them later without an Internet connection, with the caveat that it's only available on iPhone 4 or later, iPad 2 or later, and the fifth generation iPod touch.
Link: New Feature in iOS 6: How to Use Offline Reading List for Safari Tutorial
Rumor Roundup
New iPad 'Mark II' with Lightning Connector Planned for Fall Release?
iMore's Rene Ritchie suggests that an "iPad 3 mark II" won't merely be about updating the iPad 3 with Apple's new Lightning dock connector, because if they're going to update the New iPad at all, they might as well take make it as good an update as they can, which could include the new Apple A6 processor and the updated Qualcomm LTE 4G chipset - one goal being be to make the revised iPad 3 run better and cooler.
However, Ritchie suspects that Apple won't release such an upgrade, which he understands is ready to go, with much hoopla, so as not to provoke negative push-back from original iPad 3 customers, and that a fall release would most likely be alongside the new iPad mini.
Link: Regarding the iPad 3 Mark II
iPad3,6 Running A6 Chip Shows Up in Analytics
Mac Rumors' Eric Slivka says they've received word from a developer who's seen evidence of a previously unknown "iPad3,6" device showing up in his app analytics targeting the new ARMv7s architecture that supports Apple's custom A6 system-on-a-chip found in the iPhone 5. This new iPad appears to be running either an A6 chip or a variation on the A6 design.
Slivka notes rumors that Apple is planning to release a tweaked version of the third-generation iPad in coming weeks in order to incorporate a Lightning connector and possibly other internal changes, although he finds it difficult to believe that such a release would also include an upgrade to the new A6 chip, suggesting rather that this new iPad3,6 could represent Apple's 2013 iPad model, which is expected to run some flavor of the A6 chip.
Link: New iPad Shows Up in App Analytics Running A6-Based Chip
Apps & Services
New Music Discovery App Gives Global Audiences Free Access to Curated Music
PR: BAMM.tv, a global content creation and distribution network that connects talented, emerging bands with audiences around the world through live HD video music performances, has announced the availability of its free music discovery iPad app. BAMM.tv's app is accessible anywhere in the world where the Apple App Store is available.
"The app is a real innovation in user experience and is unrivaled in its ability to communicate knowledge about the bands without breaking the users experience
Independent music is no longer a niche," says Chris Hansen, CEO and cofounder of BAMM.tv. "We began the business because of our experiences as musicians who had to deal with an incredibly challenging environment in the music industry. We set out to prove that there's a better way to do things, that there is a huge opportunity in creating straightforward and transparent agreements with independent artists that bypass the major label system. Our iPad app is BAMM.tv's introduction to music fans, as well as an expression of our fundamentally different approach to the business of music."
This app is an intuitive, engaging, rich media environment that combines the raw energy of your favorite live music venue with the sophistication of professional quality HD music video content. Top features of the BAMM.tv iPad app include:
Photorealistic Virtual Venue: Navigate intuitively through the BAMM.tv user interface by progressing from the outside alleyway, to the lobby and into the auditorium.
Uninterrupted Experience: As you are listening to the music, you can also watch live HD videos, learn about the bands, engage with the musicians using social media, view tour schedules and purchase tickets to upcoming shows. The app is powered by Apple's video player, enabling AirPlay for seamless integration with AirPort Express-connected speakers and Apple TV to stream entire playlists directly to your TV.
Globally Accessible: Unlike other music streaming apps, the BAMM.tv library is available without restriction, anywhere in the world.
Authentic & Absorbing Discovery: Explore the app on your terms lean back and watch curated playlists of HD videos, or embark upon a musical journey through the venue to unlock premium content and features, as members of the BAMM.tv staff help you discover great new music.
Storytelling: With an emphasis on the stories behind the music, the app features artist bios, liner notes, blogs, interviews and other context to the music, as well as tour schedules and social media portals connecting BAMM.tv bands with new fans.
Community Engagement through Integrated Gamification: Active users unlock exclusive content and are rewarded for creating custom playlists, sharing on Facebook and showing some love to the bands.
BAMM.tv says it's 100 percent free, exclusive music content is not only a great way to discover new music, but also extremely beneficial to artists due to BAMM.tv's fresh approach to music licensing in a digital era. BAMM.tv's contractual terms are straightforward and transparent for artists, and provide a clear path to monetization. For example, the Artist of the Month program awards musicians a recurring $1,000 cash prize. BAMM.tv splits the company's net profits with its artists on a 50/50 basis. Bands currently found on the app include Wallpaper, Geographer, The Stone Foxes, Mirah, Ana Tijoux, and many more in genres such as rock, indie, party, Latin and folk.
"The app is a real innovation in user experience and is unrivaled in its ability to communicate knowledge about the bands without breaking the users experience," says Nick Hansen, president and cofounder of BAMM.tv. "The intrinsic interactivity of the app encourages engagement and, in return, it will reward you for the effort. BAMM.tv was built to introduce music fans to a vast library of professional-quality content that is not encumbered by the major label licensing system."
The inclusion of BAMM.tv's gamification framework is the latest example of the increased importance mobile technology plays in music discovery and sharing. The apps gamification framework, produced by Badgeville's leading gamification platform, allows users to become community experts on their favorite music. The community grows through social engagement as users are incentivized to share their favorite content with friends via social media.
"BAMM.tv is part of a new generation of innovative companies that understand the importance of rewarding their audience for engaging directly with their product," says Kris Duggan, CEO of Badgeville. "We are thrilled to be the gamification platform selected to power BAMM.tv's modern gamification program enabling users to unlock exclusive content and earn status in the community natively within the iPad application experience."
Availability and Requirements
The BAMM.tv iPad app is available to download for free via the App Store anywhere on the world. It is written in native iOS and is compatible with all versions of iPad.
Link: BAMM.tv for iPad
FileMaker iOS Custom App Starter Bundle
PR: The FileMaker iOS Custom App Starter Bundle provides you with the tools you need to develop and deploy your own custom iPad and iPhone business apps. Now you can easily create apps to tackle any of your business tasks.
Quickly create the custom iOS apps your organization needs.
Project Management
Organize project details and assign owners to related tasks, manage progress, dates, and more.
Contact Management
Manage contact information, including addresses, phone numbers, and email addresses.
Inventory Management
Manage inventory levels or products and supplies.
Track category, value, last order date, and more.
Link: FileMaker iOS Custom App Starter Bundle
CherryFusion Slashes iPhone Repair Prices by 30%
PR: El Paso, Texas based CherryFusion, a specialist in consumer electronics repair, has announced a 30% reduction on all iPhone repair prices.
CherryFusion has been repairing iPhone, iPods, iPads and game consoles locally for several years. However, with the goal of becoming a nationally recognized brand in the gaming and gadget repair market, the company launched a new eCommerce website in May 2012. Since the launch, the company has experienced rapid growth, due to a combination of competitive pricing and a user-friendly website, which has enabled the company to capture market share throughout Texas and beyond.
As the repair volumes have increased, economies of scale have led to significant reductions in both labor and parts costs. As a result, CherryFusion has announced that they are passing their savings onto their customers. Effective immediately, the list price of all iPhone repairs have been reduced by 30%.
In addition to these lower prices, CherryFusion offers AnyFix Repair pricing, which it claims is the simplest pricing structure in the industry. With AnyFix Repair, there is no need for the customer to diagnose their gadget and make a selection from a myriad of confusing repair options. They simply select the AnyFix Repair option, and CherryFusion takes care of the rest for a single, low price.
"It is clear that CherryFusion has set a new standard in the industry. The combination of exceptionally low prices, the AnyFix Repair option and our user-friendly website makes CherryFusion the compelling choice for consumers," says Dave Wares, President of CherryFusion.
"In addition, we are currently offering an additional 15% off existing prices! Simply use the promo code, listed on the website, to receive an instant discount."
CherryFusion repairs video game consoles, iPods, iPhones, iPads, and Apple notebooks.
Link: CherryFusion
Accessories
First Third Party USB to Lightning Data Sync/Charging Cable for iPhone 5
PR: A Chinese online vendor is offering third party cables for the new 8-pin Lightning dock connector introduced with the iPhone 5, with free shipping to North America.
Product Details
Color: White
Material: ABS + PC
USB male to Apple 8 pin lightning male connector
Features both data transmission and charging function
Cable length: 100cm
Perfect for your iPhone 5
Dimensions: 39.37" x 0.51" x 0.20"(100.0 cm x 1.3 cm x 0.5 cm)
Weight: 0.67 oz. (19 g)
Price: $15.30
Free Shipping
Publisher's note: These are not certified "Made of iPhone" and to the best of our knowledge Apple has not licensed Lightning connectors to any third party. dk
Link: USB Male to 8 Pin Lightning Male Data Sync/Charging Cable for iPhone 5 - White (100cm)
OtterBox Announces Fall Flock of Realtree Camo Cases
PR: With fall is in full swing as nature transitions to cold weather across the country, OtterBox announces a flock of Defender Series and Commuter Series cases with Realtree camouflage for smartphones from Apple, Samsung, and Motorola.
"While active outdoorsmen are looking for the latest gear before their next adventure, this is the ideal time to bring Realtree's popular camouflage patterns to the number one-selling smartphone case," says OtterBox President and CEO Brian Thomas.
Realtree is a leading camouflage designer, marketer and licensor with over 1,500 licensees utilizing the camouflage brand. Thousands of outdoor and lifestyle products are available in Realtree camouflage patterns.
In addition, Realtree is committed to supporting individuals and groups that work to ensure our outdoor heritage, the conservation of natural places and the wildlife that resides there.
OtterBox Defender Series cases offer three layers of rugged protection from harsh conditions. The multilayered design utilizes a built-in screen shield to keep smartphone displays scratch-free, a strong polycarbonate mid-layer and a shock-absorbing silicone jacket to keep the device safe. Silicone plugs keep access points free of dirt and dust, while an included holster-style swivel belt clip allows for easy device access.1
The Defender Series is now available for the iPhone 5, Samsung Galaxy S III, ATRIX HD by Motorola and coming soon for the RAZR M by Motorola in the following Realtree patterns:
Apple iPhone 5
blaze orange polycarbonate with Realtree Max-4 HD silicone
blaze orange polycarbonate with Realtree AP silicone
white polycarbonate with Realtree AP pink silicone
Samsung Galaxy S III
blaze orange polycarbonate with Realtree AP silicone
ATRIX HD by Motorola
blaze orange polycarbonate with Realtree Max-4 HD silicone
RAZR M by Motorola
blaze orange polycarbonate with Realtree Max-4 HD silicone (coming soon)
The Commuter Series offers a sleek, streamlined protective option for the ATRIX HD by Motorola. A self-adhering screen film keeps the display free of scratches, while a gray silicone skin surrounds the device to protect from bumps and shock. A slim, strong polycarbonate shell in Realtree AP pink rounds out the case and provides a smooth finish that slides easily in and out of a pocket or bag.2
The Commuter Series is now available for the ATRIX HD by Motorola in the following Realtree patterns:
gray silicone with Realtree AP pink polycarbonate
Defender Series cases NOT protected against water. Will provide added protection against drop, bump and shock.
Commuter Series cases NOT protected against water. Will provide added protection against bump and shock.
Link: OtterBox
OtterBox Returns to Roots with Redesigned Drybox Line
PR: Starting with something as simple as a box, OtterBox was created in 1998 with a line of rugged dryboxes. Today, the Colorado-based company is known for the custom cases it designs and manufactures for the worlds top-selling handheld technology. OtterBox has quickly become the number one-selling smartphone case but has not forgotten its roots. Available now from OtterBox.com and select outdoor retailers, OtterBox announces the Pursuit Series, a refreshing redesign of the original waterproof box that accommodates any pursuit.
Built to last a lifetime, the Pursuit Series now shows off sleek styling and refined materials that confidently protect against water, crush, drop and dust. A seamless compound latch keeps vital technology, tools and valuables safe, dry and secure while allowing for easy opening and a reliable seal. Lockable carabineer loops make the box easy to tether and internal cushioning acts as a barrier to impact.
The OtterBox Pursuit Series offers two different sizes designed to protect from the harshest elements:
Pursuits/20 provides 10 cubic inches for storage of keys, cash or a slim mobile device, such as the Apple iPhone 4/4S. Valuables are safe and secure in this classic case. Available in black, blue and clear.
Pursuits/40 has 20 cubic inches of internal capacity - enough room for sunglasses, a wallet and a smartphone such as a larger Android to stay connected and prepared. Available in black, blue and clear.
Link: OtterBox
Snugg PU Leather Case Cover with Elastic Hand Strap and Flip Stand for iPad 2/iPad 3
PR: The Snugg iPad Case is a PU leather premium case which folds in all the right places. Stands up perfectly for FaceTime or watching movies and there is a cutout for the rear camera so that you can use the camera without removing the iPad from the case.
Other features of the case include the ability to fold into the perfect typing position. Elastic hand strap for a comfortable, improved hold while walking, exercising, lounging, or using FaceTime. High quality soft Nubuck fibre interior and Velcro flap to secure iPad tightly in place when in landscape position.
Features
With a kickstand for watching movies.
Elastic hand strap makes it easier to hold and use the iPad - Great for FaceTime
Camera hole cutout on the back and full access to all iPad ports / connections
Case is able to wake up or sleep your iPad automatically similar to the Apple Smart Cover Functionalitys
Multiple Viewing Angle at 35 and 65 Degree.
As a smart cover, It automatically wakes and sleeps your iPad
This accessory is suitable for:
Colors Available:
Black
Pink
White
Red
Brown
Blue
Orange
Purple
Note: This case is not made of genuine leather, but of special polyurethane "PU leather."
$27.99
Link: Smart Leather Case Cover with Elastic Hand Strap and Flip Stand for iPad 2/iPad 3
Trendy Digital Launches KasePal for iPad with Apple Wireless Keyboard
PR: A brand new product from Boston-based gadgets and accessories maker Trendy Digital launches this week, making dual storage, carriage and use of an iPad and Apple wireless keyboard easy. The KasePal is a zipped folio case that acts as a cover, carry case and stand. Wrapped up in a stylish exterior and choice of three finishes, the KasePal combines form and function.
Mark Zheng, vice president of sales and marketing, says, "I love my iPad. I love it even more when I can use my Apple Wireless Keyboard to do heavy typing to get things done. Two years ago, our company recognized there weren't any accessories on the market to pack the iPad and Apple Wireless Keyboard together nicely. So we set out to design a case to address this. Anyone who uses their iPad for work or school and regularly has to use an Apple wireless keyboard will wonder how they ever managed without the KasePal."
The KasePal companion case for the iPad and Apple Wireless Keyboard removes the need to tote two separate covers everywhere. This dual storage capability saves both time and space, housing the iPad and keyboard in dedicated compartments with simple, no-fuss access to both. For those who love their iPad for its convenience, the KasePal makes using the tablet and keyboard together easier than ever thanks to a hassle-free design which consolidates storage and access. Just unzip, slide out and start typing. When you're finished, slide back in.
The zipped folio case offers around the clock protection, built around a tough polycarbonate hard shell which fits both the iPad 2 and the new iPad 3 like a glove, so you don't need to buy another case when you upgrade your tablet. The sturdy shell both provides comprehensive protection against knocks and bumps, and also doubles up as a multi-angle stand so you can find your perfect typing position, in portrait or landscape orientation, and adjust your viewing angle to suit.
The Apple Wireless Keyboard is kept firmly in place within KasePal by a proprietary design that encloses and protects the keyboard. When needed, the keyboard can be flipped 180° from its resting position within the KasePal and used immediately. When typing is complete, simply flip 180° back into the case for easy storage. With access and storage both achieved by a simple flipping mechanism, using the Apple wireless keyboard becomes almost an afterthought - quick, straightforward, and stress free.
Mark Zheng adds, "There are an estimated 53.2 million iPad users in the United States alone. Like me, many rely on their Apple Wireless Keyboard to get things done but before the KasePal, there was no single storage or transportation unit with combined space for the two devices. Our goal has been to build a case that was easy and intuitive to use, all focused around an ingenious design that would work well whether on the move, at home or in the office."
Trendy Digital has showcased its KasePal project through Indiegogo, the crowd based funding platform that pairs investors with initiatives around the globe. Indiegogo investors backing KasePal at conception are offered the product at more than 20% discount.
KasePal is available in a choice of three designs; premium grade black or brown PU leather or luxurious genuine cowhide leather. Each finish includes a handy carry strap and ultra thin profile not much thicker than the combined depth of the iPad and keyboard. For complete convenience, a series of card pockets and a stylus holder are featured in the interior. The PU leather version is priced at $49.99. The genuine leather version is priced at $94.99.
Link: Trendy Digital (preorder from Amazon.com in black or brown, real leather version)
Join us on Facebook, follow us on Twitter or Google+, or subscribe to our RSS news feed
Links for the Day
Mac of the Day: PowerBook 190cs, introduced 1995.08.28. The last 680x0-based PowerBook could take a PowerPC upgrade.
Recent Content
Follow Low End Mac on Twitter
Join Low End Mac on Facebook
Favorite Sites
MacSurfer
Cult of Mac
Shrine of Apple
MacInTouch
MyAppleMenu
InfoMac
The Mac Observer
Accelerate Your Mac
RetroMacCast
The Vintage Mac Museum
Deal Brothers
DealMac
Mac2Sell
Mac Driver Museum
JAG's House
System 6 Heaven
System 7 Today
the pickle's Low-End Mac FAQ
Affiliates
Amazon.com
The iTunes Store
PC Connection Express
Macgo Blu-ray Player
Parallels Desktop for Mac
eBay

Advertise