Apple's iPhone 5 Event, Apple Tops in Smartphone Satisfaction, Quad Screen Browser, and More
This Week's iPad, iPhone, iPod, and Apple TV News
Compiled by Charles Moore and edited by Dan Knight - 2012.09.17
Mac notebook and other portable computing is covered in The 'Book Review, and general Mac news is in Mac News Review. Older Macs are covered in Vintage Mac News. All prices are in US dollars unless otherwise noted.
Purchases made through links to Amazon.com and Apple's iTunes/iBook/App/Mac App Store support Low End Mac.
News, Reviews, & Opinion
Apps
Services
iPad Accessories
iPhone Accessories
iPod Deals
These price trackers are updated every month.
News, Reviews, & Opinion
Apple Posts Video of iPhone 5/iOS 6 Event
Apple has posted streaming video from the special event at San Francisco on Wednesday.
Streaming video requires Safari 4 or 5 on Mac OS X Snow Leopard or Lion, Safari on iOS 3 or later, or QuickTime 7 on Windows. [Publisher's note: It's playing decently, albeit not perfectly, on Safari 4 with Mac OS X 10.4 Tiger on a dual 1.25 GHz Power Mac G4. dk]
Apple has also posted a video of Jony Ive and Bob Mansfield commenting on the iPhone 5's design.
Link: Apple Special Event, September 12, 2012
Will the iPhone 5 Be Repairable?
iFixit's Elizabeth says that as expected, with the just announced iPhone 5, to be released September 21st along with new versions of the iPod touch and nano, Apple has continued its thinner-and-lighter trend, with the new handset being 18% thinner and 20% lighter than the iPhone 4S, despite a screen that's 1/2" longer on the diagonal. iPhone 5 also has a new Lightning dock connector, the first new Apple mobile device connector in nine years.
She notes that some aspects of the announcement seemed to bode well for durability and repairability:
The iPhone rear panels will be aluminum rather than glass, like older models, decreasing the chances that you'll damage the panel beyond repair.
New iPod nanos will have a built-in wrist strap connector, which might mean fewer dropped iPods.
The iPhone still has visible screws, so Apple has not locked us out completely.
On the other hand, Elizabeth observes that the new Apple iPhone will have in-cell touchscreen technology likely binding the digitizer to the front glass and may join the growing list of Apple devices with fused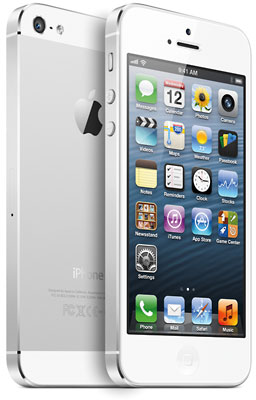 display assemblies, including the New iPad and the MacBook Pro with Retina Display. A fused display makes replacing a broken front panel a much more expensive and intensive process.
She also draws our attention to Apple's claims that each phone is measured to the micron (which is 1/1000 of a millimeter!), with chief designer Jony Ive describing in a video (linked above) how Apple is manufacturing 725 minutely different-sized rear panels, photographing each device, and matching it with a panel that fits perfectly.
However, she deduces that this will not negatively impact repairability, since a few dozen microns of difference between a panel and a phone would not be easily perceptible.
Look for a more complete analysis to come with the iFixit teardown.
Link: Will the iPhone 5 Be Repairable?
Apple Ranks Highest in Customer Satisfaction Among Smartphone Makers
PR: As wireless phones continue to be integrated in every aspect of consumers' lives, smartphones are quickly gaining a foothold as the centerpiece of mobile social media. The seamless connectivity offered by mobile social networking applications, such as Twitter and Facebook, play a critical role in overall smartphone satisfaction, according to the J.D. Power and Associates 2012 US Wireless Smartphone Customer Satisfaction StudySM - Volume 2 and the J.D. Power and Associates 2012 US Wireless Traditional Mobile Phone Satisfaction StudySM -Volume 2, both released Thursday.
The J.D. Power and Associates Wireless Smartphone Customer Satisfaction Study finds that customers who regularly use mobile channels of social media and gaming applications are more satisfied with their device and spend more per month for wireless service than customers who do not. In 2012, 67 percent of smartphone customers indicate they have downloaded social networking applications on their device and report spending more than 100 minutes per week using those applications. Overall smartphone satisfaction among customers using social networking applications is 810 (on a 1,000-point scale), which is 55 points higher than among smartphone customers who do not. Additionally, 69 percent of smartphone customers indicate they have downloaded gaming applications and spend an average of 81 minutes per week playing games. Satisfaction among customers using gaming applications is 61 points higher than among those who do not (813 vs. 752, respectively).
"As the capabilities of wireless phones and their applications continue to expand, allowing customers to more often use their device, handset manufacturers have an opportunity to shape the customer experience and impact satisfaction with better application integration and social networking options," says Uma Jha, senior director of mobile devices at J.D. Power and Associates.
The Wireless Smartphone Customer Satisfaction Study also finds that customers who use gaming applications spend $13 more per month, on average, for their wireless service than those who don't use gaming applications. Likewise, mobile social media application users spend an average of $12 more per month on their service than do customers who do not use social media applications.
The two studies measure customer satisfaction with traditional wireless handsets and smartphones among owners who have used their current mobile device for less than one year. Satisfaction is measured in several key factors. In order of importance, the key factors of overall satisfaction with traditional wireless handsets are: performance (29%); ease of operation (26%); physical design (24%); and features (21%). For smartphones, the key factors are: performance (33%); physical design (23%); features (22%); and ease of operation (22%).
For the eighth consecutive study, Apple ranks highest among manufacturers of smartphones in customer satisfaction. Apple achieves a score of 849 and performs well in all factors, particularly in physical design and ease of operation. HTC (790) follows Apple in smartphone rankings.
LG ranks highest in the Wireless Traditional Mobile Phone Satisfaction Study with a score of 726. LG performs well in all four factors.
The studies also find the following key wireless handset usage patterns and purchase trends:
The cost of a traditional wireless mobile phone averages $56, compared with an average of $66 in 2011. The decline is primarily due to discounts provided by handset providers and wireless service carriers to incentivize sales. Currently, 44 percent of customers report having received a free mobile phone when subscribing to a wireless service.
Features have become less of a differentiator in the smartphone selection processes due to an influx of competitive offerings from newer manufacturers. Nearly one-half (47%) of customers this year indicate they chose their smartphone primarily because of particular features, such as a camera, the operating system, or social media integration or gaming capabilities, compared with 57 percent just one year ago.
Nearly one-fifth (19%) of customers this year primarily chose their smartphone based on price, compared with 14 percent a year ago. This may be driven by offers of free or heavily discounted devices from wireless carriers, as 22 percent of customers indicate their smartphone was free, an increase from 18 percent a year ago.
Nearly two in 10 current smartphone owners report experiencing a software or device malfunction. Malfunctions have a significant impact on overall satisfaction, a gap of 90 points between customers who experience software malfunctions and those who do not (799 vs. 709, respectively). Additionally, satisfaction among customers who indicate their device's software crashes at least once a week averages 663.
The 2012 US Wireless Smartphone Customer Satisfaction Study -Volume 2 and the 2012 US Wireless Traditional Mobile Phone Satisfaction Study - Volume 2 are based on experiences reported by 8,736 smartphone owners and 6,272 traditional mobile phone owners. Both studies were fielded between January and June 2012.
Link: 2012 US Wireless Smartphone and Traditional Mobile Phone Customer Satisfaction Study--Vol. 2 Results
Vatican Hopes Partnership with Apple Will Spread Pope's Message
The Catholic News Agency's David Kerr reports that the Vatican has teamed up with Apple to develop new hi-tech methods for communicating the works of Pope Benedict XVI to the world.
"It represents an enormous step on the international stage because, as you know, Internet goes beyond space and time," Kerr cites Father Giuseppe Costa, the director of the Vatican's publishing house Libreria Editrice Vaticana, commenting.
Kerr says that Apple will work alongside the Vatican to produce ebooks and iTunes tracks of the Pope Benedict's weekly general audience, in which the Catholic pontiff has in recent months focused on the theme of prayer in the story of salvation. Benedict's latest volume, Prayer in the New Testament, is already available in print form, and Kerr reports that the new ebook format will be accompanied by illustrations from the Vatican's art collections, with readers able to zoom in and out to examine the images and compare them with the texts for their own personal meditation.
The report notes that the agreement with Apple will only focus on the Popes weekly catechesis initially, but that the Vatican publishing house says if this project proves popular, more of Pope Benedict XVI's extensive catalogue of writings could be offered electronically.
Link: Vatican Hopes Apple Partnership Will Spread Pope's Message
Apps
Quad Screen Browser for iPad Leverages the Power of 4 Browser Windows
PR: Cincinnati-based AppsHeard has released Quad Screen Browser 1.0 for iPad users. Make the most of your available screen real estate available on your iOS device. Quad Screen Browser leverages the power of up to 4 browser windows simultaneously on the iPad. You can use 1, 2, 3 or 4 browsers at the same time. Drag and arrange your browsers windows into different shapes and sizes. Bookmarks and History are conveniently stored and accessible via each tool bar.
Features:
Control 1, 2, 3 or 4 browser windows independently
Complete 4 tasks in 4 browser windows simultaneously
quadbrowser.jpg
Manage Facebook, Twitter, Foursquare and more at the same time
Stay up to date with news, weather and sports at the same time
Easily compare eBay, Amazon and Craigslist postings on the same screen
quadbrowser2.jpg
Private Browsing is a breeze. Quickly clear all cookies under the Settings menu
Bookmarks and History are conveniently stored and accessible via each tool bar
Simply tap and hold to save images
Window proportions are automatically saved when rotating the iPad
Social website links
Device Requirements:
Compatible with iPad
Requires iOS 4.2 or later
1.4 MB
Quad Screen Browser Free is available for Free and Quad Screen Browser Pro is available for $2.99 (on sale for a limited time at $1.99) and available worldwide exclusively through the App Store in the Productivity category.
Link: Quad Screen Browser Free
Link: Quad Screen Browser Pro
Updated Version of Maxthon Browser for iPad Has Cross-Platform Synching and Enhanced Performance
PR: Maxthon, a global software company that develops state-of-the-art web browsers, has announced the release of its updated browser for the iPad. This version of Maxthon's award-winning browser for tablets provides cross-platform synching, enhanced performance and a convenient way to surf the Web with simple gestures. Users can download Maxthon for iPad for free in iTunes.
"Building on our success with iOS and the popularity of our new iPhone browser, Maxthon for iPad makes Apple's famed tablet even better," says Jeff Chen, CEO of Maxthon. "Our iPad web browser transcends the walled environment of standard, preloaded browsers and brings the Web to everyone."
Features for Maxthon for iPad include:
Cross-Platform Bookmark and Tab Syncing - Users can sync favorites or bookmarks across Windows, Android, BlackBerry, Kindle Fire, iPhone and iPad, enabling them "to pick up where they left off" in their browsing.
Touch-Screen Browsing - Users can use their fingertips for fast and efficient browsing.
Unlimited Tab Browsing - Powerful tab management tools enable users to multitask without having to shuffle through multiple sites.
Homepage Personalization - Besides custom skins, users can set their own default homepage and preload their favorite web destinations for quick access.
Screenshot Grab - Allows users to capture and save web pages.
Find in Page - Search highlighted texts in web pages.
Reader Mode - Removes ads and creates a user-friendly format for reading articles and news stories.
Improved Download Speed
Support for Internationalized Domain Names
More Search Engine Options
"Maxthon for iPad is a natural extension of our strategy to free people from having to surf the web from a single family of devices or a single software platform," said Karl Mattson, GM of Maxthon International/Chief of Product Development. "And we did it without having to sacrifice Maxthon's 'must-haves' - great performance, strong privacy and features that users just can't get with any other browser."
Link: Maxthon
Link: Maxthon Browser for iPad
Link: Maxthon for iPhone
Link: Maxthon for Mac (beta)
Link: Maxthon Mobile for Android
Link: Maxthon Mobile for 10" Android tablets
Major Update to iBank for iPad Has Over 60 Enhancements
PR: IGG Software has announced the release of iBank for iPad 1.1 - a major update featuring over 60 new features, fixes, enhancements and refinements. Coming just two months after iBank for iPad's debut, the new release represents a significant step forward for the app with across-the-board improvements. The update is available now on the App Store.
"With the original release of iBank for iPad, we delivered an entirely new platform for mobile finance management," says chief technology officer James Gillespie. "From that starting point, we were able to combine our own wish list of improvements with great user feedback to develop the apps performance dramatically. This is a big, big update."
Among the enhancements in iBank for iPad 1.1 are:
significant speed improvements (sync with iBank is up to 8X faster)
the addition of interactive help throughout the app
superior feedback on sync progress and downloads
improved account downloading and investment support
refined accuracy in data handling and sync
numerous polishes to animation, graphics and user interface
dozens more fixes for overall usability and greater stability.
iBank for iPad differentiates itself from other finance apps in several significant ways:
A new subscription service, Direct Access, delivers mobile account updates from thousands of financial institutions worldwide. New transactions are downloaded via WiFi or data connection in the background, without prompting - ensuring that all of your finances are at your fingertips, any time and anywhere.
iBank's attractive iPad interface presents a clear personal finance summary. Accounts are kept in one or more custom books, organized as needed. With just a tap or a swipe, users can access accounts; get details on accounts, budgets, transactions or investments; change pages, switch books, edit transactions, delete info and more - naturally and intuitively.
Investment management has never been more elegant. Because the books in iBank for iPad resemble a set of financial reports, its easier than ever to review trades, positions, history, performance, realized and unrealized gains, market value and more. Portfolios update as changes are available, and users can drill down for security details with a tap.
Simple yet sophisticated budgeting is a key component of iBank. Schedule regular income and bills, set targets for other earnings or expenses, track spending by assigning categories to transactions. Users can check budgets with a tap, compare current performance to previous months, review old budgets and more.
IGG's commitment to privacy and security is paramount: iBank for iPad is ad-free. There are no third-party services offered to users. Customer data and financial records are never stored, accessed, aggregated or analyzed in any way that benefits IGG or any other marketers. And IGG never sells, trades, rents or shares customer information.
Among other features, users have:
full manual editing and entry capabilities, including the ability to split, schedule and categorize transactions
the ability to move books between devices
multi-currency support
many other powerful finance management tools.
The app is written to take advantage of the iPad's latest dual-core and graphics processors, its high-resolution Retina Display, and landscape and portrait modes. Version 1.1's performance enhancements also allow the app to run smoothly on the iPad 1 (previously not recommended).
For automatic updating of transactions, new users of iBank for iPad will have the opportunity to try Direct Access for free during a 30-day trial. Maintaining the service will cost as little as 11 cents a day: just $4.99 per month, or $39.99 for an annual subscription; all options are available via In-App Purchase. Users of iBank 4.5.2 (now available via the Mac App Store or IGG) can use iBank for iPad without a subscription by syncing data directly from the desktop app over WiFi or a WebDAV server.
The iBank for iPad App is available for $14.99 from the App Store. iBank for iPad requires iOS 5 or high.
Link: iBank for iPad
Services
Sell Your Used iPhones to SellYourMac to Help Fund a New iPhone 5
PR: Plan on buying the new iPhone 5? SellYourMac (SYM) offers a service that pays you cash for old iPhones, so you don't have to go broke buying the new one. SellYourMac buys and sells used Apple products and will pay you cash for any old iPhone, whether it is a 2G, 3G, 3GS, 4, or 4S. Get a free, no-obligation quote by visiting SellYourMac online. Avoid the hassle of trying to figure out if you are selling to a scammer through eBay or Amazon. Sell direct to SellYourMac!
Get your free quote today and lock in SellYourMac's highest payout price. The value of your old iPhone will take a hit over the next few days with the new iPhone coming to market. SellYourMac will allow you to get a quote now and lock in your payout price until October 1st. Pledge to trade-in your old iPhone to SellYourMac today and received the highest trade in value, guaranteed.
SellYourMac.com's Top 5 Reasons to Upgrade to the New iPhone 5
4" Retina LCD
LTE high-speed network
Faster processor
iOS 6
New form factor, slightly thinner
SYM buys and sells used Apple computers, iPhones, iPads and accessories. It is the mission of SYM to help reduce the amount of e-waste hitting landfills and dumps, and help individuals, schools, businesses and other organizations offset the high costs of upgrading to newer electronic devices by purchasing their old ones.
Link: SellYourMac
Glyde.com Provides iPhone Sellers One-Stop Shop for Determining Resale Price and Receiving Cash Back for Used iPhones
PR: Glyde, a provider of democratized ecommerce, is giving iPhone users a quick and easy way to figure out the total cost of upgrading to an iPhone 5 through using Glyde's iPhone Upgrade Tool, which determines the cost of an upgrade. iPhone users can also use Glyde.com to determine how much cash back they can expect to receive for their used device.
"Just before Apple released the iPhone 4S, we saw the iPhone 4 fetch as much as $304 on Glyde," says Drew Lieberman, CEO at Glyde. "With the launch of the iPhone 5, we want to let iPhone users know they can help offset the high retail cost of the new iPhone by selling their old device on the Glyde marketplace. That old device is worth cash value and probably a lot more than the user thought."
Glyde sellers who use the Speed Sale option, which guarantees the sale of their device in 7 days, can currently expect between $70 and $313 cash back for their used phone.
Resale values for iPhones in good condition sold via Speed Sale on Glyde.com:
iPhone 3GS 8 GB, $70.00
iPhone 3GS 16 GB, $81.00
iPhone 3GS 32 GB, $83.00
iPhone 4 8 GB, $141.00
iPhone 4 16 GB, $161.00
iPhone 4 32 GB, $165.00
iPhone 4S 16 GB, $255.00
iPhone 4S 32 GB $271.00
iPhone 4S 64 GB, $313.00
People who are looking to get top dollar for their iPhones can use the regular sale option on Glyde.com. Current resale values for regular sale iPhones range between $113.75 and $403.75.
Resale values for iPhones in good condition sold via Regular Sale on Glyde.com:
iPhone 3GS 8 GB, $113.75
iPhone 3GS 16 GB, $130.25
iPhone 3GS 32 GB, $134.50
iPhone 4 8 GB, $214.50
iPhone 4 16 GB, $243.00
iPhone 4 32 GB, $248.75
iPhone 4S 16 GB, $342.75
iPhone 4S 32 GB, $364.25
iPhone 4S 64 GB, $403.75
iPhone users can also use Glyde as a resource to answer important questions regarding their device. In July of 2012, Glyde launched Glydecast, a series of consumer content web pages designed to provide consumers with the resources they need to make educated and economically-sound purchasing decisions. Glydecast helps users resolve typical issues such as:
How to wipe your iPhone: Worried about data theft? Glyde provides a step-by-step guide on how to safely wipe a phone before selling it.
How to upgrade your phone early: Ready for a new phone, but not eligible for an upgrade yet? Glyde provides tips on how to convince carriers to give consumers an early upgrade.
What to do if your iPhone is stolen: For anyone who has had a phone stolen, Glyde knows the stress this can cause. By following Glyde's tips, consumers can increase the likelihood of getting it back.
Glyde, the brainchild of Simon Rothman, founder of eBay Motors, is the leading provider of democratized ecommerce. Glyde unlocks the value of used goods by creating a selling experience unsurpassed anywhere on the web. With just a few clicks, Glyde provides a portal for buyers and sellers to conduct transactions surrounding iPads and tablets, iPhones and other smart phones, video games and DVDs, with a focus on speed and safety, and without the hassle found on other sites. Glyde is headquartered in Palo Alto,
Link: Glyde
NextWorth Gives $20 Per iPhone Referral Through October
PR: Electronics trade-in service, NextWorth doubles its usual Refer A Friend bonus. Now, encouraging your friends to trade in an iPhone (while the values are still at their highest!) earns $20 for every referral.
Any referral using a participants unique URL to trade in an iPhone with at least a $50 inspected trade-in value will earn $20. Through Refer A Friend, the new customer is also rewarded with an additional five percent bonus value on their trade-in quote.
This offer is open to both current and new Refer A Friend registrants and will end on October 31.
Unlike Apple, NextWorth offers a cash option for trade-ins as well as gift cards. Currently, NextWorth offers more money for old iPhones than both Gazelle and Apple:
NextWorth:
$300, iPhone 4S (16 GB)
$351, iPhone 4S (64 GB)
Gazelle:
$287, iPhone 4S (16 GB)
$313, iPhone 4S (64 GB)
Apple:
$285, iPhone 4S (16 GB)
$345, iPhone 4S (64 GB)
Please let me know if you have any questions, or would like to speak directly with a NextWorth executive about the current trade-in market in advance of next weeks announcement.
Link: NextWorth
iPad Accessories
Logitech Ultrathin Keyboard Cover and Logitech Solar Keyboard Folio for iPad
PR: Unveiled this week at Mercedes-Benz Fashion Week in New York City, Logitech has introduced the Logitech Ultrathin Keyboard Cover in White and the Logitech Solar Keyboard Folio in Urban Grey, Ice Blue and Coral Pink.
These accessories for the third-generation iPad and iPad 2 sport a sleek and sophisticated look that is a perfect complement to both your iPad and outfit, no matter the fashion season.
Like a great-looking ensemble combining a sleek look and a tailored fit, and the Logitech Ultrathin Keyboard Cover coordinates with your second or third-generation iPad so gracefully you can hardly tell the two apart, thanks to a magnetic clip that securely attaches the cover to your iPad, and form meets function with the cover's wireless Bluetooth keyboard, key command shortcuts and six-month battery life.
When accompanying your iPad, the White Ultrathin Keyboard Cover makes quite an entrance - clean, pure and snowy white.
From the office to the classroom to the park, the Logitech Solar Keyboard Folio will now be available in a variety of colors so you can express yourself wherever you go: Urban Grey is gritty yet chic, while Ice Blue and Coral Pink add a pop of energetic color.
The colorful Logitech Solar Keyboard Folio shares the same feature-packed design as the classic black version. The eco friendly Bluetooth keyboard is powered-by-light; similarly to Logitech's popular K750 and K760 solar wireless keyboards for Macs and PCs, Its built-in solar panels charge in low light and lamp light, indoors and out, and you get a 6-month battery life on a full charge based on an average use of two hours per day.
Instant On/Off automatically wakes your iPad when you open the cover - and sends it to sleep when you close it.
The Folio holds your iPad in just the right position, no matter what you're doing. Watch a movie in entertainment mode, and the media keys let you play, pause and change volume instantly. When you want to type an email, you'll enjoy the full keyboard.
The external keyboard not only frees up screen space on your iPad, it also allows you to work faster by using shortcuts for the commands you use most often, such as copy, paste, undo and many more.
You can visit your local Apple store later this month to pick up your very own Ultrathin Keyboard Cover and visit Logitech.com to purchase the Solar Keyboard Folio. The products are covered by Logitech's 2 year-Limited hardware warranty
Logitech will engrave your Ultrathin Keyboard Cover with your own personal message for free on units ordered from their Website. Simply add the case to your cart and enter your personal message at checkout.
Link: Solar Keyboard Folio (also available at Amazon.com)
Link: Ultrathin Keyboard Cover (also available at Amazon.com)
Elegant Walnut and Carbon Fiber iPad Case
PR: Simple and elegant, the Element Case "Wood Series" is a unique collection of ultrathin protective covers for the iPhone and iPad by California-based Industrial designer Jeff Sasaki, made from the naturally beautiful and timeless material - wood.
Amazingly thin and durable the iPad wood shell is constructed of warm natural wood veneer permanently bonded to super-strong genuine Carbon Fiber, making this thin and light composite case the perfect union of a high tech exotic material with age-old natural wood. This beautifully crafted product is made in the USA.
The case fits both iPad 2 and iPad 3.
Price: $89.99
Link: Wood iPad Case - Walnut
Silverback Skin Back Cover for iPad and Logitech Ultrathin Keyboard Cover
PR: Luvvitt has launched their Silverback Protective Back Skin iPad covers made specifically for the iPad 2, iPad 3 and Logitech Ultrathin Keyboard for iPad. The protective back skin features cutting edge pressure activation technology that allows the cover to be easily set in place, removed and repositioned with no adhesive or residues. The secret is in the micro-glass beads that fit around the device like a real skin.
Eli Altaras, founder and CEO of Luvvitt says, "The Silverback Protective Back Skin Collection combines next-generation technology with modern design and functionality. The ultra-sleek iPad skin cover is barely noticeable yet provides high-level protection against dirt, dust and scratches. Were definitely excited about this new collection's addition to out product lineup and know our customers will be too."
The Silverback Collection features three new products including protective back skins for the iPad 2 and 3 as well as a custom back skin for the widely popular Logitech Ultrathin Keyboard for iPad. Altaras goes on to say, We value innovation, customer service and a love of technology - The Silverback Protective Back Skin is the fruition of those values seen tangibly through these great products.
The multilayer skin features an ultra-low profile and an aluminum color that perfectly matches the iPad. And unlike other so-called skin cases, the Silverback has no bubbles or adhesive residue. The case can quickly and easily be installed in seconds with one swipe of the finger. It can be moved and repositioned time and time again without losing performance.
Shipping is free for United States.
Link: Silverback
iPhone Accessories
Kensington Offers New and Compatible Accessories for iPhone 5
PR: Kensington is greeting the iPhone 5 with 14 new accessories that are ready for use with the new devices. These products will be available soon for preorder online at Kensington.com and Amazon.com.
A new line of colorful cases will keep the iPhone 5 protected wherever you go. Kensington's line of car accessories also serves to enhance your devices, whether you're commuting to work or on a road trip.
Kensington Accessories for iPhone 5
Kensington Thin Grip Case for iPhone 5 (Clear, K39657WW; $19.99, Smoke Black, K39658WW; $19.99)
Protect your iPhone from bumps and scratches in this lightweight case. The flexible Thin Grip case easily grips and protects your iPhone on the move while still allowing easy access to all controls, touchscreen and ports.
Kensington Aluminum Finish Case for iPhone 5 (Black, K39680WW; $19.99, Grey K39681WW; $19.99)
Protect your iPhone from bumps and scratches in this lightweight aluminum finish case. The aluminum hard shell case is stylish and protects your iPhone on the move while still allowing easy access to all controls, touchscreen and ports.
Kensington Back Case with SoftTouch for iPhone 5 (Light Pink, K39682WW; $19.99, Black K39697WW; $19.99, Grey, K39698WW; $19.99)
Protect your iPhone from bumps and scratches in this lightweight case. The Kensington Back Case has a sturdy shell that covers the back of your phone to ensure complete protection from scratches on the move while still allowing easy access to all controls, touchscreen and ports.
Kensington Soft Case for iPhone 5 (Black, K39659WW; $14.99, White K39660WW; $14.99)
Get a grip on your iPhone with the Kensington Soft Case for iPhone. The Soft Case cushions your iPhone from bumps and bruises with a layer of soft, shock-absorbing rubber. The Soft Case for iPhone preserves access to all of the controls, touchscreen and ports.
Kensington SoundWave Sound Amplifying Car Mount for iPhone 5 (K39255US; $39.99):
Give your iPhone GPS, podcasts, and phone calls a sound boost. The built-in amplification system in the SoundWave Sound Amplifying Car Mount doubles the volume coming from your iPhone speaker, making it easier to hear your turn-by-turn directions, calls and more. The cradle mounts in seconds to the windshield or vent and holds your iPhone securely-even when in a case-on the roughest terrain. iPhone 5 compatible.
Kensington Windshield/Vent Car Mount for iPhone 5 (K39217US; $29.99):
Give your iPhone a secure place to ride-even when in a case. The Kensington Windshield/Vent Car Mount for Smartphones installs in seconds and keeps your smartphone within easy reach.
Kensington Quick Release Car Mount for iPhone 5 (K39256US; $29.99):
Give your iPhone a secure place to ride even when in a case. The Kensington Quick Release Car Mounts flexible arms provide a reliable hold on your iPhone on even the roughest terrain. Includes both windshield and vent mounts-use whichever works best for your vehicle. iPhone and iPod touch compatible.
Kensington Noise-Reducing AUX Audio Cable (K39203US; $19.99
The only humming inside your car will be yours thanks to the Kensington Noise-Reducing AUX Audio Cable. The direct AUX (auxiliary) connection and noise reducing technology combine to deliver clear, clean sound through your cars stereo.
Kensington AUX Audio Cable (K39202US; $9.99):
A direct connection from your iPhone to your car stereo means cleaner, clearer sound. The cable braided Kensington AUX Audio Cable plugs into the standard 3.5mm AUX (auxiliary) port on your car stereo and the headphone jack on your iPhone or iPod. Taking your tunes on the road has never sounded better.
Link: Kensington Accessories for iPhone 5 - available in the Kensington Online Store
UNIEA Releases New Line of Cases for the New iPhone
PR: Universal Electronic Accessories (http:/UNIEA) has announced a complete line of cases for Apple's newly released iPhone 5. Like the rest of the tech world, UNIEA designers have long awaited the release of the iPhone 5, and are first to market with a wide range of case styles that fit and protect the new iPhone while offering new styles and graphics to match the unique personalities of iPhone 5 users.
UNIEA's In-Mold Decoration (IMD) Cases
Extending UNIEA's IMD case designs that debuted in 2011, they will be offering three series - Madly in Love, Heart, and Harmony for the iPhone 5. The IMD series all feature a strong, hard, and durable plastic construction shell, precision cutouts for all critical buttons, ports, and switches, and a glossy, durable graphic, thanks to UNIEA's UV-protected IMD printing process.
The Harmony series is inspired from of the mixture of Impressionism and modern minimalism. Impressionist paintings contain very bright, bold colors and tend to have very little details, featuring a less is more approach. The Harmony series features a selection of monochromatic color tones to create a modern motif that matches the iPhone 5s cutting-edge technology.
The Hearts series evokes sentimental and pop art sensibilities, and appeals to a fun, casual user who is looking for a case that really complements their own personal style and fashion sense. By using high contrast colors and a pop aesthetic, they become an important element of ladies' prt - porter.
UNIEA's Madly In Love series of cases for the iPhone 5 is a perfect complement to the Hearts series, and combines quality and protection in a stylish line of case designs that expresses a love for life and maybe that special someone as well. The three distinct designs in this series feature endearing heart designs, while the wild, hand-drafted graphics presents the natural feeling of being in love.
Rebelution: IMD Comes to TPU
UNIEA's Rebelution StreetArt stylings for the iPhone 5 blur the lines between an IMD Case with the soft, supple texture of TPU plastic molding. This is the first time that UNIEA has applied the IMD technique onto TPU material, providing more protection and durability than a standard plastic case. Because UNIEA's Rebelution graphics project an edgy, tough aesthetic, the idea of bringing the provocative IDM graphics process to a durable case is bound to be a popular pairing that UNIEA will continue to explore down the line.
Colorama Flip Case
UNIEA's popular Colorama case for the New iPad is one of the slimmest leather flip case on the market today. Now, UNIEA is bringing this same design to the iPhone 5. The Colorama is constructed of hard metal wrapped in colorful PU leather. The look and feel provides users with stylish, young, comfortable design, with the added protection of the metal back and flip cover. The back metal is just 1.3mm thick, and the flip cover features a cushion-feel, offering increased protection at still only 2mm thickness. The interior of the case is lined with a soft microfiber that protects your iPhone 5 from scratches, while cleaning the screen every time the folio cover is in use. The Colorama line debuted with the New iPad, UNIEA believes that it will be a successful design for the iPhone 5 as well.
U-Motion
The U-Motion is one of UNIEA's most enduring designs, and now were bringing it to the iPhone 5! This case is the perfect way for users to bring the mobile fun of the iPhone 5 along with them when running, jogging, exercising, or doing anything where a pocket or purse isn't handy. The U-Motion armband is constructed of incredibly lightweight yet protective neoprene, which repels moisture and fastens to your upper arm, for a snug, secure fit. A clear, protective plastic pocket keeps the iPhone 5 secure, while a small fastener holds the earbuds when not is use. The U-Motion is the perfect solution for the on-the-go lifestyle.
Soft Suit Folio
Finally, the Soft Suit iPhone 5 "book style" flip case is a truly unique design that combines the convenience of a sleeve with the functionality and accessibility of a case. This deluxe Soft-Shell Slip-On case in constructed of rich PU leather and features a metal frame and thin metal backing, providing an amazing level of protection for a case that feels soft and supple to the touch. And while the user can simply slip the iPhone 5 in and out of the top of this case, it also features cutouts like a shell case, allowing use to use their device fully while it is still in the case. Adding to this is a wide range of vibrant colors, which really complement the look of the new iPhone well.
The entire line of iPhone 5 cases is set to debut and can be purchased online at uniea.com.
Link: UNIEA iPhone 5 Cases
iPhone 5, Freshest Slice of Apple, Will Receive OtterBox Protection
PR: Apple addicts received a healthy dose of excitement on Wednesday when the California company revealed the next phase in iPhone evolution during a special event in San Francisco. Speculation predicting a launch of the iPhone 5 on Friday Sept. 21, 2012 proved to be correct.
As the number-one selling smartphone case, OtterBox will provide trusted protection for the iPhone 5. OtterBox.com is now open for preorder and expected to begin shipping Defender Series and Commuter Series on Friday Sept. 21, 2012.
Link: OtterBox iPhone 5 Cases - available in the OtterBox Online Store
Join us on Facebook, follow us on Twitter or Google+, or subscribe to our RSS news feed
Links for the Day
Mac of the Day: Power Mac 7500, introduced 1995.08.08. This workhorse introduced a new desktop case and CPU daughter cards for easy upgrade.
Recent Content
Follow Low End Mac on Twitter
Join Low End Mac on Facebook
Favorite Sites
MacSurfer
Cult of Mac
Shrine of Apple
MacInTouch
MyAppleMenu
InfoMac
The Mac Observer
Accelerate Your Mac
RetroMacCast
The Vintage Mac Museum
Deal Brothers
DealMac
Mac2Sell
Mac Driver Museum
JAG's House
System 6 Heaven
System 7 Today
the pickle's Low-End Mac FAQ
Affiliates
Amazon.com
The iTunes Store
PC Connection Express
Macgo Blu-ray Player
Parallels Desktop for Mac
eBay

Advertise