Apple Passes One-Year High in Tablet Market, Never Text and Drive, Coming Windows Tablets, and More
This Week's iPad, iPhone, iPod, and Apple TV News
Compiled by Charles Moore and edited by Dan Knight - 2012.08.17
Mac notebook and other portable computing is covered in The 'Book Review, and general Mac news is in Mac News Review.
All prices are in US dollars unless otherwise noted.
Purchases made through links to Amazon.com and Apple's iTunes/iBook/App/Mac App Store support Low End Mac.
News, Reviews, & Opinion
The Competition
Apps & Services
Accessories
iPod Deals
These price trackers are updated every month.
News, Reviews, & Opinion
Apple's Share of Tablet Market Hits More than One-Year High
PR: Two years after creating the market, Apple Inc. remains the king of all media tablets, with its global market share rising to nearly 70% in the second quarter, putting the company on pace to reclaim much of the dominance it surrendered in 2011.
Apple during the second quarter shipped 17 million iPad 2 and New iPad media tablets, up a stunning 44.1% from 11.8 million the first quarter, according to the IHS iSuppli Display Materials & Systems Service at information and analytics provider IHS This industry-leading increase in shipments translated into a market share gain of 11.5%age points, as Apple's second-quarter global tablet share climbed to 69.6%, up from 58.1% in the first quarter, as presented in the table below.
This marks a five-quarter high for Apple's media tablet market share. The last time Apple accounted for such a large portion of the media tablet was the first quarter of 2011, when it had a 70.0% share.
"Apple is making all the right moves to rebuild its dominant position in the tablet space," says Rhoda Alexander, director, tablet and monitor research for IHS. "The company is pushing visual performance boundaries with the New iPad, while providing value customers with a lower-priced alternative, the iPad 2. With the expected entrance of the 7" version of the iPad in September, Apple is sending a clear message that it plans to dominate this market over the long term. Apple's major media tablet rivals, Google Inc. and Microsoft Corp., hope to challenge Apple in the second half of the year, but will be facing formidable headwinds with no sign that the market leader is backing off of its aggressive strategy in the market."
New Entrants Add Spice
"A major component of Apple's success to date is the company's well-developed ecosystem of content and applications it had in place before entering the tablet market, and its absolute control of the hardware, software and operating system," Ms. Alexander notes. "When a customer buys a media tablet, what he or she is really doing is purchasing a key to that ecosystem, not just a piece of hardware."
The IHS iSuppli report notes that competitors have found it very difficult to duplicate Apple's approach. This, however, has left an obvious opening for 2012s newest market entrants: Google with the Nexus 7, and Microsoft with its Surface products.
Both firms have invested heavily in ecosystem development of their own during the past several years. While this investment benefits the Android and Windows original equipment manufacturer (OEM) partners of both companies, it's not surprising to see Google and Microsoft, respectively, test the waters with media tablets of their own, especially given Apple's prolonged stranglehold on the fast-growing market.
"It's possible that each of these vendors is entering the market intending to lead by example, rather than trying to be serious branded tablet competitors," Ms. Alexander notes. "However, they both have the potential to end up as major players even if their original intent was only to demonstrate how it could be done. Microsoft in particular will be one to watch, with its existing Xbox gaming community on the consumer side and its operating-system dominance in business markets."
In July of this year, Apple exceeded the 85 million mark for iPad media tablets sold since the products launch in April of 2010.
IHS iSuppli media tablet consumer research shows that satisfied users are likely to go back to the same brand for their next purchase. In all likelihood, Apple already has developed a solid future customer base, which will continue to strengthen barring a major stumble on an upcoming product release.
In contrast, Samsung, Apple's closest competitor, has shipped almost 13 million total media tablets. Samsung was one of the first to enter the market after Apple, introducing its first Galaxy Tab in the fourth quarter of 2010. However, Samsung hasn't yet achieved the cumulative unit sales that Apple reached by Christmas of 2010.
IHS iSuppli cites one difficulty for players other than Apple having been in establishing a clear brand identity in the media tablet market. Without a distinctive brand identity, competitors are forced to battle on price, robbing them of the profit margin that fuels future product and ecosystem development. Google;s entry-level $199 price point exacerbates the price pressure across the Android tablet universe, just as Amazon's entry did in the fourth quarter of 2012. It remains to be seen at what price point Microsoft will enter.
"Tablets are becoming an increasingly important piece of the consumer electronics space," Ms. Alexander says. "Vendors must understand that customers are not buying hardware, but that they are buying an experience. Users then want to carry that experience across multiple devices, creating an opening for the savvy vendor into a much larger sales opportunity than a single tablet."
Apple, Microsoft and Google are all keyed in to this much larger user experience. To date, the media tablet for the most part has been a consumer phenomenon, but the next big battle will be fought in the business space. Indeed, the ongoing rivalry is shaping up to be a battle of the Titans.
Link: Apple's Share of Media Tablet Market Hits More than One-Year High in Q2
Internet Speed More Important to Gen Y 'Millennials' than V-8 Power
A report by Bloomberg News' Hasan Dudar and Jeff Green cites growing auto industry concern that financially beleaguered young people who connect online instead of in person could hold down peak vehicle demand by 2 million units each year, noting that rate of US auto sales to 18-to-34-year-old buyers declined to 11% in April 2012, down from 17% for the same age group in April 2007, before the recession, according to Southfield-based R.L. Polk & Co.
Dudar and Green observe that 4G is increasingly trumping V-8 horsepower for the 80 million US consumers born between 1981 to 2001, according to Deloitte LLP, and that while the automobile is still a gateway to freedom and independence, Generation Y has more alternatives for connecting with others and the world at large than did previous generations during their youth.
Philosophically, there is also a trend among younger folks to regard cars, even if they can afford one, as more a "necessary evil" than an object of desire and passion, as was often the case with their antecedents, or not even that for Millennials living in big cities that have reliable public transit perceiving no need of owning a car at all, while the Gen Y-rs who do buy wheels tend to want want their cars to easily connect to the Internet.
Link: 4G Internet More Important to Gen Y than V-8 Cars
AT&T Calls on Nation's Drivers to Pledge: Never Text and Drive
PR: Wireless provider AT&T, seeking to bring attention to a serious road-safety problem, is urging all Americans to pledge to stop texting while driving, and then to join with others Sept. 19 to make a lifelong commitment to never do so again.
AT&T, its employees and other supporters are calling on all drivers to go to itcanwait.org to take the no-texting-and-driving pledge, and then share their promise with others via Twitter (#itcanwait) and Facebook. The pledge effort is part of the company's public awareness campaign aimed directly at stopping the dangerous practice of texting while driving.
"More than 100,000 times each year, an automobile crashes and people are injured or die while a driver was texting and driving," says AT&T Chairman & CEO Randall Stephenson, citing a statistic from the National Safety Council1.
"Our goal is to save lives," Stephenson says. "I hear from far too many people whose lives have been forever changed by a texting-while-driving accident, and together, we want to spread the word about how deadly a single text can be. Texting and driving should be as unacceptable as drinking and driving."
"We're challenging everyone to take the pledge to never text and drive and to make it a lifelong commitment," he said. "And we're challenging all device makers and app developers to offer devices that come preloaded with a no-text-and-drive technology solution."
AT&T's It Can Wait public awareness campaign is focused on a simple, powerful message: "No text is worth dying for." AT&T plans to spend tens of millions of dollars on the campaign in 2012 and has made it an ongoing commitment in future years. The effort is comprised of several key initiatives, including:
Encouraging its 240,000 employees to take the pledge and, in turn, urge all people to commit that they will never text and drive. On an average day, AT&T retail store and call center employees speak to customers more than 500,000 times.
Working with TV and music celebrities to deliver a strong no-texting-while-driving message via TV ads, concerts, public appearances, Twitter and Facebook.
Launching an aggressive social media campaign with advertising on Facebook and Twitter to encourage Americans to take the pledge and to share their pledges with their friends via social media.
Educating the public using TV ads on the dangers of texting while driving that will run during high-profile events and teen-focused programs.
Working to provide a toolkit of no-texting-while-driving information to every high school in the country.
Challenging device makers and app developers to work with AT&T so that all devices include a preloaded, no-text-and-drive technology solution as soon as possible.
Launching an online driving simulator at itcanwait.org in the coming weeks so that anyone with access to the Internet can experience the dangers of texting while driving.
Bringing an in-car simulator to more than 200 locations before the end of this year.
Enlisting others including law enforcement, educators, national retailers, consumer safety groups, legislators and the entire wireless industry to join the no-text-and-drive movement.
Asking more than 1,000 of AT&Ts strategic and other major suppliers to encourage their employees to pledge not to text and drive.
"Distracted driving is an epidemic on our roadways, and we need people all across America to take action in their communities to help put a stop to it," says US Secretary of Transportation Ray LaHood. "I applaud AT&T for taking on this issue with the 'It Can Wait' campaign, and I thank them for helping to spread the word that no text or email is worth the risk."
"Working with teens day-in and day-out, we see firsthand the impacts that peer pressure and peer influence have on the decisions they make," says Sandra Spavone, executive director of the National Organizations for Youth Safety (NOYS). That's what makes AT&Ts efforts so effective. They understand that by working with these teens and incorporating their feedback programmatically - ultimately, well reach even more of that critical and impressionable audience with a message they'll hear."
Together with NOYS, AT&T has pioneered more than 12 teen-led, teen-focused educational summits, with plans to hold 10 or more locally by the end of the year. NOYS is a collaboration of national, youth-serving organizations, including nonprofit organizations such as Students Against Destructive Decisions (SADD) and Mothers Against Drunk Driving and government agencies, such as the Governors Highway Safety Administration (GHSA). AT&T shares in their common goal of promoting safe and healthy behaviors among our nation's youth.
In addition, many other governmental, corporate, nonprofit and other organizations have already pledged support for the awareness campaign, including: The AFL-CIOs Union Plus program, American Federation of Teachers, Big Brothers Big Sisters of America, Boys & Girls Clubs of America, CTIA, Junior Achievement, LULAC, National Education Association, National Safety Council, National Urban League and RadioShack. More supporters can be found at <itcanwait.org>.
A recent AT&T survey2 found that 97% of teens say they know that texting is dangerous. The survey also found:
75% of teens surveyed say that texting while driving is common among their friends;
Almost all teens (89%) expect a reply to a text or email within five minutes or less;
And 77% of teens report seeing their parents text while driving.
But technology can help: 89% of teens said a phone app to prevent texting & driving like AT&T DriveMode3 would be an effective way to get them or their friends to stop texting and driving.
AT&T first began its It Can Wait campaign discouraging texting and driving in 2009. The website itcanwait.org provides an opportunity to take the don't text and drive pledge.
It also offers a host of educational resources and information on the issue including a documentary featuring families impacted by texting and driving accidents that has been viewed more than 3 million times.
Publisher's note: AT&T's DriveMode software does not appear to be available for the iPhone, which is a shame, as it's the most popular smartphone brand. dk
Data and text messaging charges may apply for download and app usage. Standard messaging rates apply to auto-reply messages. AT&T DriveMode is free to AT&T customers only. Compatible device required.
Link: It Can Wait
Blogging Using Just an iPad
Cult of Mac's Charlie Sorrel maintains that an iPad with an external keyboard and several key software tools is pretty much all you need to write and publish to the Web, noting that he does all his work these days on an iPad - from organizing reviews through gathering story ideas, actually writing posts and features, and even photographing and editing gadgets for those reviews, he says every last bit is done on Apple's tablet.
Sorrell concedes that one of the biggest problems with the iPad has been writing blog posts, and that you really did need a Mac or PC to take care of multiple browser windows and - most of all - uploading images, However, he says that while there isn't exactly a wealth of options, there are certainly several credible workaround methods that will let you execute those tasks from the iPad.
In his article, Sorrell walks you step-by-step through the process of writing and posting a blog post on the iPad, starting with finding a story and finishing with the final, scheduled post.
However, Sorrell concedes that blogging solely from an iPad is anything but a smooth and fluid process, and that somewhat ironically his blogging with an iPad tutorial was finished on a Mac due to the volume of images it contained, so it's not time yet to jettison your Mac.
Editor's note: Your editor finds that while it is indeed possible to do some production work at the composition end on the iPad, reason dictates that many elements of the markup, proofing, and posting process are so cumbersome and kludgy in the iOS that using a Mac or PC - if one is available - is the logical alternative for non-masochists. cm
Link: Step-By-Step: Blogging Using Just the iPad [How-To]
iPhone Value Tips from NextWorth
The new iPhone 5 (or whatever Apple actually calls it - New iPhone seems likely) is surely coming, with a speculated September 12 announcement date penciled-in.
To help consumers make an informed decision about the timing of their older-model iPhone trade-in, NextWorth looked at past announcements and corresponding trade-in values for trends.
The data shows that trade-in values of previous phone models begin to drop even before the actual announcement of the new version (now, in this instance). It stands to reason that this is a result of the influx of rumors and buzz surrounding the anticipated announcement. Older generations show a relatively smaller decline in value, but the overall result is that when trading in, sooner is better.
To get the best value for older model iPhones, NextWorth suggests selling now if you have a back-up phone, and taking advantage of the 21-day price lock-in to get the best price. Also, if you're unsure of the value or condition of your phone, you can bring it in to one of NextWorth's 1,450 Target Mobile locations for an instant trade-in, eliminating the guessing game for online price quotes.
For an idea as to what to expect with the iPhone 5 announcement, NextWorth has put together a chart showing the decline in trade-in value of the iPhone 4, 3G and 3GS surrounding the announcement and availability of the iPhone 4.
Link: NextWorth
The Competition
Google Nexus 7: 'Almost the Only Device I Need'
Cnet's Eric Mack says he's finding it hard to detach from his new Nexus 7 tablet and is wondering if perhaps it could end up being the one gadget for him.
Mack affirms that unlike previous Android tablets and his much-scorned Nook Tablet, he's had trouble putting down his Nexus 7 in recent weeks. He says he's also found that - unlike the iPad - the Nexus 7 is just small enough to slip into the pocket of a pair of baggy pants and always have at arm's length, and that he's also finding himself performing tasks on the tablet that had previously been restricted to the domain of other devices, including email, filling out Web forms, some word-processing and spreadsheet work using voice commands, and input through the Swype beta keyboard he recently installed. He observes that for a full-time writer, the notion of the touchscreen replacing the satisfying haptic feedback of a clicking keyboard is disturbing at best, and reason to go back to the quill and ink bottle at worst.
Yet he allows that with the Nexus 7 in his hands, he feels at home with the touch screen for the first time, and that Android Jelly Bean has improved what worked from previous iterations and integrated enough of what works in iOS to feel almost as comfortable for being lightly productive as Windows does, which has got him seriously fantasizing about ditching all his other devices and PCs in favor of one über-tablet like the Nexus 7, which isn't quite there yet, but is close enough to have convinced him that it's possible.
Link: Google Nexus 7 Is (Almost) the Only Device I Need
Microsoft Collaborates with PC Makers and Partners to Deliver Windows RT PCs
The Building Windows 8 blog's Steven Sinofsky says that since release to manufacturers (RTM in Microsoft parlance) on August 1, PC manufacturers have been using the released software to ready new PCs designed for Windows 8, and that engineering collaboration has been better than ever as the partners work to bring better performance, reliability, and battery life to new PCs designed for Windows 8. A post by Mike Angiulo, vice president of the Ecosystem and Planning team, details how Microsoft's Windows 8 team have collaborated on development of Windows RT and new PCs designed for the operating system with ecosystem partners, including PC manufacturers, Silicon partners, and other component suppliers, to complete high quality Windows RT and Windows 8 PCs.
Mr. Angiulo says you can expect to see everything from ultrathin sleek designs with stunning high-resolution displays, to All-In-One PCs with large immersive displays complete with touch, to high-power towers with multiple graphics cards and high-performance storage arrays at a wide range of price points.
He says they're particularly excited about the new low power x86 Windows 8 PCs that will take advantage of Intel's SoC platform innovations to provide an always on and always connected experience (known as connected standby), noting that recently, Lenovo announced the ThinkPad Tablet 2 (see below), which offers a combination of new features built on the latest Intel ATOM processor.
Windows RT begins a new era of ARM-based PCs, explains Mr. Argiulo, where Microsoft is working with its Silicon and PC manufacturing partners to bring a whole new set of innovations to market.
He notes that Windows RT shares significant code with Windows 8 and that they've achieved their goal of one Windows binary for all Windows RT SoC platforms from Nvidia, Qualcomm, and Texas Instruments, each of which has developed innovative ARM CPUs that form the basis of a complete system, and that PC makers will provide Windows RT PCs as integrated, end-to-end products that include hardware, firmware, and Windows RT software. Windows RT software will not be sold or distributed independent of a new Windows RT PC, just as you would expect from a consumer electronics device that relies on unique and integrated pairings of hardware and software. Over the useful lifetime of the PC, the provided software will be serviced and improved.
He adds that if you've following the trajectory of Windows RT, perhaps you have taken note of the Asus Tablet 600 (Windows RT) announcement or Microsoft's own Surface RT news, and says that along with Asus, there will be ARM-based PC designs from Dell, Lenovo, and Samsung running Windows RT, and that collaboration on these PC efforts has been different than for in any other Windows release, resulting in Windows RT PCs that will have consistent fast and fluid touch interactions, long battery life, connected standby, and are beautiful, thin, and light designs to make the most of the capabilities of Windows RT.
One marquee feature will be "connected standby" - having your PC always on and always connected in the new connected standby state without excessively draining your battery. When a Windows RT PC is not in use, it will move into a new low-power mode that allows it to keep your data fresh and current while also not requiring a battery charge for days. And when you need your system, it will turn on in less than a second at the touch of a button, which is a mobile phone experience but in a full PC.
Graphics cores have also gone through extensive optimization around power-efficient HD video playback, achieving the design goal of core Windows RT UI animations at 60 fps. Also, by simply tapping two NFC-enabled Windows RT PCs together, users can easily share photos, URLs, map directions, and anything else that Microsoft's software partners have designed into their Windows apps.
As an ecosystem, Windows, the PC manufacturers, and the Silicon partners have been engaged with developers around the world to design application experiences that will light up the capabilities of this new PC hardware.
Link: Collaborating to Deliver Windows RT PCs
Acer Chairman: Microsoft Working to Minimize Surface Impact
DigiTimes' Aaron Lee and Joseph Tsai report that after publicly urging Microsoft to reconsider its decision to launch its own-brand tablet PCs recently, Acer chairman and CEO J.T. Wang commented August 9 that Microsoft is pushing Surface to help Windows 8 succeed, has acknowledged associated concerns of its PC brand vendor partners, and is trying to minimize negative impact created by the launch.
The Register's Brid-Aine Parnell cited Mr. Wang cautioning Microsoft that "It will create a huge negative impact for the ecosystem and other brands may take a negative reaction. It is not something you are good at, so please think twice."
DigiTimes' Lee and Tsai note that Acer was the first brand vendor to go public with a warning about Microsoft's plunge into the PC hardware market, saying that Surface could have negative impact on the existing PC ecosystem, leading some market watchers to speculate that Acer may quit developing Windows-based tablet PCs. However they report that Wang has clarified that his company has no intention of quitting the Windows-based tablet PC market, and is aggressively developing related devices.
However, with Microsoft unlikely to abandon its plans to launch of the Surface tablet PC product, Mr. Wang reaffirmed his conviction that Microsoft's actions will destabilize the long-established PC ecosystem, and has contacted Microsoft to discuss his concerns, also pointing out that his public comments are not only meant for Acer's benefit, but that of the entire Windows community - vendors, Microsoft and users.
Lee and Tsai cite Mr. Wang saying the PC industry in general is concerned that Microsoft's change of strategy may have more serious consequences than the company's original intent, ultimately not only potentially hurting others, but Microsoft itself, hastening to clarify that he is optimistic about Windows 8, has given the operating system his highest rating, and is eagerly waiting to see it achieve success, stressing that his critique is intended to protect and support success of the new Microsoft OS.
The report cites Mr. Wang suggesting that that Microsoft is weighing potential solutions, such as creating a price gap to minimize the negative impact on other vendors' product lineups, predicting that if Microsoft launched a Surface entry-level model at a price of $199 (highly unlikely in any event), it would have a significant impact on the competition, but priced in the $499-$599 range, the effects will be a lot smaller.
Mr. Wang is also cited noting that Microsoft didn't give PC brand vendors a heads-up prior to announcing its Surface project, and with Redmond entering hardware development, thereby morphing from partner to competitor, he says while Acer isn't afraid of competition, he wants to understand the new rules of the game.
Link: Microsoft Working to Minimize Surface Impact - Acer Chairman J.T. Wang (subscription required)
8 Windows Tablets Profiled
PCWorld's Ian Paul profiles eight forthcoming Windows 8 tablets:
Lenovo ThinkPad Tablet 2 (see below)
Microsoft Surface RT
Asus Tablet 600
Asus 810
HP Slate 8
Dell Latitude 10
Fujitsu Stylistic Q702 Hybrid Tablet
Samsung Series 5 Hybrid
Publisher's note: This article is very light on specifics, like how much these tablets will cost. dk
Link: Eight Windows 8 Tablets to Watch
Lenovo Announces ThinkPad Tablet 2 for Windows 8
PR: Lenovo has unveiled its first tablet specifically designed for Windows 8, the ThinkPad Tablet 2. The multi-use tablet boasts differentiators that matter, including an optional digitizer and pen for precision input, 3G wireless with Lenovo Mobile Access pay-as-you-go plans and 4G models1, along with security features like a Fingerprint Reader, IT manageability technologies, and corporate-level service and support.
"Customers want a versatile device that fits their lifestyle and the many ways they use technology," says Dilip Bhatia, vice president and general manager, ThinkPad Business Unit. "Our new ThinkPad Tablet 2 marries incredible hardware and software to give consumers a great device for office, home or travel while also offering companies and IT managers the oversight they need to help secure and manage their company's networks and data. For the next generation of Lenovo PCs, designed to be great with Windows 8, were working closer than ever with Microsoft Corp. and our silicon partners. Today we are excited to reveal the fruit of this collaborative co-engineering, the ThinkPad Tablet 2, a joint effort between Lenovo, Microsoft and Intel."
Based on the upcoming Intel Atom Processor-based mobile platform and Windows 8 Pro, the ThinkPad Tablet 2 works the way users do across varied environments. It has a thin and light design measuring 9.8 mm thin and weighing less than 600 grams (1.3 pounds), all in a 10.1" screen. The tablet supports multiple input methods: multi-finger touch and an optional digitizer and pen, especially good for note taking, capturing signatures and completing forms. The optional ThinkPad Tablet 2 keyboard and dock can be paired with the tablet for more PC-like computing in the office. With an array of ports including a full-size USB port, users easily can attach existing devices like monitors and printers.
Suited for commuting and in field scenarios, the tablet offers virtually anywhere connectivity and productivity with 3G and 4G wireless models. The tablet serves lifestyle computing uses just as well as business tasks with its package of communications and entertainment features: HD display, front and rear-facing cameras for video conferencing and uploading photos, noise canceling microphones, HDMI port and wireless video streaming.
While users will like the tablet for its aesthetics and powerful features, IT managers will particularly enjoy its security-enhanced and manageability technologies. With the optional Fingerprint Reader, passwords are biometrically stored. The encrypted internal and external storage meet the highest levels of security requirements. Using Windows 8 Pro and the Intel x86 architecture, IT managers can provide for VPN access, utilize existing Windows management tools, manage application deployment and block users from installing certain apps. In addition, Lenovo Services offer a complete suite of packages, including sealed battery warranties, accidental damage protection and custom imaging.
The ThinkPad Tablet 2 is intended to be available when Windows 8 launches in October.
Publisher's note: The ThinkPad Tablet 2 differs from Windows RT tablets because it uses an x86 Intel Atom Z2760 chip, code-named Clover Trail, letting it run full-fledged Windows apps.
Apps & Services
OS X Pad HD Makes Your iPad Work Like a Mac Tablet
Lifehacker's Adam Dachis reports that OS X Pad (see below) is a new theme that can make your iPad look and operate like a Mac, and says that if you prefer traditional desktop paradigms to those of iOS, all you need is the Dreamboard app and a few minutes to install.
This Modmyi forum entry notes that OS X Pad HD is the most advanced Mac OS X experience available to transform your iPad into a 'Mac Tablet' with a fully functional Finder bar and interactive, self-aware menus options.
The Finder Window is customizable with an all apps folder and 6 editable folders that you can change the label names to match your apps in that folder, and the Dock is also completely customizable, letting you add any of the pre-made 'Mac-style' icons to the 10 available slots, or add anything from your iPad, and there's also a Quick Launch folder to add any favorite apps to that you can't fit on the Dock.
The System Preferences Menu is also very true to Mac, offers a central location to all your software settings and customizations.
More of a software upgrade for your iPad than a theme, OS X Pad HD is now available in The Theme Outlet store app $3.50.
To get The Theme Outlet app visit http://thethemeoutlet.com/tto/os-x-pad-hd-by-fnet-designs/
Link: OS X Pad HD Turns Your iPad into a Mac Tablet
OS X Pad HD by Fnet Designs
PR: Finally, the wait is over. A true and completely customizable Mac OS X experience for your iPad is here.
Fnet Designs brings their advanced theming skills to the table once again with their next installment for DreamBoard, OS X Pad HD. This theme includes a completely customizable dock, a fully interactive Finder bar and UI customizing options, and all updates for this software done within the theme. Just like a Mac, you can go to Software Update in System Preferences and select OS X Pad HD and view all your installed information along with the available version on the server. Entering your PayPal email address gets you instant access to your update.
Link: OS X Pad HD
MessagEase Mobile Keyboard Sets the Fastest Time to Type a Message on a Touch Screen Mobile Phone
PR: Exideas has announced that Cheng Wei Chang of Singapore has shattered the world record of the fastest time to type a text message on a touchscreen mobile device using Exideas' innovative keyboard MessagEase. Mr. Chang has typed the 160-character phrase designated by Guinness World Record in 23.83 seconds (equivalent to 75.5 WPM) bettering the previous world record by more than 2 seconds (8%).
While many MessagEase users routinely text at speeds well above 50 WPM, Mr. Chang's speed is the fastest recorded so far, setting a new world record.
Video: http://www.youtube.com/watch?v=2IEkheRozp0
"For this category, Guinness World Record requires typing of the phrase: 'The razor-toothed piranhas of the genera Serrasalmus and Pygocentrus are the most ferocious freshwater fish in the world. In reality they seldom attack a human.' correctly and without any assistance from a dictionary, wordlist, auto-correction or any system of disambiguation," says Saied Nesbat, Ph.D., President and CEO of Exideas. "While many MessagEase users routinely text at speeds well above 50 WPM, Mr. Chang's speed is the fastest recorded so far, setting a new world record."
MessagEase is an innovative nine-key virtual keyboard optimized for touch screen devices. Unlike the QWERTY keyboard that has tiny keys on small touch screens, MessagEase has fewer, larger keys with a revolutionary letter-frequency-based assignment that minimizes finger travel and maximizes speed.
Since MessagEase is radically different from the old QWERTY keyboard, it requires some getting used to. Nevertheless, MessagEase claims over 500,000 downloads so far, and that many have found its learning curve well worth the time they save when texting. Once people get familiar with MessagEase, it becomes an indispensable tool for their mobile device.
MessagEase is currently available for Android, iOS, and Windows. You can download it for free from Google Play Market or Apple's App Store. You can also download MessagEase for Windows from exideas.com.
To ease the learning curve, Exideas has created MessagEase Game, an enjoyable letter game that makes learning the new keyboard fun and entertaining.
Message Ease is free.
Link: Message Ease on Mac App Store
PhoneClean for Windows Frees Space on iPhone, iPad, and iPod touch
PR: iMobie Inc., a startup company committed to iPhone, iPod, and iPad software development, has announced its PhoneClean - the first and unique iPhone maintenance freeware made to free up space on iPhone and keep all iOS devices running fast.
"Over the last year, we have received a large number of enquiries about 'what is the Other (storage space) on my iPhone/iPad and how to clean them up.'
To answer that, we are proud of announcing our PhoneClean," says Frank, founder of iMobie Inc., "Although our PhoneClean has quite the commodity value and market competition, it's our great honor to make it free for all Apple fans."
With usage and time, Apple iOS devices iPhone, iPad, and iPod touch accumulate long-term caches, temp and off-line junk files generated by Apps or due to failed iTunes syncs.
Apart from taking up space on an iOS device, they may devour memory resources and slow down the iPhone when launching Apps.
To bring up a simple and fast solution, iMobie takes the lead and introduced PhoneClean. Through detecting, analyzing, and deleting cumbersome temp files, PhoneClean will generally reclaim up to 40% free space. And for average users, the regular inner cleanup will keep iOS devices running smoothly.
PhoneClean Highlights
Every unfinished iTunes sync will create quite a number of junk media files. To average iPhone users, they cannot be either found or removed. So PhoneClean comes to help with one-tap solution.
Worry about iPhone, iPad, iPod touch run out of disk? Now PhoneClean will make iOS devices always have enough free space.
By eliminating these cumbersome caches and temp files, PhoneClean will free up more memory resource when launching apps, browsing the web, as well as playing big games.
PhoneClean is 100% freeware and no ads or any fees was involved. Requires Windows XP or newer.
Publisher's note: After reading this description, I hope iMobie is working on a Mac or iOS version of this app. dk
Link: PhoneClean for Windows
Free James Haefner iPad App Showcases Spectacular Car Photography
PR: Car lovers and photography fans alike will enjoy a free new iPad app showcasing the beautiful automobile photography of Detroit photographer James Haefner. Rocket Garden Labs, developer of the Foliobook portfolio app popular among professional photographers, launched the James Haefner app as a way to show as many people as possible the gorgeous portfolios that can be created using Foliobook.
The James Haefner app delivers a free collection of Haefner's work featuring beautiful cars. Rocket Garden Labs collaborated with Haefner to deliver a rich collection of automobile photographs - from the phenomenally rare Corvette Shark to today's most luxurious vehicles.
Photographs in the James Haefner collection can be flipped through one-at-a-time, or run automatically as a slideshow. Each shot is a page from Haefner's recent work formatted in a professional portfolio format.
Professional photographers can also benefit from this app by learning how a leading automotive photographer presents his work to art directors and prospective clients. This collection is both beautiful and instructive of the art and business process of a great photographer.
"Rocket Garden Labs feel privileged to be able to work with a photographer of Jim's stature, so that the simplicity and clean lines of our app can be experienced with the highest quality photography," says Paul Freeman, Rocket Garden Labs chief designer. "The James Haefner app will appeal to car nuts everywhere as well as photographers and artists."
Foliobook is unique among iPad portfolio apps in having slideshow transitions that include a signature transition resembling leafing through photographs in a portfolio print box. This transition particularly suited the presentation of Haefner's work because the images represent the layouts of his printed professional portfolio. For this app, Rocket Garden Labs extended Foliobook to add more realism to the transitions. These improvements along with others will become a part of a forthcoming free update to Foliobook.
Foliobook was designed from the start to be suitable for photographers who are at the very top of the industry. It recently achieved greater notoriety after Scott Kelby, editor-in-chief of Photoshop User magazine, published on his blog that, "with Foliobook, I have finally found my portfolio app for the iPad."
James Haefner is a Detroit based automotive and architectural photographer, his work covers the vintage cool of mid-20th century design to the futuristic present exemplified by modern car design.
Rocket Garden is an interactive design house specialising in mobile and tablet media applications for photographers, designers and creative professionals, based in London, UK.
Link: James Haefner iPad App
Mobile Mouse Pro Transforms Your iPhone into a Wireless Mouse & Keyboard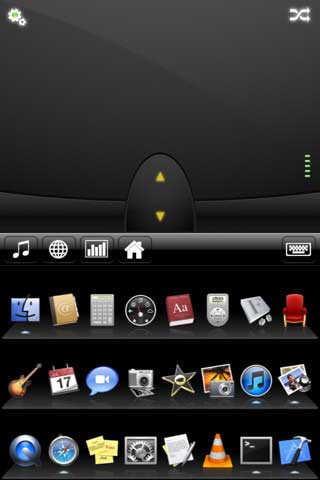 PR: Mobile Mouse instantly transforms your iPhone or iPod touch into an in-air, wireless mouse for your computer. Sit back and surf the web, browse your photo library or control your music player from the comfort of your couch. Mobile Mouse uses the built in accelerometer to translate your hand motions into mouse movements on your screen. It can also operate as a touchpad, allowing you to control your computer with a fingertip.
Mobile Mouse uses the built in accelerometer to translate your hand motions into mouse movements on your screen. It can also operate as a trackpad remote, allowing you to control your computer with a single finger. Mobile Mouse is an essential part of any home theater PC and a presenter's best friend. Mobile Mouse uses an innovative application notification system to let the iPhone know what program you are running at any time and show the appropriate keys for that program. This allows Mobile Mouse to provide a single screen remote for controlling all your media and web applications. Mobile Mouse supports all the most popular web and media programs for the Mac and PC.
Features
Accelerometer based mouse controller
Trackpad(full screen vertical and landscape modes)
Application switcher (works just like the dock in OS X)
File Browser
Ability to hide keyboard (shake to hide/show)
Landscape keyboard (shake in landscape mode to show)
Media Remote (w/vol up/down and eject buttons)
Web Remote
Presentation mode with Pro option (Keynote/PowerPoint)
Numeric keyboard
Application notifications
Remote keyboard with function and arrow keys
Programmable hotkeys (can be set to run a program or keyboard combination)
Scroll pad
Left and Right mouse buttons
Multitouch gestures (two finger scroll, two finger tap, swipe left/right with 4 fingers, swipe up/down with 4 fingers, pinch with 4 fingers, spread 4 fingers, three finger drag, three finger tap, double tap three fingers, double tap two fingers)
Modifier Keys
On screen typing
Sleep/Wake your computer
Password protection
Custom sensitivity settings
Foreign language keyboards
Supports Bonjour or static IP
No screen size limitation. Works with multiple monitors.
High resolution graphics for retina display on iPhone 4.
New in Version 2.6.3
Smoother mouse movement
Fixed Pro presentation remote to work over ad hoc networks
Fixed issue with shift key on numeric keyboard
Added option to use 3 fingers instead of 4 for swipe gestures
Bug fixes
New in version 2.6.1:
Fixed problem causing click and drag to not work on multiple swipes
Improved trackpad response time
Fixed slow connection time (Must download version 2.6.6 of the server from our website or the Mac App Store)
System requirements:
Mac OS X Leopard/Snow Leopard/Lion (Intel)
Windows XP/Vista/Windows 7 (32/64-bit)
WiFi router (works best on a local area network or Ad hoc network)
Mobile Mouse Server Software
Compatible with iPhone, iPod touch, and iPad. Requires iOS 3.2 or later.
Note: Before you run the software, you will need to download the server application from mobilemouse.com
$1.99
Link: Mobile Mouse Pro ($1.99)
Link: Mobile Mouse Lite (free)
Mobile Mouse Server: Control Your Mac from Your iOS Device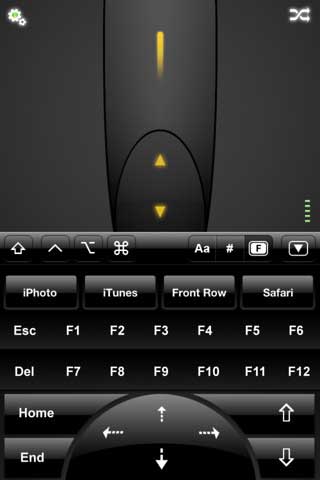 PR: Mobile Mouse Server (formerly Air Mouse Server) is the server software to accompany the Mobile Mouse App for the iPhone, iPod Touch, and iPad.
Instantly transform your iPhone or iPod touch into motion based mouse, trackpad, and wireless remote for your computer! Sit back and surf the web, browse your photo library or control your music player from the comfort of your couch. Our app uses the built in accelerometer to translate your hand motions into mouse movements on your screen. It can also operate as a trackpad, allowing you to control your computer with a single finger. Suddenly your iPhone, iPod and iPad have become an essential part of any home theater and a presenter's best friend. Using an innovative application notification system, your iOS device will always know what applications are running at any time and show the appropriate keys for that program, providing you with a single screen for controlling ALL your media and Web applications.
To use this software, you must also download the Mobile Mouse app from the App Store for your iPhone/iPod or iPad.
New in version 2.6.12:
Fixed problem with monitor not waking with newest version of OS X 10.7
System requirements:
Mac OS X 10.6.6 or later
Mobile Mouse Pro for iPhone
Free
Previous versions still available that support OS X 10.4 Tiger and OS X 10.5 Leopard. Also available for Windows XP/Vista/7 and Ubuntu Linux.
Link: Mobile Mouse Server for Mac (latest version also on Mac App Store)
Accessories
Back to School Tablet and Smartphone Accessories from Kensington
PR: Kensington Computer Products Group is kicking off this back to school season with smart and affordable products to help students stay connected to their mobile devices, whether a smartphone, tablet, or laptop.
"Our customers are looking for products to make sure they get the most out of their mobile devices this school year and we have a unique line of accessories that are perfect to meet that need, says George Foot, Vice President of Marketing & Development, Kensington. "We've designed ideal companions for students to carry that are built to keep them connected, protected, and productive in all environments - from the classroom to the dorm room and anywhere in between."
Kensington Essentials for Back to School
Back to School 20% off sale prices currently available at the Kensington online store.
Kensington Combination Case for iPhone 4 & 4S (Black w/White Dots - K39391US; Pink w/Black Dots - K39392US; White w/Black Dots - K39390US; SRP $24.99)
Dress up your iPhone for the first day of school. Protect your iPhone from bumps and scratches in this soft rubber and hard shell combination case. The flexible outer shell combined with the hard outer case grips and protects your iPhone on the move while still allowing easy access to all controls, touchscreen and ports.
Link: Combination Case for iPhone 4 & 4S, black with white dots (currently $18.50 at Amazon.com)
Link: Combination Case for iPhone 4 & 4S, pink with black dots (currently $16.30 at Amazon.com)
Link: Combination Case for iPhone 4 & 4S, white with black dots (currently $17.08 at Amazon.com)
Kensington Virtuoso Pro Stylus & Pen (Black-K39526WW; White-K39564WW; SRP $29.99)
The Virtuoso Pro Pen provides a sophisticated and elegant design blending a Rollerball Pen and responsive touch stylus to make note-taking easy on your tablet and notepad. And the conductive quality barrel delivers greater comfort and control with a sculpted clip for easy storage.
Link: Virtuoso Pro Stylus & Pen, black (currently $26.37 at Amazon.com with free super saver shipping)
Link: Virtuoso Pro Stylus & Pen, white (currently $23.99 at Amazon.com)
Kensington AbsolutePower Dual USB Wall Charger
Running out of outlets in your dorm room? Power is never far away with two AbsolutePower Dual USB Wall Chargers to charge two tablets, smartphones, and other USB-charged mobile devices simultaneously. Stay connected with the Kensington AbsolutePower Dual USB Wall Charger with USB Adapter Cables (K39373US; SRP $34.99). The Kensington AbsolutePower Dual USB Wall Charger with 30-pin Apple Cable (K39525US; SRP $34.99) charges iPad, iPhone, and iPod devices. Both chargers incorporate dual 2.1 Amp USB power ports ready to provide full charging support for tablets, smartphones, and other mobile devices. The AC plug removes for storage and travel.
Link: AbsolutePower Dual USB Wall Charger with USB Cables (currently $26.23 at Amazon.com with free super saver shipping)
Link: AbsolutePower Dual USB Wall Charger with 30-pin Apple Cable (currently $24.85 at Amazon.com)
Kensington PowerGuard with BungeeAir™ Battery Case & Find-My-Phone Fob (K39575US; $79.99
From the classroom, to the library, then back to the dorm room; students on the move won't lose or forget their iPhone with PowerGuard and BungeeAir. Simply insert your iPhone into the ruggedized case, download the free BungeeAir App and attach the fob to your keys or purse. If you and your iPhone are separated, the iPhone screen will lock automatically and send an alert to the fob. The rugged PowerGuard battery case resists scratching and protects your iPhone while also adding up to 4 hours of talk time. Hold your iPhone in landscape or portrait mode with the cases built-in card slot (card not included).
Link: PowerGuard with BungeeAir Battery Case & Find-My-Phone Fob (currently $56.11 at Amazon.com with free super saver shipping)
Kensington KeyFolio Pro 2 Removable Keyboard, Case & Stand (Red-K39638US; Dark Brown-K39639US; Caramel-K39640US; SRP $99.99)
Personalize and protect your iPad with a companion that also helps make doing homework and taking notes a breeze. The KeyFolio Pro 2 provides a high-performance removable keyboard optimized for the touch typist. Built-in Bluetooth technology delivers wireless operation and one button setup. A secured Velcro fastener ensures tablet vertical stability with viewing angels from 70 to 20. This lightweight 3-in-1 design is optimized for travel and in-case use plus protects your new iPad and iPad 2 from wear and scratches.
These Kensington products are currently available for purchase at Kensington.com, Amazon.com, and major resellers.
Link: KeyFolio Pro 2 Removable Keyboard, Case & Stand, red (currently $69.26 at Amazon.com with free super saver shipping)
Link: KeyFolio Pro 2 Removable Keyboard, Case & Stand, dark brown (currently $63.39 at Amazon.com with free super saver shipping)
Link: KeyFolio Pro 2 Removable Keyboard, Case & Stand, caramel (currently $63.65 at Amazon.com with free super saver shipping)
Join us on Facebook, follow us on Twitter or Google+, or subscribe to our RSS news feed
Links for the Day
Mac of the Day: DayStar Genesis, introduced 1995.10.30. The first 'Mac' with multiple processors, technology Daystar licensed to Apple.
Recent Content
Follow Low End Mac on Twitter
Join Low End Mac on Facebook
Favorite Sites
MacSurfer
Cult of Mac
Shrine of Apple
MacInTouch
MyAppleMenu
InfoMac
The Mac Observer
Accelerate Your Mac
RetroMacCast
The Vintage Mac Museum
Deal Brothers
DealMac
Mac2Sell
Mac Driver Museum
JAG's House
System 6 Heaven
System 7 Today
the pickle's Low-End Mac FAQ
Affiliates
Amazon.com
The iTunes Store
PC Connection Express
Macgo Blu-ray Player
Parallels Desktop for Mac
eBay

Advertise