iOS 6 Coming This Fall to iPhone 3GS, iPad 2, and Newer; iPad 2 Is New iPad's Main Competitor; and More
This Week's iPad, iPhone, iPod, and Apple TV News
Compiled by Charles Moore and edited by Dan Knight - 2012.06.15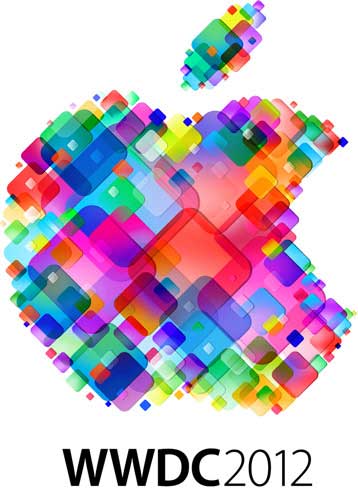 Mac notebook and other portable computing is covered in The 'Book Review, and general Mac news is in Mac News Review.
All prices are in US dollars unless otherwise noted.
News, Reviews, & Opinion
The Competition
Apps & Services
Accessories
iPod Deals
These price trackers are updated every month.
News, Reviews, & Opinion
Apple Previews iOS 6 for Fall Release
All New Maps, Siri Features, Facebook Integration, Shared Photo Streams & New Passbook App., Available to iPhone, iPad & iPod touch Users This Fall
PR: Apple previewed on Monday iOS 6, introducing over 200 new features to Apple's mobile operating system, and released a beta version to iOS Developer Program members. iOS 6 will be available to iPhone, iPad, and iPod touch users this fall as a free software update.
New iOS 6 features include: a new Maps app with Apple-designed cartography, turn-by-turn navigation and and a new Flyover view; new Siri features, including support for more languages, easy access to sports scores, restaurant recommendations and movie listings; Facebook integration for Contacts and Calendar, with the ability to post directly from Notification Center, Siri and Facebook-enabled apps like Photos, Safari and Maps; Shared Photo Streams via iCloud; and Passbook, the simplest way to get all your passes in one place.
"iOS 6 continues the rapid pace of innovation that is helping Apple reinvent the phone and create the iPad category, delivering the best mobile experience available on any device," said Scott Forstall, Apple's senior vice president of iOS Software. "We can't wait for hundreds of millions of iOS users to experience the incredible new features in iOS 6 including the new Maps app, expanded Siri support, deep Facebook integration, Shared Photo Streams, and the innovative new Passbook app."
iOS 6 includes an all new Maps app with vector-based map elements that make graphics and text smooth, and panning, tilting, and zooming fluid. New turn-by-turn navigation guides you to your destination with spoken directions, and the Flyover feature has photorealistic interactive 3D views. Real-time traffic information keeps you updated on how long it will take to get to your destination and offers alternate timesaving routes if traffic conditions change significantly. Additionally, local search includes information for over 100 million businesses with info cards that offer Yelp ratings, reviews, available deals, and photos.
Siri, now available for the New iPad as well as iPhone 4S, includes language support for English, French, German and Japanese, and adds support for Spanish, Italian, Korean, Mandarin, and Cantonese. Siri is optimized for use in 15 countries and helps you get even more done with just your voice, whether it's finding the latest sports scores or making restaurant reservations. You also can ask Siri to update your status on Facebook, post to Twitter, or launch an app. Additionally, Siri takes handsfree functionality even further with a new Eyes Free mode, enabling you to interact with your iPhone using nothing more than your voice.
Built-in Facebook integration allows users to sign in once and post from Notification Center, Siri, and Facebook-enabled apps, including Photos, Safari, and Maps. Your Facebook friends information is kept up-to-date across all your iOS devices, automatically updating details in Contacts when they change, and scheduling events and birthdays in your Calendar. You can also "Like" content directly from the App Store and iTunes and see what your friends recommend.
With more than 125 million users already enjoying iCloud, iOS 6 introduces new ways to share photos with friends and family using Shared Photo Streams. Simply select the photos you want to share, pick which friends you want to receive the album, and the Shared Photo Stream album is instantly available on their iOS devices, iPhoto and Aperture on their Mac, via the Web, or even through Apple TV. You and your friends can leave comments on or Like any photo in a shared album.
The new Passbook app is the simplest way to get all your passes in one place, such as boarding passes and baseball tickets. Passbook lets you scan your iPhone or iPod touch to use a coupon, get into a concert, or check into your hotel. Passbook automatically displays your passes on your Lock Screen based on a specific time or location, so when you walk into your favorite coffee shop your loyalty card appears and you can scan it to buy a coffee or check your balance. Passbook can even alert you to last minute gate changes or flight delays at the airport.
iOS 6 also introduces Guided Access. This new feature allows a parent, teacher, or administrator to disable hardware buttons to lock an iOS device into a single app, especially useful for test taking or helping someone with a disability stay focused on learning. Guided Access also includes the ability to confine touch input to certain parts of the screen.
Additional new iOS 6 features include:
Enhancements to Safari, the world's most popular mobile browser, such as iCloud tabs, offline reading lists, photo uploads, and full screen view.
Support for FaceTime calls over cellular networks.
The ability to set up a VIP Mailbox, making it easier to quickly view messages from important people you designate as VIPs.
The option to decline incoming calls with a quick message, set a callback reminder, and enable a new Do Not Disturb option.
A whole new set of improvements and services specifically for iOS users in China, such as improved text input and built-in support for popular Chinese services including Baidu, Sina Weibo, Youku, and Tudou.
The iOS 6 beta software and SDK are available immediately for iOS Developer Program members at developer.apple.com. iOS 6 will be available as a free software update for iPhone 4S, iPhone 4, iPhone 3GS, the New iPad, iPad 2, and iPod touch (fourth generation) this fall. Some features may not be available on all products.
Link: iOS 6
9 Automakers Partner with Apple for 'Eyes Free' Siri Support
AppleInsider's Neil Hughes reports that the launch of iOS 6 will bring greater automobile integration to the iPhone with "Eyes Free," a new feature that will allow a car to bring up Siri voice control. With Hands Free, the iPhone screen stays off, so it will not distract the driver.
Several auto manufacturers have committed to Eyes Free Siri integration in the next 12 months including:
BMW
General Motors
Mercedes-Benz
Land Rover
Jaguar
Audi
Toyota
Chrysler
Honda
Not Ford? Oh, right, they're committed to the confusing, buggy, glitch-prone Microsoft-designed Sync and MyFord Touch systems (see below) that have caused consumer quality ratings to nosedive.
Link: Nine Automakers Partner with Apple for 'Eyes Free' Siri Support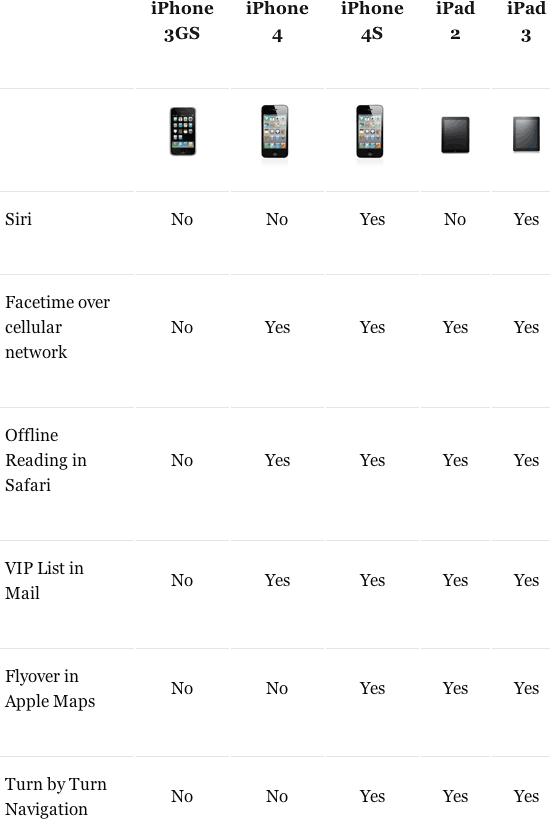 Older iPhones and iPads Getting iOS 6 Minus Some Features
Blogger Amit Agarwal notes that iOS 6 will add plenty of new features to your iPhone and iPad, for example, for the first time, you will be able to use Siri on your iPad - provided it's a new third-generation iPad.
iOS 6 will support iPhone 3GS, iPhone 4, iPhone 4S, iPad 2, and iPad 3, but not the original iPad, and even if iOS 6 is available for your iPhone or iPad model, it may not necessarily mean that all the new features of iOS 6 will be available on your device. For instance, Siri is part of iOS 6 but won't be supported on on iPad 2 even though iOS 6 is nominally available for iPad 2.
Agarwal has posted a handy table (right) showing what features of iOS 6 may not be available for your iOS device even if that device can be upgraded iOS 6.
Link: Will iOS 6 Work on Your Older iPhone and iPad?
New iPad's Closest Competitor? The iPad 2
AllThingsD cites new data from Consumer Intelligence Research Partners (CIRP) noting that sales of the iPad 2 and the New iPad between February and April of 2012 were roughly similar, with the New iPad accounting for 59% of total iPad sales since that model's March 16th launch date, and the holdover iPad 2, which costs $100 less, accounting for 41%.
Being your own competition is never a bad strategy if you can pull it off, and since the iPad 2's development costs have long since been amortized, selling iPad 2s even at $399 should be quite profitable.
Editor's note: Personally, I would probably opt for the iPad 2 over the New iPad were I tablet shopping, and not just because it's cheaper. The iPad 2s being sold now also have a more efficient version of Apple's A5 processor than the original iteration, give away little if anything in computing performance to the new iPad, have longer battery life, commensurately recharge faster, are thinner and lighter, and the 1024 x 768 resolution display in my iPad 2 is still perfectly adequate, IMHO.
The only feature in the new iPad that really tempts me is the better quality camera. cm
Link: The New iPad's Closest Competitor? The Old iPad
Kitting Out an iPad for Laptop Surrogate Duty
BYTE Associate Editor Boonsri Dickinson says taking her iPad for a weekend in New York and leaving her computer at home. was a big mistake - the right idea but she didn't come as prepared as she should've, observing that no one has really taken the lead in helping users figure out which apps they need on an iPad to make it a good PC replacement.
Subsequently, Dickinson says she has consulted with fellow BYTE contributors to find out which apps they use on the road so the next time her iPad will be armed with the right software, as well as being advised to take along a physical keyboard.
Link: How to Travel Using Only Your iPad
Why Do You Need a New Computer Instead of an iPad?
BusinessInsider's Jay Yarow thinks Microsoft is taking a big risk with its new Windows 8 operating system, which is getting bad reviews, and a good chance it will be a marketing dud - a repeat of the Vista fiasco - only Apple is now a much more formidable rival.
Yarow suggests that some prospective computer purchasers might just go with an iPad instead of a new laptop or desktop, keeping their old computer around for heavy lifting tasks and switching to the iPad for Web surfing, email, watching video, etc. Yarow notes that since he got a new iPad, his MacBook Air is mostly collecting dust.
Link: Why Do You Need a New Computer Instead of an iPad?
Average Tablet Price Down 21% Year-over-Year
PR: According to recently released figures in the IMS Research (recently acquired by IHS Inc.) quarterly tablet PC tracker, tablet ASPs (average selling prices) have declined by 21% in a single year to $386 in the first quarter of 2012.
The report's author, China-based IMS Research Market Analyst Gerry Xu, says the decline in price reflects intense competition in the tablet PC market. With the release of the New iPad, Apple reduced the entry price of the iPad 2 to $399, which has resulted in greater price pressure on its rivals, forcing them also to reduce price to make their products competitive.
Despite booming shipments of low-end tablets, vendors of this tier have also pulled the average price down. Low-end tablets typically have prices below $200. However, brands like the white-box tablet PCs have lowered prices below this average and as a result have won widespread adoption in this quarter, primarily in emerging countries.
...low price seems to be the major factor to attract consumers to buy tablets other than iPads.
"There are few innovations from vendors to differentiate their tablets; low price seems to be the major factor to attract consumers to buy tablets other than iPads," says Xu. "More vendors are expected to focus on the low-end tablet market. However, to balance performance and profitability with a low price remains challenging for most tablet vendors."
The low-end tablet market is dominated by medium and small brands and also white-box vendors, which are cost driven and less focused on user experience. These products fulfill the needs of price-sensitive consumers, especially those in emerging countries, who tend to use the portable media player, ebook reader, and GPS functions on their tablets. However, upcoming products, such as the second version of Kindle Fire and the Google Tablet, will mean increasing pressure vendors of low-end tablet's to enhance performance while still keeping prices low.
IMS Research's World Tablet PC Market Tracker examines the world market for tablet PCs every quarter, including unit shipments, ASPs and revenues. Further splits include: by platform, OS, panel size, price range, wireless connectivity and region. It is updated every quarter and includes market shares of the top 10 OEMs.
Publisher's note: With Apple owning about 60% of the tablet market, it should come as no surprise that a 20% drop in price for an entry-level iPad corresponds with a 21% drop in average selling price for the entire market. dk
Steve Jobs Was Wrong About File Systems
Gizmodo contributor Dave Winer says there were a lot of things Steve Jobs was right about, but when it came to the internal architecture of the software running on his machines and how it connected to software on others, "Jobs didn't have many (if any) good ideas." In Winer's estimation, Apple has floundered in this area, and nowhere was that indecision more obvious than in an interview Jobs did at the D3 conference in 2005 in which he asked rhetorically, "Why is the file system the face of the OS?"
His answer: "Now, e-mail, there's always been a better way to find stuff. You don't keep your e-mail on your file system, right? The app manages it. And that was the breakthrough, as an example, in iTunes. You don't keep your music in the file system, that would be crazy. You keep it in this app that knows about music and knows how to find things in lots of different ways. Same with photos: we've got an app that knows all about photos. And these apps manage their own file storage."
Winer contends this was the wrong way to go, noting that structures you deal with in each of these programs are the same, the stuff is still stored in the file system, and iTunes is a user interface disaster, certainly no exemplar to cite as an ideal solution.
He observes that you can shuffle the elements around, but you still have the same problem. The data ultimately is organized in a hierarchy, and if you can visualize that hierarchy and provide interactions that make sense to edit and view that hierarchy, there's no reason the same browser shouldn't be used for all types of data. It does not have to be a "wall." All your stuff ends up interrelating anyway.
Winer thinks the problem was that other members of Jobs' product development teams weren't as expansive as he was, or weren't empowered, or weren't great programmers, or whatever, but Apple didn't come up with a good solution either in Mac OS or in iOS. "They did a nice job of packaging an architecture that doesn't work," he says, noting that "Jobs basically says that in 2005, but he thought he had it licked then, and now we know he didn't,".... "we're not in the post-PC world as much as we are in the post-Jobs world. When we're done mourning his passing we'll realize that there are huge spaces we never fully explored because his presence loomed so large."
Link: What Steve Jobs Left Untouched
The Competition
Smartphone or Phablet?
Farpoint Group's Craig Mathias queries on InformationWeek whether the term "phablet" has crossed your bows yet, explaining that a phablet is what you get when you add cellphone functionality to a small tablet, transforming it into essentially a super-sized smartphone that you can hold up to your head. But does the phablet make sense?
Mathias thinks it might, at least in some cases. He notes that the phablet threshold would be somewhere around a 5" display (vs. the 4"-or-less typical in handsets), and with the caveat that a device bigger than a pants pocket immediately puts the male market at risk, while women almost always carry handbags with some room to spare. Mathias suggests that many men will bridle at wearing a large device on their belts or having to carry manbags just to tote their phablet, which compromises sales potential and likely relegating phablets to niche status in vertical and specialized markets, with some casual end-users latching on but Mathias expects few mainstream business and enterprise users to embrace phablets.
Link: Should Your Next Smartphone Be a Phablet?
Windows 8 Hybrids Will Surpass iPad Battery Life
BYTE's George Ou contends that Windows 8 and Intel's Clover Trail will be an iPad killer, and that Intel confirmed to him that Clover Trail will indeed have the killer feature of always-on computing, which doesn't mean "instant-on" like Google's Chromebook, which can take over eight seconds to boot.
By contrast, Ou says Clover Trail devices can remain on and connected to the network - which Intel calls "connected standby" - for approximately 30 days. Always-on computing will eliminate the despised boot process, and the extended battery life will eliminate the need for bulky AC adapter bricks and power cords.
He says Clover Trail not only will match the iPad's battery life but can nearly double it when the tablet is connected to the base that includes a variable-angle stand, a screen cover, an auxiliary battery, a keyboard, a trackpad, and possibly more storage and connectivity options. Ou allows that PCs are on the verge of surpassing the iPad in battery life and always-on capability and poised to solve the keyboard/cover problem better than any iPad accessory ever did.
Link: Windows 8 Hybrids Will Surpass iPad Battery Life
Apps & Services
Ford's MyFord Mobile App for the Focus Electric Now Available for iPhone
PR: With the first retail customers now taking delivery of what Ford claims to be America's most energy-efficient compact car, the 2012 Ford Focus Electric, the MyFord Mobile iPhone app and www.MyFordMobile.com are available to help owners locate charging stations and recharge their cars in half the time of the Nissan Leaf.
Ford Motor Company has been front and center in embracing the app development community for years, pulling in technologies that allow for consumers to take their mobile lives with them in the car but do it safely with eyes on the road, and hands on the wheel.
With the evolution of electric vehicles, Ford is taking the management of its electric vehicle offerings to a new level with its MyFord Mobile app - specifically developed for the 100% Ford Focus Electric - now live and available for download from the Apple store. Owners of the new 2012 Ford Focus Electric can now begin downloading the MyFord Mobile iPhone app now from the Apple store or from the myfordmobile.com website. MyFord Mobile for Android and BlackBerry smartphones is expected this Summer once Ford completes final testing.
MyFord Mobile allows Focus Electric drivers to link up with their cars via an embedded AT&T wireless module that provides for remote communication with the car to maximize utility and minimize operating costs. Drivers can log in at any time to check the current state of charge of the advanced lithium-ion battery pack and enable the exclusive Value Charging mode. How about getting into a warmed up vehicle on a cold morning without using battery power? MyFord Mobile allows for that. MyFord Mobile can also help drivers learn to be more energy efficient by automatically uploading and processing vehicle data from each trip.
Video: MyFord Mobile - Smartphone Features for your Focus Electric (3:23)
MyFord Mobile includes value charging powered by Microsoft, trip planning and public charger location database thanks to MapQuest, and a cellular connection to the Focus Electric via an AT&T embedded cellular modem
MyFord Mobile allows Focus Electric drivers to link up with their cars via an embedded AT&T wireless module that provides for remote communication with the car to maximize utility and minimize operating costs. Drivers can log in at any time to check the current state of charge of the advanced lithium-ion battery pack and enable the exclusive value charging mode.
Focus Electric drivers also will be able to share, learn and teach smart driving by participating in forums on the MyFord Mobile website with features such as leader boards, unique achievements and social networking when the car becomes available through dealers in the first half of 2012. In the process, users will be able to seamlessly upload driving achievements and statistics to popular social platforms like Facebook and Twitter.
"The Focus Electric is a fun car to drive and helps save customers money at the pump; with MyFord Mobile, the enjoyment and savings continue after the vehicle is parked and charging," says Bill Frykman, Business and Product Development manager. "This innovative app also offers new ways of sharing your driving experiences to create a cool factor while educating new Focus Electric drivers on the perks that come with an electric vehicle lifestyle."
While away from the car, customers can monitor the battery display for the current charge level and for how long the car will need to be plugged in to get a full charge or reach a desired range. The MapQuest-powered trip planner built into both the app and Web portal enables users to find available public charging stations and plan efficient multi-destination routes. Users can select their next destination and send it directly to the car from either the app or the portal for hassle-free voice guidance.
MyFord Mobile includes industry-first value charging technology codeveloped with Microsoft that can help customers charge the car at the lowest possible cost. Electricity rates can vary widely depending on location, season and time of day. The national average is about 11.5 cents per kilowatt-hour, but local rates can vary from less than 5 cents at night to more than 37 cents during peak times in areas such as Hawaii.
When the Focus Electric is plugged in at home, value charging harnesses the power of Microsoft's cloud computing platform to check local utility rates and then automatically starts charging after the prices drop. With value charging, Focus Electric users get reduced operating costs and use power when there is less strain on the electrical grid. An added benefit is owners don't have to go searching for energy pricing data.
Owners can also use MyFord Mobile to program their driving schedule with GO Times and set a desired cabin temperature. Do you want a warm car on that cold morning? Using GO Times will heat it up without using battery power. Are you leaving in the middle of the night? GO Times will ensure you use as much of that value charge as possible and still ensure you have a full battery.
Of course the battery can only be charged if the Focus Electric is plugged in. The combination of MyFord Mobile and the embedded wireless connection enables the car to send a text message alert to the owner if someone unplugs the Focus before the battery is fully charged or the owner forgets to plug in at night.
MyFord Mobile can also help drivers learn to be more energy efficient by automatically uploading and processing vehicle data from each trip. After arriving at a destination, drivers can check the trip and charge log to see how far they drove, how much energy was consumed and how much braking energy was recaptured. They can also get overall driving scores.
"The MyFord Mobile app and the Focus Electric work together to coach drivers to be more efficient and maximize the benefits of the electric vehicle experience," says Joe Rork, MyFord Mobile product manager. "We wanted to help drivers get more miles out of every charge and have some fun along the way."
Drivers who are curious about making the jump to gasoline-free driving can check out the site and the app as a guest. MyFord Mobile will also work with the upcoming C-MAX Energi and Fusion Energi plugin hybrids.
The MyFord Mobile app will be available for all Ford plugin electric vehicles and allows consumers to manage vehicle functions with the iPhone. This will work in tandem with MyFordMobile.com to give access to customers in the method which works best for their lifestyles.
The MyFord Mobile app allows consumers to:
View the current state of charge
Commence charging
Precondition the vehicle cabin temperature by setting GO Times
Value Charge by charging the vehicle when utilities offer the cheapest rate for electricity
Plan trips
Find charge stations
Share driving accomplishments to Facebook, Twitter and Email
Consumers will initially receive MyFord Mobile free of charge at purchase and for a fee after the initial subscription subsides.
Link: MyFord Mobile App
Link: 2012 Ford Focus Electric
Accessories
Blue LED Dock Connector Cable for iPhone/iPod/iPad
PR: Charge or sync your iPhone/iPad/iPod in style with this light flowing USB cable. There's a blue LED strip running down the length of the cable that flows and changes while you're charging our device and looks cool.
The USB cable shows the electricity flowing into your device. USB charging cables with Illuminated current flow for charging that actually show the visible current flow into your device; once the device is fully charged the intelligent cable switches off power to save energy.
A bright-blue LED Light ebbs & flows through this iDevice USB Cable to match the level of charge. Quick flow means fully charged, while slow flow means still charging.
Features:
Water glowing when charging
Light speed of flashing light varies according to the intensity of charging current
Energy conservation & environmental friendly
Supported various kinds of options under equal and exquisite color light 360-degree fully glowing
Soft cable can be bent and folded and won't affect glowing effect
Sync with iPhone/iPad/iPod when charging
This case is suitable for:
iPad 1, 2, and 3 (New iPad)
iPhone original, 3G, 3GS, 4, 4S
iPod touch 1G, 2G, and 3G
iPod classic
iPod 5G
iPod nano 3G, 4G, and 5G
Colors Available:
Specifications:
$23.99
Link: Blue LED Light USB to 30-pin Dock Connector Cable for Sync & Charging for iPhone/iPod/iPad
Join us on Facebook, follow us on Twitter or Google+, or subscribe to our RSS news feed
Links for the Day
Mac of the Day: Power Mac 8200, introduced 1996.04.22. The minitower version of 7200 was never sold in America.
Recent Content
Follow Low End Mac on Twitter
Join Low End Mac on Facebook
Favorite Sites
MacSurfer
Cult of Mac
Shrine of Apple
MacInTouch
MyAppleMenu
InfoMac
The Mac Observer
Accelerate Your Mac
RetroMacCast
The Vintage Mac Museum
Deal Brothers
DealMac
Mac2Sell
Mac Driver Museum
JAG's House
System 6 Heaven
System 7 Today
the pickle's Low-End Mac FAQ
Affiliates
Amazon.com
The iTunes Store
PC Connection Express
Macgo Blu-ray Player
Parallels Desktop for Mac
eBay

Advertise