iPad Replaces PC for Some, Apple #1 Mobile Device Maker, iGifts for Dads and Grads, and More
This Week's iPad, iPhone, iPod, and Apple TV News
Compiled by Charles Moore and edited by Dan Knight - 2012.06.01
Mac notebook and other portable computing is covered in The 'Book Review, and general Mac news is in Mac News Review.
All prices are in US dollars unless otherwise noted.
News, Reviews, & Opinion
The Competition
Apps & Services
Accessories
iPod Deals
These price trackers are updated every month.
News, Reviews, & Opinion
iPad Will Replace PC for Some People
Macworld UK's Karen Haslam reports that Apple CEO Tim Cook has reiterated his belief that the tablet and PC should never converge, but that he does anticipate the iPad replacing the PC in some cases for some people. Haslam cites Cook commenting:
"Will the tablet displace the PC market? Today there are a lot more believers in that. I'd bet there are a lot of people in the audience who use their iPad a lot more than their computer. I know I do that. And I love the Mac, but I find myself spending more and more time on my iPad. As time goes on, I think it will get more and more like that...."
Adding: "What I see is that the tablet for some people takes over what their PC was for them. And it will extend the purchasing cycle for others."
Link: Apple's Tim Cook: iPad Will Replace the PC 'for Some People'
Is the Retina Display Holding Back iPad Graphics?
The Verge checks out how the A5X chip handles the demands of Retina-level resolution, observing that it's rare to see a technically demanding game run at Retina resolution without some compromises, and rarer still to see one equal or exceed the iPad 2's graphics performance at full 2048 x 1536 Retina resolution. They acknowledge that the new iPad's Retina display is a sight to behold, but it comes at a cost, and with an iPad 2 on hand you'll quickly notice that certain sacrifices have been made in favor of resolution, the iPad 2 tending to handle the game at a steadier frame rate.
They observe that the A5X and Retina display are both very impressive components, but it's clear that in gaming much of the former's capability is limited to supporting the demands of the latter, and that going forward they'd like to see the A5X outshine its predecessor instead of simply matching it, imagining what could it be capable of if developers used the quad-core graphics to push higher quality effects rather than churning out millions of extra pixels for the Retina display. After all, DVDs manage to look realistic enough at much lower resolution.
Link: Is the Retina Display Holding Back iPad Graphics?
Apple Maintains Leading Mobile Device Manufacturer Status
PR: Millennial Media says Apple continued to be the number one mobile device manufacturer on their platform in Q1, representing 28% of the top manufacturers impression share. Apple iPhone accounted for 15% of mobile phone impressions and maintained its position as the number one mobile device on Millennial Media's platform since March 2010.
Insights
Smartphones led the Device Mix, with 73% of the impressions in Q1 (Chart A). Though overall Smartphone impressions grew from Q4 2011 to Q1 2012, the percent of overall impressions was relatively flat quarter-over-quarter. Over the course of a year, however, Millennial Media have seen significant growth in Smartphone 14% impression share, as consumers upgraded from Feature Phones to more advanced mobile devices.
Non-phone connected device impressions, which includes tablets, increased 33% quarter-over-quarter and represented 20%-33% of the device mix in Q1, up from 15% in Q4 2011. This demonstrates significant disproportionate growth of non-phone connected device impressions in comparison to smartphones and feature phones on Millennial Media's platform in Q1.
With over a dozen new tablets introduced to the market in 2011, this growth is largely tied to the increased adoption and usage of tablet devices.
In Q1, Android led the OS Mix on Millennial Media's platform with 49% of the impressions (Chart C). In the past year, Android has steadily increased their market share, currently accounting for 14 of the Top 20 Mobile Phones in Q1 2012, up from 10 devices in the Top 20 ranking a year ago. Android has gained market share in the tablet marketplace as well, growing from having no tablets on the top mobile device list to having two tablets - the Samsung Galaxy Tab and the Amazon Kindle Fire - ranking in the top 20 devices on our platform in Q1.
Top Five Tablets on the Millennial Media Platform in Q1 2012
iOS represented 33% of the OS Mix on Millennial Media's platform (Chart C). iOS had been the clear leader as the top OS for over a year, but was displaced by Android in 2011. This quarter's impression growth was highly driven by the growth of tablets and likely tied to the release of the most recent version of Apple's iPad.
In Q1 2012, IDC noted that the worldwide shipments of mobile tablets are expected to increase 54% year-over-year in 2012. Over the next four years, tablets are expected to continue to grow at an average rate of 17% year-over-year until 2016, reaching 198 million tablet devices. The percent of impressions coming from non-phone connected devices - particularly tablets - continues to grow significantly. In Q1 2012, impressions came from a variety of tablets, with the iPad, Galaxy Tab, and Kindle Fire all ranking in the top 20 of all mobile devices on the Millennial Media platform, when ranked by impressions .
According to eMarketer, women made up slightly fewer than half of tablet users in 2011, at 45%; the gap in tablet usage between men and women is expected to level out over time, with 49% of tablet users in 2014 expected to be women.
Link: Mobile Mix™ Reports
Apple Makes Patent Application for Optical Stylus
Apple has applied with the United States Patent Office to patent an optical stylus and host computing system, in particular a method of operating the optical stylus that includes determining when the optical stylus is in contact with a surface based on signals received by a processor from a pressure sensor of the optical stylus and capturing an image while the optical stylus is in contact with the surface using a camera of the optical stylus. The captured image is then transmitted to a host system.
This optical stylus would be for use with a host device, and comprise a image capture device configured to obtain images of encoded, location indicative patterns; a processor coupled to the image capture device; one or more orientation determining components coupled to the processor; a pressure sensor coupled to the processor and configured to sense pressure applied to an end of the stylus; and an antenna coupled to the processor, wherein the antenna is configured to transmit data collected by the optical stylus to the host device, wherein the processor is configured to actuate the image capture device upon receiving signals from the pressure sensor indicative of pressure being applied at the end of the stylus, and to transmit data collected by the optical stylus while receiving signals from the pressure sensor indicative of pressure being applied at the end of the stylus.
Publisher's note: This sounds like an update to the light pen, which has been around since at least the early 1980s (its ancestor, the light gun, goes back to 1952 and was most widely used with Nintendo's Duck Hunt game for the NES). Traditional light pens and guns have been wired and worked with traditional CRT monitors, and Apple's patent moves that forward to work wirelessly with LCD screens.
Link: United States Patent Application: 0120127110
iPad Speeds Up Reporting from NASCAR's Pit Row
MacRumors' Jordan Golson says Dave Burns has been covering stock car racing from pit road for 17 years, including spending the past 12 covering NASCAR's premiere Sprint Cup Series. These days he's a Pit Reporter for ESPN, covering Nationwide and Sprint Cup practices, qualifying, and races, all over the course of a single weekend - every weekend - for months at a time given NASCAR's grueling 38-race season.
Golson reports that when the iPad was released in 2010, Burns instantly saw the potential. He could digitize his notepads, drop the pen and paper, and carry all his reference material with him to every race. After addressing concerns about size, durability, using it outside in the bright summer sun, and - perhaps most importantly - which apps to use, Burns arrived at his perfect setup.
Link: How an iPad Speeds Reporting from NASCAR's Pit Row
Automakers Struggling to Create an iPhone-Simple User Interface
Wired Autopia's Doug Newcomb reports that as automakers continue to load vehicles with the features and functionality people expect from their portable devices, the in-dash user interface has become a branding battleground - and the Achilles' heel of the increasingly connected car. Newcomb observes that while giving a smartphone or tablet undivided attention is common if not considered rude, depending on your circle of friends calling up a Pandora station on your iPhone while driving has the potential to put your life, and others on the road, at risk, and that US Secretary of Transportation Ray LaHood has personally called out automakers for putting tech prowess and profit before public safety, singling out Ford's Microsoft engineered Sync system in particular, and Consumer Reports calling the follow-up MyFord Touch system frustrating and a complicated distraction when driving, and with Ford dropping to 23rd from fifth place year-over-year in J.D. Power & Associates' 2011 Initial Quality Study, largely based on customers complaints with the touch-based system.
Editor's note: If an iPhone-simple interface is the objective, why not get Apple to engineer it? cm
Link: Automakers Struggling to Create an iPhone-Simple User Interface
Everything You Ever Wanted to Know About iOS Device Jailbreaking
Forbes' Adrian Kingsley-Hughes answers the query "Should I jailbreak my iPhone?" and other jailbreaking questions aimed at the newbies to jailbreaking, so if you're the sort of person who's already jailbroken an iOS device, not much of this will be new to you.
Otherwise, read on.
Link: 'Should I Jailbreak My iPhone?' and Other Jailbreaking Questions Answered
G24i Collaborates with Logitech on World's First Light-powered Keyboard for the iPad
PR: G24 Innovations Limited (G24i), a pioneering manufacturer of dye-sensitised photoelectric Cells (DSC), has collaborated with global computer peripherals leader Logitech to create what is claimed to be the world's first light-powered tablet keyboard folio. The Logitech Solar Keyboard Folio for the Third-Generation Apple iPad and iPad 2, announced by Logitech on May 3, 2012, represents the first major application of game-changing DSC technology in the consumer electronics space.
The ultra-slim folio delivers tablet protection and features a built-in Bluetooth keyboard that is powered by any light, even lamp light. With no silicon components, G24i's DSC technology is lightweight, power-dense, robust, and flexible; ideal as an integrated, portable, and environmentally-friendly power source.
The two businesses have worked closely for over two years to deliver a product that liberates the customer from the burden of having to replace expensive and environmentally harmful disposable batteries. During this time, G24i has extended its indoor light conversion to over 26% efficiency, rating its DSC technology as almost five times more powerful than its nearest competitor.
Last week in Berlin, the achievement was recognised as the 2012 Best Technical Development of an Energy Harvesting Device at the Energy Harvesting and Storage Europe conference.
Bracken Darrell, Logitech President, comments, "We're excited about the Logitech Solar Keyboard Folio. This signals the future of small electronics. G24i is at the forefront of a whole new class of sustainable, self-powered products that don't need charging or replacement batteries. You buy them and they need nothing but light.
"G24i's record power density, together with the lightweight, robust and flexible profile of its cells, gives us confidence that advances in DSC technology can keep up with the demands of ever-more power hungry devices in the future."
"G24i and Logitech are proving that being green can also be about customer convenience, design excellence and cost effectiveness," says Robert Hertzberg, Cofounder and Director of G24i. "This is not a novelty product.
"This deal is an important milestone in the development of our business and its aim to displace disposable batteries with next-generation energy harvesting technology. The global market for disposable batteries is worth in the region of $80bn a year."
G24i's technology was developed at Ecole Polytechnique Fdrale de Lausanne (EPFL), where Logitech also has a long and proud history. Professor Graetzel's dye-sensitised cell invention is recognised as coming close to mimicking the light reaction in natures photosynthesis.
"G24i has made my vision of mimicking nature's photosynthesis a commercial reality," says Professor Michael Graetzel, recipient of the 2012 Albert Einstein World Award of Science and the 2010 Millennium Technology Prize for inventing Dye Sensitised Cells. "By leveraging a renewable energy source that is readily available, G24i and Logitech can change the face of consumer electronics. I anticipate that this is the first of a series of successful green products."
The Logitech Solar Keyboard Folio is available in the US and Europe for a suggested retail price of $129.99.
Link: Logitech Solar Keyboard Folio (preorder from Amazon.com for $129.99 shipped)
The Competition
7" Google Tablet to Ship in June
DigiTimes' Monica Chen and Joseph Tsai reports that Google's new 7" Android tablet, codeveloped with Asustek (a.k.a. Asus), is set to start shipping in June with initial shipments projected to reach about 600,000 units. Chen and Tsai say the machine will be officially released in the market in July, according to unnamed sources from the upstream supply chain, although Asustek has declined to comment.
They note that Google originally planned to release its entry-level 7" tablet in May, but design and costs did not meet its expectations, and the product got delayed to July for some minor adjustments.
Link: Google 7-Inch Tablet PC to Ship in June with Initial Volume of 600,000 Units - Report (subscription required)
Dell Windows 8 Tablet, Hybrid Details Leaked
The Register's Caleb Cox reports that Dell's tablet plans for 2012 have slipped out, revealing a chunky Windows 8 slate and a tablet-laptop hybrid also set to run with Microsoft's tile-centric OS - the Dell Latitude 10 dual-core tablet with a 10.1" 1366 x 768 pixel display, 2 GB of RAM,and up to 128 GB of SSD storage powered by a two-core 'Cedar Trail' Intel Atom chip, according to a Neowin report.
Link: Dell Windows 8 Tablet, Hybrid Details Leaked
Apps & Services
Cortex Camera Improves Low Light Camera Results
PR: Whimsical Productions' Cortex Camera improves the clarity and resolution of your photos by combining over 100 frames of video to create one impressively high resolution and noise-free still photograph.
Cortex Camera is inspired by the visual cortex, a remarkable feature found in people. The visual cortex continuously processes visual information to create a clear picture of our environment. Cortex Camera mimics this innovation of mother nature to bump the quality of your iPhone or iPad photos into DSLR territory.
Features
Take full advantage of your device's amazing retina display by taking the best quality photos possible
Greatly reduces noise, especially in challenging lighting conditions
Increased camera resolution on iPad

iPad 2: 3.5 megapixels (compared to .7 megapixel standard camera)
The new iPad: 8 megapixels (compared to 5 megapixel standard camera)

Up to 8 megapixel photos on iPhone 4S
Pinch to zoom - zoom in further without loss of detail!
Tap to focus
Easy to use! Just point and shoot (hold the camera steady for about 3 seconds) and your photo is saved to the camera roll.
Turn off automatic alignment of frames and use Cortex Camera for long exposure photography
Optionally save photos in PNG format for maximum quality
Requirements:
Compatible with iPhone, iPod touch, and iPad
Supported devices: iPhone 4S, iPad 2, or newer.
Requires iOS 5. iOS 5.1 or later
$2.99
Link: Cortex Camera
Free Mobile Mouse Server Lets You Control Your Mac from Your iDevice
PR: Mobile Mouse Server (formerly Air Mouse Server) is the server software to accompany the Mobile Mouse App for the iPhone, iPod Touch, and iPad.
Instantly transform your iPhone or iPod touch into motion based mouse, trackpad, and wireless remote for your computer. Sit back and surf the web, browse your photo library or control your music player from the comfort of your couch. This app uses the built in accelerometer to translate your hand motions into mouse movements on your screen. It can also operate as a trackpad, allowing you to control your computer with a single finger.
Suddenly your iPhone, iPod and iPad have become an essential part of any home theater and a presenter's best friend. Using an innovative application notification system, your iOS device will always know what applications are running at any time and show the appropriate keys for that program, providing you with a single screen for controlling ALL your media and web applications.
To use this software, you must also download the Mobile Mouse app from the App Store for your iPhone/iPod or iPad.
New in version 2.6.11:
Fixed problem with some users not seeing slides show up on their iPhone when using the Pro
Presentation remote with PowerPoint
Fixed problem with slides without titles not showing up
System requirements:
Mac OS X 10.6.6 or later
Mobile Mouse Pro for iPhone
Link: Mobile Mouse Pro for iPhone
Link: Air Mouse Server for Mac OS X 10.4 or 10.5/10.6
Link: Air Mouse Server for Mac OS X 10.6.6 or later
Mobile Mouse Pro Transforms Your iPhone into a Wireless Mouse & Keyboard
PR: Mobile Mouse instantly transforms your iPhone or iPod touch into an in air, wireless remote for your computer! Sit back and use this remote to surf the web, browse your photo library or control your music player from the comfort of your couch. Mobile Mouse uses the built in accelerometer to translate your hand motions into mouse movements on your screen. It can also operate as a trackpad remote, allowing you to remote control your computer with a single finger. Mobile Mouse is an essential part of any home theater PC and a presenter's best friend.
Mobile Mouse uses an innovative application notification system to let the iPhone know what program you are running at any time and show the appropriate keys for that program. This allows Mobile Mouse to provide a single screen remote for controlling ALL your media and web applications. Mobile Mouse is the only app to feature a full fledged dock, just like you'd find on your Mac! Mobile Mouse supports all the most popular web and media programs for the Mac and PC. New remote definitions are automatically downloaded daily to your computer, so you will always have the newest remotes as possible.
Features
Accelerometer based mouse controller
Trackpad(full screen vertical and landscape modes)
Application switcher (works just like the dock in OS X)
File Browser
Ability to hide keyboard (shake to hide/show)
Landscape keyboard (shake in landscape mode to show)
Media Remote (w/vol up/down and eject buttons)
Web Remote
Presentation mode with Pro option (Keynote/PowerPoint)
Numeric keyboard
Application notifications
Remote keyboard with function and arrow keys
Programmable hotkeys (can be set to run a program or keyboard combination)
Scroll pad
Left and Right mouse buttons
Multitouch gestures (two finger scroll, two finger tap, swipe left/right with 4 fingers, swipe up/down with 4 fingers, pinch with 4 fingers, spread 4 fingers, three finger drag, three finger tap, double tap three fingers, double tap two fingers)
Modifier Keys
On screen typing
Sleep/Wake your computer
Password protection
Custom sensitivity settings
Foreign language keyboards
Supports Bonjour or static IP
No screen size limitation. Works with multiple monitors.
High resolution graphics for retina display on iPhone 4.
Provides remote control capabilities for programs like iTunes, VLC, Front Row, Windows Media Center, WinAmp, Firefox, Safari, Boxee
Requirements
Mac OS X Leopard/Snow Leopard/Lion (Intel)
Windows XP/Vista/Windows 7 (32/64-bit)
WiFi router (works best on a local area network or Ad hoc network)
Mobile Mouse Server Software
BEFORE YOU RUN THE SOFTWARE you will need to download the server application from http://www.mobilemouse.com
New in version 2.6.1:
Fixed problem causing the modifier keys to not work with the F keys
Fixed problem causing click and drag to not work on multiple swipes
Improved trackpad response time
Fixed slow connection time (Must download version 2.6.6 of the server from our website or the Mac App Store)
Added Natural Scrolling option to mimic Lion
Added Lion gestures as well as the option to program each gesture on the server for any OS under the Hot Key settings in the server:

Swipe left/right with 4 fingers
Swipe up/down with 4 fingers
Pinch with 4 fingers
Spread 4 fingers
Three finger drag
Three finger tap
Double tap three fingers
Double tap two fingers

Bug fixes
System requirements:
Mac OS X 10.4 or above
Windows XP/Vista 32/64-bit
WiFi router (works only on a local area network over WiFi)
Static IP address
Compatible with iPhone, iPod touch, and iPad. Requires iOS 3.1.2 or later.
$1.99
Link: Mobile Mouse Pro for iPhone
Link: Air Mouse Server for Mac OS X 10.4 or 10.5/10.6
Link: Air Mouse Server for Mac OS X 10.6.6 or later
TabTimes, the Tablet Business Magazine, Launches as an iPad App
PR: TabTimes for iPad, a business news magazine entirely devoted to tablets and delivered as a free iPad application, hit the App Store this week.
Ready for the post-PC world? Welcome to TabTimes.
As a technology platform, the tablet rivals both the PC and the Web in terms of creating a paradigm shift.
But it's not a technology revolution driven by tech makers: its actually being led by the people using them. Employees are the prime force pushing tablets into the corporate world. That's more than consumerization of IT: it's the magic of tablets captivating the work space.
Almost all news media outlets occasionally touch upon tablets. But professionals and business users like you need a dedicated, comprehensive and specific source of information and guidance, to help you select, buy and use the best tablet devices, accessories, apps, platforms and services for yourself, your department and your organization.
TabTimes offers in-depth look at how tablets change peoples lives and offers actionable advice on how to get things done in the post-PC era, and will report on the front lines of this revolution with a business perspective. The journal will focus on how tablets are used for business, work and productivity, with a mix of news, features, reviews, interviews and how-to articles.
TabTimes for iPad's content is produced by a team of seasoned and passionate journalists, who previously worked for PC Magazine, MacLife, PC World and Infoworld. The content team also includes columnists Ben Bajarin, a tech columnist for Time.com, Dan Rowinski, a writer at ReadWriteWeb, and Christina Tynan-Wood, a tech columnist at Family Circle magazine and a previous columnist for PC Magazine and PC World.
The intuitive interface of TabTimes for iPad combines the best of print magazines (depth of content, clean design and pleasant page flipping) and the best of news blogs (timeliness and straight-to-the point analysis). Every time users open the app, they will discover the latest published article. They can then either dive into the article by swiping vertically, or jump to the previously published article by swiping horizontally.
Users can bookmark articles within the app, comment on them, save them for later reading in Instapaper or Pocket, and share them with colleagues and friends via e-mail, LinkedIn, Twitter or Facebook.
TabTimes for iPad is updated throughout the day, with a main feature cover story to be published every evening at 8 PM (Eastern time) on workdays, and early in the morning on weekends - just when most people are ready for a reading experience on their iPad.
Written in plain English for a global audience, TabTimes for iPad highlights technological trends which will shape the tablet ecosystem. Primarily geared towards managers, IT professionals and business people, TabTimes' mission is to help them utilize tablets to do more, work smarter, push their career further and better their business.
In addition to continuous news coverage, TabTimes for iPad will interview leaders of the tablet industry and professionals who have already initiated tablet projects in their workplace. TabTimes for iPad also reviews tablet devices, accessories and apps, and guides readers on how to get things done with their iPad through tips and how-to articles.
FileMaker and Accellion are the launch sponsors of TabTimes for iPad.
TabTimes for iPad is available now in the App Store's Business category.
Link: TabTimes
Free Absinthe Untethered Jailbreak for iOS 5.1.1
PR: @pod2g and the @ChronicDevTeam have announced the release of Absinthe 2.0 at #HITB2012AMS held at the Okura Hotel in Amsterdam.
Known as the "iOS Jailbreak Dream Team", @p0sixninja, @pod2g, @planetbeing, @pimskeks released the untethered jailbreak for iOS 5.1.1 on the final day of the week-long conference. Echoing Steve Jobs' trademark WWDC encore of "... and one more thing", the team announced the release of Absinthe 2.0 during the closing minutes of their two hour talk at the conference.
Absinthe 2.0 will affect the majority of Apple devices running iOS 5.1.1 including iPad 1,1 - 2,1 - 2,2 - 2,3 - 3,1 - 3,2 - 3,3, the iPhone 2,1 - 3,1 - 3,3 - 4,1 and iPod 3,1 - 4,1. The jailbreak does not support the third generation Apple TV and support for iPad 2,4 will be added at a later date.
The team announced that the new Absinthe 2.0 will be available immediately for download from the official ChronicDevTeam website.
The release announcement came after recent rife speculation spreading through online social networks on the actual release date and scope of Absinthe 2.0. The jailbreak community's interest was first piqued when the team announced they were scheduled to appear at HITBSecConf2012 - Amsterdam to deliver not one but two talks covering both the Corona (A4) and Absinthe (A5) jailbreaks for Apple devices. On the 20th of May, a tweet from team member @pod2g stating the release of Absinthe 2.0 was 'in a matter of days' led to further speculation that the final release would be made at HITBSecConf which ran from 21 - 25 May.
"We want to take this opportunity to thank Hack in the Box for giving us the chance to all get together for the first time, especially in the beautiful city of Amsterdam, it has been a great delight for us to announce our next release at this event. Thank you to all our supporters and keep jailbreaking!! :D "
"This was certainly one of the most highly anticipated talks we've EVER had at one of our HITB conferences, and we've done quite a few of these. The excitement from the Dream Team followers and overall Twitter and online buzz has been terrific!", said Dhillon Andrew Kannabhiran, Founder and CEO of Hack In The Box.
"It was truly an honor to host the Dream Team in their first ever 'real world' meet up and we would like to thank them for taking the time and effort to make the trip over to not only join us at our third European outing, but to help kick-start our celebration of '10 years of HITB awesomeness' with the release of Absinthe 2.0!", he added.
iOS jailbreaking, or simply jailbreaking, is the process of removing the limitations imposed by Apple on devices running the iOS operating system through use of custom security exploits. Jailbreaking allows users to gain elevated access to the operating system. Consequently it also allows users to download additional applications, extensions and themes that are unavailable through the official Apple App Store.
This jailbreak supports firmware 5.1.1 ONLY and is claimed to be one of the easiest jailbreaks to use.
If you are already running a tethered jailbreak on iOS 5.1.1 search Cydia for "Rocky Racoon 5.1.1 Untether" to simply untether the jailbreak. It's unnecessary to run this tool.
Requirements:
Intel
Mac OS X 10.5 or later
Supported Devices (iOS 5.1.1 only):
iPad 3 (WiFi/CDMA/Global), iPad 2 (WiFi/CDMA/GSM), iPad 1
iPhone 4S, iPhone 4 (GSM), iPhone 4 (CDMA), iPhone 3GS
iPod 4G, iPod 3G
Unsupported Devices:
iPad 2 WiFi R2 (new model)
Apple TV 2
Apple TV 3
Download Links
Link: Absinthe
Accessories
6 Affordable iPad/iPhone Gifts from Kensington for Dads & Grads
PR: Kensington Computer Products Group offers suggestions for gifts for the dad or grad in your life with six tech accessories for tablet, smartphone, or laptop.
"We know Fathers Day and graduation season is a special and exciting time for so many families, and its important to choose just that perfect gift that reflects the personality of your tech enthusiast," says Juan Rodriguez, Senior Global Product Manager, Kensington. "We pride ourselves on providing fun and thoughtfully designed products any dad or grad will enjoy over and over again. These gifts make their always-connected lifestyles easier and more productive, while being very good to your spending account."
Kensington KeyFolio Pro Keyboard Case for new iPad & iPad 2 (SKU K39357US; SRP $99.99)
Perfect for the on-the-go business dad or recent college grad starting work for the first time, the Kensington KeyFolio Pro provides a high-performance keyboard optimized for the touch typist. Built-in Bluetooth technology delivers wireless operation and one button setup. A multi-position stand holds your iPad in place while the rotatable frame offers landscape and portrait use. Optimized for travel and in-case use, this lightweight and compact design protects your iPad from wear and scratches. Camera openings allows for front and back camera use. Compatible with new iPad & iPad 2.
Link: Kensington KeyFolio Pro Keyboard Case for new iPad & iPad 2 ($49.49 shipped from Amazon.com)
Kensington AbsolutePower Dual USB Wall Charger
Every father and recent student needs a place to recharge when they run out of juice. Power is never far away with two AbsolutePower Dual USB Wall Chargers to charge two tablets, smartphones, and other USB-charged mobile devices simultaneously. Stay connected with the Kensington AbsolutePower Dual USB Wall Charger with USB Adapter Cables (K39373US; SRP $34.99). The Kensington AbsolutePower Dual USB Wall Charger with 30-pin Apple Cable (K39525US; SRP $34.99) charges iPad, iPhone, and iPod devices. Both chargers incorporate dual 2.1 Amp USB power ports ready to provide full charging support for tablets, smartphones, and other mobile devices. The AC plug removes for storage and travel.
Link: Kensington AbsolutePower Dual USB Wall Charger with USB Adapter Cables ($26.49 shipped from Amazon.com)
Link: Kensington AbsolutePower Dual USB Wall Charger with 30-pin Apple Cable ($29 shipped from Amazon.com)
Kensington Chaise Universal Tablet Stand (K39535WW Black; K39536WW White; SRP $19.99)
No tech-enthusiast dad or grad will want to give up comfort or productivity when using their tablet on the go. Enter a simple, mobile, compact and stylish stand to stay productive anywhere. Unlike other complicated and cumbersome multi-unfold designs, the Kensington Chaise Universal Tablet Stand is slim enough for easy travel while providing maximum stability; one flip and its ready to cradle a tablet even in the tightest spots such as airplane seat or at a cafe table. It also offers stability for uneven and glassy surfaces and works with virtually all popular tablet models.
Link: Kensington Chaise Universal Tablet Stand, Black ($19.99 from Amazon.com)
Link: Kensington Chaise Universal Tablet Stand, White ($18.28 from Amazon.com)
Kensington Virtuoso Mini Collapsible Stylus (K39542WW; SRP $14.99)
Give the gift of creating art, annotating files or capturing content on the go to the dad or grad you know. The Virtuoso Mini Collapsible Stylus can expand and contract in size, and dock conveniently to your iPhone or iPad for quick access and you never have to worry about losing your stylus again. Navigating apps such as SketchBook, iAnnotate, and Penultimate is a breeze with the precision offered by the Virtuoso's touch tip.
Link: Kensington Virtuoso Mini Collapsible Stylus ($16.56 from Amazon.com)
Kensington Word Lock Portable Combination Lock (K64684US; SRP $27.99)
All dads and grads need to protect their laptop from theft while on the go. Protect your laptop and personal information with the Kensington WordLock Portable Combination Laptop Lock. The push button design offers one hand operation for easy installation while the Kensington T-Bar secures the lock to your laptop. WordLock allows you to set the code with four letter words making it Easier to Set - Never Forget. The self-coiling cable stretches to 6 to anchor to a desk or fixed structure yet shrinks to 3 for easy packing.
Link: Kensington Word Lock Portable Combination Lock ($24.99 from Amazon.com - and just 1¢ shy of free shipping)
Kensington Aluminum Finish Case for iPhone 4 & 4S (K39388US Black; K39389US Grey; SRP $24.99)
Give dads or grads iPhone some extra protection from bumps and scratches in this lightweight aluminum finish case. The aluminum hard shell case is stylish and protects your iPhone on the move while still allowing easy access to all controls, touchscreen and ports.
Link: Kensington Aluminum Finish Case for iPhone 4 & 4S, Black ($20.98 from Amazon.com)
Link: Kensington Aluminum Finish Case for iPhone 4 & 4S, Grey ($14.03 shipped from Amazon.com)
These Kensington products are currently available for purchase at Kensington.com, Amazon.com, and major resellers.
Kudo Solar iPad Case with HDMI and More
PR: The KudoCase for iPad, iPad 2, and the New iPad 3rd Generation are pulling the plug on wasted power by using new solar ink technology to convert outdoor and indoor light into usable energy to continually charge the iPad. Whenever light is shimmering around you this solar powered iPad case is charging your battery.
The KudoCase for iPad 2 is has a list of benefits to offer. Indoor/Outdoor Solar Power giving you an average of up to 10 days of use. An extended battery, USB Power-out charger, HDMI, Whistle Locator, Multiple Stands and the automatic Sleep/Wake feature built in. This durable case is one you can be proud of with a housing made from biodegradable grain and the world's only indoor operating organic solar panel.
Features
Solar iPad Charger - An innovative concept using new solar technology to convert indoor and outdoor light into energy to charge the iPad. For the average user the Kudo is claimed to support up to an impressive 10 days use on your iPad.
iPad HDMI Adapter Built In - HDMI now already connected to your iPad. Simply connect the case to any standard HDMI capable TV or projector and immediately watch YouTube, Movies, Keynote presentations and more directly off your iPad
Extended iPad Battery - The Kudo is essentially a self charging battery backup case. 10 straight hours of use is cool, but 24 hours is much cooler. The case has a battery always storing energy and automatically charging the iPad day or night.
Movie Stand - There are stainless steel pegs in the back of the Kudo Solar iPad Case to prop different positions. The movie position makes it easier to watch movies while propped on a table or lap, to read recipes while cooking and so much more.
Keyboard Stand - The keyboard position makes it much easier to type on the iPad. We found propping the iPad up at a comfortable 15 degree angle makes a surprising difference on your comfort and typing speed.
USB Power-Out - The Kudo charges more than your iPad or iPad 2. To avoid the headache of a dying camera, headset, or dead cell phone you can just plug it directly into the solar powered Kudo case to charge it back up.
Whistle Locator - Exactly what it sounds like. It's easy to forget, when you're at the office or at home and can't find where you left your iPad just simply whistle and the Kudo will beep back to let you know where it is.
Messenger & Travel Bag
The KudoMate is an ideal companion for the Solar KudoCase. Sleek, slim, and elegant yet with plenty of space and pockets for storage, it's offered at a discount when ordered with the KudoCase.
Protective Case - The Kudo is also a hard shell iPad case with a soft rubberized coating. The cover is made from biodegradable grain to be tough of protection while easy on the earth.
Eco Friendly - Not only is the iPad Kudo solar power with a corn grain housing, to help this case shine even brighter Kudo have partnered with trusted groups to plant a tree for every iPad Kudo registered. Buy one Get one Tree. This will offset any potential carbon footprint left behind from manufacturing.
Notes: The average user uses their iPad about two hours a day and accumulates either 14 hours of indoor light (windows, lamps, etc.), one hour of sunlight
(dashboard, windowsill, etc.), or a combination of both per day. The Kudo iPad solar case brings in a constant trickle of energy throughout the day. Sunlight is much stronger than indoor light, but electronics are typically used indoors, and the Kudo is capable of drawing energy from the home or office as it continues to work even in low light environments. More light and less use means longer iPad time, conversely less light and more use means less iPad time before charging the old-school way. A lifeguard that only uses their iPad solar case a little may go weeks or months without needing a charge but an Internet junkie living in a basement may only go a few days.
Price: $199.99
Link: KudoCase for New iPad and iPad 2
Link: KudoCase for Original iPad
Logitech's New Solar Keyboard for Mac, iPad, and iPhone
PR: Logitech has announced an expansion of its solar powered keyboard lines with the new Logitech Wireless Solar Keyboard K760 for Mac, iPad or iPhone. A continuation of Logitech's solar series, which started with the Logitech Wireless Solar Keyboard K750 and has continued with the Logitech Solar Keyboard Folio for iPad, this new keyboard adds Bluetooth connectivity with an easy-switching capability. It allows you to simultaneously pair multiple devices and quickly switch among them with the push of a button.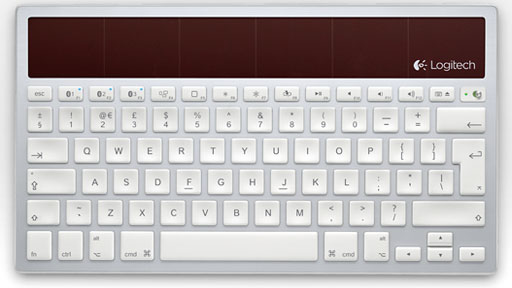 "Laptops, smartphones and tablets are ubiquitous both at work and at play," says Denis Pavillard, vice president of experience design at Logitech. "Because Apple devices are central to this trend, Logitech is committed to improving the way people interact with them. With its simple solar charging, familiar Mac layout and comfortable design, the Logitech Wireless Solar Keyboard K760 will appeal to Apple users worldwide."
One Keyboard for All Your Apple Devices
Logitech Brand Manager Todd Walker says that when the company released the Logitech Wireless Solar Keyboard K750 for the Mac last fall, some customers let them know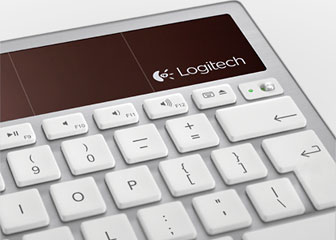 they wanted a solar keyboard that used a Bluetooth wireless connection. Logitech listened, and with the new Logitech Wireless Solar Keyboard K760, up to three different devices can be kept paired via the easy-switching Bluetooth connection that allows you to quickly and easily switch from your Mac to your iPad with the press of a button. Switching back is just as easy.
The Logitech Wireless Solar Keyboard K760 is stylish and compact with onboard cells that are powered by light for hassle-free charging. With its easy-switching Bluetooth connection, you can pair your keyboard to as many as three devices and switch among them without having to reconnect. This means you can move from typing on your Mac to your iPad to your iPhone and back again with the simple push of a button.
An ideal keyboard solution for your favorite Apple device, the Logitech Wireless Solar Keyboard K760 features a slim, minimalist design and Mac-specific keys,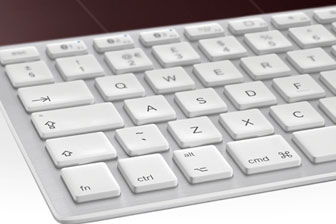 including Command, Brightness, Eject and more. The unique Logitech concave key design facilitates comfortable, quiet typing, and for iDevice users offers more speed and precision than typing on an onscreen keyboard.
With its environmentally friendly PVC-free construction, fully recyclable box and onboard cells for charging, the Logitech Wireless Solar Keyboard K760 is designed to minimize its environmental footprint. Similar to the existing Logitech Solar Keyboards, you can charge this keyboard in any light low light or lamp light, indoors or outdoors. Fully powered, the keyboard works for at least three months, even in total darkness (based on average use per day of eight hours).
The Logitech Wireless Solar Keyboard K760 is expected to be available in the US and Europe beginning in June 2012, for a suggested retail price of $79.99.
System Requirements
Mac OS X 10.5 (Leopard) or later (Intel only)
iPad or iPhone with iOS 4.0 or later
Light source from sunlight and/or indoor lighting
Internet connection (for software download)
Editor's note: I have been using a Logitech Wireless Solar Keyboard K750 as my main workstation keyboard for the past 10 months and can't say enough good about it (see my review on PBCentral). This new 'board makes the concept more portable with Bluetooth connectivity instead of conventional RF so it can be used with iOS devices. cm
Publisher's note: The layout of the K760 that we've seen on most websites (including Logitech's) has an oddly shaped Return key further to the right than Mac users are used to (a problem with the original IBM PC keyboard as well, but that was way back in 1981). We've seen another layout online as well (above), most notably on Cnet.com, that more closely mirrors the traditional Mac layout. We're hoping that's the one that's going to ship.
Link: Logitech Wireless Solar Keyboard K760 (keyboards on Logitech store, not yet listed at Amazon.com)
Join us on Facebook, follow us on Twitter or Google+, or subscribe to our RSS news feed
Links for the Day
Mac of the Day: DayStar Genesis, introduced 1995.10.30. The first 'Mac' with multiple processors, technology Daystar licensed to Apple.
Recent Content
Follow Low End Mac on Twitter
Join Low End Mac on Facebook
Favorite Sites
MacSurfer
Cult of Mac
Shrine of Apple
MacInTouch
MyAppleMenu
InfoMac
The Mac Observer
Accelerate Your Mac
RetroMacCast
The Vintage Mac Museum
Deal Brothers
DealMac
Mac2Sell
Mac Driver Museum
JAG's House
System 6 Heaven
System 7 Today
the pickle's Low-End Mac FAQ
Affiliates
Amazon.com
The iTunes Store
PC Connection Express
Macgo Blu-ray Player
Parallels Desktop for Mac
eBay

Advertise