Is the iPad a PC?, Business Professionals Embrace iPad, TurboTax Goes Fully Mobile, and More
This Week's iPad, iPhone, iPod, and Apple TV News
Compiled by Charles Moore and edited by Dan Knight - 2012.01.20
Mac notebook and other portable computing is covered in The 'Book Review, and general Mac news is in Mac News Review.
All prices are in US dollars unless otherwise noted.
News, Reviews, & Opinion
Rumor Roundup
Apps & Services
Accessories
iPod Deals
These price trackers are updated every month.
News, Reviews, & Opinion
Is the iPad a PC?
Asymco's Horace Dediu notes that Gartner published its estimates for PC shipments during the fourth quarter, and as he's done in the past, he combined their estimates with known shipments from Apple and separated Apple's performance from the Windows-based market.
Dediu also takes into consideration the iPad as a potential competitor for computing purchases, noting that Apple will report fourth quarter results (including Mac and iPad shipments) in less than two weeks, but he's using his own estimates until then to graphically plot how the platforms grew globally over the last few quarters.
Low End Mac's Dan Knight covered the same territory in The iPad Is a PC last week.
Link: Is the iPad a PC?
91% of iPad-Using Business Professionals Use Their iPads for Work
PR: IDG Connect's iPad for business survey, based on interviews with iPad-using IT and business professionals across every continent, reveals that more professionals use their iPad for work communication than personal communication.
This research shows the tablet is fast becoming a true work device, provided by employers and used in the office for business communication. It also highlights some startling regional variations, emphasizing the need for marketers to adapt content to local markets as well as new mediums.
Nearly a quarter of respondents even have their iPad supplied by work, a statistic which climbs sharply in continents like Africa (47%) and Europe (40%). In addition to this, a surprising 51% of those surveyed always use the device at work, almost as many who always use it at home (54%). This is especially true in the Middle East and Africa, where over 70% always use it at work and less than half always use it at home.
The results also show stark changes in content consumption, and provide evidence that B2B marketers should tailor information to the tablet medium: 97% of professionals use the iPad for reading, 70% + now buy fewer physical books and newspapers, 72% of iPad owners carry their laptop less, and 66% say the iPad has partially or completely replaced their laptop.
The survey revealed a robust loyalty to Apple, with 83% globally stating they would not consider buying a different tablet device next time.
Kathryn Cave, editor at IDG Connect International says: "This research shows the tablet is fast becoming a true work device, provided by employers and used in the office for business communication. It also highlights some startling regional variations, emphasizing the need for marketers to adapt content to local markets as well as new mediums."
The full report is available as an interactive PDF and includes case studies on each continent.
IDG Connect has its own white paper iPad app available from iTunes.
Link: iPad for Business Survey 2012 (PDF)
iPad as Work Tool: 91% of Professional Users Say 'Yes'
In The 'Book Mystique on MacPrices.net, Charles Moore says:
"Proceeding as I am with my own long-term experiment with using my iPad 2 as a work tool, I was very interested in reading through IDG's iPad for Business Survey 2012 (above), which the market research firm released on Monday.
"The report's authors note that since its launch in January 2010, the iPad has become part of daily life for up to 60 million users worldwide, and that while much has been written about the iPad as a consumer 'stay-at-home' device, used predominantly for content consumption, citing a recent survey of US consumers that found 60 percent of iPads never leave the home, and 70 percent of usage occurs in the living room.
"However, what's particularly interesting about the findings of this global survey of iPad-using IT and business decision-makers is that these professional users differ from the broader iPad-using population of consumers in that they use their iPads more intensively and across a wider range of scenarios. For example, 51% of IT decision-makers say they 'always' use their iPad at work (and a further 40% say they sometimes use it at work), and 79 percent say they 'always' use their iPads 'on the move'....
"My own iPad usage as it's been evolving is not typical of either group. I do use the 'Pad as my primary non-work Web access device, in pretty much every room of the house. However, it's also more and more getting tasked with work-related stuff, including elements of content creation, although my Mac laptop running OS X remains very much my primary content creation workhorse."
Link: iPad as Work Tool: 91 Percent of Professional Users Say 'Yes,' But Can It Replace Laptops?
Ford Focus Electric to Have Companion iOS App
Computerworld's Matt Hamblen reports that when it's released, Fords first all-electric passenger vehicle, the Focus Electric, will feature a smartphone app that can help drivers keep track of when the car is being charged remotely, among many other things. The free app will work on Android, iOS, and BlackBerry smartphones, and the car controls can also be operated from a secure website via desktop computer as well, communicating with a wireless module inside the car over AT&T's wireless network.
Link: Ford's New Focus Electric to Have Companion iOS App
The Hidden Dangers of Touchscreens
Writing for InfoWorld, Franklin Tessler, M.D., C.M. says that distracted driving and walking aren't the only perils lurking behind touchscreen devices such as iPads, iPhones, BlackBerrys, Windows Phones, and Androids, and that while not quite as dramatic, touchscreen-oriented health hazards can be even more insidious because most people aren't even aware that they exist.
Dr. Tessler maintains that potential for injury from using touchscreens will only go up as more people use smartphones and tablets, especially if Microsoft's Windows 8 effort succeeds in popularizing touchscreen PCs and laptops.
For more commentary on this topic, see Can Touch Screens Hurt You? at Technology Review.
Link: The Hidden Dangers of Touchscreens
Rumor Roundup
Panel Orders Indicate iPad 2 Will Continue Alongside Retina Display iPad
DigiTimes' Rebecca Kuo and Adam Hwang report that Apple has selected Sharp, LG Display and Sharp as the suppliers of 9.7" QXGA (2048 x 1536) panels for use in the next generation iPad, with shipments of the high-resolution panels having begun in Q4 2011 and anticipated to exceed those of XGA panels used in the iPad 2 in Q2 2012, according to their sources in the Taiwan-based supply.
Kuo and Hwang say that in the meantime, Apple has adjusted shipments of iPad 2 panels downward from a peak of 16.0 million panels in Q3 2011 to 10.0 million units in Q4 2011, with a further reduction to 7.0-8.0 million units in Q1 2012, with shipment volume of panels for use in the new version of iPad expected to surpass that of iPad 2 panels in the second quarter of 2012, and with shipment volume of iPad 2 panels to decrease from 48.0 million units in 2011 to an estimated 25.0 million units in 2012.
However, that would appear to indicate that iPad 2 production will continue after the next generation iPad release, widely expected for March.
Link: Panel Orders Indicate iPad 2 Will Continue Alongside iPad 3 (subscription required)
Apps & Services
TurboTax Goes Mobile: Prepare, File Taxes From Smartphones and Tablets
PR: Whether you use a smart phone or a tablet, an expanded suite of TurboTax mobile apps makes it simple and convenient for taxpayers to easily and accurately prepare and e-file a return, estimate their taxes, and track their tax refund.
TurboTax, the nation's leading tax software from Intuit Inc., was the first to offer full tax preparation and e-filing directly from a mobile device. Unlike other tax apps, TurboTax apps are specifically designed and optimized for a true mobile user experience.
TurboTax apps combine the unparalleled ease of TurboTax with the convenience and portability of mobile devices so that taxpayers feel confident their taxes are done right, while guiding taxpayers step-by-step to their maximum tax refund.
SnapTax: Designed for taxpayers with a simple return (1040EZ), SnapTax was the first mobile app to allow users to completely prepare and e-file a federal and state return from their iPhone or Android device. SnapTax is easy, accurate and secure and lets users snap a photo of their W-2 with the camera in their phone and then, automatically transfers information right onto their tax return. Taxpayers then answer a few simple questions, review their return and tap File My Taxes to e-file in minutes.
TurboTax for iPad: Improved for Tax Year 2011
TurboTax for iPad, now includes the ability to easily transfer information from a prior year return and automatically import income information directly from 400,000 employers, banks and financial institutions. Free one-on-one tax advice from highly-qualified tax experts is now available to users of TurboTax for iPad and SnapTax as well.
TaxCaster: Now available for iPad as well as iPhone and Android devices, TaxCaster is a free and easy way to estimate a tax refund. With this interactive and engaging app, customers can quickly and easily enter information using visual icons and sliders to see where they stand before they file.
MyTaxRefund: After e-filing, any taxpayer can check the status of both their federal and state tax returns with this free and easy mobile app available now for iPad, as well as iPhone, Android devices. MyTaxRefund addresses the questions taxpayers have after they file around when their returns are accepted and when to expect to receive their federal tax refund based on IRS projections
TurboTax Card Mobile: Free to TurboTax customers who choose to receive their refund on a TurboTax Prepaid Visa Card, the TurboTax Card Mobile app is available for both iPhone and Android devices. The app allows customers to track their federal refund, activate their card, check their balance and transactions, locate ATMs and more.
TurboTax Online Products Are Also Accessible To Mobile Users
All TurboTax online products, including Free Edition, are now compatible when accessing through a browser on the iPhone, Android, Kindle Fire, iPad and other tablets. With an improved mobile experience, customers using a browser can move between their mobile device and their computer giving them more freedom and choice to prepare their taxes whenever and wherever they want.
All apps from TurboTax are free to download. TurboTax for iPad and SnapTax customers pay when they are done. SnapTax includes both federal and state preparation for $19.99. TurboTax for iPad customers begin using TurboTax Deluxe, for $29.99, and based on their tax situation, can choose TurboTax Premier or TurboTax Home & Business for an additional cost. State tax preparation is additional. All pricing for mobile apps is subject to change and includes e-file at no additional cost. Available on the App Store, Android Market or Amazon Appstore for Android.
Link: SnapTax
Link: TurboTax for iPad
Link: TaxCaster
Link: MyTaxRefund
OnLive Desktop: Microsoft Office Support on the iPad
PR: OnLive Desktop claims to provide a seamless, no-compromise, instant-response Cloud-based PC desktop, wherever and whenever you want it, bringing to your iPad a high-performance PC experience, regardless of the content, even when interacting with fast-action media.
Features
Instantly view, edit and create documents using actual Microsoft Office Word, Excel and PowerPoint
Easily transfer files between OnLive Desktop and other devices
Experience high-performance, instant-response PC applications
Interact with lag-free animation and video
Based on avant garde video compression technology, OnLive harnesses the power of cloud computing to deliver a seamless remote PC desktop solution.
System requirements:
Compatible with iPad.
Requires iOS 4.3 or later
Link: OnLive Desktop for iPad
TextKraft iPad Text Processor Upgraded to Support iCloud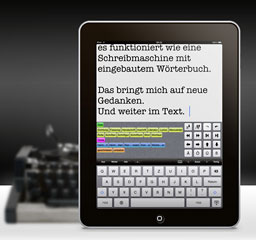 PR: Infovole GmbH, creator of the TextKraft and Schreibkraft text processing suite for the iPad, have announced announced a TextKraft update adding support for Apple's iCloud and direct messaging via Twitter.
With iCloud, users can easily store documents and share them across all Infovole Apps. The Twitter feature allows tweeting directly from your text, including link shortening - without leaving the App.
Besides its two marquee innovations, this update delivers a new built-in manual, as well as an overhauled user interface and tons of detail corrections and optimizations Infovole PR rep. Kathrin Sauerwein tells us.
Your editor is a big TextKraft and Schreibkraft fan, and in addition to the new iCloud support, I'm happy to affirm that it already worked just great with Dropbox, which is my preferred Cloud syncing solution.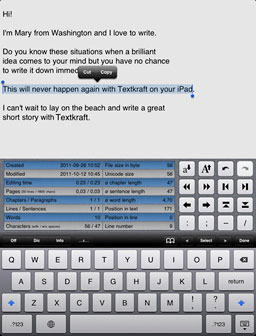 TextKraft contains an offline dictionary with synonyms and potential follow-ups; Wikipedia full-text search and several online-dictionaries; text import/export from Macintosh, Windows, Linux and other iPad Apps; Dropbox, iCloud, AirPrint and Twitter integration, easy cursor control, quick selection tools and detailed text information for professional editors. TextKraft is available with various language-specific dictionaries.
Schreibkraft is the first multilingual text processor. It speaks 10 languages in 14 country-specific flavors. There is no need to switch regions or keyboards. The App supports the user in all needed tongues at the same time. Paired with all the professional TextKraft editing features, Schreibkraft is the perfect text editor for global citizens.
You can read Charles W. Moore's full TextKraft review, Entering, Managing and Editing Text on the iPad - TextKraft a Game-Changer.
Link: TextKraft for iPad
Free HUDY Pro for iOS Gives Drivers Hi-Tech Heads Up Display on the Road
PR: BroadCON HC, Inc. has announced its release of HUDY Pro, an app that gives everyday users the opportunity to experience the luxury of information conveyed via Head Up Display (HUD) while driving. HUD is a feature typically reserved for top-of-the-line luxury vehicles. With HUDY Pro, however, smartphone, iPod touch, and tablet users can transform their driving experience in almost any vehicle with a windshield.
HUDY Pro turns the users iPhone, iPod touch, or iPad into a projector for driving related information such as speed, direction, and weather conditions. The application's primary function - to prove a speedometer via the convenience of HUD - is available at no charge whatsoever. Users simply open the application, choose Dashboard and tap the application's screen to put it in HUD mode. This flips the display horizontally and vertically. When the device is placed on the users dashboard, the information is reflected in the windshield. HUDY Pro utilizes the iPhone's GPS capabilities to provide users with this innovative method of display.
Harness your iOS device's technology to transform your windshield into a cutting-edge heads up display. HUDY Pro is elegantly simple and practical. This streamlined utility puts your devices LED backlit screen and GPS capability to use brilliantly, displaying your speed and direction of travel conveniently on your vehicle's windshield.
A heads up display negates the need for the user to look away from the road in order to gather vital information. Usually, this small but luxurious feature is reserved for top of the line vehicles in the automobile industry. With HUDY Pro, however, you can make this convenience your own.
HUDY Pro is designed with your driving efficiency and ease in mind. Its most pertinent feature - the heads up display of speed, time, and direction - is instantly accessible upon opening the application. The developers of HUDY Pro realized there was potential to do a great deal more with the application. Without compromising the appealing simplicity of instant dashboard accessibility, many other features have been made available.
The HUDY Pro windshield heads up display feature is available upon download, free of charge. If you enjoy this feature, you can consider expanding HUDY Pro's capabilities by adding the color customization, Zero-100, and/or ECO Drive feature sets, which are available through in-app purchases. Each additional feature is available a la carte, or as part of a discounted full package.
Top Features:
HUDY Pro Dashboard uses your iPhone, iPod, or iPads backlit display to reflect speed, direction, and time on your vehicles windshield
The free default display color combination (bright orange against a dark background) provides optimum visibility for the driver.
Additional standard colors are available through in app purchase
One-touch Dashboard accessibility means its never a hassle to set up HUDY Pro before you hit the road
Additional Options:
Zero-100, a feature set available for purchase within the app, allows drivers to time the number of seconds it takes their vehicle to accelerate from a standing stop to a designated speed
ECO Drive is another expansion available for purchase, which tracks the drivers sudden increases in speed daily, providing the past day and past ten days data. This information can play an important role in improving gas mileage through better driving habits.
Note that HUDY Pro can only be as accurate as GPS capabilities allow. HUDY Pro will not be able to provide current information when GPS is unavailable.
As HUDY Pro Dashboard requires placing your device on the dashboard of your vehicle, be sure to take precautions to keep your device from sliding on or falling off of the dashboard while driving.
BroadCon HC also offers other features via purchase through the application, including Zero-100 and ECO Drive. Both help drivers gain a better understanding of their vehicles performance. Zero-100 measures the time it takes for the vehicle to accelerate from a standing position to a speed indicated by the driver, while ECO Drive helps users save gas by measuring acceleration rates over time.
HUDY Pro is available for download, free of charge, in the iTunes App Store. The application is compatible with iPhone, iPod touch, and iPad using iOS 4.2 or later. Additionally, HUDY Pro is available in the Android Market and compatible with many devices utilizing an Android operation system.
Link: HUDY Pro
New AAA App Makes Auto Buying Easy
PR: Buying a new car is certainly stressful, but being armed with AAA's new Auto Buying Tools app can make the process a lot easier. Available on the Apple iPhone, AAA's new Auto Buying Tools app gives consumers the ability to modify car details in real-time and refresh pricing data on the showroom floor.
"This tool will give consumers the confidence and information they need to make an educated decision when buying a car," says Marshall L. Doney, AAA National Vice President, Automotive, Financial Services and e-Business. "AAA wants to insure its members are prepared and knowledgeable about available member benefits when making such an important decision."
With AAA's Auto Buying Tools app, prospective buyers can build the car they want, including options and available incentives, while viewing market pricing, crash safety ratings, AAA reviews, images and much more.
Key features of the AAA Auto Buying Tools App:
Search new cars by make/model, style and list price (MSRP)
Build your ideal car, down to color and trim
Features, specs, and crash safety ratings
AAA vehicle reviews and car buying services*
VIN number entry for quick, exact specifications
Save searches and cars to favorites
Share car details on Facebook, Twitter or email
Compare two customized vehicles
* AAA Member Pricing and Reviews not available for some models or in certain areas.
AAA's Auto Buying Tools app is the fifth from AAA and is available for free from the iTunes App Store. Visit AAA.com/mobile for further details. The other AAA apps include:
AAA Insurance app provides AAA's recommended steps on what to do immediately after a traffic collision and helps you gather important information about the crash needed to submit an insurance claim.
AAA TripTik Mobile is a GPS-based app with maps showing gas station locations and pricing along with points of interest, such as AAA-rated hotels, restaurants and attractions, near a user's location or any user-specified location.
AAA Discounts app, with more than a million downloads, also uses GPS technology to display nearby
AAA Show Your Card & Save locations.
AAA Roadside enables AAA members who require emergency road service to send their vehicle description, location and breakdown details directly to AAA.
Devices such as smartphones with mobile applications are valuable tools before a vehicle is in motion; however, they greatly increase motorist distractions when used while driving. Distracted driving can have deadly consequences. AAA urges motorists to minimize distractions behind the wheel by not using wireless devices, such as cell phones with mobile applications, while driving.
As North America's largest motoring and leisure travel organization, AAA provides more than 53 million members with travel, insurance, financial and automotive-related services. Since its founding in 1902, the not-for-profit, fully taxpaying AAA has been a leader and advocate for the safety and security of all travelers. AAA clubs can be visited on the Internet at AAA.com.
Link: AAA Auto Buying Tools
New App Turns Your iPhone/iPad into a Scanner, Doc Manager, and Printer
PR: Mobile smartphones are changing the way we live, socialize and do business. Our phones have replaced many other once-common tools, from GPS devices to handheld gaming consoles, notebooks, calendars, point-and-shoot cameras, newspapers, and portable audio players.
At a local technology event in San Jose, Nexscience, a California based startup, announced the release of a new mobile application called Scanner Pro for iPhone, iPad, and iPod touch devices. The app is the latest in a series of innovative ideas introduced to the Apple users by the developer community.
The new application allows users to Scan, Print, Download, View and Share files on their iPhone, iPad and iPod touch devices. It supports Microsoft Word, Excel, Power Point, PDF, Text and wide variety of sound and image file formats. Users can download files from virtually anywhere : from the Internet, from a computer in their WiFi network, through a USB cable or from an external file management system like Dropbox or Google Docs.
"Mobile Smart Phones are now capable of doing what we used to do with our desktop computers" says Faisal Faruqi, CTO for Nexscience and an Industry veteran. "With more and more computing power and rich hardware capability in smart phones, the innovation in applications is taking the benefits of mobile technology directly to common users"
Device Requirements:
iPhone, iPod touch, and iPad
Requires iOS 3.2 or later
6.4 MB
Scanner Pro 1.0 is $3.99 (or equivalent amount in other currencies) and available worldwide exclusively through the App Store in the Business category.
Link: Scanner Pro
iPad for Seniors Comprehensive Information on How to Get the Most Out of the iPad
PR: iPad for Seniors is the first comprehensive guide to learning how to get the most out of the iPad's tremendous functionality and is especially created for anyone over 50 with clear instructions in large type and step-by-step instructions.
Published by Visual Steps, iPad for Seniors is an essential guide to learning all about the iPad.
The iPad is a user friendly, portable multimedia device with endless capabilities. It can be used to to surf the Internet, write emails, jot down notes and maintain a calendar.
But these are by far not the only things possible with the iPad. This practical tablet computer comes with other built-in applications (apps) that allow the user to listen to music, take pictures and make video calls. It is even possible to view well-known places in Google Street View.
The Apple App Store consists of hundreds of thousands of apps that add extra functionality to the iPad. Many of these apps can be downloaded for free or cost practically nothing. Some of the best-selling apps cover topics such as news from around the world, games, education, shopping & traveling tips, and podcasts. There is literally an app for almost anything imaginable.
With this iPad book, the user can learn how to take complete advantage of this technology. This incredibly helpful guide will maximize the potential of this new technology and allow the user to get the most from their investment.
Topics covered in this iPad book:
navigate the screens
connect to a WiFi or 3G network
surf the Internet and use e-mail
use built-in applications
download apps from the App Store
work with photos, video, and music
iPad for Seniors
Author: Studio Visual Steps
Number of pages: 296
Book type: Paperback, full color
ISBN: 978 90 5905 108 9
Price: US $22.95, Canada $25.95
Link: iPad for Seniors
Medicinal Genomics Introduces iPad App to Explore the Science of Medical Marijuana
PR: Medicinal Genomics, a pioneer in the genomics of medicinal plants, has announced the availability of Jane-Ome, an application designed for Apple's iPad tablet, which offers a science-based dissection of medical marijuana.
Jane-Ome provides a gateway to the Cannabis genome project led by Medicinal Genomics, which in August 2011 sequenced the entire genome of Cannabis sativa and Cannabis indica, assembling the largest known gene collection of this therapeutic plant.
"Medicinal Genomics is excited to roll out Jane-Ome to help make sense of the extensive datasets created by the Cannabis genome project," says Kevin McKernan, founder and head of scientific operations of Medicinal Genomics. The company's hope is that Jane-Ome will help make that data more relevant to the public and serve as a conduit for future Cannabis genomes.
Jane-Ome provides users with continuously updated, exclusive genomic information on various Cannabis genomes. In addition, the app provides users with access to several scientific news feeds that explore the science of medicinal Cannabis, making Jane-Ome the nerve center to explore the plants therapeutic potential.
In addition to its encyclopedic information about the bleeding-edge science of Cannabis, Jane-Ome users can compete in Cannabis related trivia to earn the right to guide future sequencing efforts. Users can also explore never before released blueprints for the equipment used to crack the human genome project, as well as access videos which explain the impact DNA sequencing and genomics have had on the world. Furthermore, Jane-Ome provides users with access to never before seen videos documenting the history of the human genome project, as well as commentary from members of that scientific consortium explaining how research has led them to aim their sights on unlocking the genome of Cannabis.
Medicinal Benefits of Cannabis
Ongoing scientific research suggests that the Cannabis plant harbors beneficial compounds as it pertains to cancer apoptosis, antiemesis for HIV and chemotherapy patients, reduction of muscle spasms for multiple sclerosis patients, as well as the treatment of glaucoma, inflammatory diseases, anxiety, and post-traumatic stress disorder, among other health conditions. Of the 85 identified Cannabinoids in the plant, only one is independently psychoactive. The other 84 appear to be non-psychoactive and are still powerful therapeutics. Many Cannabinoids have been bred to low expression levels over the years but are excellent small molecule therapeutic drug candidates for cancer and inflammatory diseases. The genome sequence can be utilized to design breeding strategies to resurrect these nearly extinct pathways. In addition, Cannabinoids have also been shown to have a very favorable therapeutic index making them a unique class of anti-cancer compounds because the lethal dose is much higher than the effective dose. Furthermore, Cannabinoids are less addictive analgesics than opiates, and target different pain pathways in the body.
Another benefit of Cannabis as a source for a therapeutic drug is that its toxicity is low and well-known. This is unique in drug discovery where every drug candidate must go through expensive and lengthy clinical trials to establish its safety. With Cannabis, side effects have previously been established and might be mitigated with genome directed breeding, whereas many drug candidates are not easily modified and end up failing in clinical trials because of adverse effects on a small percentage of the population.
The American Medical Association, as well as the American College of Physicians each have independently issued reports on the medicinal benefits of Cannabis to justify a reclassification of the plant so it can be more easily researched. By digitizing the genome of Cannabis, researchers from around the world can now study this plant without having to handle it. Assembling the complete Cannabis genome was a logical first step to enable more comprehensive scientific research to begin.
Medicinal Genomics is the first known organization to sequence the complete genomes of Cannabis sativa and Cannabis indica. Aside from being a useful tool to discover small molecule therapeutic drug candidates, there are many other commercial applications of these sequences, including the design of genomic assays that measure genes predictive of Cannabinoid levels in the plants at seedling stages. Use of this information will enhance breeding strategies to develop high Cannabidiol (CBD) or other medicinal traits into strains. These genomic assays can also be utilized to help regulate the medicinal Cannabis market through better oversight and labeling. The non-psychoactive plant known as hemp is also a productive plant for fiber production and may benefit from genome sequencing in its pursuit to improve breeding programs.
The company was founded by Kevin McKernan, a recognized thought leader and innovator in DNA sequencing. Kevin, along with his two brothers, founded Agencourt Bioscience, and helped create one of the most successful commercial DNA sequencing companies in the world prior to selling the company to Beckman Coulter in 2005. In 2005, Kevin also co-founded Agencourt Personal Genomics, a technology startup focused on developing SOLiD, a cutting edge next generation sequencing technology, which he and his team sold to Applied Biosystems in 2006. He most recently served as vice president of advanced research and head of research and development for the Ion Torrent division of Life Technologies.
Medicinal Genomics maintains its corporate headquarters in Marblehead, Mass. All scientific operations are conducted at the company's research facility in Amsterdam, Netherlands.
Link: Jane-Ome
Accessories
Make Your iPad Look Like a Classic Compact Macintosh
PR: You can evoke the heady technological heyday of the mid-80s with the Padintosh retro iPad cover.
Released to much fanfare in 1984, the original Apple Mac 128K design has remained an enduring symbol of that era well into the 21st Century, and is right at home adorning the Padintosh for iPad 2 - the perfect retro accessory for your everyday nostalgic, tablet-toting Applehead.
As respected as the old-school Apple Mac has become, in today's world its size factor is just not practical. The Padintosh allows you to show off the latest in tablet technology - the iPad 2 - while still displaying your appreciation for the Mac Daddy of all personal computers.
The Padintosh protects your phone from bumps and scratches and is compatible with all iPad Smart Covers. Now you can relive your 80s youth without losing your technological edge.
Padintosh features:
Protective iPad case
Ultra thin 2mm hard casing
Precision cut out for maximum protection
Compatible with Smart Covers
Note: Only compatible with the iPad 2
The Padintosh, which was officially launched at CES 2012, is expected to be available for purchase in the spring. Pricing has not yet been announced.
Link: Padintosh
Convert Scanner for iPad Scans Documents to JPEG Files
PR: Forget the large, bulky scanners of the past.
Brookestone's iConvert Scanner for iPad and iPad 2 scans hard copies to JPEG files directly to your tablet, giving you instant e-copies of your most important documents. The JPEG files are automatically stored in the picture folder. Great for use at home (old photos, genealogy records, special greeting cards, recipes and children's artwork), at the office (meeting notes, resumes, renderings, signed contracts) and on the go (receipts, expense reports, business cards and more). The entire scanner is sized to take with you in your messenger bag or backpack.
High Resolution
Better than basic alternatives, the iConvert Scanner for iPad and iPad 2 Tablets scans in high-resolution 300 dpi for clear, crisp JPEG images. And the front feeder adjusts from 2 inches to 8 inches wide to fit many size photos and important documents. Easy to use and it works with the free downloadable app at the iTunes App Store. Simply place the tablet on the scanner and the scanner gives step-by-step prompts from scan (with real-time preview) to save or delete.
Note that the use of this accessory with iPad may affect wireless performance.
$149.99 + $5 shipping
Link: Brookestone iConvert Scanner for iPad
All in One Hook/Stand/Recline Display Case for iPhone 4/4S
PR: The first and only iPhone 4 and iPhone 4S combination hook, stand, and recline display companion case, the iHook by Ardesco, launched this week at the Consumer Electronics Show 2012. Ardesco's patent pending, American made iHook allows iPhone users a range of multimode functionality for handsfree use of their iPhone in any setting at work, home, play, or while driving in six configurations, for $18.95 per unit.
iHook is claimed to be the only product of its kind. The iHook's patent pending design features a soon to be iconic hourglass silhouette, and will begin shipping in March 2012. Three- and five-pack combinations will be available, as well. iHook travels with you from car to desk to home, even during air travel, acting as a hook, stand and recline display case for your iPhone. iHook stands the iPhone up vertically or horizontally, hooks the iPhone onto a variety of surfaces monitor, car visor and reclines for comfortable media viewing, in either orientation.
The distinct hourglass shape and four sturdy retention arms slide and snap the iPhone in for a safe, snug fit that still allow access to volume control and camera while providing a comfortable viewing tilt. The built in cord management system streamlines and organizes power and headphone cords as well. The iHook is fabricated in the USA of durable, high quality polycarbonate plastic designed to hold iPhone 4 and iPhone 4S securely in place. The design measures 3 L x 2.5 W x 1.5 D and is available in a number of colors, including Midnight Black, Gray Sky Silver, Sunset Red, Seablue, Green Butterfly and Golden Sun. Consumers are encouraged to visit the Ardesco website to view demo videos and join the mailing list for sale announcements and product information.
Product demo video is available at http://vimeo.com/34940718
The iHook originates from a team of designers and engineers dedicated to providing Ardesco's customers with safe, well engineered, functional and easy to use smartphone accessories. The team, all iPhone enthusiasts, took to their drafting tables after experiencing frustration with the current accessory markets limited and costly offerings. Soon, the iHook was born.
"We're excited to offer such a needed product to a burgeoning market, says Nand Harjani, Vice President of Sales and Distribution at Ardesco. "There's nothing like it available, and certainly not at such a reasonable price. The iHook was truly a product born of necessity by users and lovers of the iPhone."
Link: iHook
MI-handles Tablet Handles for iPad Make Tablet More Comfortable to Use
PR: Tablet computers & e-readers are thin in profile and require you to hold them by their edges making it easy to mistakenly touch the screen. These features can make reading, watching a movie or playing games uncomfortable. The smooth finish on some tablet computers can be difficult to grasp resulting in dropping or slipping. Comfortable Geek's MI-handle makes them much easier to hold.
The ergonomic shape of the MI-handle gives tablet computers a larger surface to grasp. This makes them easier to hold even for extended periods. The innovative and simple design is perfect for any user. The profile of the handle has been specifically designed to fit a grasping hand in a more natural position. The larger profile makes them easier for children to hold onto. Models for using your tablet in portrait or landscape positions are available.
With the widespread use of tablet computers today, tablet handles are an economical solution for ensuring a good grip in your slate.
MI-Handles are made from low density foam giving them a soft but firm feel. The foam used to make MI-handles is made using an environmentally friendly, clean, non-contaminating, nitrogen expansion process. All materials that make up the handles are nonabrasive so they don't scratch or scuff. MI-handles are available in different colors, both solid and mixed colors including black, red, blue, white, green, yellow and more.
Reader Handle Features
Sized to fit the iPad in the portrait orientation.
Optimized for reading, web browsing.
Greater stability and comfort.
Made from low density foam for a soft but firm feel.
Ergonomic shape makes your iPad comfortable to hold for hours.
Additional colors are available.
$16.95
Link: MI-handles
Nissan Applies Automotive Technology to World's First Self-Healing iPhone Case
PR: Nissan has announced the latest piece of accessory innovation for the iPhone - a self-healing iPhone case. The Nissan Scratch Shield iPhone case features the brand's pioneering self-healing paint finish, a world first in paint technology developed in 2005 and already used on a number of Nissan and Infiniti models. Now this technology has been applied to a product that's prone to scratches through everyday use - the smartphone - with Nissan's new Scratch Shield case meaning iPhone-lovers can keep their phone looking its best for longer.
Developed by Nissan in collaboration with University of Tokyo and Advanced Softmaterials Inc., the unique Scratch Shield paint finish was initially designed for automotive use, and is available on the Nissan Murano, 370Z and X-Trail along with the Infiniti range of products. Now the technology is being trialled for the first time on a non-automotive product, with the Nissan Scratch Shield iPhone case.
The Nissan Scratch Shield iPhone case has been designed using several automotive engineering innovations to deliver a more durable and long-lasting paint coat, and closely fitting, tight case. The case has three key benefits: (the highly flexible and elastic properties of Scratch Shield paint technology allows fine scratches to quickly mend themselves; (its tactile gel-like rather than glossy surface is more scratch-resistant than conventional paint and provides a better grip; (and the case itself is made of ABS plastic - a high grade substance widely used in the automotive industry which is more rigid and robust than other plastics. The outer paint' is made from polyrotaxane, which means that when damage occurs to the coating in the form of a fine scratch, the chemical structure is able to react to change back to its original shape and fill the gap - 'healing' the blemish.
The Nissan Scratch Shield iPhone case is compatible with the iPhone 4 and iPhone 4S, and Scratch Shield can heal small scratches in as little as an hour, but more severe cases can take up to a week's time to heal.
An initial batch of prototypes of the Scratch Shield iPhone cases has been produced by Nissan for beta testing with selected journalists and customers, but if demand proves strong, it will look to put the cases on general sale later this year.
Join us on Facebook, follow us on Twitter or Google+, or subscribe to our RSS news feed
Links for the Day
Mac of the Day: Original iMac, introduced 1998.05.06. The Bondi blue wonder that bounced Apple back to profitability and into the public eye.
Recent Content
Follow Low End Mac on Twitter
Join Low End Mac on Facebook
Favorite Sites
MacSurfer
Cult of Mac
Shrine of Apple
MacInTouch
MyAppleMenu
InfoMac
The Mac Observer
Accelerate Your Mac
RetroMacCast
The Vintage Mac Museum
Deal Brothers
DealMac
Mac2Sell
Mac Driver Museum
JAG's House
System 6 Heaven
System 7 Today
the pickle's Low-End Mac FAQ
Affiliates
Amazon.com
The iTunes Store
PC Connection Express
Macgo Blu-ray Player
Parallels Desktop for Mac
eBay

Advertise