USB 3 Coming to Smartphones and Tablets, iOnRoad App Makes Driving Safer, MS Office on iPad, and More
This Week's iPad, iPhone, iPod, and Apple TV News
Compiled by Charles Moore and edited by Dan Knight - 2012.01.20
Mac notebook and other portable computing is covered in The 'Book Review, and general Mac news is in Mac News Review.
All prices are in US dollars unless otherwise noted.
News, Reviews, & Opinion
Rumor Roundup
Apps & Services
Accessories
iPod Deals
These price trackers are updated every month.
News, Reviews, & Opinion
USB 3 to Reach Smartphones, Tablets by Year End
IDG News Service's Agam Shah reports that the USB standards setting organization said on Sunday that USB 3.0 ports will reach smartphones and tablets by the end of 2012 or by early next year.
Shah cites Rahman Ismail, chief technology officer of the USB Implementers Forum, saying smartphones and tablets will likely get a MicroUSB port based on USB 3.0 technology to fit the small size of the devices, and which will enable faster data transfers between mobile devices and host devices such as PCs, some of which already have USB 3.0 ports. The data transfer rates will likely be 100 Mbps, or roughly 800 Mbps. Mobile devices (and Apple PCs) currently use the older USB 2.0 technology, which is slower. USB 3.0 on smartphones and tablets will be backward compatible with USB 2.0 on host devices.
Intel will be pushing its USB 3.0 rival Thunderbolt technology to mobile devices. However, many newer PCs have both Thunderbolt and USB 3.0 ports, signaling the coexistence of both technologies.
Publisher's note: The data rates mentioned in this article are troubling. USB 3 has 5 Gbps bandwidth, which is over 10x the 480 Mbps of USB 2.0. Why data transfer rates would be held to "roughly 800 Mbps" is beyond us, as this falls so far short of the bandwidth potential of USB 3. The article explains that this is because mobile devices need to conserve power, but since USB provides power as well as transfers data, reducing bandwidth by 80% just doesn't seem to make sense. (Because USB 2.0 is relatively slow by today's standards, we advocated Apple adopting USB 3 earlier this week in USB 3: Time for Apple to Make the Right Choice.) dk
Link: USB 3.0 to Reach Smartphones, Tablets by Year End
iOnRoad Makes Smartphones Smarter with Lane Departure Warning and Collision Warning System
PR: Most people think that they couldn't live without their smartphone, figuratively speaking. According to many users of the iOnRoad advanced driving assistance app, this statement is meant literally. Many of the nearly 200,000 users of the app have written personal emails to the company describing exactly how iOnRoad prevented them from crashing.

iOnRoad monitors traffic, can warn of danger.
In many cases the smartphone is the cause of distraction. iOnRoad views the smartphone as a solution to distracted driving. Adding a collision warning system to any smartphone might be the fastest way to reduce the effect of distracted driving.
On the heels of the National Transportation Safety Board's (NTSB) recommendation that all cell phones be banned from use while driving, the creators of iOnRoad have another suggestion: use your cell phone to protect you while driving. iOnRoad is the first smartphone app that actually turns your mobile phone into an Advanced Driving Assistance System (ADAS).
From the International CES 2012, where the app was awarded Honoree in the Software and Mobile Apps category, iOnRoad announced the addition of two new important features that improve driving safety for users; Lane Departure Warning (LDW) and the photo-based Car Locator.
According to US census, distracted driving has grown to 20% of the car crashes and 16% of the fatalities in traffic collisions accounting, that's 5,474 people each year, said Alon Atsmon, founder and CEO of iOnRoad. In many cases the smartphone is the cause of distraction. iOnRoad views the smartphone as a solution to distracted driving. Adding a collision warning system to any smartphone might be the fastest way to reduce the effect of distracted driving.
Advanced driving assistance systems are a growing segment within the automobile industry. According to a recent report announced by ABI Research, the market value of Advanced Driver Assistance Systems (ADAS), which are built by vendors, is expected to hit $10 billion this year. The research firm forecasts the ADAS market to reach a value of $130 billion in 2016.
iOnRoad is a smartphone app that warns drivers of approaching danger and helps drivers make smarter driving decisions. iOnRoad is an app that uses the smartphone's native camera and sensors to detect the vehicles in front of the driver, and will alert drivers when they are in danger. Similar to a visual radar, the iOnRoad app constantly maps the range of the objects in front of the driver in real-time, considering the users current speed. Using a car mount for their smartphone, users can set the iOnRoad app in either the Augmented Reality mode, or Background mode, where the application can run behind another app, alerting only when it needs to warn the driver of danger.
Unlike OEM versions of ADAS, iOnRoad does not cost hundreds or thousands of dollars. The app is currently free on the Android Market and the iOnRoad team has plans to release an iOS version in the next few months. The iOnRoad team will be at CES, exhibiting their augmented driving Android app a CES 2012 Design and Engineering honoree in the Software and Mobile Apps category.
Alon Atsmon, CEO of iOnRoad will be exhibiting at CES at booth #70321, as well as sharing how iOnRoad fits into the National Transportation Safety Boards recent recommendation for a nationwide ban on the use of cell phones for voice conversations while driving going beyond the current CTIA-endorsed ban on texting behind the wheel, as well as the larger distracted driving controversy.
iOnRoad improves driving in real-time using the power of advanced smartphones. The app uses the smartphones native camera and sensors to detect vehicles in front of the vehicle, alerting drivers when they are in danger. iOnRoad's VisualRadar, maps objects in front of the driver in real time, calculating the users current speed using native sensors. As the vehicle approaches danger, an audiovisual warning pops up to warn the driver of a possible collision, allowing them to brake in time.
Link: iOnRoad (iOS version under development)
Rumor Roundup
Apple Patents Reveal Thunderbolt Is Headed for iOS Devices
PatentlyApple reports that three new patent applications from Apple were published this week by the USPTO detailing various aspects of Intel/Apple's revolutionary Thunderbolt I/O technology. They observe that these patents indicate that Apple is focused on bringing Thunderbolt to iOS devices in the future to provide faster data transfers and faster recharging. One specific issue that must be addresses is connector size, as the current DisplayPort connector is entirely too big for iPhones and iPads.
Link: Apple Patents Reveal Thunderbolt Is Headed for iOS Devices
Next iPad Already in Production
Japanese blogsite Mackotakara's danbo reports that according to Chinese source, Foxconn Technology and Pegatron Technology have commenced assembly of the next generation iPad, with Foxconn accounting for 85% and Pegatron taking 15% of the production volume, as with iPhone 4S. The accelerated schedule has been made possible by an earlier Chinese New Year festival, January 23-28.
danbo says this first production lot of the new revision iPads uses LCDs made by Sharp Electronics Corporation, with early March shipping targeted according to the source.
He also says the next iPad's form-factor has been released to accessory makers, with a company confirming that iPad 2 cases won't fit the next iPad, and Smart Cover closure magnets will be repositioned. On the other hand, the Dock connector shape will be same, the position of hardware buttons and camera also the same, and danbo thinks this new iPad may be called iPad 2S instead of iPad 3.
Link: 中 国OEMメーカー、次期iPadの製造を開始?
Apple to Ship iPad 3 in March, iPad 4 in October
DigiTimes' Monica Chen and Steve Shen report that according to industry sources in Taiwan, Apple will ship the iPad 3 with a full HD display in March and then an iPad 4 - at least so-called by its component suppliers - with killer applications in October.
Chen and Shen say iPad 3 will come with a QXGA (1536 x 2048 pixels) display and feature longer battery life although its other hardware specifications may not be much changed from iPad 2, according to the sources. However, they suggest that Apple will take the advantage of the iPad 3 launch to slash the price of iPad 2 to US$399, enabling Apple to fend off competition from non-iPad vendors who are currently pricing their tablet PCs at US$359 or above.
Link: Apple to Ship 'iPad 3' in March, 'iPad 4' in October, Say Taiwan Component Makers (subscription required)
Apps & Services
CloudOn Gives You Microsoft Office on Your iPad
PR: CloudOn lets you use your iPad to create, view, and edit files directly in Microsoft Word, Excel , and PowerPoint. The developers claim these applications will work the way you expect them to, and your files will look the way you want them to.
CloudOn also lets you use Dropbox to manage your files. Open them, edit them, and save them right in your workspace using your Dropbox account.
With the ability to access, edit and store your information, CloudOn is the essential productivity tool for your iPad.
Note: In order to use CloudOn you must have a Dropbox account, which is free. (You can sign up when you launch CloudOn for the first time.)
CloudOn's WorkSpace allows you to:
Use Microsoft Word, Excel, and PowerPoint on your iPad to create or edit documents.
Rename, delete, and manage documents with your Dropbox account
Display, edit or create charts, change formatting, spell check, insert comments, into any Word, Excel, or PowerPoint files
Track changes while reviewing Word documents
Use pivot tables and insert formulas in Excel workbooks
Display and edit animation or transitions in PowerPoint presentations
Present in full PowerPoint mode (not in PDF)
Open files directly from your iPad email accounts or Dropbox account
Automatically save documents to avoid losing changes
CloudOn, Inc. Web SiteCloudOn Support
System Requirements:
Compatible with iPad
Requires iOS 4.2 or later
Free
Link: CloudOn
Taking the iPhone Into Darkness: True NightVision Goes Extreme
PR: Everyone loves night vision goggles, but they're expensive and inconvenient to carry around. How cool would it be if the same tech was built into your iPhone? Of course it isn't, but a single dollar will get you surprisingly close!
iOS photography and video specialists Interealtime are once again pushing the limits of the iPhone camera with new technology. True NightVision is an app that combines 2 different kinds of light boosting tech to light up the night way beyond what you thought was possible. This time True NightVision gets an extra dose of magic: Version 2.0 has just been released, introducing powerful new light capture modes that take it to a whole new level and way beyond anything else available on iPhone.
True NightVision is a fun realtime light-enhancing camera app designed for low light and nighttime use. It uses the iPhone's camera and advanced light amplification techniques to deliver images even when the iPhone's native camera app sees nothing but black. The screenshots are real examples of the app's capabilities: the same photo was taken with the iPhone's built-in camera app and with True NightVision under identical conditions.
Version 2.0 takes this concept to the next level by combining powerful image enhancement techniques with the huge light gathering capacity of long exposure photography. When used with the high quality camera in the iPhone 4S the results can be quite astonishing.
New to the app are 4 enhancement modes:
Speed: combines powerful image enhancement with fast 30 fps video for action use
High: balances speed and quality for a brighter image
Still: good for stationary use, uses longer exposure times to seriously increase image intensity in low light
Max: combines long exposure with enhancement - it needs a steady hand or solid surface, but delivers amazing nighttime images
The app processes images in realtime for an interactive live view, and does this in HD (except on 3GS) for an exceptionally crisp view. It includes a zoom feature (up to 8x on 4/4S, 4x on 3GS), adjustable image enhancement levels, and a range of fun filters and effects such as thermal image, monochrome and false color. There is of course a 'binoculars' mode for authenticity!
Device Requirements:
Compatible with iPhone 3GS, 4 and 4S, and iPod touch 4G (iPod touch with camera)
Requires iOS 5.0 or later
500 KB download
True NightVision 2.0 is 99¢ (or equivalent amount in other currencies) and available worldwide exclusively through the App Store in the Photo & Video category.
Link: True NightVision
Adobe Revel: Manage and Share Your Photo Library from Your Mac or iDevice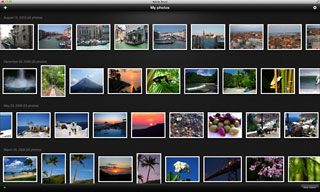 PR: Adobe Systems Incorporated's newly rechristened Adobe Revel (formerly Adobe Carousel) easily brings all your photos together in a single photo library you can access from your iPad, iPhone, and Mac. No storage issues or manual syncing hassles.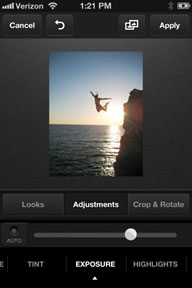 Not only can you enjoy your photos anywhere you are, you can also make them look terrific using the same powerful photo-processing technology that's in Adobe Photoshop Lightroom software. And you can easily create the ultimate family photo hub by sharing a photo library with family members and inviting them to contribute shots and weigh in on favorites.
To enable the seamless, multi-device experience on all of your iPads, iPhones, and Macs, Adobe Revel requires an active subscription. Simply purchase your subscription from your iPad or iPhone. You can start with a 30-day complimentary subscription Subscriptions sell for the introductory price of $5.99 a month or $59.99 per year. Offer expires January 31, 2012. A single subscription lets you use Revel in virtually the same ways on all your iPads, iPhones, and Macs. Each Adobe Revel subscription comes with five photo carousels. You can import as many photos as you want into each photo carousel, and you can share each photo carousel with up to five other people. In order to use Adobe Revel, you must also sign up for an Adobe ID. Your Adobe ID is what connects all your devices to your Adobe Revel photo library.
To import photos in your devices camera roll, you need to allow access to Location Services on your device.
Revel Features
Add photos to Adobe Revel on your iPad, iPhone, or Mac, and you'll instantly have access to them in Revel on your other iPad, iPhone, and Mac devices.
Stylish Looks.
Make manual adjustments to white-balance, exposure, contrast, clarity, vibrance, and more.
Use preset Looks to change the look and feel of your photos
Crop, rotate, and flip photos.
Experiment endlessly knowing Adobe Revel always preserves your original photo.
Easily create a family photo hub. Just invite family members to add photos to your library via their own Adobe Revel apps, and let them flag their favorites.
Use familiar multitouch gestures to browse thousands of photos or quickly find and fill the screen with one great shot.
Send your photos straight from Revel to Facebook, Twitter, Tumblr, and Flickr.
Snap new photos right from Revel on your iPhone or iPad, and they'll instantly appear in your photo library on all your devices.
Export photos to your hard drive so you can use other apps and services to create photo books and keepsakes.
Import, edit, and share all your JPEGs, the most common file format for photos.
Delete a photo from Adobe Revel to delete it everywhere, forever. But if you delete a photo from the hard drive on your Mac or the camera roll on your iDevice, Adobe Revel will restore the file to your photo library.
There's no limit to how many photos you can import, and there's no limit on the resolution or size of individual photos as long as they are JPEGs.
View your photos fullscreen in either landscape or portrait mode on your mobile device.
Photos are grouped by date which makes it easy to find and view the photos you want. See all the details by filling the screen with a single photo using Loupe view.
Works over WiFi and 3G.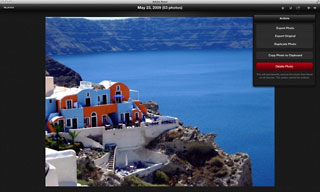 New in Version 1.1
Adobe Carousel is now called Adobe Revel
Support for Landscape orientation in Loupe view on the iPhone
Automatically import photos from the Camera Roll on your iPhone and iPad
Flickr is now supported as a sharing destination
Store Originals has been renamed Keep All Originals
Bug fixes
System Requirements Mac:
Mac OS X 10.7 or later
64-bit processor
System Requirements for iOS:
Compatible with iPhone 3GS, iPhone 4, iPhone 4S, iPod touch (3rd generation), iPod touch (4th generation) and iPad
Requires iOS 4.2 or later
Adobe Revel will also become available for Android and Windows in the future.
Link: Adobe Revel (Mac version at Mac App Store, iOS version at App Store)
Accessories
MMT Intros Mobile Display for iDevices, Smart Phones, Tablets, and Notebooks
PR: Massachusetts-based Mobile Monitor Technologies (MMT), maker of the world's first mobile display, introduced a product at the CES 2012 Showstoppers Media Event that extends the share, work, and watch capabilities of portable displays beyond notebooks and PCs, across the universe of mobile devices.
Monitor2Go is a 15.6" LCD LED-backlit display that redefines the entire mobile monitor category. Monitor2Go boasts a 1600 x 900 HD+ screen that not only extends the displays of USB enabled notebooks and PCs, it also mirrors the displays of Apple devices (iPad, iPhone and iPod) and HDMI compatible smart phones and tablets, as well as carries, protects, and locks the iPad 2.
"Our Field Monitor Pro, which launched and defined the worlds portable display category, was a huge success for business professionals and consumers alike," says Larry Pensack, President of MMT. It is used widely for business applications and general multitasking, while many also enjoy it for larger screen viewing of movies, videos, and photos. Now, Monitor2Go adds those benefits, and more, to mobile devices.
An industry first, the patent-pending Monitor2Go is constructed in rugged aluminum designed specifically to house, lock, and transport the iPad 2 as well as work with other mobile devices. And with over 140,000 apps for the iPad, there are likely to be unlimited uses for Monitor2Go's large, fully rotatable display. For example:
Share Rotate Monitor2Go's 15.6 HD+ screen to share bright, vivid presentations, videos, games, apps, and more.
Work Eliminate squinting and hunching over a small screen, with nearly triple the screen real estate of the average tablet. For the notebook, Monitor2Go will extend or mirror the screen for up to 30 percent more productivity as compared to single screen computing.
Watch Connect any phone or media player with HDMI, and you've got a mobile theater. Movies, TV shows, home video and photo slideshows in crisp HD wherever you go.
Monitor2Go Features
15.6" HD+ (1600 x 900) screen
One inch thick, under three pounds, yet fully protected aluminum and ABS construction
HDMI input, USB mini-B input and two spare USB A inputs
Works with all USB Windows and Mac laptops and desktops
Daisy chain up to 6 Monitor2Go's through DisplayLink USB virtual graphics
Works with HDMI devices - tablets, smart phones, DVD players, and more
Carry, protect, and locks the iPad 2
180° screen pivot and rotation, with landscape and portrait modes
Audio jack output for speakers and headphones when using HDMI input
Optional numeric keypad/trackpad accessory
Optional VESA mounting bracket for wall hanging
Availability and Pricing
Monitor2Go and a new model of the popular Field Monitor Pro will be available in early Q2 of 2012 with list prices under $300.
Link: Monitor2Go
CloudFTP Makes Any USB Device - Camera, USB Hard Drive, or Flash Drive - Wireless
PR: Sanho Corporation, creators of the Hyper Line of Apple accessories, portable power and storage products, have announced CloudFTP, a small pocket-sized portable adapter that enables wireless transfer of movies, music, photos, documents, and other files to the iPad, iPhone, and other WiFi-enabled devices from USB storage devices (cameras, USB hard drives, flash drives, card readers, and other USB mass storage devices, etc.) without using a computer.
Small Enough to Bring Everywhere
Finally, there's a way to share USB files with iPads, iPhones, the Cloud, and other devices that don't have a USB port without accessing a computer. Small enough to bring anywhere, even in your pocket, CloudFTP creates a WiFi hotspot to stream and transfer data from the most commonly used USB storage devices, turning these devices into a wireless file server. CloudFTP can also automatically connect to the Internet to backup and synchronize USB data with popular online Cloud storage services, like iCloud, Dropbox, and box.net, or it can join an existing WiFi network to share files with other devices on the same network.
CloudFTP Winner of the CES Innovations Award
CloudFTP received an International CES Innovations 2012 Design and Engineering Awards at the Consumer Electronics Show
"We are honored to win the CES Innovations Honoree award for CloudFTP," said Daniel Chin, President of Sanho Corporation and Inventor of CloudFTP. "Almost everyone owns some form of USB storage device, from flash drives to portable hard drives. With CloudFTP, you can combine the advantages of traditional USB storage with the convenience of the most popular portable consumer electronics products, like the iPad, and the Cloud computing storage."
CloudFTP Features
Streams movies or music from USB devices to iPads and iPhones (up to 3 different movies on 3 different iPads at the same time).
Browses pictures stored on digital cameras and memory cards on iPads and iPhones. Users can choose to save the pictures on iPad/iPhone and upload to Facebook.
Opens files (PDF, Microsoft Office documents, iWork documents, photos, audio, and videos) stored on the USB device with any iPad/iPhone application.
Transfers files between iPad/iPhone and USB devices.
Backs up and syncs data on USB devices with online Cloud storage services (including iCloud, Dropbox, and Box.net) by automatically connecting to the Internet in infrastructure WiFi mode.
USB port connects to any USB mass storage device (USB hard drives, USB flash drives, USB memory card readers, digital cameras, etc.).
5 hours battery life with Lithium-ion rechargeable batteries powers USB port and devices.
High performance, low power consumption ARM9 microprocessor.
USB data can be shared over a WiFi Network: secure wireless IEEE 802.11b/g/n.
Creates its own wireless network to share and stream media for up to 3 WiFi-enabled devices (iPad, iPhone, & computer, etc.) at the same time.
Able to join an existing WiFi network to share files with other devices on the same network.
Dimensions: 2.95" x 2.28" x 0.87" / 75 x 58 x 22mm and weight: 3.8oz / 109g.
Available in February 2012, CloudFTP is priced at $99.95 through Sanho and major online and retail locations.
Link: CloudFTP
F3 Designs Combines Form, Fashion, and Function to Create F3 Folio Case for iPad
PR: The F3Folio with its simple, clean lines and use of natural raw wood veneers is not just functional, it is stylish. The original design of the F3Folio is the brainchild of master woodcrafter Ray Hill. Hill originally designed the F3Folio as a way to transport his own personal iPad to and from appointments with clients. Soon individuals Hill was meeting with began asking how they could obtain an F3Folio for their own personal use.
This case is designed to provide protection, functionality, and innovative design for Apple's iPad tablet computer. Considered by many to be functional art, the aesthetically appealing F3 Folio is unlike anything currently on the market today, and is poised to become a cultural phenomenon. The case allows consumers to carry, shield and utilize their iPad tablet in an entirely new way.
The F3Folio with its simple, clean lines and use of natural raw wood veneers is not just functional, it is stylish. The original design of the F3Folio is the brainchild of master woodcrafter Ray Hill. Hill originally designed the F3Folio as a way to transport his own personal iPad to and from appointments with clients. Soon individuals Hill was meeting with began asking how they could obtain an F3Folio for their own personal use.
In addition to Hill's design concept, business partner Eric Nord brings his business acumen to this new venture. Together, the two have created F3 Designs; a company devoted to the ideals of form, fashion and function. With the debut of the company's inaugural product, the F3Folio, this duo has set themselves apart from their competition by creating an iconic product that current and future users will enjoy for years to come.
The mid-century modern inspired design can be crafted by hand from a wide array of wood veneers including Ash, Mahogany, or Macassar Ebony. Your custom design can be further enhanced by adding a matching or complimentary interior color made from a polyurethane material similar to that used in the iPad smart case cover; an accessory available for the iPad tablet. The end result will be an F3 Folio designed to be as unique and special as its user.
The distinctive appearance and sensible function of the F3 Folio are just two of its most amazing characteristics. It has a surprisingly simple but amazingly effective locking device that secures the tablet inside the case. When removed, this same device serves as a sort of kickstand for the case, allowing the tablet user both vertical and horizontal orientation.
The F3 Folio can also be fitted with a credit card reader, allowing businesses to take advantage of better expedited point of sale transactions, and can be customized with the company's logo. The durability of the case helps to prevent damage to the iPad tablet should the user drop it. All this, and the F3Folio weighs less than a pound.
The dimensions of the F3Folio are 12-1/2" x 9" x 7/8", and it weighs just 14.1 oz. The price for the cases are $79 for the standard case (Ash, Cherry, Rift Cut Oak or Walnut), $129.99 for the premium case (Mahogany, Teak or Zebrawood), and $179.99 for the platinum version (Macassar Ebony).
Link: F3 Folio for iPad
Join us on Facebook, follow us on Twitter or Google+, or subscribe to our RSS news feed
Links for the Day
Mac of the Day: DayStar Genesis, introduced 1995.10.30. The first 'Mac' with multiple processors, technology Daystar licensed to Apple.
Recent Content
Follow Low End Mac on Twitter
Join Low End Mac on Facebook
Favorite Sites
MacSurfer
Cult of Mac
Shrine of Apple
MacInTouch
MyAppleMenu
InfoMac
The Mac Observer
Accelerate Your Mac
RetroMacCast
The Vintage Mac Museum
Deal Brothers
DealMac
Mac2Sell
Mac Driver Museum
JAG's House
System 6 Heaven
System 7 Today
the pickle's Low-End Mac FAQ
Affiliates
Amazon.com
The iTunes Store
PC Connection Express
Macgo Blu-ray Player
Parallels Desktop for Mac
eBay

Advertise