'My Smartphone Is My Life', iPad Replaces Manuals for Pilots and Maps for Marine Aviators, and More
This Week's iPad, iPhone, iPod, and Apple TV News
Compiled by Charles Moore and edited by Dan Knight - 2011.06.06
Mac notebook and other portable computing is covered in The 'Book Review, and general Mac news is in Mac News Review.
All prices are in US dollars unless otherwise noted.
News, Reviews, & Opinion
Apps & Services
Accessories
iPod Deals
These price trackers are updated every month.
News, Reviews, & Opinion
Survey Reveals Over Half Say 'My Smartphone Is My Life'
A recent smartphone survey conducted by Prosper Mobile Insights, exclusively utilizing SSIs mobile panel, included 102 smartphone users who completed the survey on their smartphone. The survey was collected from May 13 - 18, 2011. 56% of the sample was male while 44% was female, and the average age of the sample was 36. The data reveals key insights on mobile usage, security concerns and privacy issues, as well as purchase decision behaviors executed by mobile users on their smartphones.
As mobile technology continues to evolve, a majority of smartphone users are fully integrating their devices into every aspect of their daily lives. According to a recent smartphone survey conducted by Prosper Mobile Insights among smartphone users on their devices, 52.9% say they utilize all of the functions of their smartphone. 30.4% say they use the basic functions of their smartphones plus some applications and 16.7% only use their smartphones for calling, texting and emailing.
With all the unique features of smartphones, texting (21.6%), Internet (16.7%), and email (15.7%) are the top functions smartphone users say they cannot live without. Calling features (7.8%), GPS (6.9%), and Facebook (5.9%) are also necessities to some.
With new technology, however, comes new concerns, and the top privacy issue among smartphone users is location tracking, followed closely by unauthorized access to personal information:
Top Privacy/Security Concerns Among Smartphone Users
Location being tracked: 35.3%
Someone accessing personal information: 31.4% Someone accessing financial data: 21.6%
Online behavior being tracked: 11.8%
Source: Prosper Mobile Insights Smartphone Survey, May-11
Despite these concerns, 55.9% of smartphone users say they prefer using their smartphone to access the Internet over using a computer (35.3% prefer to use a computer while 8.8% aren't sure).
Good news for retailers: The vast majority of smartphone users (81.4%) say they use their smartphone to browse for products or services. 77.5% use their smartphone to locate stores or look for store hours. Reading reviews and researching specific products are also top smartphone activities, and half say they have made a purchase via their smartphone device:
Smartphone Shopping Behaviors
Browsing or looking for a product/service: 81.4%
Locating a store or store hours: 77.5%
Reading customer reviews: 57.8%
Researching specific products: 57.8%
Receiving text messages with special offers: 53.9%
Making a purchase: 50.0%
Scanning a QR code: 34.3%
Writing a customer review: 20.6%
None of the above: 5.9%
Source: Prosper Mobile Insights Smartphone Survey, May-11
Consumers are integrating mobile devices into all aspects of their daily lives - including shopping. Smartphone and tablet users are more engaged with online content and in turn are more influenced by digital advertising. Gary Drenik, President & CEO, Prosper Business Development, Corp.
Smartphone users were also asked to weigh in on their smartphone survey taking experience. It appears as though smartphone users overall enjoy taking short, fun surveys on their mobile devices:
Highlights of Verbatim Responses
It was simple and the same or better than on the computer.
Being able to take surveys using my phone makes me more likely to actually take and complete them! Id do more if surveys would be compatible with my phone.
I love my smartphone and don't mind telling others about my phone and all of the apps.
Enjoy using my smartphone for everything. Would love to be able to do [more] moving forward.
I love the opportunity to take these on my smartphone!
Source: Prosper Mobile Insights Smartphone Survey, May-11
Survey Sampling International is a global provider of sampling solutions for survey research. SSI reaches respondents in 72 countries via Internet, telephone and mobile/wireless. Client services include questionnaire design consultation, programming and hosting, and data processing. SSI serves more than 2,000 clients, including 48 of the top 50 research organizations. Founded in 1977, SSI has 17 offices in 15 countries.
Link: Survey Sampling International
Are Gadgets Stealing Our Humanity?
The Sydney Morning Herald's Asher Moses says:
"Are smart phones making us less smart?"
"Smartphones and other gadgets have literally become extensions of our minds and hold out the tantalising promise of never being bored again, but are we sacrificing too much in the process?"
"On the other hand....
"During a talk at the TEDxSydney conference at the weekend, Professor David Chalmers, director of the Centre for Consciousness at the Australian National University, argued that gadgets, particularly smartphones, had become part of our minds.
"He said just as we use technology such as prosthetics, canes, cars and bikes to extend our bodies, devices like the iPhone extended our minds.
"But the question remains: are we choosing information overload at the cost of sacrificing the more meditative and contemplative aspects of our minds?"
Link: iPhone, Therefore I Am: Are Gadgets Stealing Our Humanity?
The Revenge of Steve Jobs: iPad Is the Real 'Next' Computer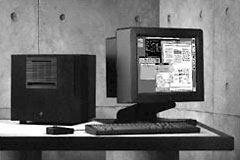 PC Magazine's Tim Bajarin deduces that Steve Jobs has never given up on his vision of creating the "next" great computer, noting that after Jobs was kicked out of Apple, he set about creating a computer that could beat the original Mac and the PC, and while Jobs' NeXT Computer did not achieve that, the base NeXT OS code created during that time eventually became the core of Mac OS X - and iOS as well.
Bajarin thinks Jobs' desire to create the "next" big computer and thumb his nose at the PC market is now stronger than ever, with Jobs is inflicting his own version of personal revenge by beleaguering traditional PC vendors with new Apple new products and services - such as redefining the laptop computer with his MacBook Air - innovations and style that have resulted in the Mac today kicking PC butts in the marketplace in virtually every arena from enterprise to government to education.
However, the crowning jewel in Jobs' personal revenge, says Bajarin, is the iPad, which has really become the "next" major personal computing platform.
Link: The Revenge of Steve Jobs
Alaska Airlines Replacing Printed Flight Manuals with iPads
McClatchy-Tribune Information Services reports that
"Alaska Airlines has announced its intention to replace hard copy flight manuals for its pilots with iPads, and is looking into doing the same with navigational charts
"Anticipated benefits from the switch include fewer back and muscle injuries caused by pilots lugging around heavy hard copy manuals that can cumulatively weigh up to 50 lb."
Link: Alaska Airlines to Scrap Paper Flight Manuals, Equip Pilots with iPads
iPad Proving Invaluable for Marine Corps Aviators
The Shephard Group reports that since November last year, US Marine Corps aviators in Afghanistan have been using iPads loaded up with maps of the southern regions of the country to reduce their workload in the cockpit, and they recently upgrading to iPad 2s. The digital maps allow crews to search out locations in the region with a tap on the screen rather than flicking through map packs that are heavy and take up room in the cramped cockpits of aircraft, such as the AH-1W Cobra and the F/A-18 Hornet.
Shephard says the idea was developed by an enterprising Cobra pilot from one of the deployed HMLA squadrons, and has spread rapidly through the deployed squadrons.
Link: iPad Proving Invaluable for Marine Corps Aviators
Federal Agencies Embrace iPhones, iPads
InformationWeek's Elizabeth Montalbano notes that when President Obama was elected, much was made about his affection for his BlackBerry and whether he'd be allowed to keep it once he assumed office, because of security concerns. Obama did end up keeping BlackBerry with some added security tweaking, but now in his third year in office, he's evidently switched to an Apple iPad, and Montalbano notes that iPads are showing up in more and more federal government agencies that are testing Apple devices in field trials, with some having begun distributing them to workers.
Link: Federal Agencies Embrace iPhones, iPads
iOS Replacing BlackBerry in Some Government Agencies
Hardmac's Lionel says that according to Agilex Technologies, a company specialized in the deployment of electronic devices in government, iOS devices have been in much more demand lately - in what used to be RIM's exclusive territory.
Apple products like the iPhone and iPad are being chosen more frequently by government departments and agencies because of their versatility when the user wants to do anything beyond sending emails, such as accessing data outside of the office.
Lionel notes that according to some experts, RIM could end up being replaced by Apple, because it bet too heavily on the biggest strength of its system, its secure email system, while failing to develop other features and possibilities offered by the device with software applications like Apple did on iOS.
The RIM to Apple transition, if it happens, will take years to complete, but Lionel says that already in some agencies, like NASA and the State Department, it seems to be Apple or nothing.
Link: iOS Is Replacing BlackBerry in US Administrations
100 Web Apps to Rule Them All
AppStorm's Matthew Guay says:
"There's so many web apps today, it's hard to keep up with them all. From the apps we've all used for years such as Gmail to newer apps that just came out this year such as Flow, web apps have increasingly become a part of our daily lives.
"Whether you're just getting started using web apps, or are a longtime fan of web apps and would like to find more exciting apps, you'll be sure to find something interesting here. There's no way to include every web app, but we've included the apps that we think are the very best in their categories. If you've got a favorite app that's not included, feel free to add it in the comments below."
Publisher's note: Some of these apps are Mac and/or Windows only. dk
Link: 100 Web Apps to Rule Them All
Video: Unlock Your iPad Keyboard's Potential
Cult of Mac's Michael Steeber says:
"While the iPads onscreen virtual keyboard is nice, it still doesn't compare with a physical keyboard in usability. Fortunately, Apple includes some relatively hidden features which can greatly improve typing speed as well as usability on the iPads keyboard. In this video you'll find out how to enable these features and use them to their full potential."
Link: Unlock the Potential of Your iPad's Keyboard [Video How-To]
Top 12 iPad 2 Complaints
InfoWorld's Galen Gruman says he really likes the iPad 2, which he considers the best tablet available. Gruman says he uses his iPad 2 every day for work and personal purposes, and he has co-written a book about how to work it, but nevertheless it brings its own share of frustrations flaws and omissions that he encounters every day, most of which are are merely annoyances, but some have real consequences.
Gruman's dirty dozen iPad 2 shortcomings that bug him the most are:
Apps that go "pfft."
Apps that downgrade themselves.
Safari's premature refresh.
The Smart Cover's obscuring of the 30-pin connector.
Accidental volume changes when the Smart Cover is attached.
Nonmodifiable alert rings.
Lack of filtering on email.
Lack of warning before cellular data plan renewals.
Lack of support for TinyMCE and similar AJAX tools.
Inability to add, delete, and move email folders.
Lack of voice navigation.
Calendar limitations with Google.
Link: Top 12 iPad 2 Complaints
Taiwan OEMs Rushing to Obtain Certification for iPad 3
DigiTimes' Rebecca Kuo and Jackie Chang report that Apple has begun certifying components for the iPad 3, and many Taiwan-based component makers are actively participating. Some makers have already landed certification, such as Radiant Opto-Electronics with LED backlight units, according to industry sources.
Kuo and Chang also note that Taiwan-based component makers for backlight modules and light bars have received certification from Apple, however, the certification of panels is still in progress, added industry sources.
There are also market rumors that iPad 3 will adopt AMOLED (Active-Matrix Organic Light-Emitting Diode) panels, and Apple management has been visiting Samsung Electronics about this matter. However, industry sources said this is unlikely to happen - the iPad 3 will still use 9.7" LCD panels. According to component makers, the timing for the launch of iPad 3 should be in 2012, with iPad 2 becoming the mainstream and Apple lowering its price to compete with other tablet PCs.
Link: Taiwan OEMs Rushing to Obtain Certification from Apple for iPad 3 (subscription required)
Apps & Services
Apple iWork Now Available for iPhone and iPod touch Users
Apple has announced that its iWork productivity apps - Keynote, Pages, and Numbers - are now available for iPhone and iPod touch, as well as iPad. Created for the Mac and then completely redesigned for iOS and Apple's Multi-Touch interface, Keynote, Pages and Numbers allow you to create and share presentations, formatted documents and powerful spreadsheets on the go. iWork apps are available on the App Store for $9.99 each to new users and as a free update for existing iWork for iPad customers.
"Now you can use Keynote, Pages, and Numbers on iPhone and iPod touch to create amazing presentations, documents, and spreadsheets right in the palm of your hand," said Philip Schiller, Apple's senior vice president of Worldwide Product Marketing. "The incredible Retina display, revolutionary Multi-Touch interface, and our powerful software make it easy to create, edit, organize, and share all of your documents from iPhone 4 or iPod touch."
Keynote, Pages, and Numbers import and export documents from iWork for Mac and Microsoft Office, print wirelessly using AirPrint, and include beautiful Apple-designed themes and templates. All iWork apps now include improved document management with thumbnail images that let you find your files quickly, organize them and group them into folders using intuitive gestures. From the Tools button in the toolbar, you can easily share any presentation, document or spreadsheet without leaving the app.
Keynote makes it easy to create presentations, complete with animated charts and transitions. You can play your presentation in Full Screen view on the stunning, high-resolution Retina display or connect to a projector or HDTV for a large audience. Available separately, the Keynote Remote app allows your iPhone or iPod touch to control a Keynote presentation on any iOS device or Mac.
Pages is now designed for a mobile device and has everything you need to create amazing documents. Pages takes full advantage of the high-resolution Retina display on iPhone 4 and iPod touch so you can see all the detail and richness of your documents. To make working with text easy on iPhone and iPod touch, Smart Zoom automatically zooms in to follow the cursor while you're editing and zooms back out when you're done.
Numbers uses Multi-Touch gestures and an intelligent keyboard to help you create compelling, great-looking spreadsheets with over 250 easy-to-use functions, flexible tables and eye-catching charts. Just like Pages, Numbers takes advantage of the high-resolution Retina display and Smart Zoom to make working with text and cells on iPhone 4 or iPod touch easy.
Keynote, Pages, and Numbers are universal apps that run on iPad and iPad 2, iPhone 3GS and iPhone 4, and iPod touch (3rd & 4th generation). Keynote, Pages, and Numbers are available from the App Store for $9.99 each for new users, or as a free update for existing iWork for iPad customers. Keynote Remote is sold separately via the App Store for 99¢.
Links: Keynote, Pages, Numbers, Keynote Remote
Turn Your iPhone or iPod touch into an External Drive with DiskAid
PR: DiskAid is a tool for PC and Mac which enables the use of iPhone, iPad, or iPod touch as an external mass storage device. DiskAid gives access to the devices file system, transfers text messages (SMS) to computer, allows to copy, edit or rename files and folders on the iPhone, iPad or iPod touch directly from the desktop. Using a USB connection, it is the safest and most reliable way to access devices files and folders. Used with FileApp or FileApp Pro transferred files and documents can easily being accessed on the device.
See What DiskAid Can Do for You
DiskAid will automatically discover every folder and application that is compatible with FileSharing and will let you copy documents, files, and media to your device from your computer back and forth. With FileApp or FileApp Pro installed, you will be able to browse, read and watch them on the go
I Want Disk Use on the iPhone (iPhone USB Drive)
There is no such thing as the Disk Use on the iPhone, and I cannot use my iPhone as an external storage like I used to on my iPod Classic to copy files from a computer to another. Thanks to DiskAid desktop application, I can transfer files using the USB cable.
Access Data on the iPhone
I have many text messages (SMS) and my Camera roll is full on my iPhone I would like to transfer all of these simply and rapidly on my computer. I learned that DiskAid is easy and lets me browse and copy all iPhone/iPod touch files, SMS and data quickly.
Apps File Sharing Support
It is annoying to launch iTunes for file transfers to apps or to fetch files stored in these apps documents folders. DiskAid automatically displays every Apps icon and lets me easily access them and rapidly transfer data, back and forth.
Browse Files and Folders
DiskAid gives easy access the file system of the iPhone, iPad or iPod touch.
USB Storage
Use the iPhone as external storage and bring your files everywhere.
Transfer any kind of file
Transfer files to iPhone/iPad.
View them on your device using FileApp.
Connect iPhone, iTouch, iPad
DiskAid is fully compatible with all Apple iOS mobile devices.
Apps File Sharing - Connect to FileApp and all others iPhone Apps installed on your device.
Copy Camera Roll pictures - Easy access and copy of pictures from iPhones or iPads Camera Roll to desktop.
Access Contacts - Export iPhone contacts as vCard to import them in Outlook or Address Book.
Read Notes - Read iPhone, iPod touch or iPad notes to computer and easily copy them.
Transfer Text Messages - One-click copy of iPhone text messages (SMS) to Mac or PC.
Export Call History - Export iPhone call logs to Excel or Numbers.
Listen to Voicemail - Transfer iPhone Voicemail audio files and save them to computer
Keep Voice Memos - Copy Voice Memos directly to computer without iTunes sync.
User friendly - Intuitive drag and drop application window
non-geeky interface for easy operation.
Try for free before you buy.
Download and install DiskAid free trial first, register and unlock after!
System requirements: iTunes 10 and iPhone OS 3.x to iOS 4.x
Works with or without jailbreak.
PC Windows & Mac OS X
Use DiskAid to transfer files from one platform to another, or from home to office.
DiskAid is $9.90 for Mac OS X 10.5 and up (Universal Binary), including Snow Leopard. The cost covers licenses for three computers with two years of free upgrades. There also are special (free) educational licenses.
Link: DiskAid
Accessories
AV Cable with USB for iPad, iPhone, and iPod
PR: This AV Cable with USB is a 150cm long composite AV cable for connecting an iPod, iPhone or iPad via the dock connector to a TV or stereo. Use the TV to share videos and slideshows together with family and friends, or connect it to your stereo or powered speakers for listening to the music stored on your device.
The USB port allows for charging your device while it's being used. Simply plug it into a power source such as a USB power adapter. The USB port can also be plugged into a computer for syncing or charging.
This AV Cable with USB is compatible with the newest models of iPod, iPhone and iPad, and also works with many older generation models.
Features:
Licensed by Apple: Made for iPod, Made for iPhone, Made for iPad
Color: White
Compatible with:
iPad, all
iPhone, all
iPod touch, all
iPod nano, all
iPod 4G & 5G
iPod classic
$32.99
Link: AV Cable with USB for iPad/iPhone/iPod
Mophie Workbook Portfolio Smart Case with Interchangeable Color Straps for iPad 2
PR: Mophie announced the availability of its new Workbook iPad 2 portfolio case designed to provide protection and an improved user experience for the iPad 2. The lightweight adjustable case doubles as a stand, allowing infinite angles for viewing, typing and browsing, and features a magnetic integration that wakes and puts the iPad 2 to sleep upon opening and closing.
The Workbook is versatile in both fashion and function, adding an element of style with interchangeable elastic straps in complementary color combinations. The folio cases are now available in black and white and come with four mix-and-match closure straps in colors including magenta, yellow, cyan, purple, grey and black. Cases in gray, chocolate and purple are planned for release in the coming weeks, giving iPad 2 owners lots of options for protecting their device while also reflecting their personal style.
"Mophie is driven to create products that are super functional without sacrificing style and design," says Ross Howe, senior director of product marketing. "Creating the new Workbook was a great opportunity for us to have some fun with fashion elements and color combinations while also delivering the real protection, portability and enhanced function iPad 2 users want."
Black and white Workbook folios with interchangeable straps are available now for $49.95 at Mophie.com. Key features and benefits of the Workbook include:
Infinite Viewing: The design and flexibility allows the case to act as a stand for the iPad 2, delivering an infinite number of viewing and onscreen typing angles to enhance functionality and increase productivity
Magnetic Closure: Wake your iPad 2 by opening the case; put it to sleep by closing
Multiple Color Combinations: Cases in black and white now available with gray, chocolate and purple coming soon
Mix-and-Match Straps: Interchangeable elastic straps provide a secure closure that caters to everyday style changes. Black cases ship with cyan, magenta, yellow and black straps, and white cases pair with cyan, magenta, grey and purple.
Tough Exterior, Plush Interior: The durable animal friendly exterior is easy to clean, yet fully protects the device from damages. The soft interior fabric ensures the iPad 2 is cradled snugly inside
Pass-Through Design: Enables full access to all ports and controls allowing users to simultaneously charge and sync the device without having to remove it from the Workbook
Link: Workbook iPad 2
Join us on Facebook, follow us on Twitter or Google+, or subscribe to our RSS news feed
Links for the Day
Mac of the Day: DayStar Genesis, introduced 1995.10.30. The first 'Mac' with multiple processors, technology Daystar licensed to Apple.
Recent Content
Follow Low End Mac on Twitter
Join Low End Mac on Facebook
Favorite Sites
MacSurfer
Cult of Mac
Shrine of Apple
MacInTouch
MyAppleMenu
InfoMac
The Mac Observer
Accelerate Your Mac
RetroMacCast
The Vintage Mac Museum
Deal Brothers
DealMac
Mac2Sell
Mac Driver Museum
JAG's House
System 6 Heaven
System 7 Today
the pickle's Low-End Mac FAQ
Affiliates
Amazon.com
The iTunes Store
PC Connection Express
Macgo Blu-ray Player
Parallels Desktop for Mac
eBay

Advertise