iOS 4.3 Getting Started Guide, Which iPad 2 to Buy?, iPad 2 Teardown, Android Tablets to Fail, and More
This Week's iPad, iPhone, iPod, and Apple TV News
Compiled by Charles Moore and edited by Dan Knight - 2011.03.18
Mac notebook and other portable computing is covered in The 'Book Review, and general Mac news is in Mac News Review.
All prices are in US dollars unless otherwise noted.
News, Reviews, & Opinion
Industry Analysis
Apps & Services
Accessories
Protection
iPod Deals
These price trackers are updated every month.
News, Reviews, & Opinion
iOS 4.3: A Guide to Getting Started
PC World's Ian Paul says:
"Apple has released iOS 4.3, promising new ways to access iTunes content, a Wi-Fi personal hotspot option and improved browser speeds. If you want to find out how to activate all the new features on your device, here's your getting-started guide to get the most out of iOS 4.3."
Topics Covered:
First, the bad news
iTunes Home Sharing
Personal Hotspot
AirPlay
iPad Side Switch
Link: Apple iOS 4.3: A Guide to Getting Started
Video: How to Transfer Your iPad 1 Data to iPad 2
Cnet Crave's Eric Franklin has posted a video tutorial for users who just replaced their not-even-a-year-old iPad with a brand new iPad 2 and are in a quandary as to how transfer all their apps, music, movies, and settings from that "archaic" piece of technology - which was never good enough for you, anyway - to your new honey, who's going to love you forever.
Link: How to Transfer Your iPad 1 Data to iPad 2
Which iPad 2 to Buy?
Cult of Mac's Buster Heine says:
"We've been getting a lot of questions from readers and friends over which iPad 2 you should buy. Should you go with WiFi only, or the 3G version for when you're not around a hotspot? How much storage do you need? And most importantly, how do you choose between black or white?
"The answer is that you should get the 16 GB WiFi-only model in black. Here's why...."
Editor's Note: I agree with most of Buster's reasoning. Unless you really need the greater storage capacity and/or plan to use your iPad a lot on the road, go with the base WiFi version. I'm personally partial to white devices, but Buster makes a well-argued case for black. AnandTech (see below) counters that rather than being overwhelming or busy, the white bezel actually has one notable advantage over black - it doesn't show fingerprints or dust. A constant aggravation with the previous, black-only generation is that it always looked dirty, and in this context, white seems to make sense. The main takeaway here is that in 11 months or so you'll be wanting to replace your iPad 2 with an iPad 3. cm
Link: Which iPad 2 to Buy? Get the 16 GB WiFi-Only in Black. Here's Why
AnandTech's in Depth iPad 2 Preview
AnandTech's Anand Lal Shimpi, Brian Klug, and Vivek Gowri have posted a preview commentary on the iPad 2. I expect we'll eventually see one of their ten-ton tech reviews of the iPad 2. (That comment isn't meant to be disparaging. I love reading AnandTech's technically detailed reviews, but be prepared to spend some time on them - even on this five-ton preview).
The previewers note that iPad 2 is a very logical update to the original iPad, with revised industrial design, a slimmer chassis, and Apple's new A5 SoC inside. A5 brings along two Cortex A9 cores, a dual-core version of PowerVR's SGX543 graphics chip, and 512 MB of memory, slightly lighter but easier to hold than the previous generation, and says that laying in bed and reading is probably where the difference becomes most apparent.
They note that overall, the new design really works - the iPad 2 feels good in hand and instantly makes its predecessor feel a little clunky, but there's a lot under the hood of the iPad 2 that demands attention.
Link: Apple iPad 2 Preview
iPad 2: To Buy or Not to Buy
The Mac Observer's Vern Seward says:
"Many of my friends have asked me if I have bought, or intend to buy an iPad 2, and whether I think they should get one. I've read about as much as a body can about Apple's new baby, but to render any reasonable opinion, I had to get up close and personal with one.
"So, on Friday, March 11, I stopped in a local Best Buy, after the small line of new Apple product waiters dissipated, to see and handle Apple's new magical device."
He concludes:
"....while the new iPad induces Pavlovian drool at the mere mention of its name, and the heat coming from my wallet sets off the sprinklers whenever I get within 200 feet of an Apple Store, I will not be buying an iPad 2."
"If you don't already own an iPad then the answer is easy. - Yes! What are you waiting for? Grab the checkbook, dust off the credit card, break the piggy bank and get one."
Link: iPad 2: To Buy or Not to Buy
How to Use Home Sharing with Your iPad, iPhone, or iPod touch
Cnet Crave's Sharon Vaknin notes that before iOS 4.3, Home Sharing was only for PCs, but now you can share any computer's iTunes library with your iPad, iPhone, or iPod touch over your WiFi network. This allows you to access more music, movies, or podcasts from multiple computers without burdening your device's storage.
Once you set up your Home Sharing account on your computers and devices, sharing is easy. Ms. Vaknin explains how to do it....
Publisher's note: As we've covered in this week's 'Book Review, the Early 2011 MacBook Pros are having some issues with Home Sharing. dk
Link: How to Use Home Sharing on Your iPad, iPhone, or iPod
iFixit's iPad 2 Teardown
iFixit's Director of Technical Communication Miroslav Djuric says:
We got our hands on Apple's newest tablet, the iPad 2, on March 11, 2011, and we just got a chance to peek at the innards. Here's what the inside of the iPad 2 looks like:
Apple summarized the changes in 6 short phrases. "Thinner. Lighter. Faster. FaceTime. Smart Covers. 10-hour battery."
Prior to starting the teardown, we guessed that the glass front panel was no longer held in place by tabs. We were correct. The new tapered edge on the iPad 2 prevents any kind of tabs from being used; instead, Apple engineers used generous helpings of adhesive to keep the front glass in place. Consequently, the front panel is very difficult to remove - it's nearly impossible to open the iPad 2 without shattering the glass. We'll be working hard in the forthcoming weeks to provide a solution to this problem, but for now: please don't open your iPad 2.
The iPad 2 received a 4 out of 10 repairability score, mainly for the extreme difficulty of accessing anything inside. But if you do manage to get in, you'll find that all screws are of the Phillips variety, and the LCD can be easily taken out once you separate it from the front panel glass (but separating it from the glass is difficult, of course).
Teardown video for your enjoyment: http://www.youtube.com/watch?v=Tjwy7jkNfEE
Highlights:
We did a quick glass and LCD thickness comparison:
iPad 1: LCD = 3.2 mm, glass = .85 mm
iPad 2: LCD = 2.4 mm, glass = .62 mm
The thickness of these components - especially that of the glass - could drastically reduce the durability of the device, especially the glass' resistance to shattering. We'll see in due time if the percentage of folks with broken iPad 2 front glass is dramatically different than that of the original iPad.
Lifting off the LCD exposes the iPad 2's battery. We found a 3.8V, 25 watt-hour unit. That's just a hair more than the original iPad's 24.8 watt-hours, so any improved battery performance should be attributed to software and other hardware improvements.
Notable chips found on the logic board (left to right):
(Blue) Texas Instruments CD3240B0 11AZ4JT G1 touchscreen line driver, working with the Broadcom BCM5973 and BCM5974 chips shown above.
(Yellow) Apple 343S0542 - this looks like the Dialog Semi power management chip found in last year's iPad - all of those inductors and capacitors surrounding it are a clue.
(Green) S6T2MLC N33C50V Power Management IC
(Red) Apple 1 GHz A5 dual-core Processor with a 200 MHz bus and 512 MB of RAM.
(Orange) Toshiba TH58NVG7D2FLA89 16 GB NAND Flash
The A5 processor has manufacture dates of late January and mid-February 2011. Production was clearly ramping up through the last minute. It looks like the A5 processor is the APL0498, replacing the A4/APL0398 seen in the iPad 1 and iPhones.
Apple-branded 338S0940 A0BZ1101 SGP. This looks like the Cirrus audio codec Chipworks found in the Verizon iPhone, but they'll have to get it off the board to make sure
We confirmed via software that the iPad 2 indeed has 512 MB of RAM.
The markings on the 1 GHz Apple A5 dual-core processor appear to be Samsung's, but Chipworks will investigate in the forthcoming days to find out for sure.
Other components that power the iPad 2:
Toshiba TH58NVG7D2FLA89 16 GB NAND Flash
Broadcom BCM5973KFBGH Microcontroller
Broadcom BCM5974 CKFBGH capacitative touchscreen controller
Texas Instruments CD3240B0 11AZ4JT touchscreen line driver
Broadcom BCM43291HKUBC WiFi/Bluetooth/FM tuner combo chip
S6T2MLC N33C50V Power Management IC
ST Micro AGD8 2103 gyroscope
ST Micro LIS331DLH accelerometer
There's also an Apple-branded 338S0940 A0BZ1101 SGP chip. This looks like the Cirrus audio codec Chipworks found in the Verizon iPhone, but they'll have to get it off the board to make sure!
We also found a ton of interesting stuff regarding the magnets in the iPad 2, but we're still working on that analysis. Look for an update on Monday for a great explanation of how the whole system works.
Thank you,
Miroslav Djuric
Director of Technical Communication
iFixit
Link: iPad 2 Wi-Fi Teardown
iSuppli: 32 GB iPad 2 WiFi + 3G Costs Apple $327
iSuppli's Andrew Rassweiler says:
"With the second-generation iPad, Apple Inc. has held the line on the bill of materials (BOM), maintaining virtually the same costs as the first version of the device, an IHS iSuppli teardown analysis of the product has revealed.
"The teardown analysis service from iSuppli provides complete, detailed analyses of electronics from small devices, such as wireless handsets and netbooks, to larger equipment, such as servers and base stations. iSuppli delivers a complete assessment of all electronic, electro-mechanical, and mechanical components. This iSuppli service is the ultimate competitive benchmarking tool - providing the highest quality, most detailed view available of the design from both a cost and structural assessment perspective.
"Teardown information is both downloadable (in the form of Excel, JPG, and PDF files), and navigable in an interactive online format point and click on sub-assemblies, photos and interactive cost tables to see details and summaries. License as many users as you wish at no additional cost."
Link: iPad 2 Carries Bill of Materials of $326.60, IHS iSuppli Teardown Analysis Shows
Display Expert Says iPad 2 LCD Nearly as Good as iPhone 4
AppleInsider's Josh Ong reports:
"An in-depth scientific analysis of the iPad 2 display reveals that Apple's latest tablet, despite having significantly lower pixel density, delivers 'almost identical' performance to the iPhone 4."
Link: Display Expert Says iPad 2 LCD Nearly as Good as iPhone 4
Reflections on Apple's Product Release Cycle
AppStorm's David Appleyard says:
"With this week's release of the iPad 2 (in the USA, at least), I know that many of you will now be sitting at home feeling ever so slightly less satisfied with the original iPad sat on your desk. Its a strange phenomenon. Your iPad is no less amazing today than it was last week, but it feels that way.
"Very few Apple fans can afford to buy each and every new product release, and the feeling of being slightly out of date is something that we've all come to accept as the norm. This isn't exactly a bad thing. Lets face it - a twelve month old iPad is still a long, long way ahead of any other competing device on the market.
"But how does Apple's release cycle operate, and is their approach working?"
Link: Thoughts and Reflections on Apple's Product Release Cycle
Making the iPad Your Only Mobile Computing Device
PCWorld's Tony Bradley says:
"There are a lot of reasons to rely on the Apple iPad as your sole, or primary mobile computing device. It is smaller, lighter, has longer battery life, and offers a more functional user interface than a notebook for staying productive on the go. iOS is a mobile OS, while Windows and Mac OS X are desktop operating systems - you do the math.
"Still, out of the box the iPad is primarily geared for Web surfing, watching movies, playing music, and reading eBooks. It takes a little tweaking to get the right tools in place to optimize the iPad for use as a mobile computing platform for business, and not just for entertainment."
Link: Making the iPad Your Only Mobile Computing Device
iMovie Works on Original iPad
9 to 5 Mac's Mark Gurman says:
"Even though the original iPad is able to run the latest version of iMovie for iOS, Apple has decided to not allow original iPad users to install iMovie directly through the App Store. This decision has to do with the original iPad's lack of cameras, slower processor, and less RAM.
"Original iPad users who want to run iMovie on their original iPad shouldn't fear, as iMovie can work on their iPads without a jailbreak."
Link: iMovie Works on Original iPad, Here's How to Install It
Decrease in Battery Life Reported with iOS 4.3
Hardmac's Guy reports that on several forums, iPhone users have been complaining about a significant decrease in the battery life after updating to iOS 4.3, noting that one of the new features of iOS 4.3 that was not advertised (and this might be the reason), is Ping, Apple's music social network. Apparently, Ping connects by itself regularly, whether the user is registered on Ping or not.
He explains how to prevent Ping from connecting.
Link: Decrease in Battery Life with iOS 4.3
Donate Your Old iPad to a Worthy Cause at the Apple Store
Apple's retail website says your old iPad can help teach kids a thing or two - and you can donate your old iPad at an Apple Retail Store. Teach For America's iPads for Classrooms program will give it to a teacher in a low-income community.
Link: Apple Retail
Which Accessories Work with the iPad 2?
Macworld's Dan Frakes reports now that the iPad 2 is in the wild and available for purchase, those still contemplating the purchase are likely wondering if upgrading will render their existing accessories - for iPad, iPhone, or even iPod - obsolete, so that after spending $500, $600, $700, or more for a new iPad, they'll be obliged to pony up even more for new add-ons?
Frakes details how this issue plays out in an array of accessory and peripheral categories.
Chargers and Batteries
Headphones
Microphones
Bluetooth Stereo Headphones
Bluetooth Mono Headsets
Bluetooth Speakers
AirPlay Speakers and Receivers
Docking Speakers
Powered Speakers and Traditional Stereo Systems
FM Transmitters
Video-Out Accessories
Camera Connectors
Keyboards
Cases, Bags, and Other Protection
Link: Which Accessories Work with the iPad 2?
Is the Internet About to Unravel?
The Economist says that the Internet has been a great unifier of people, companies, and online networks, but powerful forces are threatening to balkanize it, with governments increasingly reasserting their sovereignty; big IT companies building their own digital territories, where they set the rules and control or limit connections to other parts of the Internet; and network owners that want to treat different types of traffic differently, in effect creating faster and slower lanes on the Internet, all creating a danger that the Internet may splinter and fragment along geographical and commercial boundaries.
The article notes that Apple is "a world apart," since from the iPhone and iPad users mostly get access to online services not through a conventional Web browser but via specialized applications available only from the company's App Store.
Link: A Virtual Counter-Revolution
Car Connectivity Consortium Launched
The Register's Tony Smith reports that eleven companies want to make it easier to connect your mobile gadgetry to your car and get the two talking a common language. They have formed an industry consortium to do it - the Car Connectivity Consortium, backed by phone manufacturers Nokia, Samsung, and LG; in-car electronics firms Panasonic and Alpine; and automakers Daimler, GM, Honda, Hyundai, Toyota, and VW, to promote the so-called "Terminal Mode standard" - a Nokia-developed specification for phone-to-car communications.
Link: Motoring: There's an App for That
Industry Analysis
Forrester: Android Tablets Are Poised to Fail
PR: An Executive Summary of a new Forrester report by Sarah Rotman Epps with J.P. Gownder, James L. McQuivey, Ph.D., Charles S. Golvin, and Laura Wiramihardja says:
With Android smartphone sales surging, it's easy to think that Android-based devices will be the foil to the Apple iPad in the tablet market. But that's not what we see: Miscalculations in pricing and distribution spell trouble for Android tablets, especially the Motorola Xoom. HP and RIM show promise but have their own challenges, leaving the tablet market ripe for disruption. In this report, we evaluate the product strategies of tablets coming in 2011 and place our bets on which companies will succeed and which will fail.
Table of Contents
Tablet Product Strategies Are Poised For Failure
The Tablet Market Is Ripe For Disruption . . . By Amazon
What "Should" Happen: Sony, Microsoft, And Vizio Should Launch Killer Tablets
Recommendations
Content Product Strategists Must Rethink Their Platform • Prioritization
Supplemental Material
Related Research Documents
Price: $499
Service Guarantee: If you are not completely satisfied with this document, notify Forrester within 24 hours of purchase for a full refund.
Link: iPad Challengers Have Flawed Product Strategies
Tablet Wars: Apple iPad vs. the Competition
PR: Since its initial release, the Apple iPad has been the de facto standard by which competing tablets are measured. But with the release of the iPad 2 just around the corner, can new tablets from Motorola, Research in Motion and a host of others successfully launch and compete?
During February, ChangeWave surveyed 3,091 consumers on tablet demand and future buying trends including customer satisfaction, tablet cannibalization of other electronic devices, and consumer preference for wireless tablet services. The survey was completed just before Apple's iPad 2 announcement.
Tablet Demand Going Forward
Future tablet demand remains extraordinarily high among consumers with better than one-in-four respondents (27%) saying they plan on buying a tablet device in the future. That's two points higher than in a previous ChangeWave survey in November.
Focusing on just the next 90 days, 5% of respondents say they'll be purchasing a tablet within this time frame.
Once again Apple remains the overwhelming winner among planned buyers, with 82% of future tablet buyers saying they'll be purchasing an iPad.
Neither the Motorola Xoom (4%) which hadn't been released yet at the time of the survey - nor the soon-to-be-released RIM/BlackBerry PlayBook (3%) have so far had a significant impact on iPad demand.
Similarly, the Samsung Galaxy Tab (3%) has done little to date to slow the iPad's momentum.
It remains to be seen which of these tablet devices or other new entries in the market will be able to successfully compete. Each faces an uphill battle with the refreshed iPad 2 hitting the shelves today. The survey results provide further insight into what they're up against.
Importantly, the iPad's satisfaction rating remains outstanding among owners with 70% saying they're Very Satisfied and 25% Somewhat Satisfied with the Apple tablet device.

Note: 2% of iPad owners selected Don't Know/NA
Tablet Cannibalization
To better understand the threat tablets pose to other electronic devices, we asked current Tablet owners whether there were any other products that they had originally planned on buying but had put on hold or canceled in order to purchase a tablet.
Looking at the following list of products, are there any that you had previously planned on buying but have put on hold or canceled because you purchased a new tablet device? (Check All That Apply)

Deferred purchases.
According to the survey findings, the two product lines most vulnerable to the tablet onslaught are eReaders and Laptops.
A total of 17% of tablet owners say they've put off buying an Amazon Kindle because they purchased a tablet. Another 9% have put off buying some other eReading device.
The second most affected category is Laptops (11%), followed by Netbooks (10%).
Wireless Services and the iPad
Now that Verizon and AT&T are both offering wireless services for the iPad, where do future buyers plan to purchase the Apple tablet and which service will they be using?
In a major finding, 17% of planned buyers say they'll purchase their iPad and get their wireless service directly from Verizon 2-pts higher than in our November survey. That's a significant achievement, considering Verizon has only been selling the iPad for 4 months. Moreover, beginning March 11th Verizon is offering the iPad 2 with a built-in 3G wireless chip, so new subscribers will no longer need to carry a MiFi mobile hotspot device.
In comparison, 24% of planned iPad purchasers say they'll be using AT&T as their wireless service provider. This includes 16% who will buy their iPad directly from Apple, 4% from Best Buy/ Wal-Mart/Target, and just 4% who will be buying it directly from AT&T.
All told, these findings represent a three-point decline for AT&T since our November survey.
The complete ChangeWave report is available.
Report details include:
Current and future demand trends for overall tablet market and Apple iPad Market share competition between iPad, Motorola Xoom, Research in Motion PlayBook, and Samsung Galaxy Tab, among others
Cannibalization of other products due to Tablet momentum
iPad Satisfaction Ratings
Preferred wireless providers among future iPad buyers Verizon vs. AT&T
The report also takes a close-up look at the eReader market, including the competition between the Kindle, iPad and Nook:
Current and future eReader demand trends iPad vs. Amazon Kindle vs. Barnes and Noble Nook
eReader Satisfaction Ratings
Battle between Online Bookstores: Kindle Bookstore, iBookstore, and Barnes and Noble
Most important eReader features
Types of content being read on Kindle vs. iPad
Demand for The Daily iPad-only newspaper
Full Report Price: $1,500
Link: ChangeWave Research: Consumer Tablets and eReaders - iPad Momentum Continues
Executives Believe iPad Increases Productivity
PR: Harvey Nash, the global professional recruitment and IT outsourcing group, has released executive research showing that the iPad is not just technology hype. Statistics confirm that tablet PCs can have a significant impact on how executives do business, which is timely as Apple rolls out its second generation iPad to consumers this week.
In a survey conducted among 134 subscribers to Harvey Nash's Online Appointments Magazine:
More than two-thirds of respondents reported currently owning or planning to buy a tablet device within 12 months;
Of tablet users, 91% said they believe the tablet increased their productivity, and
75% were "surprised" by how useful the device was.
The survey also reveals that tablet devices fulfill a function in business life somewhere between laptops, smart phones and old-fashioned paper. Almost two-thirds (63%) of executives said they used their tablet device as a presentation tool in a meeting; 59% reported browsing a digital magazine and more than half (51%) took meeting notes on their device.
Almost all participants (97%) believe that the tablet will become even more useful in the future. The iPad is at this time the most popular tablet (85% of tablet users owned one). New entrants to the tablet market over the next year are likely to reduce this prominence.
Harvey Nash was the first recruitment company to launch an iPad App in April of 2010 and will be rolling out iPad 2s to its senior management team in 12 countries.
Harvey Nash CEO Albert Ellis says, "As our world becomes increasingly digital, Harvey Nash is leading the recruitment industry by giving staff, clients and candidates the digital tools to succeed. Our investment in iPads for our team, and the development of applications for tablet devices is a major part of this strategy."
The survey was conducted of 134 director / CxO level subscribers to Harvey Nash's Online Appointments Magazine during late February/early March 2011.
Link: Harvey Nash Survey Reports Executives Believe iPad Increases Business Productivity
Nearly 18 Million Media Tablets Shipped in 2010, Apple Captures 83% Share
PR: According to the International Data Corporation (IDC) Worldwide Quarterly Media Tablet and eReader Tracker, 10.1 million media tablets were shipped in the fourth quarter of 2010 (4Q10) - more than double the 4.5 million shipped in the third quarter. Apple's share came down from 93% in 3Q10 to 73% in 4Q10, but still reflected Apple's strong leadership position. Samsung's Galaxy Tab was the primary competitor in the holiday season, beating other players to market and capturing more than 17% share, while a number of smaller regional players also participated.
The Tracker showed that the eReader market also picked up significantly in the fourth quarter. Strong sales of Amazon's Kindle, which was refreshed in August and priced more aggressively, as well as significant gains from competitors such as Pandigital, Barnes & Noble, Hanvon, and Sony among others, contributed to market growth.
In 4Q10, the eReader market more than doubled volume from the previous quarter, with more than 6 million units shipped for the quarter, bringing the full-year total to 12.8 million units shipped. eReader shipments were also up more than 325% from 2009 when roughly 3 million units shipped. The strong growth reflects a more competitive offering as well as widening interest in the category, including a boost from media tablet press and much lower pricing.
"Strong holiday sales of media tablets were in line with IDC projections and strong consumer interest in the category while device vendors scrambled to offer products competitive with Apple's iPad and now iPad 2," says Loren Loverde, vice president, Consumer Device Trackers. "Media Tablets are on pace to reach shipments of roughly 50 million units in 2011."
Definitions
According to IDC, media tablets are tablet form factor devices with color displays larger than 5" and smaller than 14" running lightweight operating systems (such as Apple's iOS and Google's Android OS) and can be based on either x86 or ARM processors. By contrast, Tablet PCs run full PC operating systems and are based on x86 processors. Media tablets support multiple connectivity technologies and a broad range of applications, which differentiates them from single purpose-focused devices such as eReaders. Media tablet market evolution will be driven not only by product introductions from PC, consumer electronics, and mobile phone vendors, but also by expanded distribution channels (with mobile operators playing a key role) and commercial adoption by businesses.
According to IDC, the United States, Western Europe and Asia/Pacific (excluding Japan) regions accounted for 89% of all media tablet shipments in 4Q10. Although the United States remained the largest country market, Western Europe and Asia/Pacific (excluding Japan) grew almost twice as fast from 3Q10 to 4Q10 and Western Europe saw a slightly larger jump in shipments in 4Q10.
In 4Q10, retailers were the channel with the highest share of shipments, followed by direct and telco sales. A new channel for media tablets, the telco operators, accounted for nearly 14% of all shipments of media tablets in 4Q10 following just over 1% share in the third quarter.
Vendor Highlights: Media Tablets
Apple is building on its strong 2010 first-generation iPad launch with the iPad 2, before most competitors come to market with first generation media tablets. Although more competing devices will be launched this year, IDC expects Apple to maintain a 70-80% share of the market.
Samsung started shipping its 7 in. Galaxy Tab media tablet in 4Q10. Although its shipments into the channel were fairly aggressive, a lack of competitive pricing and ongoing competition from Apple stifled consumer demand. Samsung is expected to follow with a 10.1 in. Galaxy Tab with Android 3.0 Honeycomb later this year, but the refresh will have a tough time maintaining share as more competitors enter the market.
The recently launched Motorola Xoom is a worthy competitor in function, although the relatively high price is expected to be a barrier to gaining significant share.
Other vendors and designs are expected to hit the market in earnest in the second half of 2011. Many of these products will be more competitive in function, like the Xoom, but we expect only those from large vendors with significant marketing and channel structure in addition to a few technologically and price competitive devices to capture significant share. One differentiation path that some vendors are likely to take is to focus on specific market segments, such as commercial. While benefiting from unique product positioning, they are likely to address a smaller overall market and will need to be competitive with devices from Apple and others.
Vendor Highlights: eReaders
Amazon continued to lead the eReader market holding just over 48% share in 4Q10 and 2010 overall. Amazon's share recovered in 4Q10 with shipments of the refreshed Kindle (3) after dipping under 40% in 3Q10.
Barnes and Noble began shipping the NOOKcolor color LCD-based ereader in 4Q10 to support children's books, periodicals, and other graphically rich content. The NOOKcolor is more expensive than epaper-based ereaders and offers a lower priced, less feature-rich alternative to a full-fledged media tablet.
Pandigital edged out Barnes and Noble for the number 2 spot in 4Q10, although the latter came in slightly ahead on an annual basis.
Hanvon of China came in as the number 4 eReader vendor with a sequential gain in volume. Half of Hanvon shipments were in China, where it leads the market, but where eReader growth remained modest. International shipments faced greater competition, pushing share down overall.
Worldwide Sony Reader shipments grew 80.7% during 4Q10 and exceeded 800,000 units for 2010.
The Worldwide Quarterly Media Tablet and eReader Tracker includes quarterly shipment and forecast analysis for over 30 countries including market size and vendor share along with detailed market segmentation and product attributes such as operating system, connectivity, and storage capacity among others.
Link: Nearly 18 Million Media Tablets Shipped in 2010 with Apple Capturing 83% Share; eReader Shipments Quadrupled to More Than 12 Million, According to IDC
Canalys: For Every 2 Tablets Sold in 2011, 1 Netbook or Notebook Will Not Ship
PR: Canalys announces the release of its latest worldwide PC market forecast, estimating year-on-year growth of 14% for 2011. The analyst firm predicts that much of this growth will come from pad shipments, which will increase to 52 million units worldwide in 2011. Of these shipments, Apple is expected to account for over 75%, leaving approximately 12 million units for other vendors.
Canalys anticipates that the iPad's success will continue, and even accelerate, with the arrival of the thinner, lighter and faster iPad 2. This growth means, however, that traditional PC companies, notably Microsoft, Intel and AMD, are likely to lose market share during the year.
"Pads are disrupting the PC refresh cycle in highly penetrated markets," says Canalys Analyst Tim Coulling. "Their innovative user experience has captured the imagination of consumers, who are extending the life of their existing hardware, while taking an interest in pads."
Canalys also urges vendors not to dismiss the opportunity for pads in business: The number of affluent, highly-mobile executives buying pads will increase quickly in 2011, said Principal Analyst Daryl Chiam. Likewise, vertical market adoption of pads, especially in healthcare and education, will gain momentum, as more appropriate applications are built.
Notebook and Netbook Sales Will Suffer
For every 10 pads sold this year, Canalys estimates that five netbook or notebook sales will be lost, across both consumer and enterprise markets. This trend will be most pronounced in developed markets, such as the United States, Canada, France, Germany, the UK, the Nordics, Benelux, Australia, and Japan.
Canalys expects the notebook PC category to grow nearly 8% in 2011, despite the impact of pads, thanks to the ongoing Windows 7 refresh and improving business confidence in the commercial sector. Netbooks, however, will decline by about 13% to 34 million units.
Overstocked retail channels in many countries, including the United States, much of Western Europe, China and Indonesia, will further hinder notebook growth in the first part of the year. Even Russia, where high oil prices have led to a PC boom, has become oversupplied.
Political revolutions and protests in the Middle East and North Africa have brought the markets there to a virtual stop, and it is difficult to predict how long this disruption will last. There is a risk that political turbulence will spread even further afield. In addition, the recent events in Japan will mean some short-term disruptions to the supply chain, but it will take weeks to fully assess the damage and consequences. Canalys expects that there will likely be a small noticeable impact to global PC shipments.
"The netbook and notebook industry is lucky that Apple's geographical reach remains limited, so that its impact in BRIC* countries and some other larger markets, such as Indonesia and Turkey, remains small," says Chiam. "In many of these countries, the iPad 2 will be delayed by the need for regulatory approval, and sales may also be restricted by the lack of localized iTunes stores."
"The rise of the pad is phenomenal," Chiam observes. "We anticipate the arrival of many more innovative devices in the mobile PC category over the next couple of years."
* BRIC refers to Brazil, Russia, India, and China.
Link: Canalys Predicts 14% Growth in PC Market for 2011
Apps & Services
CafeMap: Find Nearby Locations of Top 15 Coffee Chains in US and Canada
PR: Following on the success of several iPhone/iPad applications in Japan, software startup company Digital Advantage Corp. has released a North American version of its popular CafeMap for the iPhone/iPad. The 99¢ navigation tool quickly and easily maps out the major coffee houses near your current location - or simply pans and zooms to anywhere else in the US and Canada.
CafeMap shows nearby coffee shops (Starbucks, Dunkin' Donuts, etc.) on an interactive map, featuring the top 15 coffee chains in the US and Canada. Whether you're looking for a place to meet someone, need to kill time before your next meeting, or just want some coffee, CafeMap finds nearby coffee shops fast.
Built-in Database Quickly and Easily Locates Nearly 25,000 Coffee Houses in the US and Canada
CafeMap contains data for 24,460 shops of 15 major coffee chains (as of March 3rd, 2011). Store data is updated regularly.
Au Bon Pain (228 shops)
Biggby (123 shops)
Caribou Coffee (470 shops)
Coffee Time (180 shops)
Dunkin' Donuts (6,554 shops)
Dunn Bros Coffee (86 shops)
It's A Grind (66 shops)
Peet's Coffee & Tea (193 shops)
Robin's Donuts (83 shops)
Second Cup (349 shops)
Seattle's Best (361 shops)
Starbucks (11,639 shops)
The Coffee Bean (273 shops)
Tim Horton's (3,721 shops)
Tully's Coffee (134 shops)
CafeMap keeps the location data for all these coffee chains inside the application itself, making searches faster.
The Secret to Fast and Flexible Mapping: The PinPoint Engine
Under the hood of CafeMap is Digital Advantages PinPoint Engine for fast and flexible mapping. Despite a hefty built-in database filled with data, the PinPoint Engine keeps searches speedy and functionality flexible, making the following operations possible.
Prompt location of shops by Pan & Zoom or by text search
Familiar graphics for each chain, making identification easy and intuitive
Zoom function automatically shows the nearest several shops for any given location
A show/hide function for each chain
Displays tally of shops/pins currently onscreen
Search by street address
Displays shop addresses and phone numbers
Displays approximate direct distance to shops
Displays directions to shops
Option to email details of the coffee shop selected
Tweet function for Twitter users
A thinning option for smooth data display
A title-bar asterisk to remind you about hidden chains
Link: CafeMap (App Store link)
Adobe Photoshop Express 2.0 for iOS with New Adobe Camera Pack for In-App Purchase
PR: With more than 20 million customers and growing, Adobe Photoshop Express has achieved great popularity on iOS and Android devices. Photoshop Express offers easy, on-the-go support for capturing, organizing, editing, and sharing photos on popular social networks like Facebook, making it a must-have app for customers working with digital photos on new smartphones and tablets.
Adobe announced the immediate availability of Adobe Photoshop Express 2.0 software for iOS devices. Available as a free download on the Apple iTunes Store, Photoshop Express 2.0 introduces a new Adobe Camera Pack for in-app purchase. This Camera Pack includes the following:
Reduce Noise: Even the best phone cameras can introduce small amounts of grain and speckling - called noise - into images. The Reduce Noise feature quickly smooths out those flaws to improve photos.
Self Timer: Set a camera timer to three or 10-second intervals to control when the photo is snapped and capture just the desired moment.
Auto Review: Ensure a good shot and delete it quickly if not. Auto Review provides a quick look at pictures before the action passes by.
The Adobe Camera Pack enhances the new camera workflow that debuted in Photoshop Express 1.5 for iOS and enabled customers to continuously and rapidly shoot photos directly in the app.
"Photoshop Express 2.0 and the new Adobe Camera Pack solve a problem for anyone who cares about the quality of their images," says Jordan Davis, senior product manager for mobile imaging at Adobe. "Our new Reduce Noise feature fixes the graininess that often impacts photos, even those taken with high-quality phone cameras. It's fast, accurate and puts professional Adobe Photoshop quality in the palm of your hand."
Photoshop Express 2.0 for iOS is available worldwide in English for free download from the iTunes store. The Adobe Camera Pack is available for in-app purchase for $3.99. Instructions for purchase are provided in the app.
Photoshop Express 2.0 requires iOS 4.2 or later. To use the Adobe Camera Pack, customers must have an iPhone 3Gs, iPhone 4, iPod touch (3rd or 4th generation), or an iPad or iPad 2 (note that Photoshop Express does not include support for the iPad 2 camera at this time).
Link: Photoshop Express (App Store link)
CarZen Debuts First Car Research and Shopping App for the iPad
PR: CarZen has released the first car research and shopping application for the iPad. Sponsored by AutoNation, Americas largest auto retailer, the free CarZen iPad app is a superior way for consumers to make sound and well-informed car buying decisions while utilizing the highly visual, interactive and touch-based iPad interface.
Heightening its appeal and unlike any other iPad app CarZen has created several breakthroughs, including:
Simple & Powerful Search Experience: Search across any combination of brands, body styles and price ranges to zero into the exact cars you want to look at;
Highly Visual Experience: Gorgeous full screen gallery of every new car on the market with unprecedented 1024 x 768 resolution image along with seeing every car in any color;
Comprehensive Reviews: Save time searching for reviews CarZen offers every new car review on the Internet for every single car summarized and linked in the same place;
Easy-to-use Configuration Tool: Build and configure the exact car you're looking for with the exact options you want; and
Parking Lot: Save cars in your Parking Lot so you can access them later; and
Get a Quote: Contact local dealers quickly and painlessly to get the best price on a new car.
"iPad owners deserve a better way to research and shop for cars than using web sites that really aren't made for touch. We created the CarZen iPad app to be highly visual and highly interactive we want people to touch the cars; to feel the cars, and to share the cars with their friends and family," says Nick Gidwani, founder and CEO of CarZen. "The app puts the entire world of automotive at your fingertips."
CarZen, the most efficient and powerful car search app on the iPad, is focused on delivering a pain-free car research experiences that empowers consumers to make better car-related decisions. CarZen is auto enlightenment.
Link: CarZen (App Store link)
LED Machines 3.3 for iPhone 4
PR: Dimitrios Zampelis, founder of AriadneWare announces the release update of LED Machines - a kinetic multipurpose app that features a flashlight, Clock, Advanced Alarm, as well as a number of purely recreational functionalities all utilizing the iPhone 4's unique LED light. Highlighting the most recent update of this app are a redesigned interface, as well as an expanded list of clock and alarm functions. LED Machines version 3.3 is currently available on the Apple App Store $1.99.
Wanting to create a 'flashlight' app that transcended it's moniker to provide users with a complex array of functions, Dimitrios designed LED Machines to work as anything from an advanced Alarm Clock to a Morse Coder in addition to its base use as a mobile flashlight. The app includes two differently designed analog clock options - Classic or Tech. Meanwhile, LED Machine's Alarm clock utilizes the phone's LED by either simply turning on or creating a strobe effect when the users preset alarm sounds - the specific intervals at which the LED will flash can be set by the user as well. Furthermore, for sleepy users a handy 'clap-snooze' feature allows them to snooze their alarm clock by simply clapping their hands when it sounds.
Keeping this in mind, LED Machine's other features spread across a much broader spectrum of possible uses. For instance, the app's interface is able to accurately illustrate weather conditions present at the users location in real-time with remarkably dynamic and realistic animations. For those that get lost easily the app includes a visual LED based compass to direct them in the right direction, while a Morse Coder allows users to write and transmit messages via their blinking LED light using real Morse Code. Simply put, there are run-of-the-mill flashlight apps, and then there's LED Machines. With the power to utilize user's iPhone 4 LED lights to their full multifaceted potential, LED Machines is primed to become a staple app among tech savvy App Store shoppers for some time to come.
Link: LED Machines (App Store link)
FileMaker Updates Bento Product Line with Bento 4 for Mac, Bento 1.1 for iPhone and iPad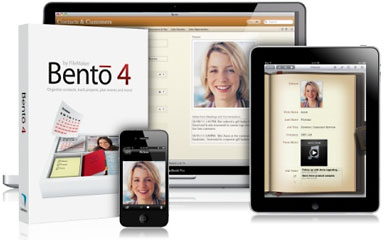 PR: FileMaker is shipping Bento 4 for Mac, now available on the Mac App Store, and Bento 1.1 for iPhone and Bento 1.1 for iPad. With many new features including the ability to print labels, export libraries with data, automatically add geographical locations to records and lock down forms, Bento 4 is a major next step for the popular personal database family.
"People just love the way Bento helps them organize their lives especially their work tasks like managing contacts and tracking projects," says Ryan Rosenberg, vice-president of marketing and services for FileMaker, Inc. "We've enhanced the entire product line: Bento for Mac, Bento for iPad, and Bento for iPhone to provide you with a major productivity boost at your desk and when you're on the go."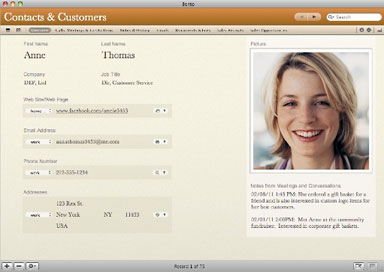 In Bento 4, you can create custom labels or choose from more than 250 ready-to-use Avery and Dymo label formats for mailing labels, inventory tags, name badges, file folders and many other uses. Labels can be customized with information from your database and with images.
With built-in support for a wide array of the most popular Avery labels, Bento makes it easy to print labels for business or home use, said Brenda Dillon, Group Product Manager for Avery Dennison Office Products.
Sharing databases is simpler than ever using Bento 4. For the first time, you can export Bento libraries populated with data and share these with other users. Now sending a complete library to another Bento user is as easy as emailing a file. You can also share your great ideas with the world by sending your custom Bento templates directly to the popular Bento Template Exchange from within Bento 4. The Bento Template Exchange features over 800 free downloadable templates that bring to life the huge variety of uses for Bento.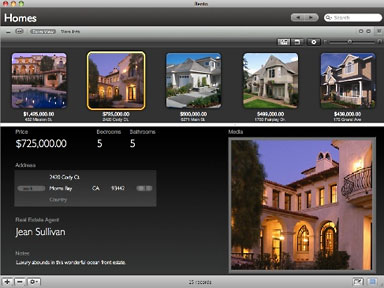 Bento 4 is faster and easier to use. With faster launch times, the new version allows you to lock forms to prevent unwanted changes to a layout, easily switch from Table view to Form view, search by date ranges, and automatically create media fields.
While many software products allow you map an address, Bento goes one step further by automatically capturing the locations where your activities occur. With the addition of a new location field type, Bento 4 will automatically log your exact location using WiFi, GPS, or cell tower triangulation, depending on which Mac or iOS device you may be using when you enter or modify a record. With automatic location fields, you can record the location of site inspections, log customer visits, track travel sites, or capture survey locations.
Bento 1.1 for iPhone and Bento 1.1 for iPad
Bento for iPhone and Bento for iPad have both received significant updates. You can now record voice memos into media fields on your mobile devices and tie them to your records, perfect for capturing events, logging meetings for later review, and just capturing notes without typing. Voice memos can be synched with Bento 4 for the Mac.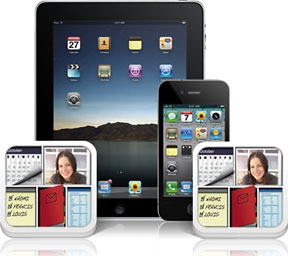 Bento for Mac users can make more use of their information on the Bento for iPhone and Bento for iPad. Now you can sync iCal tasks from the Mac, edit simple list data on your iPhone, and use related records to link libraries.
Other enhancements include multitasking and improved support for the iPhone Retina display.
For the first time ever, Bento for iPhone and Bento for iPad will be available in multiple languages including Japanese, French, German, Italian, Spanish, and Dutch.
Available immediately, Bento 4 is priced at a suggested retail of $49 ($99 for a family pack of five licenses), and is now available on the Mac App Store, FileMaker Store, and Apple retail stores. Current owners of Bento 1, 2, and 3 for Mac are eligible for a $20. rebate.
Bento 1.1 for iPhone and Bento 1.1 for iPad are priced at $4.99, each are sold separately, and are available on the Apple App Store. Current owners of Bento for iPhone or Bento for iPad are eligible for a free update via the App Store.
Link: Bento (Mac App Store link)
Link: Bento for iPad (App Store link)
Link: Bento for iPhone (App Store link)
Accessories
Compact Zippy BT-500 Bluetooth Keyboard Supports iPad 2 and iPhone
PR: AVS Gear Inc. has announced the debut of the newest addition to the company's line of Bluetooth keyboards, the Zippy BT-500. Featuring Apple iPad 2 and iPhone support, this compact wireless keyboard is available now at Amazon.com with an MSRP of $49.99, and is also backed by a Zippy three-year Limited Replacement Warranty through AVS Gear.
Users have the option to connect to six different Bluetooth devices simultaneously, allowing them to alternate between each device in a matter of seconds. Lastly, the Zippy BT-500 has a transmission range up to 10 meters and is compatible with Smartphone devices, PDAs and tablet PCs that are equipped with Bluetooth technology.
The Zippy BT-500 connects boasts one-touch fast switch technology between all six Bluetooth devices in a matter of seconds. In addition, this compact wireless keyboard has a transmission range up to 10 meters and is compatible with Smartphone devices, PDAs and tablet PCs that are equipped with Bluetooth technology.
The Zippy BT-500 features the following:
Apple iPad 2 and iPhone support
Multi-device fast switch wireless technology
Bluetooth 2.0 interface; also compliant with Bluetooth 1.0
Transmission range up to 10 meters
Certified for Telecom safety
Equipped with ultra-flat scissor structure keys, the Zippy BT-500 is encased in an ultra-thin compact design and is ideal for use in a variety of environments. Featuring low-power consumption, the Zippy BT-500 provides users wireless freedom, complementing small spaces, such as living rooms, classrooms and conference rooms, and can also be carried while on the go.
Link: Zippy BT-500 Bluetooth Keyboard (Amazon.com purchase link)
Elegant Cherry iPad Stand from Etsy
PR: Protect your iPad from sticky coffee shop tables while you work. Access your device easily while it sits on your desk. This beautiful stand has two sets of notches that allow the stand to be set at two different angles. The lower setting allows for comfortable typing and browsing. The higher setting shows off the display.
Each stand is laser cut from Pennsylvania cherry wood, sustainably harvested and ethically grown. After each piece it is cut out it is hand sanded and oiled creating a beautiful and soft finish.
5.75" wide
8" from the tray to the top
8.75" from the feet to the top
The back foot insert is 5" long
$55 plus $6 shipping in the US.
Link: Elegant Cherry iPad Stand
QuickerTek's Little Black Box Works with the iPad 2
PR: QuickerTek announces that their "Little Black Box", the universal USB battery pack, works for Apple's newly released iPad 2 as well as the first generation. The Little Black Box allows you to use any AA battery to charge or power Apple's iPad, iPad 2, iPhone, iPod touch, or virtually any USB powered device. The unit is very compact so you can take it on a airplane, camping, or on road trips. Never be without Juicz again!
That means you can use 1.2v or 1.5v Alkaline, Carbon or Ni Metal Hydride throwaways or 1.6v NiZinc rechargeable AA batteries as long as all four AA batteries are the same kind and brand. The internal circuitry compensates for different battery voltages to supply the correct voltage for USB compatibility. Using 1.6v NiZinc rechargeable batteries work the best because they have the highest capacity (mAhr).
Specifications:
Weight - 1.6 oz. without batteries
Dimensions - 80.16 mm x 62.44 mm x 19.38 mm
1.2 vdc to 1.6 vdc
Three position switch
Female USB port
4-AA batteries not included in kit
Ordering Info:
If you order by March 18th 2011 you will receive free "GREEN" ground shipping for St. Patty's Day. The Little Black Box must be ordered from our website to qualify for the free ground shipping, but many of our resellers have the product in stock as well. Like most of QuickerTek products the Little Black Box has a one year parts and labor warranty.
Link: Little Black Box
Protection
Cute Bunny Silicone Case Skin for iPhone 4
PR: Just in time for Easter....
Super cute rabbit design with furry tail
Made of high-quality and durable silicone material.
Protect your mobile from scratches, damages and dust.
Furry tail can work as a stand to support your iPhone.
Cute rabbit ears design to reel the wire of your earphone for convenient use.
Easy access to all controls and ports.
Compatible with Apple iPhone 4.
Note 1: These cases are not the original products imported from Korea.
Note 2: The black rabbit tail color is pure black now.
Price: $19.99
Link: Bunny Silicone Case Skin for iPhone 4
iPad 2 Smart Case in WW II Canvas and Featuring 100% Oiled Saddle Leather
PR: With the release of the brand new Apple iPad 2 Temple Bags designed a case that perfectly protects the whole iPad while enhancing its functionality. The iPad 2 Smart Case has a brilliant magnetic closure which is secure when closed and when opened transforms the case to sit at the perfect typing angle or horizontal viewing angle.
The iPad 2 Smart Case is crafted out of repurposed WW II canvas and features 100% oiled saddle leather details, 1/8" foam padding, khaki twill lining and magnetic closures.
A small brass eyelet allows the brand new HD camera on the iPad 2 to capture photos and video. There is also a precision cutout to allow full operation of the speaker port.
Product Details:
Magnetic closure system
tabletop typing angle
horizontal viewing angle
fully protected with 1/8" closed cell foam
brass eyelet for full camera operation
precision speaker port cutout
$179
Link: iPad 2 Smart Case
USB Fever Soft Silicone Case for iPad 2
PR: Features:
Unique ergonomic design
Fully Protected from bumps and scratches
Protection to the 4 corners
Anti-slip and enhanced hand feel
Light weight
Perfectly fit
Anti-dust
Stretchy
Anti-Moisture
Easy access to all ports, buttons and speakers
Materials: Rubbery Silicone
This accessory is suitable for Apple iPad 2
Colors
Smoky Black (Default color to be shipped)
Blue
Crystal Clear
Purple
Frost White
$9.99
Link: Soft Silicone Case for iPad 2
USB Fever Ultra Clear Screen Protector for iPad 2
PR: This screen film for iPad 2 is a high quality crystal-clear protective film for iPad 2. The film is easy to apply to the front of iPad 2 and protects the multitouch display against dirt and scratches. There is additional film inside for protecting the back of iPad 2. A cleaning cloth is included to wipe away any dirt after use.
Features:
Ultra Clear
Customised to protect iPad 2, no need for any cuttings and resizings.
Ultra-thin and highly durable
No glue or adhesive is required for placement
Washable and reusable
Bubble free
Dust Free
Anti-Scratch
Resistance to erosion
This accessory is suitable for iPad 2
Package Contents:
Ultra Clear Screen Protector for iPad 2 x 1
Cleaning Cloth x 1
Squeegee x 1
Home Button Cover x 1
$13.99
Link: Ultra Clear Screen Protector for iPad 2
USB Fever Anti Glare Screen Protector for iPad 2
PR: These Screen protectors are made of 0.16mm PET material with Japanese patented silicon coating to hold them to your screen.
Application is easy and they will have no bubbles, self-adhesive and fix firmly on your screen. No actual adhesive used - therefore it is washable and re-useable.
Features:
Anti Glare
Anti finger print
Oil resistant
dirt-repellent coating added to the surface
Anti bacterial surface
No glue or adhesive is required for placement
Washable and reusable
Bubble free
Dust Free
Anti-Scrach
Customised for Apple iPad, no need for any cuttings and resizings.
Ultra-thin and highly durable
UV Protection
Resistance to erosion and finger-print
This accessory is suitable for Apple iPad 2
Package Contents:
Anti Glare Screen Protector for iPad 2 x 1
Cleaning Cloth x 1
Squeegee x 1
Home Button Cover x 1
$12.99
Join us on Facebook, follow us on Twitter or Google+, or subscribe to our RSS news feed
Links for the Day
Mac of the Day: PowerBook 190cs, introduced 1995.08.28. The last 680x0-based PowerBook could take a PowerPC upgrade.
Recent Content
Follow Low End Mac on Twitter
Join Low End Mac on Facebook
Favorite Sites
MacSurfer
Cult of Mac
Shrine of Apple
MacInTouch
MyAppleMenu
InfoMac
The Mac Observer
Accelerate Your Mac
RetroMacCast
The Vintage Mac Museum
Deal Brothers
DealMac
Mac2Sell
Mac Driver Museum
JAG's House
System 6 Heaven
System 7 Today
the pickle's Low-End Mac FAQ
Affiliates
Amazon.com
The iTunes Store
PC Connection Express
Macgo Blu-ray Player
Parallels Desktop for Mac
eBay

Advertise