Dual-Core iPad 2 Launched, 20% of iPads Out of Date, 8 Reasons Xoom Beats iPad, and More
This Week's iPad, iPhone, iPod, and Apple TV News
Compiled by Charles Moore and edited by Dan Knight - 2011.03.07
Mac notebook and other portable computing is covered in The 'Book Review, and general Mac news is in Mac News Review.
All prices are in US dollars unless otherwise noted.
News, Reviews, & Opinion
The Competition
Apps & Services
Accessories
Protection
iPod Deals
These price trackers are updated every month.
News, Reviews, & Opinion
Apple Launches Dual-Core iPad 2
PR: Apple on Wednesday introduced iPad 2, the next generation of its magical device for browsing the Web, reading and sending email, enjoying photos, watching videos, listening to music, playing games, reading ebooks, and much more. iPad 2 features an entirely new design that is 33% thinner and up to 15% lighter than the original iPad, while maintaining the same stunning 9.7" LED-backlit LCD screen. iPad 2 features Apple's new dual-core A5 processor for blazing fast performance and stunning graphics and now includes two cameras, a front-facing VGA camera for FaceTime and Photo Booth, and a rear-facing camera that captures 720p HD video, bringing the innovative FaceTime feature to iPad users for the first time. Though it is thinner, lighter, faster, and packed with new features, iPad 2 still delivers up to 10 hours of battery life that users have come to expect. iPad 2 is available in black or white, features models that run on AT&T's and Verizon's 3G networks, and introduces the innovative iPad 2 Smart Cover in a range of vibrant polyurethane and rich leather colors.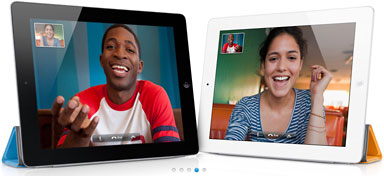 The iPad 2 comes in black and white.
"With more than 15 million iPads sold, iPad has defined an entirely new category of mobile devices," said Steve Jobs, Apple's CEO. "While others have been scrambling to copy the first generation iPad, we're launching iPad 2, which moves the bar far ahead of the competition and will likely cause them to go back to the drawing boards yet again."
With the new front and rear cameras, iPad 2 users can now make FaceTime calls to millions of iPhone 4, iPod touch, and Mac users (see FaceTime for Mac Released in this week's Mac News Review - the 99¢ app requires OS X 10.6.6 or later) so they can see family and friends anywhere there is WiFi. Photo Booth lets you apply fun visual effects, including eight photo special effects like Squeeze, Twirl, and Kaleidoscope, to photos captured by either camera.
iPad 2 comes with iOS 4.3, the latest version of the world's most advanced mobile operating system, with new features including faster Safari mobile browsing performance; iTunes Home Sharing; enhancements to AirPlay; the choice to use the iPad side switch to either lock the screen rotation or mute audio; and Personal Hotspot to share an iPhone 4 cellular data connection over WiFi. Additional iPad 2 features include a built-in gyro for advanced gaming; HSUPA support for enhanced 3G upload speeds on iPad 2 WiFi + 3G on AT&T, and HDMI Video Mirroring that lets users mirror their iPad screen on an HDTV using an optional adaptor.

iPad 2 Smart Covers come in 10 colors.
The new iPad 2 Smart Cover provides protection for the iPad screen while maintaining its thin and lightweight profile. Designed with a unique self-aligning magnetic hinge that makes it easy to attach and remove, the new iPad 2 Smart Cover automatically wakes iPad 2 when it's opened and puts it to sleep when it's closed, and has a soft microfiber lining to help keep the screen clean. The Smart Cover also folds into a stand for typing or viewing videos and is available in vibrant polyurethane for $39 or rich leather for $69 in a range of colors, including a (Product) Red one which helps support the Global Fund to fight HIV/AIDS in Africa.
Apple also introduced two new apps: iMovie and GarageBand for iPad, both available on the App Store? for just $4.99 each. With iMovie, iPad 2 users can shoot and edit videos right on their iPad and post their movies to YouTube, Facebook, Vimeo, and their MobileMe? gallery; watch them on their iPod, iPhone or iPad; as well as view them on their HDTV using AirPlay and Apple TV. GarageBand turns your iPad into a collection of touch instruments and 8-track recording studio, allowing you to perform with onscreen keyboards, guitars, drums and basses using multitouch gestures - even if you don't play a musical instrument.
iPad 2 with WiFi will be available on March 11 for a suggested retail price of $499 for the 16 GB model, $599 for the 32 GB model, $699 for the 64 GB model. iPad 2 WiFi + 3G will be available for a suggested retail price of $629 for the 16 GB model, $729 for the 32 GB model and $829 for the 64 GB model. iPad 2 WiFi + 3G compatible with the Verizon network will be available in the US only for a suggested retail price of $629 for the 16 GB model, $729 for the 32 GB model and $829 for the 64 GB model. iPad 2 will be sold in the US through the Apple Store, Apple's retail stores, and select Apple Authorized Resellers.
iMovie and GarageBand for iPad apps will be available on March 11 for $4.99 each from the App Store.
iPad 2 will be available in Australia, Austria, Belgium, Canada, Czech Republic, Denmark, Finland, France, Germany, Greece, Hungary, Iceland, Ireland, Italy, Japan, Luxembourg, Mexico, Netherlands, New Zealand, Norway, Poland, Portugal, Spain, Sweden, Switzerland, and the UK on March 25; and in many more countries around the world in the coming months. Further international availability and pricing will be announced at a later date.
Link: iPad 2
Apple Posts Video of Steve Jobs iPad 2 Keynote
Apple has posted streaming video of Wednesday's iPad 2 Special Event with the surprise keynote delivered by Steve Jobs.
It's a pleasure see Steve Jobs on stage, looking chipper and capable of delivering a one-hour standup keynote for the iPad 2 announcement? He's still thin, but hardly looks like someone at death's door, confounding the National Enquirer instigated rumors of a couple of weeks ago.
Apple says the streaming video requires Safari 4 or 5 on Mac OS X Snow Leopard or Safari on iOS 3 or later, but I managed to watch it using the current Opera 11 beta.
Link: Apple Posts Video of Steve Jobs iPad 2 Keynote
93% of Tablets Shipped in Q3 2010 Were iPads
PR: The shipment, price and revenue data for media tablets, ebook readers and netbooks are in for the third quarter of 2010. Published in ABI Research's "Netbooks, MIDs, Media Tablets, and Mobile CE Market Data," they show that media tablets were indeed the "promising new talent" they appeared to be: some 4.5 million of the fashionable devices shipped during the quarter.
Of those, about 93% were Apple iPads. Senior practice director Jeff Orr notes that, "Over time, Apple's first-to-market iPad advantage will inevitably erode to some extent. ABI Research has been tracking media tablets since December 2009; future quarterly editions of this Market Data product will include market share tracking of all the major media tablet vendors."
Netbooks
The first half of 2010 was slow for netbooks, as relatively few new products were introduced. However, Orr points out, "The third quarter saw PC OEMs again breathe life into the segment by introducing new platforms that offered dual-core processors, and lighter/thinner devices with significantly better performance, sleek styling, and visual appeal."
ABI Research's "Netbooks, MIDs, Media Tablets, and Mobile CE Market Data" includes forecasts for all Ultra-mobile Devices (UMDs) including media tablets, netbooks, UMPCs, mobile Internet devices (MIDs) and mobile broadband-enabled consumer electronics (CE) devices. Shipments, ASPs, and revenue for these devices are provided, including shipments and revenues for each type of UMD by region, platform, operating system, and connectivity attach rates.
Link: 93% of Tablets Shipped in Q3 2010 Were Apple iPads
iPad 3? Most Likely in 2012
9 to 5 Mac's Seth Weintraub says that while there's been a flood of rumors recently about an improved iPad 3 with a Retina Dcreen debuting during the typical iPod fall release timeframe, he deduces from the way Apple has been repeating over and over (echoed by Steve Jobs in the iPad 2 announcement keynote) that 2011 is the year of the iPad 2 (as well as Post-PC era), it seems pretty clear that we'll most likely have to wait until around this time next year for an iPad 3, although we may well see a bigger iPod touch come September.
Your editor agrees with this assessment.
Publisher's note: I expect the dual-core Apple A5 CPU to show up in the next generation iPhone and iPod touch. I do not anticipate a 9.7" Retina Display, which would require 2048 x 1536 resolution, any time soon, as such a large high resolution screen would be a very costly component. dk
Link: Year of iPad 3? 2012
20% of iPads Remain Out of Date
Apples iPad 2 and iOS 4.3 announcements are top of the news this week, but unfortunately, Localytics notes that almost 20% of iPad users still use earlier versions than even the most recent iOS 4.2. It remains to be seen whether the features of the iPad 2 (over-the-air upgrades?) encourage users to upgrade iOS much quicker.
Early iPad Users Still Have Significant Market Share
The most recent previous major iOS release was iOS 4.2 in November. This first major iOS upgrade for the iPad delivered new features such as multitasking, AirPlay, improved battery performance and folders.
For the thirteen weeks following the release of iOS 4.2 for the iPad, Localytics examined the proportion of iPads using early versions of iOS (pre-4.2) vs. new versions (4.2 or later).
After week six, over 70% of iPads ran new versions of iOS. However, over the next seven weeks, the share of iPads running the versions only increased by 10 percentage points. As of week 13 (Feb. 14 - 20, 2011), almost 20% of iPads still ran earlier versions of iOS. This comes even after a large number of users activated new iPads (preinstalled with the latest iOS) during the holidays.
In a previous iPhone analytics report, Localytics saw that customers were slow to upgrade their iPhone, perhaps due to the iPhones need to connect to a computer to receive iOS upgrades. The iPad currently has the same constraint, which likely limits some users from upgrading to the most current iOS.
Too Soon to Drop Support
With a significant portion of iPads still using earlier versions of iOS, developers should not anticipate dropping support for them anytime soon, Localytics advises. The rate at which iOS 4.2 has grown has decreased significantly, indicating it may take a while for early iOS versions to disappear completely. It remains to be seen whether the possible release of iPad 2s accelerates the market share of new iOS versions.
Localytics offers real-time app analytics platform and gives app publishers for iPhone, iPad, Android, BlackBerry and Windows Phone 7 the tools needed to build more successful and profitable apps. Localytics is headquartered in Cambridge, MA, USA.
Link: iPad 2 and iOS 4.3 Are Coming; 20% of iPads Remain Out of Date
Consumer Reports Was Wrong About the Verizon iPhone 4
CNN/Money's David Goldman notes that Consumer Reports made waves last week with its decision not to recommend the Verizon iPhone 4 because of the same death grip antenna problem that plagues AT&Ts iPhone 4, but he says the magazine may have made the wrong call, since tests show that Verizon's iPhone version is significantly improved over its rivals in that regard, citing Anand Tech's Brian Klug who ran a thorough test of the new Verizon iPhone 4 and found that the death grip problem has been mitigated, and that a teardown analysis performed by IHS iSuppli also found that while the Verizon iPhone kept the same integrated antenna design of the AT&T iPhone, Apple made several improvements to fix the signal problems that plagued the earlier model.
Mac Daily News has some particularly choice comments on this latest Consumer Reports farrago:
Link: Verizon iPhone 'Death Grip' Fixed by Apple (CNN/Money)
Link: Consumer Reports Was Wrong About Verizon iPhone 4; So-called Death Grip Fixed by Apple (Mac Daily News)
VW Unveils Bulli Microbus Concept with Pure Electric Drive and iPad Integration
Volkswagen pioneered the minivan back in 1950 with its iconic Type 2 Transporter, a.k.a. T1 and Samba, which became a symbol of the 1960s counterculture. Germans called the T1 the Bulli, while to Americans it was the VW Microbus. The world's first minivan still has a fan base spanning the globe.
The VW Microbus has particular significance to Apple aficionados that transcends Volkswagen's integration of the iPad into this new Bulli/Microbus concept. Steve Jobs (who still fancies German automotive hardware) owned one back in 1976, which he sold along with his HP scientific calculator to help raise the $1,300 he and Steve Wozniak needed to launch Apple, so in a way the VW Microbus was instrumental in the genesis of the iPad, along with the Mac, iPod, Apple II, and Apple's rise to become one of the world's richest corporate entities.
Now Volkswagen is reinterpreting the compact original form factor of this automotive legend, sending it into the future in the form of a concept vehicle for a new generation Bulli. It is spacious like it was in 1950, it is as inspirational as ever, with clean styling that also recalls the original more than 60 years ago.
Designed to be more compact and affordable than an earlier Microbus concept vehicle developed in 2001, the new Bulli van concept being shown at the Geneva Auto Show is powered by an electric motor, fitted with six seats, and has infotainment control via, you guessed it, Apple's iPad. A removable iPad in the center console serves as a multifunctional touchscreen.
Along with Internet-based iPad applications and the media center, it also handles control of such functions as Bluetooth handsfree telephone and a navigation system. Integrated right on the iPad mount are controls for the climate control system and the centrally-located hazard warning switch.
VW says this latest van concept has the potential to establish a new, fifth brand of people carrier next to its Caddy, Touran, Sharan, and its large counterpart the Caravelle - none of which are sold in the US or Canada, which instead get the Routan - a badge-engineered variant of the Chrysler Magic Wagon minivan built by Chrysler for Volkswagen.
Hopefully, if the Bulli goes into production, VW will choose to ship it to North America. The company notes that thanks to advanced drive technologies, the Bulli being shown in Geneva is what is referred to as a "zero emissions vehicle," because the concept is electrically powered. The Bulli's electric motor outputs 85 kW of power and an impressive 199 lb.-ft of torque, supplied with energy by a lithium-ion battery with a maximum storage capacity of 40 kWh. This electrifying combination enables driving ranges of up to 186.4 miles, excellent in the full EV context and far exceeding the currently available Nissan Leaf EV's c. 100 mile range between recharges.
The new Bulli accelerates from 0 to 62 mph in 11.5 seconds, and its top speed is 87 mph (electronically limited), ho-hum performance by today's automotive standards, but far exceeding the capabilities of the original VW Bulli/Microbus, and offering enough range and driving performance to make this EV not only ideal for short distances; but also for most commuters and recreational activities, and with zero tailpipe emissions.
Volkswagen says the concept can also be powered by gas and diesel direct injection engines, noting that with today's technologies, engines with 1.0 or 1.4 liter displacement are both fuel efficient and amply powerful, ideal for anyone who wants to cover maximum distances with minimal fuel consumption. Incidentally, the original VW Microbus offered engines ranging from 1.2 to 1.6 liters displacement.
The Competition
8 Reasons the Motorola Xoom Beats the iPad
Computerworld's Seeing Through Windows columnist Preston Gralla says he bought the Motorola Xoom the day it came out and has been using it ever since, observing that it's a spectacular tablet that he deems superior to the iPad for at least eight reasons that he elucidates, including running Android, being more powerful, and having a higher resolution display.
He makes some compelling points.
Link: Eight Reasons the Motorola Xoom Beats the iPad
Apps & Services
Trade in Your First Generation iPad
PR: With Apple's announcement of the iPad 2 coming March 11, it's a good time to start thinking about how you'll pay for that upgrade.
NextWorth, a specialist in consumer electronics upgrades and trade-ins, is offering high trade-in values for the first generation iPad to help subsidize the cost of an upgrade. Apple products tend retain value more than other brands, and the iPad is no exception. Current trade-in values on NextWorth for iPads with light wear (as of 2/23/11) are:
iPad 16G WiFi: $255
iPad 32 GB WiFi: $285
iPad 64 GB WiFi: $310
iPad 16G WiFi + 3G: $298
iPad 32G WiFi + 3G: $350
iPad 64 GB WiFi + 3G: $390
NextWorth is partnered with Target to offer an in-store trade-in option, or online at NextWorth.com. At nearly 900 Target stores nationwide (with 500 new stores being added in the next 3 months), consumers either receive credit toward a purchase, or a prepaid Target card for the value of the trade-in that can be used for any item sold at Target. At NextWorth.com, customers have the choice of cash or a gift card when they trade in. NextWorth offers FREE, fully insured UPS shipping service to all online customers.
Using a trade-in value index, NextWorth can also show the current NextWorth trade-in value as a percentage of the original retail value of a device. For example, the iPad 16 GB 3G is currently trading in at 65% of its original value.
Publisher's note: Apple has reduced the price of the original iPad by $100, which should significantly impact the used iPad market. dk
Link: NextWorth
New App Lets Mini Fans to Take the Mini Countryman for a Joyride
PR: Working in cooperation with Butler, Shine, Stern & Partners - marketing agency of record for Mini and developer of the creative concept - Helios has unveiled a mobile AR application for the iPhone.
Epitomizing the versatility of the new Mini Countryman, users are able to take pictures of a superimposed virtual Mini Countryman in their garage, a parking spot, atop a high-rise, astride the Golden Gate Bridge, on the end of their toothbrush, anywhere.
The groundbreaking Virtual Mini app can be downloaded via a QR code included in a print ad in the March issue of Wired and will be available through the iTunes Store, Facebook, and MiniUSA.COM. Scanning the ads QR code with their iPhone will take consumers directly to the application within the iTunes Store.
Once downloaded, the application gives users the opportunity to select from one of four different colors and configurations of the Mini Countryman, superimposed on the live video feed from their phones built-in camera. After resizing and rotating the customized 3D model into place, users can capture a snapshot of the scene to be saved to a photo gallery, providing options to share the image with their friends via Facebook or email.
From inception, this iPhone application was created simply to give consumers a utility to visualize the larger Mini Countryman in their garage, said John Butler, Executive Creative Director of Butler, Shine, Stern & Partners. Its yet another example of Mini being an advertiser who is generally first to market integrating emerging technology with traditional media. Were thrilled with the results, and thoroughly enjoyed our collaboration with Helios.
"The Virtual Mini app is designed to engage consumers in a fun, unique way," says Mike Schaiman, Managing Partner and cofounder of Helios Interactive Technologies. Founded in 2008, Helios harnesses an eclectic mix of interactive platforms, from augmented reality and gesture recognition, to multitouch applications, mobile, social media, 3D display technologies and more.
"We expect people to take some interesting shots and have fun with the new Mini Countryman," Schaiman continued. "In addition to being among the first automotive apps to integrate an AR campaign for mobile, the Virtual Mini app offers a quirky experience that fits the brand perfectly. This is exactly the kind of interactive, innovative experience that promotes the brand loyalty Mini is famous for."
Mini is an independent brand of the BMW Group. In the United States, Mini USA operates as a business unit of BMW of North America, LLC which has been present in the United States since 1975. Royce Motor Cars NA, LLC began distributing vehicles in 2003. The BMW Group in the United States has grown to include marketing, sales, and financial service organizations for the BMW brand of motor vehicles, including motorcycles, the Mini brand, and the Rolls-Royce brand of Motor Cars; DesignworksUSA, a strategic design consultancy in California; a technology office in Silicon Valley and various other operations throughout the country. BMW Manufacturing Co., LLC in South Carolina is part of BMW Groups global manufacturing network and is the exclusive manufacturing plant for all X5 and X3 Sports Activity Vehicles and X6 Sports Activity Coupes. The BMW Group sales organization is represented in the US through networks of 338 BMW passenger car and BMW Sports Activity Vehicle centers, 138 BMW motorcycle retailers, 104 Mini passenger car dealers, and 30 Rolls-Royce Motor Car dealers. BMW Holding Corp., the BMW Groups sales headquarters for North America, is located in Woodcliff Lake, New Jersey. Information about BMW Group products is available to consumers via the Internet.
Link: Mini USA - requires Flash (download link)
Accessories
2-in-1 Mini USB to Dock and Micro USB Adapter
PR: If you don't carry a lot of connectors with you, you may consider this adapter in your pocket so you can access to the most important two iOS gadget interfaces - Micro USB and Apple's 30-pin Dock connector.
This adapter has 4 connectors at 4 sides respectively. The connection Mini 5 pin to Micro USB and Mini 5 pin to Apple's 30-pin Dock connector. So you can use your old Mini 5 pin connector to connect Micro USB Device and at the same time, your most loved Apple's iPhone, iPod, iPad/.
Features:
One simple connector for data syncing, charging your iPhone / iPod / iPad from your computer.
One simple connector for data syncing, charging your HTC, Samsung, LG, Motorola from your computer.
Use your old Mini 5 pin cables, no need to throw away.
Note:
There is no wire connection between Micro USB and the Dock connector.
$8.99
Link: 2-in-1 Mini USB to Dock and Micro USB Adapter
USB Dual Charging Cable for iPhone/iPod/PDA (Mini USB)
PR: If you have an Apple idevice (e.g. iPhone/iPad/iPod) and at the same time also have a PDA using the most popular Mini USB connector to charge, how can you get them to charge simultaneously? Probably you can buy a dual dock base/cradle, but if you would like a simple solution, here it is.
This cable is terminated with one 30-pin dock connector and 1 Mini 5 pin USB Connector, it can let you charge two devices simultaneously (see notes below). It can also let you to have data hotsync for one of your devices with your PC at the same time without affecting the charging of the other one (see notes below).
Features:
A simple solutions for charging 2 device simultaneously
A simple solutions for Data Sync your your device
Super Short: 20cm approximately
Never get your cable tied, no more mess.
Compact and lightweight
This accessory is compatible with the following devices:
iPad, all models
iPhone, all models
iPod, 3G and newer
iPod classic
iPod mini
iPod nano, all models
iPod touch, all models
iPod video
Notes:
This cable is for charging 2 devices simultaneously, if you find one that cannot be charged, connect your device in another sequence.
This cable only supports charging via the USB Port from a computer, it does not support charging via other USB Sockets.
For Data Sync, if there is just 1 device to be connected, you can have data hotsync and charging, if there are 2 device to be connected at the same time, the data hotsync only supports the latter (the 2nd device to be connected).
$5.99
Link: USB Dual Charging Cable for iPhone/iPod/PDA
Power Pack with Replaceable Battery for iPhone 4
PR: iPhone 4 is a perfect product, save for probably the battery. It is so good that you will use it more frequently than a traditional cell phone does.
Engineers have designed many products for it to "remedy" such problem, here is a new product from USB Fever to hopefully solve your iPhone battery problems in a battery before Apple allows people to change the battery by themselves as with other PDAs.
This product comes with 3 parts, a bumper case, a back cover and 1 battery (1400 mah).
Features:
Slim Case
Sleek back cover
Changeable battery (click here for extra battery)
Bumpers of different colors (see colors available below).
Bumper colors available:
Brown (transparent)
Pink (not available now)
Black (not available now)
Silver (not available now)
$79.99
Link: Power Pack with Replaceable Battery for iPhone 4
3M Introduces Touch Pen for Users of Touchscreen Devices
PR: 3M Touch Systems Inc., a wholly-owned subsidiary of 3M, announced at CeBIT 2011 the US availability of its 3M Smart Pen, a uniquely designed input device finely tuned for use with popular capacitive touchscreen devices, including the Apple iPhone, iPad and iPod touch. Its compatibility with multiple products and its ergonomic and stylish design make the 3M Smart Pen a valuable companion for active users of touchscreen devices currently in the market.
The 3M Smart Pen is one of the most accurate and high quality capacitive touch pens on the market and we are excited to see how users will enable new and unique ways to use this technology on their touchscreen devices.
The 3M Smart Pen has two designs to accommodate a variety of usage scenarios. The MHP-1000 comes in black, grey, pink and titanium silver with a clip attached for a traditional pen look-and-feel. The MJP-3000 is available in black, navy blue, pink and titanium silver, with a detachable lid that allows the pen to attach to the speaker jack of a portable device.
Both pens have an ergonomic industrial design, giving it a natural, comfortable fit for both small and large hands. Activating with only a light touch, the pens unique anti-stiction properties let the pen glide smoothly across surfaces with greater precision than a finger and reduces fingerprints on the screen by not using your fingers. The 3M Smart Pen is ideal for users who must wear gloves in their work environment from cold climates to industrial/manufacturing to healthcare and sterile environments.
3M Touch Systems expertise in touchscreen technology gives us the knowledge and ability to create relevant accessories that further maximize the value of this technology, said Chris Tsourides, business manager, 3M Touch Systems. The 3M Smart Pen is one of the most accurate and high quality capacitive touch pens on the market and we are excited to see how users will enable new and unique ways to use this technology on their touchscreen devices.
The MHP-1000 and MJP-3000 are now available in the US market through Amazon.com for $15.99 and $18.99, respectively.
The 3M Smart Pen and other 3M Touch Systems touchscreen displays and systems is on display at CeBIT 2011 in Hanover, Germany, March 1-5, 2011 in Hall 16, Stand E32.
Link: 3M Touch Systems
PageFlip Launches Bluetooth Foot Pedal for Handsfree Page Turning
PR: Musicians and people with disabilities to benefit from new PageFlip Cicada Bluetooth pedal for handsfree page turning of digital content on iPads, Macs, and PCs. PageFlip has reached a deal with Hal Leonard Corporation to be the exclusive distributor of the pedal to all retail channels in the US.
PageFlip Cicada Bluetooth Pedal for handsfree page turning on iPads/Macs/PCs.
With the popularity of the iPad and many other such sheet music-friendly electronic devices becoming available, the market is ripe for the PageFlip Cicada that supports the needs of today's wired and mobile musicians.
A new wireless foot pedal makes it possible to perform handsfree page turning of electronic documents on any computer, including iPads. The pedal, known as the PageFlip Cicada, is available immediately for worldwide distribution directly from PageFlip.
The PageFlip Cicada is a wireless Bluetooth pedal designed to meet the needs of musicians and people with disabilities who struggle with the challenge and inconvenience of page turning. PageFlip Cicada works exclusively with digital documents on iPads, Macs, and PCs. By simply tapping the left or right pedal of the PageFlip Cicada, digital content can now be flipped or scrolled in either the forward or reverse directions for convenient handsfree reading.
The PageFlip Cicada emulates a standard keyboard and works with any software that uses keyboard strokes to navigate through digital files. For added versatility, the user may select among five modes for the dual pedals: Page Up/Page Down, Left/Right arrow, Up/Down arrow, Left/Right mouse click, and Space/Enter. Changing modes is as simple as pressing a button. No software installation or programming is required.
The PageFlip Cicada works with iPads under select keyboard-compatible apps such as forScore, Deepdish GigBook, MusicReader, unrealBook, and OnSong. The pedal does not operate with the Amazon Kindle since the Kindle does not support Bluetooth or include a USB port. However, Kindle software running on a PC or Mac works with the pedal.
The PageFlip Cicada has a retail price of $79.95 and ships with a universal AC adapter and a USB Bluetooth dongle for use with computers that are not already equipped with Bluetooth support. The PageFlip Cicada can be powered by two AA batteries, features an autorepeat mode for fast browsing or scrolling, and includes two 1/8" mono plugs for people with disabilities to attach an external breath-controlled sip-and-puff switch or two lightweight JellyBean pushbuttons to trigger page turning in the forward or reverse directions. External switches are not included. PageFlip offers free shipping within the US and Canada.
The widespread proliferation of laptops, iPads, and other portable tablets give musicians and people with disabilities more options in storing and displaying their sheet music, books, and other electronic documents. The PageFlip Cicada now offers these users a lightweight, compact, and fully embedded solution for convenient handsfree page turning.
PageFlip was founded in New York in 2002. The company develops, manufactures, and markets automatic page turning technology for the benefit of people with disabilities, musicians, and avid readers. Unlike other products on the market, PageFlip offerings are designed to provide a bi-directional handsfree solution that is reliable, compact, silent, and low-cost.
PageFlip Lite Automatic Page Turner
The PageFlip Lite automatic page turner works with conventional books. Simply attach up to 10 sheets (20 pages) to dedicated page turning arms and tap a wireless pedal to turn pages in either direction. Great for music practice or for people with disabilities.
Free Shipping In USA/Canada
Musician Version: $199
Disability Version: $299
Link: PageFlip Lite Automatic Page Turner
PageFlip Cicada Bluetooth Pedal
The PageFlip Cicada is a wireless Bluetooth pedal for handsfree page turning of digital documents on any computer. Simply tap the pedal to turn pages in either direction. Also works with iPads using select apps, such as ForScore, Deepdish GigBook, MusicReader, onSong, or unrealBook.
Free shipping in USA/Canada
Musician Version: $79.95
Disability Version: $99.95
Link: PageFlip Cicada Bluetooth Pedal
New Stainless Steel Stand Boosts iPhone Signal and Improves View
PR: Smartphone Coasters from newPCgadgets has been their fastest selling iPhone accessory since its introduction only several months ago. The polished stainless steel surface enhances signal reception while holding your iPhone at a comfortable viewing angle. The sleek and attractive stainless steel construction compliments any setting to provide the ultimate convenience stand. With their custom engraving program, Smartphone Coasters make the perfect promotional item.
When newPCgadgets designed Smartphone Coasters several months ago they didn't realize, at the time, that the stainless steel construction would have the added benefit on enhancing signal reception.
The sleek and attractive stainless steel construction compliments any setting to provide the ultimate convenience stand. Smartphone Coasters work with all popular models including, the iPhone 4, Droid, Windows 7, BlackBerry, HTC, Sony and dozens more.
Anyone who uses a Smartphone Coaster will immediately realize the many benefits including, fast access to incoming calls and texts, improved privacy, better signal reception, less misplaced phones and overall better performance.
The space-saving stackable design and easy to clean surface ensure that Smartphone Coasters will be popular anywhere they are used. In addition to individual users, newPCgadgets customers include, conference centers, hotels, restaurants, sports bars, schools and all types of businesses. With their custom engraving program, Smartphone Coasters make the perfect promotional item.
Recently several Las Vegas hotels, including the MGM Grand, have purchased Smartphone Coasters as a promotional item for their preferred customers. Make sure to contact newPCgadgets for additional details on their custom signage program. With the many features Smartphone Coasters offer, along with their low price, give them a try, you won't be disappointed. At only $3.99, each these stands have become very popular in conference rooms, offices, schools, and at home.
Link: Smartphone Coasters
Protection
Tom Bihn Announces Breve Case for iPad 2
PR: The Breve for iPad 2 is a streamlined way to protect and carry your iPad, charger, phone and not much else.
The Breve for iPad is made with an exterior of US 1050d ballistic nylon and an interior of padded open-cell foam laminated to super-soft brushed nylon. It provides padding and scratch protection for all sides of the iPad.
The front of the Breve for iPad features two zippered pockets faced with soft Ultrasuede to protect your electronics; one pocket is sized to fit your iPhone or other cell phone, while the other fits the iPad charger, earbuds, and our Ultrasuede Screen Cloth.
The Breve for iPad pockets zip open-and-shut with YKK #5 zippers with plastic sliders that won't scratch electronics.
Included with the Breve for iPad is a removable, adjustable 1" wide webbing shoulder strap its low profile matches that of the bag and supports its relatively light load with ease. Remove the shoulder strap and use the Breve for iPad as a protective sleeve inside of a larger backpack, messenger bag, briefcase, or travel bag.
Designed specifically to fit the iPad 2
Padded compartment made of .25" (8mm) open-cell foam laminated to interior of super-soft brushed nylon protects from all sides
Exterior of US 1050d ballistic nylon; interior of super-soft brushed nylon
Made in the TOM BIHN Factory in Seattle, Washington, USA.
$55
Link: Breve for iPad 2
Reveal Accessories for a Connected World: iPad Purses and Cases, iPhone Cases, and More
PR: For Reveal founders, Terry Omata and Jiaying Wei, backpacking through Asia, South America, and Africa made it abundantly clear that we are a connected world. On their journey, they saw Himalayan Sherpas trekking with cell phones, Chinese kindergarteners speaking fluent English, Brazilian women grooving to Japanese music, and Kenyan men sporting the latest Western fashion. Inspired by the idea of seamlessly combining style, sustainability and mobility, they created Reveal to reinvent fashion for this Connected Generation.
Among their many products are their tech accessories that follow their 4R Design Philosophy:
Reduce - Reduce our harm by making all our products cruelty-free.
Reuse - Timeless designs are versatile and intuitively functional, so they can be reused for different occasions and over time.
Recycle - Respect the planet by using recycled or sustainable materials whenever possible.
Reveal - Reveal a collective consciousness among our generation that small steps can add up to a big impact.
Hobos, satchels, evening clutches, totes, and wallets; Mobile Accessories - Designer iPad cases, purses, and sleeves, iPhone 4 cases, Kindle and NOOK e-reader cases, headphones and earbuds, laptop bags, and water bottles; Bamboo Fashion - iPad cases, iPhone 4 cases, watches, headphones, earbuds, eyewear, and cufflinks; and Sunglasses - Sunglasses for women and men - these are the type of accessories that drive decisions. People are buying iPads to give them a reason to purchase such accessories as the new Ashlee iPad purse, iPhone's for the new Mia iPhone Cases, and tossing the standard ear buds for Bambuds, Reveal's bamboo ear buds.
Suggested retail ranges from $24 for Earbuds to $169 for designer handbags.
Link: Reveal
Join us on Facebook, follow us on Twitter or Google+, or subscribe to our RSS news feed
Links for the Day
Mac of the Day: 15" 'TiBook' PowerBook G4, introduced 2001.01.09. A new 1" thin PowerBook design with a titanium case and 15" widescreen display.
Recent Content
Follow Low End Mac on Twitter
Join Low End Mac on Facebook
Favorite Sites
MacSurfer
Cult of Mac
Shrine of Apple
MacInTouch
MyAppleMenu
InfoMac
The Mac Observer
Accelerate Your Mac
RetroMacCast
The Vintage Mac Museum
Deal Brothers
DealMac
Mac2Sell
Mac Driver Museum
JAG's House
System 6 Heaven
System 7 Today
the pickle's Low-End Mac FAQ
Affiliates
Amazon.com
The iTunes Store
PC Connection Express
Macgo Blu-ray Player
Parallels Desktop for Mac
eBay

Advertise