Ultimate iPad Guide, 'I Hate My iPad', 7 Reasons to Pick iPhone over Android, and More
This Week's iPad, iPhone, iPod, and Apple TV News
Compiled by Charles Moore and edited by Dan Knight - 2011.02.28
Mac notebook and other portable computing is covered in The 'Book Review, and general Mac news is in Mac News Review.
All prices are in US dollars unless otherwise noted.
News, Reviews, & Opinion
Apps & Services
Accessories
Protection
iPod Deals
These price trackers are updated every month.
News, Reviews, & Opinion
The Ultimate iPad Guide
T3's Michael Sawh says:
"From industry opinion, the best iPad accessories to buy at launch, and even looking ahead to the iPad 2.0, this is your number one stop for all things iPad
"At long last . . . we can finally get to grips with Apple's 'revolutionary' tablet device.
"If you are still weighing up the decision on whether you should be rushing to buy an iPad, we've pulled together all the essential info and opinion you'll need to decide whether the iPad should be added to your growing family of Apple gadgets in: Apple iPad: Ultimate guide"
Link: Apple iPad: The Ultimate Guide
'I Hate My iPad'
So says Slate's John Swansburg, who concedes that he bought his iPad for the wrong reasons, i.e.: everyone he knows got one for Christmas, and he felt left out. Now he says he just feels annoyed, having blown $600 on a device that hasn't done anything to improve his life, suggesting a salad spinner would have been a better investment - and he doesn't even eat that much salad.
Swansberg concedes that the iPad is good for browsing the Web while sitting on the couch, but says he doesn't want to be the kind of person who pays $600 to save the effort of detaching some USB cables from time to time, and for book-reading he likes his Kindle better, and it's a lot more economical too. He challenged his iPad-using Slate colleagues to convince him otherwise and shares their many and detailed responses in the article.
Link: I Hate My iPad
11 Reasons Not to Buy an iPad 2
ZDNet's David Gewirtz says:
"Face it. If you're foaming at the mouth over the iPad 2, you already have an iPad....
"Into this insanity must come some reason, and with that reason must come reasons. In this article, I present five completely new reasons not to buy an iPad 2, along with six reasons that sadly survive from my earlier article about the original iPad, 9 reasons you might NOT want to give an iPad this Christmas.
"I can feel the love already...."
His reasons:
The iPad 3 is coming (his argument against buying the first iPad was that an iPad 2 is coming - this could go on ad infinitum)
Steve Jobs may not be hands-on
No removable storage
You already have an iPad (unless you took his advice in point 1)
Competition
There's still no USB port
You still have to use iTunes
There's still no way to wirelessly synchronize your bookmarks
Kindles are still much less expensive (great for reading, not designed to run apps)
You can still only run software approved by Apple
It still can't be used as a standalone computer
Link: 11 Reasons Not to Buy an iPad 2 (Including 6 That Haven't Changed from the iPad 1)
iPad Lover 'Falling in Love' With Motorola Xoom
Scobleizer's Robert Scoble says:
"You know I'm an iPad freak. I was first in line to buy one and I've used it so much my screen is cracked.
"It is the device that's changed my life more than any other in the past year....
"For the past few days I've had a Motorola Xoom. I accepted a loaner because I wanted to prove that it would suck next to an iPad.
"One problem: I'm falling in love with it.
"With a couple of caveats...."
Link: An iPad Lover's Review of Motorola Xoom
7 Reasons to Buy an iPhone Instead of an Android Phone
BusinessInsider's Steve Kovach says:
"Yesterday we gave you seven reasons to choose an Android smartphone over an iPhone. The comments were pretty lively.
"Now it's time to turn the tables and find out why an iPhone would be the better choice. We came up with seven ways the iPhone is superior to most Android phones.
"In the end, the choice is yours."
His reasons:
Better battery life
The Retina display is gorgeous
A wider selection of apps
Regular upgrade cycles
Get the iPhone experience for just $50 (AT&T only, not Verizon)
Video chat just works
Solid design
Link: Why You Should Buy an iPhone Instead of an Android Phone
Penny-Pinching Tips for DIY iPhone Repairs
MacNewsWorld's Jesse Herman says:
"In the world of DIY, self-help repairs can get dicey quick. The problems are not always with the ability to do the repair itself successfully - but doing so with real savings.
"With the iPhone 3GS, the earpiece speaker can often go bad. The reasons vary, depending on what the damage was to begin with, but regardless, there are not many pieces involved. There is the flex cable, speaker and bracket."
Link: Some Penny-Pinching Tips for DIY iPhone Repairs
How to Backup Everything on Your iOS Device without Jailbreaking
LifeHacker's Adam Dachis says:
"iTunes backs up your iOS devices settings each time you sync, but it doesnt even come close to backing up the device in its entirety. If you want a complete backup of your device, you can do it easily with an application called PhoneDisk and the wonderful command-line utility rsync."
PhoneDisk ($20-30) is available for both Macs and Windows PCs.
Link: How to Backup Everything on Your iOS Device without Jailbreaking
The iPad Data Dilemma: Cloud Storage Can Help
InfoWorld's Mel Beckman says:
"Tablet computing is a decade-old technology, but one that lay buried since users rejected Microsoft's 'heavy OS' approach a while back. A year ago, Apple's iPad resurrected the tablet computing concept, delivering a lightweight sheet of computational glass with a pleasant, responsive user interface and a blizzard of applications. Users love it, and now a barrage of wannabe tablets are flooding the marketplace. All do reasonably well at the four applications users access most: Web, email, books, and media....
"But users, particularly business users, want more . . . because file management remains a serious soft spot in today's tablet products . . . Unless you think outside the box and tap into the cloud...."
Link: The iPad Data Dilemma: Where Cloud Storage Can Help
Canadian MPs Can't Expense iPad Purchase, Are Discouraged from Buying Macs
The Globe and Mail reports that Canada's 308 members of Parliament have been told they must dig into their own pockets if they want to buy one of the hottest tech devices on the market, with a Parliamentary committee that oversees MP spending having ruled against a proposal to let Canadian federal politicians use taxpayers cash to buy iPads.
It's not so much the money as that the Parliamentary technology section is totally based on and oriented to Microsoft products and can't offer support for Apple's iOS devices, but a committee spokesman said that he expects this policy to change in the future as the House of Commons IT department develops familiarity with the iPad.
Canada's MPs are also discouraged from buying Apple desktops or laptops.
Link: MPs Can't Buy iPads on Taxpayer Dime - for Now
Apple Reducing iPad 2 Sales Volume Target?
DigiTimes' Yenting Chen and Ninelu Tu report:
"Amid rumors that Apple is making adjustments in its iPad 2 design and is also facing issues over the device's touch panel yields, sources from upstream component makers pointed out that the announcement of the iPad 2 is still expected to be in the second quarter, but mass production volumes are expected to drop."
Link: Apple Reduces iPad 2 Mass Production Volume Target (subscription required)
Czech Site Says 5.7" iPad on the Way
Czech blogsite SuperApple.cz's Vláďa Janeček says that two of his insider sources, which have previously proved to be very well informed and equipped, have agreed independently of each other about the future shape of the iPad tablet, which according to them will be particularly interesting in size, with the same resolution as the current iPad, but with a 5.7" display.
Janeček sees the scenario shaping up with this smaller iPad to be introduced by mid 2011, giving Apple more time to engineer the iPad 3 which would be launched in time for the Christmas run-up. He suggests that rumors of a smaller iPhone in the works could possibly be distorted inference based on leaks about a smaller iOS device in the works.
Link: Zdá se, že Menší iPad Skutečně Přijde (Google Czech-to-English translation)
Apps & Services
Guide for Switching from BlackBerry to iPhone
PR: CompanionLink Software, Inc., a specialist in data synchronization between wireless mobile devices and desktop contact managers, has published a white paper, "Switching from BlackBerry to iPhone," that reviews migration strategies and recommends third-party apps that address common concerns for business people making the switch from BlackBerry to iPhone.
With emphasis on how to achieve BlackBerry-like productivity from iPhone, the free guide is written for people who rely on their smartphone for productivity and business communications. The paper addresses four areas:
Describes common concerns people have when migrating from BlackBerry to iPhone
Educates on the business value and productivity limitations of the iPhone
Recommends several third-party iPhone apps that help achieve business productivity
Explains how to retain the four capabilities BlackBerry users universally love: secure integration with enterprise email, strong PIM (Personal Information Management) features, powerful instant messaging, and a real keyboard.
A recent PCMag.com article, referring to a survey conducted by United Sample, shows that 66% of Verizon BlackBerry subscribers would like to switch to an iPhone. BlackBerry users want to take advantage of the simple user experience and the extensive App Store ecosystem that Apple offers.
Link: Switching from BlackBerry to iPhone: A Migration Guide
Cars iManager: Store Everything Related to Your Vehicles
PR: KiwiObjects announces Cars iManager 1.3 on the iTunes AppStore for the iPhone, iPad and iPod touch. Cars iManager allows to easily store everything related to your vehicles: administrative information, insurance, fuel or care expenses, mileage of the next maintenance, technical inspections, as well as the information related to your favourite service providers (garages, assistance, specialized shops, etc.).
For each vehicle, input your fill-ups in a matter of seconds, thus obtaining an updated view of your expenditures, mileage and consumption. The application updates the overview and detailed statistics of your expenses: cost per spending category, cost per kilometer or daily cost. Non financial data, such as the mileage increase and average fuel consumption can also be calculated and displayed as part of the synthetic overview or in a more detailed manner.
A carbon footprint can also be calculated, depending on the consumption of the vehicle, as well as the mass of carbon dioxide (CO2) it produces (total and average by day or mileage). Cars iManager also allows to export all these data (costs, fill-ups, vehicle information) and send them by e-mail directly from your iPhone as a CSV file (comma separated values, which can opened and processed by Excel or any other spreadsheet program), should you feel the need to create your own personalized statistics.
The application also enables you to manage a directory containing all the information of the service providers for your vehicles: insurance companies, garages, shops, clubs, associations, etc. You can then easily locate them thanks to the Google Maps interface.
Cars iManager also provides you with a Tools section, which allows you to geolocate your current position or your parking spot in a single click, so you can easily go back there later with the integrated GPS visual guiding function (or with Google Maps directions). This tools section can also help you find various services around your location: gas stations, garages, restaurants, hotels and others.
Cars iManager also gives you the opportunity to stay tuned to car news: it comes with a number of RSS feeds (internet information channels) allowing you to be informed of anything related to cars and motorsports.You can of course add any RSS feed you will.
The application automatically adapts itself to the units of measurement effective in your country: kilometres or miles for distances, litres or gallons for fuel.
Device Requirements:
iPhone, iPad, iPod touch
Requires iOS 4.0 or later
3.2 MB
Cars iManager 1.3 is $1.99). It is available worldwide through the App Store in the Productivity category. For more information or Promo Codes contact KiwiObjects online.
Link: Cars iManager (download links: Cars iManager Lite and Cars iManager)
iEV: The World's First Electric Car Simulator for iPhone
PR: Munich based companies DotTribes and The Green & Energy Consulting Group have released iEV 1.0, the world's first electric car simulator. iEV brings Electric Vehicles (EV) closer to the people, showing that the perceived range problem is not an issue for most drivers. It also helps its users to save money when they have to choose which EV to buy.
The results of the simulation are specific to the driver's personal behavior, geography, and the car itself. Users can set the car's configuration from presets (Small or Medium sized car, SUV, etc.), or they can configure the variables one by one, such as car weight, area, and aerodynamics.
Users then need only to press start and begin driving. When they arrive at the destination, they press stop and the results are presented immediately to them. After several uses the app creates a driver's profile, showing battery consumption and ranges in daily average and peaks.
The results can be compared with the specifications of any Electric Vehicle on the market to decide if that EV is right for the driver. All EV manufacturers show the battery size in the car specs in kWh (Kilowatts per hour); iEV shows the battery consumption in the same way, making it very easy to compare.
To develop this application a team of software and energy engineers modified a hybrid car, changing parts and adding sensors. Tests were run for over a year to create the simulation algorithm. Then, the formulas were adapted to the iPhone GPS until the results were satisfactory and with a very low error margin.
People do not have to wait for the electric cars to come on the market. They can begin practicing right now with iEV, finding out how they can change the way they drive to consume less energy and help the planet.
Device Requirements:
iPhone 3G, 3GS and 4G
iOS 4.2 or later
0.4 Mb
iEV 1.0 costs $5.99 (or an equivalent amount in other currencies) and is available worldwide exclusively through the App Store, in the Lifestyle category.
Link: iEV (download link)
Tutor for iPad: Getting Started Video Tutorial
PR: Michigan based Noteboom Productions announces the release of Tutor for iPad: Getting Started, their latest video tutorial and now available on the App store. In Tutor for iPad: Getting Started, the user watches videos to learn how to use the iPad. The video tutorial consists of 36 video chapters on various subjects that cover everything from using the virtual keyboard, to multitasking, to creating folders, to creating a picture frame with your iPad, to troubleshooting your iPad. Everything you need to start working with your iPad.
All videos were recorded and optimized for the iPad at 1024x768, this means they are at full screen on the iPad. All to get the best learning experience. All videos are stored on the iPad so their is no need to use bandwidth once the App is downloaded. This makes it easy to keep it on the device for future reference.
Find out how to:
Lock the orientation
Multitask
Group your apps into folders
Search the iPad
Work with the default apps including Contacts, Mail, and Calendar
Change the iPad settings
Use Airplane mode
Work with notifications
Change the background
Use the picture frame option
Sync and backup
Use copy and paste
Use the iPad User Guide
Troubleshoot the iPad
Reset the iPad
And more
Videos included:
Introduction
Buttons
Home Screen/Button
Orientation Lock
Virtual Keyboard and Spell Check
How to use Multitasking
Moving and Deleting Apps
Grouping Apps in Folders
Searching the iPad
Using the Calendar App
Using the Contacts App
Using the Notes App
Using the Maps App
Using the Videos App
Using the Youtube App
Using the iTunes App
Using the App Store App
Using the Game Center App
Using the Safari App
Using the Mail App
Using the Photos App
Using the iPod App
Using the Settings App
Airplane Mode
WiFi
Cellular Data
Setting Notifications
Changing Brightness
Changing the Wallpaper
Using the Picture Frame
Autolock and Passcode
Troubleshooting and Resetting
Syncing and Backup
Copy and Paste
iPad User Guide
Conclusion
System Requirements:
iPad running iOS 4.2 or greater
485 MB
Tutor for iPad: Getting Started 1.0 is $3.99 (or equivalent amount in other currencies) and available worldwide exclusively through the App Store in the Education category.
Link: Tutor for iPad: Getting Started (download link)
Accessories
Little Black Box Battery Charges Your iOS Device from AA Cells
PR: QuickerTek introduces the "Little Black Box", the world's first and only USB battery pack of its kind that allows you to use standard AA batteries to charge or power Apple's iPhone, iPad, iPod touch, or virtually any USB powered device.
That means you can use Alkaline, Carbon, Ni Metal Hydride, or NiZinc rechargeable AA batteries as long as all four AA batteries are the same kind and brand. The internal circuitry compensates for different battery voltages to supply the correct voltage for USB compatibility. QuickerTek's test studies show that the best batteries to use are the rechargeable NiZinc batteries, they are the highest capacity (mAhr).
The QuickerTek Little Black Box is very compact so you can take it on an airplane, camping or road trips. Never be caught with a dead battery again. Just pick up some batteries almost anywhere and you'll be set for extra hours of talk, video and music time,
Specifications:
Weight - 1.6 oz. without batteries
Dimensions: 80.16 mm x 62.44 mm x 19.38 mm
1.2 vdc to 1.6 vdc
On and Off switch
Female USB port
4-AA batteries not included in kit
The Little Black Box can be ordered from QuickerTek's website or from many of our resellers. Like most QuickerTek products, the Little Black Box has a one year parts and labor warranty.
Compatible with Apple iPad, iPhone, iPod touch, and all 30-pin iPods
$29.99
Link: Little Black Box
Apple Dock Connector to Mini USB 5-pin Adapter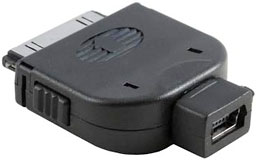 PR: If you don't want to have too many cables connected to your computer or your computer doesn't have enough USB ports, you may consider this adapter a solution.
Features: One simple connector for data syncing, charging your iPhone/iPod/iPad from your computer.
$7.99
Link: USB Fever Apple Dock Connector to Mini USB 5-pin Adapter
NewerTech Announces $10 7 Piece Toolkit for Servicing iPhone 4
PR: Newer Technology, Inc. (NewerTech) has announced the NewerTech Seven Piece Toolkit for iPhone 4 to provide Do It Yourself servicing of the iPhone 4. Featuring varying sized, non-marring case opening pry tools, a suction cup display puller, and a magnetized driver set to either access Apple's proprietary TS1 'Pentalobe' screws or the included replacement Phillips screws, the $9.99 MSRP NewerTech Seven Piece Toolkit for iPhone is a complete iPhone 4 service access solution.
Complete Solution for Quick and Easy iPhone 4 Access
The NewerTech Seven Piece Toolkit for iPhone 4 includes the following tools for easy DIY iPhone 4 servicing:
5-point magnetized driver to access Apple proprietary designed TS1 'Pentalobe' screws.
Phillips #00 magnetized screwdriver and two #00
Phillips Loctite Threadlocker Blue applied screws for optional replacement of the factory 'Pentalobe' screws.
Two non-marring nylon 'spudger' pry tools with wide and narrow tips.
Suction cup/puller for scratch-free display removal.
Flexible, slim plastic pick/pry tool.
Pointed tweezers for careful handling of small cables and components.
The NewerTech Seven Piece Toolkit for iPhone 4 is available immediately for $9.99 MSRP from NewerTech's exclusive distributor, Other World Computing (OWC), as well as through the retail channel, and comes with a one year NewerTech warranty.
Link: 7 Piece Toolkit for iPhone 4
Protection
iVogue Announces the Frosted iPhone 4 Case for Spring 2011
PR: London-based iVogue, a fashion iPhone cases and covers website, has launched a new Frosted iPhone 4 case, giving protection and style to the iPhone 4. Available exclusively from their website for £6.99 (or about $9.60 US).
The Frosted iPhone 4 Case is a lightweight, yet strong iPhone case that adds protection and gives it a true sense of style. The high-grade polymer case is strong enough to protect from everyday bumps and scratches whilst remaining light-weight and comfortable to handle.
"This really is the ideal case for anyone after lightweight stylish protection," comments iVogue prinicpal, Tim Wilton, "and available in eight stunning colours to suit all tastes".
The Frosted iPhone 4 Case is available in black, red, green, blue, orange, magenta, purple, and clear. The cases have a vibrant frosted effect making them a perfect iPhone 4 case choice.
Frosted for iPhone 4 is available exclusively from the iVogue website for £6.99 (about $9.60)
Link: iVogue (Flash required)
Join us on Facebook, follow us on Twitter or Google+, or subscribe to our RSS news feed
Links for the Day
Mac of the Day: PowerBook 190cs, introduced 1995.08.28. The last 680x0-based PowerBook could take a PowerPC upgrade.
Recent Content
Follow Low End Mac on Twitter
Join Low End Mac on Facebook
Favorite Sites
MacSurfer
Cult of Mac
Shrine of Apple
MacInTouch
MyAppleMenu
InfoMac
The Mac Observer
Accelerate Your Mac
RetroMacCast
The Vintage Mac Museum
Deal Brothers
DealMac
Mac2Sell
Mac Driver Museum
JAG's House
System 6 Heaven
System 7 Today
the pickle's Low-End Mac FAQ
Affiliates
Amazon.com
The iTunes Store
PC Connection Express
Macgo Blu-ray Player
Parallels Desktop for Mac
eBay

Advertise