Multicore Processors in 45% of Smartphones in 2015, Apple's Pentalobe Screw Conspiracy, and More
This Week's iPad, iPhone, iPod, and Apple TV News
Compiled by Charles Moore and edited by Dan Knight - 2011.01.31
Mac notebook and other portable computing is covered in The 'Book Review, and general Mac news is in Mac News Review.
All prices are in US dollars unless otherwise noted.
News, Reviews, & Opinion
Apps & Services
Accessories
Protection
iPod Deals
These price trackers are updated every month.
News, Reviews, & Opinion
Multicore Processors to Be in 45% of Smartphones by 2015
PR: Over the next few years, multicore processors are expected to play an important role in enabling high-performance mobile computing at low-power consumption, according to "Multi-core Processor Penetration in Smartphones Will Hit 15 Percent in 2011" from Strategy Analytics' Handset Component Technologies service. Samsung, Nvidia, Qualcomm, ST-Ericsson, Texas Instruments, Marvell, Renesas, and Broadcom are well-positioned to capture market share in the smartphone multicore applications processor market.
According to this Strategy Analytics report, multicore processors are becoming a key differentiating factor for handset manufacturers and silicon vendors from both a marketing and technical perspective. Additionally, the multicore applications processor market will be dominated by stand-alone applications processor vendors in the near-term. Qualcomm and ST-Ericsson will be the only vendors in 2011 offering multicore applications processors with integrated basebands.
"Strategy Analytics estimates that multicore processor penetration in smartphones will rise from 15% in 2011 to 45% in 2015. ARM's Cortex-A9, Cortex-A5, and Cortex-A15 and Intel's x86 architectures will contribute to the proliferation of multicore processors in smartphones," noted Stuart Robinson, Director of the Strategy Analytics Handset Component Technologies service. He added, "We estimate Samsung will lead the smartphone multicore applications processor market in 2011, followed by Qualcomm, Nvidia, ST-Ericsson, and Texas Instruments."
"Strategy Analytics analysts believe that multicore processors will re-ignite the battle between the stand-alone and baseband-integrated applications processor vendors in 2011," commented, Sravan Kundojjala, Senior Analyst. "The baseband-integrated multicore applications processors will account for about one-third of total smartphone multicore applications processor shipments in 2011, with potential for higher share in the future. By contrast, the market for single-core apps processors is now dominated by baseband-integrated products."
Link: Multi-core Processor Penetration in Smartphones Will Hit 15 Percent in 2011
The Cost of Beating Apple's Pentalobe Screw Conspiracy? $2.35
The Register's Bill Ray notes that while Apple has been switching the screws that hold its latest iPhone (and certain MacBooks) shut, cries of conspiracy are somewhat refuted by the realisation that an inexpensive screwdriver fixes the problem, with at least a half-dozen companies popping up to sell suitable screwdrivers for as little as $2.35 (plus shipping).
Amazon.com carries a pentalobe screwdriver for $6 - more details below.
Link: The Cost of Beating Apple's Screw 'Conspiracy'? $2.35 (Plus Shipping)
Environmental Health Trust Calls for Warning Labels on New Cell Phones
PR: Environmental Health Trust (EHT), a nonprofit organization dedicated to identifying and controlling environmental health hazards, has called on the US Federal Communications Commission to stop flip-flopping and acknowledge and publicize the risks of cell phone radiation to cell phone users. Specifically, the EHT is urging the FCC to mandate that cell phone manufacturers post safety warnings about microwave radiation on new cell phones sold within the US and require new standards based on lowest feasible levels of microwave radiation.
"In terms of awareness of microwave radiation risks from cell phones, the US is far behind other countries, including Switzerland, Israel, France and Germany," says EHT founder Devra Lee Davis, PhD, MPH.
"These nations require cell phone makers to publicize radiation rates directly on phones sold to their citizens, provide special labeling for low radiation phones, and restrict their use by children, who are more vulnerable to radiation. We are asking that the FCC oversee the creation of a new standard for cell phones, based on the ALARA (As Low As Reasonably Achievable) principle for exposure to diagnostic radiation." Dr. Davis also expressed disappointment that the FCC had completely reversed its positions on cell phone radiation since a September 14, 2009 Senate hearing of the Subcommittee on Labor, Health and Human Services, and Education, during which Iowa Senator Tom Harkin had promised to investigate the matter. At the EHT sponsored Expert Conference held in parallel with the Senate hearing, experts spoke of growing laboratory and human studies showing damage from cell phone radiation.
After these events, in November 2009, the FCC website included new advice about how to lower radiation: - "Use an earpiece or headset." - "Use the cell phone speaker." - "Consider texting rather than talking." - "Buy a wireless device with lower SAR." - "If possible, keep wireless devices away from your body when they are on, mainly by not attaching them to belts or carrying them in pockets." Ellie Marks, EHT's Director of Government & Public Affairs, said that the FCC, far from coming clean on the dangers posed by cell phone radiation, has engaged in an active cover-up in tandem with the cell phone industry. Dr. Davis and Ms. Marks noted that a range of documents on the hazards of cell phone radiation are available on the EHT website.
Ellie Marks writes, in her blog, that in September 2009, the CTIA was scheduled to speak against proposed new legislation in the small California town of Burlingame affirming the public right to know the SAR values of phones, this advice to buy lower SAR phones that had been on the FCC website for more than a decade in some form or other - disappeared.
In preparing for the Burlingame city council hearing, Ms. Marks had corresponded with city officials asking how the industry could oppose posting information on the SAR since the FCC website advised lower SAR phones would emit less radiation. Dane Snowden, Vice President of the CTIA and former chief of the Federal Communication Commission's Consumer Information Bureau overseeing the FCC website, informed the hearing that the warning that Ms. Marks referred to in her communication with the city council had been removed less than 24 hours after she had brought these facts to public attention.
Commenting on this bizarre and sudden change to the FCC website, FCC Critic Cynthia Franklin, notes: "The 'sanitizing' of the consumer cautions occurred right about the time it became apparent that San Francisco's new law (that manufacturers must make public the SAR level for each phone) was going to pass and possibly ignite a national outcry in other places."
Environmental Working Group (EWG), a leading consumer watchdog over cell phone safety issues, has recently written, 'The FCC has essentially cut and pasted the wireless industry's position into its revised websites.'" About Environmental Health Trust Environmental Health Trust (EHT) educates individuals, health professionals and communities about controllable environmental health risks and policy changes needed to reduce those risks. Current multimedia projects include: local and national campaigns to ban smoking and asbestos; working with international physician and worker safety groups to warn about the risks of inappropriate use of diagnostic radiation and cell phones, exploring what factors lie behind puzzlingly high rates of cancer.
With the public's support, EHT can do more work like to help protect the world's brains and bodies. You can join the campaign at ehtrust.org.
Editor's note: EHT is run by Devra Lee Davis, the author of Disconnect: The Truth about Cell Phone Radiation, What the Industry Has Done to Hide It, and How to Protect Your Family, which we mentioned last October.
Link: Environmental Health Trust
Apps & Services
gyroCam: Camera App Puts an End to Crooked Photos
PR: Hunter Research and Technology, developer of the award winning augmented reality app Theodolite, announces the release of gyroCam on the iTunes App Store. This full-featured camera app has a killer new feature: it automatically levels photos in real time, while shooting. With gyroCam, users don't need to worry about crooked aim or setting up and taking level shots - the app does it for them. gyroCam brings a true point-and-shoot capability to iOS devices, and makes photography easier and more fun.
gyroCam uses a combination of accelerometer and gyro sensors in camera-equipped iOS devices to frame a level shot from any scene. The app is great for action shots, macro shots, self portraits, scene compositions, and situations where it's hard to line up a level image due to complicated terrain, bad position, poor aim, or lack of time to aim. gyroCam frames a level 4:3 sub-image from the scene, with perfect alignment every time. In addition to its unique gyro capabilities, gyroCam is also a full-featured camera app, offering the following:
Small, large, burst, and timer shot modes
Manual tap-to-focus and exposure (iPhone 3GS, 4)
Focus and exposure activity indicators
Front camera (iPhone 4, iPod 4) and rear camera
Flash on/off/auto (iPhone 4)
1x, 2x, 4x zoom
Fast buffered image saves
HUD on/off options
Portrait and landscape level reference frames
Gyro clip, fill, and off modes
gyroCam 1.0.1 sells for for $0.99 on the iTunes App Store, and is available worldwide. The app works on any camera-equipped iOS device with iOS 4.2 or later. This includes the iPhone 3G, 3GS, and 4, and the 4th-generation iPod touch. More information, including screenshots, is available on the Hunter Research and Technology website. Media professionals interested in reviewing gyroCam can request a promotional code to download the app from iTunes at no cost.
Link: gyroCam (download link)
Photoshop Express 1.5 for iOS Has New Camera Workflow and Full Retina Display Support
PR: Adobe has announced the immediate availability of Adobe Photoshop Express 1.5 software for iOS devices.
Designed for iOS 4.2, Photoshop Express 1.5 introduces significant improvements to the photo capture and editing experience, including:
New camera workflow: Photoshop Express 1.5 debuts a fast new camera workflow that enables continuous, rapid photo-taking directly in the app. Customers can quickly capture and review multiple shots-even those hard-to-get action shots-and hand them off seamlessly to the Photoshop Express editor for cropping, adjustments and effects (designed for iPhone and iPod Touch models with built-in cameras).
Full Retina display support on iPhone 4 and iPod Touch models: Photos look smooth and sharp, and the app screen looks crisp and clear, thanks to full support for Retina display in Photoshop Express 1.5.
Multitasking support: With new support for multitasking in iOS 4.2, Photoshop Express 1.5 remembers where customers leave off when they switch to another app and then switch back to Photoshop Express. That means customers can pay attention to email, news, games and other activities on their iOS device and then jump right back into viewing or editing a photo without having to start over.
Improved photo uploading: One of the benefits of multitasking support is a better photo uploading experience. Now customers can queue and continue uploading photos to Photoshop.com or Facebook in the background while switching between Photoshop Express 1.5 and other apps.
"Photoshop Express 1.5 is an incredibly useful release for anyone doing photo capture and editing on iOS devices," says Matt Domenici, director of product management for mobile imaging at Adobe. "Our millions of iOS-based users will be delighted by their new ability to capture the right shots more easily, view beautifully smooth versions onscreen, and edit them even while switching back and forth with other apps, picking up right where they left off."
Top editing features:
Basics: Crop, Straighten, Rotate, and Flip
Color: Exposure, Saturation, Tint, Black and White, and Contrast
Filters: Sketch, Soft Focus, and Sharpen
Effects: Vibrant, Pop, Border, Vignette Blur, Warm Vintage, Rainbow, White Glow, and Soft Black and White
Borders: Rectangle, Rounded, Oval, Soft Edge, Vignette, Rough Edge, Halftone, and Film Emulsion
New in Version 1.5
Requires iOS 4.2
Adds support for background upload completion and iOS 4 multitasking
Supports Retina Display for crisp, sharp screen and photos
Faster, more streamlined photo capture and editing workflow
Photoshop Express 1.5 for iOS is available immediately on the iTunes Apps store. The new version requires iOS 4.2.
Link: Adobe (download link)
SAFECELLapp Helps Michigan and Wisconsin Drivers Stay Safe and Legal Under New Distracted Driving Laws
PR: SAFECELLapp provides a solution for Michigan drivers trying to abide by laws banning texting while driving that went into effect July 1, 2010 and became enforceable January 1, 2011 in Michigan, and a similar new law that came into effect in Wisconsin on December 1, 2010.
A comprehensive and inexpensive mobile application, SAFECELLapp helps keep drivers safe and legal by warning users of local no-text and no-cell rules, alerts drivers entering known school zones, and pays safe drivers back with cash rewards at their favorite retailers.
Since launching the SAFECELLapp three months ago, users nationwide have logged more than 30,000 trips and are tracking over 9 million waypoints. Users have driven nearly 800,000 miles safely while using SAFECELLapp to combat distracted driving.
"Mobile devices have changed every aspect of how we live and interact with others. But too many of us find it impossible to ignore our phones when we're behind the wheel," says Scott Taylor, SAFECELLapp cofounder and chief information officer. "Despite the increased awareness and implementation of state laws, people are not changing their driving behavior. We created SAFECELLapp to help take the decision making out of the equation, allowing people to decide to drive safely at the beginning of their trip, rather than wrestling with the urge to answer the phone or check their texts once they're already on the road," added Taylor.
Michigan drivers who text and drive will be subject to a civil infraction that carries a first-time fine of $100 and $200 fines for subsequent violations. In addition, Michigan teens with probationary licenses whose cell phone usage contributes to a traffic crash or ticket may not use a cell phone while driving. Wisconsin first time violators will be fined anywhere from $20-$400, and the fines sharply increase with every offense. A second offense will cost the driver between $200 and $800.
SAFECELLapp claims to be the only application that will push current laws in place for users' locations by using GPS technology and a proprietary database of federal, state, county, and city cell phone usage laws. SAFECELLapp features Continuous Visual Advisory capability, a function that issues real-time alerts to drivers entering locations with local restrictions on text or cell phone usage.
Cash Rewards for Safe Driving
Unique to distracted driving applications, SAFECELLapp offers cash-equivalent rewards for safe driving behavior. The application activates when the device is traveling at speeds in excess of 5 MPH. Using proprietary, web-based tracking and logging mechanisms, SAFECELLapp records trip details including the driver's phone, email, and text usage. These reports, which can be accessed by users, parents, or companies to monitor driving behavior, are the basis for a first-of-its-kind gaming feature that awards points for safe driving that are redeemable for cash rewards at major retailers. Users will accrue 1 point for every 1 mile driven while adhering to all applicable wireless laws in their location(s).
Failure to comply with local laws will cost users reward points, giving individuals, families, and employees yet another motivation to play it safe while behind the wheel. The rewards program includes more than 2,000 different products that users can redeem their SAFECELLapp driving rewards points for including Ecerts, Gift Cards, Charitable Donations, and Merchandise. Retail partners include Apple, Amazon, Barnes & Noble, and many more.
"While the reward program with SAFECELLapp will be attractive to everyone, the hope is that it's a program that finally offers driver's an incentive to refrain from distracted driving behavior. It keeps you safe, legal, and pays you back," said Tina Pantoja, SAFECELLapp cofounder and president.
With an extensive list of standard features, each version of the application was designed to assist individuals, families, and corporations in correcting the dangerous behavior that has made distracted driving a national epidemic.
SAFECELLapp Unique Features
Pushes laws based on GPS location
Alerts Drivers Entering School Zones
Reporting Capabilities
Gaming/Rewards Functionality
Cash Equivalent Reward Redemption
Continuous Visual Advisory (CVA)
Web-based trip tracking (Trip Tracker)
National Regulation Repository
Core Features
Speed engagement (Android)
Responds in-transit message (Android)
Blocks texting (Android)
Blocks calls (Android)
GPS Enabled
Software Enabled
911 override
Voice prompts for cell laws
Passenger disable function
Supported Cell Phone Models
Apple iPhone (OS versions 3.0 and higher)
Android
Blackberry (spring/summer, 2011)
SAFECELLapp is now available on the Android Market and iTunes App Store. Activation of the app's features is $11.99 at safecellapp.com (recurring annual fee).
Future releases of SAFECELLapp include versions for Blackberry available later this year. For more information and to sign up for SAFECELLapp visit safecellapp.com.
Link: SAFECELLapp (download link)
Agile Messenger HD Multi-Network Instant Messaging Client for iPad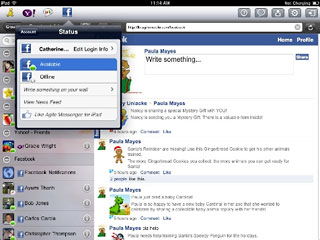 PR: Agilemobile.com Ltd. announces the release of its award winning Agile Messenger HD for the Apple iPad, available immediately as a free download in the iTunes App Store
Agile Messenger HD is a multiprotocol instant messaging client for mobile devices that provides a seamless connection to the public instant messaging networks of Live Messenger, AIM, Yahoo! Messenger, ICQ, GoogleTalk, Facebook IM and any XMPP server. Features include Agilemobile.com's proprietary multimedia messaging technology that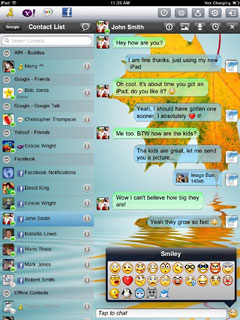 enables users to send instant picture and voice messages from the iPad to any other mobile device or PC on the same IM network, irrespective of the client they are using. Agile Messenger HD for the iPad utilizes iOS 4.2 multitasking support and push notifications to provide an always connected experience to the end user. In addition to instant messaging, Agile Messenger HD also provides full Facebook support, enabling users to update their status, write on their friend's walls, post comments, view their news feed and receive instant Facebook notifications. The company plans on releasing an update to the iPad version of Agile Messenger in the near future, making it into a universal app that supports all iOS devices, and adding support for the popular Skype IM network.
Agile Messenger HD is available as a Lite and a Pro version. The Lite version is a free download and provides full Facebook functionality, along with unrestricted access to Facebook IM, and gives the end-user the option to add additional IM networks with a small in-app purchase. The Pro version provides unrestricted access to all of the IM networks for a special introductory price of $2.99.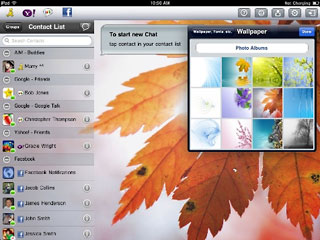 "We are very pleased with the results of our development efforts," says Timon Haringa, Technical Director and cofounder of Agilemobile.com Ltd., "rather than doing a quick port of our existing iPhone client to get an iPad version published as fast as possible, we redeveloped our product from the ground up specifically for the iPad and the additional screen real estate that it offers. The result is a productivity tool that offers a desktop quality Instant Messaging solution for today's road warriors, enabling them to be in constant communication with all of the popular IM networks, regardless of where they are or what they are doing making Agile Messenger a best in class solution."
In addition to the Apple iPad, Agile Messenger is already available for the iPhone and iPod Touch (download link), Android, BlackBerry, Palm WebOS, Windows Mobile, Symbian and J2ME devices.
Link: Agile Mobile (download links for Agile Messenger HD Lite and Agile Messenger HD Pro)
iJoysoft iPad Transfer Platinum Released
PR: iJoysoft Studio, a well-known consumer software developer in California, is proud to announce a new release of iJoysoft iPad Transfer Platinum. iJoysoft iPad Transfer Platinum is an all-in-one iPad solutions provider which can backup music, movies, photos, books, and iPhone ringtones in iPad/iPod/iPhone to PC or iTunes, transfer files from PC to devices in high-speed, convert CD/DVD/audios/videos to iPad/iPod/iPhone music/movies, download and convert online videos from top online video websites like YouTube, create excellent iPhone ringtones from audios/videos, etc. It supports all iPad/iPod/iPhone models and all iOS/iTunes versions.
The main features of iPad Transfer Platinum includes:
Transfer music/movies/photos/books/ringtones between iPad/iPhone/iPod and PC
Rip DVD/CD to iPad/iPhone/iPod
Convert video/audio and copy to iPad/iPhone/iPod
Log on online video websites in this application, download online and convert to iPad compatible format, and transfer to the devices at once
Make iPhone M4R ringtone files from video and audio files and transfer to iPhone instantly
Support multiple iOS devices simultaneously
Read and export pictures and videos recorded by iPhone
Transfer books in PDF/EPUB format between iPad and PC
"iPad Transfer Platinum provides iPad user a complete solution to all ripping, copying, converting and transferring problems! It is a blend of iPad Transfer/Backup, iPad Video/DVD Converter, YouTube downloader and iPhone RingTone Maker," said Christina Kong, Marketing Manager of iJoysoft Studio. "The new upgrade will enhance iJoysoft competitive advantage in iPad tools. With the elegant interface and preset profiles, the new iPad Transfer Platinum is undoubtedly the best multimedia management software for Apple device user."
You can learn more about iJoysoft mobile device tools by visiting http://www.dvdvideotools.com/ipad-transfer-platinum.html
It's free to download and try.
Also Available in iTunes 10: iPad Transfer Ultimate for Mac
iJoysoft iPad Transfer Ultimate for Mac is a powerful application for iPad users which can transfer iPad movies, music and pictures to Mac/iTunes or the other way around. Apart from that, you can convert CD/DVD, ISO images, IFO folder, videos and audios to iPad compatible files.
All apple portable devices including iPad, iPhone 4, iPod touch 4, iPod nano 6, iPod shuffle 4 and iTunes 10, iPad Firmware 3.2.2, iOS 4.2 are fully supported.
iPad to Mac or Mac to iPad Transfer - Copy and transfer movies and music between iPad and Mac without any limitation.
Transfer from iPad to iTunes - Transfer iPad media files to iTunes library.
Rip DVD to iPad - Rip CD, DVD movies, ISO images and IFO folder to iPad.
iPad video/audio converter - When transfer your favorite videos or audios to iPad, iPad Transfer Ultimate for Mac will automatically convert them to iPad.
iJoysoft iPad Transfer Ultimate for Mac sells for $59.95
Link: iPad Transfer Ultimate for Mac
Link: iPad Transfer Ultimate for Windows
Link: iPhone Transfer Ultimate for Mac
Link: iPhone Transfer Ultimate for Windows
Link: iPod Transfer Ultimate for Mac
Link: iPod Transfer Ultimate for Windows
Dragon Dictation and Dragon Search Now Available in Canadian French
PR: Due to popular demand in Canada, Nuance Communications, Inc., today announced that the Dragon Dictation and Dragon Search applications for iPhone, iPad, and iPod touch now support Canadian French. Already experiencing great success in Canada supporting US English, the Dragon apps now provide Canadian French speakers the ability to create emails, text messages, status updates, and search the Web simply by using their voice.
Canadian French marks the 10th language supported by the Dragon Apps, which have been experienced by millions around the world in the US, Canada, UK, Germany, France, Italy, Spain, Austria, Switzerland, Australia, and Japan. Canadian French is available to all users worldwide as a result of the Dragon Apps' multi-lingual capabilities, allowing consumers to easily toggle between all supported languages as they become available.
"The US English versions of the Dragon Apps have already received enormous praise in Canada. However, we wanted to ensure that even more Canadians were able to experience the power of mobile voice technology," said Michael Thompson, senior vice president and general manager, Nuance Mobile. "This is just the latest release in our mission to bring the Dragon Apps to more consumers in more places around the globe, answering the demand for intuitive and innovative voice-enabled mobile interfaces."
Dragon Dictation for iPhone, iPod touch and iPad gives people the ability to easily dictate content for emails, text messages and social media updates, more than five times faster than typing. The latest version is iOS-4 compatible and features a popup toolbar with app icons for quickly accessing and speaking content directly into email and text message apps, Facebook or Twitter status bars, or the clipboard.
Dragon Search for iPhone and iPod touch lets users simply speak any search query to find any content on the mobile Web. Nuance's innovative Dragon Search Carousel delivers fast, smarter search results within seconds across multiple channels all at once, including Google or Yahoo!, and Wikipedia, iTunes, YouTube, and Twitter.
Link: Dragon Dictation (download links for iPhone/iPod touch and iPad)
Link: Dragon Search (download link)
Accessories
Pentalobe Screwdriver for 2nd Generation iPhone 4
PR: In late 2010, Apple switched the screwhead style on some fasteners in the iPhone, MacBook Air, and MacBook Pro, from a standard Phillips screwdriver to a 5 point star screwdriver known as "Pentalobe" or "Pentabular," size TS1.
The Silverhill Tools TS1 size screwdriver for iPhone 4 is an ergonomic screwdriver with spin cap, made from high quality CRV6150 steel, and shipping with a suction cup, the only other item needed to open your iPhone 4.
The vendor notes that while 100% of these screws are tested on authentic iPhone 4 screws, due to the extremely small dimensions involved, they ask that you contact your authorized distributor regarding any screwdriver that does not fit correctly.
The Silverhill Tools TS1 size screwdriver sells for $5.99 and can be ordered through Amazon.com.
YOUBIQ Introduces Innovative Way to Capture and Share Media Using the iPhone 4
PR: Wayland, Massachusetts-based YOUBIQ's Gymbl is an all-in-one comfortable grip, on-the-go tripod, and tripod adaptor that can serve as a handheld grip to steadily and securely hold the iPhone 4 in any position or handsfree. Used with the YOUBIQ App, the system simplifies organizing and sharing high fidelity media.
The latest generation of smartphones have cameras that rival point-and-shoot digital cameras, and the migration of digital photography to smartphones is gaining traction. Enter YOUBIQ - anywhere, everywhere.
The YOUBIQ Gymbl transforms your iPhone into a "camera with a smartphone." This flexible accessory is an all-in-one comfortable grip, on-the-go tripod and tripod adapter, for capturing images with great fidelity.
At the heart of the Gymbl is a gimbal, a pivoting, panoramic head that lets the user rotate the iPhone 4 around its optical center. The Gymbl can be attached in seconds to a stylish, hard-shelled, ergonomic iPhone 4 case (included), and can serve as a handheld grip to steadily and securely hold the camera in any position, or as a tripod to enable handsfree use of the iPhone 4 - at home, in a meeting, for FaceTime, interacting with apps - anywhere.
YOUBIQ eliminates the need to connect to a computer. The YOUBIQ App connects to the YOUBIQ Cloud, synchronizing and archiving photos in the background as they're shot. The App also activates state-of-the-art services in the YOUBIQ Cloud including sharing and organization, while preserving the originals. The App registers the date and time, location, direction, and camera orientation of every image. It attaches the information to the media file so it can be easily organized on the iPhone 4 and in the YOUBIQ Cloud.
The App allows users to capture compound images in convenient project folders using an "augmented reality" helper that makes capturing panoramas a snap. Source images are automatically archived in the background to the YOUBIQ Cloud to free up memory and can be copied to the iPhone's Photo album where they are available for use in other apps. Tags are used to help organize images and to enable powerful features in the YOUBIQ Cloud.
The YOUBIQ Cloud is private and secure, enabling users to control what, where and how media is shared. Default settings allow for sensitive information, like location and tags, to be removed automatically before media is shared. With the YOUBIQ Cloud, media can be accessed and managed from anywhere using a standard web browser so there's no need to connect to a computer.
"We're excited to bring to market a product that will enhance and simplify smartphone photography and allow most users to confidently leave their digital cameras at home," says Gordon Fowler, founder of YOUBIQ. "We believe this launch represents a new category and we look forward to leading the way for rich new features and services for the smartphone market."
The YOUBIQ App ($2.99 with 2 gigabytes of storage on the YOUBIQ Cloud) is pending approval. Once approved, it will be available for download from the iTunes Store (search the App Store for YOUBIQ). The YOUBIQ Cloud offers additional storage in 25 GB increments for $25/year. The Gymbl Grip and Tripod sells for $69 and a Gymbl Tripod Adaptor is $49. Both are available for preorder at youbiq.com.
Expected delivery in early February. Broader availability is planned for spring 2011.
YOUBIQ will showcase and demonstrate the Gymbl Grip and Tripod for the first time at Macworld 2011 (Booth #1006), January 27th - 29th in San Francisco.
Link: YOUBIQ
Grip Tape iPhone Sticker Holds on to Your iPhone Like Never Before
PR: Hold on to your iPhone like never before with these super textured rear decals. This sticker is laser cut from sheets of real skateboard grip tape and sticks right onto the back of your iPhone 4.
The sticker is completely removable and will not scratch the back of your phone. Don't let someone else sell you an imitation for $15, or even $20 - for five bucks this is one of the cheapest ways to make your iPhone look badass.
Compatible with iPhone bumper cases too.
Free shipping.
$5.00
Link: Grip Tape iPhone Sticker
Protection
Speck's New 'CandyShell Wrap' Multifunction iPad Case
PR: Speck announces the newest addition to its award-winning CandyShell case family, the CandyShell Wrap case for iPad. The CandyShell Wrap delivers screen protection with the addition of a removable front cover that also conveniently folds back to serve as a viewing and typing stand.
"We're amazed and inspired by the many new uses of the iPad. Our goal was to narrow the function of the CandyShell Wrap case for iPad to the most useful: viewing and typing"
"We're amazed and inspired by the many new uses of the iPad. Our goal was to narrow the function of the CandyShell Wrap case for iPad to the most useful: viewing and typing," says Bryan Hynecek, Director of Design at Speck. "CandyShell Wrap is the first of our new generation of functional iPad case designs for mobile devices to hit the market."
At its core, the CandyShell Wrap is everything a Speck CandyShell is known for a glossy hard shell exterior with a soft rubberized interior designed to further protect and insulate the iPad from everyday bumps, drops and scrapes. The CandyShell Wrap iPad case features a removable flip-close front cover that can be conveniently folded back to serve as a viewing or typing stand. The sleek outer hard shell case easily slips into a bag or backpack, while the front cover adds extra shock-absorbent impact and scratch protection to the touch screen. The CandyShell Wrap also features a flip-back panel that allows the iPad to dock without removing the case.
The CandyShell Wrap case for iPad is available in DarkLord Black (Black/Black) for $59.95 MSRP.
Link: CandyShell Wrap Multi-Function iPad Case
USB Fever Custom Made PU Leather Pouch Case for iPhone 4
PR: This stylish leather pouch is designed with comfort and convenience in mind. Help protect your handheld from dust and scratches with this Pocket Case. It features a slim, formfitting design that maintains its shape and a soft microfiber interior that ensures a snug, secure fit when your handheld is inside.
Just give it a gentle tug and your phone slides out gracefully, just enough for you to view the screen or pull it out completely. A magnetised opening flap ensures that your handheld won't unintentionally come out of the case.
Features:
Versatile Pocket Case
Custom made for iPhone 4
Protects from dust and scratches
Form fitting design
Microfibre interior
Ingenious phone extraction tag
Compatible with iPhone 4
Colors:
Note: This case is not made of genuine leather, it is made of PU Leather.
$9.99
Link: PU Leather Pouch Case for iPhone 4
USB Fever Custom Made PU Leather Pouch Case with Pull Up Cord for iPhone 4
PR: This stylish leather pouch is designed with comfort and convenience in mind. Help protect your handheld from dust and scratches with this Pocket Case. It features a slim, formfitting design that maintains its shape and a soft microfiber interior that ensures a snug, secure fit when your handheld is inside.
Just give it a gentle tug and your phone slides out gracefully, just enough for you to view the screen or pull it out completely. A magnetised opening flap ensures that your handheld won't unintentionally come out of the case.
Features:
Versatile Pocket Case
Custom made for iPhone 4
with pull-up cord
Protects from dust and scratches
Form fitting design
Microfibre interior
Ingenious phone extraction tag
Compatible with iPhone 4
Colors:
Note: This case is not made of genuine leather, it is made of PU Leather.
$9.99
Join us on Facebook, follow us on Twitter or Google+, or subscribe to our RSS news feed
Links for the Day
Mac of the Day: Power Mac 7500, introduced 1995.08.08. This workhorse introduced a new desktop case and CPU daughter cards for easy upgrade.
Recent Content
Follow Low End Mac on Twitter
Join Low End Mac on Facebook
Favorite Sites
MacSurfer
Cult of Mac
Shrine of Apple
MacInTouch
MyAppleMenu
InfoMac
The Mac Observer
Accelerate Your Mac
RetroMacCast
The Vintage Mac Museum
Deal Brothers
DealMac
Mac2Sell
Mac Driver Museum
JAG's House
System 6 Heaven
System 7 Today
the pickle's Low-End Mac FAQ
Affiliates
Amazon.com
The iTunes Store
PC Connection Express
Macgo Blu-ray Player
Parallels Desktop for Mac
eBay

Advertise