iPad 2 Rumors, DIY $3 iPad Stand, Skype Video Calls for iPhone, HandStand for iPad, and More
This Week's iPad, iPhone, iPod, and Apple TV News
Compiled by Charles Moore and edited by Dan Knight - 2011.01.03
Mac notebook and other portable computing is covered in The 'Book Review, and general Mac news is in Mac News Review.
All prices are in US dollars unless otherwise noted.
News, Reviews, & Opinion
Driving Safer
Apps & Services
Accessories
iPod Deals
These price trackers are updated every month.
News, Reviews, & Opinion
DigiTimes: Apple Preparing 3 Versions of iPad 2
DigiTimes' Joseph Tsai reports that Apple is expected to release three versions of iPad 2 for 2011, supporting a combination of WiFi, UMTS, and CDMA wireless connectivity, with production to begin as soon as the later half of January and initial shipments of 500,000 to 530,000 units in a 3:4:3 ratio of WiFi, UMTS, and CDMA, according to sources at component makers.
With some 60-65% of current iPad shipments being 3G models, users evidently prefer being able to connect to the Internet all the time. Tsai reports that iPad 2 will feature enhanced anti-smudge and antireflective display treatments, and that sources estimate some 2 to 3 million iPad 1 remain in the channels to tide over demand going into 2011, with production of the original version ending after January, and the iPad 2 launch to come around the end of Q1 or the beginning of Q2, and that sources estimate iPad 2011 shipments will reach 40 million units, accounting for 65-75% of the global tablet PC market.
Link: Apple Preparing Three Versions of iPad 2 for 2011 - Report (subscription required)
Rumor: Apple to Add USB Port to Next iPad
AppleInsider's Sam Oliver reports:
"A well-connected industry insider has relayed a rumor that Apple's second-generation iPad will include a built-in USB port when it launches in 2011."
Link: Apple to Add USB Port to Next-generation iPad - Rumor
Rumor: iPad 2 May Include USB Port
9 to 5 Mac's Cleve Nettles reports that the latest rumors point to the iPad 2 being equipped with either a mini USB or a full USB port.
Link: iPad 2 Mold: Back Camera, Tapered Edges, New Side Port?
iPad 2 to Sport Improved Speaker, No USB Port or SD Slot
The Register's Tony Smith says:
"Apple's iPad 2 will be slightly smaller than the current model, be a little less curvy - think of the latest, flat-backed iPod touch rather than the angular iPhone 4 - but don't expect it to sport either the rumoured USB port or SD card slot.
"So claims Japanese website Macotakara, citing Chinese moles. The big gaps seen on shots of upcoming cases for the iPad 2 are not there to make room for said portage but for a 'wide-range' speaker.... "
Link: Apple iPad 2 Said to Sport Über Speaker
7 New Things You Maybe Be Able to Do with iPad 2
TCGeeks' Shane says it's a pretty safe bet that Apple will announce the iPad 2 near the end of January, and based on what he deems the most factual information from the rumor mills, he offers a list of seven guesses on things you'll be able to do with iPad 2 that you aren't able to do with iPad 1.
Hold it better
Use More Accessories
Web Conferencing
Choose Carriers
Run Bigger Apps
Video/Photo Editing
Read Easier
Link: 7 New Things You'll Be Able to Do with iPad 2
5 Mac Features Apple Should Bring to iOS
T-GAAP's Karl Johnson predicts that in 2011 Apple will bringing the best iOS features to the Mac in OS X 10.7 Lion, such as the App Store, App Home Screens, Auto Save, Full Screen Apps, and App Resume on Launch, modified for the Mac interface.
However, he also notes that iOS can benefit from Mac features as much as the Mac can benefit from iOS features, proposing the top five features that Apple should move to the iOS from the Mac first:
The Finder
iPhoto
Real Safari with plugins
TextEdit
Print to PDF
Johnson says adding these features to iOS device would create a platform rivaling any desktop computer.
Link: Bring Mac Features to the iOS
Popular Science: iPad Is Top Tablet
Popular Science has picked the iPad as the top tablet in the Gadgets category of its Best Of What's New 2010 Innovation Of The Year Grand Awards roundup, noting that after years of companies trying to cram a computer into a tablet, the resulting boxes had been too heavy, the software too sparse, and the screen too small. Apple made what everyone wanted: a sleek device with a gorgeous screen and a dead-simple interface that makes you want to sit back and play.
Link: Apple iPad
Make Your Own $3 IKEA iPad Stand
Life Hacker's Adam Dachis says:
"Maybe you consider the iPad expensive or maybe you consider it a good deal, but there's no question that buying an iPad stand is a very overpriced purchase, so instead of dropping upwards of $30, just spend $3 on IKEA parts and make one yourself."
Link: Make a DIY IKEA iPad Stand for $3
Apple: Traditional Christian Morality 'Potentially Harmful to Others'
On December 23, The Manhattan Declaration posted a note saying:
"We received notice from Apple last evening regarding their rejection of our resubmission of the Manhattan Declaration iPhone/iPad app to the Apple App Store. This is an appalling response from Apple. Nearly 500,000 Christians have signed the Manhattan Declaration including representatives from many major Protestant denominations, leading Catholic Bishops and leaders of the Orthodox Church.
"Apple is telling us that the apps' content is considered 'likely to expose a group to harm' and 'to be objectionable and potentially harmful to others.' Inasmuch as the Manhattan Declaration simply reaffirms the moral teachings of our Christian faith on the sanctity of human life, marriage and sexual morality, and religious freedom and the rights of conscience, Apple's statement amounts to the charge that our faith is 'potentially harmful to others.'
"It is difficult to see how this is anything other than a statement of animus by a major American corporation against the beliefs of millions of Protestant, Catholic and Orthodox citizens. It is our sincere hope that Apple will draw back from this divisive and deeply offensive position. The corporation's leaders must be made to understand that they do the country no good service in capitulating to efforts to stigmatize, marginalize or defame people on one side or the other in important moral debates.
"We will be taking this to Apple's App Review Board after they come back from the Christmas and New Year's holiday observances they mention. If Apple is in good faith, perhaps they will be willing to submit this matter to arbitration. We will keep you informed. Until there is more to report, we will not be making further comments on this matter."
Link: Apple Says 'No' to Manhattan Declaration App 2.0
Driving Safer
AT&T Aims to Reach Millions with Powerful Anti-Texting While Driving Message
PR: AT&T has announced the release of a powerful new documentary featuring stories from individuals whose lives have been altered by texting while driving.
The 10-minute piece will be distributed nationwide to schools, safety organizations, government agencies and more as part of AT&T's It Can Wait campaign. Each of the eight individuals included in the full-length reel volunteered their stories to help AT&T educate wireless customers particularly youth on the risks of tapping away on their cell phones in the car. The documentary can be viewed online at no charge on AT&T's It Can Wait website and on AT&T's YouTube page.
"Distracted driving is an epidemic, particularly among teens who are confident in their ability to text or talk while driving," commented US Transportation Secretary Ray LaHood. "Of the 5,500 people killed last year due to distracted driving, the largest proportion of fatalities occurred among young people under the age of 20. I hope teens will take this powerful video to heart and realize that when you're behind the wheel, no text message or phone call is worth the risk."
"This documentary is a raw look at the reality and hazards of texting while driving, and we hope it will make wireless customers think twice before pulling out their cell phones in the driver's seat," says Cathy Coughlin, senior executive vice president and global marketing officer for AT&T. "As a global telecommunications company, it is our responsibility to bring these risks to light, especially now during the holiday season and as we approach New Year's Eve."
The documentary is supported by CTIA. The Wireless Association, The National Safety Council (NSC), National Organizations for Youth Safety (NOYS) and Family, Career and Community Leaders of America (FCCLA).
AT&T is working to distribute the video to numerous government agencies and safety organizations around the country, as well as to educators, students and policy makers to put real faces to the growing problem and spread the message.
It will also appear on the websites and communication channels such as newsletters and social media pages of NOYS, along with tens of thousands of schools affiliated with the organization.
In addition, AT&T will share the documentary with its wireless customers, employees and families through:
AT&T's Teen Advisory Council - 10 teens of AT&T employees from across the country - and their schools
AT&T U-verse Mobile, AT&T U-verse Online and AT&T U-verse TV On Demand (airing continuously beginning this week on a dedicated channel at no cost to subscribers)
The AT&T employee Defensive Driving courses required for all company employees who drive as part of their job;
AT&T's Smart ControlsSM page, an all-in-one destination with information and tools for parents and children on how to stay safe with technology, and tips to manage content, spending, time and location
AT&T's It Can Wait campaign launched in March 2010, and to date, more than 21,600 consumers have taken the pledge not to text and drive on AT&T's Facebook page, in addition to more than 16,700 AT&T employees through its internal social media channel. More than 10,000 pledges have also been made on the AT&T Friends & Family page an employee-led initiative encouraging others to commit to the cause.
AT&T continues to raise awareness about the issue of texting and driving through a multifaceted initiative. The campaign spans print, radio, TV and online advertising, in-store signage, collateral and online billing. In addition, parents, high school educators and, most importantly, youth, can visit AT&T's online resource center. The site includes downloadable information about texting while driving such as a parent-teen pledge, a teen-teen pledge, a poster, a brochure, safety tips and more.
Since 2009, the company has revised its wireless and motor vehicle policies to more clearly and explicitly prohibit texting and driving, impacting its more than 265,000 employees; incorporated a don't-text-and-drive message on the plastic clings that protect handset screens on the majority of new devices sold in AT&T's more than company-owned 2,200 stores; and has integrated campaign messaging in AT&T catalogs, in-store signage and collateral, bills, e-mails, newsletters and more.
As one of the nation's leading employers and with one of the largest commercial fleets, AT&T has also incorporated a section on the hazards of texting and driving in its defensive driving classes, which all employees who drive as part of their job are required to take.
The documentary can be viewed online on AT&T's It Can Wait website and on AT&T's YouTube page.
Link: It Can Wait
Link: It Can Wait Resource Center
Link: AT&T's YouTube Page
Dial Your iPhone with Your Nose
PR: No more taking off your gloves and freezing. Now you can dial your iPhone with your nose with NoseDial.
NoseDial isn't just a favorites list you can style individually. The app also shows you pictures of your friends and allows you to navigate through your contacts by tilting your iPhone and to then call them using your nose.
You can forget about special touchscreen gloves and iPhone input pens, and just call using your nose.
Unlike with the iPhone favorites list, NoseDial shows you all your contacts along with the corresponding photo. You can also decide for yourself how many contacts or dialing buttons you wish to have displayed on the screen and also select their size. You can easily set the difficulty level to "Specialist" when using your fingers to navigate your iPhone. You should probably start off using "Beginner" for your first attempts at dialing with your nose.
To make sure you really fall in love with NoseDial, you can even change the dialing buttons' appearance. Whether you prefer the cool look of steel or pink snake leather you can choose your own style. And new styles are constantly being added.
NoseDial is optimized for the Retina display and requires iOS 4.0 or newer.
System requirements: Compatible with iPhone, iPod touch, and iPad. Requires iOS 3.2 or later
99¢
Link: NoseDial (download link)
PhoneGuard Anti-Texting While Driving Software
PR: PhoneGuard Drive Safe is a new software suite specifically designed to safeguard mobile phone/PDA or smartphone users from the temptation to text while driving. Drive Safe software, can completely eliminate the potential for drivers to ignore anti-text warnings by disabling texting, emailing and keyboard function of a mobile phone in a vehicle moving faster than 10 miles per hour.
By using GPS to track speed and coordinates, Drive Safe Software automatically turns off a mobile phone's texting capabilities when the phone is in a moving vehicle. Differentiators of PhoneGuard's Drive Safe Software:
Disables texting, emailing and other distractions while driving a vehicle. If the phone is moving more than 10 mph, the application automatically disables texting, emailing, surfing the web and instant messaging.
Knows when a driver is moving at an unsafe speed. By setting the software's SpeedAlert, the administrator of the phone (parent, employer) is notified when the phone has gone over a certain speed limit by receiving a text message with the speed and location on a map. Exclusive solution to PhoneGuard.
Puts the phone in Phone TimeOut. The software's time-out feature can be used by parents to control the hours when kids can text, email or surf the web, such as school or work hours.
Drive Safe Software is tamper proof, allowing a parent or employer to change settings with use of a password. If a child or employee is a passenger in a moving vehicle, they can press a specified button to request permission from parent or employer to use the text function. Permission can be granted or denied from the parent's or employer's cell phone. The software also features Phone TimeOut, which allows parent to specify the time of day texting should be disabled, and SpeedAlert, which sends an email if the driver goes over a certain speed.
Drive Safe Software is available in English, Spanish, and Portuguese for $29.99 for a single driver and $69.99 for a family three-pack online and at selected retailers.
PhoneGuard is available for Android, BlackBerry, and Windows Mobile. There is no iPhone version at present.
Link: PhoneGuard
Apps & Services
Skype Brings Video Calling to iPhone
PR: Skype has announced the new version of its iPhone application that brings video calling to millions of mobile users around the globe over both 3G and WiFi networks. Available to download from the Apple App Store today, the new Skype for iPhone App allows iPhone, iPad and iPod touch owners to make and/or receive free(*) Skype video calls for the first time. Users can now see their family, friends and colleagues around the world while talking to them. With approximately 25 million concurrent users logged into Skype at any given time, the new Skype for iPhone makes it easier than ever to share moments wherever you are.
Video calling significantly enhances the user experience of Skype for iPhone, which is one of the top five free iPhone apps in 2010 according to Apple. Now, users can make and receive free Skype-to-Skype calls, call mobiles and landlines around the world at very low rates, and now share more moments together with video on Skype for iPhone.
"With video calling representing approximately 40% of all Skype-to-Skype minutes for the first six months of 2010, our users have been eager to get Skype video calling on their mobile phones," says Neil Stevens, general manager of Skype's consumer business. "By bringing video to mainstream users at their home or work via their desktops, on the go with their mobiles, or into their living room via their TV, Skype has made it possible for millions of people to share video moments wherever they are."
A video call evolves communication beyond transactional experiences to a shared experience where people can share any occasion with others wherever they are. Whether this is a military father watching the birth of his child while deployed abroad, loved ones communicating via sign language or work colleagues collaborating around the globe the opportunities are endless.
Users can place Skype video calls with their iPhone over both a 3G data connection* or WiFi. The new Skype for iPhone app is compatible with the iPhone 4, iPhone 3GS, and iPod touch 4th generation with i0S 4.0 or above. Video receiving capabilities are available on the iPod touch 3rd generation and iPad. Calls can be made between devices using the new Skype for iPhone app and desktops including Skype for Windows 4.2 and above, Skype for Mac 2.8 and above, Skype for Linux and ASUS Videophone.
The Skype for iPhone application is available for free download from the App Store.
Additional data charges may apply. To get the best quality, Skype recommends a strong WiFi connection for video calling.
About Skype
Skype is a communications platform provider whose purpose is to break down barriers to communication. With an Internet-connected device, families, friends and colleagues can get together for free with messaging, voice and video. At low cost, they can also call landlines or mobiles virtually anywhere in the world. Skype has recently introduced group video, allowing groups of more than two people to do things together whenever they're apart.
Founded in 2003 and based in Luxembourg. Skype can be downloaded onto computers, mobile phones and other connected devices for free at skype.com.
Skype Version 3.0 for iOS
With Skype on your iPhone, iPod touch or iPad, you can make and receive calls, and instant message anyone else on Skype, wherever they are in the world. You can also save on international calls and text messages to phones. Skype is free to download and easy to use. With the latest version, you can now call over 3G (operator data charges may apply), and keep Skype running in the background.
Call Skype-to-Skype, wherever you are
Call your Skype contacts wherever you may be, either on 3G or WiFi, with near CD quality sound. It's completely free to call people on Skype over WiFi or 3G(*).
Great value international calls and text messages
If your contacts abroad aren't on Skype, you can still reach them and save with Skype's great rates. Call and text phones anywhere in the world directly from your phonebook.
Instant message for an instant response
With Skype for iPhone, you can instant message one or many people on Skype at the same time, wherever, and whenever the mood strikes.
This version works on iPhone, iPhone 3G, iPhone 3GS, iPhone 4, iPad, and iPod touch. Skype requires iPhone OS version 3.0 or above.
Calling functionality is available on iPhone, iPhone 3G, iPhone 3GS, iPhone 4, iPad and 2nd generation iPod touch onwards. iPod touch requires a compatible headset with a microphone.
Near CD quality sound for Skype-to-Skype calls using wideband audio (SILK codec) on iPhone 4, iPhone 3GS, iPad and 2nd & 3rd generation iPod touch.
New in version 3.0
Improvements:
Make Skype to Skype video calls on WiFi and 3G
Call Skype desktop users (Mac OS X or Windows) and other iPhone users.
Two-way video calls supported on iPhone 4, iPhone 3GS and iPod touch 4th gen.
Receive only video supported on iPad and iPod touch 3rd gen, with no camera.
Make video calls in portrait and landscape.
Skype video calling requires iOS 4.0 or above.
Languages: English, Chinese, Danish, Dutch, Finnish, French, German, Italian, Japanese, Korean, Norwegian, Polish, Portuguese, Russian, Spanish, Swedish
System requirements:
Compatible with iPhone, iPod touch, and iPad.
Requires iOS 3.0 or later
Link: Skype (download link)
iFixit on iPad: Let's Kick-Start a Mobile Repair Revolution
PR: We need to make repair accessible to everyone. That means repair documentation needs to go with people to where the broken things are. Computers aren't very good at the whole mobility thing but the iPad sure is!
iFixit is now native on the iPad and live in the app store. Just like all of our repair manuals, it's free and has no ads.
The iPad is an impressively rugged device. I expected that we would be inundated with tales of cracked screens the moment Apple started shipping them but it hasn't happened. That's not because people aren't dropping them, but because the well-engineered aluminum frame combined with thicker-than-iPhone Gorilla glass are incredibly robust...
I think mobile repair could be a killer app for the iPad. I could see buying an iPad just for fixing things. Unlike the repair manuals of yore, iFixit on iPad gets better when you're not using it because thousands of people all over the world are constantly editing and making our manuals better.....
Right now, the app blends a native, fullscreen guide view with web views for navigating the site. We kept the app focused on performing repairs, so we don't have native support for much of iFixit including Answers and guide editing. You can still do just about everything in the app's web view that you can on a computer, and I think it works quite nicely. Over time we'll learn what works well on iPad and how people are using it.....
Performing a repair with the app is a phenomenal experience. It really feels like the future. Follow a step. Swipe to the next step. Tap to zoom in on a photo, and pinch to zoom to see the itty-bitty details of an individual screw head. Tap to close, swipe for the next step. The iPad completely disappears, and the photo manual is all that you experience. This really is a quantum leap forward in making online knowledge seamlessly useful....
We have lots of ideas for improving the app storing guides locally so you can follow them offline, adding commenting, and integrating more interactive features so you can share what repairs you've completed. But we've got a small development team, and we just don't have time to do everything. So if you want to pitch in and add your own code to the app, we'd love your help.
Link: iFixit Repair Manual (download link)
iDevices to Launch iGrill at CES, World's First Wireless Bluetooth Cooking Thermometer
PR: iDevices has announced that iGrill, the world's first wireless cooking thermometer for iPod touch, iPhone, and iPad via a long-range Bluetooth (over 200 feet) and app-enabled connection, will be introduced at the Consumer Electronics Show (CES), Booth #4435 in Las Vegas, January 6-9, 2011, iGrill turns your iPhone, iPod touch, or iPad into your own personal sous-chef, enabling you to multitask between your grill or oven and guests with the peace of mind that your food is perfectly cooked, at target temperature and safe for consumption.
The first Bluetooth and App enabled device on the market today, iGrill consists of:
iGrill Thermometer with Projection Display and Probe features easy-to-clean touch interface and multiple probe options.
iGrill App for iPod, iPhone, & iPad - tells you status of food via Bluetooth.
Spend Time Socializing Instead of Cooking - Never Burn Your Turkey Again
iGrill does much more than simply redefining how we cook and grill; it can change the way you socialize - taking the labor-intensity out of meal preparation and offering back the most valuable commodity of all: Time. Its secure, long-range Bluetooth connection lets you enjoy time with family and friends without compromising the quality of your cuisine.
iGrill Chosen by Apple for Made for iPod, iPhone, iPad Developers Program, Finalist for Bluetooth.org's 6th Annual Best of CES 2011 Awards
Finalist for the Bluetooth.org's 6th Annual Best of CES 2011 Awards - Innovator of the Year (winner to be announced at CES), iGrill's Bluetooth-enabled grilling thermometer has garnered the attention of Apple, who choose the product to participate in Apple's Made For iPod, iPhone, iPad Developers Program. Apple saw the potential of a device that is so perfectly paired with their product line and features a seamlessly integrated, feature-rich App. Because of Apple's open architecture, iDevices was able to develop a free App designed to not only enhance the iGrill experience, but also the cooking experience itself.
iGrill Thermometer Features:
Bluetooth-enabled with 200 foot+ range.
Compatible with iPod touch, iPhone and iPad.
Features touch interface and projection display.
Stand-alone thermometer.
Multi-probe capacity.
Integrated probe storage.
Alarm settings.
Multiple positions for extra flexibility and easy storage: standing, laying and hanging.
Capable of tracking temperatures up to 400F (204C).
iGrill App Features:
iGrill connectability.
Food temperature option.
Multiple-probe support.
Shows remaining cooking-time.
Multiple view options.
Recipe browsing/sharing.
Kitchen timer.
"We are extremely excited by the launch of iDevices first product, iGrill, which is already up for a Best of CES Innovator of the Year award," says iDevices Inc. CEO Christopher Allen. "iGrill is the first of an entire suite of home and lifestyle oriented products that iDevices will be developing in 2011 to enhance Apple products' user experience."
Priced at $99.99, iGrill is available immediately through igrillinc.com and Apple Stores across North America. It comes with one iGrill probe and display equipped with long-range Bluetooth, useful Apps, and four AA batteries. iGrill is the first in a line of products created by iDevices geared towards the Apple lifestyle
Link: iGrill (download link)
What Women Auto Know
PR: Great Bear Auto Repair & Body Shop, a tech savvy automotive garage involved with the creation of automotive education products, has announced a sale on their popular women's mobile automotive resource "What Women Auto Know" for the iPhone, iPad, and iPod touch.
Though geared towards women, this app offers any automotive novice a full mobile reference point to learn automotive terms, as well as diagnose and solve simple mechanical problems among many other things. What Women Auto Know is currently available for download at a 50% discount for $1.99 on the iTunes App Store.
Developed to be a general use automotive tool, this app helps women - or anyone else who is car illiterate - do anything from find definitions of automotive terms to learning how to change a flat tire straight from their mobile devices. What Women Auto Know includes a full automotive glossary as well as a handy acronym guide to help novice users decode and understand the many abbreviations apparent in the automotive industry (i.e. ABS, SRS). The app also includes an in-depth step by step guide to help users navigate the perilous world of the automotive industry such as choosing good mechanics, finding good used cars, as well as many other useful hints and tips.
What Women Auto Know isn't simply an educational tool. The app features a full set of interactive guides that explain how to conduct simply automotive maintenance and on-the-go repairs. Users are also provided with a virtual documentation tool to help document their vehicle's maintenance history. Furthermore, to help weary users accurately describe various car problems to mechanics, What Women Auto Know includes an audio clip catalog of common auto noises that users can play for mechanics instead of relying on their own shaky verbal descriptions. A perfect companion for any woman or novice car owner, What Women Auto Know offers anyone the power of automotive knowledge always at their fingertips.
Link: What Women Auto Know (download link)
Free Merriam-Webster Dictionary App Includes Voice Search
PR: Merriam-Webster now offers its dictionary as a free iPhone app, including one feature that word-lovers will be talking about - or perhaps talking to. It's the first free dictionary app with voice search, allowing users to look up a word by speaking it directly into the phone without having to spell it out. Voice search capabilities are powered by Nuance Communications' renowned Dragon voice recognition technology.
Along with voice search, the free app offers more than 225,000 definitions from Merriam-Webster's Collegiate Dictionary and 300,000 synonyms and antonyms from Merriam-Webster's Collegiate Thesaurus. Additional features include the popular Word of the Day, example sentences, audio pronunciations, and recent lookup history.
Link: Merriam-Webster (download link)
Nuance Defines Innovative Voice Search on Merriam-Webster App
PR: Nuance Communications, Inc. has announced that its voice technology now powers the voice search capabilities behind the new Merriam-Webster app for iPhone. Merriam-Webster is the latest mobile app to take advantage of the powerful voice recognition capabilities at the heart of the Dragon Dictation and Dragon Search apps downloaded by millions around the world.
The free Merriam-Webster app brings America's most useful and respected dictionary right to your iPhone. In addition to all the definitions from Merriam-Webster's Collegiate Dictionary, the app's voice search capabilities let consumers look up a word by simply saying it, versus trying to spell out difficult or unfamiliar words. The app also provides users with synonyms, antonyms, example sentences, audio pronunciations, Word of the Day, and more.
"For 150 years, Merriam-Webster has been working on making dictionaries easier to use. Integrating Nuance's voice recognition capabilities into our app contributes to that evolution, and makes looking up a word more intuitive and for a lot of people more enjoyable," says Miles Kronby, Merriam-Webster's Chief Product Officer of Digital.
"Mobile consumers need a quick, easy and effective way to access information and data, and nothing is more intuitive or natural than the human voice. We've made it incredibly easy for developers like Merriam-Webster to optimize their app experience with our core Dragon voice technology, creating an ecosystem of voice-enabled applications that let consumers get the most out their mobile devices," comments Michael Thompson, Senior Vice President and General Manager, Nuance Mobile.
Link: Merriam-Webster (download link)
DiskAid 4.5: Use Your iPad, iPhone or iPod touch as an External Drive
PR: DiskAid is a tool for PC and Mac that enables the use of iPhone, iPad, or iPod touch as an external mass storage device. DiskAid gives access to the device's file system, transfers text messages (SMS) to computer, allows copy, edit or renaming of files and folders on the iPhone, iPad or iPod touch directly from the desktop. Using a USB connection, it is the safest and most reliable way to access device's files and folders. Used with FileApp or FileApp Pro transferred files and documents can easily being accessed on the device.

Features:
USB file transfer
Copy Files & Folders between your iPhone, iPad, or iPod touch and your computer
Transfer Text Messages (SMS) from iPhone to computer
View files on iPhone, iPod touch, and iPad with FileApp & FileApp Pro
Automatic applications and folder discovery
File Sharing support with all compatible applications on iPhone, iPod touch, and iPad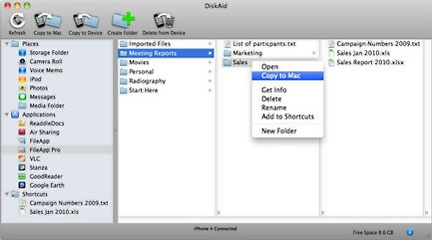 More:
Auto detection feature, just plugin it in
Files and Folders Browser
Drag & Drop files and folders
Double click on files for quick view (launches appropriate application)
Device's free memory displayed
Create shortcut to any file or folder
Feature rich file organization including internal move, folder creation, renaming... etc.
File & Folder information window
Access any application supporting File Sharing
No jailbreak needed (except for Root folder access)
Supports iTunes 10
Supported iPhone OS versions : 3.0 to 3.2, iOS 4.x
New: iOS 4 compatible
New in version 4.5:
Copy text messages (SMS) from iPhone to Mac OS X or PC Windows computer
Interface improvements
Displays icon from every app available to DiskAid (with advanced option to show non 'File Sharing' Apps too)
Displays creation and last modification date of files
Toggle alert message warnings
Toggle display on the device a 'Sync in Progress' message while data is being transferred to and from the device
Toggle views of DiskAid's Toolbar and Navigation pane
Bug Fixes
Fixes an issue where some images were missing when copying a large Camera roll
Fixes an issue when long file paths were used when copying from a Windows machine
Allows resetting message warnings in Settings
Plus a lot of minor bug fixes and stability improvements
Developer's comment: Upgrade to DiskAid 4.5 is a must for every iPhone user, as it brings text message (SMS) transfer to computer. The wealth of fixes and improvements makes it worth for every other user. adds iPhone SMS transfer, enhancements to data transfer controls, file creation and modification date display, toggling of Toolbar and Navigation views, and other changes.
System Requirements
Mac OS X (Leopard, Snow Leopard)
PC Windows (XP, Vista, 7)
Supports iPhone V1, 3G, 3G S and 4
Supports iPod touch V1, V2 and V3
Supports iPad
DiskAid sells for $9.90
Link: DiskAid
iPhone Configuration Utility 3.2 for Mac OS X
PR: iPhone Configuration Utility lets you easily create, maintain, encrypt, and install configuration profiles, track and install provisioning profiles and authorized applications, and capture device information including console logs.
Configuration profiles are XML files that contain device security policies, VPN configuration information, WiFi settings, APN settings, Exchange account settings, mail settings, and certificates that permit iPhone and iPod touch to work with your enterprise systems.
System Requirements: Mac OS X 10.6
Link: iPhone Configuration Utility 3.2 for Mac OS X
Royal Bank of Canada Launches Mobile Banking App for iPhone and Blackberry
PR: Taking banking convenience to the next level, the Royal Bank of Canada (RBC) has announced the launch of its mobile banking app for both iPhone and BlackBerry, becoming the first Canadian bank to offer a smartphone banking app.
According to a recent RBC poll,* most Canadians (80%) own a mobile device (cell phone 61%, BlackBerry 9%, and iPhone 5%), with 44% of those expressing interest in mobile banking.
Topping the list of what mobile device users would like to be able to do, the RBC poll found that Canadians want the ability to check account balances (34%), pay bills (32%), view transaction history (28%) and transfer funds between accounts (26%).
RBC's mobile banking app, which is now available for download onto iPhone and BlackBerry smartphones, enables personal and business clients to do all that and more - on-the-go, anywhere, anytime.
"In an era of long work days and short weekends, getting all the errands done has become more and more challenging," says James McGuire, VP, Digital Strategy & Experience, RBC. "We are taking convenience and control to a new level by providing customers with the ability to stay connected with their finances on their schedule. Mobile banking is the way of the future and this is just the tip of the iceberg."
Canadian mobile device users who have already tried mobile banking cite convenience (70%) as the main reason for using mobile banking. However, the poll found that concern over security (24%) is one of the main reasons cited for hesitation to try mobile banking.
"We understand how important information security and privacy are and we are providing customers with the same safety and security guarantee that's offered with our online banking services," says McGuire. "If an unauthorized transaction is conducted through an RBC mobile banking service, clients will be reimbursed for any resulting losses to those accounts."
The RBC mobile app allows clients to access a full range of services, including the ability to:
View account balances for all personal and business accounts.
View account details for accounts such as credit lines, credit cards, mortgages and loans.
Pay bills (Nonrecurring, current and future dated) for all existing online banking payees.
View transaction history and payment history.
Transfer funds between all RBC accounts.
Send Internet email money transfers.
Send third-party payments.
Locate RBC branches and ATMs.
Downloading the app is very simple: Turn on your mobile device, launch the browser, and then go to www.rbc.com/mobileapp and select the download for your device, either Apple iPhone or Blackberry. Once you install the app, use your RBC Royal Bank Online Banking client card or username and password and start banking right away,
* The survey was conducted by Ipsos Reid on behalf of RBC Royal Bank in October 2010. The results are based on a sample where quota sampling and weighting are employed to balance demographics and ensure that the sample's composition reflects that of the actual Canadian population according to Census data. Quota samples with weighting from the Ipsos online panel provide results that are intended to approximate a probability sample. An unweighted probability sample of 1017, with 100% response rate, would have an estimated margin of error of ±3%, 19 times out of 20.
Link: RBC Mobile Apps (download link)
Dual Browser for iPad
PR: Dual Browser is an iPad application that allows browsing two webpages at the same time.
Dual Browser's features and options make it unique.
Two simultaneous windows to navigate independently.
Full screen: Option to make full screen each window and hide the navigation bar.
Private browsing: Option to clear all the cookies, bookmarks and configuration every time the application loads or closes.
Save all cookies: Can store session cookies permanently.
Full or selective options clear: The application settings can be reset from the iPads system settings.
8 different User Agents: Allows viewing web pages as a different browser including mobile and desktop versions.
Brightness control with higher rank than the system minimum.
Internet connection loss/recovery notification.
Screen rotation lock.
Save and view images.
Dual Browser can be run from Safari and vice versa.
Secure web access: Warning in case of a invalid certificate.
Bookmarks with folders option.
Configurable interface color: Each window can have a different color (including keyboard color).
New in version 1.3.0:
Search now uses Unicode, supporting character based languages.
The brightness control is applied to all elements (keyboard included).
Reset options on system settings.
Option to disable multitasking on iOS 4.
Memory handling optimization.
Link: Dual Browser for iPad (download links: Dual Browser Free, Dual Browser, 99¢)
360 Web Browser Brings Firefox Sync, Flash, and Download Manager to iOS
PR: Dallas based Digital Poke announces the release and immediate availability of 360 Web Browser 2.0, an update to their popular mobile browser for iOS. 360 Web Browser is a feature rich, intelligent and highly praised, and recommended by Macworld, App Advice, 148 Apps, Appolicious among various others. 360 Web Browser has also been the winner of the prestigious mFWA awards. It offers more features to offer than any other browsers out there with a refreshing, non-monotonous interface.
Version 2.0 brings Firefox Sync, Download Manager and the ability to view and download Flash Videos using Clip Converter. Get ready for the 360 Experience!
Clip Converter currently supports: YouTube, Sevenload, MySpace, Dailymotion, Vimeo, Metacafe, MyVideo, Veoh. Head to plugins to know more about how to Convert Videos from their Servers and watch them.
Among an insanely huge feature list of 360 Web Browser, you will find:
Firefox Sync - View and Import your desktop Tabs, Bookmarks and History
Download Manager - Easily download and view your files from 360 Browser, You can transfer you files also from your iOS Device to your iPhone
Play and Download Flash - Easily Play and Download Flash through Clip Converter Plugin of 360 Web Browser
360 Arcs and 360 FS(Full Screen) Arcs - Access over 25 features in just a tap
Quick Access List maintains Recently Visited / Most Famous / Recently Bookmarked
Fully Custom Made Themes Tab Themes
Intelligent Tabbing - Tabs are Intelligent They have their own preference & privacy mode
Offline Mode - Save your Bandwidth on roaming, doesn't cascade its effect to outside of the App
Address Bar Commands - Terminal Commands to Perform Things faster
Remember Passwords - Saves you the Trouble of entering them again
Social Browsing - Share on Twitter, Facebook, Digg, Wave and more in a single Tap
Full Screen Mode - Experience True Full Screen, Access every feature of your browser without ever going out of full screen, with the revolutionary 360 Arcs™ and Address Bar Commands. Customize your Full Screen in whichever way you want
Plugins - 360 Browser gives you the ability to add and manage the plugins according to your needs. Choose from an ever growing list of Plugins including Instapaper, Firebug Lite, Track This, Evernote among several others
Bookmarks - Create/Rename/Move bookmarks as you want them to be. Bookmarks Finder provides a quick and efficient way for you to navigate and jump between the bookmark folders
Long Tap to Reveal More - Themes, History, Bookmarks, Sync, Downloads supports Long Tap to reveal advance options
Smart Search and Search Suggest
Password Lock and Ad Block
Hyper-Scroll and Persistent Full Screen
What's New in Version 2.0
Download Manager
Firefox Sync
File Sharing
File Manager
Search Suggests
Heavy Performance Upgrades
Device Requirements:
iPhone, iPod touch, and iPad
Requires iOS 3.0 or later (iOS 4.0 Tested)
20.6 MB
360 Web Browser 2.0 is 99¢ (or equivalent amount in other currencies) and available worldwide exclusively through the App Store in the Productivity category.
Link: 360 Web Browser (download link)
Link: You Tube Video
Automobile Magazine iPad Edition
PR: Automobile Magazine has launched its new iPad edition, making its nationally recognized, award-winning content available to download on Apple's tablet at the App Store.
Beginning with the release of both the complimentary January and regularly priced February issues, the brand's easy-to-navigate app incorporates a highly intuitive design that gives readers an enhanced Automobile Magazine experience, complete with interactive content, photo galleries, integrated video and audio commentary, as well as in-depth automobile news and reviews not found in the print edition. Automobile for iPad allows the editors to better relay the special sense of adventure the magazine is already famous for by providing even more content.
"This is not Automobile Magazine reinvented for the iPad; rather, we worked to incorporate the content our readers desired," explains Automobile Magazine President and Editor-in-Chief, Jean Jennings. "We are an experiential publication; the iPad is a medium that allows us to better deliver our experiences to our readers."
Featuring the always compelling stories and vibrant photographic content readers are familiar with from the print version, Automobile Magazine's iPad application goes a step further, allowing users to go deeper into each story, to see and hear things they may not otherwise be able to experience, and by letting reporters provide their on-location experiences and point of view.
Whether viewing photos taken during a family road trip in Four Seasons test cars, or getting to watch the behind-the-scenes adventures involved in driving a 1200-hp Bugatti at speed across the Spanish countryside, the new iPad version of the magazine will deliver never-before-seen content usually reserved for exclusive conversations with the editorial staff of Automobile Magazine.
The iPad version of the magazine marries the best of both print and web, adding additional features unique to the iPad and integrating them seamlessly into an all-new product that allows readers to dive deeper into the automotive lifestyle.
Over the next few months, Automobile Magazine will continue to refine its iPad edition and roll out several iPad-only features, including an expanded Four Seasons test section with interactive photo, video and map updates as well as testimonials from editors who are living with these cars over the course of a year.
The iPad edition will also feature a larger Auctions section, complete with a black book guide to the world's most prominent auctions including reviews of where to stay and how to get to an event. The magazine will also incorporate additional design focus from Automobile's design experts explaining both automotive design technique and analysis.
"Twenty-five years ago, we broke the mold with the launch of Automobile Magazine. Now with this app, we feel that we are on the brink of doing it again," says Jennings. "The app allows readers to do more than just click a few buttons to hear a car rev up its engine. Instead, it is a spontaneous behind-the-scenes look at story telling at its best, with spectacular writers, fabulous photography and once-in-a-lifetime introductions to some of the most legendary people in the industry. It lets you experience the adventure with us, every step of the way."
Over the course of 25 years Automobile Magazine has won more writing, photography, and design awards than any other car magazine, and stands as the only car magazine to have won a National Magazine Award. To find out more about the iPad app, and why this release represents a paradigm shift for the magazine, please click here to view a video presentation from Automobile Magazine President and Editor-in-Chief, Jean Jennings.
The iPad edition of the Automobile Magazine app is available to download for ($3.99) from the App Store. The print edition of the February issue will arrive on newsstands on January 4. The January issue is free.
For nearly 25 years, Automobile Magazine has set the standard for automotive journalism, maintaining its devotion to auto adventure and an editorial approach that emphasizes "No boring cars".
Link: Automobile Magazine iPad Edition (download link)
Hyundai Equus iPad Owner Experience App
PR: Experience a more thoughtful approach to luxury with the new Hyundai Equus app for the iPad. Its interface is as refined and intuitive as the Equus itself. And with the ability to access the complete Owner's Manual, everything you need to know about this exceptional vehicle is literally at your fingertips.
With the Hyundai Equus app you can:
Locate the nearest Hyundai dealer and schedule service
Experience Equus Lane Departure Warning System
Experience Equus Adaptive Headlights
Experience Equus rear-passenger massage and relaxation therapy
View the Equus Owner's Manual and Quick Reference Guide
Browse the gallery of all Hyundai vehicles
Requirements: Compatible with iPad. Requires iOS 3.2 or later
Free
Link: Hyundai Equus iPad Owner Experience (download link)
Aston Martin Explore App
PR: Britain's venerable and esteemed Aston Martin is a modern, exclusive sports car marque with a rich heritage instantly recognised around the world. Distinctively fusing the latest technology, time-honoured craftsmanship and graceful styling to produce a range of critically acclaimed performance sports cars that have elevated Aston Martin to a position as one of the world's premier exoticar brands.
The Aston Martin Explore App. stays true to this ethos and gives you the opportunity to enjoy the world of Aston Martin through your iPhone.
Aston Martin Explore allows you to:
Keep up-to date with the latest Aston Martin news.
Be the first to see exclusive Aston Martin videos and images featuring One-77, DBS, DB9, Rapide, V8 and V12 Vantage.
Hear the evocative sounds of the company's iconic V12 and V8 engines .
Explore the heritage of Aston Martin.
Feel some of the Aston Martin magic, start the app with the in-car ignition sequence.
Rev James Bond's car of choice, the DBS, by using your phone as an accelerator.
Take an exclusive virtual tour inside Aston Martin's global headquarters.
Keep up-to date with Aston Martin on all social networks and follow live Twitter feeds from key events and endurance races around the world.
Arrange a test drive and sign up to the Aston Martin newsletter.
Aston Martin Explore 1.0 is Free at the Apple App. Store and rated 4+
System requirements: Compatible with iPhone, iPod touch and iPad. Requires iOS 4.0.1 or later.
Link: Aston Martin Explore (download link)
Accessories
HandStand Puts iPad's Full Potential in the Palm of Your Hand
PR: Hub International LLC, a consumer products company founded in October 2010 by Portland-based entrepreneur Jaime Smith, has announced the release of its first product aimed at iPad fanatics, the HandStand. The HandStand is an ergonomically designed accessory that cradles the iPad, providing a control platform that positions the device as an extension of the user's hand. The design frees up a navigation hand, reduces fatigue, and eliminates common problems associated with iPad use, including inadvertent scrolling, application launching, and awkward iPad controlling and maneuvering.
The bottom line is that you have 360° of ergonomic freedom with the HandStand iPad holder. Unlike cheap, plastic accessories for the iPad, HandStand is a durable, silicone accessory for the iPad with a tough, rotating disk that allows you to spin the iPad freely from landscape to portrait and back again. It is literally revolutionary.
Now you have a free hand, to do everything you and your iPad can do. Hold your iPad effortlessly and easily manipulate the touch screen with your free hand. When not on your hand, it lays at a gentle incline on your tabletop or desk, in either landscape or portrait orientation, freeing up both of your hands. The company is currently taking all orders online, and will be evaluating retail placement opportunities in coming months.
The product was conceived by its founder, Jaime Smith, 32, a self-confessed gear head and technology enthusiast, who wired his entire house to be controlled from one of his two iPads.
"I have the iPad in my hand several hours per day for online use, but also controlling entertainment components, lights, thermostat, garage doors, blinds, security and cameras," said Smith. "I could not find an accessory that would make the iPad function easily while also keeping an extra hand free, so we designed the HandStand."
Smith has a history of making markets and starting companies. He is currently president of Ritter Chemical, a fast-growing national distributor of high-quality agrochemicals which has experienced a compound annual growth rate (CAGR) of 49.9% from its founding in 2006 through 2009. Smith previously pioneered large-scale retail vaccination programs as a value-added service to customers, a practice that has grown to become ubiquitous today at large national retailers like Walgreen's and Costco.
"My career is one that has been characterized by identifying and filling a need that helps people run their business and personal lives more efficiently," explained Smith. "The HandStand is one of the most tangible expressions of that philosophy and I could not be more excited to get this product into iPad users' hands and see it take off."
The company expects early adoption of HandStand to map against those using iPad regularly among enterprise companies, government agencies and consumers. In October, AT&T announced it would begin offering the iPad directly to customers through its recently formed Advanced Enterprise Mobility Solutions group.
On November 9, BoxTone, a Mobile Services Management company, released a survey of more than 1,200 IT administrators and business executives at more than 800 enterprise companies and government agencies. The company found that 73% of respondents expect to deploy the iPad and other iOS devices within their organizations in the next 12 months, with more than a quarter expecting to roll out "immediately."
On November 15, Good Technology, the leader in multiplatform enterprise mobility, released data showing that the Financial Services (36.8%), Technology (11.4%) and Healthcare (10.5%) industries are seeing the greatest adoption of the iPad for business use. They were followed by the Legal (8.8%) and Government and Public sectors (8.3%). This information came from Good Technology's user base, which consists of more than 4,000 enterprise customers whose iPad deployments range from one to more than 1,000 iPads.
"As a tool for realizing the full potential of the iPad in a business environment, the HandStand could not be coming to market at a better time," added Smith. "From the top down, the iPad's enterprise functionality is being validated and HandStand will be there to unleash the iPad's full potential in these industries."
The HandStand was designed, engineered and manufactured in Portland, Oregon, by Smith with Houserworks, a Portland machine shop that specializes in design, prototyping, machining and manufacturing. The team's design experience includes projects for Nike, NASA, Ducati and many other internationally recognized brands.
Link: HandStand
Danglet Strap System Makes iPod nano the Perfect Pocketwatch
PR: Collins America announces that its Danglet wrist and neck strap system for Apple's iPhone and iPod products turns an iPod nano into the perfect Pocketwatch or Stopwatch for sports.
"The iPod nano's unique clock and stopwatch features have inspired a growing number of wrist watch strap products," says Mike Collins, President of Collins America. "However, many people prefer keeping their watch in their pocket, or using the nano as a stopwatch for sports. These applications are better served with a wrist or neck strap. Danglet is the only wrist and neck strap product on the market that makes that usage possible."
Priced at $14.99 (plus shipping), the Danglet is the world's only strap adapter for Apple's iPhone or iPod using the 30-pin dock connector. Danglet orders include the ruggedly engineered Danglet adapter which clips securely into the iProduct's dock connector jack, and two sturdy black Nylon straps with metal clips, one a 7" wrist strap, the other a 17" neck strap. Additional product information can be found on the Collins America web site.
Danglet is priced at $14.99 (plus $3.50 S&H). Orders are accepted from the United States, Canada, and EU countries only. EU orders ship from our Northern Ireland warehouse. All orders ship by First Class Mail - Allow 7 to 14 days for delivery.
Warehouses in the United States and Europe are stocked and ready to ship orders placed from the Collins America website to buyers in the US, Canada, and EU countries.
Link: Danglet Strap
TuneWear Wrist Watch Case for iPod nano
PR: Wrist Watch Case for iPod nano literally brings the TuneWear slogan "Wear the Music, Hear the Tunes" to your wrist. It is a line of colorful high-grade silicone cases for the new iPod nano which wrap around your wrist just like a wristwatch. It is designed to allow full access to the touch screen which can be set to the clock display mode.
All controls, including the 30-pin dock and earphone jack, are fully accessible while wearing the case. TuneFilm protective film is included for keeping the iPod screen free from scratches and dirt and for protecting the iPod nano clip. It is very lightweight and when not attached to your wrist, you can attach it to a bag or a belt.
The silicone is thin but is tough and will protect the edges of iPod nano from minor bumps and drops. The silicone is an anti-dust type which prevents it from attracting dust particles. Wrist Watch Case for iPod nano is available in nine color variations: Clear, Pink, Red, Orange, Yellow, Green, Blue, Purple and Black.
Link: TuneWear Wrist Watch Case for iPod nano
New iBottleopener iPhone 4 Case Making People Smile
PR: A California company, Lightbulb Moments, has introduced an iPhone 4 case with a built-in bottle opener, the follow up product to their highly successful 3G/3GS version.
To help expand production, the company applied to and was accepted by kickstarter.com, the New York based crowd funding website.
"Kickstarter is a great platform for a small company to fund a fast moving product," says Zack Cram, cofounder of Lightbulb Moments. "We've gotten a positive initial response to our presentation video.... We're struggling to keep up with the demand for the iPhone 4 iBottleopener"
Each person who pledges $25 receives a preorder of the iPhone 4 iBottleopener, provided Lightbulb Moments reaches their funding goal. Shipping is included in the cost.
The cases will sell in stores for $24.95 to $29.95, with the Slogan "protect your iPhone . . . and your Fun."
The iBottleopener is designed so the force of opening a bottle is always applied to the case and never to the phone.
Link: iBottleopener iPhone 4 Case
USB Fever 60x Microscope for iPhone 4
PR: This accessory will convert your iPhone 4 into a portable microscope. Yeah you read it right, and its not a normal microscope - it can magnify images up to 60x. Now you don't have to got your school lab when you can have your own microscope.
This amazing little microscope has a built-in LED light for better image quality. The microscope should be applied through proper case on the back of the iPhone 4. Once installed, you can use the microscope to view objects up to 60 magnifications.
Features:
Magnification: 60x
Blue LED ( x1) and Bright LEDs for different objects.
LED with On/Off Switch
Plug and Play, nothing to install
Light weight and easy to carry.
System requirements: This accessory is compatible with (see firmware below) Apple iPhone 4
Color: Mainly Silver
Note: The LEDs are powered by 3 LR1130 Cell batteries.
$23.99
Link: USB Fever 60x Microscope for iPhone 4
USB Fever SD/Micro SD Memory Card Reader and USB Connection Kit for iPad
PR: iPad is so perfect, but yet it can't be used as another PC. When you want to transfer your data into your iPad, it relies on the connection to your PC.
USB Fever has a way that can help you to import your pictures (in JPEG / RAW), movies (in .AVI) directly from your memory card (SD, SDHC, Micro SD).
This adapter has 3 slots, one for reading the SD, SDHC card, one for Reading Micro SD (T-Flash), one is USB port working as other normal PC's USB port. You can connect your DC/Camera directly via the USB Port, your flash drive or even the memory card via a card reader (for the folder "DCIM" only). You can even take your iPhone (iPhone 4 and iPhone 3Gs ONLY) as a camera and connect to iPad.
Features:
Easy to download photos from your digital camera (in with a DCIM Folder) to your iPad
Supports moving jpeg (.jpg)/Raw files from iPhone 4 to iPad
Supports SD/SDHC/Micro SD Cards
Supports connecting via the USB port (see notes below)
The USB port can be connected to a keyboard for data input to your iPad
This accessory is compatible with (see firmware below) Apple iPad
For Firmware:
iOS firmware 4.1.0
iOS firmware 4.2.1
Note:
iPad only reads data (graphics files) from devices/memory cards with a folder "DCIM".
Keep no space between the iPad and the dongle
Don't have more than one device connected to the dongle at the same time.
The compatibility of this card reader is not that perfect; if it can't read your memory card, you may need to change to another one as a test.
If you are not in the firmware specified above, restore it to previous workable firmware.
$37.99
Link: USB Fever SD/Micro SD Memory Card Reader and USB Connection Kit for iPad
USB Fever Extreme Pack 11000 mAh External Battery Pack for iPad, iPhone, and iPod touch
PR: Features:
Capacity 11000 mAh@5V, 105% of iPhone battery capacity
Charge this battery with an AC wall charger
Compatible with all generations Apple 4G iPhone and iTouch, iPad, major brand cell phones and PDAs with correct adapters, which will be sold separately
Compatible with Major brand portable game console system like Nintendo DS lite, Nintendo Gameboy and Sony PSP with the correct adapters, which will be sold separately
Compatible with:
11000 mAh capacity, Charge iPad one time, Charge iPhone 6 times
Compatible with 2G 3G 3Gs 4G iPhone
Compatible with iPad and 3G iPad
Compatible with all generation 2G 3G 4G iPod touch
Compatible with Motorola Droid
Compatible with HTC Android (EVO, incredible, X1, nexus)
Compatible with Blackberry (9630, 9700, 9550, 9800)
105% of iPad Battery life
600% of 4G 3G 3Gs iPhone Battery life
50 hours iPhone movie playing time
50 hours iPhone Internet time
360 hours iPhone audio time
Compatible with major brand portable game system, such as Nintendo DS, Nintendo DS lite, Sony PSP. Adapters will be sold separately
Also work with Kindle reading device
Colors Available:
Black
White (for OEM orders only)
Specifications:
Weight 250g (8 oz) with dimension 4" x 3 3/4" x 1 1/8" inch
Capacity 11000 mAh@5V, 600% of iPhone battery capacity
Input Voltage: 5V, 2A
Output Voltage: 5V, 1A
Charge with an AC wall charger
Package Contents:
Extreme Pack
A Regular USB cable for charging cell phone device
iPhone adapter for 4G 3Gs 3G iPhone, 3G iPad and iTouch
MiniUSB and MicroUSB adapter for Blackberry (9630, 9700, 9550, 9800)
AC Wall Outlet plug with voltage range 100V-240V suitable for worldwide travelers
English user manual x 1
$74.99
Link: USB Fever Extreme Pack 11000 mAh External Battery Pack for iPad, iPhone, and iPod touch
Powis iCase iPad Cover in 2 New Styles
PR: Powis has announced that its new iPad cover, the Powis iCase, is available in two new designs - Tan Pebble Leather and Antique Book.
This stylish case, which is inspired by the traditional book, enhances the sleek look of the iPad, while offering quality protection. The sturdy designer stand offers 9+ positions, and the case is available in more than 40 patterns and designs.
"Our "Old Book" design has been very popular, so we have decided to release another one, Antique Book. We have also received many requests for more masculine, premium leathers. Tan Pebble is a perfect choice for executives," says Kevin Parker, CEO of Powis. "And given the holiday shopping season, we are providing a special limited time offer for customers who purchase two cases."
Personal Touch
Powis iCase can now be personalized with a name, inscription, favorite quote, or personal message on the inside cover. Personalization is a popular option for that special touch in gift-giving. For companies that wish to order cases with their logo on the front cover or spine, please contact Powis at orders(at)powis(dot)com.
iPad cases from Powis are available in many different leathers, patterns, and with personalization. Prices are in US dollars, and range from $49.95 for a patterned case with a printed laminated cover to $79.95 for a premium leather cover. Personalization on the inside cover is $9.95.
Powis iCase is available online at powisicase.com and also through Amazon.com.
Eco-friendly Construction
Powis iCase has the environment in mind. Fiber content of its handcrafted leather is 100% recycled cowhide fibers. All cases are constructed with 100% recycled board.
Link: Powis iCase
ZooGue iPad Case Just Got Brighter
PR: ZooGue announces the release of additional colors that enhance the appearance of its iPad case's fully adjustable design. Whether it is the smooth strong look of the steel grey or the vibrant limited edition pink, a new look is brought to the highly sought after ZooGue iPad Case Genius. Customers express their excitement as the much anticipated release of multiple colors has now become reality.
Inventor Tim Angel listens to his customers' requests and constantly strives to make his product more accommodating to their needs. He believes by providing colors to the multi functional iPad case, it will give the customer a more personal choice of how they want their precious iPad displayed.
Along with the many upgrades made on the new version Case Genius iPad case, the addition of colors makes the original smart case even brighter!
The ZooGue iPad Case Genius is now available for purchase in black, grey, and pink.
Tim Angel began developing the original ZooGue iPad Case in early 2010. He is driven to be a leader in the industry and is constantly brainstorming on new innovative products. He is passionate about producing products that are simple in their design and easy to use.
Link: ZooGue iPad Case Genius
NewerTech NuStand Alloy Desktop Stand for iPad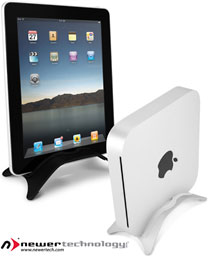 PR: Newer Technology, Inc. (NewerTech) has announced the NewerTech NuStand Alloy desktop stands for holding and displaying an iPad in a stable, modern, and elegant design with added display and placement flexibility.
Easier and More Secure iPad Viewing
The NewerTech NuStand Alloy for iPad is an attractive and safe solution that eliminates hard to view flat and unstable/unsafe "prop" viewing of an iPad. Featuring a sturdy, aircraft grade aluminum body and silicone center, the NewerTech NuStand Alloy for iPad gently yet securely holds an iPad up to a 15 degree angle in either portrait or landscape positions for personal viewing preferences. The open design provides full access to all ports for using, viewing and charging an iPad. Great as a semi-permanent desktop "dock", the NuStand Alloy's lightweight 3.5 ounce compact design makes it easy to transport for use in other locations.
NuStand Alloy Product Line Highlights
Aircraft-grade aluminum body.
Silicone center offers gentle yet secure grip.
Rubberized aluminum finish is soft to touch, yet highly scratch resistant.
Nonskid rubber feet for stable operation.
Lightweight (3.5 oz) for easy portability.
"While the NewerTech name has been synonymous with performance upgrades in the Mac community since 1984, we continue to add unique accessories that deliver enhanced Mac and iDevice use to our product line," says Grant Dahlke, Brand Manager, Newer Technology Inc. "The NuStand Alloy desktop stands visually enhance an iPad or Mac mini while giving users new display and operating conveniences."
The NewerTech NuStand Alloy desktop stands are available immediately for $24.99 MSRP from NewerTech's exclusive distributor, Other World Computing (OWC), as well as through the retail channel.
Link: NewerTech NuStand Alloy Desktop Stand for iPad
Take My Mac Provides a Convenient Method for Apple Users to Trade in and Sell iPhones, Macs, iPads, and iPods
PR: Take My Mac is a re-commerce service that allows Apple users to sell and recycle devices in any condition - including all iPhones, Macs, iPads, and iPods. Top dollar is paid for all devices and satisfactory service is provided to every customer. Take My Mac is geared toward filling your wallet with cash instead of letting harmful electronic materials trickle into landfills.
Take My Mac announces their new, hassle free, and environmentally conscious online service dedicated to anyone seeking to trade in new, used, and broken Apple devices. By focusing directly on the Apple niche, Take My Mac provides a satisfying way to sell Apple products. The company eliminates the expensive and exhausting selling process for all consumers who would endure the selling process themselves.
By providing this reliable, free service throughout the United States, Take My Mac ensures that the selling/recycling process is fast, secure, simple, and highly rewarding. For assurance, Take My Mac will gladly take all Apple electronics without hesitation. When consumers fill out a detailed form describing their device on the service's website, Take My Mac promptly replies back with an above market value quote that exceeds offers from many competitors.
If the consumer accepts Take My Mac's quote, free shipping is provided for the device being traded in. After Take My Mac receives the device, an inspection process is performed to confirm the initial value, following an issuing payment either by PayPal or check to the device's old owner. After payment is sent, the customer has successfully sold their Apple device.
Overall, Take My Mac is devoted to meet the needs of all customers. The service has served hundreds of satisfied customers who are overjoyed with how simple, straightforward, and friendly the trade in process is.
Rob H. from Los Angeles, California happily testified, "This was a most pleasant surprise & an online buyback service that not only caters to Apple products, but also offers a quote that far exceeded at least six other purchasing websites. Though you won't get an instant quote, which turns out to be a plus. Your item is reviewed by a person and the process is much more customer friendly than I've seen anywhere else. I had my quote in less than 24 hours and the rest of my experience was wonderful. Responses to emails are answered quickly and with a big e-smile. What they say they will do on their site is exactly what they'll do. They are a first-rate company I would recommend to anyone."
Pleased customers like Rob makes founder and president of Take My Mac, Andrea Bebirian, feel accomplished. "Take My Mac's vision is to expand this service to dominate our competitors. We're here to solve a problem - which is to specifically provide an eco friendly option for Apple device owners to trade in their unwanted electronics in order to upgrade to newer technology or to gain extra cash. We're here to work together as a team with our new and reoccurring customers. Quotes other companies offer make my heart sink for the fact that if people are seeking to trade in their Apple devices, they deserve more than a fair value for their efforts. I hope that Take My Mac can rapidly expand to offer this service to thousands of Apple device owners seeking a simple solution to sell devices."
By trading in your gadget, thousands of computers, cell phones, and other electronics will avoid becoming a statistic to the growing amount of electronic waste in landfills.
Link: Take My Mac
Join us on Facebook, follow us on Twitter or Google+, or subscribe to our RSS news feed
Links for the Day
Mac of the Day: Power Mac 7500, introduced 1995.08.08. This workhorse introduced a new desktop case and CPU daughter cards for easy upgrade.
Recent Content
Follow Low End Mac on Twitter
Join Low End Mac on Facebook
Favorite Sites
MacSurfer
Cult of Mac
Shrine of Apple
MacInTouch
MyAppleMenu
InfoMac
The Mac Observer
Accelerate Your Mac
RetroMacCast
The Vintage Mac Museum
Deal Brothers
DealMac
Mac2Sell
Mac Driver Museum
JAG's House
System 6 Heaven
System 7 Today
the pickle's Low-End Mac FAQ
Affiliates
Amazon.com
The iTunes Store
PC Connection Express
Macgo Blu-ray Player
Parallels Desktop for Mac
eBay

Advertise