BlackBerry Passes iPhone in US, iOS 4.2.1, iPad vs. Kindle, App Store Censorship, and More
This Week's iPad, iPhone, iPod, and Apple TV News
Compiled by Charles Moore and edited by Dan Knight - 2010.12.06
One of the dangers of Apple controlling apps for its iOS platform is the potential for arbitrary decisions - not so much whether we need yet another fart app, but moral issues, such as the February 2010 ban on "sexy apps" and the November 2010 decision to pull The Manhattan Declaration (covered below), which supports traditional values without bashing others, from the App Store. To our knowledge, Apple has never pulled an app because it promoted alternative lifestyles....
Mac notebook and other portable computing is covered in The 'Book Review, and general Mac news is in Mac News Review.
All prices are in US dollars unless otherwise noted.
News, Reviews, & Opinion
The Competition
Manhattan Declaration Controversy
Apps & Services
Accessories
iPod Deals
These price trackers are updated every month.
News, Reviews, & Opinion
BlackBerry Overtakes Apple in US Mobile Wars
PR: BlackBerry OS overtook Apple's iOS for the first time in the US in November in terms of mobile Internet usage according to web analytics company, StatCounter. The company's research arm, StatCounter Global Stats finds that for the first time in the US BlackBerry OS at 34.3% overtook Apple's iOS which recorded 33% in November.
Google's Android is rapidly gaining and has almost tripled Internet market share from 8.2% last November to 23.8% this year. Apple's iOS has fallen from 51.9% to 33% over the same period.
"These figures suggest that developers should not be developing solely for the iPhone to the exclusion of BlackBerry and Android," commented StatCounter CEO Aodhan Cullen, He added that if current trends continue, BlackBerry and Android combined are on course to become twice the size of iOS as regards mobile Internet usage in the next year.
Commenting on Microsoft's new Windows Phone 7, Cullen observed said that it was not yet registering significantly in terms of Internet usage but would be interesting to observe over the next year, noting: "This data demonstrates that there is a battle royal already going on in the smartphone market for the consumer and business Internet user. You can never underestimate Microsoft but it looks to have its work cut out."
BlackBerry's US lead is not replicated in terms of worldwide share according to the StatCounter data. Globally Symbian OS leads with 31.9% followed by iOS (21.9%), BlackBerry OS (19.3%) and Android (11.6%).
StatCounter Global Stats are based on aggregate data collected by StatCounter on a sample exceeding 15 billion page views per month collected from across the StatCounter network of more than three million websites. StatCounter, which provides free website traffic information, publishes worldwide Internet usage trends via StatCounter Global Stats, a free online research tool.
StatCounter, a free online visitor stats tool, allows its members to monitor the number of hits to their website; the geographical location of visitors; the various pages a visitor views; keywords used to find the site plus other features.
Link: Top 8 Mobile OSs
Tablets Expected to Displace 10% of PCs in 2014
AppleInsider's Katie Marsal reports:
"Tablets and smartphones will significantly affect PC sales in the years to come, with touchscreen devices like Apple's iPad representing 10 percent of PC sales by 2014, according to a new forecast."
Link: Tablets Like Apple's iPad Expected to 'Displace' 10% of PCs in 2014
iOS 4.2.1 for iPad
PR: The iOS 4.2 Software Update for iPad contains over 100 new features for iPad including support for multitasking, folders, unified mail inbox, Game Center, AirPrint, AirPlay, and many system improvements. It is highly recommended for all iPad users.
iOS 4.2 for iPad includes the following:
Multitasking support for third-party apps

Multitasking user interface to quickly move between apps, adjust screen brightness, control playback, lock screen-rotation, and manage print jobs
Support for audio apps to play in the background
VoIP apps can receive and maintain calls in the background or when device is asleep
Apps can monitor location and take action while running in the background
Alerts and messages can be pushed to apps using push and local notifications
Apps can complete tasks in the background

Folders to better organize and access apps
Mail improvements

Unified inbox to view emails from all accounts in one place
Fast inbox switching to quickly switch between different email accounts
Threaded messages to view multiple emails from the same conversation
Import .ics files into Calendar
Open attachments with compatible third-party apps
File or delete search results
Option to select size of photo attachments
Messages in the Outbox can be edited or deleted

Game Center

Send and receive friend requests
Invite friends to multiplayer games over the Internet
Play multiplayer games by auto-matching with other players
View Leaderboards and Achievements
Discover new games from friends

AirPrint

Print mail, photos, web pages, and more directly to AirPrint compatible printers on a local wireless network

AirPlay

Wirelessly stream videos, music, and photos to Apple TV
Wirelessly stream music to AirPlay-enabled speakers or receivers, including AirPort Express

Find text on web pages in Safari
Use Spotlight to search the web and Wikipedia
Suggestions and recent searches appear during a web search
Support for TV show rentals using iTunes
Create and edit iTunes playlists on device
Support for iTunes gifting of apps
Send and accept calendar invitations wirelessly with supported CalDAV servers
Support for MobileMe calendar sharing
Enhanced location privacy

A Location Services icon appears in the status bar to indicate when Location Services are being used
Location Services can be enabled and disabled per app
Indication of apps that have requested your location within the last 24 hours

Additional Parental Controls

Prevent adding friends in Game Center and deletion of apps
Restrict changes to Accounts and Location Services settings

New languages, dictionaries and keyboards
New fonts available in Notes
Wirelessly sync notes using IMAP-based mail accounts
Automatic spellcheck
Silence background sounds using the Silent switch on the side of iPad
Improved support for Bluetooth AVRCP
Persistent WiFi connection to receive push notifications

Support for Bluetooth Braille displays and International Braille tables, control VoiceOver using an external keyboard, and other accessibility enhancements
Wireless delivery of carrier settings updates for iPad WiFi + 3G
Improved enterprise support
Support for third-party Mobile Device Management solutions
Enables wireless distribution of enterprise applications
Exchange Server 2010 compatibility
Support for multiple Exchange ActiveSync accounts
Support for Juniper Junos Pulse and Cisco AnyConnect SSL VPN apps (available from the App Store)

More than 1,500 new developer APIs
Bug fixes
Products compatible with this software update:
This update is available via iTunes.
Note: iOS 4.2.1 is the version number displayed in the iOS user interface and iTunes.
System Requirements:
Mac or PC computer with USB 2.0 port
iTunes 10.1 or later
Products compatible with this software update: iPad (WiFi and WiFi + 3G)
Supported Languages: Deutsch, English, Français, XXX, Español, Italiano, Nederlands
Link: iOS 4.2 Software Update for iPad
iOS 4.2.1 for iPhone, iPod touch
PR: The iOS 4.2 Software Update contains improvements, including the following:
AirPrint

Print mail, photos, web pages, and more directly to AirPrint compatible printers on a local wireless network

AirPlay

Wirelessly stream videos, music, and photos to Apple TV
Wirelessly stream music to AirPlay compatible speakers and receivers, including AirPort Express

FaceTime improvements

Initiate calls with Voice Control
Initiate calls from an SMS conversation
Support for Bluetooth accessories

Find text on the web page in Safari
New fonts setting available for Notes
New SMS/MMS text tones and the ability to set custom tones per contact
Additional restrictions (parental controls) available:

Account settings
App deletion
Game Center friends
Location settings

Ability to import .ics files into Calendar
Bug fixes, including:

Eliminates sound artifacts occasionally captured in recorded audio with 4th generation iPod touch
Improves audio playback to car stereos via USB
Products compatible with this software update:
iPhone 4
iPhone 3GS
iPhone 3G
iPod touch 2nd generation or later
This update is available via iTunes.
Note: iOS 4.2.1 is the version number displayed in the iOS user interface and iTunes.
System Requirements:
Mac or PC computer with USB 2.0 port
iTunes 10.1 or later
Products compatible with this software update:
iPhone 4
iPhone 3GS
iPhone 3G
iPod touch 2nd generation, or later
Game Center requires iPhone 4, iPhone 3GS, iPod touch 2nd generation or later.
Link: iOS 4.2 Software Update
What Would You Do With an iPad USB Port?
ZDNet blogger Jason D. O'Grady reports:
"A vague rumor surfaced on Friday from DigiTimes that the iPad 2 would have five new features. Four are predictable, but the fifth - a USB port - is out of left field."
O'Grady notes that all 125+ million iOS devices worldwide use Apple's proprietary dock connector for charging and syncing, giving Apple complete control over data syncing and the accessory market, making the lack of an industry-standard USB port an important part of Apple's dominance of portable media - if you want to load something on an iPhone/iPad/iPad, that's fine, as long as it uses Apple codes and you load it via iTunes and a dock cable.
O'Grady observes that Apple makes a bundle selling NAND Flash memory in its upgraded 32 GB and 64 GB devices, so adding a real USB port could conceivably allow users to opt for a flash drive or cheap external hard drive for the 16 GB iPad instead of shelling out for Apple's pricey 32 GB and 64 GB models.
Editor's note: However, the lack of USB support is a deterrent to some potential iPad buyers (such as me) who want I/O freedom and connectivity. cm
Link: What Would You Do With an iPad USB Port?
Rumorbusting: USB on the iPad
ZDNet's Adrian Kingsley-Hughes notes that a rumor is making the rounds that Apple is planning to fit the second-generation iPad is a USB port. Time for some rumor busting.
Link: Rumorbusting - USB on the iPad
iPad Slated for Trip to the Fat Farm
The Register's Rik Myslewski reports that Apple has applied for a patent that appears to be a tacit admission of a common complaint about its magical and revolutionary iPad: the Cupertinian "slablet" is just too heavy.
Myslewski says that Apple's solution appears to be a light-but-rigid body made not of aluminium, but of carbon fiber reinforced plastic (CFRP). This is evidenced by a patent application, "Reinforced Device Housing", issued Thursday by the US Patent and Trademark Office, although the documentation doesn't mention the iPad specifically.
Editor's note: No indication as to how much lighter a CFRP iPad would be, but this technology could also replace the glass back on the iPhone and the metal back on the iPod touch. dk
Link: iPad Slated for Trip to the Fat Farm
Next iPad Could Be Lighter: Apple May Use Carbon Fibre
IBTimes' Carl Bagh reports that a patent filing by Apple for a technology that uses carbon fiber material for electronic devices could be an attempt by Apple to make lighter iPads.
The patent titled "Reinforced Device Housing" claims a "housing, comprising: a frame formed from a first material; a skin formed from the first material separately from the frame and bonded to the frame; wherein the skin is formed from multiple layers of the first material; and a portion of the skin covers at least a wall of the frame."
Link: Next iPad Could Be Lighter; Apple May Shun Aluminum for Carbon Fibre
Not So Fast on the 2G iPad Retina Display
ZDNet blogger Jason D. O'Grady says that in order for a 9.7" iPad to qualify as a Retina Display (300 ppi) the screen would need a resolution of 2560 x 1920 - which would top every other display that Apple currently ships. O'Grady observes that a larger Retina display would be a killer feature for a tablet and help further differentiate the iPad from a growing pool of rivals.
Or will it?
Editor's note: There's nothing magical about 300 pixels-per-inch. Also, because of its larger display, the iPad tends to be used a bit further from the eyes than the much smaller iPhone and iPod touch. Doubling the iPad's resolution to 2048 x 1536 should be sufficient, as that would be 264 ppi. That's still very high resolution for a display this large, but more realistic than 2560 x 1920! dk
Link: Not So Fast on the 2G iPad Retina Display
WiFi and Cellphone Signals Damaging Trees
PR: A report released by Wageningen University in the Netherlands says that lab tests of the effects of electromagnetic radiation on plant growth indicates that the radiation, such as that emitted by cellphone and WiFi wireless towers, might be negatively affecting the health of vegetation.
Wageningen University researchers found that ash trees in urban environments are increasingly suffering from growth disturbances particularly near WiFi access points, with discoloration and dieback of foliage observed. The report notes that although the effects of multiple radiation sources in several trees were found, researchers found it desirable to confirm by repeating the testing, preferably over a longer period and on a larger scale.
In the meantime, they note that trees in urban areas are lately showing an increasing incidence of damage like cracks, bumps, discoloration and various forms of tissue necrosis, phenomena more typically caused by biological factors such as pests and diseases. However, to date, none of those causes has been identified.
Wageningen University was commissioned by the municipality of Alphen aan den Rijn to investigate how the increasing number of sources of electromagnetic radiation, such as masts could play a role in the deteriorating health of trees. The areas studied had been exposed for more than three months to six sources of radiation with frequencies ranging from 2412 to 2472 MHz and a power of 100 mW EIRP at 50 cm distance.
Leaves subjected to this radiation during the study showed after a few months a "metallic luster" appearance, a discoloration of the leaves that appeared to result in disappearance of the outer cell layer of the leaves. The metallic luster was followed by desiccation and death of a portion of the leaf.
The researchers say their initial findings suggest that all western deciduous trees are affected by the phenomenon, but suspect other categories of plants are also likely to be affected.
The reports is in Dutch.
Link: Bomen Hebben Last van Elektromagnetische Straling (Converted to English with Google Translate)
Your Next Watch May Be an iPod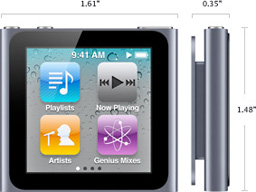 ZDNet blogger Jason D. O'Grady says that when the sixth generation iPod nano was announced, Steve Jobs commented that an Apple board member planned to wear it as a watch, and subsequently a cottage industry sprang up offering ways to wear the new nano as a watch, facilitated by Apple's inclusion in the nano of an elegant analog Clock app and a "Time on Wake" setting that, when enabled, displays the Clock app (instead of the home screen) when you press the sleep/wake button.
O'Grady profiles the players in this category here:
Link: Why Your Next Watch May Be an iPod, and Vice-versa
Canadian Recording Artists Want Federal Government to Re-impose MP3 Tax
The Canadian Press reports that an array of Canadian music stars, including Anne Murray, Nickelback's Chad Kroeger, and members of the Tragically Hip, called on Canada's federal government to impose a levy on MP3 players, with more than 350 musicians signing a letter addressed to Industry Minister Tony Clement and Heritage Minister James Moore about the government's copyright bill, C-32, currently being studied by the Canadian House of Commons
CP says the letter urges the ministers to apply a levy to MP3 players that would later be redistributed to artists in royalties, in the same way that levies are currently applied to blank cassettes and CDs as compensation for music that is copied by Canadians, and that last week, a group of Canadian actors lobbied MPs on Parliament Hill on the same issue on behalf of actors union ACTRA.
However, the report notes that Clement and Moore have been inclined to tilt toward consumer interests on this issue, consistently affirming that they are against applying a levy to MP3 players, calling it an unnecessary tax on Canadians.
In Canadian Tax on iPhones and iPads. A Stupid Idea That's Finally Put to Bed?, EhMac reported that according to the Globe & Mail, Canada's federal Industry Minister has rejected new calls for a federal fee on smartphones and handhelds, such as the iPhone, iPad, and Blackberry, to compensate Canadian artists for file-swapping, deeming this a rare moment of common sense out of Ottawa deserving a full standing ovation.
As background, since 1997 Canada has levied a charge on the purchase of CDs that is supposed to compensate artists for the private copying of music. The levy collects 29¢ per CD - more than the value of a blank CD these days - a tax grab that currently collects about $15 million a year.
In a 2003 ruling by the Copyright Board, this was expanded to cover MP3 players, a decision that was reversed by the Federal Court of Appeal in 2005.
The Alliance of Canadian Cinema, Television and Radio Artists having been pressuring Ottawa to extend this to devices like the iPhone.
Link: Canadian Recording Artists Want Federal Government to Impose MP3 Tax
Kids Want iPads, Parents Shudder
PC World's Jeff Bertolucci says:
"The iPad is the most desired tech item this holiday shopping season among children aged 6 to 12. A new Nielsen survey shows that Apple's bestselling tablet tops the wish list of US kids, edging out a computer and the iPod touch, which tied for second place.
"...the question is whether cash-strapped parents will place a shiny new iPad under the Xmas tree."
Link: Kids Want iPads, Parents Shudder
The iPad: 'Mac for the Masses'
Digital Daily's John Paczkowski notes that:
"In addition to an early lead in the tablet market, the iPad appears to have given Apple something potentially more valuable: A foothold in the budget-conscious demographic that has typically paid little attention to it.
"In a note to clients . . . Piper Jaffray analyst Gene Munster recounts his observations from a Black Friday spent surveying Apple stores, revealing that Apple is selling more iPads per hour than Macs and it's selling them to folks who may not have considered Apple affordable until now."
Link: The iPad: 'Mac for the Masses'
Impact of the iPad and the Amazon Kindle on the e-Reader Market
PR: The e-Reader market has essentially become a two horse race between the Amazon Kindle and the Apple iPad, according to ChangeWave's latest survey of more than 2,800 consumers.
The Amazon Kindle (47%; down 15-pts) is hanging on to a rapidly diminishing lead over the Apple iPad (32%; up 16-pts) among current e-Reader owners. However, the iPad's share of the overall market has doubled since the last time ChangeWave surveyed e-Reader owners in August.
The rest of the market includes the Sony Reader (5%) and the Barnes and Noble Nook (4%).
In terms of owner satisfaction ratings, here's how the Apple iPad stacks up to the Amazon Kindle. (Note: 2% of iPad owners and 3% of Kindle owners selected Don't Know/NA.)
While both devices are highly rated, three-in-four iPad e-Reader owners (75%) say they are Very Satisfied with their device compared to 54% of Kindle e-Reader owners.
We also asked e-Reader owners about the types of content they're reading on their devices - and found major differences between iPad and Kindle owners.
Which of the following types of content do you currently read with your eBook Reader?
Amazon Kindle owners are more likely to read books on their device (93%) than iPad owners (76%).
But iPad owners are nearly five times more like to read Newspapers and Magazines than their Kindle counterparts, and 15 times more likely to read Blogs and News Feeds.
Before the iPad launch, Steve Jobs promised that a major effort would be made to develop alternative types of media on the Apple Tablet. The survey evidence suggests Apple has been highly successful in this regard to date.
These results also lend credence to recent reports that News Corp. is developing a paid Apple iPad-centered newspaper, to be launched at the beginning of next year.
e-Reader Demand for the Holidays
Going forward, e-Reader demand remains strong for the holidays, with 5% of respondents saying they are Very Likely to buy an e-Reader and 10% Somewhat Likely over the next 90 days.
For Amazon, this is a clear positive that will help drive growth for the Kindle over the holidays. Moreover, Amazon is among the handful of key retailers in ChangeWave's latest Holiday Spending survey that are benefiting most from the overall increase in consumer spending.
That said, the ChangeWave survey shows the Apple iPad will be the biggest beneficiary of the expanding e-Reader market this holiday season.
The following chart shows the percentage of respondents who plan to buy an e-Reader in the next 90 days and who they'll buy from:
Which of the following eBook Readers will you most likely buy?
The ChangeWave survey shows the Apple iPad (42%) will be the biggest beneficiary of the expanding e-Reader market this holiday season, followed by the Amazon Kindle (33%)
ChangeWave's latest Consumer Electronics for the Holidays survey - completed November 8, 2010 - also focuses on the iPads impact on the overall Tablet market, including competition between Apple, Dell, Research in Motion, Samsung and HP, among others.
Additional report details include:
Overall consumer electronics spending and the hottest electronics items for the holidays
Cannibalization of other electronic products due to Tablet momentum
Preferred wireless service providers among iPad buyers - Verizon vs. AT&T
Changes in consumer planned buying for laptops, desktops and Netbooks - and a look at demand for Apple (AAPL), Dell (DELL) and Hewlett-Packard (HPQ) computers
Spending trends for leading home entertainment retailers including Amazon (AMZN), Best Buy (BBY), Costco (COST), and Wal-Mart (WMT), among others
The complete 30 pages PDF Format ChangeWave report is available for $1,500.
Link: ChangeWave Research: Consumer Electronics Report - Monster Holiday Season for Apple
Tips and Tricks for Troubleshooting Your iPad
Computerworld's Brian Nadel notes that anyone who has spent any amount of time with an iPad will know that like all computers it sometimes doesn't do what it's supposed to do. It could be a frozen screen, a system that overheats, or a refusal to recharge. The result is the same: You have to figure out what's wrong with it and how to get it back on the straight and narrow, but as is also common with IT hardware these days, a major problem is that the iPad doesn't come with a detailed manual or any diagnostic software.
Nadel offers some useful troubleshooting routines for the things that most often go wrong with an iPad, along with several tips and shortcuts for how to get the system to act the way you want it to.
Link: Tips and Tricks for Troubleshooting Your iPad
The Competition
Archos 101 Internet Tablet Out in Europe; US Soon
PR: The Archos 101 Internet tablet is about to arrive in North America with a 1024 x 600 10.1'' screen, a weighing 1.1 pounds and measuring 12 mm thick
The Archos 101 also features an adjustable leg stand, for the best positioning to tap out your emails, view a movie, or enjoy the photo frame application.
HD multimedia support means that most music, video, or photo formats it will play, and built-in HDMI video output provides low-hassle interface on your TV screen, while a full-sized USB 2.0 port on the side of the device makes it easy to directly transfer your files without using a PC. There's also a Micro SD Slot (SDHC compatible)
The Android-based Archos 101 is powered by an ARM Cortex A8 at 1 GHz with DSP and a 3D OpenGL ES 2.0 Graphics accelerator
Also included are WiFi (802.11 b/g/n). Bluetooth 2.1 EDR, a built-in speaker and microphone, a front VGA camera. Battery life is claimed to be up to 36 hours.
Price is anticipated to be around $300.
Link: Archos 101 Internet Tablet
RIM PlayBook to Hit Market in Q1 2011
DigiTimes' Chloe Yu, and Yvonne Yu report that Waterloo, Ontario based Research in Motion (RIM) is planning to release its new PlayBook tablet PC in the US and Canada in the first quarter of 2011, with worldwide rollout coming in the year's second quarter, according to RIM's regional VP for Asia Pacific Gregory Wade.
The reporters note that while the PlayBook will support 4G technology, Mr. Wade declined to disclose whether the technology will be WiMAX or TD-LTE, but did note that the RIM tablet will target corporate users, providing full security updates for hardware and software, and will support BlackBerry 6, WebKit, Java, Adobe and Flash at a starting price of $500, matching Apple's entry-level iPad tablet.
Link: RIM PlayBook to Hit North American Market in Q1 1011, Worldwide in Q2 1011 (subscription required)
BlackBerry PlayBook Pricing Revealed
Mobility Insider's Ryder says:
"We were the first to get our hands on a PlayBook (First Report) and now the first to bring pricing details to our loyal mobile enthusiasts.
"There will be 3 models of the BlackBerry PlayBook (8 GB, 16 GB, and 32 GB) that are currently tagged with the following prices according to our insider:
8 GB: $399
16 GB: $499
32 GB: $599
Editor's note: This would give the PlayBook at $100 price advantage over a comparable iPad. Of course, Apple will be releasing a second-generation iPad in early 2011.... dk
Link: BlackBerry PlayBook Pricing Revealed
Acer Aims at Largest Global Market Share for Tablet PCs 'in 2-3 Years'
DigiTimes' Yen-Shyang Hwang and Adam Hwang report that Acer CEO Gianfranco Lanci, at a press conference for Taiwan-based media in New York, stressed that faced with increasing competition for tablet PCs in the global market, Acer takes a fearless attitude and will avail itself of relative advantages to strive to attain the largest global market share in 2-3 years. The article includes highlights of a Q&A session with Lanci.
Editor's note: On November 23, Acer announced its first Android-based tablets, which will come to market sometime in 2011. dk
Link: Acer Aims at Largest Global Market Share for Tablet PCs in 2-3 Years, Says CEO (subscription required)
Manhattan Declaration Controversy
Apple Deletes Manhattan Declaration iPhone App
PR: To Manhattan Declaration Signers,
Some of you may be aware by now that Apple has removed the Manhattan Declaration iPhone/iPad application from the iTunes Store. This happened some time over the Thanksgiving holiday.
The Manhattan Declaration app was accepted by Apple and rated as a 4+, meaning it contained no objectionable material. Yet Apple pulled the app shortly after a small but very vocal protest by those who favor gay marriage and abortion. These groups claim that the Manhattan Declaration promotes "homophobia" and that its supporters are "anti-gay."
For Clarity
We emphasize with great sincerity that "disagreement" is not "gay-bashing." Anyone who takes the time to read the Manhattan Declaration can see that the language used to defend traditional marriage, the sanctity of human life, and religious liberty is civil, non-inflammatory, and respectful.
The Manhattan Declaration clearly calls its signers to reject "disdainful condemnation" of those who disagree and declares that all people are worthy of respect, because all are loved by God.
Recent Developments
We are urging Apple to restore the App, and have written to Steve Jobs. We will update you with developments as they arise.
Link: Manhattan Declaration Addresses Signers on Apple Pulling iPhone App
Apple Deletes 'Anti-gay' App
MacUser UK's Simon Aughton reports that:
"Apple has removed a Christian app from the iTunes store, following complaints that it encouraged homophobia.
"The Manhattan Declaration asked users to add their names to a 5,000-word statement that 'speaks in defense of the sanctity of life, traditional marriage, and religious liberty'."
"Apple has been a public supporter of same-sex marriage, donating $100,000 to the campaign against an ultimately successful effort to overturn a Californian law which permitted same-sex unions."
Link: Apple Deletes Christian 'Anti-gay' App
Pro-Life Group Asks Apple to Restore Manhattan Declaration App
Life News' Steven Ertelt reports:
"The pro-life organization behind the popular Manhattan Declaration has asked Apple CEO Steve Jobs to reconsider the company's decision to pull its app from the popular Apple App Store.
"Last week, Apple removed the Manhattan Declaration app that had been available to its iPhone and iPad customers. The move by the computer company came after opponents of the Declaration, which sets forth pro-life and pro-family values, circulated a petition calling the app a "hate fest" that promotes "hateful and divisive language."....
"Manhattan Declaration spokeswoman Michelle Farmer told The Daily Caller today that the organization does not support hate or hateful rhetoric towards people who back legalized abortion and hopes Jobs will be open-minded of its concerns and tolerant of allowing the app at the Apple Store."
Link: Pro-Life Group Tells Apple: Restore Manhattan Declaration App
Apple Ignoring Request to Restore Manhattan Declaration App
Manhattan Declaration signatories have posted the following note:
"Dear Friends,
"We sent a letter to Steve Jobs at Apple asking that our app. be reinstated to the company's iTunes and iPhone application store. Despite having approved and posted the app on its online store in October - and giving the app a 4+ rating for "no objectionable content" - Apple quietly pulled the app. from its site over the Thanksgiving holiday weekend.
"Although Apple has not communicated directly with us, a public relations representative from Apple told Family News in Focus radio that the app violated Apple's developer guidelines by being "offensive to large groups of people." Apple's action followed a small but vocal protest from pro-gay "marriage" and pro-abortion groups.
"Four Things You Can Do To Help!
Contact: Email or call Steve Jobs and tell him why he should reinstate the Manhattan Declaration app to the iTunes Store. Email him at steve@apple.com or call his media team at (408) 996-1010.
Sign: Sign our petition to have the app reinstate the app. Apple listened to a small group of dissenters and took action, so we expect they will take action when every Manhattan Declaration signer signs this petition.
Recruit: Get all of your pro-life, pro-marriage, pro-religious liberty friends to read and sign the Manhattan Declaration. We need to grow in both unity and numbers if we hope to have our voices heard.
Get Social: Use your Facebook, Twitter, and other social media accounts to keep the discussion going. We have been engaging countless people through our Facebook and Twitter pages - and you should too.
Sincerely,
Chuck Colson
Dr. Robert George
Dr. Timothy George"
Link: Apple Ignores Request to Restore Manhattan Declaration App
Apps & Services
Find My iPhone Now Available Free on iPad, iPhone 4, iPod touch
PR: Apple says that starting immediately, anyone with an iPad, iPhone 4, new iPod touch (4th generation) running iOS 4.2 can sign up for Find My iPhone for free right on their device.
Find My iPhone lets you easily locate a misplaced iPad, iPhone, or iPod touch on a map.(*) You can also have your device play a sound and display a message to help someone return it to you, or you can remotely lock its screen or wipe all of its data to protect your privacy. To locate a missing device, just use the free Find My iPhone app on any other iOS device, or use Find My iPhone at me.com from any computer web browser. To see Find My iPhone in action, check out this video.
To get started, make sure you're running iOS 4.2 on your qualifying device, then sign up in Settings using your Apple ID. For step-by-step instructions, see the iPad, iPhone 4, and iPod touch setup pages.
If you have a MobileMe subscription, Find My iPhone is already included, so no additional signup is required. For more information on getting Find My iPhone, see:
Update Find My iPhone App to Version 1.1
The newest Find My iPhone app (v1.1) has just been released and includes improved support for iOS 4 devices. If you are running an older version, it's important to update as previous versions are no longer supported.
To update to the newest version of Find My iPhone, visit the App Store on your device and select Updates. Signing in to an earlier version of the Find My iPhone app will also take you directly to the App Store where you can update for free.
Link: Find My iPhone Now Available Free on iPad, iPhone 4, New iPod touch
Link: Update Find My iPhone App to Version 1.1 (download link)
Christmas C@rds HD: The Christmas App for the iPad
PR: After last year's success of Christmas C@rds for the iPhone, Hot Chili Apps is expanding their Christmas Card Edition: From December 2010, digital postcards can be designed on the iPad in HD quality and in a complete new look. Christmas C@rd HD will be an eye catcher for visitors of the Christmas App Store this year due to its design and special features.
Christmas C@rds HD are e-cards. The user has a choice of various graphic elements for designing his own Christmas card to his individual taste. 36 brilliant C@rd templates are available in HD. They can be decorated on the iPad with personal photos or texts as well as one from 18 stickers. The application is very easy to use because its functions are supported by iPad's ingenious features.
Hot Chili Apps' Christmas C@rds for the iPhone have received a lot of recognition in 2009: the Appstore supported it immediately by choosing the app for its Christmas promotion. The Financial Times picked Christmas C@rds from one of the five best Christmas Apps and Apple made it part of his cross-European print campaign for iPhone.
Its success has been a real challenge for Dusseldorf based Hot Chili Apps this year. "For the first time we are offering HD and even more extensive and sophisticated template designs to our users," CEO Farid Zendagui explains his strategy for Christmas 2010. "Our app's possibilities are benefiting from the innovative capabilities of the iPad. Christmas C@rds is still available for users of iPhone and iPod touch though."
Christmas C@rds HD combines latest technology standards with classic design style in high-definition picture quality. The app offers ideal conditions for an atmospheric Christmas card design like a traditional paper postcard with postage stamp and patina or a luxurious writing desk top made of cherry wood. Another novelty is an easily manageable overview of the templates at one glance apart from many other innovative design templates.
Supported Languages: US English, French, German and Italian
Device Requirements:
Compatible with iPad
Requires iOS 3.2 or later
24.5 MB
Christmas C@rds HD 1.0 is $3.99 (or equivalent amount in other currencies) and available worldwide exclusively through the App Store in the Lifestyle category. In addition to Christmas C@rds HD Hot Chili App will be launching two other items of its C@rd edition in HD for iPad use in December: Birthday C@rds for creative birthday wishes and Love C@rds for sending individually crafted tokens of love.
Link: Christmas C@rds for iPhone/iPod touch (download link)
Link: Christmas C@rds HD for iPad (download link)
AirPrint Hacktivator Restores AirPrint to OS X 10.6.5
Thinq's Stewart Meagher reports:
"AirPrint Hacktivator unlocks some of the iDevice printing functionality we all expected from iOS 4.2, but it's far from complete, and in no way perfect.
"The tiny application, which uses files included in a previous developer version of OS X 10.5.6 as far as we can tell, allows some USB-connected printers to talk to iPhones, and iPads with mixed results."
Link: Hacktivator Removes Apple AirPrint Block
Link: Return AirPrint sharing to Mac OS X v10.6.5
Mobile Device Users Can Now Print Anytime, Anywhere
PR: EFI today released PrintMe Connect for AirPrint, a free software application that enables direct printing from Apple iPad, iPhone and iPod touch iOS 4.2-enabled devices to EFI Fiery-driven printers or multifunction peripherals (MFPs). Targeted at enterprise and mobile print environments, PrintMe Connect for AirPrint is one of the first offerings available to support Apple's new AirPrint platform and iOS 4.2. EFI, a leader in mobile printing solutions for over nine years, extends its flagship line of PrintMe mobile and cloud-based printing applications with this latest offering.
"With the launch of PrintMe Connect for AirPrint, EFI is satisfying one of the top requests from iPad, iPhone and iPod touch users everywhere with a solution for printing directly from these mobile devices to a broad array of more than 250,000 Fiery-driven printers and MFP's installed today," says Toby Weiss, general manager of Fiery and senior vice president, EFI. "Following on the heels of our recent PrintMe enhancements, this unique offering enables business professionals to easily and quickly print from any application on their Apple device to almost any Fiery printer. No existing corporate printer fleets out there today work with the new iOS 4.2 software - until now."
With AirPrint and the iOS 4.2 software, people using Apple devices will find a print function automatically enabled on their device and can select a printer on their network and print. Once installed by a corporate IT department, PrintMe Connect for AirPrint will show all available Fiery-driven printers(*) as destinations on a user's printer list. There is no need for the individual user to download an application or for the enterprise to purchase a specific iOS-enabled printer or upgrade or modify existing printers or MFPs.
With the recent explosion of smartphones and tablets, now more than ever, mobile workers need to be able to access and print their documents on the go. EFI PrintMe and PrintMe Connect for AirPrint technology make this possible today. To install the software on the printer network, IT managers can download PrintMe Connect for AirPrint software for free.
(*) Compatible with Fiery System 8 (released in 2006) and later
Link: PrintMe Connect for AirPrint
International Herald Tribune Releases Apps for iPad and iPhone
PR: The International Herald Tribune (IHT) has released its first news applications for the iPad and iPhone. Access to the full content of the apps will require a simple registration and will be free until early 2011.
The apps feature the content of the IHT in an elegant and easy-to-navigate design that echoes the contemporary, international look of the newspaper with a home page section called Front Page. The Latest News section features breaking stories from global.nytimes.com throughout the day, and other sections - World News, Business with Reuters, Culture & Style, Sport and Views - are fully refreshed for the Europe and Asia mornings. Both apps also feature a Day in Pictures slideshow and international video content from global.nytimes.com.
Stephen Dunbar-Johnson, publisher of the IHT, said: "Now our well-traveled and sophisticated audience can enjoy the IHT's fresh and original take on the world's daily news combined with the elegance and interactivity of the iPad or iPhone. This is great news for readers and advertisers alike and is further proof of our commitment to making the IHT's unique brand of global journalism available wherever our readers are and however they want it."
The IHT apps also include the following features:
Dropdown section listings and a popover article rail allow users to easily move between sections and articles;
Slide shows - full-page slide shows display large-scale images tailored for the iPad or iPhone screen;
Share options - share articles, videos and multimedia with a full set of tools, including Facebook, Twitter and e-mail;
World Weather - handy in-app tool, with five-day forecasts, satellite maps and an extensive choice of locations around the globe, useful for international travelers.
The IHT apps are the first to be developed through Press Engine, a technology and design solution from The New York Times News Services that enables publishers and media organizations to deliver their content via elegantly designed applications for iPhone and iPad. Press Engine applications are designed to integrate with publishers' registration systems, enabling the app to be offered as a free, registration or subscription product. Publishers who seek additional information about Press Engine may contact Christine Topalian, director, News Services, at +1 212-556-2087 or topalcn@nytimes.com.
The International Herald Tribune app for iPad is available for free from the App Store.
The International Herald Tribune (IHT) is the premier international newspaper for opinion leaders and decision-makers around the globe. It combines the extensive resources of its own correspondents with those of The New York Times, is printed at more than 38 sites throughout the world and is for sale in more than 180 countries. Based in Paris since 1887, the IHT is owned by The New York Times Company.
Link: International Herald Tribune App (download links: iPhone/iPod touch, iPad)
Tea Party Memo App Now Free
PR: Texas based Politically Mobile, LLC announces that it is offering Tea Party Memo as a free iPhone app, available for download in Apple's App Store in the news category. Since its initial release in February 2010, Tea Party Memo has consistently been among the most successful apps in the paid news apps category and the most successful Tea Party app.
Tea Party Memo successes:
Ranked among the top 50 selling paid news apps for 8 weeks in a row
Consistently ranked among the top 20 selling paid news apps throughout the month leading up to the 2010 mid-term elections
Featured in "What's Hot" in the iTunes Store news category
Ranked as one of the top 10 US Election Day apps by MacDailyNews
Highly rated by its users
In addition to offering daily updates of top stories and commentary selected from trusted news outlets, Tea Party Memo provides updates from local Tea Parties, features top Conservative bloggers and offers users the opportunity to upload and share photos and reports.
Device Requirements:
iPhone, iPod touch, and iPad
Requires iOS 3.0 or later (iOS 4.0 Tested)
3.0 MB
Tea Party Memo 1.3.4 is free and available worldwide exclusively through the App Store in the News category. The developers of Tea Party Memo believe transitioning from a paid to free app will lead to increased user-contributed content and open up greater sharing and networking possibilities.
Link: Tea Party Memo (download link)
Accessories
BoxWave Keyboard Buddy iPhone 4 Case Adds Slide-Out Keyboard
PR: The Keyboard Buddy Case appears to simply be a protective case when the keyboard is not in use. Combining ergonomic technology with sleek aesthetics, the Keyboard Buddy Case is a protective backing for your Apple iPhone 4 that also includes an integrated slide-out Bluetooth keyboard. The low-profile keyboard slides out, allowing you to easily transition between the Apple iPhone 4's touchscreen and a physical keyboard.
Keyboard Buddy Case Features:
Formfitting shell designed to snap on securely to perfectly fit your Apple iPhone 4
Cutout design for the touch screen so that you can keep the same tactile feel as using the Apple iPhone 4 without a case
Conveniently designed to provide quick access to all of Apple iPhone 4's controls, features, camera, and ports
Integrated slide-out Bluetooth keyboard allows you to switch from the touch screen to a physical keyboard as desired
Includes a USB cable to charge the integrated keyboard
Bluetooth keyboard on/off switch allows you to turn the keyboard off when not in use to conserve battery power
Finished with a high-quality smooth coating making the case smooth to the touch
Charge Duration: 45 days
Bluetooth version 2.0
Jet Black color
Regular Price: $79.95
Web Special: $69.95
Free shipping within US
Preorder (shipping December 14, 2010)
Link: BoxWave Keyboard Buddy iPhone 4 Case
Self Powered iFlash Module Plugs Directly into Phone or iPod for Instant LED Light
PR: Love the diversity of your iPhone but still get the feeling you are not able to take full advantage of the camera function?
Frustrated at not being able to use the camera function in badly lit areas? We have the perfect solution to avoid the disappointment. Simply attach the iFlash to your iPhone 3G and you have instant access to an efficient flash to help illuminate most poorly lit areas.
iPhone 4 users could also gain a bit of help from additional light, no?
With this compact and light iFlash always on hand, all you need to do is insert it into the docking port of your iPhone and let there be light ... finally. You can even use the iFlash as a flashlight so you no longer have to worry about finding your keys again! Just push the button and say Flame On! Well, perhaps you don't need to say that, but I always like a bit of a dramatic kick to it.
When not in use, this small and compact iFlash can be attached to the iPhone through a plastic 3.5mm jack and left dangling from the iPhone like a phone charm.
Features:
Take Better Pictures In The Dark
Use As Powerful LED Flashlight
3.5mm Jack Attachment For Quick Carry
Small and Compact
Fits Under Most Cases
Specifications:
Brightness LED 10cd 13cd ~
Color Temperature: 5000K
Viewing Angle: 60 degrees
Color: Black or White
Dimensions: 44mm x 19.5mm x 11mm
System requirements:
iPhone 3G/3GS/4,iPod Nano 3/4/5G, iPod touch 1/2/3
Compatible with all iPhone (30 Pin Connector)
Compatible: iPhone 3G/3GS/4,Nano 3/4/5G, Touch 1/2/3
iFlash External Flash for iPhone & iPod sells for $39.95
Link: iFlash External Flash for iPhone & iPod
180° Fisheye Lens for iPhone 4G
PR: Features:
Wider Angle captured - up to 180°
Portable and detachable, you can take photo with your iPhone 4G at any time
Comes with a Back Cover, whenever you need to take photo with Fisheye, just screw on the Fisheye Lens on, then you can take 180° Fisheye picture with your iPhone 4G
The back cover is suitable for our Wide-angle Lens for iPhone 4G, Macro Lens for iPhone 4G and 8x Telephoto Lens for iPhone 4G too (see note below)
Back cover for video / Picture Viewing
High Clarity: Made of high-class glass
Strong: Made of top-grade Aluminum
This accessory is suitable for (compatible with): Apple iPhone 4G
How to use?
Put the Back Cover On
Screw on the 180° Fisheye Lens
Then you can take picture
Specifications:
Magnification: 180° Fisheye (0.28x)
Lens Construction: 3 elements in 3 groups
Lens Dimensions (main body): 25mm (diameter) x 15mm (length)
Weight: 12g
Note:
The Back cover for the Macro Lens is also (and only) for the 8x Telephoto Lens, Wide-angle Lens, and Marco Lens, not suitable for other lens that we have in our shop unless specified.
The Flash Light will be blocked when the lens is on.
There will be some black area in the 4 corners when using fisheye Lens.
$27.99
Link: 180° Fisheye Lens with Back Cover for iPhone 4G
USB Fever Wide-angle + Fisheye + 8x Telephoto Lens Combo for iPhone 4G
PR: This is the combo package for the lens (functionally) as follows:
180° Fisheye Lens with Back Cover for iPhone 4G
Wide-angle Lens (+ Macro Lens) for iPhone 4G
8x Telescope with Hard Case for iPhone 4G
Features:
One Package for Fisheye Lens, Wide-angle Lens (+ Macro Lens) and 8x Telephoto Lens
One Back Cover with click stand for All Lens
Click Stand Case make watching Video / Photo easier.
With Tripod for take pictures under extreme situation.
Independent Back Cover, when you don't need the lens, just screw them off then you can go.
This accessory is suitable for (compatible with): Apple iPhone 4
Colors Available (Back Cover only):
Package Contents:
Wide-angle (+ Marco Lens) x 1
Fisheye x 1
8x Telescope with manual focus x 1
Back Hard Case (Back cover) x 1
Holder x 1
Mini Tripod x 1
Note:
The Back cover included in this package is just for the Lens in this package, not suitable for other lens in our shop unless otherwise specified.
Only one back cover will be shipped.
The Flash Light will be blocked when the lens is in use.
$69.99
Link: USB Fever Wide-angle + Fisheye + 8x Telephoto Lens Combo for iPhone 4G
New from Powis: Not Your Mother's iPad Case
PR: Powis has announced its new iPad case, the Powis iCase. This stylish, unique cover, which is inspired by the traditional book, enhances the sleek, streamlined look of the iPad, while offering quality protection. The sturdy designer stand offers 9+ positions, for every iPad activity. And there are more than 40 leathers and patterns to choose from.
"We set out to develop an iPad case that delivers on customer needs where other cases were falling short," says Kevin Parker, CEO of Powis. "We heard from iPad users that they want a case that offers multiple, sturdy positions to enhance the usability of their iPad, a case that is easy to clean, and one that offers a variety of styles and ability to personalize. Powis iCase delivers on all these requests."
What's Your Favorite Position?
With its patent-pending designer stand, Powis iCase provides more than 9 sturdy positions for every iPad use. Whether you are watching a movie, playing a game, writing emails, presenting to a colleague or just surfing the web, Powis iCase secures the iPad in the most comfortable position for your activity. The various positions accommodate every location where you may be using your iPad - at the office, at home, in a coffee shop, on an airplane or on the go.
Premium Leathers to Popular Patterns to Personal Designs
To support the personal nature of the iPad, there are more than 40 handcrafted leathers and popular patterns to choose from on http://www.powisicase.com . Powis iCase can be personalized with a name, company logo, monogram, inscription, or a favorite quote. For designers or for people who just know what they want, Powis also offers the ability to put unique designs or photos on the Powis iCase.
More Features
Powis iCase offers a snap-in frame to hold the iPad securely in place, while maintaining the streamlined design of the iPad. To keep the iPad clean, Powis iCase comes with a handy microfiber wipe cloth with secret storage. The iPad floats above the frame so that debris wipes off the iPad and not into the case. On the inside cover, there is a convenient business card holder. And the movable hand strap provides secure closure and carry.
Eco-friendly Construction
Powis iCase has the environment in mind. Fiber content of its handcrafted leather is 100% recycled cowhide fibers. All cases are constructed with 100% recycled board.
Powis iCase is Designed and Assembled in the USA.
Powis iCase is available in many different leathers, patterns, and with personalization.
Premium leather Powis iCase: $79.95
Lightly textured leather Powis iCase: $59.95
Patterned Powis iCase on printed laminated cover: $49.95
Custom designed Powis iCase: $69.95
Personalization: $9.95
Powis iCase is available online at powisicase.com. It will be available soon at major retailers.
Link: Powis iCase
Join us on Facebook, follow us on Twitter or Google+, or subscribe to our RSS news feed
Links for the Day
Mac of the Day: PowerBook 2400c, introduced 1997.05.08. This small-footprint PowerBook was created by IBM for the Japanese market.
Recent Content
Follow Low End Mac on Twitter
Join Low End Mac on Facebook
Favorite Sites
MacSurfer
Cult of Mac
Shrine of Apple
MacInTouch
MyAppleMenu
InfoMac
The Mac Observer
Accelerate Your Mac
RetroMacCast
The Vintage Mac Museum
Deal Brothers
DealMac
Mac2Sell
Mac Driver Museum
JAG's House
System 6 Heaven
System 7 Today
the pickle's Low-End Mac FAQ
Affiliates
Amazon.com
The iTunes Store
PC Connection Express
Macgo Blu-ray Player
Parallels Desktop for Mac
eBay

Advertise