iPad Ships April 3, iPhone Stand Made from Cutlery, Apple's Draconian Developer Agreement, and More
This Week's iPad, iPhone, iPod, and Apple TV News
Compiled by Charles Moore and edited by Dan Knight - 2010.03.12
Mac notebook and other portable computing is covered in The 'Book Review, and general Mac news is in Mac News Review.
All prices are in US dollars unless otherwise noted.
News, Reviews, & Opinion
Apple Developer Agreement
Apps & Services
Accessories
Protection
iPod Deals
These price trackers are updated every month.
News, Reviews, & Opinion
iPad Available in US on April 3, Preorder on March 12
PR: Apple has announced that its iPad will be available in the US on Saturday, April 3, for WiFi models and in late April for WiFi + 3G models. In addition, all models of iPad will be available in Australia, Canada, France, Germany, Italy, Japan, Spain, Switzerland, and the UK in late April.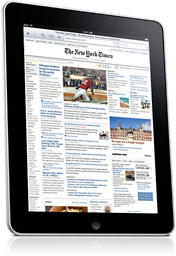 Beginning on March 12, US customers can preorder both WiFi and WiFi + 3G models from Apple's online store or reserve a WiFi model to pick up on Saturday, April 3, at an Apple retail store.
"iPad is something completely new," said Steve Jobs, Apple's CEO. "We're excited for customers to get their hands on this magical and revolutionary product and connect with their apps and content in a more intimate, intuitive and fun way than ever before."
Starting at $499, iPad lets users browse the web, read and send email, enjoy and share photos, watch videos, listen to music, play games, read ebooks and much more. iPad is just 0.5 inches thick and weighs just 1.5 pounds - thinner and lighter than any laptop or netbook - and delivers battery life of up to 10 hours.*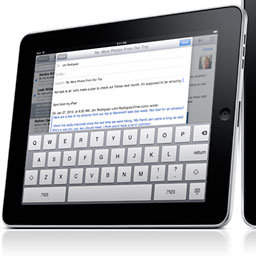 iPad's revolutionary Multi-Touch interface makes surfing the web an entirely new experience, dramatically more interactive and intimate than on a computer. You can read and send email on iPad's large screen and almost full-size "soft" keyboard or import photos from a Mac, PC or digital camera, see them organized as albums, and enjoy and share them using iPad's elegant slideshows. iPad makes it easy to watch movies, TV shows and YouTube, all in HD, or flip through the pages of an ebook you downloaded from Apple's new iBookstore while listening to your music collection.
The App Store on iPad lets you wirelessly browse, buy, and download new apps from the world's largest app store. iPad includes 12 new innovative apps designed especially for iPad and will run almost all of the more than 150,000 apps on the App Store, including apps already purchased for your iPhone or iPod touch. Developers are already creating exciting new apps designed for iPad that take advantage of its Multi-Touch interface, large screen and high-quality graphics.
The new iBooks app for iPad includes Apple's new iBookstore, the best way to browse, buy and read books on a mobile product. The iBookstore will feature books from the New York Times Best Seller list from both major and independent publishers, including Hachette Book Group, HarperCollins Publishers, Macmillan Publishers, Penguin Group and Simon & Schuster.
The iTunes Store gives iPad users access to the world's most popular online music, TV and movie store with a catalog of over 12 million songs, over 55,000 TV episodes and over 8,500 films including over 2,500 in stunning high definition. All the apps and content you download on iPad from the App Store, iTunes Store and iBookstore will be automatically synched to your iTunes library the next time you connect with your computer.
iPad will be available in WiFi models on April 3 in the US for a suggested retail price of $499 for 16 GB, $599 for 32 GB, $699 for 64 GB. The WiFi + 3G models will be available in late April for a suggested retail price of $629 for 16 GB, $729 for 32 GB and $829 for 64 GB. iPad will be sold in the US through the Apple Store, Apple's retail stores, and select Apple Authorized Resellers.
iPad will be available in both WiFi and WiFi + 3G models in late April in Australia, Canada, France, Germany, Italy, Japan, Spain, Switzerland and the UK. International pricing will be announced in April. iPad will ship in additional countries later this year.
The iBooks app for iPad including Apple's iBookstore will be available as a free download from the App Store in the US on April 3, with additional countries added later this year.
* Battery life depends on device settings, usage and other factors. Actual results vary.
Link: Apple Store
An Open Letter to Steve Jobs Concerning the HTC Lawsuits
Call Me Fishmeal blogger Wil Shipley has written:
"Enforcing patents is wrong. You've famously taken and built on ideas from your competitors, as have I, as we should, as great artists do. Why is what HTC has done worse? Whether an idea was patented doesn't change the morality of copying it, it only changes the ability to sue.
"But when you sue someone for doing something you do yourself, you become one of the bad guys. Can you name a company you admire that spends its time enforcing patents, instead of innovating? Remember the pirate flag you flew over Apple's headquarters when you were building the Mac? Is Apple part of the Navy now?
"And the iPhone needs competition to stay awesome. HTC won't hurt your sales much, anyway - you know the iPhone's success is because of the art in each of its million details, not because of a handful of tech patents. Who will want a pale imitation when they could have the original?
"I always thought of you as a guy who'd say, 'Well, copy me if you can, because you're copying what I did years ago, and what I'm working on now is even cooler!' I like it when competitors copy me because it means they aren't about to leapfrog me: they'll always be playing catch-up.
"If Apple becomes a company that uses its might to quash competition instead of using its brains, it's going to find the brainiest people will slowly stop working there. You know this, you watched it happen at Microsoft. Enforcing patents isn't a good long-term play: it's the beginning of the end of the creative Apple we both love."
Link: An Open Letter to Steve Jobs Concerning the HTC Lawsuits
Apple Bans App That Measures iPhone Radiation
Cnet's Chris Matyszczyk says:
"I have no idea whether cell phone use turns your brain into a doughnut.
"But I imagine if someone were clever enough to create an iPhone app that told you how much radiation your phone was emitting, and therefore how big a hole your brain might soon enjoy, you might just be interested.
"Unfortunately, it seems that though there might be such an app, you won't be able to partake of its skills on your iPhone."
Link: Apple Bans iPhone App That Measures Cell Phone Radiation (Go to the Tawkon website to learn more about this innovative app. Although the iPhone version remains unavailable, a BlackBerry version is currently in closed beta.)
Limit Your Exposure to Cell Phone Radiation
PR: New cell phones in 2010 are loaded with new features. For some models, like Motorola's Droid, Blackberry Bold 9700, LG Chocolate Touch, and HTC Nexus One by Google, consumers pay a hidden price: exposure to the highest legal levels of cell phone radiation. You can see for yourself by looking the radiation levels for new 2010 cell phones. Other new phones emit significantly less radiation.
You already do your best to eat safe and organic foods, live greener, and reduce toxins from your personal care products, but is your cell phone radiation putting you at risk?
EWG has brought to light important new science showing potential health risks linked to long-term cell phone use. Now, with EWG's new Phone Radiation Guide you can check your cell phone's radiation ranking and learn how to use it wisely.
It's easy to be smart with EWG's Cell Phone Radiation Guide.
Our Cell Phone Radiation Guide has been extremely popular since we released it in October, because it gives consumers exactly the information needed to choose and use cell phones wisely. You can:
See how the hottest new phones of 2010 rank
Look up your phone's radiation level
Find a low-radiation phone
Find a headset
Get practical, convenient tips on how to reduce your radiation
Take action and tell the government that it's time to modernize their radiation standards
Have you looked up your cell phone's radiation level in EWG's updated online guide yet? We just added some of the most talked about phones new for 2010, like the Motorola Droid, Apple iPhone 3GS, and the LG Chocolate Touch. Find the radiation levels of these popular new phones.
Link: EWG's Cell Phone Radiation Guide
Case-mate Hug Review: A Wireless iPhone Charging Pad that Actually Works Well
Gizmodo's Jason Chen reports:
"Wireless charging has been around even for the iPhone for years, but it wasn't until the last 12 months that it's been refined to be as good as standard wired charging. Case-mate's Hug is our favorite iPhone charging pad."
Link: Case-mate Hug Review: A Wireless iPhone Charging Pad that Actually Works Well
Also see Case-mate's press release below.
Virgin America Dumps Flash Over Lack of iPhone Support
TUAW's Michael Grothaus reports:
"As the smack down between Apple and Adobe continues, Virgin America has dumped Flash from its website because of the lack of iPhone support. Virgin's new website, which launched Monday, replaces Flash with HTML to give users the ability to check in via their iPhones in the future. Virgin plans on moving their new site to HTML 5, once it's cleared standards ratification at the World Wide Web Consortium."
Link: Virgin America Dumps Flash Over Lack of iPhone Support
Photoshop for Android Includes Apple Potshot
Cnet's Stephen Shankland reports:
"Adobe Systems released a new version of its Photoshop.com Mobile application for Android phones on Thursday night, an upgrade that came with an apparent attempt to tweak Apple's nose....
"'Third-party application developers now have access to the Photoshop.com Mobile for Android 1.1 editor, allowing them to easily make it a part of their applications,' Adobe said....
"'Unlike iPhone, the Android platform allows us to make the Photoshop.com editor broadly available to developers so they can provide it within any application they are working on. Photoshop functionality can then easily be accessed from an online auction, real estate, or social media application so users can quickly fix photos and make them look their best, before being showcased,' Doug Mack, general manager of Adobe's Digital Imaging and Rich Media Solutions group, said in a statement."
Link: New Photoshop for Android Includes Apple Potshot
The Most Awesome iPhone Stand Ever Made Out of Cutlery
TUAW's Steven Sande says:
"That headline is probably a bit of an overstatement, since this is probably the only iPhone stand made out of cutlery. ForkedUpArt of North Salt Lake, Utah, is actually selling two different stands. ForkHead, who you see standing at attention at your right, and SpoonHead, ForkHead's smarter brother.
"Sold through our favorite iPhone accessory store, Etsy.com, the ForkedUpArt iPhone stands can be customized if you want, and according to the artist, 'I'm making these guys as fast as I can.'"
Link: The Most Awesome iPhone Stand Ever Made Out of Cutlery
How to Restore a Beat Up iPhone (or Any Gadget)
hacknmod.com says:
"After a few months of use, our gorgeous new gadgets incur a fair share of dings and scratches. However, all is not lost! Learn how one man bought a horribly abused iPhone on iPod touch and polished it up to look brand new. It's a superb tutorial including both case and screen refurbishing which you can apply to all of your neglected gadgets."
Link: How to Restore an Abused iPhone (or Any Gadget)
Vatican Reaching Out with iPhone App
The Press-Enterprise's David Olson reports:
"The Vatican is launching an iPhone application, and it chose a California priest to deliver the app's inspirational message...
"The app, sponsored by the Vatican Observatory Foundation, is apparently the first from a Vatican-affiliated institution. The Rev. Paul Tighe, secretary of the Pontifical Council for Social Communications, said from his Vatican office that he is unaware of any other....
"Although the foundation app is apparently the first developed by a Vatican institution, the Vatican has worked with an Italian priest on an app that includes the daily prayer of the church. Pope Benedict XVI has encouraged priests to use new technology."
Link: Vatican Reaching Out with iPhone Application
Exiled iPhone WiFi Apps Move to Cydia
The Register's Bill Ray reports:
"Developers kicked out of the iTunes store for using private APIs are turning to the unregulated Cydia store, and think the demographic might even suit them better.
"Last week Apple kicked out a handful of applications that made use of 'private framework' APIs to enable scanning for nearby hot spots. Now those apps are popping up on Cydia, with one already hitting 18,000 downloads by iPhone users willing to jailbreak their handsets to get applications that Apple won't allow."
Link: Exiled iPhone WiFi Apps Move to Cydia
Apple Developer Agreement
Apple: All Your Apps Are Belong to Us
An EFF Legal Analysis by Deeplinks' Fred von Lohmann notes:
"The entire family of devices built on the iPhone OS (iPhone, iPod touch, iPad) have been designed to run only software that is approved by Apple - a major shift from the norms of the personal computer market. Software developers who want Apple's approval must first agree to the iPhone Developer Program License Agreement.
"So today we're posting the 'iPhone Developer Program License Agreement' - the contract that every developer who writes software for the iTunes App Store must 'sign.' Though more than 100,000 app developers have clicked 'I agree,' public copies of the agreement are scarce, perhaps thanks to the prohibition on making any 'public statements regarding this Agreement, its terms and conditions, or the relationship of the parties without Apple's express prior written approval.' But when we saw the NASA App for iPhone, we used the Freedom of Information Act (FOIA) to ask NASA for a copy, so that the general public could see what rules controlled the technology they could use with their phones. NASA responded with the Rev. 3-17-09 version of the agreement (it has reportedly been revised somewhat since - please send us the current version if you are able).
"So what's in the Agreement? Here are a few troubling highlights...."
Link: All Your Apps Are Belong to Apple: The iPhone Developer Program License Agreement
Further Reading: All Your Base Are Belong to Us, Wikipedia
Apple's Draconian Developer Docs Revealed
The Register's Rik Myslewski says:
"In the 1999 movie Fight Club, Brad Pitt famously tells a huddle of pugilistic aspirants: 'The first rule of Fight Club is: you do not talk about Fight Club.'
"Apple's iPhone Developer Program License Agreement phrases that sentiment differently, but its directive to iPhone developers is essentially the same:
"You may not issue any press releases or make any other public statements regarding this Agreement, its terms and conditions, or the relationship of the parties without Apple's express prior written approval, which may be withheld at Apple's discretion...."
Link: Apple's Draconian Developer Docs Revealed
Apps & Services
TeamViewer for Remote Access to PCs and Macs from Your iPhone
PR: TeamViewer GmbH, a leading provider of solutions for online communication and collaboration, has just released TeamViewer and TeamViewer Pro, iPhone applications making mobile connectivity more flexible than ever before. Designed for iPhone or iPod touch, from versions 2.2.1 and newer, the innovative TeamViewer applications access or control remote computers located anywhere in the world.
Marking their commitment to easy, convenient and accessible solutions, TeamViewer is available at no cost for noncommercial use. For IT supporters looking to extend their service offering, TeamViewer Pro is offered at a one-time fee of $99.99. Both user-friendly applications enable the fast and secure control of Windows or Mac computers from iPhones or iPod touch. TeamViewer is already used by more than 60,000,000 happy users worldwide and with the TeamViewer App for iPhone and iPod touch you are able to:
With the new TeamViewer applications, users simply create a partner list, storing the connection information of servers, remote computers or home PCs for quick mobile connection with a single click. Similar to the standard TeamViewer partner list the new application can store contacts in groups, for easy organization and quick recall.
Designed for individuals or supporters on-the-go, TeamViewer and TeamViewer Pro allow users complete access, including remote reboot, to their unattended home PC or remote work station from their iPhone or iPod touch. For professionals, this enhances the service provided, as they are now able to offer efficient and effective mobile remote support when traveling or away from a workstation.
TeamViewer offers a number of features with the iPhone and iPod touch software. Full screen control, disable remote input, and a number of settings are available to optimize connectivity. Like all iPhone or iPod applications, remote control only works in the direction of the computer, and not from the computer to the iPhone or iPod.
Maintaining their commitment to security, TeamViewer and TeamViewer Pro are encrypted with AES 256 bit encoding preserving computer security already in place. In addition, TeamViewer works behind all firewalls, eliminating user reconfiguration.
"With iPhones attracting tens of millions of customers internationally, our new application will enable connectivity all over the world," begins Holger Felgner, Product Manager of TeamViewer GmbH. "For our noncommercial users, we are pleased to maintain our commitment to software, while TeamViewer Pro is accessibly priced to provide IT supporters with new and more flexible service options. As an increasing number of people rely on iPhones for both business and personal communication, our new applications ensure these people are able to quickly and securely access information and lend support from their portable iPhone or iPod touch, wherever they may be."
The new TeamViewer iPhone and iPod touch application is available from Apple in the iTunes App-store. The TeamViewer iPhone application is free, and TeamViewer Pro is available for the one-time payment of $99.99.
Functions:
Both spontaneous support and remote access to unattended computers are possible
Convenient control via multitouch gestures: left click, right click, drag & drop, scroll wheel, zoom, change monitor complete keyboard incl. special keys such as Ctrl, Alt, Windows
reboot the remote computer
automatically decrease the screen resolution of the remote computer
integrated partner list - see which computer or partner is online
trouble-free use behind firewalls and proxy servers
highest security standards: 256 Bit AES Session Encoding, 1024 Bit RSA Key Exchange
Requirements:
Compatible with iPhone and iPod touch.
Requires iPhone OS 2.2.1 or later.
TeamViewer is free for personal use, i.e. that you can use TeamViewer completely free of charge to access your private computers or to help your friends with their computer problems.
For a commercial use in a professional environment, look at TeamViewer Pro.
With the TeamViewer App for iPhone and iPod touch you are now able to access remote computers from everywhere. It allows you to give spontaneous support as well as having permanent access to unattended computers.
TeamViewer and TeamViewer App are free for all noncommercial users
Additional quick guides for different applications can be found at http://www.teamviewer.com/iphone
Link: TeamViewer (download link)
Link: TeamViewer Pro (download link)
Shop Healthy! The First Comprehensive Nutritional Grocery Guide for iPhone
PR: Over 100,000 products are included in this app, ranked and categorized to help you shop for the healthiest products for you and your family.
Search by Product
You can easily search by product.
Over 100,000 products are included.
Simply type in the brand or product you are looking for and then choose the right one.
Products are ranked within each product category based on nutritional and optimal dietary considerations.
Search by Aisle
You can search by aisle simply by clicking on the icon.
Click to get a list of the better, healthier options for you in that food category.
Product Detail
Every product has a special detail page.
You can click on nutritional information to see the label.
Click on the Factoid button to get health tips when considering that item.
All fruits and vegetables have great information on how to choose and store that specific produce item.
Special introductory price - 99¢
Link: Shop Healthy! (download link)
NASA Lunar Electric Rover Simulator by NASAView
PR: Welcome to the NASA Lunar Electric Rover (LER) Simulator. You don't need a driver's license, but you still need to buckle up as the LER Simulator gives you a glimpse of what it might be like to support the activities of a functioning Lunar Outpost. Get busy.
You never know if your skills here will become a major part of the NASA Astronaut application process in the future
System Requirements:
Compatible with iPhone and iPod touch
Requires iPhone OS 2.2.1 or later
Link: NASA Lunar Electric Rover Simulator (download link)
Veteran Travel Site Offers New Technology to Book Airfare with iPhone Application
PR: OneTravel, one of the nation's oldest and most recognized travel sites, announces its newest technological endeavor in partnership with Tidal Pool Software, introducing Wanderlust a free iPhone application providing travelers with unlimited mobile access to OneTravel's bargain airfares. This new application, the first of its kind for OneTravel, allows iPhone and iPod touch users to find and book OneTravel's competitive airfares directly from their mobile devices.
Powered by OneTravel's propriety travel technology, Wanderlust searches millions of airfare combinations from over 400 airlines worldwide to get travelers the best possible deal, with up to 60% savings. This includes over 20 million consolidator fares and over 40 low cost carriers in Europe and Asia with sample fares starting at just $10.
"We wanted to provide customers with a user friendly and efficient application, says Werner G. Kunz, CEO of OneTravel. With Wanderlust, our customers can now utilize our travel technology through an additional convenient and easily accessible medium - their phones.
Wanderlust features a simple user interface to easily find great flights and book them directly on the iPhone or iPod touch via the application. Powerful sorting and filtering of search results paired with user-friendly features, like prominent displays, enables simple comparisons of flight options and ensures that users get the best priced airfares in a practical format. In addition, Wanderlust allows users to:
Search for one-way, round-trip, or multi city flight options
Find great airfares sorted for adults, seniors, children, and infants
Browse economy, business, and first class fares
Expanded search to find flights near desired departure and/or destination
Book flights securely and conveniently from anywhere
Manage and e-mail booked flight itineraries
Find contact information for hundreds of airlines
Create profiles for multiple billing/shipping addresses (personal, work, etc.)
Set up travel details including seat/meal preferences, frequent flyer numbers, special services and more
Wanderlust can be downloaded free of charge at the Apple App Store. This application currently requires a US or Canada billing address and credit card for bookings. Learn more about Wanderlust features or download now.
Link: Wanderlust (download link)
Rentals.com App Now Available on App Store
PR: Rentals.com, a leading resource for single-units, apartments and houses for rent nationwide, today announced its Rentals.com App is now available from the App Store. The app gives users the ability to easily search Rentals.com listings from their iPhone or iPod touch.
"Our app for iPhone and iPod touch not only give users another medium for gathering information on single-family houses, apartments and condos for rent, but also provides them with the ability to search for listings and contact property owners or managers while on-the-go."
"The Rentals.com App is another way for us to provide users with immediate access to relevant, localized information as they search for a place to live," said Jamie Clymer, president of Rentals.com. "Our app for iPhone and iPod touch not only give users another medium for gathering information on single-family houses, apartments and condos for rent, but also provides them with the ability to search for listings and contact property owners or managers while on-the-go."
Features of the app include:
Search for a property rental by entering in city and state or zip code.
View complete property information, including full-color photos and map.
Use location-based services to search nearby.
Use advanced search to narrow results by radius, sort criteria, property types, beds, bath, price and amenities.
E-mail properties to friends or family.
Add property notes and personal ratings.
Rank and save favorites.
The Rentals.com App is available for free from the App Store on iPhone and iPod touch.
Link: Rentals.com (download link)
Accessories
Turn Your iPhone or iPod touch into a Universal Remote Control with FLPR
PR: New Potato Technologies, an innovator and developer of iPod and iPhone accessories, today introduced FLPR, a revolutionary new accessory and app that transforms iPhone and iPod touch into a universal remote control. FLPR lets users control multiple electronic devices, including televisions, cable and satellite boxes, stereo systems, lights, ceiling fans and just about anything else that uses an infrared remote control. Available this month from Best Buy stores nationwide, and online, the revolutionary FLPR replaces a sea of remotes cluttering up the home.
FLPR is a snap to set up. After purchasing the FLPR infrared interface and popping it into the iPhone/iPod touch dock connector, users simply download the free FLPR app from the online App Store. Once the app is launched, choose the device "type," select "brand," "name it" and "use it." It's that easy. FLPR comes pre-programmed with over 14,000 remote control codes, including all major electronics brands.
Unlike other universal remote solutions for iPhone and iPod touch, FLPR's extensive database of over 14,000 pre-programmed remote control codes means that you don't have to spend time learning your existing remotes "button by button." FLPR works with hundreds of brands of devices out of box with no programming necessary.
FLPR is also a learning remote. If the remote control code for that old television in the guest bedroom is not in the extensive FLPR database, you can easily teach FLPR the code for that old relic, creating a brand new remote.
The user-friendly, stylish interface of FLPR rivals that of expensive, high-end universal remotes. What's more, FLPR can be personalized with the included free background skins. The screen for each device you control can have a distinct look so you can instantly tell the remote for the television apart from the iPod docking sound system.
FLPR has a range of about 30 feet and is powered by the iPhone/iPod touch. The free FLPR app is available now in the iTunes store.
The FLPR infrared interface will be available March 4, 2010 at NewPotatoTech.com and in-store nationwide at Best Buy on March 28, 2010 for $79.99.
Link: FLPR
CaseMate iPhone Hug Charging Case and Pad
PR: Wouldn't it be nice to get a Hug every day? You probably don't think about it that often ... you go about your daily life, rushing from one meeting to the next. But what if every time you walked through your door you got a nice reminder of warm affection from a welcome friend?
Enter the Hug ... Case-mate's latest wireless charging pad and case for the iPhone 3G/3GS that hugs your battery back to life. Isn't it nice to know that you can always come home to a Hug?
Why Hug?
Protective case & wireless charger in-one
The slim Hug case provides daily protection for your device while also conveniently charging it when placed on the Hug pad. Charge up without plugging in
Green technology
Hug draws power only to the level your device needs, then nothing more.
Interoperable
Any hug case works with any hug pad. So with the same case you can get a power hug on pads at home or the office.
Future compatibility:
Hug is based on the Wireless Power Consortium standard. This means that your Hug charging pad will always be compatible with new devices supporting the standard. This also means that your hug case will be compatible with everyday products (you bedside table, Starbuck's coffee table, in the airplane, etc.) that support this universal standard.
How does it work?
Connect the Hug charging pad to a standard ac power source, then place your phone in the wireless Hug charging case. Second, place the Hug case with the phone in it on the charging pad. Magnets in the pad and case automatically create a safe, charging field that wirelessly charges your phone.
The Hug leverages eCoupled! intelligent wireless power technology from Fulton Innovation; both companies are members of the Wireless Power Consortium (WPC). eCoupled technology eliminates the need for power cords by creating an electromagnetic conduit combined with an intelligent control system that constantly monitors the power flow upon contact between the hug case and the hug charging pad, to insure optimal efficiency and safety. Hug is designed for future compatibility with the Qi Standard.
WPC members including case-mate are ensuring that the Consortium's universal standard for wireless power are integrated into a range of everyday products - charging stations at airports, coffee shops, cars and furniture, for a future of complete interoperability.
This product may be covered by one or more of the following patents: U.S. Patent 6,436,299, U.S. Patent 6,825,620, U.S. Patent 7,180,248, U.S. Patent 7,385,357, and other patents pending.
True induction uses the wireless charging technology soon to be used in airports, cars, coffee shops, bars and restaurants even your kitchen counter-top. The Hug is the first cell phone case using the universalized standard for compatibility. It works with the charging bay at home and will work with true induction mats, tables, and holders everywhere.
The Hug induction system requires a case and a charging bay to complete the charging process. The Hug case and charging bay are sold separately.
An active resonant system minimizes heat and RFI. It shuts off when it's fully charged. This smart system means it uses less power than its competitors to do the same job.
Link: Case-mate
Protection
Vers Wood Case for iPad Coming Soon
PR: Complementing their line of wooden iPhone, iPod, and amplifer cases, Vers has announced that their new wood cases for iPad will be available soon.
The creation of any mass-produced product requires the use of resources and energy to manufacture, transport and manage throughout their useful lives - which resources, how much energy and the length of a 'useful life' are where big differences can be made to reduce the total impact that a product makes on the world. Could you craft a more beautiful, better sounding system with LESS impact to the environment at the same time? Vers thought so, and it's been the driving passion behind Vers from day one - to be better in every way imaginable.
Combining the natural beauty and strength of Walnut, Cherry and Bamboo, they are the most environmentally thoughtful cases available on the market.
"We've had such an enthusiastic response from our customers to both our Vers 2X and Vers 1.5R wood sound systems. Wood cases are a natural next step. Wood is a wonderful feeling, natural material and every case has its own unique character. The real surprise, though, is just how tough wood is - particularly Bamboo; it far exceeds that of any plastic. It looks great, offers superior protection and is the most renewable resource on the planet - you can't ask for more," says David Laituri, product designer and co-founder of Vers.
"Working with wood on our sound systems has taught us a lot about the value of true craftsmanship - something you just can't get with molded plastic or mass-produced leather cases," says Vers co-founder Tim Trzepacz. "Like the Vers 2X and Vers 1.5R, Vers cases are designed with the same passion for sustainability; for each tree used in Vers case production, 100 are re-planted through our partnership with The Arbor Day Foundation and the U.S. Forestry Service to re- forest parklands damaged by fire and other natural disasters. We're excited to offer a product that goes well beyond achieving sustainability to actually helping to restore the environment."
Vers iPad Case Specifications
Handcrafted from solid hardwoods and bamboo
Steel reinforced for added strength
Optional wood prop for tabletop use
Openings for 30-pin connector and volume control
Top loading slipcase designed for easy removal
Soft, scratch-resistant liningDurable UV and moisture-resistant clearcoat
4 mm walls provide a solid feel
$79.99
Link: Vers Audio
Waterfield Designs Adds New Smart Case and Slip Case to Apple iPad Line
PR: WaterField Designs, a San Francisco manufacturer renowned for its high-quality, custom notebook sleeves, bags and cases for digital gear, today introduces two cases for the Apple iPad: the sofisticated Smart Case and the super-thin iPad Slip Case. Both new cases offer protection for the iPad and come in six colors. They fit perfectly into the personal size WaterField Muzetto metro bag. WaterField now offers four iPad cases including the previously announced Ultimate SleeveCase and iPad Suede Jacket. All are available for pre-order at sfbags online.
"The Smart Case with its bold colors and distressed leather sides is a really unique, eye-catching case," explained owner, Gary Waterfield. "The Slip Case is simple and light - but protective - and both cases are easy to spot. Users can match them to our popular Muzetto bag since the personal size is a great fit for the buzz-worthy new iPad."
WaterField Designs' iPad Smart Case offers solid iPad protection in serious style. An Ultrasuede®, scratch-free liner with a high-impact, rigid insert for screen protection is enveloped by a vibrantly colored, water-resistant exterior, available in six color choices. The Smart Case is flanked by naturally tanned, distressed brown leather and - like all WaterField cases - is custom fitted; in this case to the Apple iPad dimensions.
The slender Slip Case for the iPad uses the same vibrantly colored, water-resistant fabric on its exterior. A plush interior and impact-resistant plastic protect the screen and finish the simple, light case. Both new iPad cases are light, protective and easy to spot among bag contents.
WaterField's four TSA-friendly case options for the iPad - the Ultimate SleeveCase, the iPad Suede Jacket, the iPad Smart Case, and the iPad Slip Case - allow travelers to breeze through airport security with their Apple iPad safe within its protective sleeve.
Pre-order iPad cases from WaterField Designs online. Will ship within one week of Apple ship date.
Smart Case price: $59 - colors: black, brown, silver, blue, green, red.
Slip Case price: $29 - colors: black, brown, silver, blue, green, red.
Link: iPad Smart Case
Link: iPad Slip Case
Join us on Facebook, follow us on Twitter or Google+, or subscribe to our RSS news feed
Links for the Day
Mac of the Day: Power Mac 9500, introduced 1995.05.01. The first PCI Power Mac has 6 expansion slots, speeds of 120 and 132 MHz.
Recent Content
Follow Low End Mac on Twitter
Join Low End Mac on Facebook
Favorite Sites
MacSurfer
Cult of Mac
Shrine of Apple
MacInTouch
MyAppleMenu
InfoMac
The Mac Observer
Accelerate Your Mac
RetroMacCast
The Vintage Mac Museum
Deal Brothers
DealMac
Mac2Sell
Mac Driver Museum
JAG's House
System 6 Heaven
System 7 Today
the pickle's Low-End Mac FAQ
Affiliates
Amazon.com
The iTunes Store
PC Connection Express
Macgo Blu-ray Player
Parallels Desktop for Mac
eBay

Advertise