iPod Hearing Loss User's Fault, Bluetooth Keyboard Hack for iPhone, Google Nexus One, and More
This Week's iPad, iPhone, iPod, and Apple TV News
Compiled by Charles Moore and edited by Dan Knight - 2010.01.11
Mac notebook and other portable computing is covered in The 'Book Review, and general Mac news is in Mac News Review.
All prices are in US dollars unless otherwise noted.
News, Reviews, & Opinion
Nexus One
Apps & Services
Accessories
iPod Deals
These price trackers are updated every month.
News, Reviews, & Opinion
US Court: iPod Hearing Loss Your Fault, Not Apple's
The Register's Rik Myslewski reports:
"A US court has turned back an appeal of a 2008 ruling that declared that if you blow out your ears by listening to your iPod too loudly, it's your own damn fault.
"In a victory for common sense and personal responsibility, the court sided with the iPod manufacturer in the case of Birdsong v. Apple, Inc....
"Judge Thompson's ruling is akin to the commonsense understanding that if you put your hand down a garbage disposal, then turn it on, you can't blame the disposal's manufacturer if your new nickname is 'Stumpy' - especially if that manufacturer had warned you not to be such a thorough chowderhead.
"Apple is off the hook, and the nanny state takes one in the teeth thanks to the levelheadedness of one Northern California judge."
Your editor emphatically agrees with Myslewski's assessment of these ludicrous nuisance litigation lottery torts. cm
Be sure to read iPhone App Relieves Ear Ringing (Tinnitus) below. dk
Link: Court: iPod Hearing Loss Your Fault, Not Apple's
Cut Your Risk from Cell Phone Radiation
Gannett News Service's Kim Komando answers the following reader question:
"Question: I use Bluetooth headphones with my iPod touch. My son said the headphones can cause cancer. Is there evidence to support this?
"Answer: Before we discuss Bluetooth, let's talk about cell phones. They emit radio waves, a form of radiation. This worries some researchers. Despite dozens of studies, no definitive connection to cancer has been made. Bluetooth headsets and headphones also use radio waves. If you're really concerned, ditch Bluetooth. Try noise-isolating canalphones. Learn more about them at: http://www.komando.com/news.
Link: Take These Steps to Cut Your Risk from Cell Phones
Mount Your iPhone Like a Flash Drive
Mac Amour's Hedi Regaya says:
"Bored of that SSH solution to gain access via a FTP client to your iPhone, or you just want to use your iPhone like a flash disk, here's the tutorial on how to make your iPhone mount on your desktop just like any disk you connect to your Mac."
Link: Mount Your iPhone on Your Mac Just Like a Disk
What to Do If Your iPhone Develops a Problem
Tech Radar Tech Staff says:
"Restoring your iPhone is a bit extreme, but when all else fails it's worth giving it a shot
"Unless you've got a dud unit, the iPhone hardly ever has any really serious problems that can't be fixed by a few simple procedures (and most don't require you to reinstall your music or apps).
"It's just a fact that with so many incredible features, once in a while an app on the iPhone is going to get stuck - just like they do on Mac OS X or Windows.
"In this iPhone troubleshooting guide, we'll take you through the most common problems that can occur with the device and show you how to resolve them. So, whether you're having problems with 3G or SMS, booting or battery life, we're here to offer an answer to your SOS."
Link: How to Fix Your iPhone: What to Do If Your iPhone Develops a Problem
iPhone Hack for Bluetooth Keyboards
The Register's Bill Ray reports:
"Developers have managed to hack together a Human Interface driver for the iPhone, allowing any Bluetooth keyboard to be used on jailbroken iPhones.
"The software doesn't work in all applications, but does connect most applications to the kind of travel keyboard which is making laptops redundant, even if it can't do copy and paste just yet.
"The iPhone's soft keyboard might be OK for a pair of thumbs, but touch typists prefer something physical to work with and Apple's failure to support Bluetooth . . . is hard to understand...."
Link: iPhone Gets a Decent Keyboard
Use a Bluetooth Keyboard with Your iPhone
iClarified says:
"These are instructions on how to connect and use a Bluetooth keyboard with your iPhone. This tutorial will use the BTstack Keyboard utility by Matthias Ringwald."
Link: How to Connect and Use a Bluetooth Keyboard with Your iPhone [BTstack]
Nexus One
Google's Nexus One: A New Approach to Buying a Mobile Phone
PR: Nexus One is an exemplar of what's possible on mobile devices through Android - when cool apps meet a fast, bright and connected computer that fits in your pocket
Android was developed with one simple idea: Open up mobile devices to enable greater innovation that will benefit users everywhere.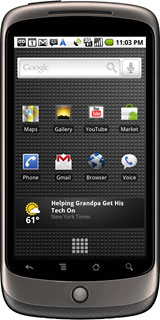 We first executed on this vision a little over a year ago, when we launched Android on one device with one operator in one country. Today, we have 20 devices with 59 operators in 48 countries and 19 languages. And because Android is free and open source, it continues to flourish. Android allows devices to be built faster, and at lower cost. And anyone can build anything on top of the platform. This ultimately benefits users.
To help adapt Android to the needs of consumers, we apply our engineering resources to selected projects with handset makers and operators. Together we have improved the rate and pace of innovation in mobile phones. The volume and variety of Android devices today has exceeded even our most optimistic expectations. And we believe we can accelerate the pace of innovation further. So we thought: What if we work even more closely with our partners to create devices which showcase some of the great software technology we've been working on? And what if we make those devices available for purchase through a new, simple online web store from Google?
Well, today we're pleased to announce a new way for consumers to purchase a mobile phone through a Google hosted web store. The goal of this new consumer channel is to provide an efficient way to connect Google's online users with selected Android devices. We also want to make the overall user experience simple: a simple purchasing process, simple service plans from operators, simple and worry-free delivery and startup.
The first phone we'll be selling through this new web store is the Nexus One - a convergence point for mobile technology, apps and the Internet. Nexus One is an exemplar of what's possible on mobile devices through Android - when cool apps meet a fast, bright and connected computer that fits in your pocket. The Nexus One belongs in the emerging class of devices which we call "superphones." It's the first in what we expect to be a series of products which we will bring to market with our operator and hardware partners and sell through our online store.
Manufactured by HTC, the Nexus One features dynamic noise suppression from Audience, Inc., a large 3.7" OLED display for deep contrast and brilliant colors and a 1 GHz Qualcomm Snapdragon™ chipset for blazing speeds. Running on Android 2.1, the newest version of Eclair, the software includes innovations like a voice-enabled keyboard so you can speak into any text field, fun Live Wallpapers, a 3D photo gallery for richer media experiences and lots more. Of course, it also comes with a host of popular Google applications, including Gmail, Google Voice and Google Maps Navigation.
Today, the web store allows you to purchase the Nexus One without operator service or with service from T-Mobile USA. We expect to add more operators, more devices and more countries in the future, including Verizon Wireless in the US and Vodafone in Europe. To learn more about the Nexus One, and our new web store, we recommend checking it out for yourself by visiting www.google.com/phone. We look forward to seeing how our new program and the Nexus One contributes to accelerating innovation on mobile products for the benefit of users worldwide.
Size and weight
Height: 119mm
Width: 59.8mm
Depth: 11.5mm
Weight:

130 grams w/battery
100g w/o battery
Display
3.7" (diagonal) widescreen WVGA AMOLED touchscreen
800 x 480 pixels
100,000:1 typical contrast ratio
1ms typical response rate
Camera & Flash
5 megapixels
Autofocus from 6 cm to infinity
2X digital zoom
LED flash
User can include location of photos from phone's AGPS receiver
Video captured at 720 x 480 pixels at 20 frames per second or higher, depending on lighting conditions
Cellular & Wireless
UMTS Band 1/4/8 (2100/AWS/900)
HSDPA 7.2 Mbps
HSUPA 2 Mbps
GSM/EDGE (850, 900, 1800, 1900 MHz)
WiFi (802.11b/g/n)
Bluetooth 2.1 + EDR
A2DP stereo Bluetooth
Power And Battery
Removable 1400 mAh battery
Charges at 480 mA from USB, at 980 mA from supplied charger
Talk time

Up to 10 hours on 2G
Up to 7 hours on 3G

Standby time: Up to 290 hours on 2G Up to 250 hours on 3G
Internet use

Up to 5 hours on 3G
Up to 6.5 hours on WiFi

Video playback: Up to 7 hours
Audio playback: Up to 20 hours
Processor
Operating System
Android Mobile Technology Platform 2.1 (Eclair)
Capacity
512 MB Flash
512 MB RAM
4 GB Micro SD Card (Expandable to 32 GB)
Location
Assisted global positioning system (AGPS) receiver
Cell tower and WiFi positioning
Digital compass
Accelerometer
Additional features
Haptic feedback
Teflon coated back
Second microphone for active noise cancellation
SIM card slot
Micro SD slot
Proximity sensor
Light sensor
Graphics, Video And Audio
Audio decoders: AAC LC/LTP, HE-AACv1 (AAC+), HE-AACv2 (enhanced AAC+) Mono/Stereo standard bit rates up to 160 kbps and sampling rates from 8 to 48 KHz, AMR-NB 4.75 to 12.2 kbps sampled @ 8 KHz, AMR-WB 9 rates from 6.60 kbit/s to 23.85 kbit/s sampled @ 16 KHz., MP3 Mono/Stereo 8-320 Kbps constant (CBR) or variable bitrate (VBR), MIDI SMF (Type 0 and 1), DLS Version 1 and 2, XMF/Mobile XMF, RTTTL/RTX, OTA, iMelody, Ogg Vorbis, WAVE (8-bit and 16-bit PCM)
Image
JPEG (encode and decode), GIF, PNG, BMP
Video: H.263 (encode and decode) MPEG-4 SP (encode and decode) H.264 AVC (decode)
Audio encoders: AMR-NB 4.75 to 12.2 kbps sampled @ 8 KHz
Link: Nexus One
Nexus One vs. iPhone, Droid & Palm Pre - Total Cost of Ownership
BillShrink's Erik Chang reports:
"...we decided in typical BillShrink fashion, we would take a look at the overall total cost of ownership of the Nexus One vs. iPhone vs. Droid vs. Palm Pre. This is the first time that any phone has been available for purchase unlocked and available for purchase at a discounted rate with a T-Mobile Contract....
"So, here is what you've been waiting for, our total cost of ownerships comparison of the Nexus One up against the rest!"
On the plus side: Lower cost of ownership than the iPhone, contract free service, lowest cost unlimited usage plan. On the minus: Only 4 GB of storage, a lot less apps available, and T-Mobile service means very limited 3G coverage.
Link: Nexus One vs. iPhone, Droid & Palm Pre - Total Cost of Ownership
Apps & Services
iPhone App Relieves Ear Ringing (Tinnitus)
PR: Listening to music on an iPod at high volumes can cause a nagging ring in the ears ("tinnitus"). Instead of taking the earbuds off and waiting it out, tinnitus sufferers can now squelch the phantom noise by listening to the tinnitus treatment provided by Excelltech's Ringing Relief.
Inspired by a 2007 UCI study touting the effectiveness of low frequency hums in alleviating temporary tinnitus, Excelltech Mobile brings the low frequency treatment to the iPhone and iPod touch. Ringing Relief lets tinnitus sufferers choose from one of many of these hums which when listened to for 90 seconds should cure the persistent ringing.
"My concert going friends always complain about their ears ringing", said designer Ed Williams. "I used to tell them to stand further from the speaker, now I have them listen to Ringing Relief."
Although not an excuse to endure loud noises, Ringing Relief will help concert goers should they forget their earplugs and others who encounter an unexpected noise that keeps their ears ringing. The best "cure" is of course prevention, as noises that leave ears ringing could also cause potentially permanent hearing loss.
Device Requirements: iPhone or iPod touch 3.0 or later
Ringing Relief is free and available worldwide exclusively through the App Store in the Healthcare & Fitness category. A Pro version is also available with more hums and without ads.
Link: Ringing Relief (download link: Ringing Relief, Ringing Relief Pro)
AutoStitch Brings Automated High Resolution Panoramas to the iPhone
PR: Vancouver-based Cloudburst Research announces the immediate availability of AutoStitch Version 2.0, which now creates high-resolution images of up to 20 megapixels using the iPhone's own camera. This extraordinary resolution is achieved by a fully automated approach for seamlessly stitching together multiple images taken from a single location.
With this major update, AutoStitch allows iPhone users to create poster-quality images that can exceed those from even expensive dedicated cameras. Despite its limited resolution, the iPhone is now the most frequently used camera on popular photography sites such as Flickr. AutoStitch allows iPhone users to create beautiful high-resolution photos using the camera that they always carry with them.
AutoStitch has previously gathered impressive reviews and an enthusiastic user community for its ability to stitch wide-angle panoramas from freehand images snapped in any order or arrangement from a single location. Due to processing and memory restrictions of the iPhone platform, previous versions of AutoStitch limited the final resolution of the panorama to a similar size as a single iPhone image, which is 3 megapixels on the iPhone 3GS and 2 megapixels on earlier models. Cloudburst Research has recently developed faster stitching algorithms and new methods for robust memory management on the iPhone, which now allow for dramatically higher stitched resolutions while still maintaining fast performance.
The new version of AutoStitch allows a user to choose their desired resolution for stitching and the final maximum image size. On the iPhone 3GS, the user can select a maximum final image size of up to 20 megapixels, which will be achieved when stitching 10 or more overlapping images. Due to internal memory restrictions, the maximum resolution on the original iPhone and the iPhone 3G is lower, at 5 megapixels, but this still more than doubles the camera resolution of 2 megapixels.
While some other iPhone apps attempt to expand a single iPhone image to a higher resolution, they can add no new detail that was not in the original image and therefore have limited utility to a photographer. AutoStitch creates genuine high resolution images that extend the capabilities of the iPhone camera into new territory.
AutoStitch brings professional quality photography to the iPhone by providing two important capabilities: high-resolution imaging and wide-angle photography. At the same time, its fully automated stitching approach provides a user experience that has proven to be simple and fun for even the casual user.
Device Requirements: Any iPhone with OS 2.2.1 or later
AutoStitch 2.0 is $1.99 and available worldwide exclusively through the App Store in the Photography category. The full App Store name is AutoStitch Panorama. Review copies are available to the media upon request.
Link: AutoStitch (download link)
Gas Cubby by FRAM: Free Sponsored Release of a Must Have iPhone App
PR: App Cubby and Honeywell Consumer Products Group announce the release of "Gas Cubby by FRAM," a free, sponsored version of App Cubby's critically acclaimed iPhone app Gas Cubby. All iPhone and iPod touch owners can download the app and use it to optimize fuel economy and better maintain their vehicle.
Gas Cubby was originally launched in the App Store in November of 2008 and has been refined and polished ever since. It was selected by Apple as an "App Store Pick of the Week" and by CNN as one of the "Ten Best iPhone Apps for Dad" on Father's Day. It has also received hundreds of positive reviews from users and critics alike. The paid version of Gas Cubby will continue to be available in the App Store for those who would prefer to use the app without ads. Existing users of Gas Cubby can upgrade to 2.1 and continue to use the app without ads.
With a focus on ease-of-use, Gas Cubby by FRAM supports multiple vehicles, and offers excellent charts for miles-per-gallon (MPG), gas price, gas expenses, as well as service expenses. Advanced searching and filtering allow for in depth analysis and will automatically generate new charts based on the filtered data. Users may store vehicle data, such as VIN, license plate, and insurance policy. Among Gas Cubby's most helpful features are its customizable service reminders.
Data fields can be turned on an off, allowing the user to enter as much or as little information as necessary. Customizable tags allow grouping or categorization of records. If further visualization or analysis is needed, a few quick taps will create an Excel-compatible (CSV) report. Once a report has been generated, it can be emailed to anyone as an attachment using App Cubby's secure, custom mail service.
Feature highlights include:
Tracks gas mileage and vehicle maintenance
Charts: MPG, stats, gas price, gas expenses, service expenses
Customizable service reminders
Supports multiple vehicles
Store vehicle data: VIN, License Plate, etc.
Data fields can be turned on and off in Settings
Excel compatible email reports (CSV attachment)
Easily search, sort, and filter records
Customizable tags
iPhone optimized online user manual
International Units: MPG (US), MPG (Canada), MPG (UK), MPG (Imperial), L/100km, gal/100mi (US), gal/100mi (Imperial), km/L, km/gal (US), km/gal (Imperial), and mi/L
Link: Gas Cubby by FRAM (download link)
iPod classic, nano, and video Join List of eReaders with Notescasts
PR: The iPod classic, nano, and video now join the Kindle and nook as eReaders with Notescasts. iPod owners are downloading Notescasts from a growing list of titles covering a broad range of topics, including The Adventures of Tom Sawyer, Pride and Prejudice, Alice in Wonderland, Adventures of Sherlock Holmes, Top 10 Yosemite Hikes, a Guide to Glacier National Park, Cycling Guides, Walt Disney World, Walt Disney World Secrets, Disneyland Guide, and more.
While the Kindle, nook, and Sony eReader are working to introduce themselves to the marketplace, the newest eReader comes to the table with an already established base of over 100 million users worldwide and, for many, a price far more agreeable - $0.
Add "eReader" to the list of features found with your iPod classic, nano, and video. Offering interactive text, a color screen, and an option to play video, all within the iPod's "Notes" feature, the iPod offers readers a more interactive and engaging experience than that found with existing eReaders.
The driving force behind this are the new "Notescasts"®, digital books downloaded to the "Notes" feature included with nearly every iPod in use worldwide today. Developed by TimeStream Software, Notescasts go beyond conventional eBooks by including interactive text, much of which is linked to related color photos, video, audio or additional information. As an example, TimeStream Software's 200 page Walt Disney World Guide Notescast links to nearly 150 corresponding colorful photos throughout the text.
"I think iPod owners are going to be pleased to know they already own an eReader and don't have to buy a new one for $260 or more." said Mike Westby of TimeStream Software. "Even better, their existing iPods offer superior music, video and color screen capability over that found with other eReaders on the market."
iPod owners are downloading free and 99¢ Notescasts from a growing list of titles covering a broad range of topics. Downloads are available from the Notescasts website.
Requirements: Compatible with iPod classic, iPod video, and iPod nano, both Windows and Macintosh formatted.
Link: Notescasts
TuTuneMe for iPhone: Customizable Music Player for the Car
PR: PureBlend Software has released TuTuneMe 1.0 - a unique, highly customizable, gesture-based music player app for iPhone and iPod touch users - optimized to make listening in the car more convenient, safe, and fun. From a distance, the app's interface is easy to see and use. Intuitive gestures play/pause music, switch songs/playlists, adjust volume, and much more. TuTuneMe users can customize the app's gesture actions and visual themes.
TuTuneMe's author, Cliff Joyce, cites driving as his inspiration for the app: "My iPhone is my car stereo, so I wanted a music app that could be readable from two feet away. I wanted to play, pause, and change songs quickly using fullscreen, easy to remember, sloppy gestures. I needed fast access to my playlists with very few taps and screens - without taking my attention away from the road. And I wanted my music player app to match the other electronics in my car's interior."
Music is controlled by 18 different finger gestures, which can be easily edited to perform one of several dozen possible actions. For instance, (like the Photos app) users drag album covers to change songs, and pinch the screen to resize album covers and song/artist/album text. Continuously swiping a finger up and down can adjust the music's volume or the screen's brightness.
Users can pick a TuTuneMe theme to match their mood or their car's dashboard. There's over 50 built-in themes, and more can be downloaded from the tutune.me website. The app also lets users get creative and have fun creating and sharing their personalized themes with friends and family - choosing fonts, colors, graphics, and even album art and text size.
A bright iPhone's screen can be distracting when driving at night, so TuTuneMe provides day and might modes. Users can change a theme's brightness, and designate any theme for day or night use - then quickly (or automatically) switch between day and night modes.
All of the app's displays are large and easy to read, which is especially good for use in a vehicle, though the company cautions drivers to use their iPhones responsibly: "Please be careful when operating motor vehicles. We do not condone any inappropriate use of this app which may endanger yourself or those around you. We want TuTuneMe users to have fun customizing themes and aspects of the app, but please do that while not driving."
The app sports nine customizable tool panels, providing controls for changing brightness, volume, songs, album art size, forward/rewind, repeat and shuffle modes, and quick access to heads-up displays for date, time, and battery information.
TuTuneMe is also socially networked. Users can manually or automatically post info about the song that's playing to Twitter and Facebook - the song name and artist, along with a link to the track get the track from iTunes. Users can share their personalized themes with friends and family via email, SMS, Facebook, and Twitter.
Features:
Control the player with swiping and tapping gestures
Edit gestures, choosing from several dozen actions
Streamlined access to iTunes playlists
Choose from over 50 built-in themes, and download more
Design personalized themes
Share themes and song info with friends on Twitter and Facebook
Works in portrait or landscape (the orientation can be locked)
Device Requirements: iPhone or iPod touch 3.1 or later
TuTuneMe 1.0 is $2.99 and available worldwide exclusively through the App Store in the Music category. Promo codes are available for qualified reviewers. Please specify the website or blog you represent when making your request.
Link: TuTuneMe (download link)
New Version of RealSki Augmented Reality iPhone App
PR: Version 1.1 of RealSki™, a new augmented reality (AR) iPhone App created by Resort Technology Partners (RTP), is now available on the iTunes App Store and offers more than 80 mountains in North America from which to choose. This new mobile Smartphone phenomenon - made possible by technology built into the iPhone 3GS - helps skiing and snowboarding enthusiasts navigate trails and on-mountain features at some of the US and Canada's top ski resorts.
"The fact that you are instantly oriented to the surrounding that you are looking at creates a more natural and easy way for skiers to navigate."
After launching RealSki, users turn on their iPhone's built-in camera, and move it up, down, and around to scan their surroundings. Digital overlays will change in real time to match what the camera sees. This allows users to find the location of facilities and points of interest, including:
Named runs including skill designation (green, blue, black) and directional heading
Lift names with loading and unloading areas
Lodges, restrooms and restaurants
Special areas such as terrain parks
Once users download version 1.1 of RealSki, they can make In App purchases of the AR navigation maps to North America's most popular resorts with their iPhone 3GS. Each download is only 99 cents.
"With a big mountain such as Whister Blackcomb, RealSki provides a new solution to an age-old problem: finding your way on the mountain. RealSki is much easier to use because you don't need zoom in and out like you do on other mobile ski maps," said Mark Sedgwick, director of information technology at Whistler Blackcomb. "The fact that you are instantly oriented to the surrounding that you are looking at creates a more natural and easy way for skiers to navigate."
"I am excited about the future opportunities of RealSki based on the overwhelming positive response from initial users and industry leaders. These discussions have lead to further enhancements to the application that we will be introducing to the market," explains Michael McDermott, senior vice president of sales, marketing and product management at RTP. "One of the enhancements that we are actively pursuing is expanding RealSki to Europe."
John Gifford, General Manager for Stevens Pass resort in Washington state is equally enthusiastic about RealSki, and said, "As both the GM of Stevens Pass and an iPhone App user, I was excited for our resort to be one of first to be included in the launch of this new augmented reality technology. We hope many of our customers can utilize this new and easy-to-use mobile navigation system."
System requirements: RealSki requires an iPhone 3GS (iPhone OS 3.1 or higher) as it relies on the GPS, compass, camera, and accelerometer to make AR work.
Link: RealSki (download link)
Have a Runny Nose? With iTissue You'll Never Need Worry Again
PR: Independent developer Joe Henry has launched iTissue 1.0, an interactive tissue simulation application, on the iTunes App Store. Although tissues aren't usually a big part of life, we all use them, and iTissue simulates that experience bringing out the fun in it with cute graphics and hilarious interaction!
The iPhone has many unique features that developers can take advantage of to make creative and interactive applications. iTissue does just this but in a way never before seen on the iPhone; "iTissue gets the user to physically interact with the iPhone, but in a more exaggerated way than just tapping the screen with a finger," said Henry.
The idea behind iTissue is extremely simple. The user pulls a tissue out of a tissue box and rubs their nose on the tissue (or iPhone) to produce boogers. The user can vary the number of boogers put on the tissue by rubbing their nose for a longer period of time, or just tapping the screen with their nose. After the user has filled the tissue with boogers or is done with the tissue they crumple it up and toss it off-screen - a somewhat ironic action, ignoring the trash can in the background.
Features:
High quality, cute cartoon graphics
Refined user experience and interaction
Minimum Requirements:
iPhone OS 3.1.2 or higher
iPhone or iPod touch
Pricing and Availability:
iTissue 1.0 is available on the iTunes App Store for 99¢ in both the Entertainment and Games categories.
Link: iTissue (download link)
btstack - A Portable User-Space Bluetooth Stack
PR: The aim of this project is to support devices for which the OS either does not provide a Bluetooth Stack or the available stack is severely limited (e.g., on the iPhone).
It provides a portable Bluetooth Stack that runs as a user-space daemon and will support different Bluetooth HCI transport layers (e.g., HCI H4 UART and H5 the "Tree-Wire" protocol), different interprocess communication methods, and support multiple applications in parallel.
It is not a port of an existing Bluetooth Stack. However, best practices from the Bluetooth Stack used in the BTnode Project at ETH Zurich and others are incorporated.
For a first overview, have a look at this BTstack presentation at the Google Open Source Jam in Zurich with a focus on the iPhone where I've presented the iPhone WiiMote OpenGL demo. Look in at the Wiki pages for an Architecture overview and a little GettingStarted example.
YouTube video demo: http://www.youtube.com/watch?v=WFWjVkzJb_s
Link: btstack
New Bible Memory App for iPhone and iPod touch
PR: Mobilize Faith, LLC announced today that it has introduced the Bible Memory app for iPhone and iPod touch, making it easier and more fun to build Bible knowledge and memorize scripture. Just in time for anyone who wants to make memorizing verses a key part of their 2010 New Year's resolutions, the Bible Memory app is available on the iTunes App Store for $3.99.
Bible memorization is an essential practice in Christian life, but there is no simple, organized and effective way to ensure that intention translates into practice, especially given today's busy lifestyle. Many have resorted to index cards or paper, which are outdated and inefficient, and identifying a catalog of verses to memorize can be cumbersome and difficult.
Bible Memory is the first app for the iPhone and iPod touch that solves many of the barriers associated with creating a daily, weekly or monthly practice of memorizing scripture. Bible Memory puts 250 categorized verses in four translations at users fingertips wherever and whenever they have a free moment for quiet study and reflection while commuting, during a break, or while waiting for an appointment.
The idea for Bible Memory came to us while listening to our pastor, who was speaking of the virtues and importance of memorizing scripture and challenged the congregation to memorize one verse a week for the rest of the year. When we got home, my husband and I began thinking about how we would memorize our verses. We were still on fire after that morning's call to action and out came the index cards and pens and we began to wonder whether there was a better and less archaic way to memorize scripture, said Petra Barrientos, Managing Partner of Mobilize Faith. It was at this point that we thought of creating Bible Memory and are especially delighted to introduce the app at the beginning of the New Year for anyone who is looking for an exciting and personally rewarding way to strengthen resolve and spirit in 2010.
Bible Memory Features
The Bible Memory app has been designed from the ground up to creatively utilize the interactive features of the iPhone and iPod touch to help users have fun and stay engaged while memorizing Bible scripture.
Bible Memory guides users through regular practice to build verse memorization.
Each Bible verse is presented in three learning modes: read the Bible verse; review the verse a phrase at a time as users practice their ability to recall words of scripture; and complete three rounds of timed, fill-in-the-blank quizzes that become more difficult.
Users can work through the verses in Bible order, or focus study on particular categories or books.
Bible Memory not only helps users memorize verses, it also creates a support system for scripture study and extends the benefits through social networking and sharing.
The app allows users to identify up to three Bible study partners who are notified of progress and who can help keep users accountable.
Users can set an alert to remind them that it is time to study.
Automatic quizzes test retention of previously memorized verses.
Metrics provide visual feedback on overall progress, by category, and by retention quiz results.
Users can also share any verse with integrated email.
Bible Memory was designed and developed with the help of Hawk Ridge Consulting, LLC, a developer of unique and entertaining applications for the iPhone and iPod touch.
Mobilize Faith is a technology startup based in Great Falls, VA that harnesses mobile technology to provide tools for anyone seeking to follow a God-led Christian lifestyle. The company's first product, Bible Memory, is the only app that helps you both memorize and share scripture with the iPhone and iPod touch. Mobilize Faith is committed to bringing products to the faith-based marketplace that are imaginative, effective, fairly priced and of the highest quality possible.
Bible Memory app for iPhone and iPod touch now available
The Bible Memory app for the iPhone and iPod touch helps you build your Bible knowledge and strengthen your faith by memorizing scripture.
Bible Memory not only helps you memorize verses, it builds a support system for your study of scripture.
Set an alert to remind you that it's time to study.
Identify up to three Bible study partners to notify of your progress and help you stay accountable.
Automatic quizzes test your retention of previously memorized verses.
Metrics provide visual feedback on your progress overall, by category, and by retention quiz results.
Share any verse with integrated email.
Bible Memory is the first app for the iPhone and iPod touch that helps you to memorize scripture by guiding you through regular practice. Each Bible verse is presented in three learning modes:
Read the Bible verse. Over 250 categorized verses in four translations are included.
Review the verse a phrase at a time, as you practice your ability to recall the words of scripture.
Test your memory with three rounds of timed, fill-in-the-blank quizzes that become progressively more difficult. Quiz includes both the text and the verse reference.
Mark completed verses as memorized or study further. You can work through the verses in Bible order, or focus your study on particular categories or books.
Bible Memory 1.0 is $3.99 and available worldwide exclusively through the App Store in the Reference category.
Link: Bible Memory for iPhone and iPod touch (download link)
Best Western Introduces iPhone App
PR: Best Western International today announced its debut in mobile offerings with the unveiling of its free iPhone application, titled "Best Western to Go."
"We can now be even more of a resource for our guests, particularly those who are making decisions on the fly."
"Best Western to Go" features include:
Search and Book: Find and book reservations at more than 4,000 Best Western hotels in over 80 countries worldwide.
Program: Create an itinerary and input addresses of attractions and restaurants. Once these have been entered, users can easily find their location using the app's GPS-enabled map.
Personalize: Capture and categorize favorite locations in specific destinations. Travelers can also upload photos and descriptions to remember the locale.
Socialize: Stay connected with family and friends by sharing an experience, such as a lunch at a kitschy diner or a souvenir purchase. Travelers can push this information directly from the app to their Facebook page, email or to other iPhone users.
The "Best Western to Go" iPhone application marks a first for the World's Largest Hotel Chain®, which plans to launch applications for multiple mobile platforms in 2010 that cater to the growing number of travelers staying connected via smart phones.
"We pride ourselves on being available to travelers no matter their location, which is why mobile accessibility was a natural next step for us," said Dorothy Dowling, senior vice president of marketing and sales for Best Western. "We can now be even more of a resource for our guests, particularly those who are making decisions on the fly."
Best Western plans to unveil multiple upgrades to its iPhone application throughout 2010, as well as introduce applications for other mobile platforms including Blackberry® and Android™. The hotel chain will work closely with application users to incorporate helpful features that best meet their travel needs.
Link: Best Western to Go (download link)
Updated Version of RunPee for iPhone
PR: RunPee.com has updated the iPhone app version of its handy website that lets moviegoers know when it's "safe" to run and empty their bladders during a film without missing a key part of the flick. The RunPee app for the iPhone not only has a timer for every movie that lets film goers know exactly when it's okay to hit the restroom, but it also gives them a quick summary of what happened while they were answering nature's call. With the new RunPee iPhone app moviegoers can pop out of the theater knowing the only thing they'll miss is the pain of "holding it" or the dreaded long line at the restroom at the end of the film. The app which can be downloaded from iTunes for $1.99 covers all new film releases.
RunPee 2.0's big difference in the primary update is to enable multiple languages and regions. From the upper-right you can select the language that you want the interface and Peetimes to be displayed in. ( Read this if you would like to help with the translations. ) The translations are done automatically by Google Translate. So if they seem a bit awkward that's why.
The Regions selection gives users the option to select the area that they live in so that the list of movies will be relevant to them. I use IMdb.com when I add movies to the RunPee database. If a country isn't listed in the release data for a movie then it gets the default date which is when it comes out in the USA.
Dan Florio, creator of RunPee.com and the new iPhone app, says, "We're on a mission to save bladders from blowing up in cineplexes across the nation and this new iPhone app is our trusty tool! Every movie has a few scenes that are not crucial to the plot, that you can safely miss and still follow the storyline when you sit back down. This iPhone app lets users know when the coast is clear so they never have to miss a good part again. Our iPhone app gives moviegoers "immunity" from the effects of mega-sized sodas and flushes away those grueling post-movie restroom lines where you have to wait your turn in pain and avoid awkward eye contact with the 30 other people in the restroom with you. Those lines really piss me off."
Florio created the iPhone app in response to thousands of inquiries from iPhone users at the website RunPee.com who all wanted the same thing - an app version of the site that told them when it was safe to take a leak. Florio wanted to help iPhone users enjoy their movie going experience, quipping, "Because a bladder is a terrible thing to hold."
iPhone application helps moms assure that their children(and they) can take a bathroom break during the movie without missing important elements to the plot.
RunPee also helps Moms, kids, and pregnant women handle bathroom emergencies during movies without missing important scenes. Once you are in the restroom you can unscramble the "spoiler" to find out what is happening onscreen so you don't miss anything.
Armed with RunPee, young kids no longer have to try to hold it in, or worse, end up peeing in the theater seats. Now a parent can say to their children, "Jimmy, about 45 minutes into the movie we're going to take you to the rest room. And here's what will be happening while we're away..."
Pregnant women especially can enjoy returning to the theater again. The Dallas Morning News reports, "With even comedies heading into the three-hour ring, now every moviegoer's bladder (bless your heart, pregnant women; the Web site even has a maternity T-shirt) can breathe a sigh of relief."
You may not have a pause button at the movie theater, but with RunPee.com and the new RunPee iPhone application, it is now "safe" to take the kiddos to the movie theater potty at predetermined times. No more emergencies after drinking gallon sodas or that extra large cherry slurpie.
Erin Moore, owner and mommyblogger for ThingsMomsLike.com, says she likes RunPee because she's "been missing the very best parts of movies for years." She adds, "I've got a 14 and 6 year old and that means two pregnancies, too. [With RunPee] I'll never miss another plot twist again!"
Dan Florio, owner and creator of RunPee.com says, "Each movie has a couple of scenes that are not crucial to the plot, that you can safely miss and still follow the storyline when you sit back down."
Florio suggests printing out the PeeTimes for free off the website, and bringing them along to the theater for handy movie break reference, or buying the 99 cent iPhone app from iTunes.
Florio created the companion iPhone RunPee application to help busy moms know *exactly* when to suggest a bathroom break for their young ones. The iPhone app has a timer to let you know when it's safe to go, how long you have to be gone, and provides plot descriptions of exactly what you are missing that you can read while waiting in the restroom.
Florio said making an iPhone app available was in response to literally thousands of inquiries from the small bladdered among us, plus moms everywhere and tech-savvy smartphone users. Dan says, "People don't want to have to remember to print out their PeeTimes before leaving the home, and with the iPhone RunPee app you don't have to. All you so is set the RunPee app to count down at the start of the film to cue the movie goer when PeeTimes begin."
Before the iPhone app version of the service, Florio came up with the idea for the website RunPee.com during the 3-hour run time of Peter Jackson's King Kong, where he said he wished someone could have told him when to duck out from the movie and, well . . . run pee. Since then, Florio has seen a lot of movies, paying closest attention to the parts that are okay to miss. The Global Mail reports, "Florio looks for scenes that can easily be summed up in words "like a long car chase" or (are) simply so unexciting they can be recapped without sacrificing drama."
The RunPee.com website that inspired the iPhone app has been lauded as a novel and important new Internet innovation. Comedy Central called it "the solution to cinematic urination." CNET hails RunPee.com, "Genius!" while the Calgary Sun notes, "It's taken off to become an online and pop sensation." Entertainment Weekly, KNBC, the Wall Street Journal, NPR, Fox News, Boston Herald, the New York Times, LA Times, Gizmodo and Lifehacker.com have made note of the RunPee.com website. ( See a short 2 minute video about the site produced and aired by the ReelzChannel. )
The iPhone app has a timer that can be started at the beginning of the film that keeps track of the elapsed time during the movie. This way the user can see at a glance how long they have to hold it until the next PeeTime. An update that is already being worked on will give the iPhone a slight vibration a few minutes before each PeeTime just in case the user forgets. Once in the restroom (or at the concession stand), the viewer can read the "spoiler" to find out what is happening onscreen for the few minutes that they are away.
There is a version of RunPee that should run on just about any phone browser. Go to m.RunPee.com and check it out. It costs $1 a year if you want to get access to movies that have been out for less than 31 days. For older movies, it's free.
Link: RunPee for iPhone (download link)
Accessories
L5 iPhone Universal Remote for iPhone and iPod touch
PR: L5 Technology has introduced a accessory and free app that turn any iPhone or iPod touch into a universal remote control. Launching at ShowStoppers @ CES, the L5 Remote provides consumers with a powerful alternative for replacing multiple and often-confusing remote control devices. The L5 Remote transforms the iPhone and iPod touch into a personal universal remote that controls televisions, DVDs, DVRs, cable boxes, audio equipment, and most other products that come with an infrared remote.
Developed by L5 Technology, the L5 Remote is comprised of a small hardware device that plugs into an iPhone or iPod touch dock connector and a free app to be available from the iTunes App Store. The L5 Remote offers a quick an easy setup, using a drag and drop features so consumers can create their ideal, and personally customized remote control interface. The L5 Remote is priced at MSRP $49.95 and will be available for purchase in February from the L5 Technology web site www.L5remote.com and retailers nationwide.
"With the fast pace of innovation in the smartphone market, handhelds are becoming the consumer electronics platform of choice, causing disruptions across many markets. We see peripherals that connect smartphones to the physical world as key components in the revolution," said Wade McNary, founder and CEO of L5 Technology. "Leveraging the power, versatility, and portability of handheld devices, and following Apple's philosophy of design elegance and simplicity, we have solved a common problem. This one small device reverses a long trend toward complexity in remote controls."
How Does L5 Remote Work?
Consumers purchase the L5 Remote hardware - an adaptor measuring 1.25" x 0.85" - and plug it into the iPhone or iPod touch docking port. They will then be prompted to download a free app from the iTunes App Store, which allows them to simply drag-and-drop to create their own customized remote control interface. The app will guide them through a short process of programming the app to control the infrared devices.
Using infrared technology, the L5 Remote can control any number of devices in any number of rooms. Consumers can easily set it up to control products in the living room, bedroom, office, or any other location. The L5 Remote will work to a distance of approximately 30 feet.
The L5 Remote is portable and does not require batteries, WiFi or external power to work. The product can control thousands of devices, including TVs, cable boxes, stereos, DVD players, ceiling fans, air conditioners, and many other products.
Link: L5 iPhone Universal Remote
NewerTech Introduces Window Mount for iPhone 3G/3GS
PR: Newer Technology, Inc. (NewerTech) announced today the NewerTech Window Mount for iPhone 3G and 3GS models. With an exact fit cradle and super vacuum adhesion, the $19.99 MSRP NewerTech Window Mount keeps an iPhone 3G or 3GS securely in place even in the roughest of environments for safe operation and viewing.
Safe & Easy Viewing In Any Environment
Specifically designed for iPhone 3G/3GS models, the NewerTech Window Mount offers secure, 360 degree viewing of an iPhone 3G or 3GS in autos, trucks, SUVs, and boats; as well as on desktops, airplane tray tables, and on any other flat surface. Its flexible, yet robust neck combined with super vacuum adhesion eliminates any sags, drooping, or vibration drawbacks that plague other "one size fits all" window mounts.
Flexible mount keeps your iPhone in view and within easy reach.
Unlike other mounts that easily fall off or hold a variety of devices, the NewerTech Window Mount is specifically designed for iPhone 3G/3GS models. With its exact fit cradle and super vacuum adhesion, your iPhone 3G/3GS will remain securely in place even in the roughest of environments. The flexible neck is also stiffer and more robust than other mounts on the market so you won't get sags, drooping, or vibration problems that will require you to readjust the mount every time you look at it.
"The NewerTech Window Mount really 'sucks', but in a good way," said Jen Soule, Product Process Manager, NewerTech. "It holds an iPhone 3G or 3GS safely and securely in place so a user doesn't have to constantly readjust the mount or experience any unexpected and potentially dangerous unmounting."
Product Specifications:
Length: Overall 9"
Works with: iPhone 3G, 3GS
Color: Black
Warranty: 1 year warranty
The NewerTech Window Mount is available immediately for $19.99 MSRP from NewerTech's exclusive distributor, Other World Computing (OWC), as well as through the retail channel, and is specifically designed to hold Apple iPhone 3G and 3GS models only.
Link: Window Mount for iPhone 3G/3GS
JogJacket for iPhone 3G/3GS and iPod touch
PR: JogJacket for iPhone/iPod touch is a case made out of Neoprene material for iPhone 3G/3GS/1G iPod touch/2G/3G, and comes with an armband to allow attaching to your arm. The armband is detachable and can be adjusted to 10 different fit sizes. The Neoprene material used is light and durable, and will protect your iPhone/iPod from dirt and scratches.
It has a transparent screen on its front side to allow full control and viewing of your iPhone/iPod screen to watch movies, slideshows and see song selections, while guarding your iPhone/iPod screen from dirt and scratches. The front face is also outlined with light reflective material to assist you to be seen in low light conditions such as while jogging at night.
JogJacket for iPod/iPhone is also compatible with "Nike iPod Sports Kit" and is ideal for listening to your iPhone/iPod while jogging or exercising. The wireless sensor of your "Nike iPod Sports Kit" can be stored in a pocket on the case when it is not used. This pocket can be used to your accessories such as your ear rings.
You can also detach the armband from JogJacket for iPod/iPhone and use it as a simple case to clip onto your belt, or attach the strap (included) through the hole located at the top of the case to hang it from your neck.
JogJacket for iPod/iPhone is a must have item for individuals with an active lifestyle.
Specifications
Size: app. 50 (W) x 102 (H) x 3 (D) mm
Weight: app. 10 g (including armband)
This Sport armband is suitable for:
iPhone 3G
iPhone 3GS
3G iPod touch
2G iPod touch
1G iPod touch
Package Contents:
JogJacket case
Adjustable armband
$15.99
Link: JogJacket for iPhone 3GS/iPhone 3G/iPod touch 1G, 2G & 3G
Join us on Facebook, follow us on Twitter or Google+, or subscribe to our RSS news feed
Links for the Day
Mac of the Day: Power Mac 8200, introduced 1996.04.22. The minitower version of 7200 was never sold in America.
Recent Content
Follow Low End Mac on Twitter
Join Low End Mac on Facebook
Favorite Sites
MacSurfer
Cult of Mac
Shrine of Apple
MacInTouch
MyAppleMenu
InfoMac
The Mac Observer
Accelerate Your Mac
RetroMacCast
The Vintage Mac Museum
Deal Brothers
DealMac
Mac2Sell
Mac Driver Museum
JAG's House
System 6 Heaven
System 7 Today
the pickle's Low-End Mac FAQ
Affiliates
Amazon.com
The iTunes Store
PC Connection Express
Macgo Blu-ray Player
Parallels Desktop for Mac
eBay

Advertise