Weather Bombs, Wireless Internet, and the Importance of Dialup Access
Charles Moore - 2010.01.12 - Tip Jar
As many longtime LEM readers are aware, I spent my first dozen years of Netizenship on a dialup connection - slow dialup at that. The best throughput the antiquated rural copper telephone lines and elderly switching equipment could deliver to this neck of the woods is 26,400 bps - barely more than half of even dialup's speed potential.
For newcomers, here's a brief recap.
I live in the outer boonies - 50 miles from the nearest town on Nova Scotia's thinly-populated Eastern Shore. We get one channel of off-the-air broadcast television, and there's no cable, no GSM mobile service, and, until last September, the only option for high-speed Internet was astronomically expensive satellite service. Consequently, it was a major - in some respects life-changing - breakthrough when more affordable broadband Internet service finally arrived here last September in the form of wireless distribution, providing decent speed and the luxuries of not being obliged to go through the dialup rigmarole a dozen or so times a day over our sole telephone line to the outside world, and not tying up voice communication while online.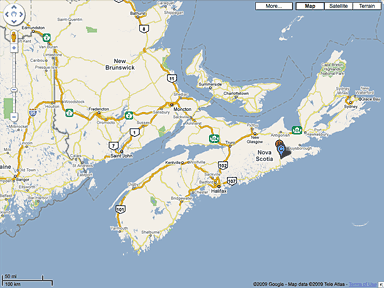 Moore lives in the "outer boonies" of Nova Scotia.
Having broadband after such a long stretch of pent-up frustration has been a delight. I'd used high-speed Internet elsewhere enough times to know what we'd been missing, but having it available any time I like still seems almost too good to be true.
I certainly don't want to badmouth the dialup service that faithfully served us for twelve years. It had been extremely reliable, with only a half-day of downtime over the years that I can recall, and it was caused by a fluky accident when a Department of Highways roadside weed whacker unintentionally severed the main fiber optics cable connecting this isolated rural district to the outside world.
However, dialup got increasingly frustrating as Internet content became more bandwidth-greedy and Web developers evidently started taking it for granted that their audience would be equipped with high-speed access. That is actually far from reality for a lot of folks yet around the globe. According to Strategy Analytics' Global Broadband Household Penetration June 2009 Rankings report (based on 2008 data), broadband penetration in the US was just 60% (in 20th place worldwide, although I recently read that it's since risen to 63%), in Canada 76%, the UK 67%, and Australia 72%, while in Mexico it was just 28%.
Wherever, there are an awful lot of Internet users out there without broadband service, and the presumption of high-speed access by many website designers and the practical limitations on delivering certain types of content over dialup lines has created essentially two classes of Internet citizenry.
Off soapbox.
Our wireless broadband service had been flawlessly reliable since it was installed on September 10, 2009, with no glitches or outages to report as we closed on the four-month mark - so much so that I finally mustered the confidence to discontinue our dialup Internet service the week after Christmas.
Ironically, four days later a deep low-pressure system that had formed off the United States east coast was bearing down on Nova Scotia, with Environment Canada warning that barometric pressure would fall extremely rapidly, creating conditions for what meteorologists call a "weather bomb". Indeed, this storm would pack more than twice the power needed to qualify as a weather bomb, which by definition requires a drop in barometric pressure of 24 millibars in 24 hours. With this brute, barometers would drop by up to 50 millibars in that period. Yikes!
I had been curious about how the wireless signal would fare in harsh winter weather. Since it uses a directional dipole antenna rather than a dish, I didn't anticipate snow buildup would be a major problem, as it is for some folks I know who have dish-based satellite service.
However, weather bombs are another matter.
This one was a doozy. We didn't get a tremendous amount of precipitation with the storm, and what fell here was rain, but even when hurricanes have brushed us here I don't think I've experienced many, if any, stronger winds. We were fortunate that damage to the house was limited to nine roof shingles being blown off along with the rain gutters off the front of the building, which took the brunt of the seven-hour Northeasterly blast, starting in the late afternoon of January 2 and finally easing off around midnight to just very strong winds from a vector we're more sheltered from by topography.
Our electric power managed to hold on for a couple of hours, but it flickered and died at around 7:00 p.m., taking our wireless Internet with it.
However, our landline phone kept working, as it has through every other storm I recall, and happily, a dialup holdout friend took pity and permitted me to log on to her account. Good thing too. Our power at the house came back on around 11:30 a.m. the next day, but it was not restored at the wireless tower, which is located about three miles away, until 8:30 that evening.
This incident answered the question of whether there would be some sort of backup power supply at the wireless tower - there isn't. Consequently, running the receiver antenna modem and router from a power inverter, power pack, or even an auxiliary generator would be pointless during power interruptions, whereas good old dialup Internet still works just fine - so long as you have a laptop with a charged battery or a backup power supply that can run a desktop computer for more than a short interval (many UPS units give you as little as five minutes to get things gracefully shut down - for a recent roundup of UPS strategies, see Battery Keeps Computer Running When Lights Go by Computer America's Craig Crossman.
This makes having some sort of access to dialup for backup pretty vital if your livelihood is conducted over the Internet. On the other hand, the most bare bones dialup plan offered by the only hardwired ISP serving this area is C$18.95 plus tax per month for 15 hours of access, a bit much to swallow for a backup strategy, having already been obliged to eat a roughly 80% hike in the monthly cost of our basic Internet service with the switch to high speed wireless.
One potential solution for folks still on dialup service is Budget Dialup, a prepaid Internet service that works like a prepaid calling card - you buy some time up front and use it up whenever you need it, with no monthly service fee to pay, making it an excellent alternative for a power blackout backup ISP.
Plans start from $5.95 for 10 hours (used within one year) and include a free 5x Web Accelerator. Budget Dialup is a full featured ISP offering:
56k, V.90, V.92 support
A free email account
No busy signals
No advertisements
No spam
The downside for me here is that the nearest of only two Budget Dialup access numbers in Nova Scotia is on an exchange some 150 miles away, so there would be long distance charges involved in order to use it. The company says its access numbers cover 93% of the US population.
Budget Dialup offers its own toll-free (so to speak) access numbers over two redundant toll-free networks provided by MCI and Level3. These can be used for under 5¢/minute from anywhere in the United States and Canada, but you have to pay for usage (6¢ per minute) when you need the access, which I would 100% of the time. Since one of my regular long distance plans only charges C6¢ per minute and the other gives me up to an hour for a C$1.00 flat rate, that would be the marginally cheaper option.
At least this service provides a reasonably inexpensive alternative.
Join us on Facebook, follow us on Twitter or Google+, or subscribe to our RSS news feed
Charles Moore has been a freelance journalist since 1987 and began writing for Mac websites in May 1998. His The Road Warrior column was a regular feature on MacOpinion, he is news editor at Applelinks.com and a columnist at MacPrices.net. If you find his articles helpful, please consider making a donation to his tip jar.
Links for the Day
Mac of the Day: Pismo PowerBook, introduced 2000.02.18. The first PowerBook to reach 500 MHz also has AGP graphics, FireWire, and AirPort support.
Recent Content
Follow Low End Mac on Twitter
Join Low End Mac on Facebook
Favorite Sites
MacSurfer
Cult of Mac
Shrine of Apple
MacInTouch
MyAppleMenu
InfoMac
The Mac Observer
Accelerate Your Mac
RetroMacCast
The Vintage Mac Museum
Deal Brothers
DealMac
Mac2Sell
Mac Driver Museum
JAG's House
System 6 Heaven
System 7 Today
the pickle's Low-End Mac FAQ
Affiliates
Amazon.com
The iTunes Store
PC Connection Express
Macgo Blu-ray Player
Parallels Desktop for Mac
eBay

Advertise