After Upgrades, Moore's Pismo Becomes His Best Ever
Charles Moore - 2010.11.01 - Tip Jar
In our previous episode, Charles Moore's Pismo Has a Near Death Experience, I had somewhat pessimistically resigned myself to the possibility that the faithful old Pismo PowerBook I bought used in October 2001 had reached the end of the road.
The display backlight, which had been progressively succumbing to the dreaded Pismo pink screen affliction over the past several years, had taken to refusing to illuminate at all on bootup or wake-up, with some apparently associated booting anomalies (see Charles Moore's Pismo Has a Near Death Experience). A motherboard issue seemed plausible.
Substituting a stock Pismo 500 MHz G3 750 processor and 768 MB of known good RAM in place of the Wegener Media 550 MHz G4 upgrade and 1 GB of RAM I had installed seemed to help a bit for a few days, but then the failure to light the screen remanifested. I switched to my other Pismo and started looking for a good deal on another machine.
However, about three weeks ago I had some rare spare time on a Saturday afternoon and decided to take another shot at reviving the ailing laptop.
Replacing Parts
I have a third Pismo with a bad power manager (see The Day the Pismo Died for that story) board that I've been cannibalizing as a parts mule, and it happened to have the best Pismo display in the fleet. Since this was a video-related issue, there seemed to be probable cause to suspect the video inverter board as a possible culprit, and I knew the video had been working fine in the parts Pismo up to the point where the power manager got fried by an arcing extension cord.

Pismo video inverter. Image © iFixit
Happily, as with many Pismo internal components, the video inverter is very easy to get at and a snap (in some respects literally) to replace. Once the inverter is out, swapping the display screen complete with its screen lid bezel is simplicity itself, involving removal and replacement of just four easy to get at screws, so while I was at it, I took the opportunity to switch the pink-tinged display with the good one from the parts computer.
To keep variables to a minimum, I stuck with the 500 MHz G3 CPU and 768 MB of memory, and after I buttoned everything back up, the Pismo booted nicely, and the screen lit as it should. The entire operation had taken about half an hour start to finish.
Upgrades Reinstalled
I ran for a week with that configuration until I was reasonably confident that the problem had been successfully dealt with, and the next Saturday found a moment to swap in another processor daughtercard with a FastMac 550 MHz G4 upgrade, and to bump the RAM back up to the maximum two 512 MB RAM modules for the full gigabyte that the Pismo can support.
All is working splendidly. In fact, never better!
The excellent display is a treat after viewing through a rosy tint for several years, and the FastMac G4 CPU is a bit more lively than the Wegener Media unit I had been using or the Daystar G4 upgrade I have in the other in-service Pismo that is used mainly as my road computer and for scanning and disk burning. (For an overview of Pismo G4 upgrades, see WallStreet and Pismo Processor Upgrades: Do They Make Economic Sense?, published in 2004.) Michael Lowdermilk, Business Development Manager for FastMac Performance Upgrades, Inc., told me that the difference is that FastMac uses 333 MHz Motorola/Freescale G4 7410 chips slightly overclocked to 500 MHz, while the chips used by his competitors are 500 MHz 7410s overclocked to 550 MHz.
FastMac's Hot Upgrade
The only downside to this setup is that I find the FastMac G4 upgrade runs significantly hotter than the Wegener and Daystar G4 upgrades, which results in more fan activity, which is to say any fan activity at all. With the Wegener unit, the Pismo's cooling fan might cut in two or three times a year during the hottest days of the summer, but with the FastMac, it's been several times in the run of a week, and the summer is well past here now.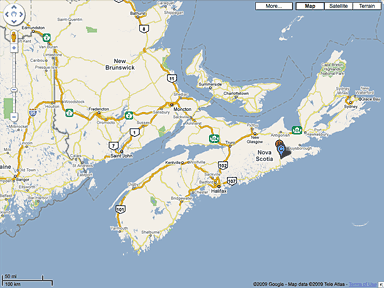 I hate the fan cacophony, but the faster performance is nice, so it's a compromise. Come the warmer weather, if the fan activity gets too tiresome, I may be motivated to go back the the Wegener G4, which really isn't much slower, but for now - over the next six months or so - that's not something on the agenda here in northeastern Nova Scotia.
Years to Go
I'm still going to try to find a deal on a Pismo in good condition for a spare, since I've now stripped my parts machine to a degree that I probably won't try reviving it. I think Pismos still have a few years of useful life left before Mac OS X 10.4 Tiger and PowerPC become too obsolete for serious general-purpose computing.
I don't use these old laptops out of sentimentality, but because they are a functional tool that does everything I need them to do - and I find them more ergonomically comfortable than any other computer I've ever laid my hands on (and economical as well). For example, I drafted most of this column on my "road" Pismo while waiting for my wife in the dentist's office. It's not the lightest machine for that purpose, but it is reasonable to carry.
Browser compatibility will likely prove the eventual tipping point. For now, I'm finding Opera 10.63 the highest performance browser for OS X 10.4, notwithstanding some PowerPC compatibility angularities (most notably a bug that can summon the spinning beachball if you try to enter text in a field too quickly), but on the balance I find it faster than any other Tiger-compatible browser, and it seems to be more economical of memory footprint than, say SeaMonkey, which is my number two browser choice, but which gets slowed down with virtual memory access after the system memory stack gets filled up by open applications.
However, version 10.6x will be the last of the Mohicans for Opera's browser on PowerPC Macs. The new Opera 11 I'm using on my Intel MacBook, still in public alpha status, does not support PowerPC.
Consequently, the old Pismo does not have an unlimited future as a production platform, but for the present I'm going to continue enjoying mine.
Join us on Facebook, follow us on Twitter or Google+, or subscribe to our RSS news feed
Charles Moore has been a freelance journalist since 1987 and began writing for Mac websites in May 1998. His The Road Warrior column was a regular feature on MacOpinion, he is news editor at Applelinks.com and a columnist at MacPrices.net. If you find his articles helpful, please consider making a donation to his tip jar.
Links for the Day
Mac of the Day: Performa 6200, introduced 1995.05. This Road Apple is one of the worst Mac hardware designs ever.
Recent Content
Follow Low End Mac on Twitter
Join Low End Mac on Facebook
Favorite Sites
MacSurfer
Cult of Mac
Shrine of Apple
MacInTouch
MyAppleMenu
InfoMac
The Mac Observer
Accelerate Your Mac
RetroMacCast
The Vintage Mac Museum
Deal Brothers
DealMac
Mac2Sell
Mac Driver Museum
JAG's House
System 6 Heaven
System 7 Today
the pickle's Low-End Mac FAQ
Affiliates
Amazon.com
The iTunes Store
PC Connection Express
Macgo Blu-ray Player
Parallels Desktop for Mac
eBay

Advertise