Further Upgrading My Pismo PowerBooks
Charles Moore - 2009.12.01 - Tip Jar
I'm back to being a two Pismo user for reasons elaborated in yesterday's column. In many respects, it's a comfortable place to be.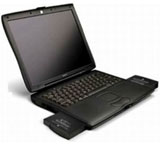 I decided to purchase a second Pismo back in the late spring of 2007 in apprehension of something going wrong with the standby unit I'd been running for the five years previous to that, and I thought it would be prudent to pick up one while they were still available.
That second machine, which I purchased from Wegener Media, turned out to be an absolutely pristine example, very lightly used from the looks of it (David Wegener said it was from a batch of lease-backs he'd purchased). Definitely nicer cosmetically than my somewhat shopworn workhorse, although that one was, and remains, in quite respectable condition too.
Death and Rebirth of a Pismo
Unfortunately, I managed to fry the power manager board in that unit about a year after it arrived here, the culprit being either a defective extension cord or a dodgy "flying saucer" AC power adapter. I heard an ominous snapping sound when I plugged in the adapter, and that was that. The Pismo went to sleep and refused to wake up.
I was never able to determine precisely what happened, because I wasn't going to risk damaging another computer by experimenting investigatively, so I just threw away the suspect extension cord and haven't used that particular power adapter since.
I contacted David Wegener to see if he had any more Pismos in good shape and was able to secure another one as a bare chassis (case, circuit boards, display, and keyboard) into which I could swap the easily removable bits. The second Wegener machine was in reasonably nice cosmetic condition as well, although not as perfect as the first. Most importantly, however, it has proved a completely reliable performer for the past 15 months or so, typically getting 3 to 5 hours used per day.
Reliable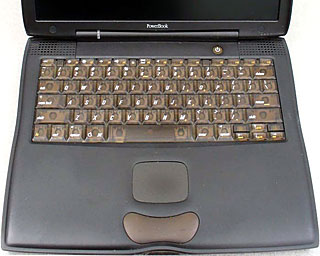 Meanwhile, my original Pismo, which I obtained one-year-old used in a swap for a G4 Cube back in October 2001,* has also continued to run pretty much flawlessly, and when our 6-year-old G3 iBook unceremoniously bit the dust last winter, I "lent" that Pismo to my wife, who had been using the iBook as her computer for a couple of years.
The old Pismo proved a worthy and reliable replacement, and I think it was maybe only restarted three or four times over the past nine months of daily (albeit light-duty) use.
I now have that machine back, since I transferred usership of my 17" PowerBook G4 to my wife this past weekend, as chronicled in yesterday's column.
Upgrade Options
Having the second Pismo back has rekindled my interest in possibly doing a bit more hotrodding. Both of my Pismos have 550 MHz G4 processor upgrades, 8x DVD-burning SuperDrive modules in their expansion bays, and larger capacity hard drives than they initially shipped with - a Seagate 100 GB, 4200 rpm unit in the Wegener machine, and a Toshiba 40 GB ,5400 rpm drive in the other one. Both also have Fastmac or Newer Technology extended capacity batteries, and I also have a FireWire 800 CardBus adapter and a Buffalo G54 WiFi CardBus adapter.
1 GB of RAM
Both have upgraded RAM: 576 MB in one and 640 MB in the other. I've procrastinated about maxing out at least one of them to a full gigabyte of memory, but Monday morning I decided that since it looks like I'm going to be using a Pismo for light-to-medium duty production work for the foreseeable future, it was past time that I got on with a RAM upgrade.
I checked out what was available at Canada RAM, which listed 512 MB memory modules for the Pismo for C$57 plus C$7.99 for shipping to most cities in Canada.
That seem fairly reasonable, but a check of the Other World Computing memory upgrade page for Pismo revealed that OWC would sell me a 512 MB PC133 CL3/PC 100 CL2 SO-DIMM for the Pismo with a lifetime warranty for a modest US$33.97 plus US$3.50 for US Postal Service First Class Mail International Package Shipping, bringing the total damages to US$37.47.
The Canadian dollar is trading in the US$0.94 range this week, and even factoring in the $5 Canada Post will probably ding me to rubber stamp the shipment through customs (sometimes they just send it on through if one is fortunate), it will still be substantially cheaper than buying in Canada, so OWC got my order. (Over the years, I've found them tough to beat for value.)
Mac OS X 10.5 'Leopard'
Anticipation of finally having a full gigabyte of RAM in a Pismo got me to thinking further about the notion of possibly attempting to install Mac OS X 10.5 "Leopard" on one of the machines. I've read sporadic reports of people successfully managing to fool the Leopard installer and get around Leopard's 867 MHz G4 minimum threshold for support, although evidently there are some operational limitations, such as DVD Player not working.
Nevertheless, I really miss some Leopard features, especially Spaces and QuickLook, so I'm weighing the possibilities. Unfortunately, OWC's XPostFacto installer hack for installing OS X on some unsupported systems doesn't, at least officially, support Leopard, and OWC president Larry O'Connor has expressed pessimism that there will ever be an XPostFacto 5 version, since the program's developer, Ryan Rempel, has apparently moved on to other things, and Apple has "closed the doors on open source" with OS X 10.5 - and in so doing pretty much eliminated potential to code for ongoing legacy support.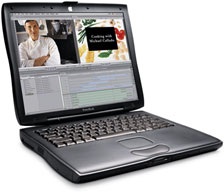 But apparently there are still ways, notably Leopard Assist, a simple tool to install Leopard on older, unsupported Power Macs by bypassing the 867 MHz processor check in the Leopard installer to allow systems that don't meet the requirements to complete installation. This is done by way of temporarily faking the clock speed in the device tree, changing it to 933MHz, and then launching the Leopard Installer. No need for modified Leopard DVDs, no hardware hacks or tweaks, just a one-time run application. Actually, the processor speed spoofing can be done manually in the terminal using command line instructions, but Leopard Assist automates the process, making it much more convenient. It took a bit of searching to find a working download site for Leopard assist, but I eventually was able to snag a copy on softpedia.com.
Although it is possible, I haven't yet decided whether it's sensible to install Leopard. The Pismo's feeble video support with a paltry 8 MB of VRAM doesn't seem promising in conjunction with Leopard's relatively video resource-hungry Finder and under-the-hood processes. I may just decide to stick with Mac OS X 10.4 "Tiger", which runs very nicely on the G4-upgraded PIsmos.
Other Upgrade Options
Other possible hot rod tweaks would be a USB 2.0 CardBus adapter and/or a Bluetooth adapter. However, since the Pismo has only one CardBus slot, which is pretty well continuously occupied by the WiFi adapter, I'm not sure that's worth the expense either.
Anyhow, some late night thoughts. I'll first see how things go with a gigabyte of RAM. Upgrading my Core 2 Duo Unibody MacBook from 2 GB to 4 GB of memory has been quite a revelation on what having enough RAM can do for you, but that's another movie.
* Editor's note: Moore's Cube was purchased second-hand for use at Low End Mac headquarters while our 400 MHz Titanium PowerBook went in for repair. It was a real learning experience, especially the danger of brushing the power button accidentally and having it turn itself off. Moore subsequently swapped this Cube for his first Pismo PowerBook. dk
Join us on Facebook, follow us on Twitter or Google+, or subscribe to our RSS news feed
Charles Moore has been a freelance journalist since 1987 and began writing for Mac websites in May 1998. His The Road Warrior column was a regular feature on MacOpinion, he is news editor at Applelinks.com and a columnist at MacPrices.net. If you find his articles helpful, please consider making a donation to his tip jar.
Links for the Day
Mac of the Day: 20th Anniversary Mac, introduced 1996.03.20. Honoring Apple's 20th anniversary, the TAM was the first flat panel desktop Mac and had a unique design.
Recent Content
Follow Low End Mac on Twitter
Join Low End Mac on Facebook
Favorite Sites
MacSurfer
Cult of Mac
Shrine of Apple
MacInTouch
MyAppleMenu
InfoMac
The Mac Observer
Accelerate Your Mac
RetroMacCast
The Vintage Mac Museum
Deal Brothers
DealMac
Mac2Sell
Mac Driver Museum
JAG's House
System 6 Heaven
System 7 Today
the pickle's Low-End Mac FAQ
Affiliates
Amazon.com
The iTunes Store
PC Connection Express
Macgo Blu-ray Player
Parallels Desktop for Mac
eBay

Advertise