Just Right: Papa Bear, Mama Bear, and Baby Bear MacBooks
Charles Moore - 2008.11.20 - Tip Jar
In the classic children's nursery story, Goldilocks and the The Three Bears, bratty Blondie does a home invasion of the Ursine family's digs and determines that the baby bear-sized breakfast, chair, and bed suit her best.
I'm old enough to remember when Detroit introduced "mid-size" cars back in the 1960s. The Big Three had debuted their compact models in 1959, but there was a perceived niche for something in between them and the humongous "standard" size models of the day. To fill the gap, Chevrolet released the Chevelle, Ford its Fairlane, and Chrysler the Dodge Coronet and Plymouth Belvedere.
Of course, these size categories are relative. In terms of external dimensions, those original 1959 compacts are pretty big by today's standards. The early 60s midsize models were as large as or larger than full-size American sedans of the past decade or so, and in the 1970s midsize cars got absolutely humongous. On the other hand, rationality has returned in this century, and for quite a few years now the midsize range has been the strongest selling and most competitive, with currently the Chevy Malibu, Ford Fusion, and Dodge Avenger duking it out with the Toyota Camry, Honda Accord, Mazda 6, et al.
And So It Is with Notebooks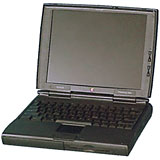 And so it has been with laptop computers. A full size PowerBook used to be around seven or eight pounds, but even the current "Papa Bear" 17" MacBook weighs about the same as a midsize PowerBook 1400 of a dozen years ago - and much less than the full size PowerBook 3400 or WallStreet of that same era.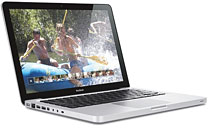 Apple "subnotebooks", as they used to be called, haven't changed much in size, and the MacBook Air is much lighter than the original PowerBook Duos and 2400c of the early-to-mid 1990s. However, perhaps a better analogy with the Duo would be the new Unibody MacBook, which tips the scales at a tenth of a pound less than the 12" PowerBook, for which it is the most direct replacement.
Personally, midsize in cars or computers never really appealed to me at the visceral level. I could appreciate their practical sensibleness - Aristotle's "golden mean," I guess, of taking the "Mama Bear" (not the biggest and not the smallest) route in either case, but I tend to be more attracted to biggest or smallest. In cars, I've always preferred them to be either small and minimalist or big and opulent. Well, actually, big and minimalist would do fine as well. I had some full-sized mid-60s Chevies with few options, six cylinder engines, and stick shifts that I liked awfully well.
And in terms of the current fleet of Apple laptops, the ones that enchant me the most are the Unibody MacBook (if only it had a FireWire port) and the 17" MacBook Pro, although what's really missing in Apple's notebook lineup is a netbook, which the MacBook Air really isn't due to its restricted connectivity and expandability compared with PC netbooks from Asus, et al. Of course, these designations, as ever, are relative. The current midsize 15" MacBook Pro weighs just 5.5 pounds or four-tenths of a pound less than the erstwhile mid-sized 14" iBook, and yet has a 1440 x 900 display that matches the screen resolution of the original 17" PowerBooks.
Screen size is indeed one area where even the smallest of today's Apple blocks is a "Big 'Book." Back in 1997, the 12.1" 800 x 600 display - introduced with the PowerBook 3400, a hulking "full-sized" eight pound plus laptop if there ever was one - was a big deal, and at the time the largest Apple portable screen ever. Today, the MacBook Air and MacBook both have have 13.3" 1280 x 800 resolution displays, a greater resolution than was available in any PowerBook until the mid-generation TiBooks of 2002, which had 1280 x 854 pixel displays.
Popularity and Value in the Middle
In any case, the midsize "Mama Bear" 'Books - the 15" PowerBooks and MacBook Pros - have been popular sellers, and that's perfectly cool. They are great machines. Midsized cars have always been strong sellers too. Their middle-of-the-road character seems to appeal to many people - even me these days. I have owned a Toyota Camry for several years, and were I shopping for a new one today, I'm pretty smitten with the latest Mazda 6 and the new Chevy Malibu.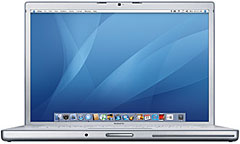 The 15" MacBook Pro arguably offers fairly decent value for the money, at least by Apple standards, although it remains to be seen if Apple can stubbornly hold the $1,999 price point in this economy. I would say that the most overpriced portable model Apple sells is without question the MacBook Air, whose price simply can't be justified in terms of value.
However, Apple Certified Refurbished 15" MacBook Pros, especially the early 2008 models (and we can anticipate soon the unibodies as well), strike me as an exceptional value, selling as they frequently do in the $1,300 to $1,500 range. That's the price of a new unibody MacBook, and with the Apple Certified units coming with the same warranty and AppleCare eligibility as a new machine, I would be inclined to go for the refurbished 15-incher at that price level.
If money were no object (but when is it not?), I would still go for a 17" MacBook Pro in a heartbeat. The 17-incher has enjoyed a pretty good track record for reliability, and that big 1680 x 1050 display would be a lovely to work with. I'm primarily a desktop substitute laptop user, and the old Pismo that I use mostly for "laptop" laptop duty weighs nearly as much as my 17" Big Al G4 PowerBook does anyway, so I'm used to the weight
However, in terms of cost, performance, and value, the choice for me is between the entry-level $1,299 Unibody MacBook and the refurbished 2.4 GHz MacBook Pro, and the MacBook Pro gets the nod, IMHO, because of its bigger display and its FireWire ports and ExpressCard slot.
I still would love to see Apple build a real computer with decent connectivity and expandability in the netbook size category, selling for $800 to $900, to replace the current holdover plastic MacBook. I know that a lot of 12" PowerBook fans are being drawn to the higher-end PC netbooks on those criteria, and I have to say that even I am tempted to get one and try running Ubuntu Linux on it.
Join us on Facebook, follow us on Twitter or Google+, or subscribe to our RSS news feed
Charles Moore has been a freelance journalist since 1987 and began writing for Mac websites in May 1998. His The Road Warrior column was a regular feature on MacOpinion, he is news editor at Applelinks.com and a columnist at MacPrices.net. If you find his articles helpful, please consider making a donation to his tip jar.
Links for the Day
Mac of the Day: 20th Anniversary Mac, introduced 1996.03.20. Honoring Apple's 20th anniversary, the TAM was the first flat panel desktop Mac and had a unique design.
Recent Content
Follow Low End Mac on Twitter
Join Low End Mac on Facebook
Favorite Sites
MacSurfer
Cult of Mac
Shrine of Apple
MacInTouch
MyAppleMenu
InfoMac
The Mac Observer
Accelerate Your Mac
RetroMacCast
The Vintage Mac Museum
Deal Brothers
DealMac
Mac2Sell
Mac Driver Museum
JAG's House
System 6 Heaven
System 7 Today
the pickle's Low-End Mac FAQ
Affiliates
Amazon.com
The iTunes Store
PC Connection Express
Macgo Blu-ray Player
Parallels Desktop for Mac
eBay

Advertise