Is Apple Green Enough?, Why Tablets Will Never Completely Replace PCs, and More
This Week's Mac Notebook News
Compiled by Charles Moore and edited by Dan Knight - 2012.08.31
General Apple and Mac desktop news is covered in Mac News Review. iPad, iPod, iPhone, and Apple TV news is covered in iOS News Review. Older Macs are covered in Vintage Mac News. All prices are in US dollars unless otherwise noted.
Purchases made through links to Amazon.com and Apple's iTunes/iBook/App/Mac App Store support Low End Mac.
News & Opinion
Rumor Roundup
Products & Services
News & Opinion
Should Environmentally Conscientious Users Give Up on the Mac and Go to Windows?
TreeHugger.com's Lloyd Alter says that four years ago he switched to Mac and fell in love with it, finding it so simple, well designed, and logical,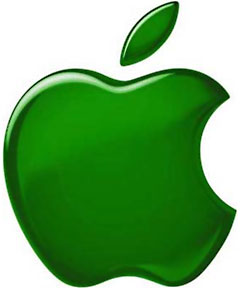 he wondered why he had wasted all those years building his own Windows machines. The Mac was just elegant, he observes.
Over the past year, however, Alter says his love for Apple has been tempered a bit, noting that the new Apple headquarters is a symbol of everything he dislikes about the company, and like all of his colleagues at TreeHugger, he's upset by the near hermetically sealed and virtually unrepairable design of the new MacBook Pro with Retina Display.
But what may turn out to be the final straw for Alter is that his Core 2 Duo Mac with 4 GB of RAM and a solid state drive (SSD) is not supported by OS X 10.8 Mountain Lion, so he's left with the options of sticking with the old operating system (which would be the greenest alternative), buying a new MacBook, or, as some of his family are advising, dumping Apple and spending half as much money on a new PC notebook or ultrabook and run Windows or Ubuntu.
He's posted an online poll asking readers to weigh in, and sticking with his existing computer is winning.
Publisher's note: Alan Zisman covers some of the same territory in Is There Such a Thing as Ethical Technology? dk
Link: Should I Give Up on Mac and Go Back to Windows?
Why Tablets Won't Replace PCs Anytime Soon
InfoWorld's Bob Lewis professes to be a big fan of tablets, saying he recommends them for organizations as a springboard for encouraging employees to innovate, and for friends whose computing needs begin and end with email, Web browsing, ebooks, and online news feeds.
However, he notes that while the list of what tablets can do is long and growing, it's the list of what they can't do that's preventing wholesale switching to tablets as PC replacement. He contends that for the foreseeable future, tablets aren't going to replace PCs for most enterprise users, because there are just too many things PCs can do that tablets can't and, in many cases, aren't going to do - a very long list.
That list includes tablets (at least so far) being unable to display multiple document and/or multiple application windows open simultaneously, Lewis also observing that whether it's cutting and pasting information from a Web page into a document, clicking on a link in an email to open a Web page, or pasting an Excel chart into PowerPoint, having everything open in front of you makes a big difference. He notes that Samsung's Galaxy Note 10.1 and Microsoft's forthcoming Windows 8 UI (formerly known as Metro) do include two-app split-screen capabilities, so there's hope for the future, notwithstanding Apple's stubbornly dogged promotion of a fullscreen, app-based paradigm.
Then there's limited screen real estate for obvious physical reasons, with desktop PC and even laptop displays facilitating certain forms of work that would be impossible in the cramped confines of a tablet panel.
A third tablet shortcoming is that for input and editing work that goes beyond text entry, there are a whole raft of features and capabilities that are either exceedingly lame or not supported at all on tablets. Lewis provides a list of examples.
And printing from tablets, albeit possible, is typically an exercise in hassle and frustration, as is also the case with document scanning, both of which are low hassle on a PC.
Lewis also lists tablet shortcomings associated with use of pivot tables, as a platform for blogging, and a huge drawback of tablets being mediocre support for data backup and restore as opposed to just plugging in an external hard drive with a PC and running the appropriate software, noting that autosync with the Cloud isn't a satisfactory substitute for real backup and restore by a long shot.
Bottom line, Lewis observes that for many users, particularly those with "heads-down production responsibilities", tablets are irrelevant.
Link: No, Tablets Won't Replace PCs Anytime Soon
Apple: A Hate/Love Relationship
The Register's Matt Asay says he wants to "hate Apple . . . Its aggressive litigiousness threatens to impede innovation in the mobile industry for years to come: innovation . . . and Apple's lust for control makes it a very poor centre for the rising mobile ecosystem...."
"And yet," he concedes, "I love Apple. As much as I love the idea of Android and open source, I find myself buying Apple products over and over again. For the seamless computing experience. For the beautiful industrial design. For the exceptional customer service."
Him, me, and vast numbers of others I suspect.
As is frequently the case, I finds myself substantially in agreement with Asay, both about the Apple product user experience that keeps us coming back and his affirmation that he really hates litigation of any form. He takes particular issue with this Samsung litigation that he says seems designed more to protect Apple's high-margin business model than to "protect Apple from evil copycats." However, a coincidental visit to the Apple Genius Bar with a cracked display in his daughter's iPhone 4S (which hadn't been dropped or subjected to other trauma) yielded a new phone within five minutes in a customer service transaction that Asay says was exceptionally pleasant throughout.
He reports a similar experience last winter with his son's iPhone 3GS that had been dropped in water, then melted, and in an attempt to revive it with a hairdryer, and the Apple Store Genius Bar sent him on his way with a replacement phone anyway and a cheerful "Merry Christmas!"
Asay allows that using Apple products doesn't make him cool - and if anything, it makes him poor, with a family inventory of six Apple laptops, five iPhones, iPods of various vintages, Airport Extreme, and so forth, his being an Apple family through and through, despite his conviction that Apple is toxic to the computing industry, sucking up all profits, and wrapping itself in the flag of innovation even as it borrows heavily from others and threatens to cut off industry innovation at the knees with its patent portfolio.
A law school graduate who passed the bar, as well as an emeritus board member of the Open Source Initiative (OSI), Asay says he understands the "rules" of patent law but observes that Silicon Valley went decades without aggressive litigiousness crippling it the way patent suits are now hobbling the mobile industry. with Apple having initiated a climate of litigation that will beleaguer technology for years.
Which he hates (me too - cm). One side of Asay's brain loves Apple, while the other despises it, making him wonder if that's how a drug addict feels.
Another insightful, thought-provoking essay from Mr. Asay.
Link: Apple: I Love to Hate, and Hate to Love Thee
Rumor Roundup
Displays for 13" Retina MacBook Pro Reportedly in Production
Cnet's Brooke Crothers reports that a 13.3" version of the Retina MacBook Pro is on the way, according to NPD DisplaySearch analyst Richard Shim, who told Cnet that 13" 2560 x 1600 pixel density displays for the new MacBook Pro model are in production with a volume of one to two million units anticipated, which would be much greater than volumes for the larger (and pricier) 15.4" rMBP with its 2880 x 1800 resolution display, but ultimately dependent on yield rates for the 13" ultra high resolution panels.
The 13.3" Retina MacBook Pro will presumably be priced price, substantially lower than the $2,199 starting price for the 15.4" rMBP, and should be another hot seller for Apple when it's released, likely in late October or November which is Apple's traditional time slot for fall new notebook product releases.
Link: 13-inch Retina MacBook Pro Displays in Production
Products & Services
Desktop Chair: Elegant Bent Wood Laptop and Tablet Stand
PR: Handmade with fine natural basswood, Desktop Chair simply holds your Apple laptop when used in desktop substitute mode with an external display, keyboard and a mouse (or trackpad), and comes with a cushion pad and anti-slip buttons.
One size Desktop Chair fits all, able to accommodate virtually all Apple laptops and tablets regardless of shape, with or without a cover, now and the future, including all iPads, MacBooks, MacBook Pros, MacBook Airs plus the PowerBook G4s and indeed any laptop that isn't thicker than 1.2" (30mm).
Desktop Chair is made by Atelier MOKU, whose origins are as a Japan-based artisan shop run by Masayuki and Hideyuki (son & father), who combine expertise in modern industrial design with traditional woodcrafting.
The idea of Desktop Chair, Atelier MOKU's first project, came from the principals' own genuine need for something which they felt comfortable putting their laptop on while working on a large screen.
After making two for themselves, they say people kept asking them to make more - so many that they couldn't keep up with the requests. Making custom-made woodcraft was something of their specialty, but making products in a batch and delivering to many others was a whole new story.
However, with a help of a partner furniture factory, Masayuki and Hideyuki managed to develop a technique for producing Desktop Chairs in a fairly large quantity while maintaining the quality, but still needed funding for production and for setting up a distribution system internationally.
In July 2011, they decided to put the Desktop Chair's fate into the hands of people and started a project at CAMPFIRE, a leading social funding platform in Japan. With no guarantee for success, 97 people backed the project and pledged money totaling JPY 477,500, which well exceeded Masayuki and Hideyuki's funding goal and made Desktop Chair a reality - a socially funded product.
Desktop Chair sells for $38.
Link: Desktop Chair
New Slappa MASK-DSLR/Laptop Backpack for Photographers
PR: Slappa's patented M.A.S.K. backpack has been heralded as the most flexible backpack in the world, and now there's a new version ready for professional photographers. The new DSLR M.A.S.K. features a super-cush padded divider insert, which allows you to store multiple lenses and camera bodies, while configuring the compartments to your liking.
The DSLR face has a fast access pocket that fits your DSLR body and up to a 10 lenses; giving you immediate access to your camera if and when you need to catch a shot opportunity that caught you by surprise.
Other important features include the "quick-scan" laptop section that enables you to keep your laptop inside the bag when you go through airport security; a super-cush padded laptop section that can store most 17-inch laptops including the 17" MacBook Pro, the ASUS G74,
Alienware M17x and M18x and the MSI GT683. The backpack is surfaced with 1680D Ballistic nylon, and there's .5" super-cush padding in every wall, a large zippered pocket for power bricks and cords, 3 pockets for handheld devices and a headphone strap.
The MASK DSLR/Laptop Backpack is currently available for preorder, to ship Sept. 1
Regular Price: $159.99
Introductory Price: $143.99
Link: Slappa MASK-DSLR/Laptop Backpack
Slappa Announces Stovepipe CHAOS Backpack
PR: The STOVEPIPE is a lightweight, rugged and protective backpack that offers tons of open storage space (great for books or clothes) and has a dedicated Super-Cush padded laptop compartment.
The roomy inside gives you move storage space than the typical back pack. This spacious bag fits a laptop, lots of books, gym clothes, cords and other kind of gear.
The drawstring cinch string makes it easy to secure and access the inner compartment. The laptop section features .25" of Super-Cush padding and two hard plastic underbelly runners provide additional protection for your laptop. On the outside of the backpack are 4 large "seamless" storage pockets which are perfect for you to store many small gadgets, devices and accessories, like chargers, pens, money, keys, passport, boarding passes.
Features:
680D Nylon + ripstop poly with 680D nylon "jacket-flap"
Dedicated Laptop compartment with .25" Super-Cush foam
Large 3.5 Gallon Duffle Style main compartment
$80.99
Link: Slappa Stovepipe CHAOS Backpack
New HumptyDumptyService Laptop LCD Screen Distributor Sets New Standard with the '0-1 Dead Pixel Guarantee'
PR: A new supplier for computer/laptop repair shops/centers to purchase replacement screens for repair use claims that while there are here are many companies and individuals selling screens all across North America, few can meet the level of service it is bringing to the table.
Opened in Sept of 2011, the Walnut, CA based HumptyDumptyService has been working to build a reputation of providing high quality parts and service for the laptop repair Industry.
HumptyDumptyService caters to both local repair shops and home technicians who would like to repair their own laptops.
In their latest move, they are offering the 0-1 Dead Pixel Guarantee, substantially beating the industry standard which is set at 0-5 dead pixels.
Another Service that just launched is the TPTS (Tested Prior To Shipping) Service, which guarantees that the panel is in working condition upon arrival.
By also providing Two-Day Shipping Service on 99% of their panels, HumptyDumptyService have set a new standard when it comes to purchasing replacement laptop panels.
Some of the panels they carry include models for Apple, Acer, Asus, HP and Toshiba. To expand their product line, they recently began carrying Tablet LCD Screens in their lineup. Toshiba Thrive, Acer A500 and Vizio VTAB1008 are just some examples.
Service shops are encouraged to keep HumptyDumptyService in mind next time they must have a working screen in two days.
Phone Toll Free 866-557-6712 or direct 626-616-0620.
Link: HumptyDumptyService
Securranty Announces iPad and MacBook Warranties for Classrooms
PR: iPads and MacBooks have become increasingly commonplace in K-12 classrooms and universities across the United States. In response to this trend, leading electronics warranty provider Securranty is announcing its classroom warranty program for iPads and MacBooks.
Securranty's classroom warranty covers a range of scenarios likely to be encountered in a classroom or campus environment, including mechanical and electrical breakdowns, accidental damage, liquid damage and other mishaps. Securranty claims to offer the most comprehensive coverage that comes with a hassle free claims process. Securranty's Online Account Management system processes claims quickly and simply, and they can be easily made 24/7, perfect for students and teachers.
Many insurance and warranty providers require forms to be completed before a claim is paid. Securranty points to its no hassle, no paperwork claims process that has earned it 5-star ratings from its clients.
"Securranty provides competitive proposals based on clients needs." says Alex Davidson, Securranty's Chief Executive and industry expert. "We customize our program to meet your needs we do not believe one size fits all. We provide options for coverage and claims that no one else will.
For more information about Securranty's classroom warranties or to receive a competitive cost proposal, visit securranty.com and select Business & Education.
Seccuranty is a provider of warranties for customer electronics, including cell phones, laptops, desktops, exercise equipment, home appliances and more, offering a state-of-the-art Call Center, Depot Repair Services and a national network of local repair centers.
Securranty aims to be the choice of smart shoppers in the consumer electronics warranty and protection industry. All Securranty policies are guaranteed during the full term of the service contract as they are backed by a Licensed Administrator and regulated by the Department of Licensing & Regulations to ensure obligation, compliance and guarantee.
Link: Securranty
Bargain 'Books
For deals on current and discontinued 'Books, see our 13" MacBook and MacBook Pro, MacBook Air, 13" MacBook Pro, 15" MacBook Pro, 17" MacBook Pro, 12" PowerBook G4, 15" PowerBook G4, 17" PowerBook G4, titanium PowerBook G4, iBook G4, PowerBook G3, and iBook G3 deals.
We also track iPad, iPhone, iPod touch, iPod classic, iPod nano, and iPod shuffle deals.
Join us on Facebook, follow us on Twitter or Google+, or subscribe to our RSS news feed
Links for the Day
Mac of the Day: SuperMac S900, introduced 1996.08. This very expandable tower supports dual CPUs, has 6 PCI cards. and includes many drive bays.
Recent Content
Follow Low End Mac on Twitter
Join Low End Mac on Facebook
Favorite Sites
MacSurfer
Cult of Mac
Shrine of Apple
MacInTouch
MyAppleMenu
InfoMac
The Mac Observer
Accelerate Your Mac
RetroMacCast
The Vintage Mac Museum
Deal Brothers
DealMac
Mac2Sell
Mac Driver Museum
JAG's House
System 6 Heaven
System 7 Today
the pickle's Low-End Mac FAQ
Affiliates
Amazon.com
The iTunes Store
PC Connection Express
Macgo Blu-ray Player
Parallels Desktop for Mac
eBay

Advertise