eBay Selling Apple Refurbs, Perfect MacBook, Mac User Goes ThinkPad, and More 'Book News
This Week's Mac Notebook News
Compiled by Charles Moore and edited by Dan Knight - 2012.11.23
General Apple and Mac desktop news is covered in Mac News Review. iPad, iPod, iPhone, and Apple TV news is covered in iOS News Review. Older Macs are covered in Vintage Mac News. All prices are in US dollars unless otherwise noted.
Purchases made through links to Amazon.com and Apple's iTunes/iBook/App/Mac App Store support Low End Mac.
News & Opinion
Tech Trends
News & Opinion
eBay Launches Apple Certified Refurb Store
Apple Certified Refurbished products feature:
Full one-year warranty
Returned to like-new condition
iPads/iPods include a new battery
Receive complete burn-in testing
Original OS reinstalled
Repackaged with manual and cable
Final quality inspection by Apple
Apple Certified Refurbished savings examples:
13.3" 1.7 GHz MacBook Air, 4 GB SDRAM, 128 GB - Full One Year Warranty | Apple Certified Refurbished
Regular List - $1,099.00
Certified Refurbished - $919.00
iPad 3rd gen Black 64 GB WiFi - Full One Year Warranty | Apple Certified Refurbished
Regular List - $699.00
Certified Refurbished - $549.00
Apple Certified Refurbished Products undergo a stringent refurbishment process before being offered for sale.
Each Apple Certified Refurbished Product is:
fully tested (including full burn-in testing).
Returned to like new condition (including a brand new battery for iPods and iPads).
given a new refurbished part number and serial number.
placed into a Final QA inspection prior to being added to sellable refurbished stock.
repackaged (including appropriate manuals, cables, new boxes, etc.).
shipped with the original OS offered with that system.
What to expect from an Apple Certified Refurbished Product:
Substantial savings
A fully functional unit with complete documentation
The assurance that the unit meets Apple's premiere quality standards
AppleCare Protection Plan for Apple Certified Refurbished Product:
All Apple Certified Refurbished products are covered by Apple's One-Year Limited Warranty. See individual listings for details.
Apple Certified Refurbished products purchased at the eBay store are shipped to you free via standard ground shipping. You will receive detailed shipping information after purchase. Faster shipping options may be available. You have 14 calendar days to return your Apple Certified Refurbished product, if you wish. Contact and return information will be included with your shipment.
Link: Apple Certified Refurbished eBay Store
The Perfect MacBook? Depends on Your Wallet and Priorities
Tech Crunch's MG Siegler says that for the past six months he's been hearing the same thing over and over again: "The MacBook Pro with the Retina screen looks amazing. I want that screen on a MacBook Air. That would be the perfect computer." Well, says Siegler, "we're almost there. Not quite. But for some of you, we're now close enough."
Siegler is referring to the 13" MacBook Pro with Retina Display, noting that two years ago, he ditched the MacBook Pro as his main machine and switched to a MacBook Air, but changed up again with the release of the 15" MacBook Pro with Retina Display, which has become his iMac replacement on his desk at home, but has found it not quite portable enough for his tastes. However, after testing out the 13" Retina MacBook Pro (RMBP) for a few weeks now, he finds it a great combination of power and portability.
Siegler also takes a shot at the old school non-Retina 13" MacBook Pro (MBP), which he notes is still somewhat oddly on sale.
Not so odd really, given that the non-Retina MacBook Pro has been Apple's best-selling Mac system overall for some time. The reason, Charles W. Moore writing for AppleTell notes, is that the non-Retina MacBook Pro "offers bona fide superb value at a base price of $1,199 - possibly the most bang for your buck that Apple has offered in a Mac system ever. For $500 less than the new 13" RMBP, the old-school 13" MacBook Pro gives you the same CPU and GPU performance, similar battery life, greater versatility and connectivity with built-in FireWire 800 and ethernet ports, an SD Card slot, an optical drive, and serious storage capacity with a standard 500 GB hard drive. Yes, the hard drive is slower than the RMBP's SSD, but for the sort of stuff most of us do with computers most of the time, any Mac with an Intel dual-core CPU is wicked fast for the vast majority of real-world use. The non-Retina 13" MacBook Pro is also, of course, thicker and heavier than the RMBP, and has a nice, but low-resolution 1280 x 800 display, which is arguably its most serious shortcoming."
Moore observes that at $1,699 with its very modest entry-level spec, he would rate the 13" RMBP's prospects of filling the old-school MacBook Pro's boots as best-selling Mac as approximately zero. It's a nice laptop, but value-wise it just doesn't deliver the goods from his perspective.
It's a question of priorities, which aren't the same for everyone.
For those who prioritize lightness, compactness, and high-resolution, Siegler says the 13" RMBP comes close to being a Retina MacBook Air, being just 0.07" thicker than the 13" Air at its thickest point, and actually narrower in footprint than the Air, but concedes that you'll have to decide if the Retina Display, slimmer design, and one pound less weight is worth an extra $500 to you as opposed to either the non-Retina MacBook Pros or 13" MacBook Air, which both start at $1,199.
Siegler thinks it's a no-brainer. Moore asserts that the 13" RMBP is too expensive to displace the $1,199 machine as Apple's top seller.
Different priorities and a conundrum that will eventually self-resolve as Apple adopts Retina displays across the board.
Link: We're Getting Very Close to the Perfect MacBook
Tech Trends
Longtime Mac User Switches to ThinkPad X1 Carbon
Gravitational Pull blogger Aaron Pressman reports that he has ended his decade plus using a Mac as his main computer and switched to the Windows side, lured by the all-black, super-lightweight Lenovo ThinkPad X1 Carbon.
Pressman says he loves the feel of the X1's carbon fiber body, nicely grippable and an attractive matte black,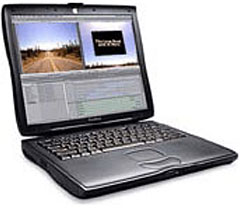 and that it reminds him of his all-time favorite Mac laptop, the PowerBook G3 (left) he had in the late 1990s, though it probably weighs less than half as much.
He also notes that the X1's screen is gorgeous, clear, and bright at 14" diagonally with 1600 x 900 pixels resolution, that the keyboard works great, and the touchpad is also among the best. Compared with his erstwhile 13" MacBook Pro and a MacBook Air he used as his main machine on the road last summer, Pressman says the ThinkPad has a better screen and keyboard as well as superior battery life, and he also much prefers the ThinkPad's carbon body to the Air's slippery, sharp aluminum shell. However, he rates the Air's trackpad better and notes that it had fewer of the ThinkPad's software hiccups.
As for Windows 8, Pressman says it's intriguing but with annoyances [see this week's Mac News Review for more on Windows 8 frustration], and that that every time he has to deal with Lenovo, he longs for Apple, plus there's the depressing pile of crapware, sort-of-helpware, and failware that comes preinstalled.
However, he says part of his reason for the switch was the many flaws creeping into Mac OS X, noting that Mountain Lion is just awful for him, from the insane iCloud file scheme to the anorexically thin scroll bars to the Finder that needs an complete overhaul that's about 8 years overdue.
Link: A Longtime Mac User's First Impressions of the ThinkPad X1 Carbon
Thunderbolt Penetration on PCs Stalls on Cost
Fairer Platform says that while Intel Thunderbolt I/O technology is demonstrably superior to USB 3, only a small number of vendors are building it into portable and desktop Windows PCs, and very much like Apple's FireWire before it, Thunderbolt looks set to fizzle due to cost issues, with only about 10% of Windows PCs shipping with it.
Link: Intel Thunderbolt Penetration Stalls on Cost
11.6" Becoming Niche-market Size for Notebooks
DigiTimes' Aaron Lee and Adam Hwang note that as global netbook sales have plummeted due to competition from tablets, 11.6" has become a niche-market size for notebook panels, according to Taiwan-based notebook supply chain makers.
Up to recently they observe that 11.6" and 13.3" notebook screen sizes have accounted for a relatively small proportion of total shipments, according to their sources. Apple would, of course, be an exception to this, with its 11.6" MacBook Air having taken over as the company's volume price-leader notebook and main education market offering, and the 13.3" MacBook Pro having been the best-selling Mac system overall for some time now.
However, Lee and Hwang note that Samsung Electronics and Acer have launched inexpensive 11.6" Chromebooks and Asustek Computer has launched its 11.6" VivoBook touch-control notebook, so an increasing number of 11.6" PC notebooks are available for sale.
They also report that despite generally shrinking sales, demand for netbooks still exists, especially in emerging markets, but their insider sources suggest that 11.6" notebooks are likely to see increasing demand in the global market.
Link: 11.6-Inch Becoming Niche-market Size for Notebooks, Say Taiwan OEMs (subscription required)
Bargain 'Books
For deals on current and discontinued 'Books, see our 13" MacBook and MacBook Pro, MacBook Air, 13" MacBook Pro, 15" MacBook Pro, 17" MacBook Pro, 12" PowerBook G4, 15" PowerBook G4, 17" PowerBook G4, titanium PowerBook G4, iBook G4, PowerBook G3, and iBook G3 deals.
We also track iPad, iPhone, iPod touch, iPod classic, iPod nano, and iPod shuffle deals.
Join us on Facebook, follow us on Twitter or Google+, or subscribe to our RSS news feed
Links for the Day
Mac of the Day: SuperMac S900, introduced 1996.08. This very expandable tower supports dual CPUs, has 6 PCI cards. and includes many drive bays.
Recent Content
Follow Low End Mac on Twitter
Join Low End Mac on Facebook
Favorite Sites
MacSurfer
Cult of Mac
Shrine of Apple
MacInTouch
MyAppleMenu
InfoMac
The Mac Observer
Accelerate Your Mac
RetroMacCast
The Vintage Mac Museum
Deal Brothers
DealMac
Mac2Sell
Mac Driver Museum
JAG's House
System 6 Heaven
System 7 Today
the pickle's Low-End Mac FAQ
Affiliates
Amazon.com
The iTunes Store
PC Connection Express
Macgo Blu-ray Player
Parallels Desktop for Mac
eBay

Advertise