MacBook Air Tops Ultrabooks, SSD in MacBook Pro, Firmware Updates, and More 'Book News
This Week's Mac Notebook News
Compiled by Charles Moore and edited by Dan Knight - 2012.11.16
General Apple and Mac desktop news is covered in Mac News Review. iPad, iPod, iPhone, and Apple TV news is covered in iOS News Review. Older Macs are covered in Vintage Mac News. All prices are in US dollars unless otherwise noted.
Purchases made through links to Amazon.com and Apple's iTunes/iBook/App/Mac App Store support Low End Mac.
News & Opinion
Reviews
Apple Updates
Tech Trends
Products & Services
News & Opinion
MacBook Air Snags Top Spot in ABI's Ultrabook Assessment
Electronista reports that even though it's not technically (or even nominally) an Ultrabook, Apple's MacBook Air family is ranked highest in ABI Research's latest Ultrabook Competitive Assessment, scoring well ahead of Lenovo and Samsung, which placed second and third respectively.
The Assessment gauges innovation and implementation in the ultraportable segment, and Apple scored an 84.7 out of a possible 100 by ABI's measure. Lenovo and Samsung had respective scores of 77.5 and 74.4.
Link: Apple MacBooks Snag Top Spot in ABI's Ultrabook Assessment
Apple Laptops 'Less Innovative' than Lenovo's - but Beats the Pants Off Them in Sales
The Register notes according to market watcher ABI Research, Asus and Lenovo both offer more innovative Ultrabook-style laptops than Apple, bur the MacBook maker has both of them licked when it comes to implementing and marketing product, as evidenced by the MacBook Air's dominant market share.
ABI points to Apple being on track to ship almost three times as many ultraportables by end of 2012 as its nearest competitors, including Lenovo and Samsung, which placed second and third on ABI's list of Ultrabook vendors.
Apple scores of 84.7 out of 100, with Lenovo and Samsung respectively at 77.5 and 74.4, in ABI's assessment of a vendor's ability to deliver innovative technology to users, and the new developments it introduces to the platform.
Publisher's note: Interestingly, Lenovo (formerly IBM) ThinkPads seem to be the only PC notebooks to have the same kine of fan base as Apple's PowerBooks, iBooks, and MacBooks. dk
Link: Apple 'Less Innovative' at Laptops than Lenovo
Upgrade Your MacBook Pro with an SSD
MacTuts+'s Toby Seers has posted a tutorial on how to upgrade your Mac with a speedy Solid-State Drive (SSD). Seers notes that upgrading RAM has traditionally been a relatively cheap way to increase your Mac's speed and make your Mac run smoother if you have multiple applications open at the same time and generally allows your Mac to do more without slowing it down. However, adding an SSD will be make your laptop run faster than it ever has - a lot faster.
Seers observes that SSD prices have been falling rapidly year over year, and you'll be able to find plenty of options for less than $1/GB, and explains how to find the best SSD for your Mac and provides a step by step guide to installing it.
Link: How to Upgrade Your MacBook Pro to an SSD
13" Retina MacBook Pro: White Lines May Appear in Mission Control
A new Apple Knowledge Base article says that when you use Mission Control on the 13" Retina MacBook Pro, you may notice a few fine lines appear on the desktop.
To resolve this issue, Apple says you should install the latest Mac OS X updates for your computer. See OS X: Updating OS X and Mac App Store apps for instructions.
Link: MacBook Pro (Retina, 13-inch, Late 2012): Subtle White Lines May Appear in Mission Control
Some 15" Retina MacBook Pro Users Report Graphics Issues After EFI Update
AppleInsider's Mikey Campbell reports that some 15" Retina MacBook Pro owners are experiencing noticeable drops in graphics and processor performance after having updated their machines to the latest EFI (extensible firmware interface) version, such as drastically clipped frame rates when running graphics-intensive programs.
Link: Some Retina MacBook Pro Users Complain of Graphics Issues after EFI Update
Foxconn Expects More MacBook Orders from Apple
DigiTimes' Aaron Lee and Joseph Tsai report that Foxconn Electronics (Hon Hai Precision Industry) has reportedly enjoyed an increase in 15" MacBook Pro orders in the second half and is currently supplying 10-15% of Apple's total MacBook shipments, up from its original single-digit percentage allotment, according to sources from the upstream supply chain. This has not been confirmed by Apple.
Lee and Tsai also note that longtime major Mac laptop supplier Quanta Computer is still enjoying stable orders from Apple and Foxconn's order increase has not affected Quanta's order volumes in the second half, their sources tell them.
Another rumor says Pegatron Technology has received an opportunity from Apple to manufacture MacBook products, but Lee and Tsai's sources think that one is unlikely to be true since they've not yet heard any instructions from Apple about sending components to Pegatron for pilot production.
Another interesting bit of scuttlebutt is that 13" MacBook Pro are said to be less robust than expected, and the 15" model is the better marketplace performer.
That could be partly due to Apple's pricing of the two models. The base 13" RMBP's base configuration with a 128 GB SSD sells for $1,699. A more reasonably-sized capacity 256 GB flash drive will bump that up to $1,999. Add the optional faster processor (still only dual-core), and you're up to $2,199, which happens to be the price of the base 15" RMBP with a 256 GB SSD, a much-faster quad-core CPU, and a discrete graphics processor unit as well, making the 13-incher a relatively poor value, unless its smaller footprint and lower weight are really important to you.
Link: Foxconn Sees More MacBook Orders from Apple (subscription required)
Reviews
Ars Technica: 13" Retina MacBook Pro 'Hard to Recommend'
Ars Technica's Chris Foresman says the Retina display in Apple's latest MacBook Pro offering is gorgeous, but comes with compromises.
Foresman determines that while the 13" Retina MacBook Pro (RMBP) offers an overall great package, pricing and performance compromises compared to its larger 15" sibling cause it to fall short in relative value
For example the 13" RMBP is limited to dual-core processors and lacks a discrete graphics chip, which limits its graphics performance, and the base model comes with a tiny-capacity 128 GB SSD. And while 8 GB of RAM is soldered to the logic board, unlike the 15" model, you can't order it with more RAM or upgrade later. The old-school, non-Retina 13" MacBook Pro comes with 4 GB standard, but it has two expansion slots that can be fitted with aftermarket 8 GB RAM modules for a total of 16 GB.
Foresman notes that the 13" MacBook Air can perform nearly as well as the 13" Retina MacBook Pro and lasts up to 7 hours on a charge, but it has a lower-resolution display and less RAM by default, while with the old non-Retina 13" MacBook Pro, which starts at $500 less, you'll get identical CPU and GPU performance, the same battery life, and legacy features like FireWire 800, ethernet, and an optical drive. In the end, he leans toward the 15" Retina MacBook Pro, which for an extra $200 gets you a lot more computer if you can go the extra weight and footprint, making the 13" MacBook Pro hard to recommend.
Link: 13" Retina MacBook Pro Review: More Pixels, Less Value
AnandTech: 13" Retina MacBook Pro 'Perfect in My Eyes'
AnandTech's Anand Lal Shimpi has posted a typically thoroughgoing and detailed review of the 13" Retina MacBook Pro.
Lal Shimpi notes that over the past few years, the 13" notebook form factor has emerged as a sweet spot balance between functional size and portability, making a 13" variant a logical follow-on to the 15" RMBP Apple released last June, noting that the 13" RMBP does a lot to blur the line between the Air and Pro lines - and he's now finding it more difficult to recommend the 13" MacBook Air, his previous pick for most users, and says he has almost every reason to recommend the new Pro.
He says "almost," because the 13" RMBP is a machine that really can't be upgraded, with the difficulty of providing more (or easily upgradeable) storage being his biggest complaint about what is a fairly fixed configuration, although the SSD module actually can be upgraded and some companies do offer an upgrade path for it.
The 13" RMBP retains the familiar and expected Mac laptop virtues of a solid keyboard and trackpad, good WiFi, decent speakers and a well-built chassis, although you do lose out on the quad-core CPU option and there's no room for a discrete GPU, both of which the 15" RMBP has.
The base 13" RMBP at $1,699 comes with a tiny 128 GB SSD, and it'll set you back $300 more for the 256 GB SSD option, plus another $200 for the optional faster (still dual-core) CPU. Now you're up to $2,199, which happens to be the price of the base 15" RMBP with a 256 GB SSD, a much more powerful quad-core CPU, and a discrete graphics processor as well, making the 13-incher hard to justify and a relatively poor value, unless its smaller footprint and lower weight are really important to you.
Lal Shimpi also notes that the biggest issue for him with buying a 13" Retina MacBook Pro today is that Intel's Haswell family of processors is coming in 2013, and it rarely hurts to wait, since there's almost always something better around the corner, but he still says that while expensive, the 13" RMBP is "easily the best balance of portability and productivity in Apple's lineup today."
Link: 13-inch Retina MacBook Pro Review (Late 2012)
OWC Aura Pro SSD Upgrade for Retina MacBook Pro Up to 50% Faster than Apple's SSD
Bare Feats' rob-ART Morgan notes that the internal flash storage of the 2012 Retina MacBook Pro is fast, but what if you could replace it with something faster? Other World Computing has a compatible upgrade, the Aura Pro 6G SSD.
Morgan reports that the OWC Aura Pro 6G SSD tested faster than the factory flash storage - especially in the case of large sequential writes and small random reads, and it is SandForce-based, which includes block management and wear leveling, read disturb management, recycling, ECC protection, and redundant array of independent silicon elements, as well as being very easy to install.
Link: Upgrade: OWC Aura Pro - Internal Flash Storage for the Retina MacBook Pro
Apple Updates
MacBook Air and MacBook Pro Update for Mid 2012 Models
The MacBook Air and MacBook Pro Update 2.0 includes graphics performance and reliability enhancements and improves compatibility with some USB devices.
Apple recommends this update for all Mac notebooks introduced in June 2012.
File Size: 127.07 MB
System Requirements: OS X 10.7.4 or later
Link: Apple has since removed this update.
Tech Trends
Laptops Beat iPhones and Tablets to Top the List of Most Requested Gifts by Kids This Holiday Season
PR: Online cash back shopping specialist Ebates.com has announced findings from its Ebates 2012 Holiday Wish List Survey. The national survey conducted online by Harris Interactive of 1,121 youth aged 8-18 discovered that, among those that had a preference, kids rank the gifts they want to receive this holiday in the following order: a laptop computer (17%), the latest iPhone (15%), and clothes (11%). The 4th most desired gift is a 10" tablet like the iPad or the Motorola Xoom (9%), followed by the latest Android Smartphone (6%), and latest mini tablet (5%). e-Readers like the Nook and Kindle are wanted by 4% of youth.
It's interesting to see how the older kids want a laptop while the younger kids generally would prefer a smartphone or tablet. No matter which one parents plan to buy, between Ebates coupons and cash back, they say they can save shoppers more than 20% on laptop and tablet purchases.
Among the top-named gift choices, answers vary by age group and gender:
Boys 8-9: 10" Tablet like the iPad (17%)
Girls 8-9: Latest iPhone (16%) or Clothes (16%)
Boys 10-12: Laptop (19%)
Girls 10-12: Laptop (16%)
Boys 13-15: Latest iPhone (22%)
Girls 13-15: Clothes (18%)
Boys 16-18: Laptop (24%)
Girls 16-18: Laptop (22%)
"Ebates feels the holidays are a time to focus on children, so we wanted to hear directly from them what they would most like as a gift with our 2012 Holiday Wish List," says Kevin H. Johnson, CEO of Ebates. "It's interesting to see how the older kids want a laptop while the younger kids generally would prefer a smartphone or tablet. No matter which one parents plan to buy, between our coupons and cash back, we can save shoppers more than 20% on laptop and tablet purchases," said Johnson.
Girls between the ages of 8-12 report being influenced by celebrities the most when it comes to what they want for a gift this holiday season with 55% of girls 8-9 saying a celebrity would influence their holiday gift choice and 67% of girls 10-12 saying the same thing. Overall the number one named star who would influence a child's wish list is Taylor Swift (9%) followed by Justin Bieber (7%), One Direction (6%), Selena Gomez (6%), Nicki Minaj (5%), Justin Timberlake (2%), Robert Pattinson (2%) and Jennifer Lawrence (1%).
When it comes to the number one influential celebrity, answers vary by age group and gender:
Boys 8-9: Justin Bieber (13%)
Girls 8-9: Taylor Swift (18%)
Boys 10-12: Justin Bieber (9%)
Girls 10-12: One Direction (20%)
Boys 13-15: Selena Gomez (6%)
Girls 13-15: Taylor Swift (15%)
Boys 16-18: Justin Bieber (6%)
Girls 16-18: Taylor Swift (14%)
Survey Methodology
This survey was conducted online within the United States by Harris Interactive on behalf of Ebates from October 17-24, 2012 among 1,121 8-18 year olds. This online survey is not based on a probability sample and therefore no estimate of theoretical sampling error can be calculated.
For complete survey methodology, including raw data and weighting variables, please contact Deanna Siste at Grayling Connecting Point at deanna.siste@graylingcp.com.
About Ebates
Over 1,500 online stores have joined the roster of retailers that offer cash back, special deals, including free shipping, and over 5000 coupons to members of Ebates.com. The free membership allows consumers to shop online at their favorite retailers while earning back a percentage of every purchase via a "Big Fat Check" or PayPal payment. From niceties to necessities, members of Ebates save with discounts and cash back at top-name merchants for everything from furniture to fashion and appliances to airfare. Shopping with Ebates is hassle-free: no rebate forms to fill out and no points or miles to redeem just straightforward savings plus cash back. Ebates supports a strong community of 12 million savvy shoppers across the country and around the world.
Toshiba Pulls Online Laptop Service Manuals
Future Proof's Tom Hicks runs a section of his blog devoted to the free sharing of laptop service manuals, a project he's been at for three years, gathering as many repair manuals as he could find on the Internet and rehosting them on my website for anybody to download and use.
Hicks says he has been contacted by Toshiba Australia's legal department, which he says insists that he does not have permission to disseminate Toshiba copyright material nor will it be granted to him in the foreseeable future, so all Toshiba material that was on his website is now gone, permanently.
Hicks cites he primary reason Toshiba gave for this edict are that they are concerned that providing the manuals to unqualified persons "may endanger their well-being."
Hicks ripostes that he's never heard of anybody being injured by working on a consumer laptop, noting that Dell, HP and Lenovo provide service manuals for all of their laptop computers for download, free of charge or registration or membership of any kind, on their various support websites, which would indicate that none of these companies share Toshiba's concern in this regard.
Link: Toshiba Laptop Service Manuals and the Sorry State of Copyright Law
iFixit Steps Up to Support Toshiba Laptops
iFixit CEO Kyle Wiens says:
"Toshiba just took down one of the most popular sources of repair information for their laptops, Tim Hicks laptop repair manual repository at Future Proof. Tim's site is one of the only places online to get completely ad- and malware-free, manufacturer-authorized manuals.
"At iFixit, we're outraged, but we're not surprised. As the largest online repair manual for electronics, we're well-versed with how far manufacturers like Toshiba and Apple go to keep service information out the public's hands.
"So, we decided to do something about it - and we need your help to stop Toshiba's campaign of planned obsolescence.
"Let's [un]screw Toshiba! We want to write a free and open repair manual to replace the manuals that Toshiba took away. We currently have manuals for just a few Toshiba laptops, but it's nowhere near good enough. We want to write more manuals, but we don't have the hardware! All we need is more hardware to take apart. That's where you can help.
"Donate a couple bucks here. We will spend 100% of the funds on used Toshiba hardware; we'll write manuals for them.
"We'll document every repair/replacement procedure in step-by-step guides with high-res, color photos and videos - which is a far cry better than what Toshiba offers in its manuals.
"We're targeting our efforts at Toshiba laptops made within the last four years. We're going to start with the 50 most popular Toshiba laptops on the market. If we exceed $10,000, iFixit will broaden its efforts to 100 most popular Toshiba laptops - or however many we can afford with the money. You give mo' money, we write mo' manuals. Simple as that.
"Every laptop manual we write will help thousands of people repair their computers. But aside from that, there are other fun perks you can opt to receive in kind gratitude for your donation...."
iFixit already has guides for six Toshiba laptops.
Link: Operation Fix Toshiba: Help Us Write Repair Manuals
Products & Services
QuickerTek Upgrades New Apple AirPort Express
PR: QuickerTek has announced an upgrade to the latest Apple AirPort Express. While the AirPort Express is a great product, sometimes you just need a little more range than it provides right out of the box.
To respond to this, QuickerTek's upgrade puts two powerful 3dBi antennas on top, giving it a 20% boost to its signal strength, with a corresponding increase in range. No extra software is needed, so connecting to your network is just as simple as it is with the original AirPort Express. It works just as easily as before - it's just stronger.
But while this alone is noteworthy, QuickerTek has gone the extra mile to make it even better than the antenna upgrade alone could provide. QuickerTek's connectors allow you to use other antennas such as a high gain omni directional or directional antenna (also available from QuickerTek) to match the unique situations for different users.
If you want to upgrade the antennas that's easy too. The hard work for upgrading them has already been done with the addition of the connectors. Just take the old antenna off, and screw the new antenna or antenna cable on. If you have a long one-story building or one that's several stories, QuickerTek's upgrade to the AirPort Express is flexible enough to accommodate almost any situation.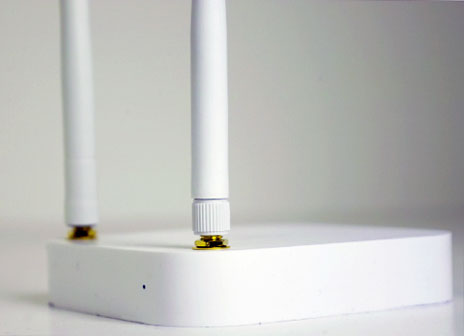 Features
Extends the range of WiFi using external antenna
20% increase in signal strength from existing unit
It has the same footprint as the original unit
No 3rd party software required
"We love the fact that Apple has made an access point that you can open up and make better," says Rick Estes, owner of QuickerTek. "We've taken advantage of this." QuickerTek is always thinking about ways to make everyone's life easier. This is done either by making totally new products, or by taking a good product and making into a great product, as they did with the upgrade to the AirPort Express."
The price is $178.95, with a special introductory price of $168.95 until 11/16/2012. Included is a new Apple AirPort Express base station with antenna upgrade.
Link: Upgraded AirPort Express
Bargain 'Books
For deals on current and discontinued 'Books, see our 13" MacBook and MacBook Pro, MacBook Air, 13" MacBook Pro, 15" MacBook Pro, 17" MacBook Pro, 12" PowerBook G4, 15" PowerBook G4, 17" PowerBook G4, titanium PowerBook G4, iBook G4, PowerBook G3, and iBook G3 deals.
We also track iPad, iPhone, iPod touch, iPod classic, iPod nano, and iPod shuffle deals.
Join us on Facebook, follow us on Twitter or Google+, or subscribe to our RSS news feed
Links for the Day
Mac of the Day: SuperMac S900, introduced 1996.08. This very expandable tower supports dual CPUs, has 6 PCI cards. and includes many drive bays.
Recent Content
Follow Low End Mac on Twitter
Join Low End Mac on Facebook
Favorite Sites
MacSurfer
Cult of Mac
Shrine of Apple
MacInTouch
MyAppleMenu
InfoMac
The Mac Observer
Accelerate Your Mac
RetroMacCast
The Vintage Mac Museum
Deal Brothers
DealMac
Mac2Sell
Mac Driver Museum
JAG's House
System 6 Heaven
System 7 Today
the pickle's Low-End Mac FAQ
Affiliates
Amazon.com
The iTunes Store
PC Connection Express
Macgo Blu-ray Player
Parallels Desktop for Mac
eBay

Advertise