13" Retina MacBook Pro, OS X 10.8.2 Update for Late 2012 Macs, and More 'Book News
This Week's Mac Notebook News
Compiled by Charles Moore and edited by Dan Knight - 2012.10.27
General Apple and Mac desktop news is covered in Mac News Review. iPad, iPod, iPhone, and Apple TV news is covered in iOS News Review. Older Macs are covered in Vintage Mac News. All prices are in US dollars unless otherwise noted.
Purchases made through links to Amazon.com and Apple's iTunes/iBook/App/Mac App Store support Low End Mac.
News & Opinion
Apple Updates
Tech Trends
Products & Services
News & Opinion
Apple Introduces 13" MacBook Pro with Retina Display
PR: October 23, 2012 - Apple today introduced an all-new version of its popular 13" MacBook Pro featuring a stunning Retina Display and all flash storage in a new compact design. At a mere 0.75" and 3.57 lb., the remarkably portable 13" MacBook Pro with Retina Display is 20% thinner and almost a pound lighter than the current 13" MacBook Pro.
"The 13" MacBook Pro is our most popular Mac, and today it gets completely reinvented with a new thin and light design, fast flash storage, and a gorgeous Retina Display," said Philip Schiller, Apple's senior vice president of Worldwide Marketing. "With vivid colors, razor sharp text, and more pixels than anyone else's 15" or 17" notebooks, the Retina Display completely changes what you expect from a notebook."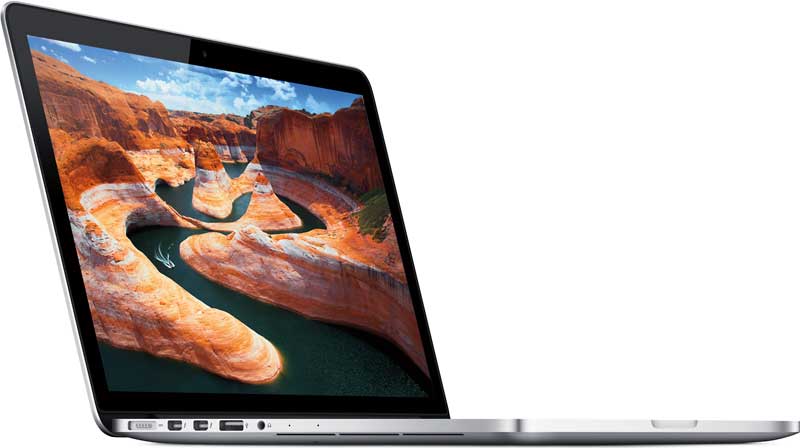 The new MacBook Pro packs more than 4 million pixels into its 13" Retina Display, nearly twice the number of pixels in an HD television. At 227 pixels per inch, the Retina Display's pixel density is so high the human eye is unable to distinguish individual pixels at a normal viewing distance, so images look sharp and text looks like it does on the printed page. With four times the pixels of the current 13" MacBook Pro, you can view and edit video in pixel-accurate 1080p and see a new level of detail in high resolution images. The 13" Retina Display uses IPS technology for a 178° wide viewing angle, and has 75% less reflection and 28% higher contrast than the current generation.
Featuring flash storage that is up to four times faster than traditional notebook hard drives, the all-new MacBook Pro is extremely responsive, whether it's waking from sleep or launching your favorite apps.1 Fast flash storage combined with the latest Intel dual-core processors gives the 13" MacBook Pro with Retina Display plenty of power to run your most demanding apps with ease.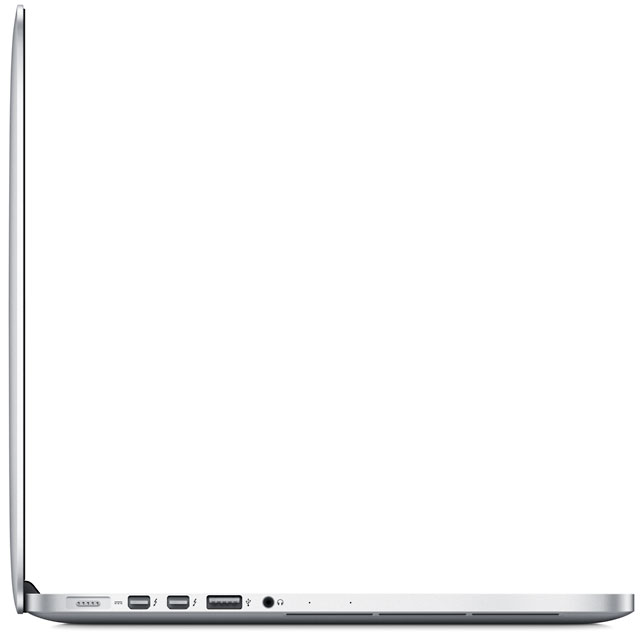 The 13" MacBook Pro with Retina Display features 2.5 GHz Intel Core i5 processors with the option to choose faster 2.9 GHz Intel Core i7 processors, Intel HD Graphics 4000, 8 GB of 1600 MHz memory, and up to 768 GB of flash storage. Two Thunderbolt and two USB 3.0 ports allow users to connect to multiple displays and high-performance devices, and a new HDMI port offers quick connectivity to an HDTV. The 13" MacBook Pro with Retina Display also features a FaceTime HD camera, dual microphones, improved speakers, three-stream 802.11n WiFi, Bluetooth 4.0, and a MagSafe 2 power port.
The 13" MacBook Pro battery delivers up to 7 hours of wireless productivity and can remain in standby for up to 30 days.2 With the all new Power Nap feature in OS X Mountain Lion, your MacBook Pro with Retina Display stays up to date while it sleeps. Power Nap automatically refreshes Mail, Contacts, Calendar, Reminders, and Photo Stream, and when the notebook is plugged in, downloads software updates and backs up your Mac using Time Machine.
Continuing Apple's commitment to energy efficiency and the environment, the new 13" MacBook Pro with Retina Display meets stringent Energy Star 5.2 requirements and achieves an EPEAT Gold rating.3 Each unibody enclosure is made of highly recyclable aluminum and comes standard with energy efficient LED-backlit displays that are mercury-free and made with arsenic-free glass. Apple notebooks contain no brominated flame retardants, are PVC-free and are constructed of highly recyclable materials.
The new 13" MacBook Pro with Retina Display ships with OS X Mountain Lion, bringing Messages, Notification Center, systemwide Sharing, AirPlay Mirroring, Dictation, Game Center and the enhanced security of Gatekeeper to your Mac. With iCloud built into the foundation of OS X, Mountain Lion makes it easier than ever to keep your content up to date across your Mac, iPhone, iPad and iPod touch.
Pricing & Availability
The 13" MacBook Pro with Retina Display is available with a 2.5 GHz dual-core Intel Core i5 processor with Turbo Boost speeds up to 3.1 GHz, 8 GB of memory and 128 GB of flash storage starting at $1,699; and with 256 GB of flash storage starting at $1,999. Configure-to-order options include faster dual-core Intel Core i7 processors and flash storage up to 768 GB. Additional technical specifications, configure-to-order options and accessories are available online at apple.com/macbook-pro. The 13" MacBook Pro with Retina Display is available today through the Apple Online Store, Apple's retail stores, and Apple Authorized Resellers.
Testing conducted by Apple in October 2012 using preproduction MacBook Pro with Retina Display configurations. For more information visit apple.com/macbook-pro/features-retina/.
The Wireless Web protocol testing was conducted by Apple in October 2012 using preproduction MacBook Pro with Retina Display configurations. Battery life and charge cycles vary by use and settings. For more information visit apple.com/macbook-pro/features-retina/.
Claim based on energy efficiency categories and products listed within the EPA ENERGY STAR 5.2 energy database as of October 2012. EPEAT is an independent organization that helps customers compare the environmental performance of notebooks and desktops. Products meeting all of the required criteria and at least 75% of the optional criteria are recognized as EPEAT Gold products. The EPEAT program was conceived by the US EPA and is based on IEEE 1680 standard for Environmental Assessment of Personal Computer Products. For more information visit www.epeat.net.
AppleDesigns Macs, the best personal computers in the world, along with OS X, iLife, iWork and professional software. Apple leads the digital music revolution with its iPods and iTunes online store. Apple has reinvented the mobile phone with its revolutionary iPhone and App Store, and is defining the future of mobile media and computing devices with iPad.
13" Retina MacBook Pro Benefits from SSD
Macworld Labs' James Galbraith says he and his colleagues "were ecstatic to see the Mac so well represented" at Apple's Special Event on Tuesday, and have already obtained a new 13" MacBook Pro with Retina Display (rMBP) to check out - a $1,699 entry-level model with a 2.5 GHz dual-core Core i5 processor.
Galbraith notes that the non-Retina 13" MacBook Pro, which is being continued for now, has the same 2.5 GHz CPU as the Retina laptop and the same integrated graphics, but it supports only 4 GB of RAM and a 5400 rpm 500 GB hard drive, which makes for an interesting comparison of how much flash storage and a comfortable amount of RAM speeds things up.
Short analysis: A lot for stuff that involves data read/write to the storage drive, which typically takes 4.5-5x as long with the hard drive as the SSD; not so much for CPU-intensive task. However, tested against a quad-core Core i 15" Retina MacBook Pro (which has a discrete graphics processor that the 13-incher didn't get), the base $2,199 model ran some 40% faster than the dual-core 13" model. However, the 13" rMBP tested about 11% faster overall than the 13" MacBook Air, which also of course has solid state storage, presumably due to the Air's lower-powered CPU.
Link: Lab Tested: 13-inch Retina MacBook Pro Benefits from Flash Storage
13" Retina MacBook Pro an Ultrabook Killer
Laptop Editor in Chief Mark Spoonauer says that while other notebook-makers are busy churning out Windows 8 hybrids with touch screens, Apple has brought its jaw-dropping Retina Display to a laptop you can take anywhere.
Spoonauer notes that the $1,699 13" MacBook Pro with Retina Display feels like the ultimate Ultrabook in person, thanks to its 2560 x 1600-pixel screen that's twice as sharp as your HDTV and puts all other laptops to shame, also observing that the 13" rMBP is actually narrower than the 13" MacBook Air and only half a pound heavier at 3.6 lb.
Other impressions were that the new laptop's glass touchpad felt silky smooth as usual, but its keyboard doesn't have the same travel as the older and thicker MacBook Pro, although he found he could type quickly with few to no errors.
However, he wonders if Pro users will be willing to spend $1,699 for a notebook without discrete graphics and content to be limited to Intel HD 4000 integrated graphics.
Link: 13-inch MacBook Pro Retina Display Hands-on: Meet the Ultrabook Killer
Retina or Not: The 13" MacBook Pro Dilemma
Laptop Staff Writer Daniel Berg notes approvingly that the new 13" Retina MacBook Pro doesn't replace the older 13" MacBook Pro, which Apple will continue to sell, so which should you get?
Incidentally, there's good reason why Apple deigned not to discontinue the 13" MacBook Pro. Apple's Phil Schiller acknowledged on Tuesday that the 13" MacBook Pro is not only Apple's best selling laptop, but the best selling Mac system overall.
However, Berg says the 13" MacBook Pro with Retina Display doesn't just trump its lower-resolution counterpart with a better screen; it is also thinner and lighter, and it adds an extra Thunderbolt port and an HDMI port.
On the other hand the new model has lost some key features that might prove to be a deal-breaker for some buyers, including the Gigabit Ethernet port and the built-in SuperDrive DVD drive - plus it will set you back an extra $500.
Link: To Retina or Not to Retina: The 13-inch MacBook Pro Dilemma
Writer Has Already Ordered a 13" Retina MacBook Pro
iSource's AliciaB says that going into the Special Event keynote she had already half made up her mind to buy a 13" MacBook Pro with Retina Display, what with her 2007 black MacBook getting long in the tooth, being incompatible with OS X 10.8 Mountain Lion, and a hot (literally) runner.
She says she'd been eyeing a MacBook Air but controlled herself for just a while longer, and it was worth the wait, noting that pricing is a bit steeper than she'd hoped, but the new machine is worth it in her estimation, and observing that the middle of the road Retina Display model with 250 GB flash storage works out to EUR 1900 compared to her preferred configuration for an Air, which would have set her back EUR 1700.
Link: Why I Already Pre-ordered My 13" MacBook Pro with Retina Display
EPEAT Defends Awarding Retina MacBook Pro 'Gold' Rating
In a blog entitled "Doing Our Job", EPEAT has mounted a defense of their giving the 15" Retina MacBook Pro a "Gold" environmental rating. The organization has been weathering heavy criticism (see last week's 'Book Review) for allegedly "caving" to design trends that have made laptop computers difficult to impossible to upgrade internally and repair. However, EPEAT maintains that it has remained adherent to the letter of their existing standards for certification, arguing that:
"Regarding upgrade capability, the criteria specifically state that products may be upgraded or extended by a high performance serial bus (IEEE Std 1394 [B4]) or Universal Serial Bus (USB). Regardless of opinions about whether or not that is appropriate or acceptable language, the hard fact is that EPEAT has no authority to flunk products if they meet the explicit terms of the standard.
" Regarding disassembly: The criteria under discussion are located in the section of the standard that addresses Design for End of Life that is, design for effective recycling. The criteria investigated are not in any way aimed at refurbishment or repair. Again, people may think that there should be more in the standard about disassembly for repair and refurbishment and we welcome their views but these criteria do not apply to that topic.
" The standard also doesn't prescribe or forbid specific construction methods such as fasteners versus adhesives it just requires products to be easy to disassemble for recycling. The test lab went through the disassembly process and reported that the products were all easy to disassemble with commonly available tools."
Editor's note: Some of those points are matters for interpretation. For example, do Apple's proprietary Pentalobe screws really meet the "commonly available tools" criterion? Try to buy a Pentalobe screwdriver at your local Walmart or Target. And the folks at iFixit would dispute that the rMBP, with its glued in battery that they determined in an teardown couldn't be removed nondestructively, is "easy to disassemble" even in the context of teardown for recycling.
Also, if refurbishment and repairability are not qualities considered in green certification, they should be - but that's another movie. cm
Link: Doing Our Job
Apple Updates
OS X 10.8.2 Update for 13" Retina MacBook Pro, Late 2012 21.5" iMac, and Late 2012 Mac mini
This OS X 10.8.2 update is recommended for all 13" MacBook Pro with Retina Display, 21.5" iMac (Late 2012), and Mac mini (Late 2012) systems. It includes all features and updates from OS X Mountain Lion v10.8.2 plus system-specific enhancements and fixes for Late 2012 systems.
New features include:
Facebook
Single sign on for Facebook
Facebook as an option when sharing links and photos
Facebook friends' contact information and profile pictures in Contacts
Facebook notifications in Notification Center
Game Center
Share scores to Facebook, Twitter, Mail, or Messages
Facebook friends are included in Game Center friend recommendations
Facebook Like button for games
Challenge friends to beat your score or achievement
Other new features
Power Nap support for MacBook Air (Late 2010)
iMessages sent to your phone number now appear in Messages on your Mac
From Safari and Mail on your Mac you can add passes to Passbook on your iPhone or iPod touch running iOS 6
New shared Reminders lists
FaceTime now receives calls sent to your phone number
New sort options allow you to sort notes by title, the date you edited them, and when you created them
Dictation now supports Mandarin, Cantonese, Spanish, Korean, Canadian English, Canadian French, and Italian
The Dictionary application now includes a French definition dictionary
Sina Weibo profile photos can now be added to Contacts
This update also includes general operating system fixes that improve the stability, compatibility and security of your Mac, including the following fixes:
An option to discard the changes in the original document when choosing Save As
Unsent drafts are opened automatically when launching
Mail
Receive Twitter notifications for mentions and replies from anyone
URLs are shortened when sending tweets from \
Notification Center
Notifications are disabled when AirPlay Mirroring is being used
SSL support for Google searches from the Smart Search Field in Safari
New preference to have Safari launch with previously open webpages
Graphics performance and reliability enhancements
USB 3 reliability enhancements
Link: OS X Mountain Lion 10.8.2 Update for 13" MacBook Pro with Retina Display, 21.5" iMac (Late 2012), Mac mini (Late 2012)
Tech Trends
Google Releases $249 Chromebook 'for Everyone'
PR: Google, and its sole remaining Chromebook laptop partner (now that Acer has dropped out), Samsung, have released a new line of Chromebook starting at a very modest $249, touted as the perfect additional computer for families, easy to use and share: for kids doing homework on the couch, parents catching up on emails at the kitchen counter and grandparents staying connected on video chat, with no need to worry about security updates and and require no ongoing maintenance, borrowing Apple's old "it just works" slogan.
With automatic updates, Chromebook download security and software upgrades so you don't have to. Chromebook have multiple layers of security to keep you safe from viruses and malware. Chromebook feature an HD-capable screen, a full-sized chiclet keyboard, and a gesture supporting trackpad. The $249 Chromebook has an 11.6" 1366-by-768 display.
The new Chromebook is a one of the lightest laptops on the market at 2.5 lb., a mere 0.8" thick, claimed to offer more than 6 hours of battery life for the typical user. And with 100 GB of free Cloud storage on Google Drive (you will have 100 GB of free storage for 2 years, starting on the date you redeem the offer on eligible Chrome devices), you can get to all of your stuff anytime, anywhere you have Internet access. The Chromebook boots up in less than 10 seconds and resumes instantly.
You can find a video demo at http://youtu.be/S95J5BowMmk
Chromebook run Chrome OS, an operating system that has multiple layers of security, cloud storage, and the most popular Google products built-in. Chromebook work with Google products and services like Search, Gmail, YouTube and Hangouts, and can be personalized with thousands more apps from the Chrome Web Store such as Google Play and Hangouts. With Chrome Instant, web pages that you frequently visit begin loading as soon as you start typing their URLs.
Chromebook sync seamlessly with Android phones or tablets and other devices running the Chrome browser. Access your bookmarks, files and other settings everywhere. Multiple logins allow you to securely share your Chromebook.
Each user gets their own personalized apps, settings and bookmarks when they log-in, and with multi-user support, each person can access their own files, apps and settings. Guest Mode allows you to safely lend your Chromebook to others without giving them access to your personal information. Built-in security prevents accidental software installations, malware, or altered settings.
The basic Chromebook with an ARM based Samsung SoC starts at $249, but if you need more power and multitasking capability, the Samsung Chromebook 550 is also offered at $449 with Intel Core processor power, and 3G wireless connectivity, with 12 free sessions of Gogo Inflight Internet.
Chromebook 550 Key Specifications
Memory card slot
USB port
Kensington lock
Power Gigabit Ethernet
DisplayPort++/USB port Audio input / output
12.1" (1280 x 800) display
Weight 3.3 lb. / 1.48 kg
Over 6 hours of battery life
Intel Core processor
4 GB RAM
100 GB Google Drive Cloud Storage, with Solid State Drive
Built-in dual band WiFi 802.11 a/b/g/n
Gigabit Ethernet, and 3G modem (opt)
HD Camera
2 USB 2.0 ports
4-in-1 memory card slot
DisplayPort++ Output (compatible with HDMI, DVI, VGA)
Kensington key lock compatible
Notes
Battery life may vary based on usage or other conditions.
100 GB of free storage is valid for 2 years, starting on the date you redeem the Drive offer. Learn more
Includes 100 MB per month for 2 years of mobile broadband from Verizon Wireless, with flexible pricing plans for additional mobile broadband service.
Link: Chromebook 550
Products & Services
Review: OWC Mercury Electra 960 GB SSD in 2.5" Form Factor
AnandTech's Kristian Vättö says one of the main concerns about buying an SSD has always been their limited capacity compared to traditional hard drives. Nowadays we have hard drives as big as 4 TB, whereas most SATA SSDs top out at 512 GB. He notes that SATA SSDs are usually 2.5" and standard 2.5" hard drives don't offer capacities like 4 TB, the biggest currently being 1 TB.
The real issue, however, has been price. Typically you've had to fork over around $1,000 for a 512 GB SSD, and given that a 500 GB hard drive could be bought for a fraction of that, there weren't many willing to pay the astronomical prices for a spacious SSD. However, a few months ago OWC released its 960 GB Mercury Electra MAX that has two SF-2181 controllers in RAID 0 and 512 GiB of NAND per controller at a more friendly price, and it's the subject of this thoroughgoing review. Vättö summarizes that a 1 TB 2.5" hard drive costs around $100 - over $1000 less than what the 960 GB Mercury Electra currently costs - so you must really be able to benefit from the increased I/O performance to justify spending that much on a drive.
Link: OWC Mercury Electra 3G MAX 960 GB Review: 1 TB of NAND in 2.5" Form Factor
Bargain 'Books
For deals on current and discontinued 'Books, see our 13" MacBook and MacBook Pro, MacBook Air, 13" MacBook Pro, 15" MacBook Pro, 17" MacBook Pro, 12" PowerBook G4, 15" PowerBook G4, 17" PowerBook G4, titanium PowerBook G4, iBook G4, PowerBook G3, and iBook G3 deals.
We also track iPad, iPhone, iPod touch, iPod classic, iPod nano, and iPod shuffle deals.
Join us on Facebook, follow us on Twitter or Google+, or subscribe to our RSS news feed
Links for the Day
Mac of the Day: Power Mac 7500, introduced 1995.08.08. This workhorse introduced a new desktop case and CPU daughter cards for easy upgrade.
Recent Content
Follow Low End Mac on Twitter
Join Low End Mac on Facebook
Favorite Sites
MacSurfer
Cult of Mac
Shrine of Apple
MacInTouch
MyAppleMenu
InfoMac
The Mac Observer
Accelerate Your Mac
RetroMacCast
The Vintage Mac Museum
Deal Brothers
DealMac
Mac2Sell
Mac Driver Museum
JAG's House
System 6 Heaven
System 7 Today
the pickle's Low-End Mac FAQ
Affiliates
Amazon.com
The iTunes Store
PC Connection Express
Macgo Blu-ray Player
Parallels Desktop for Mac
eBay

Advertise