iPad More Useful than Mac?, Power Sipping Haswell Processors to Fuel Mobile Innovation, and More
This Week's Mac Notebook News
Compiled by Charles Moore and edited by Dan Knight - 2012.09.14
General Apple and Mac desktop news is covered in Mac News Review. iPad, iPod, iPhone, and Apple TV news is covered in iOS News Review. Older Macs are covered in Vintage Mac News. All prices are in US dollars unless otherwise noted.
Purchases made through links to Amazon.com and Apple's iTunes/iBook/App/Mac App Store support Low End Mac.
News & Opinion
Rumor Roundup
Tech Trends
Products & Services
News & Opinion
Which Do You Use More, Your Mac or Your iPad?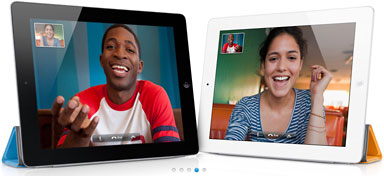 Mac 360's Alexis Kayhill says she fears the Mac may go the way of the dodo bird, noting that she uses her iPhone and iPad more than her Mac these days.
Kayhill notes that for a few years her Mac and iPhone peacefully coexisted - the latter offering mobility and convenience; the former for heavy lifting - but then came the iPad, and over the past year her Mac's usage has dropped considerably. Web page browsing and RSS feed reading has shifted from Mac to iPad, and the Mac now only gets used for heavy typing and serious graphics work. Everything else that the Mac once handled for her has been offloaded to iPhone and iPad.
So if mobility is the future, whither the Mac? Kayhill notes that schools are dumping PC and Mac purchases and switching to iPads, and Mac sales growth has slowed considerably.
So which gets used most at your house: Mac or iPad?
Link: Which Gets Used Most? Your Mac or Your iPad?
Rumor Roundup
DigiTimes: 13" Retina MacBook Pro and Next iMac Already in Apple's Supply Chain
DigiTimes' Aaron Lee and Joseph Tsai say that Apple's upstream supply chain reportedly started mass shipping new iMac all-in-ones and Retina Display 13.3" MacBook Pros this month according to insider sources.
Lee and Tsai's sources also project that official launch of the Retina Display 13.3" MacBook Pro should be in either September or October to target back-to-school demand and the year-end holidays.
With regard to the the iMac, they report that Apple had originally planned to release three new models with upgraded panels and CPUs, but poor yields of the panels has resulted in postponing mass production of the high-end model, with no word on a revised launch schedule. The new midrange and entry-level iMac models are reportedly in the distribution channels.
Lee and Tsai also note that having shipped 1.01 million iMacs in the second quarter, accounting for 2.8% of global desktop shipments, and bringing the company's total iMac shipments in the first half to 2.23 million units has made Apple fifth-largest desktop vendor worldwide and largest in the all-in-one PC segment.
Link: New 13.3-inch MacBook Pro and iMac Already Mass Shipping in Apple's Supply Chain (subscription required)
Tech Trends
Low-Power Haswell Processors to Fuel Future Mobile Computing Innovation
PR: Intel says that in 2013, its 4th generation Intel Core processor family based on "Haswell" microarchitecture will bring faster, thinner, lighter, cooler, more secure systems with built-in graphics to mainstream.
At the Intel Developer Forum in San Francisco, on Tuesday, Intel's chief product officer described how its low-power processors, starting with the company's 4th generation Intel Core processor family available next year, will set a new standard for mobile computing experiences and innovative Ultrabook, convertible and tablet designs.
David (Dadi) Perlmutter said Intel has reduced the platform idle power of its 4th generation Intel Core processor family based on the next-generation "Haswell" microarchitecture by more than 20 times over 2nd generation Core processors, while delivering outstanding performance and responsiveness. He also said Intel will add a new line of even lower-power processors based on the same microarchitecture to its roadmap starting in 2013, underscoring the company's determination to aggressively drive power consumption down, enabling longer battery life and a wave of new, more mobile designs, while delivering ever-increasing processor, graphics and media performance.
"The 4th generation Intel Core processor family and our new line of low-power processors will usher in an era of unprecedented innovation in mobile computing," Perlmutter said. "Our focus to deliver even lower power with the great performance that our processors are known for is as fundamentally significant as when we shifted our development focus beyond sheer processor speed in 2001. As a result, you'll see our customers delivering sleek and cool convertible designs, as well as radical breakthrough experiences across a growing spectrum of mobile devices."
Convertible Designs
Intel says that since it created and invested in the ecosystem for the new category of Ultrabook systems last year, more than 140 different Ultrabook designs are in development, a number of which are convertibles, with more than 70 powered by 3rd generation (Ivy Bridge) Intel Core processors available today.
However, when the company's 22nm 4th generation Intel Core processor family comes to the Ultrabook and other PCs in 2013, it will bring Intel HD graphics support, new instructions for faster encryption and performance, new hardware-based security features and low-power processor sub-states to enable longer battery life.
Intel says its new low-power chips based on "Haswell" microarchitecture will broaden the company's mobile roadmap, initially operating at about 10 watts to enable thinner, lighter Ultrabook, convertible and tablet designs with better performance and battery life.
Turning his attention to the full mobility spectrum, Perlmutter contended that Intel delivers the best choices for every mobile experience. Coming soon, the next-generation Intel Atom processor (codenamed "Clover Trail") is a new system-on-chip (SoC) architected specifically for Windows 8. Based on Intel's 32nm process technology, it powers lightweight tablets and convertibles, and includes outstanding battery life and always-on technology in sleek designs.
Perlmutter also articulated the advantages of Intel-based Windows 8 devices, noting that Intel Atom- and Intel Core-based tablets and convertibles will deliver a range of new features from enhanced media capabilities, security built for enterprise vertical market solutions, and support for the breadth of applications written for Intel processors, thus retaining the software investment of IT and consumers.
"We believe Windows 8 on Intel architecture will deliver the best experience, performance and compatibility across computing platforms," he said.
The Rise of Natural, Intuitive Computing Experiences
The personal computing experience is shifting to one based on perceptual computing where devices will take on human-like senses to perceive the user's intentions, according to Perlmutter, adding that Intel is driving these capabilities across Intel platforms both now and into the future.
Perlmutter invited the developer community to work with Intel to bring the next wave of perceptual computing capability to Intel Core-based platforms with the release of the company's first Intel Perceptual Computing Software Development Kit (SDK) beta. The SDK, targeted for release early next quarter, will enable hardware and software developers to bring gesture interaction, facial and voice recognition, and augmented reality to life on existing and future Intel Core processor-based Ultrabook systems and PCs.
Perlmutter also talked about progress made to bring voice recognition to the Ultrabook while showing a system running the Nuance Dragon Assistant Beta optimized for Intel Core processors. Dell plans to make the Dragon Assistant Beta available in the United States next quarter in its Dell XPS13 Ultrabook.
Products & Services
Sonnet 10GbE and 6Gb eSATA Thunderbolt Adapters and Echo Express SE Thunderbolt Adapter Value Bundles
PR: Sonnet Technologies has announced the Echo Express SE 10 Gigabit Ethernet Thunderbolt Adapter and the Echo Express SE eSATA Pro 4-Port Thunderbolt Adapter. These new adapters pair Sonnets just-released Echo Express SE Thunderbolt Expansion Chassis for PCI Express (PCIe) cards with either a Sonnet Pro one-port 10 Gigabit Ethernet (10GbE) adapter card or four-port 6Gb eSATA adapter card, respectively, in value-priced bundles that provide high-speed data and storage interfaces to iMac, Mac mini, MacBook Air, and MacBook Pro computers with a Thunderbolt port. The adapters ship with the interface cards preinstalled.
The Echo Express SE 10GbE is a Thunderbolt-to-10GbE adapter that bundles Sonnet's Echo Express SE Thunderbolt Expansion Chassis for PCIe cards and the Presto 10GbE PCIe Card with Fibre SFP+, providing a near plug-and-play solution for adding 10GbE connectivity to any computer with a Thunderbolt port. This adapter enables users to connect their computers to high-speed infrastructure and storage without stepping down in speed. Data centers are adopting the 10GbE standard increasingly for wired networking and specialized applications such as HD video editing using high-performance shared storage systems yet no Mac computer offers this interface option. Sonnets solution provides users with a powerfully simple way to add 10GbE connectivity to any computer with a Thunderbolt port.
The Echo Express SE eSATA Pro 4-Port is a Thunderbolt-to-eSATA adapter that bundles Sonnets Echo Express SE Thunderbolt Expansion Chassis for PCIe cards and the Tempo SATA Pro 6Gb 4-Port eSATA host controller, providing a plug-and-play solution for adding four high-performance eSATA ports to any computer with a Thunderbolt port. This adapter enables users to connect single- and multi-drive storage systems to any computer with a Thunderbolt port so that they can take advantage of the 6 Gb/s eSATA interfaces superior throughput compared to all FireWire and USB interfaces. The Tempo SATA Pro 6Gb 4-Port card was designed for optimum performance over Thunderbolt, and its ability to support aggregate transfer speeds of up to 760 MB/s reflects its optimized design.
Each Echo Express SE value bundle comes with its adapter card preinstalled, so physical setup is as simple as connecting the external power supply plus necessary interface cables among the Echo Express SE chassis, computer, and data or storage devices. Measuring only 5.7 inches wide by 8.8 inches long by 2.9 inches tall and weighing less than three pounds, each chassis takes up very little space wherever its used. Dual Thunderbolt ports support daisy-chaining of devices, and an automatic temperature-controlled fan quietly cools the installed card. Each Echo adapter conserves energy by powering on/off when the computer to which it is connected powers on/off or wakes/sleeps.
Echo Express SE 10GbE and Echo Express SE eSATA Pro 4-Port adapters provide users with a simply fast way to add the latest high-performance ports to their computers, said Robert Farnsworth, CEO of Sonnet Technologies. On its own, each adapter delivers a significant savings over purchasing the Echo Express SE and adapter card separately, but with the inclusion of a five-year warranty, these Sonnet solutions are just great values.
The Echo Express SE 10GbE (part number ECHO-EXP-SE10G) and the Echo Express SE eSATA Pro 4-Port (part number ECHO-EXP-SE4S) are now available for $999 and $599, respectively.
Link: Thunderbolt Expansion Chassis & Rackmount Enclosures
Bargain 'Books
For deals on current and discontinued 'Books, see our 13" MacBook and MacBook Pro, MacBook Air, 13" MacBook Pro, 15" MacBook Pro, 17" MacBook Pro, 12" PowerBook G4, 15" PowerBook G4, 17" PowerBook G4, titanium PowerBook G4, iBook G4, PowerBook G3, and iBook G3 deals.
We also track iPad, iPhone, iPod touch, iPod classic, iPod nano, and iPod shuffle deals.
Join us on Facebook, follow us on Twitter or Google+, or subscribe to our RSS news feed
Links for the Day
Mac of the Day: Original iMac, introduced 1998.05.06. The Bondi blue wonder that bounced Apple back to profitability and into the public eye.
Recent Content
Follow Low End Mac on Twitter
Join Low End Mac on Facebook
Favorite Sites
MacSurfer
Cult of Mac
Shrine of Apple
MacInTouch
MyAppleMenu
InfoMac
The Mac Observer
Accelerate Your Mac
RetroMacCast
The Vintage Mac Museum
Deal Brothers
DealMac
Mac2Sell
Mac Driver Museum
JAG's House
System 6 Heaven
System 7 Today
the pickle's Low-End Mac FAQ
Affiliates
Amazon.com
The iTunes Store
PC Connection Express
Macgo Blu-ray Player
Parallels Desktop for Mac
eBay

Advertise