Do Unfixable Computers Threaten the Planet?, Retina MacBook Pro 'Best Mac Ever', and More
This Week's PowerBook and iBook News
Compiled by Charles Moore and edited by Dan Knight - 2012.07.02
General Apple and Mac desktop news is covered in Mac News Review. iPad, iPod, iPhone, and Apple TV news is covered in iOS News Review. All prices are in US dollars unless otherwise noted.
News & Opinion
Reviews
Tech Trends
Products & Services
Software
News & Opinion
Unfixable Computers Threaten the Planet's Future
iFixit's Kyle Wiens says he didn't expect the scale of the public response when he argued recently that consumers should choose the hackable, fixable, non-Retina MacBook Pro over its sleeker-and-shinier-but-locked-down Retina Display stablemate. He says he's been accused of Ludditism and advocacy of old-fashioned inertia dragging down forward progress, with some critics contending that repairability doesn't matter and that the vast majority of consumers just don't care.
Wiens agrees that the proponents of locked-down devices are right on some level - if something breaks, most computer owners won't grab a screwdriver but will instead take the machine to a specialist or just replace it with a faster one.
However, he argues that sending your difficult-to-repair computer off to a trained technician doesn't protect you from the consequences of difficult-to-repair hardware, noting that about one-third of computers break by the fourth year, and that AppleCare doesn't cover accidental damage and only lasts up to three years in any case, so less repairable designs guarantee that fixing stuff will be more expensive and complicated no matter who does it.
However, Wiens contends that an even bigger point is that the future of the planet depends on the quality of our electronic devices and how long they last, and that the way we're doing it now hurts people and permanently damages the environment, citing the devastating environmental and social impacts of electronics hardware manufacturing and disposal. He says he's visited electronics scrap yards in Ghana, where children burn electronics to mine them for raw materials, and spent a lot of time studying the aftermarket of the consumer electronics industry, where repair, reuse, and material recovery happen, noting that "there's no such thing as a completely green cell phone or computer," and pointing out that only a small fraction of electronics produced are recycled - usually ham-fistedly.
In Wiens' vision, an ideal world would be one in which technicians would continue to repair, salvage, and refurbish old hardware that would move on from owner to owner rather than being thrown in the trash, which is why he's eager to promote hardware that lasts and call out products that don't. "It's critically important that we fix things when they break," he maintains," urging consumers to demand products that aren't just light and thin, but can also stand the test of time, because our future depends on it.
Publisher's note: That fits right in with the Low End Mac philosophy of using your Mac as long as practical, then repurposing, redeploying, or keeping the old Mac as a spare computer or parts mule, and responsibly disposing of it when it's finally all used up. And it's at that point that Apple's "green cred" means recent Macs are very recyclable due to their use of aluminum, arsenic-free glass, mercury-free backlighting, PVC-free cables, etc. The key with a MacBook Air or the Retina MacBook Pro is to buy for the future, making sure you get all the system memory you're ever going to need at the start, because you can't upgrade it later on. dk
Link: Unfixable Computers Are Leading Humanity Down a Perilous Path
Retina MacBook Pro: I Wanna Love You, but You're Bringing Me Down
Digital Trends' Brad Chacos observes that Apple's MacBook Pro with Retina Display hits every high note in both performance and design - "until you open it up, where a monstrosity awaits."
Backstory: Chacos, a longtime Windows devotee, is definitely not enchanted with Windows 8, which has driven him to consider various Linux options. "Then," he says, "the MacBook Pro with Retina Display happened, right in my moment of weakness," noting that he's a massive fan of high-resolution displays, and here is a laptop with twice the resolution of the best-looking Ultrabook - and packing a ton of desktop-like firepower to boot.
He says he was teetering, but then iFixit tore down the Retina Display MacBook Pro, "and it was like Apple spit in my eye . . . She ain't so purdy on the inside."
No sale. Chacos admits he had Apple fever for a few days, but iFixit's teardown snapped him back to reality.
Link: MacBook Pro with Retina Display: I Wanna Love You, but You're Bringing Me Down
Apple Posts Retina MacBook Pro FAQ
In a new Apple Knowledge Base article, Apple proudly brags that the MacBook Pro with Retina display has a pixel density so high that your eyes can't discern individual pixels at a normal viewing distance- it packs four times the pixels of the standard 15" MacBook Pro display.
They've posted a new FAQ that addresses the following topics:
How do I adjust the resolution of my Retina display?
What applications currently support the Retina display?
I'm noticing functional or visual issues with an application. How can I make it work better?
I notice that some applications have "Open in Low Resolution Mode" already enabled. It this normal?
My application wants to take over the screen and use it own resolution settings. Which setting works best?
What happens when I use an external display with my MacBook Pro with Retina display?
I need a resolution for my external display that is not appearing on the list. Is there a way to get more resolutions to appear?
Is Windows 7 using Boot Camp supported on the Retina display?
Windows 7 starts up with a lot of space and small icons. Is this normal?
Link: MacBook Pro: Frequently Asked Questions About Using a Retina Display
Apple Delays Retina MacBook Pro Orders for Some Business Customers
MacRumors' Eric Slivka reports hearing from several customers who have received emails from Apple indicating that their launch-day purchases of Retina MacBook Pro machines through Apple's enterprise sales channel have been delayed by up to a month "Due to an unexpected delay."
Link: Apple Delaying Early Retina MacBook Pro Orders for Some Business Customers
Some Problems Reported Mounting USB 3 Drives on New MacBooks
ZDNet blogger David Morgenstern reports that based on a rash of recent posts in Mac discussion boards, something appears to be up with connecting external USB 3 drives (or cables) and the new Mid 2012 MacBook Air and MacBook Pro with Retina Display.
Link: Problems Reported Mounting USB 3.0 External Drives on New MacBooks
Reviews
AnandTech: MacBook Pro with Retina Display 'The Best Mac Apple Has Ever Built'
AnandTech's Anand Lal Shimpi has posted a characteristically thoroughgoing review of the new Retina MacBook Pro, noting that the personal computer as we knew it for so long, is changing - getting thinner, lighter, more integrated and more appliance-like, and with even Microsoft finally entering the PC hardware business, something it threatened to do for years but hadn't until now. He predicts that lines delineating different form factors will continue to blur.
He says that after using a Retina MacBook Pro for the past two weeks he can honestly agree with Apple's Jonathan Ive and Phil Schiller's contention that its the best Mac Apple has ever built.
Lal Shimpi acknowledges that this is the first "Pro appliance" Apple has ever produced, with the CPU, GPU, DRAM, battery, display and, for now, the SSD either non-removable or at best not user-upgradeable, but points out that we've long-since given up on upgrading mobile CPUs or GPUs, and more recently abandoned the removable battery in favor of increasing capacity and reducing form factors.
Lal Shimpi pronounces the Retina MacBook Pro's internals as "easily the best collection of parts Apple has ever assembled," its connectivity "near perfect," and the Retina Display easily the most beautiful display he's had the opportunity of using.
Link: The Next-gen MacBook Pro with Retina Display Review
Mid 2012 MacBook Airs 'Easily the Best Airs Yet'
Macworld's Dan Frakes says that with its latest refresh, Apple's ultralight laptop line edges closer to pro territory, noting that in 4-1/2 years, the MacBook Air has gone from being an expensive technology demonstration to a successful product firmly established as the heart of Apple's laptop line, and that this year's updated models improve the Air's appeal with enhanced performance, enhanced expansion capabilities, and lower prices to the point of encroaching on MacBook Pro territory.
Frakes notes that even on the 11" MacBook Air you get the same low-profile, backlit keyboard found in Apple's current desktop keyboards, a large multitouch trackpad that's ideal for using gestures, and an LED-backlit, widescreen, glossy display with sub-Retina (but still high) resolutions of 1366 x 768 pixels on the 11" model and 1440 x 900 on the 13-incher with outstanding colors and viewing angles.
Then there's the (unfortunately non-user-replaceable) battery that gives the 11" Air a claimed battery life of up to 5 hours - and the 13" Air up to 7 hours runtime.
The latest Airs get a 720p FaceTime HD webcam that can record video at 1280 x 720 resolution. The erstwhile FireWire 800 port is gone from the 13-incher, but Apple says a Thunderbolt-to-FireWire 800 adapter is coming, and the Air's two USB ports now support USB 3, with each port getting its own bus capable of up to 5 Gbps throughput and backward-compatible with USB 2.0 peripherals. The 13" MacBook Air still has an SD Card slot.
Power-wise, the 2012 Airs use Intel's latest Ivy Bridge Core i processors - the 11" Air getting a 1.7 GHz dual-core Core i5 processor with 3 MB of shared level 3 cache, while the 13" Air uses a 1.8 GHz version, both upgradable to a 2.0 GHz i7 processor with 4 MB level 3 cache as a build-to-order option, and both models upgraded to Intel's latest HD Graphics 4000 IGPU, which Apple claims the 4000 is up to 60% faster on graphics-intensive tasks than last year's 3000 IGPU.
And in what constitutes huge progress, all four MacBook Airs models, including the $999 entry-level model, now ship with a minimum 4 GB of faster 1600 MHz RAM and can be upgraded (but only at the time of purchase) to a new ceiling of 8 GB.
Frakes also notes that Apple claims the Airs' SSDs used in the 2012 Air line are twice as fast as the ones used in 2011, although the $999 model still ships with a laughable 64 GB capacity. In general, the Mid 2012 revisions are easily the best Airs yet.
Link: Mid-2012 MacBook Airs Offer Improved Performance and Connectivity
Macworld Checks Out Ultimate Mid 2012 MacBook Air Configurations
Macworld's James Galbraith notes that Apple usually offers optional specification upgrades that facilitate tailoring a standard-configuration system to your particular needs, and Macworld Lab ran performance benchmarks on two MacBook Air build-to-order (BTO) models
The tested 11" MacBook Air had a dual-core 2.0 GHz Core i7 CPU with 4 MB of shared L2 cache ($150 option), 8 GB of RAM (100), and 256 GB of flash storage ($300), totaling out at $1,649 - 50% more than the stock high-end model - and boosting overall performance by 21%.
The 13" MacBook Air tester started out with the high-end stock ($1,499) dual-core 1.8 GHz Core i5 model upgraded to the dual-core 2.0 GHz Core i7 ($100), 8 GB of RAM ($100), and 512 GB of flash storage ($500), bringing the total cost $2,199, which incidentally is the price of the 39% faster overall entry-level 15" Retina display MacBook Pro, albeit the latter comes with only 256 GB of storage capacity. However, Galbraith reports that on the 13-incher, the BTO upgrades only yielded an 11% overall performance improvement, although it was 21% faster overall than the $1,499 2.9 GHz Core i7 MacBook Pro.
Much food for thought here for anyone in the hunt for a speedy MacBook.
Link: Ultimate MacBook Air 2012 Models Put to the Test
Inside the Difficult to Repair MacBook Pro with Retina Display
InformationWeek's Larry Seltzer reports that UBM TechInsights did a partial teardown of the new Retina MacBook Pro and a separate teardown of the solid state drive (SSD) in the MacBook Pro, including x-ray images.
Concurring with iFixit in their Retina MacBook Pro teardown, TechInsights says it's immediately clear that the MacBook Pro is almost impossible to repair and probably quite difficult to recycle, what with many components, such as RAM, soldered to the motherboard, and other parts, such as the display and battery, glued in, making access to other components difficult or impossible.
Link: Teardown: Inside Apple MacBook Pro
Tech Trends
Acer Sees Gloomy Ultrabook Outlook in Europe
The Register's reports that Acer has downgraded sales forecasts for Ultrabooks in Europe, citing the stiff price tag and smaller screen size as factors limiting adoption. The report notes that Acer had expected Ultrabooks to account for between 25% and 35% of total notebook sales globally by the end of this year, but quotes Acer EMEA president Oliver Ahrens observing, "Overall the Ultrabook segment is developing much slower than projected by Intel and we have already adjusted our strategy on this in the last quarter" - projecting that Ultrabooks will be roughly 10% of the market by year-end 2012. Price is evidently the main sticking point for buyers. Another stumbling-block is the typical 13.3" Ultrabook form factor, which has never been as popular in Europe as in Asia.
Link: Acer Bigwig Sees Gloomy Future for Ultrabooks in Europe
Products & Services
Turbocharged Doxie Go Mobile Scanner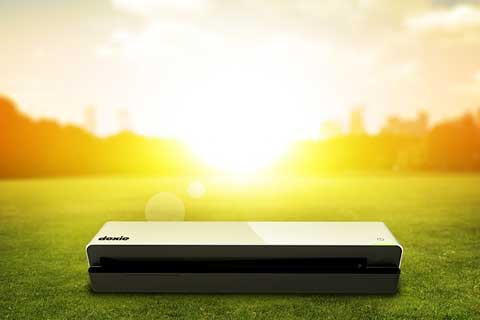 PR: Apparent today announces Doxie Go, a major upgrade to its tiny mobile scanner that makes going paperless easy. Doxie scans anywhere with no computer required, then syncs scans to your favorite devices, creates searchable PDFs, sends to the cloud, and more. The next generation Doxie Go cordless paper scanner delivers enhanced scanning features, new cloud apps, document signing and faxing, Basecamp integration, two all-new accessories, add-on WiFi with iOS + Android sync, and more.
"There's something in the new Doxie for everybody," says Paul Scandariato, Apparent's vice president of marketing. "Doxie Go delivers true mobile scanning you can take anywhere - no computer required - making it easy to get organized and go paperless."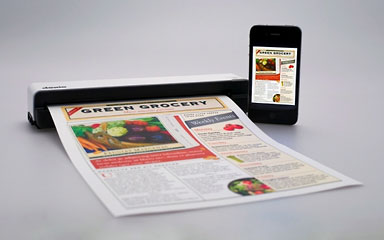 Doxie is tiny and cordless, with a rechargeable battery and built-in memory that lets you scan anywhere. Just connect via USB to sync scans and recharge. Doxie's custom-designed desktop app intuitively organizes multipage documents, creates searchable PDFs with award-winning ABBY OCR technology, and sends to the cloud for easy sharing. When equipped with an add-on wireless SD card, Doxie can transmit scans directly to iPhone, iPad, and Android via WiFi.
New Features:
Scan longer, scan legal: Doxie now scans paper up to 15" (38 cm) in length, handling US legal documents and long receipts, plus standard sizes like business cards, photos, and US Letter/A4 sheets
Enhanced Dropbox mobile integration: Use Doxie and Dropbox together to share your documents - now Doxie lets you save searchable PDFs to any folder in Dropbox in one step. And on iPhone iPad, select scans to save to any Dropbox folder for access from any device.
Sign documents, deliver faxes: Provide digital signatures and send faxes with the newly integrated HelloFax. Just select your documents, create a signature box, and send automatically via fax or e-mail.
WiFi now just $30, now with Android: Doxie offers optional WiFi for syncing scans wirelessly, now for just $30. Send scans wirelessly to your computer, iPhone, iPad, Evernote, and now Android smartphones.
Basecamp project management: Manage projects and share tasks with Basecamp from 37signals. The new Doxie Go uploads business docs directly to any Basecamp project for sharing and commenting.
Two all-new accessories for scanning anywhere: Introducing two new add-on Doxie accessories. The new Doxie A4 Case is a premium microfiber carrying case for Doxie, with a padded gray interior and magnetic clasp. And the new Worldwide Power Adapter lets you charge and scan at any wall outlet.
Apparent's next generation Doxie Go is available now for the same price as its predecessor - $199 - in the United States, Canada, and throughout Europe and Southeast Asia. To find Doxie near you, visit the Buy Doxie section online. For more information on the next generation Doxie Go, visit the Doxie website.
New and updated Doxie Go accessories:
Doxie A4 Case - $29 - Premium microfiber carrying case for Doxie Go. Contains no animal products.
Worldwide Power Adapter - $10 - New power adapter accessory lets you charge and scan simultaneously.
Wireless SD Card - $301 - Doxie's optional Eye-Fi branded wireless SD card makes Doxie not only cordless but wireless. Send scans via WiFi to computers, iPhone, iPad, and now Android. Now just $30.
Link: Doxie Go (currently $199 shipped from Amazon.com)
2 New Macally USB 3 Enclosures
PR: Macally has announced two new USB 3 hard drive enclosures for 3.5" SATA HDD to complement Apple's newest MacBook Pro series.
Users will benefit from blazing fast USB 3.0 speed ten times faster than USB 2.0 - up to 4.8 Gbps, which is why USB 3 is dubbed "SuperSpeed"!
It's also backwards compatible with USB 1.1 & 2.0.
Two new Macally USB 3 drive models are offered.
USB 3.0 Plastic External 3.5" SATA HDD Enclosure XTR-S350U3, MSRP $69.99
USB 3.0 Aluminum External 3.5" SATA HDD Enclosure NSA-S350U3, MSRP $69.99
Both are now shipping.
Link: Super-Speed USB 3.0 Storage Enclosure (currently $64 shipped from Amazon.com)
Link: Super-Speed USB 3.0 Aluminum Storage Enclosure (currently $57.99 shipped from Amazon.com)
OWC Releases 960 GB Mercury Electra MAX 3G 2.5" Serial-ATA 9.5mm SSD
PR: The OWC 960 GB Mercury Electra MAX 3G SSD provides serious capacity for video editing, home office, gaming, and personal photography.
This internal 2.5" SATA SSD uses the latest SandForce 2181 Processor and DuraClass technology to deliver high transfer speed, durability, and performance:
DuraWrite extends the endurance of your Solid State Drive (SSD).
Intelligent Block Management & Wear Leveling automatically distributes data evenly across the entire SSD.
Intelligent Read Disturb Management spreads the active read/write across the flash components eliminating data corruption caused by constant use.
Intelligent "Recycling" for advanced free space management gradually rewrites data across the SSD over time to ensure data never gets corrupted.
RAISE (Redundant Array of Independent Silicon Elements) protects the data on your drive similar to having a RAID setup.
ECC Protection for enhanced data retention and drive life.
Ultra-efficient Block Management & Wear Leveling
No Risk, No Hassle 30-Day Money Back Guarantee
With sustained reads up to 254 MB/s and writes up to 250 MB/s, up to 100x greater data protection than enterprise class Hard Disk Drives, and RAISE technology for RAID like data protection and reliability, the OWC 960 GB Mercury Electra MAX 3G SSD line is designed and built in the US from domestic and imported parts and backed by a three year warranty.
Replaces your conventional laptop hard drive. Unlike traditional hard disk drives, OWC SSDs have no moving parts, resulting in a quiet, cool, highly rugged storage solution that also offers near instantaneous system response.
Price: $1,269.99
Link: 960 GB Mercury Electra MAX 3G SSD
Kensington Introduces New Security and Productivity Products for MacBooks
PR: Kensington Computer Products Group has created the an extensive selection of physical security solutions for Apple devices. With a range of solutions for the MacBook Air and MacBook Pro, Kensington has the security needs of Apple business and education users covered. Security accessories designed by Kensington for specific Apple computers, with specific uses in mind, provide an important first line of defense against device theft and loss.
The average cost of device theft and liabilities associated with the resulting loss of important business data is estimated to be $49,000, according to research from the Ponemon Institute. Companies also risk reputation or regulatory consequences if sensitive customer data is lost, particularly in healthcare and financial businesses. One of the easiest and most cost-effective ways to guard against device and data loss is to use physical security, such as laptop locks and security cases.
"As more companies adopt Apple computing products, its important they also adopt an essential first line of defense to protect both the devices and the data they contain," says George Foot, Kensington Vice President of Global Marketing and Product Development.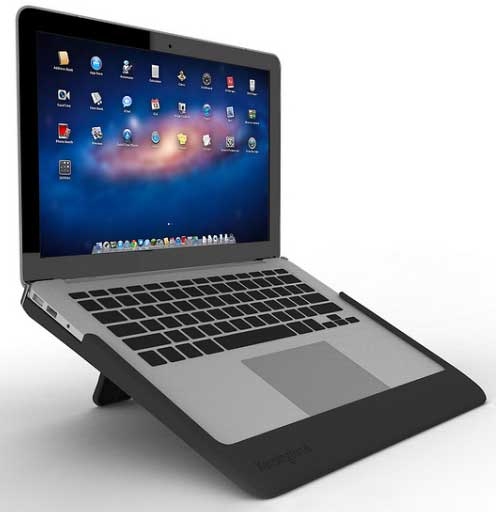 "Kensington's 30-year heritage in providing security products gives us a solid understanding of the need to carefully match the security accessory to the use and the design of the device. Whether people are using their Apple computers to primarily view content, create content or to display information, Kensington knows how to design physical security that works alongside them seamlessly."
New Kensington Physical Security for MacBook Air
Kensington SafeDock MacBook Air Security Dock & Keyed Lock (13 MacBook Air-K67759AM; 11 MacBook Air-K67758AM; SRP $99.99)
The Kensington SafeDock MacBook Air Security Dock & Keyed Lock offers security in one sleek solution. Slide your MacBook Air into the SafeDock and flip up the security gate and attach the ClickSafe lock in one easy click to secure your MBA.
Built-in ClickSafe Security Anchor secures in a click with the included ClickSafe Lock
Brushed aluminum security bar matches the MacBook Air aesthetics
Preserves access to all ports
Thin and portable design easily fits in sleeve or travel bag
Tilts keyboard for more comfortable typing
4 stand or VESA mount available for ergonomic viewing
New Kensington Physical Security for MacBook Pro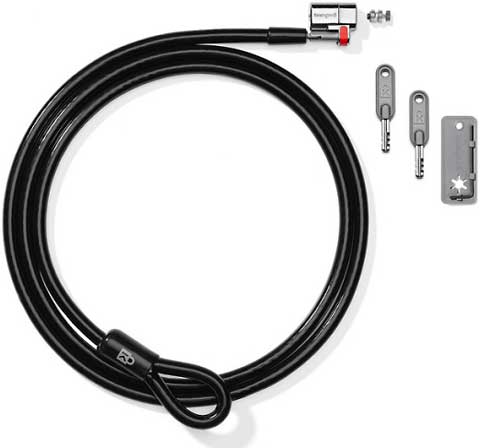 Kensington ClickSafe Keyed Laptop Lock (K64637WW; SRP $44.99):
The Kensington ClickSafe Keyed Laptop Lock is designed for effortless protection of computers and your business most important data. Locks attach to Apple computer in a single step. Just one click and its secure. There's no need for employees to insert a key or follow multiple steps. ClickSafe combines a cable made from superior materials with a tamperproof disc-style lock to deliver the strongest security available in a cable lock.
Currently $32.99 shipped at Amazon.com.
These products are currently available for preorder at Kensington.com, Amazon.com, and major resellers.
Link: Apple Security Solutions
Software
Free Utility Gives You Control Over Retina MacBook Pro Display Resolutions
PR: Wineskin's doh123 notes that with the new Retina Macs not having a way to truly change the screen resolution, he threw together a little app that uses the WSReso command line tool made for older versions of Wineskin for changing resolutions before RandR was added to XQuartz. It uses WSReso, and it's just an AppleScript GUI front-end that lets you change resolutions, including knocking that Retina Display MacBook Pro up to a true 2880 x 1800. doh123 says the little hack works on any Mac for changing resolutions - very simple, but effective.
You can download it for free here: http://wineskin.urgesoftware.com/Special/Change Resolution.app.zip
If you want to just have an app that automatically goes to your max resolution that you can put in your startup items, you can try this one: http://wineskin.urgesoftware.com/Special/SetRes.app.zip
Link: Resolution Changing App
Bargain 'Books
For deals on current and discontinued 'Books, see our 13" MacBook and MacBook Pro, MacBook Air, 13" MacBook Pro, 15" MacBook Pro, 17" MacBook Pro, 12" PowerBook G4, 15" PowerBook G4, 17" PowerBook G4, titanium PowerBook G4, iBook G4, PowerBook G3, and iBook G3 deals.
We also track iPad, iPhone, iPod touch, iPod classic, iPod nano, and iPod shuffle deals.
Join us on Facebook, follow us on Twitter or Google+, or subscribe to our RSS news feed
Links for the Day
Mac of the Day: SuperMac S900, introduced 1996.08. This very expandable tower supports dual CPUs, has 6 PCI cards. and includes many drive bays.
Recent Content
Follow Low End Mac on Twitter
Join Low End Mac on Facebook
Favorite Sites
MacSurfer
Cult of Mac
Shrine of Apple
MacInTouch
MyAppleMenu
InfoMac
The Mac Observer
Accelerate Your Mac
RetroMacCast
The Vintage Mac Museum
Deal Brothers
DealMac
Mac2Sell
Mac Driver Museum
JAG's House
System 6 Heaven
System 7 Today
the pickle's Low-End Mac FAQ
Affiliates
Amazon.com
The iTunes Store
PC Connection Express
Macgo Blu-ray Player
Parallels Desktop for Mac
eBay

Advertise