All Quad-Core MacBook Pros Possible, Apple Tries to Patent MacBook Air's Wedge Design, and More
This Week's PowerBook and iBook News
Compiled by Charles Moore and edited by Dan Knight - 2012.05.04
General Apple and Mac desktop news is covered in Mac News Review. iPad, iPod, iPhone, and Apple TV news is covered in iOS News Review. All prices are in US dollars unless otherwise noted.
News & Opinion
Products & Services
News & Opinion
New MacBook Pros Could Go Completely Quad-Core Using First Ivy Bridge Processors
Ars Technica's Chris Foresman speculates that the six quad-core mobile processors Intel launched on Monday in the first wave of its transition from Sandy Bridge to Ivy Bridge would allow Apple to make its revamped MacBook Pro lineup all quad-core if it wanted to take that route. Other alternatives would be to release the new MacBook Pros in stages, with quad-core powered higher-end MacBook models rolling out in May, and lower-end dual-core 15" machines and 13" models following in June as dual-core Ivy Bridge silicon becomes available.
Foresman notes that 45W TDP quad-core CPUs make a good fit for Apple's higher-end 15" and 17" MacBook Pros, while less power-hungry (35W TDP) dual-core units are more suitable for low-end or smaller form factor models, but that Intel has announced a Core i7-3612QM quad-core unit that shaves a few megahertz off the maximum GPU and CPU frequencies, allowing it to max out at 35W TDP, so if Apple wanted to it could offer an all quad-core MacBook Pro lineup with processors Intel is including in its first wave Ivy Bridge release. He reasons that Apple could use a quad-core/dual-core distinction to position the MacBook Pro as its maximum performance laptop, with the MacBook Air targeted to users willing to trade some performance for ultimate portability and lower price points.
On the other hand, some prognosticators contend that Apple is fixing to eliminate the distinctions of Pro and Air altogether, and merge the two lines into one contiguous notebook family simply called MacBook, while dropping the 17-inch model entirely. I'm skeptical, but we'll see.
Foresman thinks it more likely that if Apple shuns his all quad-core suggestion, they will wait until June to launch an full series of MacBook Pro models, which your editor considers the likeliest scenario.
Link: MacBook Pros Could Go All-quad-core with First-wave Ivy Bridge Processors
Apple Applies to Patent MacBook Air Design

Wired's Christina Bonnington reports that an expanded patent application for the the MacBook Air
form factor passed through the US Patent and Trademark Office, the patent being for a portable computing device with a wedge-shaped top case and a lid pivotally connected to the base via a hinge. Apple - in short a design we know as the MacBook Air.
Bonnington suggests that Apple may be beefing up its patent library to counter

the onslaught of Intel PC Ultrabooks, with nine MacBook Air-related patent applications lumped together under the category Portable Computing Device, and which if granted, could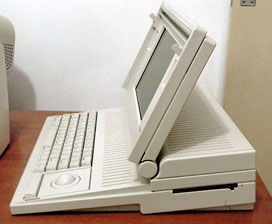 theoretically allow Apple to enforce its patent and sweep Intel-based MacBook Air lookalikes off store shelves.
Publisher's note: Although it didn't have a hinge at the back like the MacBook Air, the 1989 Macintosh Portable was definitely wedge-shaped - and a whole lot thicker and heavier than any Mac notebook since. Of course, it wasn't Apple's first wedge-shaped computer. That honor goes to the Apple IIc from 1984. dk
Link: Apple Wants to Patent Its MacBook Air Design
Products & Services
Samsung Introduces World's Thinnest External Optical Drive
PR: Samsung Electronics Co., Ltd. has announced its new slim external DVD writer, the SE-218BB optical disc drive (ODD) that it claims sets the industry standard for ultra portable drives.
Through its AV connectivity mode, the drive is also ideal for Tablet PC users that want to view or hear content from a disc.
Built to accompany a new generation of ultrabook and slim laptop designs, the SE-218BB features a compact size that is 18% thinner than conventional DVD writers and is the world's thinnest external optical disc drive with a 14mm height. The drive is 8% lighter than Samsung's conventional DVD writer and built to accommodate today's mobile lifestyle.
"With its ultra small footprint, consumers will appreciate the SE-218BB sleek drive as an ideal companion for ultrabook users that quickly connects and is USB powered to access content wherever they are," says Maverick Choi, ODD senior manager, Samsung Semiconductor, Inc. "Through its AV connectivity mode, the drive is also ideal for Tablet PC users that want to view or hear content from a disc."
Using Smart Power technology, SE-218BB connects through its single USB port to power the drive and provide AV connectivity to PCs and notebook computers. For Tablet PCs with a built-in USB port and supporting Android Honeycomb OS 3.1 or above, the SE-218BB allows users on-the-go to watch DVD content on their tablets.
The SE-218BB DVD writer is engineered to be compatible with all major operating systems, including Windows 7 and Mac OS X. Featuring Buffer Under Run technology, the drive works to prevent errors that result from writing speeds that can exceed data transfer speeds, while also enabling PC multitasking.
The SE-218BB DVD writer is an eco-friendly product, manufactured with lead-free soldering technology that eliminates harmful materials such as Pb, cd, cr+6, Hg, PBBs, and PBDE.
The external DVD drive is capable of reading and writing files at a variety of speeds across different data media types including: 24x CD-ROM, 24x CD-RW, 8x DVDR recording, 5x DVD-RAM recording, 6x DVD+R Dual Layer recording, 6x DVD-R Dual Layer recording, 8x DVD+RW recording, and 6x DVD-RW recording.
The SE-218BB is available now worldwide at online retail outlets with a MSRP of $59.99.
AOC 22" USB Powered Monitor
PR: AOC suggest that their new 22" USB Powered Monitor is ideal for presentations and dual monitor displays, with no external power cord needed.
The 22" e2251Fwu USB monitor is also slim and lightweight for maximum portability, and features a piano-black glossy bezel and base. No power cord or VGA cable are required, and the display is plug & play compatible with both PC and Mac.
Technical Specifications:
Viewable Image Size 21.5" (16:9)
Response Time 5ms
Optimum Resolution 1920 x 1080 @ 60 Hz
Colors Supported > 16 Million
Digital Input - USB
ENERGY STAR Compliant
EPEAT Rated
Street price is about $160
Publisher's note: All monitors that use USB for video use DisplayLink, which creates a virtual graphics card on your Mac or Windows PC, which sends compressed data to the display, because USB 2.0 does not have enough bandwidth to support resolutions higher than 1024 x 768 without resorting to data compression. The Mac driver requires OS X 10.4 or later on Intel hardware. Windows XP or newer required on PCs. Tom's Hardware reviewed the technology last summer using Windows 7 and found that at the 1920 x 1280 resolution of this AOC display, video or a 2-images-per-second slide show would create a 40-50% CPU workload on a mobile i5 processor - and just moving the mouse used 15%. The article also notes that DisplayLink is not really suitable for 3D gaming. I have not been able to find an in-depth review of this technology used on Macs. dk
Link: AOC 22" - e2251Fwu (available from Amazon.com for $168.51 shipped)
Altego Coated Canvas Cyan Series and Channel Stitched Ruby Series Laptop Bags
PR: Altego has announced the launch of two new distinct lines of laptop bags and cases designed for the Apple MacBook and iPad. The Coated Canvas Cyan Series and Channel Stitched Ruby Series are touted as both natural fits for the fashion-forward yet minimalist Apple user.
"Our goal is to offer products that enhance the user's lifestyle," says Altego's Director of Marketing Drew Bowers. "Individuals are looking to protect their MacBook and iPad without compromising fashion or functionality and I believe we have produced that winning combination."
The Coated Canvas Cyan Series and Channel Stitched Ruby Series don't feature new ways of carrying technology of today but instead make it an afterthought. These bags and cases offer upgraded materials, simplistic clean lines, and realistic features.
Coated Canvas Cyan Series Product Features:
Weather resistant coated canvas for a unique look and added durability
Soft quilted lining offering ultimate protection for MacBook and iPad
Custom molded waffle design back padding for sleek look, extra durability and extreme comfort
Interior iPad pocket lined with soft padded fabric
Metal self-locking twist buckles for quick one-handed closure while on the go
Commercial grade five bar seat belt webbing shoulder strap
Cyan lining and accents
Channel Stitched Ruby Series Product Features:
Quilted soft flannel lining offering ultimate protection for MacBook and iPad
Custom molded waffle design back padding for sleek look, extra durability and extreme comfort
Interior iPad pocket lined with soft padded flannel
Channel stitched front flap with adjustable front buckle closure
Commercial grade five bar seat belt webbing shoulder strap
Plaid flannel lining with ruby red accents
Durable weather-resistant poly construction
Altego bags and cases will be available through retail and online stores including CompUSA, Amazon.com, Tigerdirect.com, and more.
Link: Altego (available through Amazon.com)
Bargain 'Books
For deals on current and discontinued 'Books, see our 13" MacBook and MacBook Pro, MacBook Air, 13" MacBook Pro, 15" MacBook Pro, 17" MacBook Pro, 12" PowerBook G4, 15" PowerBook G4, 17" PowerBook G4, titanium PowerBook G4, iBook G4, PowerBook G3, and iBook G3 deals.
We also track iPad, iPhone, iPod touch, iPod classic, iPod nano, and iPod shuffle deals.
Join us on Facebook, follow us on Twitter or Google+, or subscribe to our RSS news feed
Links for the Day
Mac of the Day: Power Mac 8200, introduced 1996.04.22. The minitower version of 7200 was never sold in America.
Recent Content
Follow Low End Mac on Twitter
Join Low End Mac on Facebook
Favorite Sites
MacSurfer
Cult of Mac
Shrine of Apple
MacInTouch
MyAppleMenu
InfoMac
The Mac Observer
Accelerate Your Mac
RetroMacCast
The Vintage Mac Museum
Deal Brothers
DealMac
Mac2Sell
Mac Driver Museum
JAG's House
System 6 Heaven
System 7 Today
the pickle's Low-End Mac FAQ
Affiliates
Amazon.com
The iTunes Store
PC Connection Express
Macgo Blu-ray Player
Parallels Desktop for Mac
eBay

Advertise