Give Your MacBook a New Lease on Life, MacBook Air Better Than Any Copycat, Free WiFi Survey App, and More
This Week's PowerBook and iBook News
Compiled by Charles Moore and edited by Dan Knight - 2012.01.06
General Apple and Mac desktop news is covered in Mac News Review. iPad, iPod, iPhone, and Apple TV news is covered in iOS News Review. All prices are in US dollars unless otherwise noted.
News & Opinion
Reviews
Software
News & Opinion
Give an Old MacBook a New Lease on Life
Wired's Brad Moon notes that while Apple trots out shiny new MacBook Pros every year, and each model refresh brings more performance and new features to the table, upgrading instead of replacing your old MacBook Pro may be a viable and cost-saving option, especially if your budget is tight or you can't rationally justify ditching your current unit because, technically, it's still getting the job done, albeit perhaps just barely.
A case in point is the 4-year-old 17" MacBook Pro that's the subject of this how-to - awesome back in in 2008, but totally outclassed today; still usable, but chugging along at times. However a current 17" MacBook Pro starts at $2,799 and goes on up from there.
In this case, the author invested two or three hours of labor, a few minutes online, and just under $600 to make his old MacBook Pro look and feel like a new machine, which arguably beats shelling out three grand or more after tax for a new 17-incher.
The five upgrades employed in this case toward squeezing a few more years out of any MacBook Pro are:
System Optimization
Max Out the RAM - "Maxing out the RAM on your MacBook Pro can do wonders for performance, especially when multiple applications are running."
Replace the Hard Drive with a Solid State Drive - "The 240 GB SSD that replaced my original 250 GB HD was priced at $349.99 (which compares favourably to the $500 Apple currently charges for a 250 GB SSD on a new 17-inch MacBook Pro); I consider it a good investment."
Replace Worn Components
Buy a New Battery - "Even if your current battery still holds some charge, a new battery gets you another three hours of cord-free operation. And your current battery can be charged and set aside up as a backup."
Publisher's note: Except for the battery, all of this applies equally to desktop Macs, and you will undoubtedly see the biggest difference from upgrading system memory if your Mac has 2 GB or less RAM. If you can't afford a Solid State Drive and have a 5400 rpm drive in your Mac, by all means look into a 7200 rpm drive with an 8 MB or larger buffer, which can provide a real performance boost for a lot less than you'll pay for a 120 GB or larger SSD. Another alternative for those who want SSD performance but also need a lot of storage space it to move your hard drive to the SuperDrive slot, put your SuperDrive in a USB enclosure, and drop a lower capacity SSD (perhaps 30-60 GB) into your MacBook's hard drive bay. dk
Link: Reinvigorate Your Aging MacBook Pro
Dennis Sellers' MacBook Predictions for 2012
MacNews' Dennis Sellers thinks the rumored 15" MacBook Air is coming along with a 17" version and that in fact, the entire Mac laptop line will evolve into Airs, with the 11" and 13" units to be dubbed MacBook Airs, while the 15" and 17" versions will be called MacBook Pros, but all models incorporating the current Air's svelte design nuances.
Sellers predicts that internal optical drives will be history with the $79 SuperDrive available for those who can't get along without optical disk support, and the Mac notebook lines will come only with SSD storage across the board.
Power-wise, the next generation of Mac notebooks will all have Intel's next-generation Ivy Bridge processor silicon, says Sellers, but don't expect USB 3, which he says we won't see on any Mac, with Apple betting on thunderbolt to become the future of connectivity.
No MacBook Airs running iOS either in his estimation.
Editor's note: I can't disagree with most of Sellers' forecast, although I think dropping hard drive storage altogether - even as an option - would be a bold move, maybe a bit too bold, and I'm not ready to slam the door entirely on the possibility of an iOS machine in a clamshell laptop form factor, although the greater likelihood is continued convergence of OS X with the iOS features and functionality wise. cm
Link: My Predictions for 2012: The Mac Laptop
Ultrabooks: Things That Could Make or Break the Category
Larry Dignan says what's unclear is how much market traction ultrabooks will grab and how quickly, noting that, IHS iSuppli estimates that 43% of notebook shipments will be ultrabooks in 2015, and that in 2012, about 13% of notebooks will be ultrabooks. Dignan thinks that 40% ultrabook penetration for 2012 might be too ambitious and that several factors will need to align in order for ultrabooks to be a commercial success.
They include:
Price, which Dignan suggests may be the single most important metric for ultrabooks, and that it may need to be as low as $500 in order to compete with tablets.
Windows 8 needs to be huge, since Dignan thinks it will be the big driver for ultrabook sales, a new OS designed to meld PC and tablet experiences, and observes that ultrabooks with touchscreens and hybrids could appeal to the masses.
Apple created the category, and ultrabook success will depend largely on Apple prices, Dignan noting that assuming they can handle an 11" screen, many folks will go MacBook Air at $999 over an ultrabook at $800, and the challenge for ultrabooks is going where Apple has been - not where it's going. Apple could cut prices, cook up new designs, and offer more screen variety to fend off ultrabooks.
Link: Ultrabooks: Things That Could Make or Break the Category
Will the Ultrabook be as Ultra as Promised?
Computerworld's Barbara Krasnoff says that in speculation about the upcoming CES trade show, the word everyone is tossing around as this year's product to watch is the Ultrabook, and notes that up to 50 of these new notebooks are expected to be announced at CES, leading her to suspect that many will not be strictly following the Intel Ultrabook rules.
Krasnoff observes that while the idea of a slim, lightweight, comfortable-to-type-on full-featured notebook with a very long battery life is extremely attractive, the initial crop of Ultrabooks aren't yet quite the wonders that we'd like, partly because they are still using the Intel Sandy Bridge processors, with more efficient Ivy Bridge chips due later this year.
Krasnoff says she's curious as to how well the Ultrabooks will do if the pricing remains, as indications seem to be, in the $1,000 range.
Link: CES 2012: Will the Ultrabook be as Ultra as Promised?
What Ultrabooks Could Do to the Tablet Craze
Forbes Contributor Michael Humphrey notes that an Ultrabook must weigh no more than 3.1 lb., be no more than 0.71" thick, and provide five-plus hours of battery life, boast flash-based storage, and incorporate Intel's Rapid Start Technology for speedy boot times.
Humphrey observes that based on personal use that he describes in the article, it's occurred to him that the only reason to use a tablet instead of an Ultrabook is that tablets are better for reading. But the MacBook Air is more comfortable for viewing, with its keyboard base propping the screen up nicely. It's also fast, the screen is beautiful, and in terms of mobility, the weight difference is negligible, especially if you factor in an iPad cover. Plus, the Air is a fully functional computer for the rest of one's needs.
Of course the same would apply to a PC Ultrabook.
Humphrey observes, as have many others, that tablets make sense as an entertainment and mobility gadget and can work for some kinds of business use, but not those that need intensive written input, while ultrabooks offer a powerful alternative with all the functionality of your old laptop with nearly the mobility of your tablet, so "why not just one device?"
Publisher's note: There's a fundamental difference between using a tablet and a notebook. With the tablet, you don't have to set it down to use the keyboard or trackpad, giving a tablet or hybrid laptop a real advantage over traditional notebooks in the field. dk
Link: What Ultrabooks Could Do to the Tablet Craze
Reviews
MacBook Air Better Than Any Copycat
Business Insider's Dylan Love has posted an enthusiastically positive review of the Core i MacBook Air, relating that he's been using it almost daily for 138 days and doesn't think he'll be stopping any time soon.
"It's been a total joy and a very welcome upgrade from my previous laptop," says Love, and most anyone who's ever owned a 12" PowerBook G4 (like the one Love says he "used and abused from August 2004 until August 2011") knows that's a tough act to follow. However, when it came time to replace his elderly PowerBook last August, he sprung for a Core i7 13" MacBook Air and has never looked back, praising the Air's impressive combination of size, weight, and battery life.
"Don't let its low weight and skinny profile make you think it's some forgettable softie of a machine," Love assures. "I've never once felt like I could break it, and I routinely get way more hours of use out of the battery than I need. It's robust as hell . . . I don't think twice about taking it somewhere . . . The opposite of this."
What about performance? In a word, fast, Love confirms, observing that "Computers this thin shouldn't be this fast."
Dylan concludes that the 13" MacBook Air is the best computer for his needs that he's ever used - and he's used a lot of them.
Link: 138 Days with the MacBook Air: It's Better Than Any Other Copycat Out There
Shootout: Dual Bay Notebook Drive Enclosures for the 2011 MacBook Pro
Bare Feats' rob-ART Morgan says:
"A little less than a year ago, we did a shootout between various dual bay notebook enclosures. Since then some new products have appeared including a Thunderbolt dual bay notebook enclosure from LaCie. We decided to do another shootout to see how much the new crop exceeds the 200 MB/s barrier we encountered.
"Using the fastest 6 Gb/s solid state drives (SSDs) we sought to test the limits of 6 Gb/s eSATA and Thunderbolt interfaces. We included setups with HDDs and Hybrid drives for perspective. Some dual bay enclosures require the two drives to share a single I/O port. Some enclosures dedicated a port for each drive."
Main takeaway: Thunderbolt is the fastest option for Apple laptops.
Link: Shootout: Dual Bay Notebook Drive Enclosures for the 2011 MacBook Pro
Software
Free WLAN Site Survey Software
PR: Netspot is a new wireless survey program for Mac OS X. Find out what your WiFi network is capable of right now, and it's free. All you need to run your wireless site survey is your MacBook with native WiFi/AirPort adapter. No special knowledge required. Simplicity - only two steps to get your first reports: survey WiFi network and apply sleek visualizations.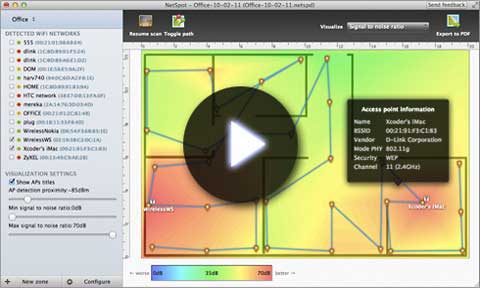 Link: Netspot
Bargain 'Books
For deals on current and discontinued 'Books, see our 13" MacBook and MacBook Pro, MacBook Air, 13" MacBook Pro, 15" MacBook Pro, 17" MacBook Pro, 12" PowerBook G4, 15" PowerBook G4, 17" PowerBook G4, titanium PowerBook G4, iBook G4, PowerBook G3, and iBook G3 deals.
We also track iPad, iPhone, iPod touch, iPod classic, iPod nano, and iPod shuffle deals.
Join us on Facebook, follow us on Twitter or Google+, or subscribe to our RSS news feed
Links for the Day
Mac of the Day: SuperMac S900, introduced 1996.08. This very expandable tower supports dual CPUs, has 6 PCI cards. and includes many drive bays.
Recent Content
Follow Low End Mac on Twitter
Join Low End Mac on Facebook
Favorite Sites
MacSurfer
Cult of Mac
Shrine of Apple
MacInTouch
MyAppleMenu
InfoMac
The Mac Observer
Accelerate Your Mac
RetroMacCast
The Vintage Mac Museum
Deal Brothers
DealMac
Mac2Sell
Mac Driver Museum
JAG's House
System 6 Heaven
System 7 Today
the pickle's Low-End Mac FAQ
Affiliates
Amazon.com
The iTunes Store
PC Connection Express
Macgo Blu-ray Player
Parallels Desktop for Mac
eBay

Advertise