MacBook Pro Refresh This Month?, EFI Update for Mid 2011 MacBook Air, and More
This Week's PowerBook and iBook News
Compiled by Charles Moore and edited by Dan Knight - 2011.09.16
General Apple and Mac desktop news is covered in Mac News Review. iPad, iPod, iPhone, and Apple TV news is covered in iOS News Review. All prices are in US dollars unless otherwise noted.
News & Opinion
Apple Updates
Products & Services
News & Opinion
MacBook Pro Refresh Coming This Month?
AppleInsider's Kasper Jade and Neil Hughes say that with Intel's next-generation Core i-Series mobile platform not expected until the second quarter of 2012, Apple is reportedly preparing a refresh of its professional notebook line ahead of the holiday shopping season to better bridge the gap, "according to people with proven insight into Apple's future product plans," who indicate that the Late 2011 MacBook Pro refresh will be limited to CPU speed bumps with nothing else changed from the current models.
Publisher's note: The current MacBook Pro line was introduced in February, so a refresh before the end of October is realistic. dk
Link: Apple to Surprise with Late-2011 MacBook Pro Refresh This Month
Two Chassis for Apple's Next MacBook Pros?
T-GAAP's E. Werner Reschke notes that October has traditionally been a time slot for Apple to introduce updates to its laptop lines, and with the MacBook Air's popularity, sleek design, and affordable price points, he's wonder what exactly updated MacBook Pro's will sport this fall.
Reschke speculates that Apple might even be fixing to roll out two distinct form factors for an updated MacBook Pro lineup. The first would house the standard hard drive and SuperDrive and look similar to today's models, but for those who want a more MacBook Air-ish look, a second design would dispense with the SuperDrive and only use the slimmer SSD, but still retain the discrete graphics chip that is necessary for most Pro users.
Publisher's note: Unlikely, in my opinion. A 15" MacBook Air wouldn't be out of the question, but I can't see Apple offering a hard drive/SuperDrive MacBook Pro model and also calling an SSD-only/no SuperDrive model Pro. dk
Link: Two Chassis for Apple's Next MacBook Pros?
EFI Update Preps MacBook Airs for Thunderbolt Display
MacFixIt's Josh Lowensohn notes that in conjunction with the impending release of its new 27" Thunderbolt Display, Apple has pushed out a software update (see below) to its latest MacBook Air models that gets them ready to plug in to the new hardware, while fixing a handful of bugs in the process, including of special note the fix of an issue with plugging in to Apple's yet-to-be-released Thunderbolt Display, which has been marketed as a docking station of sorts (3 USB 2.0 ports, a FireWire 800 port, Gigabit Ethernet, plus Thunderbolt) for Mid 2011 MacBook Air owners.
Link: EFI Update Preps MacBook Airs for New Displays
Newest MacBook Air Is 'Dead-Sexy' Says Reviewer
Business Insider's Dylan Love says he wasn't a fan of the previous generations of MacBook Air, which were somewhat puny and underpowered - and had too many connectivity shortcomings. Love says he likes a vicious processor attached to an affordable machine that feels robust and non-delicate, and the first-generation Airs fell embarrassingly short of all these standards - expensive weaklings more like a fashion accessory that one was always worried about accidentally snapping one in half.
However, says Love, that's not the case with the latest iterations of the MacBook Air, which he pronounces "a total joy to use" with the beautiful hardware and Apple's new Lion operating system complementing each other wonderfully - and no impression that he needs to treat the computer with kid gloves. Starting at $1,000, these machines don't pack nearly the punch on your wallet that they used to.
Link: The Newest MacBook Air Is Dead-Sexy
Apple Updates
Mid 2011 MacBook Air EFI Firmware Update
MacBook Air EFI Firmware Update 2.1 includes fixes that enhance the stability of Lion Recovery from an Internet connection, and resolve issues with Apple Thunderbolt Display compatibility and Thunderbolt Target Disk Mode performance on MacBook Air (Mid 2011) models.
For more information about Lion Recovery, visit http://www.apple.com/macosx/recovery/
The MacBook Air EFI Update will update the EFI firmware on your notebook computer. Your computer's power cord must be connected and plugged into a working power source. When your MacBook Air restarts, a gray screen will appear with a status bar to indicate the progress of the update. It will take several minutes for the update to complete. Do not disturb or shut off the power on your MacBook Air during this update.
Boot ROM or SMC Version Information: After this update has successfully completed, your Boot ROM Version will be: MBA41.88Z.0077.B08.1109011050
System Requirements: OS X Lion 10.7 and later
Link: MacBook Air EFI Firmware Update 2.1
Products & Services
mDock: First Zero-Footprint Docking Station and Backup Solution for MacBook Pro
PR: At the International Broadcasters' Convention (IBC) in Amsterdam, Culver City, California based mLogic LLC announced the launch of its new startup company and introduced three innovative products designed for Mac computers - mDock, mBack, and mLink.
mDock
mDock is a companion product for unibody MacBook Pro laptops, designed to eliminate repetitive plugging and unplugging of devices typically connected to these computers while significantly reducing desktop cable clutter. When docked, mDock's built-in hard drive backs up the MacBook Pro's system drive via Time Machine, and also features convenient front-facing USB and headphone ports.
Highlights:
Replicates the ports located on the side of unibody 13" and 15" MBP computers
Peripheral devices (monitors, speakers, printers, etc.) are attached to mDock eliminating the need to plug and unplug these devices whenever the user goes mobile
Eliminates desktop cable clutter
Built-in hard drive (500 GB or 1 TB) backs up the MBP system disk via Time Machine
Convenient front facing USB and headphone jacks
Front facing, high-power (10W) charge port powers up iOS devices fast
Sleek, fanless design and aluminum enclosure complements MacBook Pro
Link: mDock
mBack
mBack is a unique zero-footprint backup drive for iMac computers. Unlike a typical backup drive that resides on the desktop, mBack mounts securely to the iMac stand (or Apple Cinema/Thunderbolt Display stand) so its off the desktop and elegantly out of the way.
Highlights:
Unique zero-footprint backup drive
Mounts to the iMac or Cinema/Thunderbolt Display stand using specialized hardware
Does not take up any desktop real estate
Time Machine compatible
1, 2, and 3 TB versions with high-speed USB 2.0 interface
Sleek, fanless design and aluminum enclosure complements iMac and Apple displays
Link: mBack
mLink
mLink is an external chassis that enables PCIe adapter cards (HD video capture cards, RAID controllers, host bus adapters, SSDs, etc.) to be attached to any Thunderbolt equipped Macintosh computer. mLink brings the functionality of these adapter cards that formerly required a Mac Pro to the new iMac, Mac mini, MacBook Pro and MacBook Air via a high-speed 10 Gb/s Thunderbolt connection.
Highlights:
Links PCIe 2.0 adapter boards to Thunderbolt enabled Mac computers
2x 10 GB/s Thunderbolt ports
Small form factor all-aluminum desktop enclosure
"Thunderbolt technology in combination with mLogic's mLink brings unique expandability and high-performance to users with mobile and all-in-one computers," says Jason Ziller, Director Thunderbolt Marketing, Intel. "We're excited to see mLink provide these capabilities to media creators and enthusiasts."
"I am thrilled to announce the launch of mLogic at IBC 2011," said Roger Mabon, CEO of mLogic. "We are introducing some very interesting products at the show that I know will resonate with Mac users. mLogic's mission is to provide innovative products to the Mac community and the mDock, mBack and mLink are the first of many more to come."
Pricing and Availability
mDock: 500 GB - $219, 1 TB - $299
mBack: 1 TB - $169, 2 TB - $209, 3 TB - $349
mLink: $399
mDock, mBack, and mLink will be available in November through mLogic's authorized retail and distribution channels. mLogic will begin accepting preorders in October at mlogic.com.
Clyde Street Messenger Bag Combines Upscale Fashion with Functionality
PR: Acme Made, a design company specializing in protective accessories for computer devices has expanded its designer laptop messenger bag line with the spacious, stylish, and durable Clyde Street Messenger.
This bag is designed to fit in comfortably in settings from student coffee lounges to corporate boardrooms, and is capacious enough to easily store a 17" MacBook Pro.
The Clyde Street Messenger can make an ideal addition a professional or student's fall wardrobe. Available immediately on the Acme Made website, the Clyde Street Messenger is crafted with Acme Made's Bombshell exterior for premium protection and provides both the style and superior safeguard solution that today's electronic consumer users demand. There is also a unique stay-flat document pocket to protect important files and notes.
Clyde Street Messenger features
Adjustable shoulder strap with removable pad for comfortable transport
Generous interior pockets keep your essentials organized
San Francisco based Acme Made says the Clyde Street Messenger is its innovative answer to the ubiquitous messenger bag, designed to meet the demands of modern urban living with the upscale fit, finishes and versatility that have characterized Acme Made products since 2002.
Spacious, stylish and engineered tough, the Clyde Street Messenger is designed to be both chic and highly accessible. Crafted with Acme Made's Bombshell exterior for premium protection, the Clyde Street Messenger features a fully-padded laptop pocket within a roomy main compartment. The bag also boasts fine-tuned compartments for all stash-able items, easily stowing a 17" MacBook Pro alongside sneakers, sketchbooks, chewing gum, show tickets, noise-cancelling head phones, train tokens, jukebox quarters or iPhone.
Comfortable in a coffeehouse but also boardroom-ready, the Clyde Street Messenger translates seamlessly from student life to a career-focused fashion accessory, offering a unique stay-flat document pocket to protect important files. Wearers can count on long-haul comfort with its custom soft-rubber handle and padded adjustable shoulder strap.
"Craftily navigating the demands and diversity of the modern urban landscape, we're sure the Clyde Street Messenger will take its rightful place in the legion of elegantly engineered bags from Acme Made," says Ben McCosh, Acme Made's Product Manager.
Link: Clyde Street Messenger Bag
Kensington ClickSafe Combination Lock Provides Convenient Security for Laptops
PR: Now businesses and individuals can select combination or key locks to best fit their needs. Kensington Computer Products Group today introduced the Kensington ClickSafe Combination Laptop Lock, a click-to-lock system that secures a laptop to a physical, immovable object with a combination lock. Mirroring the effortless one-click, simple installation of the Kensington ClickSafe family, Kensingtons new lock provides a combination code instead of a key to secure the device, protecting the valuable data residing on the device.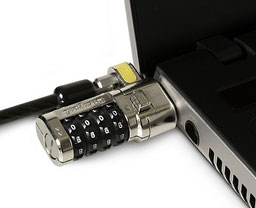 Kensington has a 20-year heritage pioneering the development of physical security for computers. Kensington's ClickSafe family provides a simpler, more effective locking experience. Engaged with an almost effortless one-click action, Kensington's ClickSafe locks are constructed from high carbon steel cables with a corrosion-proof steel lockhead, while maintaining a sleek look and lightweight feel, ideal for the mobilized worker.
With the addition of the new ClickSafe Combination lock to the ClickSafe family, businesses can choose different lock and key configurations that best suit their employees, and can customize access to various devices. For example, the ClickSafe Combination lock might be more convenient for those workers who cant carry a key, or prefer to have a combination instead of another key on their key ring.
Kensington's ClickSafe Combination lock is available with master access, allowing administrators to use a tool called the ComboGenie to access all laptop locks when necessary. With the ComboGenie, administrators can unlock laptops if employees forget their combinations or if an executive needs access to a laptop, providing enhanced IT support and greater administrative control.
"As today's workforce increasingly relies on mobile devices to create and access critical information, preventing laptop theft and the resulting data loss is critical," says Brian Baltezore, Senior Global Product Manager at Kensington.
The ClickSafe Combination lock provides a new approach to safeguarding corporate information on vulnerable laptops by preventing opportunistic theft with an easy click to lock system."
The Kensington ClickSafe Combination Locks will be available at Kensington.com and through Kensington channel partners.
Link: Kensington ClickSafe Combination Lock
Bargain 'Books
For deals on current and discontinued 'Books, see our 13" MacBook and MacBook Pro, MacBook Air, 13" MacBook Pro, 15" MacBook Pro, 17" MacBook Pro, 12" PowerBook G4, 15" PowerBook G4, 17" PowerBook G4, titanium PowerBook G4, iBook G4, PowerBook G3, and iBook G3 deals.
We also track iPad, iPhone, iPod touch, iPod classic, iPod nano, and iPod shuffle deals.
Join us on Facebook, follow us on Twitter or Google+, or subscribe to our RSS news feed
Links for the Day
Mac of the Day: SuperMac S900, introduced 1996.08. This very expandable tower supports dual CPUs, has 6 PCI cards. and includes many drive bays.
Recent Content
Follow Low End Mac on Twitter
Join Low End Mac on Facebook
Favorite Sites
MacSurfer
Cult of Mac
Shrine of Apple
MacInTouch
MyAppleMenu
InfoMac
The Mac Observer
Accelerate Your Mac
RetroMacCast
The Vintage Mac Museum
Deal Brothers
DealMac
Mac2Sell
Mac Driver Museum
JAG's House
System 6 Heaven
System 7 Today
the pickle's Low-End Mac FAQ
Affiliates
Amazon.com
The iTunes Store
PC Connection Express
Macgo Blu-ray Player
Parallels Desktop for Mac
eBay

Advertise