Laptops Trump Tablets in Enterprise, Ultrabooks vs. MacBook Air, Ultrabook Announcements, and More
This Week's PowerBook and iBook News
Compiled by Charles Moore and edited by Dan Knight - 2011.09.09
General Apple and Mac desktop news is covered in Mac News Review. iPad, iPod, iPhone, and Apple TV news is covered in iOS News Review. All prices are in US dollars unless otherwise noted.
News & Opinion
Apple Updates
Ultrabook News
Products & Services
News & Opinion
Despite All the Tablet Hype, Laptops Still Rule in the Enterprise
Tablets turn heads, but when it's time to get work done, enterprise users still grab their laptops says Computerworld's Mary K. Pratt.
Pratt cites diesel engine maker Cummins Inc.'s IT director Bruce Smith, who tells her that for most of the company's 40,000 employees, it's a desktop PC, and for mobile professionals, it's a laptop, although Smith says lately he's been getting more and more requests from workers to bring tablets into the mix. So far Smith has said no, explaining that he can't justify supplying workers with tablets instead of laptops because, in his opinion, they don't deliver any more value or efficiency than laptops.
Many who own and use both, including me, would say that's an understatement.
Nevertheless, Pratt notes that tablets are taking over many of the mobile computing duties in the consumer market, and corporate IT managers are having to deal with many of those same consumers coming to work expecting to be able to use touchscreen computers in the office as well as at home, even though assessments have determined that tablets aren't really up to doing the jobs. Another IT manager Pratt consulted observing that while many users think touchscreen devices can replace a desktop or laptop in a work environment, the reality is that they can't, predicting that in business environments, laptops aren't going away any time soon.
Indeed, the laptop's combination of carry-ability, combined with a full-size keyboard and practical-sized screen, and its quality of being a self-contained computing platform not dependent on an Internet connection, comprise pretty much the ultimate practicality and functionality for those who create and produce information.
Pratt also notes that according to research firm Gartner Inc. research metrics, more than 204 million laptops shipped worldwide in 2010, compared with 17.6 million tablets, and with laptops projected to continue dominating with nearly 233 million laptops to ship in 2011, as opposed to 70 million tablets that will be bought by consumers and businesses. Even in 2012, projections are for 276 million laptops to ship vs. 108.2 million tablets.
In short, the return on investment is just not there with tablets compared with laptops in enterprise environments, with touchscreen computers offering nothing in terms of increased efficiency compared with laptops, and there's also the matter of tablets (except for RIM's BlackBerry PlayBook) being unavailable with enterprise-level security applications.
The laptop is not dead yet by a long shot, and even where touchscreen computing does make incursions into the enterprise world, it will be as a compliment to the laptop (or desktop) rather than a replacement for a long time to come. However Ms. Pratt does note that industry analysts and IT leaders concede a gradual melding of laptop and touchscreen tablet will likely evolve over time with the best aspects of each influencing the other.
However, based on NetMarketShare's Web usage metrics for August 2011, iOS, Android, Symbian, and Blackberry combined account for just 5% or so of worldwide OS market share, with iOS clearly in the lead at over half the market.
Link: Sorry, Tablets. Laptops Still Dominate the Enterprise
Link: Mobile/Tablet Operating System Market Share
Link: Mobile/Tablet Operating System Market Share Trend
Can the Ultrabook Top the MacBook Air?
Cnet's Brooke Crothers says that the only way the new Ultrabook laptop category can top the MacBook Air is to get cheap fast. But that won't necessarily be easy, according to IDC analyst Bob O'Donnell.
Crothers asked O'Donnell what it will take to make the Ultrabook a mainstream Windows laptop that competes with, and possibly tops, the MacBook Air in popularity. O'Donnell replied that while he thinks the Ultrabooks are great products and exactly what the PC market needs, they can become a mainstream category only if they hit the right price points, and he predicts that the first few Ultrabook products are going to be more niche because of their prices, which - given the reality is that Apple owns the thousand-dollar-plus laptop market - he suggests will have to be in the $799 range, which may be impossible under Intel's current Ultrabook guidelines.
Link: Can the Ultrabook Top the MacBook Air?
Ultrathin Wars: Sony Vaio Z and Lenovo Ultrabook vs. Apple MacBook Air
DigitalTrends guest columnist Rob Enderle notes that the fastest growing PC company is Lenovo, and the ThinkPad builder is getting on Intel's Ultrabook wagon early to better challenge post-Jobs Apple.
With a wave of ultrathin laptops coming from Apple and Intel's Ultrabook collaborators, Enderle takes a look from a hardware perspective, saying he has no real desire to address the no-win religious argument of Windows vs. Mac OS at this point.
He notes that the MacBook Air set the bar, and that at Apple, when dollars and cents conflict with features and design, design generally wins, which has resulted in Apple pretty much owning the premium position in the PC market. However, he observes that the MacBook Air product line does incorporate tradeoffs, limiting the machine in both breadth and depth, similar to the one-size-fits-all approach applied to Apple's iPad and iPhone lines.1
Enderle points out that with the MacBook Air, choices are limited by design to both keep inventory levels under tight control and to avoid confusing customers, contending that you don't buy a Mac for its performance (which Enderle labels "adequate"), its durability, or its security, but because it is simple and imparts status better than any other product - an intangible benefit that would-be challengers often forget when they take on Apple in the marketplace.2
He goes on to compare the MacBook Air models with Sony's pricey non-Ultrabook Z Series carbon fiber laptop (c. $2,000 compared to a high-end 13" MacBook Pro, which is neither ultrathin or ultralight) at $1,499), which has a far more sophisticated and comprehensive feature set than the MacBook Air - the best of the best if price were no object. Also profiled are Lenovo's high-end U300 and U400 Ultrabook designs, which are much more price competitive.
Publisher's note: The MacBook Air comes in two sizes, and the iPhone is available in two versions (3GS and 4). Of the three devices Enderle mentions, only the iPad comes in a single form factor. dk
Publisher's note: What a bunch of hogwash. Lots of people buy Macs because of their performance, longevity, and security in addition to its easier-to-use operating system and stylish design. For Mac users, it's not about status - it's about productivity. dk
Link: Ultrathin Laptop Wars: Sony Vaio Z and Lenovo Ultrabooks vs. Apple MacBooks
Apple Updates
Mid 2011 MacBook Air & Mac mini: Do Not Use Recovery on OS X Lion USB Thumb Drive
A new Apple Knowledge Base article advises using Lion Recovery or the built-in OS X Lion recovery partition rather than OS X Lion USB Thumb Drive with computers released after OS X Lion.
Products Affected include: MacBook Air (13", Mid 2011), MacBook Air (11", Mid 2011), Mac mini (Mid 2011)
The article says that if you attempt to use the OS X Lion USB Thumb Drive, a message will appear stating that you cannot install this version of OS X on your computer, and confirms that this is correct behavior to make sure you install only the correct and most up-to-date version of Mac OS X on your computer.
However, you can also use the Lion Recovery Disk Assistant on your Mac to create a bootable image to make sure you recover the correct version of OS X Lion. To use the Lion Recovery Disk Assistant, you need to have your own USB drive.
If you have a network connection, you should receive the appropriate version of Mac OS X when using the built-in Recovery HD partition on Macs running Lion.
Link: Mac mini (Mid 2011), MacBook Air (Mid 2011): Use Lion Recovery Instead of OS X Lion USB Thumb Drive
How to Adjust Keyboard Backlight on MacBook Pro and MacBook Air
An updated Apple Knowledge Base article addresses changing your System Preferences to experience different keyboard backlight behaviors in MacBook Pro and MacBook Air models equipped with that feature.
By default, the portables with ambient light sensors (ALS) automatically adjust the brightness of the keyboard backlight based on the ambient light in the environment. The ALS, located to the left of the FaceTime camera, evaluates the level of light for this feature. While in the default mode, the F5 and F6 keys will function only while the light levels are low enough for the ALS to trigger the backlight keyboard. By covering the ALS, you can test the backlight keyboard feature and adjust it with the F5 and F6 keys.
You can also turn off the automatic backlighting feature in the Keyboard preferences. Deselect the option "Automatically illuminate keyboard in low light" to use the F5 and F6 keys to adjust the keyboard backlight independent of ambient lighting.
Link: Apple Portables: Adjusting the Keyboard Backlight
Ultrabook News
Notebook Makers Keep Initial Ultrabook Shipment Volume Below 50,000 Units
DigiTimes' Monica Chen and Joseph Tsai report that first-tier notebook brand vendors Acer, Lenovo, Toshiba, and Asustek Computer - remembering their previous experience with Intel's CULV-based ultrathin notebooks - are mostly taking a conservative attitude about Intel's latest new ultrathin PC laptop "Ultrabook" venture and have only placed limited orders to their upstream suppliers, understanding that demand for notebooks is unlikely to recover in the fourth quarter, while Apple's products soak up all the glory in the market.
Chen and Tsai note that the major players will limit their initial Ultrabook shipment volume to below 50,000 units for testing the waters, according to insider sources at notebook makers, and that in order to encourage its notebook brand partners, Intel will host a conference for Ultrabooks on September 14, hoping to resolve some technology bottlenecks and attract more notebook players to join the Ultrabook manufacturing club.
Acer, Toshiba, Lenovo, and Asustek's new Ultrabook models (more details below) will all start shipping this month and will begin appearing in global retail channels in October. The article notes that Acer's Ultrabook is manufactured by both Compal Electronics and Quanta Computer, while Toshiba's machine is outsourced to Compal with Lenovo's device handled by Wistron and Asustek's model by Pegatron Technology.
With Ultrabook still having some unresolved issues regarding cost and engineering, Chen and Tsai's sources indicate that the notebook industry is looking on Ultrabook as a last resort to boost overall shipments, but global economic realities mean that demand for notebook is unlikely to boost strongly, making Intel's goal of having Ultrabooks account for 40% of the global consumer notebook shipments in 2012 difficult to achieve, although Intel says it remains confident about Ultrabooks and looks forward to working with its customers to commercialize innovation.
Link: Notebook Makers Limit Initial Ultrabook Shipment Volume Below 50,000 Units (subscription required)
13.3" Lenovo Ultrabook Thinner and Lighter Than 13.3" MacBook Air
IDG News' Agam Shah reports that Lenovo is claiming that its new Ultrabook IdeaPad U300 is thinner than Apple's paradigm-setting MacBook Air, measuring 0.59" thick (1.49 cm) and weighing 2.2 pounds (0.99 kilograms). The 13" MacBook Air is 0.68" thick and weighs 2.96 pounds.
The U300S's starting price will be US$1,200, with shipping to begin in mid-October and worldwide availability set for November.
The U300S uses low-power Intel Sandy Bridge Core processors - either the Core i7 2677M, which runs at 1.8 GHz and has 4 MB of cache, or the Core i5 2467M, which runs at 1.6 GHz and has 3 MB of cache.
Link: Lenovo Says New 'Ultrabook' Thinner Than MacBook Air
Lenovo Gets Glam with Three New Fashion-Forward Ultraportable Laptops
PR: Lenovo sashayed into the fashion world at IFA in Berlin with three new luxury laptops, the IdeaPad U300s Ultrabook, and the U300 and U400 laptops. Bridging haute couture with superior technology, these laptops are designed for fashion-minded consumers who want a product that is stylish as well as powerful and productive; ultimate fusion for individuals who take both technology and fashion seriously.
"The new IdeaPad U Series laptops from Lenovo provide style mavens everything they need in a slender, mobile and super chic package," says Lenovo Innovation Design Center vice president Yao Yingjia. "The U300s, U300 and U400 laptops are the perfect luxury accessory this season, liberating consumers on the go to combine productivity and entertainment in one stylish device."
"People will be wowed with the new U Series systems from Lenovo that combine incredible performance in beautiful and stylish designs," says Mooly Eden, vice president and general manager of Intel's PC Client Group. "Powered by our 2nd Gen Core processors, this system will deliver great capabilities with a wonderful user experience and long battery life that people increasingly want. We're particularly excited by Lenovo's innovation and as one of the leading time to market partners in the new ultrabook category with the U300s device that combines a no-compromise, must-have mobile experience with performance, security, responsiveness and style."
IdeaPad U300s Ultrabook

IdeaPad U300s Ultrabook
The slim U300s Ultrabook features up to 2nd generation Intel Core i7 processors with Intel Turbo Boost Technology 2.0, and boots up in as little as 10 seconds with Enhanced Experience 2.0 RapidDrive SSD technology. The U300s has a 13.3" ultra-slim 16:9 widescreen HD display, 4 GB DDR3 memory and up to 256 GB of SSD storage.
At just 0.6" (14.9mm) thick, the U300s is built from a single-piece aluminum shell to create a solid but lightweight product weighing in at less than three pounds. Available in Graphite Grey or limited-edition Clementine Orange, the colors have been applied through an electrolytic process and sandblasted to create a scratch-resistant coating.
Other smart technologies include the Breathable Keyboard, an Intel Advanced Cooling Technology that allows air to flow in through the keyboard and out of the sides and rear hinge. This design removes the need for vents on the underside of the notebook making it comfortable for long periods of use on your lap or even on a pillow.
Despite its ultra-slim design, with its Lenovo Long Life Battery, the U300s provides up to eight hours of productive use or up to 30 days on standby, and with Lenovo RapidCharge its battery can be charged to 50% capacity in just 30 minutes.
Also included is Bluetooth, high-speed 802.11n WiFi, USB 2.0 and USB 3.0 connectors, as well as an integrated 1.3M (720p HD) webcam.
IdeaPad U300 and U400 Ultraportable Laptops

IdeaPad U300
The IdeaPad U300 and U400 laptops also come with 2nd generation Intel Core processors and feature boot up times of under 17 seconds thanks to optional RapidDrive SSD technology. The U300 features a 13.3" HD display while the U400 has a 14" HD display and AMD Radeon HD5470M 1 GB graphics. Both models can be specified with up to 8 GB DDR3 memory, up to 1 TB hard drive storage and up to 256 GB SSD storage. The U400 also has an integrated slot-loading DVD-RW drive.

IdeaPad U400
The Long Life Battery on the U300 is claimed to last for up to six hours of productivity and up to seven hours on the U400. Both models also feature the same Breathable Keyboard technology as the U300s.
The IdeaPad U300s, U300 and U400 all feature HD graphics support, a HDMI output and integrated stereo speakers with SRS Premium Surround Sound, and you can bring computer content to life-sized magnitude wirelessly on a big screen from the U300s Ultrabook or the U300/U400 ultraportables with Intel Wireless Display
Acer Claims First Core i7 Ultrabook to Market
The Register's Bob Dormon reports that Acer took the wraps off its first Ultrabook, the Aspire S3, at IFA in Berlin. Weighing 1.3 kg and at 13mm thick, the S3 falls well within Intel's 18mm spec.
The S3 is also powered by an Intel Core i Sandy Bridge ULV CPU, with Acer claiming to be the first to market a Core i7 Ultrabook beginning later this month, with Core i3 and Core i5 versions also to be available. Prices are projected to range from $799 to $1199.
Like Apple's MacBooks, the Acer S3 has a magnesium/aluminum alloy chassis with its LCD display embedded in the lid.
The Register's Tony Smith, in a hands-on report from the IFA floor in Berlin, says, "It's almost impossible to view Acer's Aspire S3 - the company's first laptop built to Intel's Ultrabook spec - and not think of the MacBook Air . . . the S3 is going to make a very nice hackintosh"
Link: Acer Claims First Core-i7 Ultrabook
Link: Hands on With Acer's Aspire S3 Ultrabook
Toshiba Unveils Portégé Z830 Series of Ultrabook Systems
PR: Toshiba's Digital Products Division has unveiled the Portégé Z830 Series, the company's first Ultrabook using 2nd Generation Intel Core processors. Weighing less than 2.5 pounds and featuring a 0.63" (15.9 mm) profile, the Portégé Z830 Series is about 20% lighter and 40% thinner than the award-winning ultraportable Portégé R830 Series. These new systems will start at under $1,000 MSRP.
Supporting the latest 2nd Generation Intel Core processors and ultra-fast DDR3 memory, the Ultrabook device's 128 GB solid state drive delivers an extremely responsive experience, increased durability and increased energy efficiency. Paired with Toshiba's new Hi-Speed Start Technology, the Portégé Z830 can power on and get users up and running at work or home in mere seconds.
"The Portégé Z830 Series sets a new standard for thin and light systems, not just in portability, but also in affordability for such cutting-edge designs," says Carl Pinto, vice president of product development, Toshiba America Information Systems, Inc., Digital Products Division. "Toshiba's engineering achievements and expert craftsmanship have resulted in a brilliant and fully thought-through innovation that exceeds expectations, perfect for both mobile business professionals and consumers."
The Portégé Z830 Series is built with a host of convenience-driven features such as a full-size LED Backlit and spill-resistant keyboard that makes typing easy in low light conditions and helps guard against accidents. The Ultrabook also includes Toshiba's USB Sleep & Charge technology that gives users the freedom to recharge their smartphones even while the system is powered down. Stereo speakers with enhanced audio technology from Waves Audio make the Portégé Z830 ideal for listening to music, watching movies and video chatting.
The Ultrabook devices feature a light, yet durable magnesium alloy casing that is reinforced with an enhanced Honeycomb Rib design and new internal structures that provide shock absorption and increased rigidity. The systems also feature Toshiba's EasyGuard Technology, designed to address the security, reliability and durability issues mobile users encounter.
Portégé Z830 Series Ultrabook systems will be available in November 2011 at select retail stores as well as through select Toshiba Preferred Partner Program resellers and directly at toshibadirect.com.
The Register's Tony Smith. in a hands-on report from the IFA floor in Berlin says: "Where Acer has accepted that Apple's MacBook Air was the clear inspiration for Intel's Ultrabook spec, and designed its machine accordingly, Toshiba has adopted its usual slightly dry, business-sober design strategy, producing a machine that's not unattractive but no head-turner either."
Link: First Look at Toshiba's Portégé Z830 Ultrabook
Samsung Unveils Thin New Series 7 Laptops
PR: Samsung Electronics America Inc. has announced its new Series laptop line, at the IFA global consumer electronics trade show in Berlin.
"Our goal is to create notebooks that constantly inspire and enrich customers lives and with the Series 7, one of the thinnest quad core PCs to date, cutting edge consumers and business users can capitalize on Samsung's advanced engineering, inside and out," says Scott Ledterman, director of mobile PC marketing at Samsung Enterprise Business Division. "The Series 7 is an ideal laptop for discerning users who need to be highly productive everywhere they go, with advanced features such as Samsung's exclusive Fast Start technology, a high-speed processor and a large, matte screen that is visible anywhere, even outside, said. Our goal is to create notebooks that constantly inspire and enrich customers lives and with the Series 7, one of the thinnest quad core PCs to date, cutting edge consumers and business users can capitalize on Samsung's advanced engineering, inside and out."
With a brushed-aluminum body under one-inch thick, smooth lines, and a thin bezel screen, the Series 7 endeavors to make a design statement. Incorporating Samsung's latest Max Screen technology, the Series 7 enables an extra inch of viewing area without sacrificing mobility or portability, its 14-inch display contained within the form factor traditionally associated with 13" laptops.
The 13" or 15.6" HD+ (1600 x 900) high resolution, matte display features 16 million colors, and up to 50% better brightness (300 nit) provided by Samsung Superbright Technology, as well as an AMD Radeon HD6750M graphics card.
The Series 7's Intel Core i5 or Core i7 processors, feature ExpressCache, a technology that accelerates boot-up and start times. It provides an extra 8 GB of flash memory on the motherboard enabling faster startup as well as increasing the overall performance. Web browsing is claimed to be up to 50-60% quicker (using Microsoft Internet Explorer).
Samsung's FastStart technology enables the laptop to transition from a hybrid sleep mode to full functionality in as little as two-three seconds, while Quick Boot has the notebook ready to go from cold in just 19 seconds.
Maximum Mobility
Samsung's Easy Settings make it simple to connect the Series 7 to new wireless networks, projectors and more by giving you easy access to commonly used PC settings, while Samsung Easy Migration allows users to seamlessly transfer existing files to the new laptop by connecting their old PC to the Series 7, launching and starting Easy Migration and letting the PC do the rest.
With up to nine hours of battery life (battery life will vary depending on the product model, configuration, power management settings, applications used, and wireless settings. The maximum capacity of the battery will decrease with time and use), the Series 7 includes Samsung Power Plus technology claimed to retain 80% of the original battery capacity for up to 1,500 charges.
Samsung's Support Center, accessible with a keyboard shortcut, helps users manage their system settings or arrange for a tech-support web chat. Samsung's Back-up & Recovery Solution also allows users to create and restore back-ups of system data on the device, or on a network or removable storage device.
The Samsung Series 7 will be available starting October 2, and will retail for $999 to $1,299.
For more information, call 1-800-SAMSUNG or visit samsung.com.
Key Specs: All functionality, features, specifications and other product information provided in this document including, but not limited to, to benefits, design, components, performance, availability and capability of the product are subject to change without notice or obligation.
Test results based on independent third party Mobile Mark tests. Non-Metric weights and measurements are approximate. Total amount of available memory may be less based on configuration.
Products & Services
Magma Announces 3-Slot PCI Express Expansion Chassis for Thunderbolt
PR: Magma, a developer of PCI Express connectivity products, introduces ExpressBox 3T, an expansion chassis with three PCIe slots and a lightning fast connection through Thunderbolt.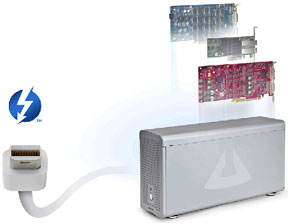 Magma's ExpressBox 3T, their first Thunderbolt to PCI Express expansion chassis, will be revealed at Intel Developer Forum in San Francisco (Sept 13-15). ExpressBox 3T provides an 'outside-the-box' solution for using PCIe cards with Thunderbolt-equipped computers. High-performance flows are possible by connecting a Thunderbolt equipped computer to a Magma ExpressBox 3T containing PCIe cards such as video capture, media transcoding, audio processing, and fast data storage. And because Thunderbolt is also based on DisplayPort technology, you can daisy chain a high-resolution display with your Magma ExpressBox 3T.
Magma's ExpressBox 3T provides an easy, rock solid migration path to newer and faster computers while protecting the customers investment in specialized PCI Express peripherals made for video capture and edit, broadcast video, pro audio, communications, data acquisition and more.
Developed by Intel with collaboration from Apple, Thunderbolt is a high-speed I/O technology running at 10 Gbps per channel that brings together high-speed data transfer and high-definition (HD) display on to a single cable. High performance workflows are possible by connecting a Thunderbolt equipped computer to a Magma ExpressBox 3T containing PCIe cards for video capture, media transcoding, audio processing, and fast data storage. And because Thunderbolt is also based on DisplayPort technology, a high-resolution display can be daisy chained with your Magma ExpressBox 3T.
"ExpressBox 3T is the first Magma expansion product specifically made for Thunderbolt-equipped computers. Now, with Thunderbolt technology, mobile, and all-in-one customers have easy access to the fastest I/O technology available today," says Randy Jones, CEO and President at Magma. "ExpressBox 3T is a must-have expansion solution for media creators. Magma retains its leadership position by continuing to introduce cutting edge technology for media production and other computing professionals."
ExpressBox 3T is encased in an anodized silver chassis with three PCIe 2.0 slots, a cooling fan, a 220W internal power supply, and travel bag for easy transportation. ExpressBox 3T and up to six Thunderbolt devices can be daisy-chained including Thunderbolt and DisplayPort displays. Magma is actively working with development partners such as Apple, Avid, AJA, Red, ATTO, Fusion-io and Promise Technology to validate application performance with ExpressBox 3T in broadcast video and pro audio environments.
For more information about Magma products, call (800) 285-8990 or (858) 530-2511 or visit magma.com.
Link: Magma
Bargain 'Books
For deals on current and discontinued 'Books, see our 13" MacBook and MacBook Pro, MacBook Air, 13" MacBook Pro, 15" MacBook Pro, 17" MacBook Pro, 12" PowerBook G4, 15" PowerBook G4, 17" PowerBook G4, titanium PowerBook G4, iBook G4, PowerBook G3, and iBook G3 deals.
We also track iPad, iPhone, iPod touch, iPod classic, iPod nano, and iPod shuffle deals.
Join us on Facebook, follow us on Twitter or Google+, or subscribe to our RSS news feed
Links for the Day
Mac of the Day: Power Mac 7500, introduced 1995.08.08. This workhorse introduced a new desktop case and CPU daughter cards for easy upgrade.
Recent Content
Follow Low End Mac on Twitter
Join Low End Mac on Facebook
Favorite Sites
MacSurfer
Cult of Mac
Shrine of Apple
MacInTouch
MyAppleMenu
InfoMac
The Mac Observer
Accelerate Your Mac
RetroMacCast
The Vintage Mac Museum
Deal Brothers
DealMac
Mac2Sell
Mac Driver Museum
JAG's House
System 6 Heaven
System 7 Today
the pickle's Low-End Mac FAQ
Affiliates
Amazon.com
The iTunes Store
PC Connection Express
Macgo Blu-ray Player
Parallels Desktop for Mac
eBay

Advertise