Apple Laptop Design Changed Almost Everything, Sonnet ExpressCard/34 ThunderBolt Adapter, and More
This Week's PowerBook and iBook News
Compiled by Charles Moore and edited by Dan Knight - 2011.09.02
General Apple and Mac desktop news is covered in Mac News Review. iPad, iPod, iPhone, and Apple TV news is covered in iOS News Review. All prices are in US dollars unless otherwise noted.
News & Opinion
Tech Trends
Products & Services
Software
News & Opinion
Apple's MacBook: The Laptop That Changed Almost Everything
Cnet's Dan Ackerman notes that one of Apple's most influential product designs is actually one of its most traditional, at least by initial appearances, namely the MacBook laptop. First introduced in 2006, the 15" MacBook Pro replaced the 15" aluminum PowerBook G4 and was followed several months later by the polycarbonate MacBook, available in white or black, neither of which looked (or worked) radically different from their PowerBook and iBook predecessors. They seemed unlikely paradigm-busters, but Apple persevered in the laptop space, which was already on its way to eclipsing desktop machines as the dominant PC category.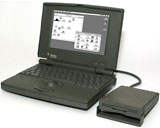 PowerBook 100 from 1991.
Publisher's note: Today's MacBook Air and MacBook Pro models are direct descendants of Apple's first PowerBooks - the 100, 140, and 170 - introduced in October 1991. Although the trackball gave way to a trackpad, the basic design has not only remained the same but also influenced the design of practically every new laptop since 1991. dk
Link: Steve Jobs and the Apple MacBook: The Laptop That Changed (Almost) Everything
Apple's Smallest Laptop Leads to the Future of the Mac
Macworld's Michael Gartenberg says the MacBook Air changed Apple's philosophy on the notebook market, dumping the optical drive, using a battery that users couldn't replace, and offering a solid-state drive for the first time in an Apple laptop, and that especially this year's models, with the latest and greatest Intel Core i5 processors, the return of the backlit keyboard, and still at an entry-level price of $999, combined with Lion and its trackpad gestures influenced by iOS, and concepts such as fullscreen applications that (purportedly) make the 11" MacBook Air significantly more usable on a day-to-day basis, Apple is taking the personal computer to a new level of evolution in many ways.
Gartenberg notes that like the iPad and iPhone, the new MacBook Air is virtually an always-on device with a wake time that's virtually instantaneous and the fastest reboot times in the industry, fewer than ten seconds to go from cold boot to connected system, but unlike cloud-client devices such as Google's Chromebook, the Air is still a full-featured personal computer experience with a complete desktop operating system and self-contained file system, and with processors that capable of handling the majority of tasks most consumers will ever require, with little or no compromise in performance.
He suggests, quite reasonably, that more of the MacBook Air feature set will find its way into the rest of the MacBook line as design evolution progresses.
Publisher's note: The Mid 2011 Mac mini has no optical drive and can be ordered with SSDs instead of or in addition to a hard drive, making it more like the MacBook Air than any other desktop Mac. dk
Link: Up in the Air
Tech Trends
World's First Dual 17" HD Display Laptop Launched
The SpaceBook dual 17" screen laptop will be shipping to customers in November 2011, starting at $1,899 with free shipping and a 30-day money back guarantee to the USA and Canada. The Designer, Gordon gScreen Founder and CEO Alan Stewart, invented the SpaceBook because he needed a mobile workstation for editing video, photography, and web design while traveling on a 6-month Hawaii film project.
The SpaceBook is unlike any other laptop in that rather than a single display, it has two 17" full HD (1920 x 1080) glass panels, available in either a glossy or matte finish, that slide out from the center to create a panorama effect.
The SpaceBook can help users get up to 50% more work done when compared to a single screen alternative according to a Microsoft study and is essentially is mobile workstation and a desktop replacement solution for business and personal use.
The SpaceBook, at 10 pounds, weighs about three pounds more than the average 17" laptop (7 pounds), but gives users that extra full size 17" screen for mobile productivity. Specs include Windows 7 Pro, an Intel Core i7 quad-core CPU with 8 GB DDR1333 RAM, a webcam, a 500G HDD, Nvidia discrete graphics, HDMI, and Super DVD ODD.
Customers can opt-into the free 'Trade-back' program so that they can trade in their first generation SpaceBook for a 2nd generation when released and receive a 50% credit towards their new SpaceBook with new specs. Customers can also sign-up to become affiliates and offer the SpaceBook to their friends for $100 off while earning themselves $100.
Link: gScreen SpaceBook
Products & Services
Sonnet Echo ExpressCard/34 Thunderbolt Adapter
PR: Thunderbolt technology offers throughput speed up to 10 Gb/s, and versatility - supporting high-resolution displays plus high-performance data devices through a single, compact port - that make it clear this is the next generation I/O technology, available today.
But what about connecting existing FireWire, eSATA, and USB 3.0 peripherals as well as high speed memory cards? Sonnet's Echo ExpressCard/34 Thunderbolt Adapter expands Thunderbolt connectivity to support more than just storage systems and monitors. This adapter adds an ExpressCard/34 2.0 slot to any computer to which its connected, enabling you to use a wide variety of ExpressCard/34 cards to add a wide range of interfaces and capabilities to your system.
Examples include adding more FireWire ports, a Gigabit Ethernet connection or an eSATA interface through a single Thunderbolt adapter. This card adapter allows you to choose your connections and add more to your setup. Because this adapter supports hot-swapping, you can select and change the ExpressCard to use as needed. It supports most Sonnet ExpressCard/34 cards (with a PCI Express interface), such as FireWire, Gigabit Ethernet, and USB 3.0 interfaces, CompactFlash and SDXC card readers, and select eSATA controllers. It also supports specialty adapters like the latest revision PCIe Bus Extender for Sonnets Qio Professional Media Readers, and the interface adapter for the AJA io Express.
Set up for this Sonnet adapter is simple - just connect it directly to your computer or at the end of a Thunderbolt device chain with a Thunderbolt cable (not included, sold at the Apple Store) that's it. There's no software to install and no power supply to plug in. Plug the ExpressCard/34 card into the Echo ExpressCard/34 Thunderbolt Adapter as you would into a notebook computer's ExpressCard slot, install software for the adapter if necessary, and you're ready to work.
Key Features:
Expands Your Computer's Connectivity and Capabilities: Enables you to use ExpressCard/34 adapters with Thunderbolt technology-equipped computers
Fast Interface: High-performance 10 Gb/s Thunderbolt technology, 5 Gb/s ExpressCard/34 2.0 interface
Supports Common ExpressCard/34 Adapters: Supports Sonnet CompactFlash and SDXC readers; FireWire, Gigabit Ethernet, USB 3.0, and select eSATA adapters
Supports Specialty ExpressCard/34 Adapters: Supports ExpressCard adapters for specialty devices such as Sonnet's Qio and the AJA io Express
Versatile Connectivity via Thunderbolt
Sonnet's Echo ExpressCard/34 Thunderbolt Adapter opens a world of connectivity options to any Thunderbolt technology-enabled computer. ExpressCard/34 adapters, originally intended for use with notebook computers, offer users additional connectivity and functionality beyond what's available through their computers stock configuration. With Sonnet's Echo ExpressCard/34 Thunderbolt Adapter, you can have a Gigabit Ethernet Thunderbolt adapter, an eSATA Thunderbolt adapter, a FireWire 800 Thunderbolt adapter, a USB 3.0 Thunderbolt adapter, or an SDXC or CF Thunderbolt adapter. Your options are limitless.
Compatible ExpressCard/34 Adapters
A list of adapters currently compatible with the Echo ExpressCard/34 Thunderbolt Adapter can be found on Sonnet's website.
This product is scheduled for release by the end of October and will sell for $149.95.
Link: Sonnet Echo ExpressCard/34 Thunderbolt Adapter
OWC Announces Its Lowest Priced 60 GB SSD, the Mercury Electra 6G
PR: Other World Computing (OWC) has announced the $129.99 MSRP 60 GB capacity model to its award-winning, built in the USA OWC Mercury Electra 6G Solid State Drive line. Offering a lower starting price point to one of the industry's fastest 6G SSD lines, the new SandForce Driven 6 GB/s 60 GB capacity OWC Mercury Electra 6G SSD utilizes the highest quality components available, including Tier 1/Grade A NAND, to deliver 556 MB/s read and 523 MB/s write sustained data rates for over 7X faster performance than a standard factory hard drive found in Mac and PC computers.
Two Consumer/Prosumer Models in Seven Capacities Starting at $129.99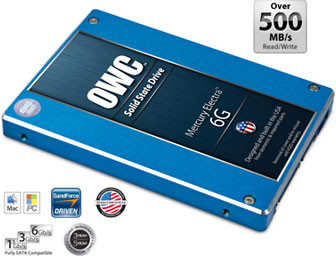 OWC Mercury 6G SSDs come in two models (Mercury Electra 6G and Mercury Extreme Pro 6G) offering seven capacities from 60 GB to 480 GB, priced starting at $129.99.
Mercury Electra 6G SSD: offers over 500 MB/s sustained data rate performance of a 6G SSD for high speed personal computing, home office environments, gaming, and production workstations, but is aggressively priced like a 3G SSD. In addition to single drive use, it can be incorporated into a RAID 1 or SPAN configuration and is available for immediate ordering in 60 GB, 120 GB, 240 GB, and 480 GB capacities. For more information on the new OWC Mercury Electra 6G 60 GB SSD, including reseller inquiries, visit: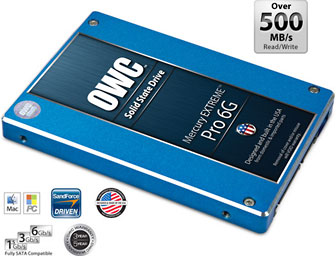 Mercury Extreme Pro 6G SSD: offers prosumers and A/V, photography, and graphic production professionals the ultimate in professional grade SSD performance with over 500 MB/s sustained data rates and up to 479 MB/s incompressible data rates. In addition to single drive use, it can be incorporated into a RAID 0, 1, 10 or SPAN configuration, and is available for immediate ordering in 120 GB, 240 GB, and 480 GB capacities.
"Our newest 60 GB Mercury Electra 6G SSD is priced aggressively to offer one of lowest price points on the market for one of the highest performance SSD available," says Larry O'Connor, Founder and CEO, Other World Computing. "Then factor in our best in class warranty coverage and support services reputation and its safe to say this new model represents the best value on the market for a 6G based SSD."
Maximizes Any Computers 1.5G, 3G, or 6 GB/s Data Bus
Whether a consumer has a Mac or PC with the SATA Revision 2.0 (3 Gb/s) data bus or the latest SATA Revision 3.0 (6 GB/s) interface, the OWC Mercury 6G SSD line is able to deliver near bus saturating speed when installed in either interface. OWC benchmark testing confirms OWC Mercury 6G SSDs delivers sustained data rates over 275 MB/s in the 3G's 300 MB/s max speed bus. Taking advantage of 6G's interfaces maximum bandwidth of 600 MB/s, Mercury 6G SSDs provide up to 559 MB/s sustained reads and 527 MB/s writes.
Doesn't Slow Down with Use Like Ordinary SSDs
Ordinary SSDs offer fast read/write performance during first initial uses, but can then experience significant write speed degradation over repeated, long-term usage. Independent simulation tests by leading drive performance experts confirm OWC Mercury SSDs ultra-efficient block management, wear leveling technologies, and real-time data redundancies enable incredibly high performance and extreme reliability, both of which are maintained over long-term intensive use.
Up to 100x Greater Data Protection
Thanks to SandForce DuraClass technology, OWC Mercury 6G SSDs are able to provide up to 100x higher data protection than provided by ordinary SSDs as well as leading enterprise class hard disk drives. By combining the highest level of Error Correction Code (ECC) and SandForce RAISE (Redundant Array of Independent Silicon Elements) technology along with 7% over provisioning reserve/overhead flash allocation, OWC Mercury 6G SSDs provide RAID like data protection and reliability in a single drive application.
Risk-Free 30-Day Satisfaction Guarantee
To ensure the highest level of customer satisfaction and confidence, OWC is extending its 30-Day Money Back Guarantee to include the new Mercury Electra 6G 60 GB model. If a consumer is not completely satisfied with any OWC Mercury 6G SSD for any reason, they simply need to contact OWC's award-winning Customer Service department which offers 24/7 Live Chat support - to request a full, hassle-free refund.
Link: Mercury Electra 6G
SSD HDD Adapter Kit for Unibody MacBook Pros
PR: UK-based hardwrk.com offers an adapter kit for installation of a second hard drive or SSD into the DVD drive bay of a unibody-MacBook Pro. If you already own a MacBook Pro, with this adapter kit you can combine the capacity of your existing hard drive with the speed of an SSD for a fraction of the price a single large-capacity SSD would cost you. That way you can store your OS on a small SSD (e.g.: an 80 GB Intel X25-M) and keep all your user files on the hard drive, such as a 500 GB drive. The SSD upgrade kit costs £79 + shipping, and a small SSD (i.e., a 64 GB SSD by Samsung) about £120.
Since you will still want to use your DVD-drive, also included is an external USB enclosure for it, so you can keep on using the drive seamlessly via a USB port of your MacBook Pro. The only thing that isn't included is the hard drive or solid state drive itself.
The kit includes:
1x hardwrk SSD HDD Adapter
2x Wiha precision mechanics screwdriver
1x external USB-DVD-Drive enclosure
1x electrical engineering spudger
1x printed installation instruction
A step by step manual including comprehensive text, detailed photos and tips and tricks will help you get the installation done in 60 minutes max. Hardwrk's YouTube video shows how it's done.
All tools needed are included with the kit, from a precision mechanic's screwdriver to as electrical engineering spudger for disconnecting the plugs on the logic board.
£79 plus shipping
Link: SSD HDD Adapter Kit For MacBook (Pro)
Software
BatterySqueezer 1.5 Helps Get Longer Battery Life on Your MacBook
PR: Applications, especially Internet browsers, can put a heavy load on your system by demanding processing power even if they are running in the background. BatterySqueezer throttles Flash animations, videos, advertisements and virtually everything that run by your browser when it is in the background.
Active programs running unnecessarily in the background can have many consequences:
High CPU demand
More power requirement
Shorter battery life
Less available resources for your active applications
Loud fan noise
If you visit webpages which have flash animations, videos or JavaScripts running or you have many open tabs in your browser, it can take more than 10%, often 20-30% and sometimes even 100% of your CPU power.
Less CPU load = Lower energy consumption
Lower energy consumption => Batter battery life + Speed
Until now you have had basically one option: Close down the program. Now there's BatterySqueezer, is a low footprint application that runs discreetly on the menu bar and its icon can be hidden.
New in version 1.5:
Fixed a bug which caused BatterySqueezer to occasionally crash
System requirements:
Intel
Mac OS X 10.6.6 or later
64-bit processor
$2.99 from the Mac App Store
Link: BatterySqueezer
Bargain 'Books
For deals on current and discontinued 'Books, see our 13" MacBook and MacBook Pro, MacBook Air, 13" MacBook Pro, 15" MacBook Pro, 17" MacBook Pro, 12" PowerBook G4, 15" PowerBook G4, 17" PowerBook G4, titanium PowerBook G4, iBook G4, PowerBook G3, and iBook G3 deals.
We also track iPad, iPhone, iPod touch, iPod classic, iPod nano, and iPod shuffle deals.
Join us on Facebook, follow us on Twitter or Google+, or subscribe to our RSS news feed
Links for the Day
Mac of the Day: SuperMac S900, introduced 1996.08. This very expandable tower supports dual CPUs, has 6 PCI cards. and includes many drive bays.
Recent Content
Follow Low End Mac on Twitter
Join Low End Mac on Facebook
Favorite Sites
MacSurfer
Cult of Mac
Shrine of Apple
MacInTouch
MyAppleMenu
InfoMac
The Mac Observer
Accelerate Your Mac
RetroMacCast
The Vintage Mac Museum
Deal Brothers
DealMac
Mac2Sell
Mac Driver Museum
JAG's House
System 6 Heaven
System 7 Today
the pickle's Low-End Mac FAQ
Affiliates
Amazon.com
The iTunes Store
PC Connection Express
Macgo Blu-ray Player
Parallels Desktop for Mac
eBay

Advertise