Smaller MacBook Air Models, HyperMac Dropping MagSafe Products, Cases for New MacBook Air, and More
This Week's MacBook, PowerBook, and iBook News
Compiled by Charles Moore and edited by Dan Knight - 2010.10.22
General Apple and Mac desktops is covered in The Mac News Review. iPad, iPod, iPhone, and Apple TV news is covered in The iOS News Review. All prices are in US dollars unless otherwise noted.
News & Opinion
Tech Trends
Products & Services
News & Opinion
Apple Reinvents Notebooks with Thinnest, Lightest MacBook Air

PR: Cupertino, California - October 20, 2010 - Apple today unveiled an all new MacBook Air, the first of a next generation of notebooks which will replace mechanical hard disks and optical drives with Internet services and solid state flash storage. These next generation notebooks are:
Faster - solid state flash storage is up to twice as fast as hard drive storage
More reliable - hard drive crashes are eliminated
Lighter and smaller - solid state flash storage is up to 90% smaller and lighter than hard drives
Available in 11" and 13" models and weighing as little as 2.3 pounds, the new MacBook Air is Apple's lightest and most portable notebook ever. MacBook Air uses the same solid state storage technology as iPad to deliver instant-on responsiveness, up to seven hours of battery life, and up to 30 days of standby time.1 Starting at $999, the affordable MacBook Air defines the next generation of MacBooks.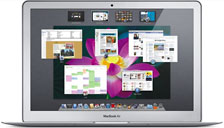 "MacBook Air is the first of a new generation of notebooks that leaves behind mechanical rotating storage in favor of solid state flash storage," said Steve Jobs, Apple's CEO. "We've taken what we have learned with the iPad - solid state storage, instant-on, amazing battery standby time, miniaturization, and lightweight construction - to create the new MacBook Air. With its amazing responsiveness and mobility, it will change the way we think about notebooks."

With its precision aluminum unibody enclosure, the new MacBook Air measures an incredibly thin 0.11" at its thinnest point and 0.68" at its thickest, and weighs just 2.3 pounds for the 11" model and 2.9 pounds for the 13" model. Like iPad, MacBook Air was designed from the ground up to use flash storage exclusively. Apple's custom-designed flash storage is 90% smaller and lighter than a conventional notebook hard drive, contributing to MacBook Air's mobile, featherweight design. MacBook Air's flash storage also provides faster data access and is more reliable than notebook hard drives due to its solid state design.
MacBook Air features a full-sized keyboard for typing comfort and productivity, as well as the highly acclaimed glass Multi-Touch trackpad found on Apple's MacBook Pro, so you can scroll through websites, flip through photos, and resize or rotate images all from the trackpad. The built-in FaceTime camera, mic, and stereo speakers are perfect for video calls with iPhone 4, iPod touch2, and other Macs.

Flash storage combined with power-efficient Intel Core 2 Duo processors and Nvidia GeForce 320M graphics delivers an ideal balance of mobility, battery life, and performance. MacBook Air features an 11.6" or 13.3" high-resolution LED-backlit display and Mini DisplayPort to connect your 27" Apple LED Cinema Display, projector, or HD TV. Ultrafast 802.11n WiFi networking allows you to download music and movies from iTunes, back up data to Time Capsule, and store or share files with MobileMe™ and iDisk. MacBook Air includes Bluetooth 2.1+EDR for wireless peripherals and two USB ports, making it easy to sync and charge an iPad, iPhone, or iPod while using another device. The 13" MacBook Air also includes an SD Card slot.
Apple claims to make the industry's greenest notebooks, and the MacBook Air is the latest Mac notebook to achieve EPEAT Gold status and meet Energy Star 5.0 requirements.3 Each unibody enclosure is made of highly recyclable aluminum and comes standard with energy efficient LED-backlit displays that are mercury-free and made with arsenic-free glass. Mac notebooks contain no brominated flame retardants, are PVC-free, and are constructed of recyclable materials.
Apple uses advanced chemistry and Adaptive Charging technology to create a MacBook Air battery that delivers up to seven hours of wireless productivity on a single charge and up to 1,000 recharges.4 The built-in battery design results in less waste, and depleted MacBook Air batteries can be replaced for $129, which includes installation and disposal of your old battery in an environmentally responsible manner.
Every Mac comes with Mac OS X Snow Leopard and iLife, Apple's innovative suite of applications for creating and sharing great photos, movies, and music. Snow Leopard builds on more than a decade of innovation and includes multiple features for portable computing such as Multi-Touch navigation, advanced wireless networking, easy file sharing, automated data backup, and intelligent power management. The new iLife '11 features iPhoto with full screen views for browsing, editing, and sharing photos; iMovie with powerful easy-to-use tools to transform home videos into fun theatrical trailers; and GarageBand with new ways to improve your playing and create great sounding songs.
The 11" and 13" MacBook Air are immediately available through the Apple Store, Apple's retail stores, and Apple Authorized Resellers.
The 1.4 GHz 11" MacBook Air with 2 GB of memory and 64 GB of flash storage starts at a suggested retail price of $999 with a 128 GB model for $1,199.
The 1.86 GHz 13" MacBook Air with 2 GB of memory and 128 GB of flash storage starts at a suggested retail price of $1,299 with a 256 GB model for $1,599. Configure-to-order options and accessories include faster processors, 4 GB of memory, MacBook Air SuperDrive, and a USB Ethernet Adapter.
Battery life and standby time vary by use and configuration. See http://www.apple.com/batteries for more information.
iOS 4.1 required.
EPEAT is an independent organization that helps customers compare the environmental performance of notebooks and desktops. Products meeting all of the 23 required criteria and at least 75% of the optional criteria are recognized as EPEAT Gold products. The EPEAT program was conceived by the US EPA and is based on IEEE 1680 standard for Environmental Assessment of Personal Computer Products. For more information visit: http://www.epeat.net.
A properly maintained MacBook Air battery is designed to retain 80% or more of its original capacity during a lifespan of up to 1,000 recharge cycles. Battery life and charge cycles vary by use and settings. For more information visit:
New MacBook Air Features USB Software Reinstall Drive
Buying the optional external SuperDrive isn't quite the must-have that it was with the original MacBook Air, because new machines ship with an 8 GB solid-state USB Software Reinstall Drive from which you can reinstall of the operating system and bundled iLife software and run essential applications and utilities without the necessity of resorting to an external optical drive or DVD Sharing. If you elect to preinstall iWork at the time purchase, iWork is also included on the MacBook Air Software Reinstall Drive.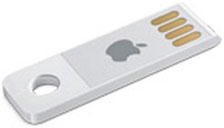 Apple notes, "If you try to use the MacBook Air Software Reinstall Drive on a computer other than a MacBook Air (Late 2010), you will be offered two options: 'Restore from a Time Machine backup' or 'Restart the computer'. All menu selections are disabled."
However, on the supported 2010 MacBook Airs, you can start up the computer from the MacBook Air Software Reinstall Drive to select a Startup Disk, restore your system from a Time Machine backup drive or Time Capsule, reinstall Mac OS X, reset your administrative password, enable a firmware password, and run Disk Utility, among other tasks.
This is an excellent idea, but I still want the freestanding optical drive as well. There's still too much software that demands disc installation to try living without it. However, you can still use another Macintosh running Mac OS X v10.5.3 or later to share its optical drive with the new MacBook Air.
You can install a limited selection of print drivers using the MacBook Air Software Reinstall Drive. Apple adds support for additional printer models frequently.
HyperMac Drops MagSafe Products
Thinq's Gareth Halfacree reports:
"It's well known that Apple likes to exert rather more control over its corner of the industry than most manufacturers, and third-party accessory specialist HyperMac looks to have crossed the line - to its cost."
"Wanting to produce an external battery accessory for MacBook owners who needed a bit more life between charges . . . HyperMac started buying old or broken MagSafe chargers, stripping the patented MagSafe Connector from the end, and wiring it in to their third-party batteries. They're not making the MagSafe Connector, so they're not falling foul of the patent, right?
"Sadly, Apple felt differently...."
Link: HyperMac Drops MagSafe Products
Tech Trends
Netbook Numbers and Pricing Still Beat iPad
Cnet's Brooke Crothers says that a new report from ABI Research estimates that over 11 million tablets, mostly iPads, will ship this year - but also argues for a reality check on the iPad's popularity in the context of netbook shipments, which the report says should reach 43 million worldwide this year. ABI Research principal analyst Jeff Orr in a note says, "early adoption of media tablets is not outpacing Netbooks. The iPad average selling price above $650 isn't driving mass adoption. Competition, especially on price, is needed."
Link: Analyst: Netbook Numbers, Price Still Beat iPad
$598 Acer Aspire Timeline Challenger to MacBook Air Claims 8 Hour Battery Life
PR: Acer America has announced US availability of its Aspire Timeline Series of "all day computing" notebooks, which it says average more than 8 hours of battery life* - and could prove a formidable challenger to Apple's 13.3" MacBook Air.
The Aspire Timeline is a thin and light mainstream notebook offered at an iPad price. Acer says the secret to its extended battery life lies in the design that combines Intel's ultra low-voltage processors, advanced power management, high-capacity batteries, and LED backlit displays, all resulting in a thinner, lighter, more energy-efficient, and longer-lasting notebook PC, claiming that on a single charge, consumers can remain productive or entertained during an entire coast-to-coast flight or work remotely from 9 to 5 without ever stopping to plug in and recharge.
With prices starting as low as $598, the Timeline delivers high-end styling and excellent performance in a thin and light design, making the ultraportable class of notebooks favored by many high-paid corporate business executives more affordable to general consumers.
Acer says it combined numerous low power components with a standard high-capacity 6-cell battery, allowing it to keep the design as small as possible. In addition, a PowerSmart button conveniently located above the keyboard allows users to easily extend battery life. A simple press of the button activates the laptop's advanced power savings settings, traditionally a tedious procedure accessed through numerous software-based steps. This one-button approach simplifies the process. Lastly, an Acer PowerSmart adapter senses when the notebook is unplugged and stops sending needless energy. It also stops pulling power from the wall outlet when the battery is full.
Using Bapco's MobileMark 2007 Productivity benchmark test, an industry standard created to measure PC battery life and performance, Principled Technologies, the industry leader in technology assessment services, found Acer's Aspire Timeline notebook PCs averaged more than eight hours of battery life. The AS3810T achieved 9 hours and 7 minutes of battery life, while the AS3810TZ logged in 9 hours and 48 minutes, outpacing the PC industry norm and significantly outlasting competitive systems.
The Acer Aspire Timeline proves that thin and lightweight doesn't have to come at a cost premium. With prices ranging from $598 to $899 and three lines to chose from, most students, small businesses, and families trying to economize should still find the Timeline is easily within their reach.
Road warriors demanding the smallest and lightest notebook possible may also find the 3.5 pound AS3810 with a 13.3" display an ideal, inexpensive traveling companion. For those who need a slightly larger display and an integrated optical drive, the 4.2 pound AS4810 with a 14" display is available, while the AS5810 model includes a large 15.6" display, integrated optical drive, and dedicated numeric keyboard.
At their slimmest point, all models are less than one-inch thick - and just over one-inch at their thickest. Weighing between 3.5 and 5.3 pounds, they are lighter and easier to carry than some comparable systems.
The Aspire Timelines present an elegant, attractive and stylish brushed aluminium finish on the display and are lead- and mercury-free, making them easier to recycle.
In addition, Acer has incorporated Intel's Laminar Wall Jet technology for the first time, directing air flow in parallel layers, to keep the notebook significantly cooler.
Offering Intel Pentium, Intel Core Solo, or Intel Core 2 Duo ultra low voltage processors and 3 GB or 4 GB of memory, the Timeline Series packs enough power to easily handle daily productivity tasks.
The Acer Aspire Timeline features high-definition CineCrystal LED backlit widescreen displays (16:9 ratio), which Acer says offer 33% more energy savings than traditional notebook screens, bringing significant power savings to mobile computing.
Internet access is provided through Gigabit Ethernet or WiFi 802.11b/g/n, making it easy to browse websites, check email, make VoIP calls, and enjoy online entertainment, including the latest social networking platforms like Facebook, Twitter, and YouTube.
An integrated Acer Crystal Eye™ webcam delivers smooth video streaming and high quality images for online chats and business video conferences, even in low-light situations. The built-in digital microphone conveys superior voice quality, keeping background noise levels low and minimizing echoes. Users can also enjoy music and video sound with the Dolby Headphones and two built-in stereo speakers.
A Multi-Gesture Touchpad allows users to pinch, flick and swirl their fingers across the touchpad to scroll, zoom in and out and flip through web pages, photos, and spreadsheets for more natural photo and video viewing as well as intuitive navigation of websites. The TouchPad can also be disabled with a one-touch button, eliminating accidental cursor movement with palms and wrists when using an external mouse.
The Timeline family of notebooks also includes a backup button that lets consumers select and protect their digital files through regular scheduled backups or on an as-needed basis. Data can be backed up to an external hard drive, flash card, thumb drive or to a secure hidden partition on their PC.
All models come with a standard one-year parts and labor warranty, which can be extended to three years with the Acer Advantage service.
* Based on Principled Technologies benchmark testing, using Bapco's MobileMark 2007 Productivity test. Battery life varies depending on product specifications, computer settings and applications or features launched. All batteries' maximum capacity diminishes with time and use.
Link: Acer Timeline
Products & Services
Two Custom Cases for New MacBook Air from Waterfield Designs
PR: San Francisco-based Waterfield Designs introduces its first two custom-fitting cases made specifically for Apple's new MacBook Air 11.6" and 13.3" notebooks: the SleeveCase and Suede Jacket Sleeve.
They're compact, they stow easily, and they're highly protective. Manufactured locally in San Francisco, these stylish, custom-fitted and protective MacBook Air cases will begin shipping by October 29th.
The form-fitted SleeveCase combines a nearly indestructible ballistic nylon shell with a high-grade neoprene interior to absorb shock and cushion the MacBook Air against bumps and bruises. Users can customize the SleeveCase to suit their individual needs - choosing either a horizontal or vertical orientation with an optional padded front flap, shoulder strap, and/or Piggyback accessories pouch.
Trim options include a new distressed brown leather option or the classic eye-catching grey-checkered Indium. Toss the SleeveCase into another bag or sling it over your shoulder to travel light.
Those interested in an ultra-lightweight yet protective case can opt for a Suede Jacket Sleeve, now available in snug, custom-fitted sizes for each of the new MacBook Air models.
The Suede Jacket Sleeve, made from 100% scratch-free Ultrasuede, can double as a screen cleaner for this and other electronic devices. Two loops on either side plus a loop at the bottom aid in the insertion and removal of the MacBook Air. Neoprene padding lines the bottom of the Sleeve thus protecting the most exposed area of the device. It's a classy tuxedo for the MacBook Air.
"Our new custom-fitted cases help accentuate the portability of the MacBook Air," says Gary Waterfield, Chief Designer. "They're compact, they stow easily, and they're highly protective. And, the distressed leather trim option is just gorgeous."
Pricing:
SleeveCase size 11-1 for the 11.6" MacBook Air: $37
SleeveCase size 13-5 for the 13.3" MacBook Air: $39
Black Ballistic Nylon with Choice of Grey Indium or Leather ( $10) trim. Options include: Front Flap ($15), Simple Shoulder Strap & D-rings ($12), Suspension Shoulder Strap and D-rings ($22.00), the Piggyback ($25). Suede Jacket Sleeve for the MacBook Air 11.6": $25. For 13.3": $29. Color: Black.
Link: MacBook Air SleeveCases
Link: MacBook Air Suede Jackets
Tom Bihn Introduces Cache Sleeve for 11" MacBook Air
PR: Tom Bihn, a designer, manufacturer, and retailer of laptop and travel bags has introduced for preorder the Size Air11 Horizontal Cache sleeve, sized specifically for the new Apple 11" MacBook Air.
The Cache is designed to protect the Apple MacBook Air against scrapes and scratches from all sides. Its 1/4" (6mm) thick foam padding laminated with an exterior of four-ply Taslan and an interior of brushed tricot cradles the MacBook Air. With no noisy Velcro™ or zipper, the Cache closes by simply tucking a generous flap into the top opening. The Cache protects your laptop with little bulk added and is ideal for those who don't want their laptop case to make their loads heavier or take up a lot of space.
The Cache sleeve can be used on its own or slipped inside of the Tom Bihn Co-Pilot travel bag, Large Cafe Bag, Imago messenger bag, or any other larger Tom Bihn messenger bags, briefcases, or backpacks. One may also use the Cache inside of their current messenger bag, briefcase, or backpack.
The Cache is available for preorder in black and ships by early November. $30. Made in Seattle. Lifetime Guarantee.
The Cache is also available in Size Air13 for the 13" Apple MacBook Air. Size Air13 fits all models of 13" Apple MacBook Air and ships within one business day. The Cache is available exclusively through the Tom Bihn website or Seattle Factory Showroom.
Link: Tom Bihn Cache Sleeve
MacBook & iPad Sleeves Made from Irish Tweed
PR: foof now has available 100% wool Irish tweed protective foofbag sleeves for the Apple MacBook, MacBook Pro, and iPad, as well as small foofpod pouches for the iPhone/iPod touch. Two new long awaited designs are available; a classic blue herringbone called "BlueBone" and a retro orange hocksack called "Oraiste". The Irish tweed is woven in Ireland from 100% lambswool. The soft case sleeves are hand made ethically in Australia.
The foofbag design is a simple sleeve with an opening at one end for easy removal of your MacBook or iPad, without having to deal with zippers, Velcro, snap-on latches or straps. The inner lining is made of a snug high quality "sherpa fleece" fabric that does not scratch or pill and keeps your device protected from dust and scratches and minor bumps when inside a backpack or luggage case. Great for air and rail travel, cafes, university, at home, or beside the bed.
Pricing:
Aus$38 for MacBook Sleeves
Aus$28 for iPad Sleeves
Aus$18 for iPhone/iPod touch
foof also have available a selection of other fabric designs for those who may be allergic to wool. Styles include a beautiful range of Japanese cottons including tsunami wave, floral and koi fish motifs, as well as some classic widewale corduroys in vibrant red, green or black. Visit their website for more information.
Based in Thirroul, Australia, foof makes handmade protective fabric sleeves for the MacBook, iBook, PowerBook, iPod, Palm Treo, selected Canon IXUS/PowerShot and Nintendo DS Lite. foof PO Box 418 Thirroul NSW 2515 Australia.
Link: foofshop
Bargain 'Books
For deals on current and discontinued 'Books, see our 13" MacBook and MacBook Pro, MacBook Air, 13" MacBook Pro, 15" MacBook Pro, 17" MacBook Pro, 12" PowerBook G4, 15" PowerBook G4, 17" PowerBook G4, titanium PowerBook G4, iBook G4, PowerBook G3, and iBook G3 deals.
We also track iPad, iPhone, iPod touch, iPod classic, iPod nano, and iPod shuffle deals.
Join us on Facebook, follow us on Twitter or Google+, or subscribe to our RSS news feed
Links for the Day
Mac of the Day: PowerBook 2400c, introduced 1997.05.08. This small-footprint PowerBook was created by IBM for the Japanese market.
Recent Content
Follow Low End Mac on Twitter
Join Low End Mac on Facebook
Favorite Sites
MacSurfer
Cult of Mac
Shrine of Apple
MacInTouch
MyAppleMenu
InfoMac
The Mac Observer
Accelerate Your Mac
RetroMacCast
The Vintage Mac Museum
Deal Brothers
DealMac
Mac2Sell
Mac Driver Museum
JAG's House
System 6 Heaven
System 7 Today
the pickle's Low-End Mac FAQ
Affiliates
Amazon.com
The iTunes Store
PC Connection Express
Macgo Blu-ray Player
Parallels Desktop for Mac
eBay

Advertise